When director Michael Tuchner passed away in early 2017, The Guardian described him in their obituary as, "an unshowy man who allowed the performances and narrative to dominate a film." Tuchner may not have drawn the kind of attention that other name filmmakers have enjoyed, but over the span of 30 years, his work was nominated for four BAFTA awards, with a win for Best Play for Television in 1977 for Bar Mitzvah Boy, ranked in a 2000 BFI poll as one of the 100 Greatest British Television Programs. In America, he made some of the best-received TV movies of the 70's and '80s, including Summer of My German Soldier with Kristy McNichol and Bruce Davison, The Hunchback of Notre Dame with Anthony Hopkins, Adam with Daniel J. Travanti, and Amos with Kirk Douglas and Elizabeth Montgomery.
Tuchner also directed features for the big screen, and in the tradition of our Jerry Jameson tribute from March 2017, we're saluting him on Monday, February 10th, by screening two of his best early '70s crime dramas, stocked with great actors and white-knuckle action.
Within minutes of mysterious drifter John Talbot (Barry Newman) wandering into a small Louisiana town, he's caused enough trouble to get arrested and arraigned in court, when its revealed he's on the run for violent crimes. Talbot stages a brazen escape, abducting Sarah Ruthven (Suzy Kendall), a seemingly random spectator, and taking her on an odyssey that will involve high speed driving, a sleazy p.i. (Dolph Sweet), a pair of criminal enforcers (John Vernon, Ben Kingsley), and Sarah's father. There's a truth, locked away by silence, that unites Talbot to these disparate figures, and if he's going to bring it to the surface, Fear is the Key, from 1972.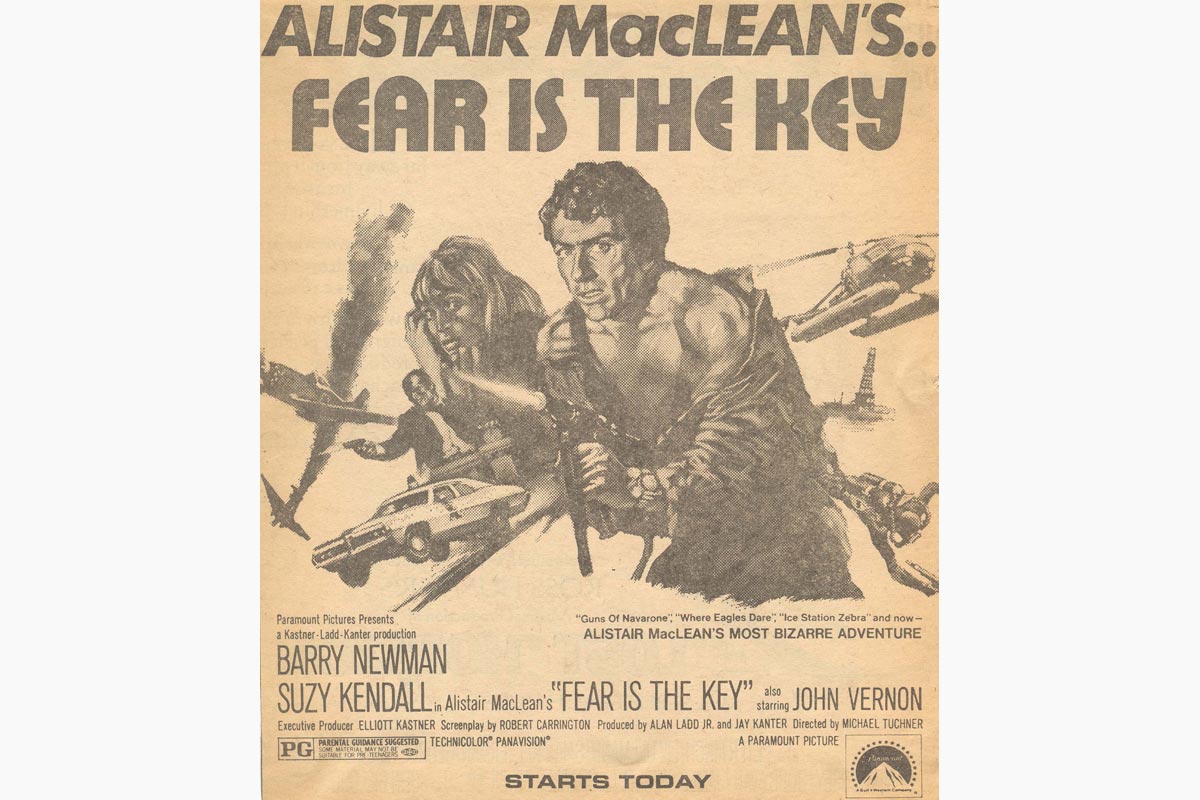 Scottish adventure novelist Alistair MacLean had already written two novels that were adapted into films, notably The Guns of Navarone, when he published Fear is the Key, his sixth book, in 1961. Producer Elliott Kastner initiated a long relationship with MacLean's stories when he optioned his original screenplay (later novelized) Where Eagles Dare for a 1968 Brian G. Hutton movie with Clint Eastwood and Richard Burton. Three more MacLean stories would be turned into Kastner-produced movies: Fear, When Eight Bells Toll, and Breakheart Pass. In addition, two other stories were written intended for Kastner, Puppet on a Chain and Caravan to Vaccarès, but were produced by others. For Fear, MacLean's book was adapted by Robert Carrington, who previously teamed with Jane-Howard Hammerstein to adapt the play Wait Until Dark to film in 1967, and later adapted Alan Scholefield's novel of kidnappers trapped with a Black Mamba snake, Venom, into the 1981 thriller with Klaus Kinski and Oliver Reed. Carrington would adapt another MacLean novel, The Hostage Tower, for a 1980 CBS TV movie with Peter Fonda and Billy Dee Williams.
Barry Newman starred in Fear after his iconic performance as the existential courier Kowalski in Richard Sarafian's 1971 Vanishing Point, and since this project also involved an extended pursuit, legendary stunt driver Carey Loftin, who had doubled for Newman in Point, took the wheel again for this sequence. Co-star Suzy Kendall has been seen on the Bev screen previously in Alberto Lattuada's Fraulein Doktor in March 2016, and will appear later this month in Robert Clouse's Darker than Amber on Monday the 17th. In addition, Kendall starred in three of the best giallos of the '70s: Dario Argento's The Bird with the Crystal Plumage, Sergio Martino's Torso, and Umberto Lenzi's Spasmo. Dolph Sweet amassed a bevy of featured roles in films as diverse as The Telephone Book and Heaven Can Wait before becoming beloved to generations of TV viewers as the gruff, kindly patriarch of the Kanisky family on the sticom "Gimme a Break!" with Nell Carter. And notably, Ben Kingsley made his first cinema appearance here, with a full head of hair, and would not star in another feature until his Academy Award-winning role as Gandhi ten years later in 1982. The unforgettable score is by the late Roy Budd, best known for composing the music to Get Carter with Michael Caine in 1971.
Vicious, hot-tempered, sadistic Cockney crime boss Vic Dakin (Richard Burton) has long reigned over the English underworld, taking in protection from his clients, doting on his mother, and lavishing abusive affection on compliant hustler Wolfie Lissner (Ian McShane). To the constant irritation of Scotland Yard detective Bob Matthews (Nigel Davenport), Dakin has constantly eluded prosecution thanks to his campaign of mayhem and fear. And now he's gotten more ambitious, planning a heist with his main rival, then blackmailing a sex-hungry politician (Donald Sinden) for an alibi. How many punches will be thrown, bribes paid, and lives lost, before somebody can end the spree of this Villain, from 1971.
Villain originated from the 1968 crime novel The Burden of Proof by James Barlow, modeled on the real-life crimes of the Kray twins, particularly Ronnie Kray, known for the sociopathic behavior and homosexual liasons enacted by his surrogate Vic Dakin. The book was initially adapted by actor/producer Al Lettieri, best known for playing Solozzo in The Godfather, and significantly reworked by the prolific writing team of Dick Clement & Ian La Frenais, whose partnership has lasted from the mid-'60s to the present, and has yielded films as varied as The Jokers with Oliver Reed and Michael Crawford, Vice Versa with Judge Reinhold, and the Beatles' musical Across the Universe. Elliott Kastner initially optioned the book intending it for a reunion project for star Richard Burton and director Brian G. Hutton after the success of Where Eagles Dare, but instead gave Michael Tuchner his feature directing debut here. According to The Times UK, before agreeing to work under him, Burton handed Tuchner an old class photo from his youth and demanded he identify which child was him, and Tuchner guessed correctly. Hutton would not direct Burton again, but would later direct the then-Mrs. Burton, Elizabeth Taylor, in X, Y, and Zee in 1972 and Night Watch in 1973.
After portraying various romantic and classical characters, Richard Burton had long wanted to play a full-on classic bad guy, and when he was approached with the role of Dakin, he agreed to waive his then-price of $1 million to take the part, opting for generous profit-sharing instead. Burton, using an alias, was able to meet with Ronnie Kray during his incarceration at Broadmoor hospital, for his research into the character. Reportedly, MGM had many sequences redubbed for the American release, feeling that Burton and other cast members' heavy Cockney accents would be difficult to comprehend. In March 2013, co-star Ian McShane spoke to UK talk show host Jonathan Ross about his experience playing opposite Burton in the film.
In an obituary for The Jewish Chronicle, Jonathan Tuchner observed about his father, "He saw himself as a director who kept things simple; his forté being a creative storyteller – he was not one for ostentatious or spectacular film-making." Nonetheless, we at the Bev think his films were spectacular indeed, and invite you to take an opportunity to discover these two tenacious thrillers from Michael Tuchner.