There are some directors we love who become so iconic, they have buildings and awards named after them. There are some directors we love who get career retrospectives in museums, and books appraising and reappraising their body of work. And then there are some directors we love that just always entertained us with their films time and time again, but as the old Red Buttons routine goes, they never got a dinner. Well, on March 10th & 11th, we're offering that metaphorical dinner for one of those unsung heroes. And if you come to the Saturday the 11th show, we're even throwing in dessert!
Jerry Jameson started out as an editor and production supervisor on top sitcoms like "That Girl" and "The Andy Griffith Show," and advanced to directing more shows in the early '70s, along with high-rated TV movies like The Deadly Tower with Kurt Russell and drive-in fare like Brute Corps with Alex Rocco. His dependability in those mediums netted him two of the biggest blockbuster-style projects launched by studios at the end of that decade, which we will be presenting. Of particular note, he is credited as a co-director on the Claudia Cardinale revenge drama L'arma alongside her husband, the recently-departed Italian filmmaker Pasquale Squitieri, and took over the troubled Burt Reynolds project Heat during a dispute with its credited director Dick Richards, whose film The Culpepper Cattle Company we'll be presenting later this month. And even after passing his 80th birthday, he shows no sign of slowing down, recently directing David Oyelowo and Kate Mara in the thriller Captive, released in theaters in 2015.
Our salute begins with one of the most ambitious, and somewhat infamous, productions of a generation, the 1980 adaptation of Clive Cussler's best-selling novel Raise the Titanic. In the midst of a Cold War weapon development race, a rare mineral needed for its operation is believed to sit in a safe within the remains of the legendary doomed ship. Freelance adventurer Dirk Pitt (Richard Johnson) and Navy scientist Gene Seagram (David Selby) look for the then-unknown location of the wreck, and once found, propose an amazing process to bring the ship back from the depths and retrieve the mineral. But Soviet threats from outside and within could very well create a new disaster.
Raise the Titanic, at $40 million, was the most expensive film produced by Lew Grade's ITC, a British studio best known to Americans for the TV shows "Thunderbirds" and "The Prisoner" as well as initially presenting "The Muppet Show" and the first two Muppet movies. It was planned to launch a film franchise based on Cussler's novels featuring daredevil explorer Dirk Pitt; 25 years later, producer Philip Anschultz tried again with the Breck Eisner film Sahara, with Matthew McConaghey playing the wily hero. Initially, Stanley Kramer was set to direct with a screenplay by former actor Adam Kennedy; the team had previously done the same jobs on the Grade-produced thriller The Domino Principle with Gene Hackman in 1977. Kramer left the project to be replaced by Jameson, with multiple uncredited writers, including Larry McMurtry, brought in to punch up the script. Elliot Gould, who had previously done the Grade-produced Capricorn One and Escape to Athena, was sought for a leading role, but declined. The gorgeous score, one of the most-praised elements of this film, is by John Barry.
For one vessel that comes back up from the depths, another will go down. Hence the trajectory of our second Jameson feature, Airport '77, the third in the long-running franchise derived from Arthur Hailey's novel of transcontinental panic. In this installment, a private plane with swanky guests and priceless art, en route to a museum opening for benevolent millionaire Philip Stevens (James Stewart), is targeted for hijack and theft, led by a duplicitous co-pilot (Robert Foxworth). After initially knocking out the passengers with sleeping gas and diverting course to a fog-ridden Bermuda Triangle, the pilot collides with a hidden oil derrick, sinking the plane under 100 feet of water. It will take the single-minded bravery of Captain Don Gallagher (Jack Lemmon) on board and previous air crisis veteran Joe Patroni (George Kennedy) on shore, along with daring Naval innovation, to save this flight from a burial at sea.
Director Jameson keeps maintaining the all-star tradition of the Airport films with top names like Lee Grant, Christopher Lee, Olivia de Haviland and Joseph Cotten, but he also peoples the cast with some of his favorite actors, such as Michael Pataki, who appeared in his feature debut Brute Corps, Monte Markham, later to star in his TV movie Hotline with Lynda Carter, and M. Emmet Walsh, who also appears in Raise the Titanic. The final screenplay is credited to the team of Michael Scheff and David Spector, who likely got the job from their previous credit, the Gordon Hessler TV movie Skyway to Death, about passengers trapped on a broken aerial tram. Airport 1975's composer John Cacavas returns to create the score for this followup.
Airport '77 leaves some interesting history in its wake. It was not just a big hit in theaters, it was a significant ratings draw on television; on its initial premiere, NBC added an hour's worth of footage to make it a two-night "Big Event." It was such a success they took the strategy one step further with Universal by commissioning entirely new footage, shot long after the films had left theaters, for the broadcast premieres of Earthquake and Two-Minute Warning. To soften Warning's plot about a sniper at a football game, the new scenes depicted a concurrent art heist – they may well have used the same paintings from this film! (Oddly enough, when Warning was released, Jameson directed a would-be ripoff movie for ABC called Superdome.) The movie also, to the best of our knowledge, has the first depiction of the late great laserdisc format, which Universal's parent MCA invented with Phillips. And for years, visitors to Universal Studios' "Screen Test Theatre" could star in their own condensed version of Airport '77, then buy a Super 8 or VHS copy of their screen debut, and even an audio tape of dialogue and effects to sync up with it! Here's one among many we found on YouTube:
As we mentioned at the top, patrons who attend the Saturday, March 11th show can stay for a third bonus film, which also doubles as part of our "Batty Midnights" theme for this month: Jameson's wild 1974 horror film The Bat People. During a honeymoon vacation to Carlsbad Caverns, Dr. John Beck (Stewart Moss) is bitten by a particularly nasty flying rodent. Despite medical treatment, the good doctor begins to mutate into a horrid man-bat, succumbing to rabid homicidal behavior, to the horror of his devoted wife Cathy (Marianne McAndrew) and the anger of not-very-honorable local sheriff Sgt. Ward (Michael Pataki). Plus, it features early creature effects work from the legendary Stan Winston. So it's a two threats by sea, one threat by air kind of evening waiting for you, all from the man of the hour, Jerry Jameson.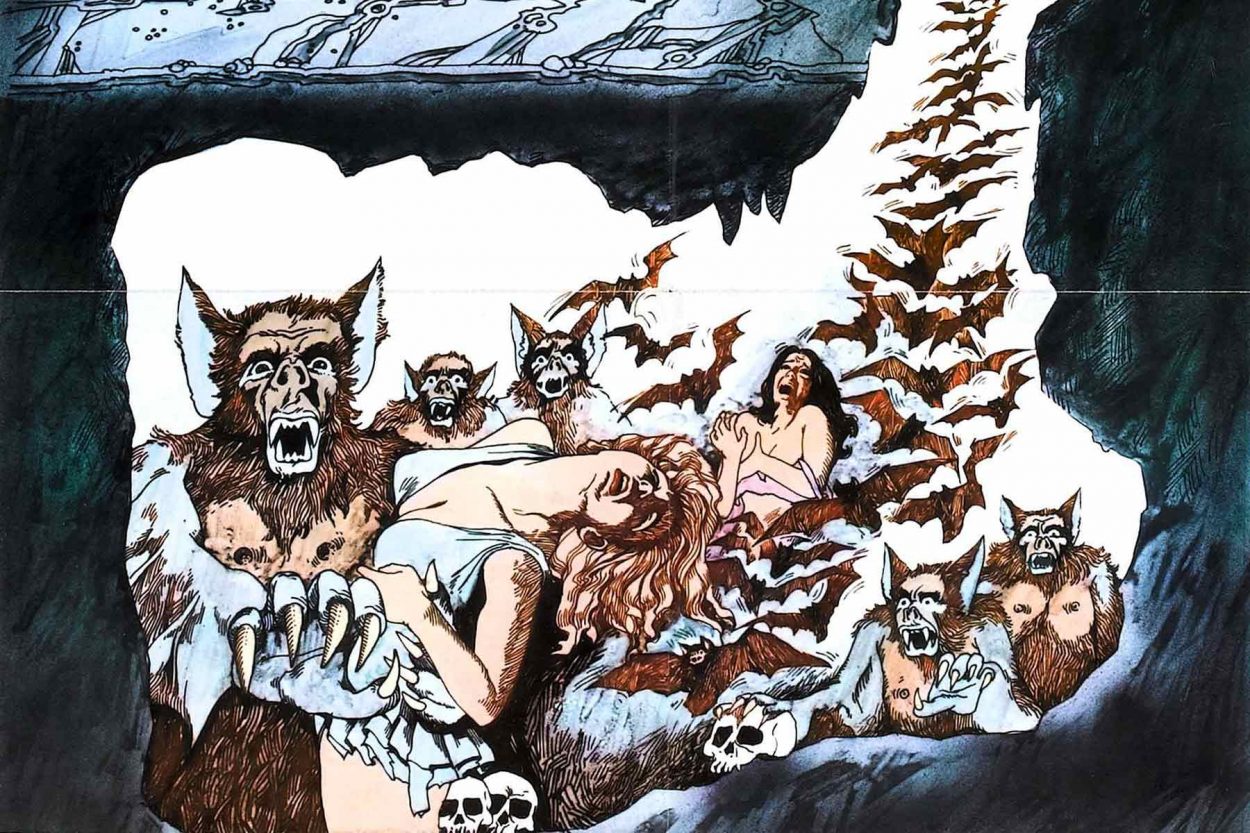 As a fun button on this day of Jamesonia, we are reminded of a hilarious remembrance by comic book writer/historian Mark Evanier about the long-gone Palms Theatre in Culver City, who in the '70s ran double features with cartoons much as we do today, and one specific time when their showtime announcer went a little off the rails in promoting a double feature of Walter Matthau films.
In that spirit, we invite you to drive up to the theater where our parking lot attendant, Jerry Jameson, will show you where to park. Then buy a ticket from our box office attendant, Jerry Jameson, and have it torn in half by our ticket taker, Jerry Jameson. Visit our refreshment stand where our counterman Jerry Jameson will gladly sell you a large, Jerry Jameson-sized soft drink and a box of Jujubees, every one of them in the shape of Jerry Jameson. You will be seated by our usher, Jerry Jameson, and then our projectionist (Jerry Jameson) will start the program, commencing with a Jerry Jameson cartoon, a Jerry Jameson newsreel, and coming attractions of more than a dozen Jerry Jameson films.
Because to us at the New Beverly, too much Jameson is never enough.