When Elijah Drenner's documentary American Grindhouse premiered at the New Beverly on August 24th, 2010, Robert Forster, who provided the narration for Drenner's labor of love, joined other luminaries featured in the film for a post-show Q&A, and offered a bemused explanation for his longtime association with these genre pictures that demonstrated the warmth and unpretentiousness that made him such a beloved actor: "[I] decided I was going to be a star in movies. My very first movie I was starring, and then slowly by slowly [I] descended into pictures like this." As part of this month's New Beverly tribute to our departed friend, on November 12th we offer a Grindhouse Tuesday triple feature with him headlining high-energy, low-budget adventures, all involving a certain degree of athletic prowess in his characters. With two solid action hits up front, and a fun sexy comedy to close, you could call this the "Forster: Pussycats! Kill! Kill!" show.
The evening starts with an immediate leap into the defiantly dangerous world of Stunts from 1977. When stunt performer Glen Wilson (Forster) learns his brother and fellow daredevil Greg has died from what should have been a safely choreographed sequence, he volunteers to complete his brother's task, hoping to discover how this "accident" could have happened. Allowing determined reporter B.J. Parswell (Fiona Lewis) to accompany him, the two of them encounter plenty of colorful personalities on the set, including Greg's friends Paulie (Ray Sharkey), Patti (Joanna Cassidy), and Chuck (Bruce Glover), effects artist Pete (Richard Lynch), comely co-star Judy (Candice Rialson), and top dog director Earl (Malachi Throne). Soon there are more casualties on this production, and Glen must discover who is responsible before he becomes the murderer's martini shot.
Stunts was the first film greenlit and produced by New Line Cinema, founded by Robert Shaye in 1967 with an initial focus on acquiring and releasing films geared to the counterculture as Pink Flamingos and Reefer Madness. Director Mark L. Lester had previous proved his skill in making movies about fringe creatives with his short film Tricia's Wedding, featuring the San Francisco drag theatre troupe The Cockettes, and his docudrama on demolition derby drivers Steel Arena, and after making Stunts, would turn that focus on Venice skaters for Roller Boogie and neo-futurist punks for Class of 1984. Actual legendary stunt performers put their talents on display here, such as car performer Joie Chitwood, cycle rider Deanna Coleman, high fall expert Dar Robinson, stage fighter Lee Pulford, and aerialist Chuck Tamburro. Iconic composer Mark Kamen provided one of his earliest scores here; he would later create the '90s-era logo music for New Line. Stunts also had the distinction of receiving a prime-time network premiere on NBC in 1979, under its original shooting title of Who is Killing the Stuntmen.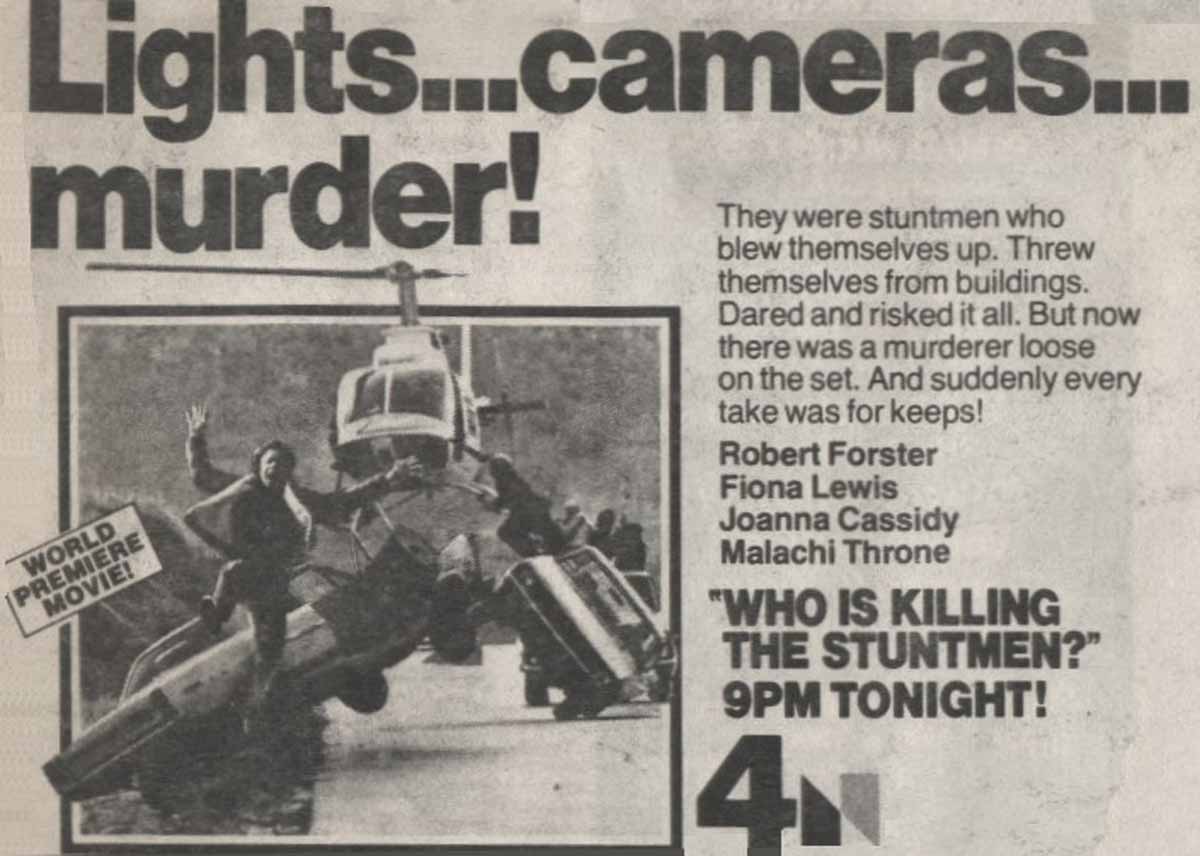 Our hero's not playing a stuntman in the second feature, but he's still risking his life and Walking the Edge, from 1983. Short-term ballplayer turned hardscrabble taxi driver and numbers runner Jason Walk (Forster) crosses paths with distraught widow Christine Holloway (Nancy Kwan) when he unwittingly drives her to the locations where she summarily kills two associates of local thug Brusstar (Joe Spinell), all of them responsible for the death of her shady husband and innocent son. Now effectively drawn into her quest for catharsis, he first offers her material support through his own cash operations, and when his best friend Tony (A Martinez) is murdered by the still-healthy Brusstar, his own revenge lust goes into full gear. This unlikely duo brought together by mutual loss may prove to be the best team to strike down an entrenched criminal enterprise.
Austrian-born director Norbert Meisel started out as an actor, often playing Germanic bad guys on WWII-themed TV shows as "Combat!" and "The Rat Patrol." He began writing, producing, and directing unique, sexually-tinged dramas in 1972 with The Adultress, starring Tyne Daly and Eric Braeden. During a stay in the Phillipines during the mid-70s, he met actress Nancy Kwan, who was filming Night Creature with longtime friend Ross Hagen; the two married and became frequent collaborators, beginning with this film. Edge was also the first produced screenplay for writer Curt Allen, who later wrote Robert Forster's sole directorial outing Hollywood Harry, as well as a sequel to Forster's big hit Alligator, though the actor did not return for that project. Besides its veteran cast, there are also cameos from Dolemite screenwriter Jerry Jones, Alex Cox regular Luis Contreras, grindhouse actress turned producer Jacqueline Giroux, and frequent comic relief "old lady" Ivy Bethune, who passed away this past July at age 101. Edge has played the Bev frequently in recent years; Forster introduced a screening in November 2016 during a month-long salute to Nancy Kwan, and in September 2017, it played as part of a midnight double feature with another Bev favorite, Slithis, which screened just this past October.
After the extreme sport of stunt performance in the first feature and the shadow of baseball in the second, the grand finale brings on the All-American obsession with high school football with The Kinky Coaches and the Pom Pom Pussycats from 1981. The quest for the prestigious Chester W. Hick Cup fires up the longstanding rivalry between Bulldog Malone (John Vernon), coaching City High, and his former protegee Alan Arnoldi (Forster), now coaching the several-years-winning Johnson High team. Already, each man has their own pre-game superstitions which drive them, and each team has their own pranks to throw their rivals off, but then Johnson High cheerleader and aspiring activist Kathy (Donann Cavin) intensifies the feud when she asserts a Lysistrata-like sex strike against her quarterback boyfriend Gary (Kimberly McKeever), and City High player Plitt (Thom Haverstock) sees an opportunity to swoop in on her. As local sports reporter Jack McGuire (Norman Fell) attempts to keep track of the blows on and off the field, the dirty tricks these jocks will jam into the game for this Hick Cup could…go…all…the…way!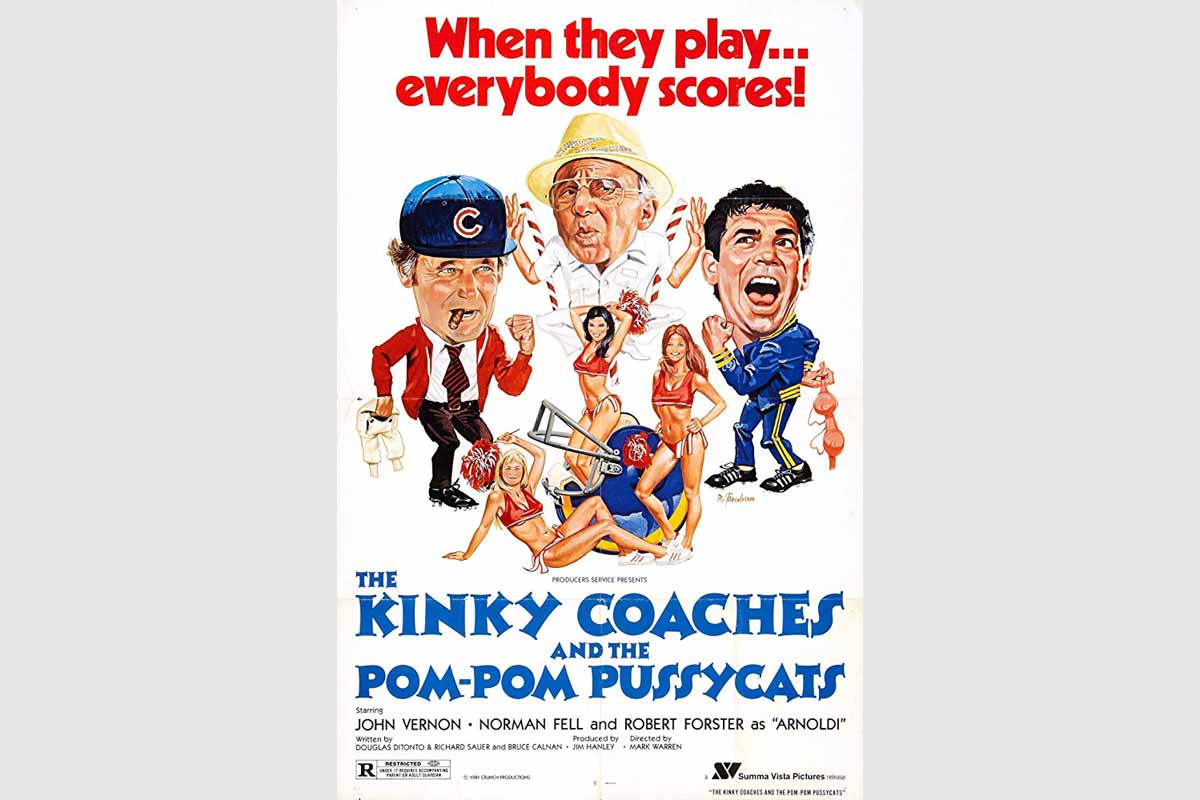 Originally conceived and filmed under the title Crunch in 1979, the story may have involved American football, but almost all the prime creators involved were Canadians. The initial story by the team of Douglas Ditonto & Richard Sauer was fleshed out by Bruce Calnan, the longtime companion of Outrageous! writer/director Richard Benner; Calnan served as set designer on Benner's breakout hit, and produced his major studio followup Happy Birthday Gemini with Madeline Kahn and Rita Moreno. Director Mike Warren had been born in Harrodsburg, Kentucky, but established himself as a TV director at the Canadian Broadcasting Corporation in the '60s. One of the first Black television directors, he was hired by George Schlatter to helm an all-Black version of "Laugh-In" called "Soul" with Redd Foxx and Nipsey Russell, which was never aired, and also directed the sole episode of Schlatter's sketch show "Turn-On" with Tim Conway, which was infamously cancelled by ABC before its first broadcast had even finished airing. Warren would have a long TV career working on shows as "Get Christie Love!," "Sanford and Son," and "What's Happening," while making occasional feature films as the Cotton Comes to Harlem sequel Come Back Charleston Blue. The Canuck production outfits behind the project included Sandy Howard, later responsible for Vice Squad and Death Ship, and Astral Pictures, later to make one of the most successful teen comedies of all time, Bob Clark's Porky's. The memorable Kinky Coaches title was coined by U.S. distributors Summa Vista Pictures, founded by former AIP executives Leon P. Blender and Mickey Zide, who released it in 1981. Summa Vista also released grindhouse staples Kill Squad and Blood Song. In later years, it has appeared on cable and home video under the alternate title Heartbreak High.
In a "Random Roles" interview with Will Harris for AV Club in 2011, Forster remembered of his experience, "Oh, Jesus…it was up in Montreal, and it was summertime, so it was nice. I remember Montreal being a beautiful place with nice people. I enjoyed being there. I remember thinking, 'Boy oh boy, a job like this doesn't come along everyday.' And I remember I needed the money. Well, I always needed the money: I had four kids and two exes. So I had to take jobs, so I took 'em." He neglected to mention that the shoot reunited him with Canadian native John Vernon; they had previously worked together on the 1969 George Cukor costume drama Justine, which is also screening during the New Beverly's Forster retrospective. When Kinky Coaches was released in America, Siskel & Ebert relegated it to their "Dog of the Week" segment on "Sneak Previews," with Gene amusingly complaining about there being not enough nudity, and Roger quipping, "very kinky, not very pompom."
Robert Forster was known his entire career as an actor always ready and eager to work, and consistent at delivering thorough performances, regardless of the genre or "class" of material. So spend a Tuesday night watching his strong commanding presence soar, gore, and score on the big New Beverly screen!