In his 2004 biography Hal Wallis: Producer to the Stars, author Bernard F. Dick offered this assessment of the legendary producer approaching the year 1969: "As an independent producer, Wallis – then in his late sixties – probably never thought of Paramount as a gerontocracy; he may not have thought of himself as a senior citizen either…[but] it was no longer the studio that had been his home for twenty-five years." Even after delivering one of their most prestigious releases, Becket, in 1964 and one of their biggest hits, True Grit, in 1969, Paramount's new landlord, Gulf + Western president Charles Bluhdorn, and studio head Robert Evans, were no longer interested in Wallis' projects. Four years later,  Wallis mounted a production that would simultaneously reach back to his early success at Warner Bros., serve as a cash-in and clapback to his former Paramount bosses, and plead his case as a still-relevant curator of stories.
Shortly after his departure, Wallis was welcomed at Universal, where he would produce eight more films. And in many ways, they frequently attempted to recapture formulas that had generated hits during his Paramount tenure. Anne of the Thousand Days (the project which sparked his departure when Bluhdorn refused Richard Burton's demand for a $1 million salary), Mary Queen of Scots, and The Nelson Affair were clearly geared to Becket and other costume drama fans. The Public Eye was a racy seriocomic romance based on a play by Amadeus author Peter Shaffer that mirrored the appeal of All in a Night's Work and Barefoot in the Park. Shoot Out reunited Wallis with True Grit's writer Marguerite Roberts and director Henry Hathaway, and offered a scenario of a rough-hewn outlaw paired with a precocious little girl on a perilous odyssey that not only harkens back to Grit, but oddly predicts the dynamic of Peter Bogdanovich's later Paramount project Paper Moon, albeit three years beforehand; as noted by Quentin Tarantino, "In both movies a shady man is left, against his will, in charge of the daughter of a deceased former flame, [of whom] he may or may not be the father." In a May 1973 wire interview with entertainment reporter Dick Kleiner, Wallis insinuated that he was much more comfortable with this kind of material versus the more daring films drawing attention at the time.
"I am very depressed about movies today…I hate to see it falling off the way it is. But I am hopeful the trend in today's pictures will pass the Deep Throat and Last Tango in Paris trend. They're not movies, they're stag films. People aren't going to the movies so much any more because there's nothing to take a family to…The problem is we get a lot of wheeler-dealers and sharpshooters in the business. They've never made a film in their lives and they think all it is is easy money."
Before Mario Puzo had completed the novel that he had pre-sold as a 60-page manuscript to Paramount, The Godfather had become such a highly-anticipated film project that rival studios and producers, either by kismet or canny planning, put similar mob-related stories into development and production. And after the film became a 1972 blockbuster, even more filmmakers took a bite of the cannoli. In a 1994 interview with Sofia Coppola for her experimental Comedy Central series "Hi Octane," Martin Scorsese suggested that the changes of 20th century America can be chronicled through its gangster movies, with Public Enemy and Little Caesar on the front end, presenting the criminal as detached outsider, to The Godfather and beyond presenting "the gangster family as [literal] family." And as the man who helped produce Little Caesar and other notable classic gangster dramas as a fledgling producer and later head of production at Warner Bros. during the '30s and '40s, Hal Wallis must have looked at all this cinematic criminal activity and felt, as an originator of the genre, he had something to contribute.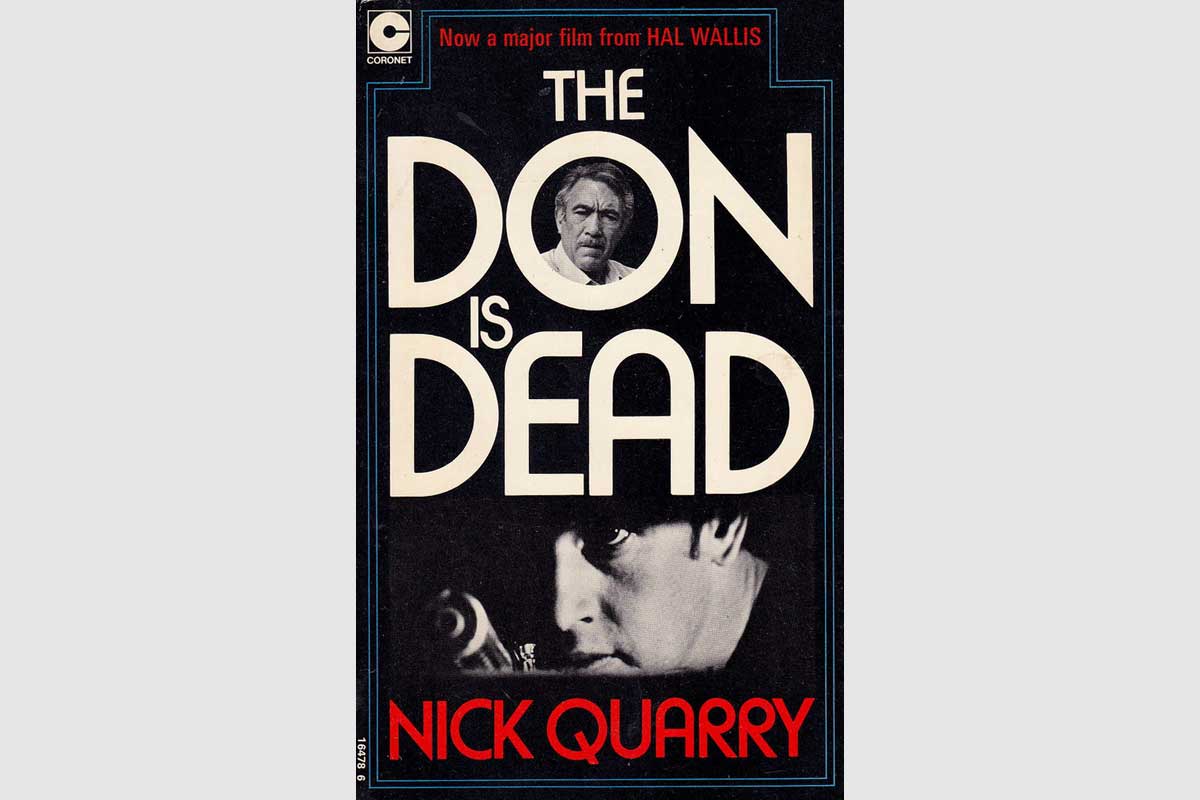 After the Corleones became a phenomenon in bookstores and theatres, it wasn't long before pulp authors began to add "family" stories to their proven formulas of detectives, cowboys, mercenaries, and bad girls. Prolific genre writer Marvin H. Albert had already written several western books and screenplays, novelizations for hit movies, book tie-ins for the Blake Edwards TV series "Mr. Lucky," and created the detective Tony Rome portrayed by Frank Sinatra in two films, when he started typing up crime tales. Under his frequent alias Nick Quarry, he published The Vendetta and The Don is Dead in 1973, hyped by his publisher Gold Medal Books as, "in the Tradition of The Godfather." Wallis and Universal swiftly put a film adaption of Don into production, with Richard Fleischer, fresh off of making Soylent Green, as director. Albert would adapt his story, with additions by two second-generation screenwriters, both of whose parents suffered blacklisting in the time of HUAC: Christopher Trumbo, son of Dalton, and Michael Philip Butler, son of Lassie Come Home screenwriter Hugo Butler. In the Kleiner interview, conducted while the film was in production, Wallis stated, "It's nothing I haven't done before, but lately, I've become so identified with historical films that people have forgotten I can do something else."
The Don is Dead begins with the death of reigning Don Paulo Regalbuto, leading to an uneasy alliance among the city's three factions where Regalbuto's son Frank (Robert Forster) and his allies Tony & Vince Fargo (Frederic Forrest, Al Lettieri) agree to yield power to older rival Angelo DiMorra (Anthony Quinn) in exchange for training and direct succession. However, the third faction, represented by scheming consigliere Luigi Orlando (Charles Cioffi), ignites distrust and violence between the others, by steering aspiring singer Ruby Dunne (Angel Tompkins), Frank's girlfriend, into regular contact with Angelo. The strategy works, and soon it's almost every man for himself in a battle for control, proving the classic film noir maxim that regardless of whether money or political influence is at stake, at the end, most wars are started over a girl.
Besides offering a break from his stately production routine and a timely opportunity to ride on a popular trend, it's imaginable that Wallis' interest in Don had some motivation from its plot involving a generational divide and the frustrated pursuit of power sharing. The deteriorated relationship between older veteran boss Angelo and younger rising heir Frank could very easily be an extended metaphor for Wallis' exit from Paramount, the producer sympathizing with Angelo's feelings of manipulation and betrayal at the hands of less-experienced newcomers, those "wheeler dealers and sharpshooters" now running the major studios, with some wish-fulfillment taking place as Angelo manages to do some outsmarting of his own. And in turn, the resolution of this gang war tale, where peaceful balance is returned but at large personal cost, predicts Wallis' own life choices after Don was released.
Don not only directly commandeers the feuding families elements from Godfather, it also commandeers two of its supporting players: Al Lettieri, who had played Virgil Sollozo, and Abe Vigoda, who had played Salvatore Tessio. Conversely, Frederic Forrest would go from biting Coppola in this film to appearing in four of the director's later films, including Apocalypse Now and Tucker. Angel Tompkins, playing the unwitting dupe Ruby, portrayed a more conniving femme fatale to a band of dwarf bandits that same year, in the cult favorite Little Cigars. Other venerably brutish cast members include Victor Argo, Vic Tayback, Sid Haig, and Val Bisoglio. The film was released in the period between the end of star Robert Forster's television run as a 1930s Los Angeles private eye on Banyon and before his turn as a Navajo deputy sheriff on Nakia. Most of the movie was shot on Universal's famous back lot, with some interiors done in the ornate Harold Lloyd estate in Beverly Hills. The film arrived in theatres in November 1973. In light of Wallis' comments about family entertainment, Don stands out as the sole R-rated film in his production history.
Wallis promised at least two more contemporary-themed projects during his interview, including an adaptation of the Edward Thorpe novel The Night I Caught the Santa Fe Chief, initially planned with his The Nelson Affair director James Cellan Jones, and later contemplated by Don Siegel. "I keep telling myself that I shouldn't be so busy, that I really want to cut down to one or two pictures a year. Then I get excited about a project and I go ahead and do it. I enjoy it. I don't consider what I do as punishing work." However, Wallis would produce only one more project after Don, and once again, it was a throwback to his Paramount days: Rooster Cogburn, with John Wayne, in his penultimate film performance, returning as the one-eyed rogue lawman from True Grit, from a screenplay pseudonymously written by Wallis' wife, actress Martha Hyer.
Wallis would live another 11 years after his final film release. He engaged in philanthropy with his wife, and published a 1980 autobiography, Starmaker, which features almost no mention of The Don is Dead, before dying on October 5, 1986, at age 87. After a career that contained multiple triumphs, including 16 Academy Award nominations and 1 win, and making screen icons out of Elvis Presley and Jerry Lewis, he had decided proving his relevance was less important than preserving his legacy.
Serendipitously, the alternate title given to The Don is Dead for its Japanese release was The Wise Man Meets His Destiny.