Anyone who fervently loves Christmas as much as we do knows that even after the big day passes, the holiday isn't over by a longshot. All the cool Yule mavens keep the party going all the way to January 6th and the Feast of the Epiphany, when the Three Wise Men arrived in Bethlehem and threw an unusual baby shower. The super hardcore keep their decorations up 'til Candlemas in February! The point is, we're closing out 2018 and launching 2019 by keeping up our Crooksmas celebration, presenting one of the crown jewels of movie crime dramas for a whole week, and pairing it up with a variety of other sagas that bear its distinct influence. It's a cinematic feast that offers you movies that, for most of you, will be an epiphany, and while we may not have Three Wise Men in the house, we'll have a plethora of Wise Guys to entertain you!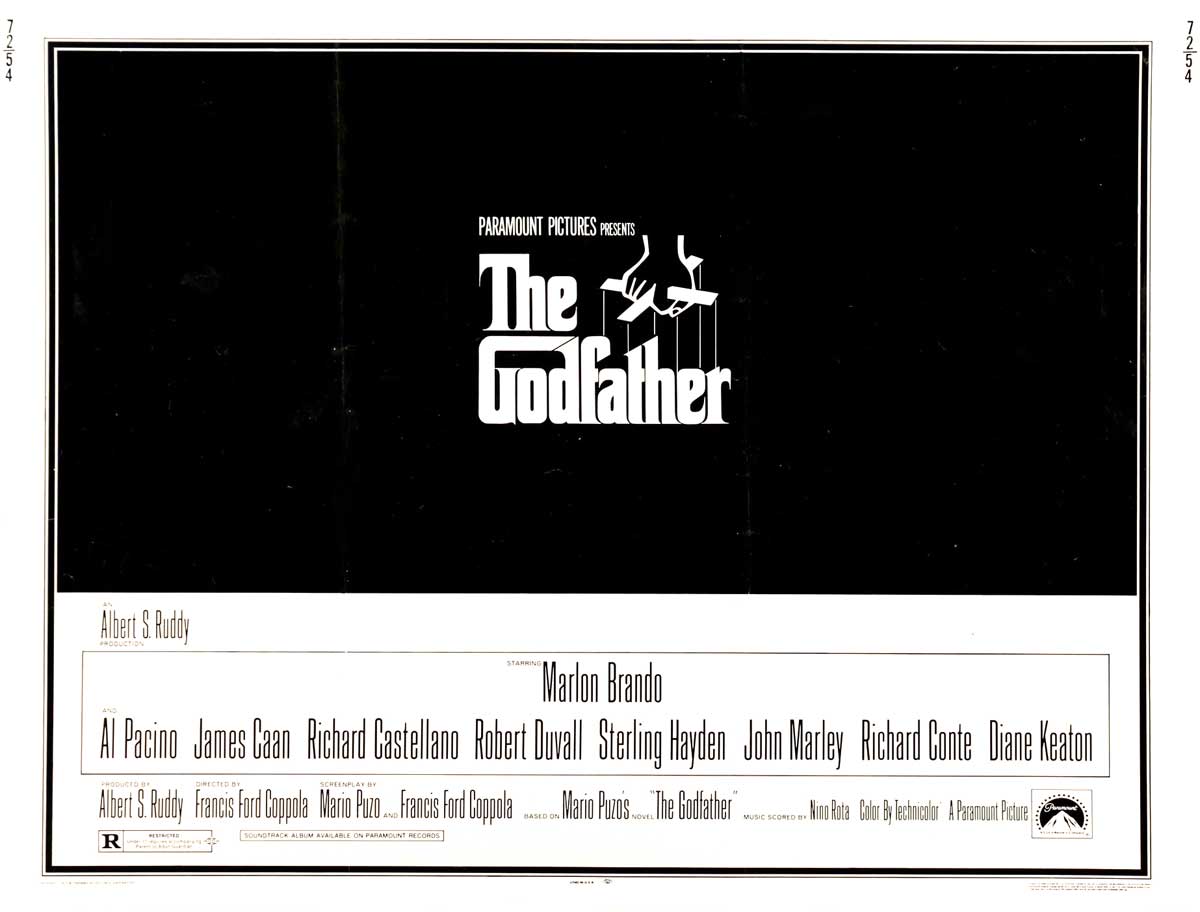 Francis Ford Coppola's The Godfather gets a week-long berth from Sunday, December 30th to Saturday, January 5th. In a 1994 interview with Sofia Coppola for her experimental Comedy Central series "Hi Octane," Martin Scorsese suggested that the changes of 20th century America can be chronicled through its gangster movies, with Public Enemy on the front end, presenting the criminal as detached outsider, to The Godfather and beyond presenting "the gangster family as [literal] family," along the way acknowledging that crime and violence are ultimately ingrained in the culture rather than operating on the fringes. Thus it can be said one of the reasons the movie has become such a huge classic is that in 1972, during one of the greatest cultural divides America ever experienced, multiple demographics could latch onto a theme within – "The Silent Majority" no doubt were taken with the family bonding in an unlikely setting, and probably enjoyed their ruthless gamesmanship against those who would attack them, while the counterculture types could find validation for their vigorous cries against institutionalized corruption and internalized power, of collusion between police, politicians, and the secretive forces like The Five Families that allowed graft, violence, and murder to go unpunished. And its durability through the decades has demonstrated that, well, much of these elements remain relevant.
Look carefully during certain scenes and you'll find some surprising faces on the periphery. Frank Anthony Vallelonga, aka "Tony Lip," portrayed by Viggo Mortensen in the current hit drama Green Book, pops up here as a guest at Connie Corleone's wedding, along with his son Nick, who would co-write the screenplay about his father's formative road trip. One of the wedding singers is Peter Lemongello, who would make music history by selling his album Love '76 exclusively through TV mail-order advertising. ("$6.98 for 2 LPs, $8.98 for 8-track tape.") Real-life NYPD detective Randy Jurgensen, who served as a consultant on The French Connection and other crime dramas, plays a fateful assassin. And everyone's favorite maniac Joe Spinell makes his first film appearance, playing hitman Willi Cicci; originally unbilled, he and his character would be brought back for The Godfather, Part II with onscreen credit. Jurgensen and Spinell would frequently act and serve other jobs on the same movies for years afterward, including Maniac, Sorcerer, and Aram Avakian's Cops and Robbers, which played the Bev in July 2016. Avakian, who had previously edited Coppola's You're a Big Boy Now, was originally enlisted to edit The Godfather, but reportedly spread rumors about Coppola shooting "uneditable" footage in the hopes of taking over the directing reins, and was fired.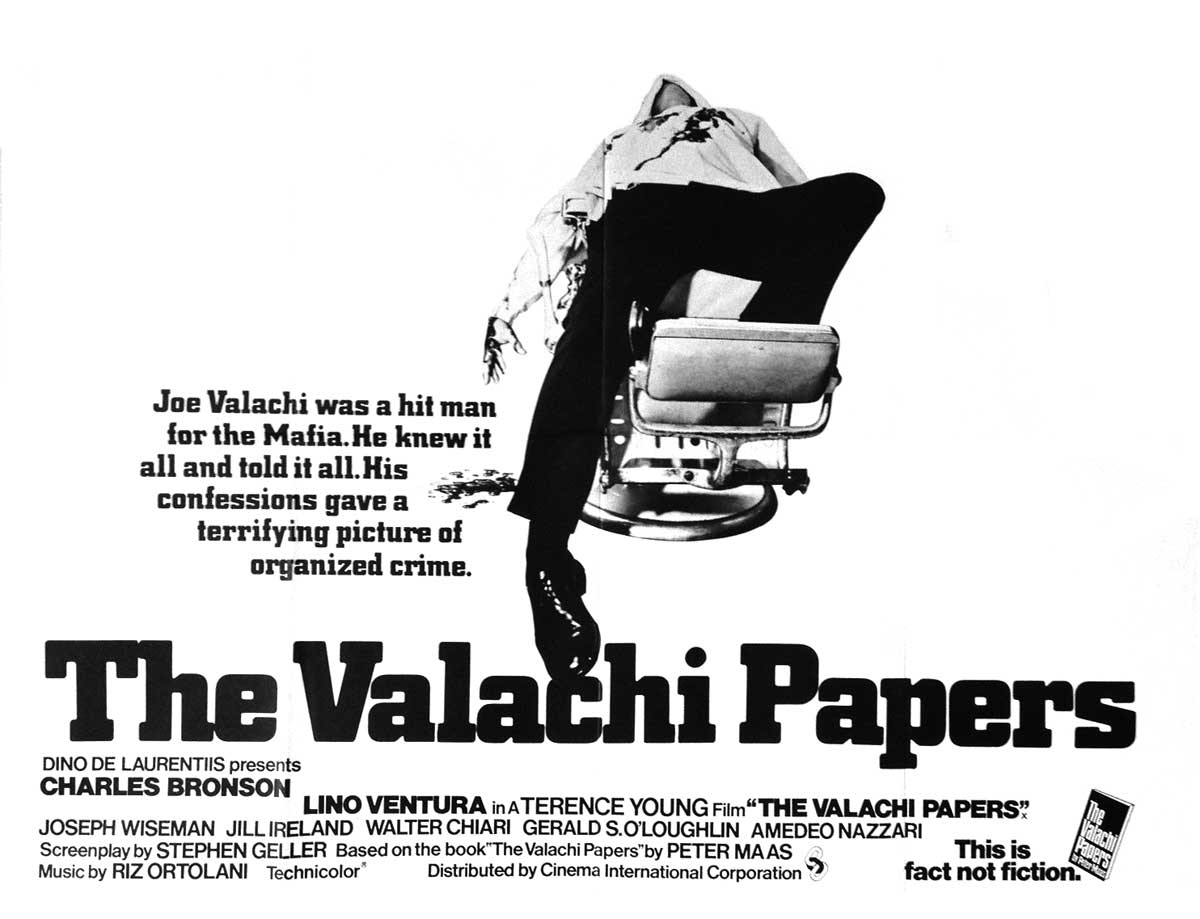 While Mario Puzo's source novel The Godfather was considered a game-changer in its depiction of crime families, it had a very formidable competitor racing with it it to bookshelves. In the mid-'60s, journalist Peter Maas, then writing for The Saturday Evening Post, had been given unprecedented access to Joe Valachi, a former underling in the Genovese family turned government witness against the mob, in the goal of coalescing his testimony with personal history into an autobiographical memoir for publishing. But after pressure from Italian political action groups, U.S. Attorney General Nicholas Katzenbach blocked its release. Maas would revise the collected data into a third-person account called The Valachi Papers, which was published in June 1968. By contrast, while Puzo's novel existed as a 60 page manuscript in 1967, when Paramount optioned it for development, the finished book was not released until March 1969. Both books were published by G.P. Putnam Sons.
The Valachi Papers, which screens with The Godfather December 30th & 31st, stars Charles Bronson as Valachi, serving time for drug trafficking in 1962, and upon discovering that his former boss Vito Genovese (Lina Ventura) is in the same prison and seeking to have him killed, reluctantly agrees to yield a lifetime of secrets to the government. In flashback, Valachi reveals his ascent from adjunct grunt to full gangster, his personal interactions with bosses Tony Bender (Guido Leontini), Salvatore Maranzano (Joseph Wiseman), and Genovese, and his marriage to another mobster's daughter, Maria Reina (Jill Ireland). While to this day many have argued about the veracity of his testimony or the depth of his actual participation, Valachi named names and revealed how the blood sausage was made, cementing his place in the ongoing history of the men who initiate crime and the forces that prosecute the offenders.
Producer Dino De Laurentiis bought the film rights to The Valachi Papers in 1969, and gambled bullishly on the project. He signed Bronson, who at the time was primarily making French-produced action films overseas, for a three-picture contract at a then-unexpected $1 million per picture, and hired former James Bond director Terence Young, who had already made Cold Sweat and Red Sun with the actor, to work with him again. Writer Stephen Geller, who had previously written She Let Him Continue, the source novel for Noel Nosseck's 1968 cult favorite Pretty Poison, adapted Maas' book, with uncredited dialogue contributions from Massimo De Rita & Arduino Maiuri, collaborators on the earlier Bronson crime drama Violent City aka The Family which played the Bev earlier this month. According to the book Dino by Tullio Kezich and Alessandra Levantesi, initial scenes were filmed in New York, with schedules and other documents sent in sealed envelopes to thwart disruptions and violence by local criminals, but eventually the hostilities forced the remainder of the shoot to be completed in Rome. Paramount, a frequent production partner with De Laurentiis, paid him $2 million to acquire U.S. theatrical rights, planning to release it after The Godfather, but backed out of the deal after a bomb threat was made to Gulf+ Western headquarters in NYC; a similar bomb threat scuttled a planned sale to WB shortly after. Ultimately, De Laurentiis' frequent production assistant Ralph Serpe arranged a meeting in Miami with a figure named "Jimmy Blue Eyes," and the producer appealed to the associate for a favor, which was granted. Columbia Pictures picked up distribution rights for $4 million, and in its initial release in late 1972, Valachi grossed over twice its acquisition costs. De Laurentiis was paradoxically energized by the challenges he experienced during production, and decided to move to America and base his company there. While author Maas was reportedly not pleased with the picture, he would work with De Laurentiis again, selling him film rights to his next book on another real-life whistleblower against corruption, detective Frank Serpico.
Reception to Valachi was generally fair but muted in comparison to the raves cast upon The Godfather, with one exception: posters and newspaper ads eagerly elevated a quote from a then-unnamed critic for NBC's Chicago affiliate, saying, "Is it as good as The Godfather? The answer is…no, it is better." The critic was a young Gene Siskel, years before his immortal pairing with Roger Ebert on "Sneak Previews" and its various reincarnations. Years later, the genial critic walked back his initial reaction, observing, "There is a point when a personal opinion shades off into an error of fact. When you say The Valachi Papers is a better film than The Godfather, you are wrong."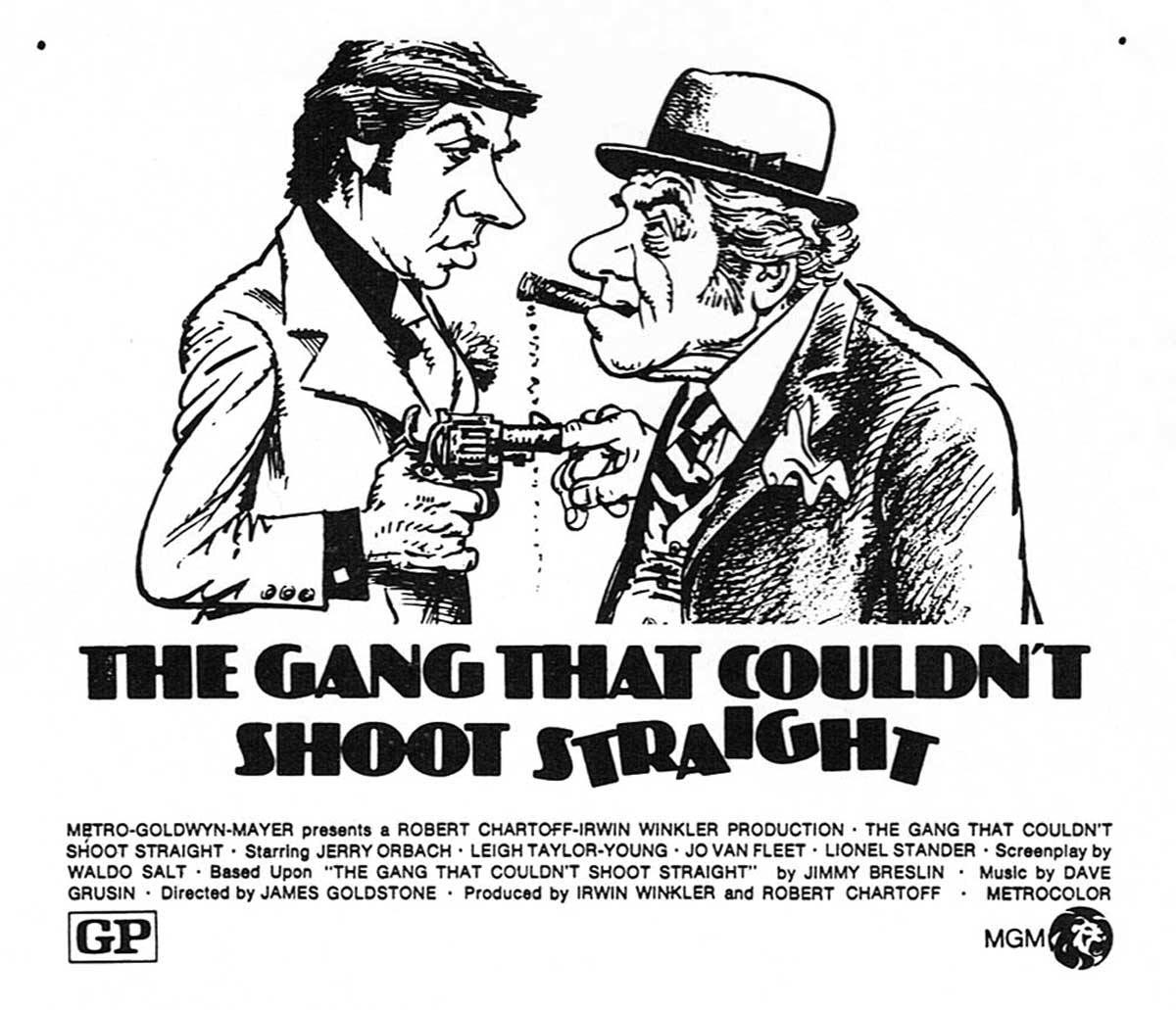 Meanwhile, as Puzo and Maas were crafting their soberly epic tales of criminal enterprise, yet another New York-based writer was taking note of the activities of another wing of the Five Families, but with a much more humorous and subversively scathing manner. After making history by interviewing Clifton Pollard, the man who dug the grave at Arlington Cemetery for President John F. Kennedy, New York Magazine writer Jimmy Breslin published his first work of fiction in 1969, The Gang That Couldn't Shoot Straight. The book was loosely modeled on the calamitous experiences of "Crazy Joe" Gallo, a crew leader for the Profaci crime family in the '50s and '60s; after initial success in gambling, extortion, and club operation, Gallo and his brothers launched a failed coup on Profaci leadership, which was matched by a failed execution of his brother Frank by the Profacis, and Joe's conviction and imprisonment for a failed extortion of a restaurateur. Breslin's sardonic prose mixed with wild-but-accepted-true details such as Gallo keeping a pet lion at home, made the book a smash.
James Goldstone's 1971 film adaptation of The Gang That Couldn't Shoot Straight, which screens with The Godfather on January 2nd & 3rd, dramatizes the travails of Gallo's surrogate Kid Sally Palumbo (Jerry Orbach) as he tries to get out from under his abusive capo Baccala (Lionel Stander). Sally is allowed to supervise a phony Brooklyn bike race, which brings ambitious fresh-from-Italy con artist Mario Trantino (Robert De Niro) to town, and when the race falls apart, Trantino improvises his own action, including romancing Sally's sister Angela (Leigh Taylor-Young). Egged on by his domineering mother (Jo Van Fleet), Sally declares war on Baccala and his men. Yet dumb luck keeps them alive, while otherwise decimating Sally's crew. "Family business" will soon devolve into a bollix for them all.
Gang's production history is bizarrely intertwined with that of The Godfather. When it appeared Paramount did not want to hire Al Pacino to play Michael Corleone, he agreed to play Mario in Gang; when Paramount finally agreed to cast Pacino, studio president Robert Evans used notorious legal "fixer" Sidney Korshak to personally call MGM owner Kirk Kerkorian to release Pacino from his contract. Conversely, Robert De Niro, who had been given a small role in Godfather, left the project to take over the comparably larger part of Mario in Gang. And while the local mob did not try to disrupt Gang's Red Hook location filming as they did Godfather's (which also required Korshak's services), the local unions made things difficult; director Goldstone bemoaned, "We had a Cinemobile with a phenomenal driver provided by Cinemobile Systems, but we were required to have three standby drivers – and none of them drove." Besides De Niro, Gang supporting players Michael V. Gazzo and Carmine Caridi would later be cast in The Godfather, Part II. Gang also has unusual ties to Dino De Laurentiis, in that screenwriter Waldo Salt's next project would be sharing adaptation credit with Norman Wexler on the aforementioned Serpico in 1973, and De Laurentiis would later produce another fictionalized drama about Joe Gallo, Crazy Joe, in 1974, with Peter Boyle in the title role.
Around the time of Gang's release in December 1971, the real Joe Gallo was released from prison, and sought a meeting with Jerry Orbach to initially complain about his de facto portrayal by the actor. The two men ended up becoming friends, and Gallo was soon keeping company with other actors and writers in New York City. However, his criminal activities continued, leading to his execution at Umberto's Clam House in Little Italy in April 1972, the night of his birthday. Accounts differ as to whether one man or four fired the fatal shots. The long-awaited 2019 Martin Scorsese picture The Irishman stars Robert De Niro as Frank Sheeran, union agitator and hitman for the Bufalino crime family, and self-professed sole assassin of Joe Gallo; comedian Sebastian Maniscalco portrays Gallo in the film.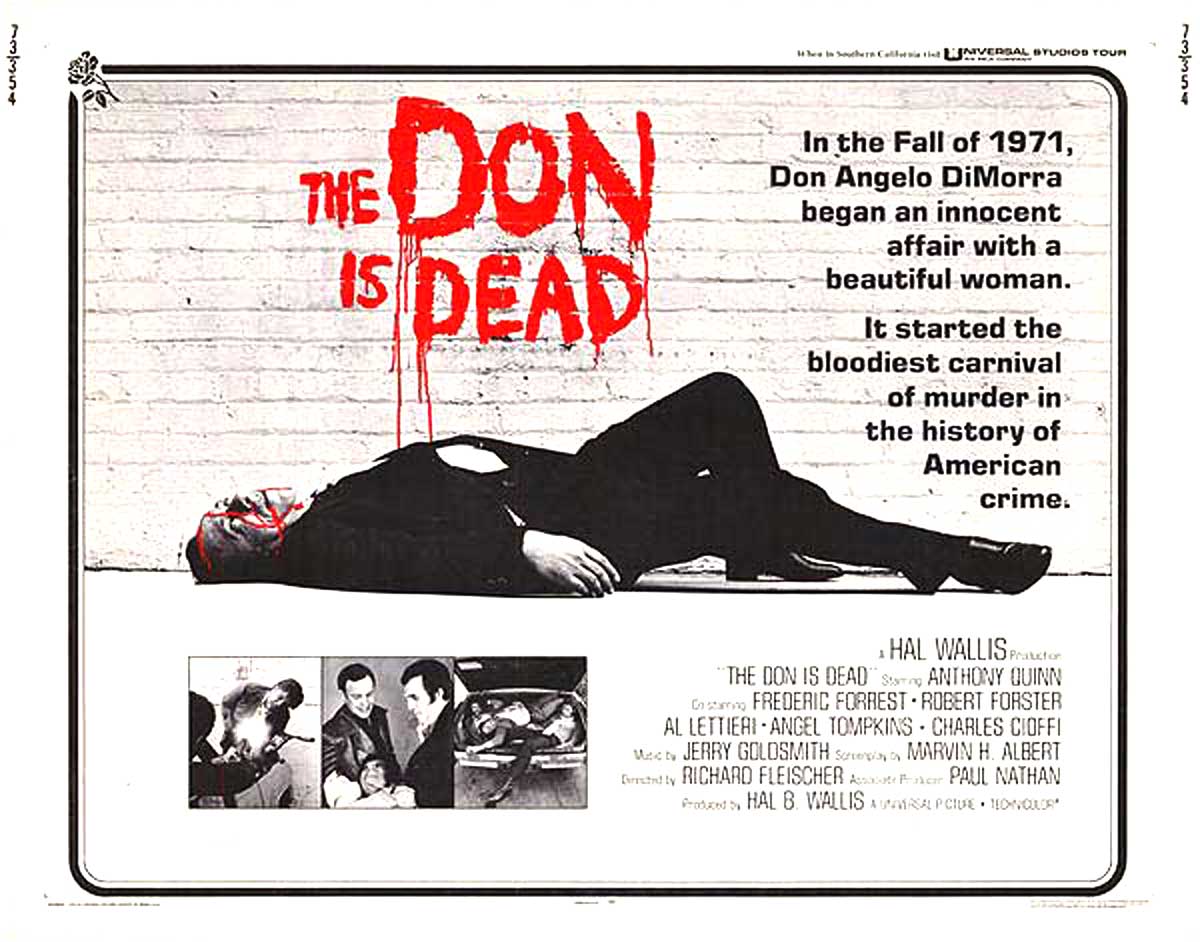 After the novels by Puzo, Maas, and Breslin became best-sellers, it wasn't long before pulp authors began to add "family" stories to their proven formulas of detectives, cowboys, mercenaries, and bad girls. Prolific genre writer Marvin H. Albert was among those jumping on the Cosa Nostra Express. Albert had already written several western books and screenplays, novelizations for hit movies, book tie-ins for the Blake Edwards TV series "Mr. Lucky," and created the detective Tony Rome portrayed by Frank Sinatra in two films, when, under his frequent alias Nick Quarry, he published The Vendetta and The Don is Dead in 1973, hyped by his publisher Gold Medal Books as, "in the Tradition of The Godfather." Producer Hal Wallis, who had left Paramount in 1969 around the time they had optioned Puzo's book, swiftly put a film adaption of Don into production at Universal with Richard Fleischer, fresh off of making Soylent Green, as director. Albert would adapt his story, with additions by two second-generation screenwriters, both of whose parents suffered blacklisting in the time of HUAC: Christopher Trumbo, son of Dalton, and Michael Philip Butler, son of Lassie Come Home screenwriter Hugo Butler. Most of the film was shot on Universal's famous back lot, with some interiors done in the ornate Harold Lloyd estate in Beverly Hills. The film arrived in theatres in November 1973.
The Don is Dead, which screens with The Godfather on January 4th & 5th, begins with the death of reigning Don Paulo Regalbuto, leading to an uneasy alliance among the city's three factions where Regalbuto's son Frank (Robert Forster) and his allies Tony & Vince Fargo (Frederic Forrest, Al Lettieri) agree to yield power to older rival Angelo DiMorra (Anthony Quinn) in exchange for training and direct succession. However, the third faction, represented by scheming consigliere Luigi Orlando (Charlies Cioffi), ignites distrust and violence between the others, by steering aspiring singer Ruby Dunne (Angel Tompkins), Frank's girlfriend, into regular contact with Angelo. The strategy works, and soon it's almost every man for himself in a battle for control, proving the classic film noir maxim that regardless of whether money or political influence is at stake, at the end, most wars are started over a girl.
Don not only directly commandeers the feuding families elements from Godfather, it also commandeers two of its supporting players: Al Lettieri, who had played Virgil Sollozo, and Abe Vigoda, who had played Salvatore Tessio. For good measure, it also features Joe Santos from Gang. Conversely, Frederic Forrest would go from biting Coppola in this film to appearing in four of the director's later films, including Apocalypse Now and Tucker. Angel Tompkins, playing the unwitting dupe Ruby, portrayed a more conniving femme fatale to a band of dwarf bandits that same year, in the cult favorite Little Cigars.
Finally, in this week-long cinematic rampage of crime, it's fitting that we include one of the more left-field knockoffs of the Coppola classic, and it's oddly fitting for our omnivorous love of film that this combo is not only our first offering of 2019, but that it is also a Grindhouse Tuesday event as well. While there were plenty of martial arts films hoping to lure fans of organized crime to watch organized asskicking, most never actually tried to directly ape their ostensible target – The Chinese Godfather was merely a re-titling of The Chinese Mack, The Godfather Squad just involved drug dealers targeting a movie star, and so on. But Lin Chan-wei's Kung Fu Executioner from 1981 comes right at the king of crime films, and doesn't miss. The prime story points of the predecessor are all present – the family patriarch who won't join in a drug-selling consortium, repeated attempts by hot-tempered enemies to assassinate him, the heir apparent betrayed and ambushed, and the reluctant son (Billy Chong Chun-lai) returning from overseas thrust into defending the family. And there's even a de facto outsider adopted as family, albeit a Black martial artist (Carl Scott) instead of an Irish lawyer. For all of those who watched the Corleones and thought they were wasteful with bullets, here's their story settled with economical and exciting moments of swordplay and hand-to-hand combat. It many not be an offer you can't refuse, but you may find it hard to walk away from it.
Get off the mattresses, come to the New Beverly, and mark these last seven days of Crooksmas by taking in a gold standard movie classic in tandem with some sterling favorites of ours. Accept them as a gift on our favorite holiday.