It's one of those harsh, unnerving facts that, whatever time you learn it in your life, no matter how much preparation culture and society has provided, you're never ready to face. But yes, long long ago, in that time over a half century ago they refer to as the '50s and '60s…your parents, maybe even your grandparents… they were teenagers run amok looking to get wasted and score just like you. And on Grindhouse Tuesday, January 22nd, it's time to remind yourself that your mom and dad had the same base animal desires you did, and you might as well laugh about it, with our Randy Retro Teens Triple Feature!
These three films on our program are particularly united not just in subject matter but also in the period in which they were made: the second half of the '70s. It was a time when America, if not the world, was flush with an unprecedented feeling of sexual freedom. Disparate forces like Alfred Kinsey, "the Pill," "no-fault divorce," Our Bodies Ourselves, Stonewall, and much more, fostered a climate where it was okay for people to openly embrace and espouse the desire for intercourse that was not within marriage and which was not for the purpose of bearing children. Meanwhile, in the earlier half of the '70s, an initially unconnected wave of nostalgia for '50s to early '60s culture (i.e. pre-Beatles) was on the rise, with roots in Sha Na Na's appearance at Woodstock and the resurgence of "Teddy Boy" fashion in England, and which later bloomed with the 1973 release of American Graffiti (which will screen at the Bev in an original IB Technicolor print Fri., Jan 25th & Sat., Jan. 26th). Consequently, these two streams collided in the hands of filmmakers who saw not only opportunity to cash in on moviegoers' hunger for '50s stories, but to depict them in a racy and uninhibited manner that even actual "adult" filmmakers working in that time could never dream of doing back then, resulting in loose fantasies where '70s sexual appetites are retrofitted to a previous time when they probably were contemplated, but weren't feasibly possible to exercise. But hey, when did anyone go after Blazing Saddles for its lack of historical accuracy?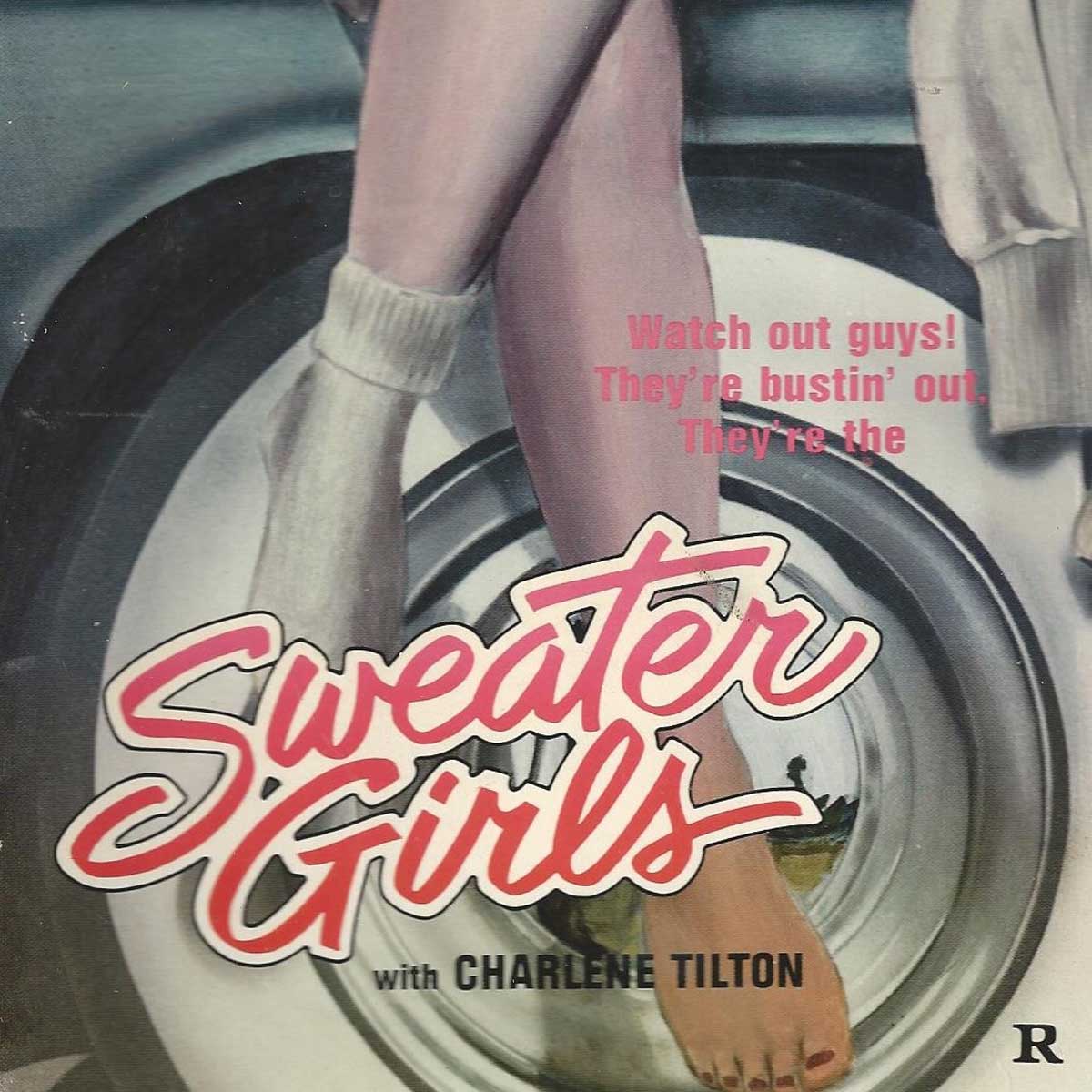 We start the night in 1956 with Sweater Girls from 1978. Judy (Carol Anne Seflinger) and Sharon (Kate Sarchet) are fed up with their boyfriends' constant hounding for a "happy ending" to their dates. And when Judy is enlisted to housesit at her grandma's on the 4th of July with a "no boys" order, she and Sharon invite their other girl friends to join them in a Lysistrata-style embargo and slumber party, wearing matching sweaters to declare their celibacy. Even Joella Glore (Julie Parsons), the girl who'll usually give what for, joins the strike. Naturally, at first the local boys try to compensate by going on their own he-man-wimmen-haters beer frolic at the lake, but soon all their energy will be focused on trying to break the girls' chastity coalition. Will the Sweater Girls be able to successfully declare Independence from clumsy uncouth boys?
Director and co-writer Don Jones previously helmed the notorious cult films Schoolgirls in Chains and The Love Butcher, and went on to do the 1982 slasher The Forest. In addition, he has also done practically every important job one can have on a film shoot, including sound on Larry Peerce's interracial dating drama One Potato Two Potato, stunts on Monte Hellman's Ride in the Whirlwind, key grip on Ted V. Mikels' The Astro Zombies, and cinematographer on Ronald Victor Garcia's Swingers Massacre. One of the rare and distinguished women working in '70s exploitation, co-writer and casting director Neva Friedenn had previously helped write Supervan and The Toolbox Murders. She later gave early work to Jean Claude Van Damme and Don "The Dragon" Wilson, and also founded the martial arts movie distributor Unifilm International, who released Showdown at the Equator, which last played the Bev in September 2017.
Kate Sarchet, playing ringleader Sharon, previously played Miss Modesto Judy Wagner, one of the Young American Miss contestants in Michael Ritchie's Smile. Harry Moses, playing her frustrated boyfriend Pete, is the brother of Falcon Crest and Melrose Place star William R. Moses, and co-starred in another teen drive-in fave, The Van. Carol Ann Seflinger, playing housesitter Judy, previously starred in the "Wonderbug" adventure segments of The Krofft Supershow. Noelle North, playing Bonnie, previously appeared in Carrie and Slumber Party '57, and went on to become a frequent cartoon voice artist on Jem, The Smurfs, and The Gummi Bears. Charlene Tilton has a very brief appearance at the end of the film, but that didn't stop shameless advertisers from elevating her billing in reissues after her starmaking role on Dallas. Even more shamelessly, in Italy, the film was retitled The 'Happy Days' Boys and the Sweater Girls, hoping to fool audiences into thinking the film was directly tied to the popular '50s sitcom.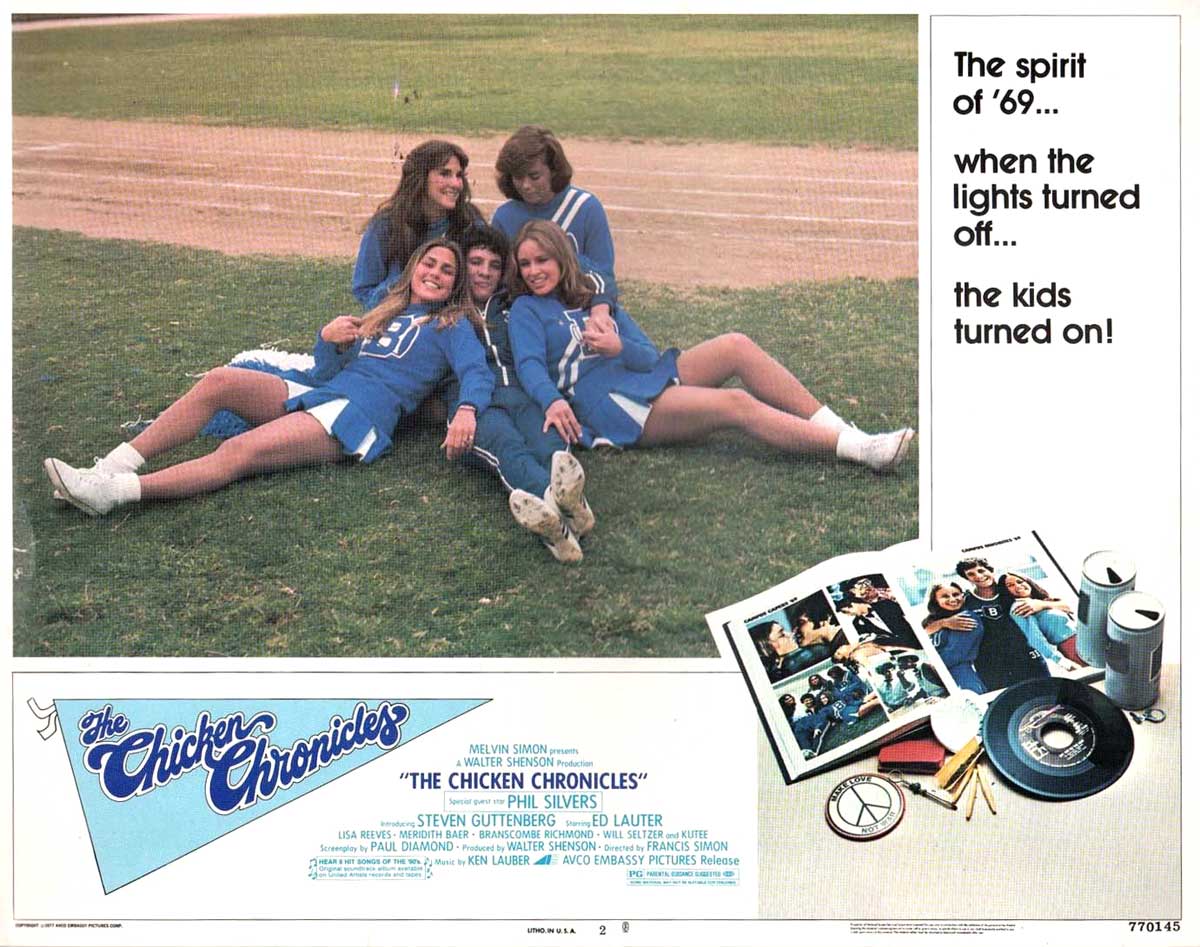 Time leaps forward to 1969 with The Chicken Chronicles from 1977. High school senior David Kessler (Steve Guttenberg) is a month away from graduation, and his two priorities are avoiding Vietnam service and having his first sexual experience with his difficult-to-please girlfriend Margaret (Lisa Reeves). In these crucial weeks, he constantly runs afoul of school authorities, especially Vice Principal Mr. Nastase (Ed Lauter), pulls pranks on the job at Chicken On the Run with his friend Mark (Branscombe Richmond) and grouchy boss Max (Phil Silvers), while Margaret keeps throwing obstacles to his goal of ultimate intimacy. Daniel's frustration could very well cost him his college deferment, which means he may not get laid, but he'll effectively screw himself!
Chronicles originated as a loosely autobiographical memoir written by Paul Diamond, son of frequent Billy Wilder screenwriter I.A.L. Diamond, which made its way through Hollywood in galleys before Diamond would work it into a screenplay. Diamond has since written for several TV series, and was story editor for The Bad News Bears spinoff series with Jack Warden and The New Mike Hammer with Stacy Keach. Diamond's high school classmate, future political pundit Mickey Kaus, suggested that the film's antics at the chicken restaurant had factual basis, writing at his blog in January 2007, "In 1969, as a senior in high school, I worked briefly as a delivery boy at the Beverly Hills franchise of Chicken Delight… The boss was a grouchy/lovable character who – according to possibly apocryphal legend – would occasionally pick up the phone and, instead of answering 'Chicken Delight, may I help you,' say 'Chicken Delight, fuck you!'" Director Francis Simon had previously made the 1968 drag pageant documentary The Queen, which immortalized influential performer Crystal LaBeija, founder of the House of LaBeija that propelled vogueing and ballroom culture; a voice sample from the documentary can be heard in musician Frank Ocean's recent project Endless, and the artist was name-checked on Season 3 of RuPaul's Drag Race All-Stars. Chronicles would be his only dramatic feature.
In his autobiography The Guttenberg Bible, Steve Guttenberg wrote, "The Chicken Chronicles was my first leading role. What a difference there is between coach and first class… I was a very regular guy in an extraordinary situation. I had five weeks in the company of women who were several years my senior, and extremely experienced with romantic scenes. These women were every boy's fantasy, including mine… I could get used to this." Indeed, both Lisa Reeves, playing the teasing Margaret, and Meridith Baer, playing the sweeter Tracy, had each previously been directed by Joseph Ruben for a sexy Crown International project; Reeves in The Pom Pom Girls, Baer in The Sister-in-Law. While leaving acting behind, Meridith Baer would enjoy new fame in the HGTV series "Staged to Perfection" demonstrating her work as a luxury home decorator. Branscombe Richmond soon became a regular presence in over 100 action projects, either as a stunt player or in featured roles such as The Taking of Beverly Hills and the series Renegade with Lorenzo Lamas. David & Mark's co-worker Maddy, who belts out the showstopper "Lickin' Chicken," is played by singer Kutee, aka Rochelle Lander, who later starred with Mykelti Williamson and E.G. Daily as members of helpful rock band on the 1980 PBS teen drama The Righteous Apples.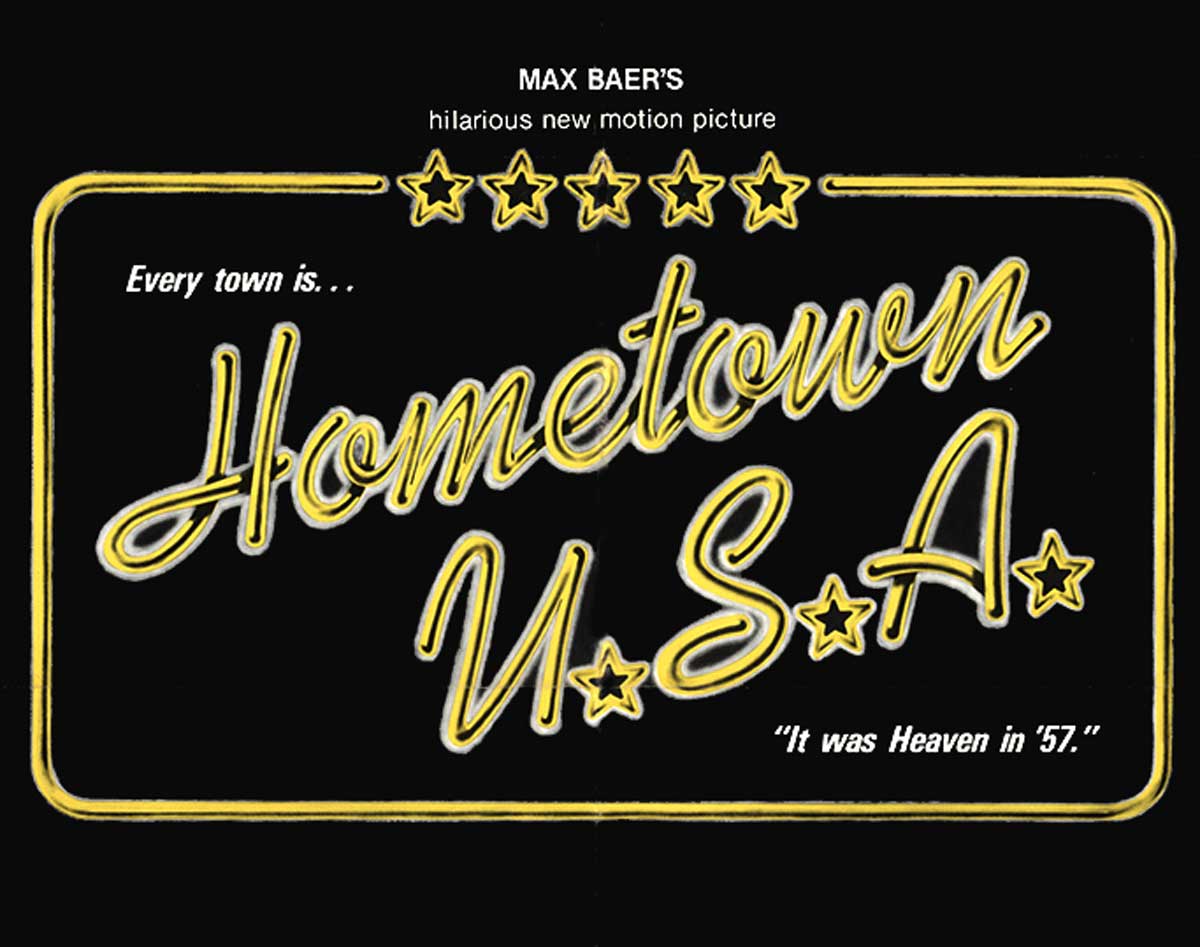 It's back to 1957 for Hometown U.S.A. from 1979. Hapless Rodney "The Rodent" Duckworth (Gary Springer) musters the gumption to boost the Chevy convertible belonging to his sister's boyfriend, and takes off to prowl the streets and change his fortune. His purloined wheels win him points with his most idolized classmates, handsome gearhead T.J. Swackhammer (Brian Kerwin) and buff greaser Recil Calhoun (David Wilson), who redub him "Rod Heartbender" as they go about cruising for chicks. But feisty girls, motorcycle gangs, and vengeful relatives will keep throwing curves into the quest, and soon he'll have to go it alone to reinvent himself from hapless rodent to hot rod hero.
Director Max Baer Jr. had produced and starred in the smash thriller Macon County Line with actor Jesse Vint and his brother Alan in 1974, independently without studio backing. The success spurred Vint to compose a story for his own star vehicle, Black Oak Conspiracy, which he produced and acted in for Roger Corman in 1977. During downtime making another Corman project in Oklahoma, Fast Charlie the Moonbeam Rider, Vint, a Tulsa native, wrote his first screenplay. "[It was] my American Graffiti, about a string of experiences I had when I was attending Edison High School in 1958," he told the Tulsa Tribune in May 1979. Baer, who had followed Macon with directing the well-received Ode to Billy Joe, optioned the script with Vint given a third of the profits, and the film was shot in California. The production ultimately ruined their friendship as they clashed over the tone of the film, with Baer injecting raunchy elements that Vint objected to. In that earlier interview, Vint ruefully observed, "The man with the money usually wins." Years later, Baer appeared to also have misgivings about his decisions on Hometown, telling the Los Angeles Times in 2000, "Some films are released but this one escaped."
David Wilson, playing the ersatz Elvis Recil, previously appeared in another rarely-screened teen comedy that's a particular favorite of ours, Almost Summer with Bruno Kirby and Didi Conn. Brian Kerwin, as the wannabe Dean T.J., went on to play the immature ex-husband of Sally Field in Martin Ritt's romcom Murphy's Romance, which played the Bev back in December 2017; he's also amassed TV credits as far back as B.J. & The Bear to as recent as The Knick. Academy Award nominee Sally Kirkland shows up briefly, as one of the various ladies our heroes try to charm during their carousing. And if the girl playing Amanda looks familiar, that's Julie Parsons, who you just saw earlier this evening in Sweater Girls!
So put on your Keds, grab a transistor radio, and come hop in the wayback machine for a night of Randy Retro Teen fun at the New Beverly. And don't forget to keep a quarter in your pocket in case your date turns out to be an idiot.