"[Culp] was exclaiming about a picture he did with Sheila [Sullivan] and Samantha Eggar in Canada called [THE GROVE]…'This,' he said, 'is the kind of picture you wait for all your life…There are only 3 things I ever did professionally that I liked – everything else you do just for the money, you get in and get out…One was I SPY, way back in '64. Nobody had ever seen a white person and black person in a continuing basis on TV before… then BOB AND CAROL AND TED AND ALICE – and then this,' …The picture, he said, is about an architect who builds buildings he hates. His wife loves the Portofino set and all the false values he hates; he tries to break away and goes a little mad."
– Earl Wilson, "Culp Takes a Cold Swim" wire service article, November 3, 1970
"After BOB AND CAROL, I was hot as a pistol. And I picked an independent picture…it was supposed to be sort of a spook show…we shot over [our limits], they foreclosed the picture, the ending was never shot, so there never was an ending to it…they tried to cut it together, and couldn't…by the time it was done, I wasn't hot as a pistol anymore."
– Robert Culp interview for Emmy TV Legends website, November 6, 2007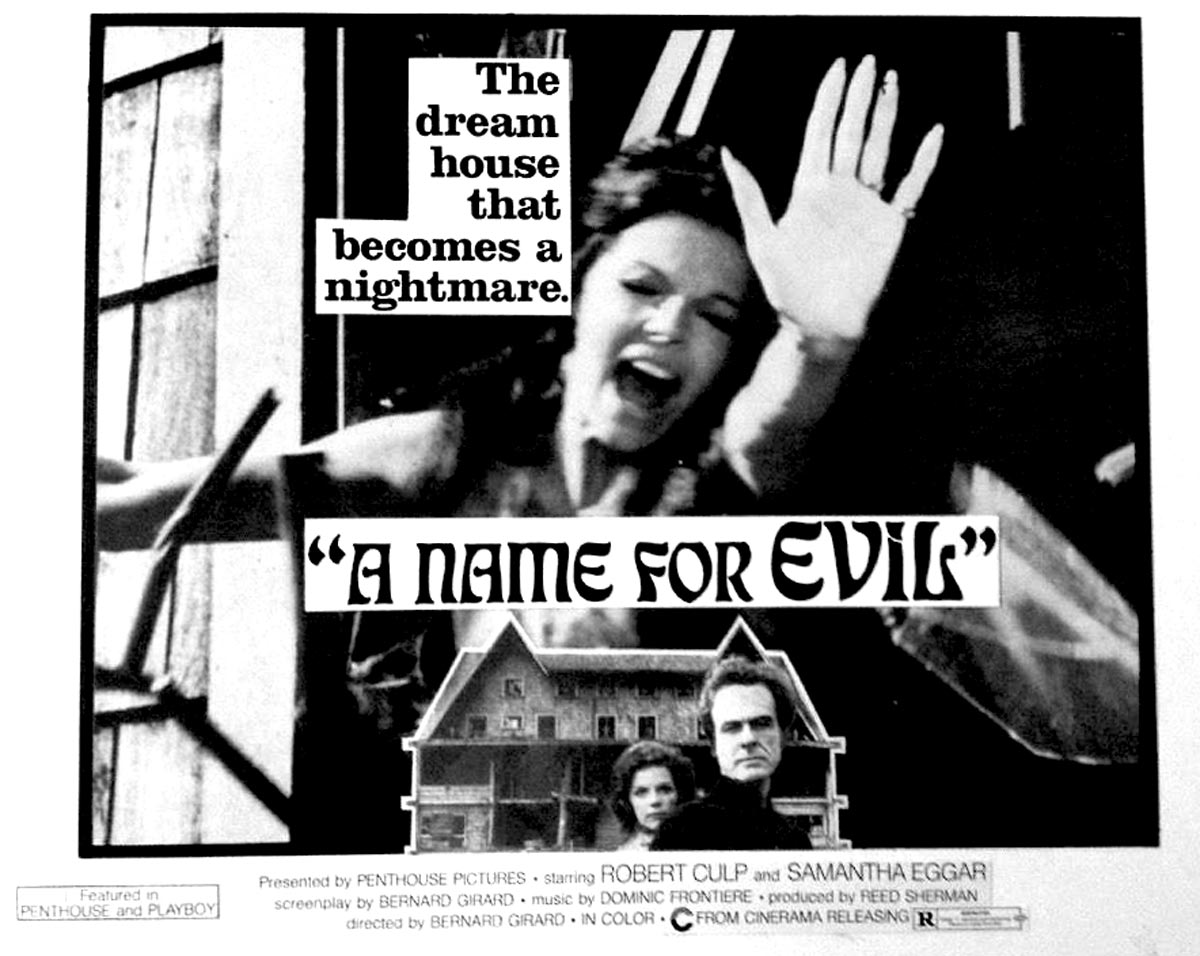 In the summer of 1970, an ambitious producer, an embattled director, and one of the most vigorous leading men in America went to Vancouver to adapt a late-'40s novella on paranormal paranoia into a satire on modern affluence. By the time it finally opened in American theatres in 1973, a "dirty magazine" publisher had re-edited it into a baffling horror film that played the bottom of double bills. Years later, that film has come to fascinate a small but growing faction of cinematic seekers, and may finally see its moment for redemption.
Reed Sherman had multiple skills for entertainment, but by 1969 they didn't seem to get him anywhere. He had been a bit player at United Artists in the '50s, appearing in a pair of action programmers for writer/producer Carl Krueger, Sabre Jet and Comanche, that had him sharing the screen with Robert Stack and Dana Andrews, but never got noticed past an occasional one-line mention in gossip columns. He released music, but got lost amidst dozens of other handsome singers; his first single "I Know How it Feels" b/w "Don't Call Me (I'll Call You)" was called "capable" and "honest" by Cash Box magazine, but a national wire service called it "adequate." He attempted a triple-threat showcase by producing Paradise Road in 1965, a Southern Gothic drama which he starred in with Victor Buono, Joan Blondell, and Chill Wills, and performed its title song, but it was shelved until 1969, when enterprising Florida distributor M.A. Ripps of Poor White Trash fame released it on the exploitation circuit as Big Daddy.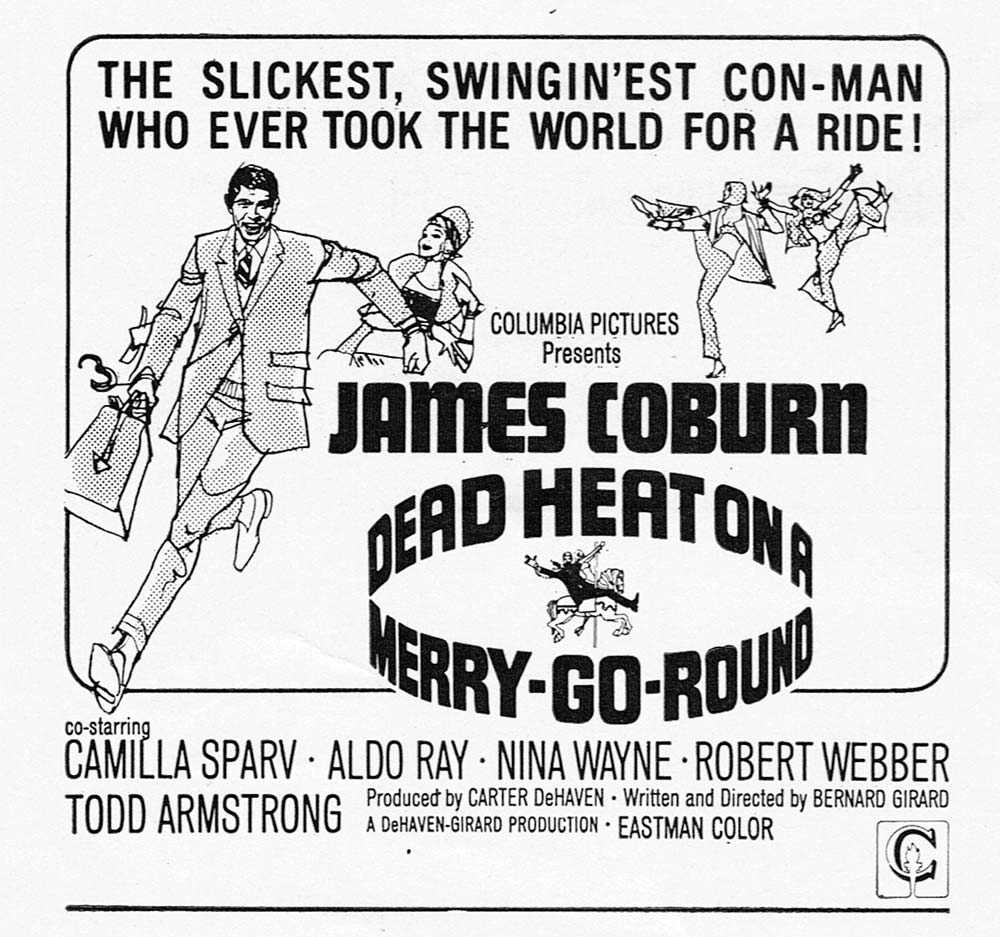 Director Bernard Girard was a longtime TV veteran who seemed to be primed to transition into features after his well-received 1966 caper comedy Dead Heat on a Merry-Go-Round with James Coburn. However, he found himself in an increasing set of frustrating experiences instead. His follow-up for Columbia, The Mad Room, a scare-tinged remake of the melodrama Ladies in Retirement with Shelley Winters and Stella Stevens, saw him fight with the studio over his shooting style and editing, to the point he almost removed his name from the finished film. He had worked for four weeks on the Robert Aldrich-produced thriller What Ever Happened to Aunt Alice with Geraldine Page and Ruth Gordon, when Aldrich fired him and replaced him with another TV director, Lee H. Katzin, leading cast and crew to suggest the movie should be retitled What Ever Happened to Barney Girard. In the spring of 1969 he directed a western spoof, Man Without Mercy, with James Caan, Stefanie Powers, and Sammy Davis Jr., which had been promised distribution upon completion, but ran out of money before it could be finished; it sat dormant until 1973, when an assembled version called Gone With the West was teased in the Huyck/Katz horror classic Messiah of Evil, and then released in 1975.
Sherman and Girard had become friends during this period – Sherman had minor roles in both Mad Room and Mercy – and shortly after the shutdown of the latter film, they started a production company, Centennial. Earlier, the producer/director/writer of Paradise Road, Carl Hittleman, purchased the rights to a 1947 novella by Southern Agrarian writer Andrew Nelson Lytle, A Name for Evil, about a man renovating a rundown mansion with his wife, who, similar to tales by Henry James and Shirley Jackson, becomes convinced he is being haunted by its former owner, but ultimately finds it's his own obsessions that are driving his madness. Initially planned as another acting vehicle for Sherman himself, Sherman instead brought it to his new partner as their company's first project. Though surely coincidental, it is uncanny to notice the parallel between the marital strife depicted in the Lytle source book, and the schism hinted at in the lyrics of one of Sherman's recordings, "Get Out of Town," produced by composer Jerry Fielding in the early '60s:
Get out of town, before it's too late my love
Get out of town, be good to me please
Why wish me harm, why not retire to a farm
And be contented to charm the birds off of the trees
 
Just disappear, I care for you much too much
And when you're near, close to me dear, we touch too much
The thrill when we meet is so bittersweet
That darling, it's getting me down
Get on your mark, get out of town
The project moved forward with great promise. $1 million in private financing was obtained, with a deal at MGM to purchase it when finished. After a title change to The Grove, Patrick O'Neal was first announced to star before the team lured Robert Culp, fresh from his acclaimed role in Bob and Carol and Ted and Alice. By most accounts, the filming in Vancouver in the summer of 1970 was pleasant. Director Girard told a Canadian reporter that the production was saving so much money by not being in Hollywood, that he could shoot seven days a week, fall behind, and still save upwards of $100,000. Culp made goodwill appearances at local events, and happily described to press the sacrifices he made for the small budget, living in a trailer with his co-star and future wife Sheila Sullivan and performing a skinny-dipping scene in absurdly cold water. "I wouldn't do that for George Stevens or John Ford," he quipped. Sherman was to play Culp's killed-in-Vietnam brother in flashbacks, but no images from these scenes have surfaced, suggesting the role may have been cut. According to Girard's son Peter, who was present during filming, Eric Burdon and War reportedly offered an improvised score.
However, in the same fate that the men previously met with Paradise Road and Man Without Mercy, the production ran out of money. Though Girard had managed to assemble a cut of the film satisfactory to him, he had lost creative control to the outside investors. The MGM deal was gone, and both Culp and Samantha Eggar's production companies sued the producers, investors, and the processing lab, for $1.2 million, over breach of contract regarding their deferred salaries, effectively seeking ownership of the film as compensation. Though details of the resolution are not immediately available, Centennial went out of business, and soon, the film had a surprising new owner.
Penthouse magazine publisher Bob Guccione, copying the lead of his longtime libertine lifestyle competitor Hugh Hefner, started to venture into film activity in 1972 by purchasing all rights to A Name for Evil, hoping to establish themselves similarly as a brand for sophisticated and uninhibited entertainment. This would be followed by investing in three Paramount films – Chinatown, The Longest Yard, and The Day of the Locust – as a tax shelter, under the alias of Long Road Productions, acquiring other troubled/unfinished indie films, and, in 1976, starting preproduction on their ambitious and controversial epic Caligula. But before all of those could happen, Penthouse set about making their own editorial changes to Evil in the quest to make it more enticing viewing. Scenes intended by Girard to skewer the jet set were cut, and new footage was shot by others, including a topless appearance by adult film star Rene Bond, and country singer Billy Joe Royal performing a song amid other naked women. A promo 45 of the composition, "Mountain Woman," was sent to radio stations, but never commercially released.
Cinerama Releasing, which had previously expressed interest in Girard's failed Mercy project, handled the theatrical release for Penthouse in the spring of 1973, promoting it through referencing a March '73  Playboy photo spread involving Sheila Sullivan. In most markets, it was second-featured with Asylum and The Vault of Horror. The film quickly met with poor-to-indifferent reception. As Peter Girard commented to the fansite The Consummate Culp, "[The] version of this film that was released 3 years later was a complete hack of the original film, as it was completed…his final cut of this film was a psychological thriller, that parodied modern society. It was NOT a horror film at all. The version that was released is an attempt to create a marketable product by someone who did not understand [it was intended to be] like a Fellini movie."
Since its brief release, A Name for Evil has circulated in poorly-sourced-and-mastered editions of varying length. The accepted running time has been a trim 74 minutes, and there are conflicting accounts as to the amount of nudity featured, and whether this was an edited-for-TV cut. In the '90s, reports surfaced of a longer version, possibly approved by Girard, with less nudity but more consistent tone and atmosphere, receiving broadcast on the AMC channel. As of press time, the 35mm print to be screened at New Beverly is confirmed to run 84 minutes, but no other information regarding content is available.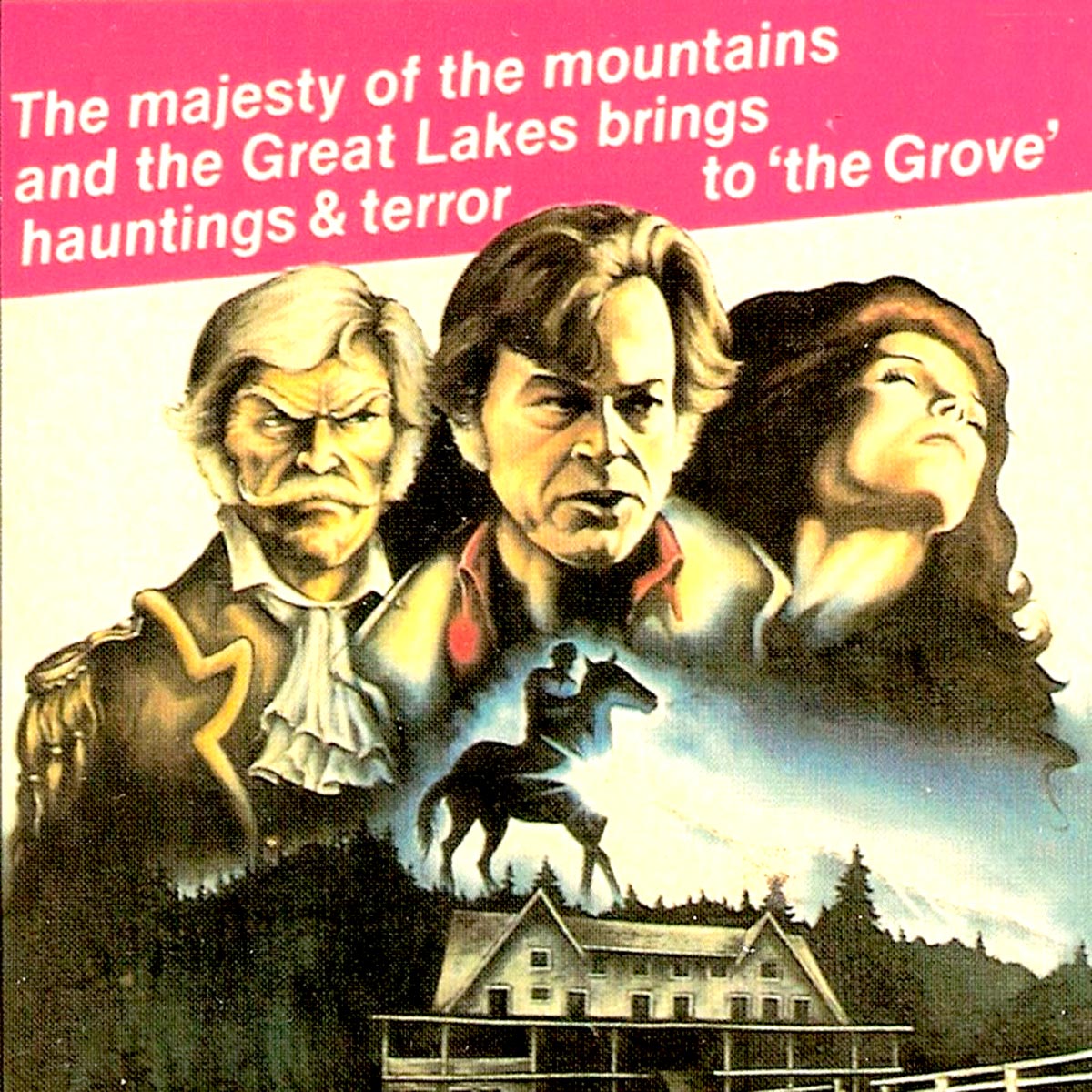 Director Girard completed one last feature, The Mind Snatchers with Christopher Walken, and two TV projects after the making of Evil. He passed away December 30, 1997, and little is known about his activity between his last recorded directing credit and his death. Even less is known about producer Reed Sherman, who died August 11, 2006, with no known film or music credits after Evil. Despite the harsh tone of Culp's 2007 assessment, he went forward from that small downturn to amass a respected body of film and television credits for decades to follow, but it is safe to say he was likely wary of ever attempting something on the unclassifiability scale of that film he had previously proclaimed as a once-in-a-lifetime opportunity.
A Name for Evil plays the New Beverly Sunday & Monday, April 23rd & 24th, paired with Culp's directing debut Hickey & Boggs. Don't miss this rare screening of this singularly ambitious effort by a director that we encourage you to rediscover.
Huge thanks to researcher Ranjit Sandhu, Tatia Loring's "I SPY" Forum, and The Consummate Culp website, whose earlier discoveries and correspondence helped make this article possible.