On Sunday, January 22nd and Monday, January 23rd, the New Beverly Cinema is playing a Bernard Girard double feature of A Public Affair (1962) and Dead Heat on A Merry-Go-Round (1965).  This unique and rarely seen set of films is more than likely to make your "favorite films I never knew existed" list.  While Girard may have primarily been known for his television work and nominated for many Emmys over his lifetime, his feature films are fun and engaging. As a writer, producer and director, his style was singular.
There are dozens of reasons you don't want to miss these films. Fan of Star Wars? One of the stars had their feature film debut in one of these works (no spoilers!).  Like watching extremely rare and not-on-DVD works? A Public Affair is so obscure that barely any information exists about the film via average research means. Enjoy that quirky genre that blossomed in the 1960s that was part-goofy comedy, part-crime film and part sexed-up spy thriller? You'll think Dead Heat… is the ginchiest! Whatever you're after, this combo has something in it for you.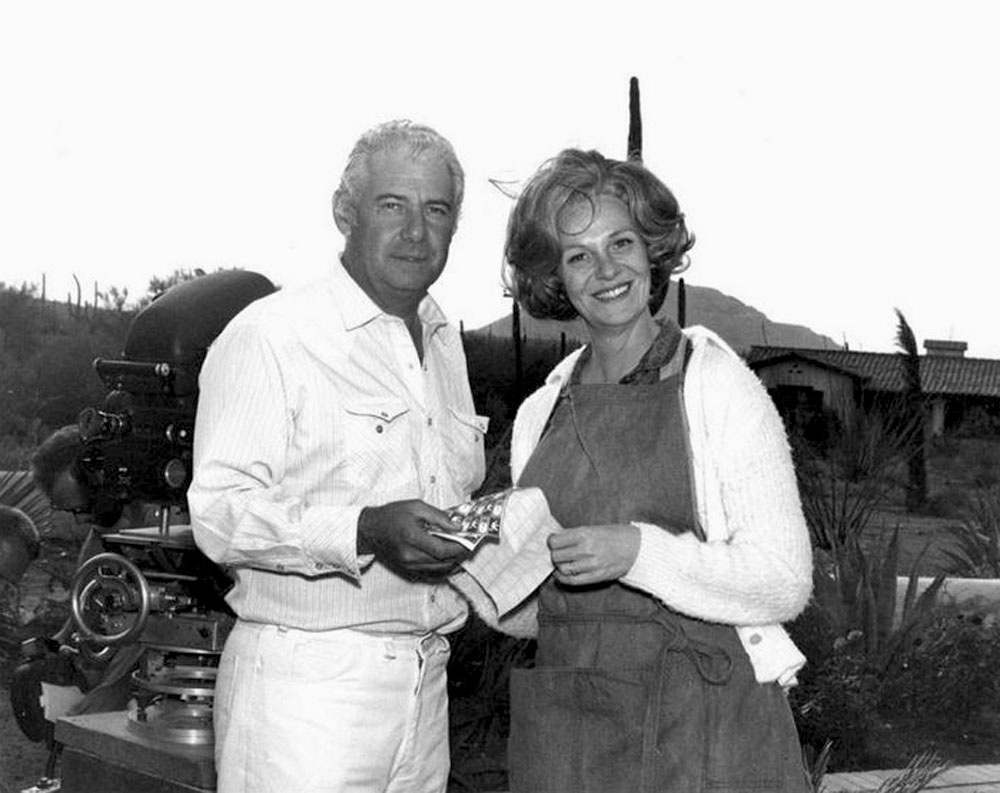 This is a pair of films that works on the New Beverly Cinema Rabbit Hole Principle. After you watch these, you will go and search out the rest of the media that the writer/director (in this case Bernard Girard) has done and revel in his brilliance. Explore The Mad Room (1969) starring Stella Stevens and Shelley Winters, a work based off one of the most striking (but tragically underseen) films from 1941, Ladies In Retirement (Charles Vidor).  Watch one of Joan Crawford's very best but frustratingly unappreciated roles in the Girard-written This Woman is Dangerous (Felix Feist, 1952). Look into his Alfred Hitchcock Hour episodes and Alfred Hitchcock Presents! So fun! And really – treat yourself with the Twilight Zone episode, "A Drink From A Certain Fountain." You won't be sorry.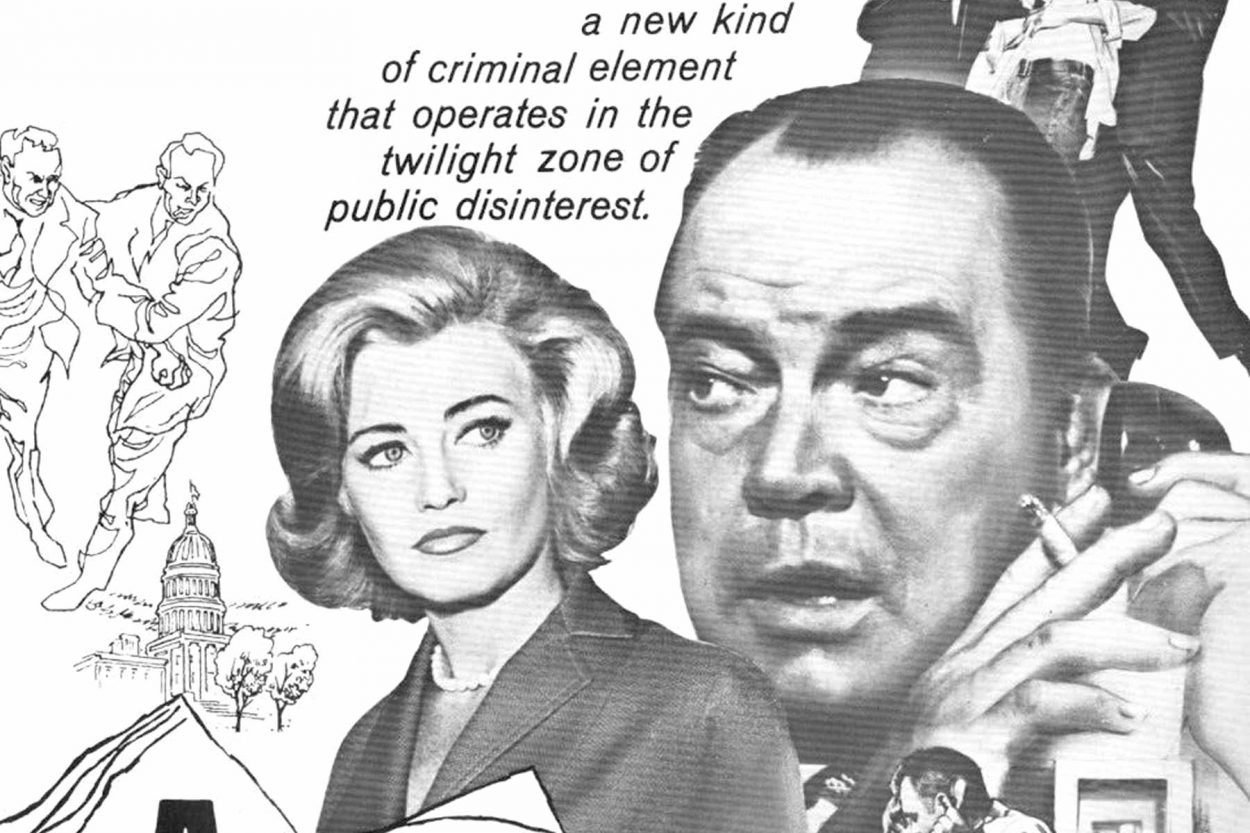 Admittedly, we have all had it up to our eyeballs in politics for the last few weeks and it would be nice to be able to get away for a few hours at the New Bev. Well, as they say, all art is political and in the case of A Public Affair it's just more forthcoming about that fact. On the other hand, when was the last time you watched a film that was about politicking and bill collection? Repo Man (Alex Cox, 1984) is about repossession, but that's science fiction and punk rock. This is lobbying, legislature and (il)legalities!
And the cast – Edward Binns plays Senator Fred Baines. What a joy it is to watch that man! From his work with Sidney Lumet in 12 Angry Men (1957) and Fail Safe (1964) to his marvelous Twilight Zone episode, "I Shot An Arrow into the Air," Binns' solid face and talent for character interpretation was ideal for Girard's story about corruption and immoral behavior within "moral" institutions.  And do not miss the wonderful Harry Carey, Jr. playing Bill Martin! His career spanned from the 1940s (he was great in Howard Hawks' Red River from 1948) all the way to Joe Dante's Gremlins (1984) and many after. Those Carey genes were powerful!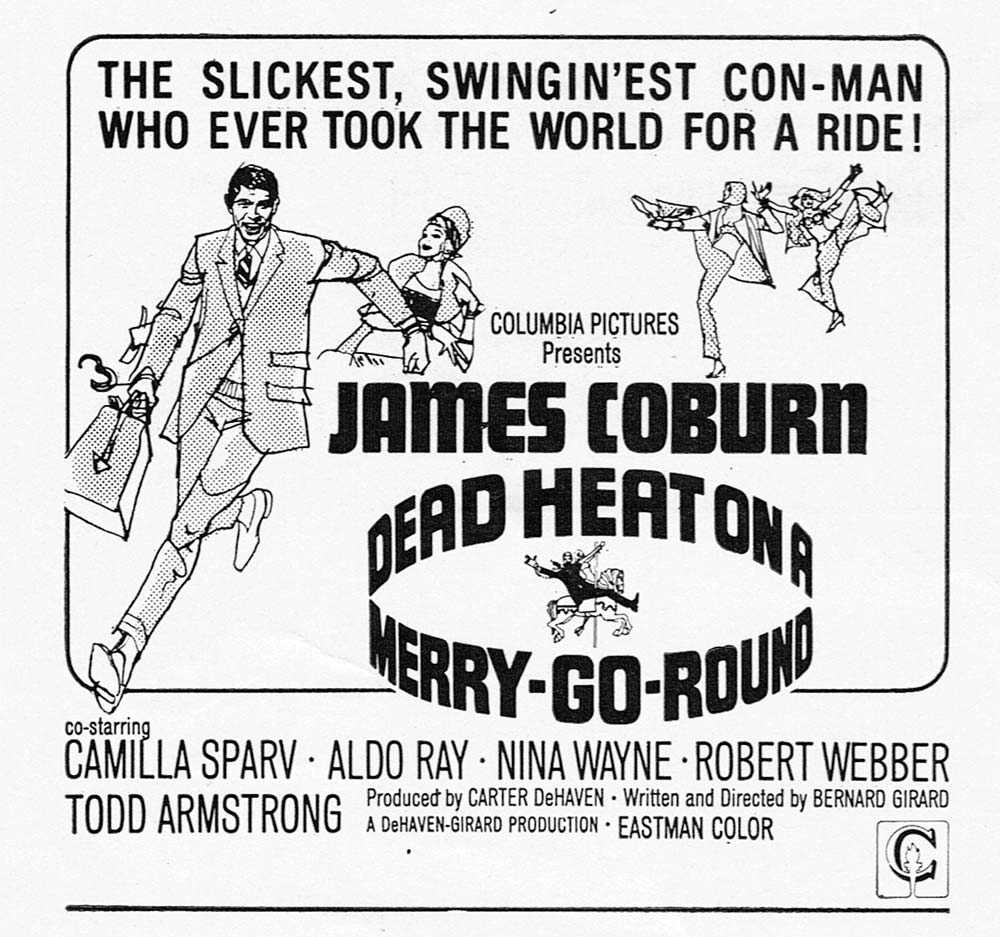 Watching Dead Heat on a Merry-Go-Round feels a little like watching The Outside Man (Jacques Deray, 1972). Our protagonist, Eli Kotch (James Coburn), is not native to any of the locations he travels to so the film is not shot in a familiar manner. Once he arrives in LA, Kotch explores the city and its inner (and outer) workings. Like Deray's text, we explore Los Angeles and its idiosyncrasies – human, social, physical. Coburn's character has a slight "home country" edge over Trintignant's character in Outside Man, due to Trintignant's language and country/cultural barriers, but the two characters' "interloper status" connects them regardless.
The film also sings a passionate love song to LAX, California and its living and transportation structures. Dead Heat on a Merry-Go-Round is one of the most strangely charming and awkward films I've ever loved as a native Angeleno. It has the most naked and unfaltering respect for the outstanding architecture of the apartment buildings that sprang up all over town beginning in the 1960s. While some of these structures remain, most are not quite as well kept as they were when brand-new. Whether the camera is lingering on the (now permanently shuttered) Encounter Restaurant that is part of the UFO-like Theme Building or following Coburn and the rakishly attractive Aldo Ray stride around studio lots filled with oddly dressed extras, the film exploits all of Los Angeles for its LA "ness."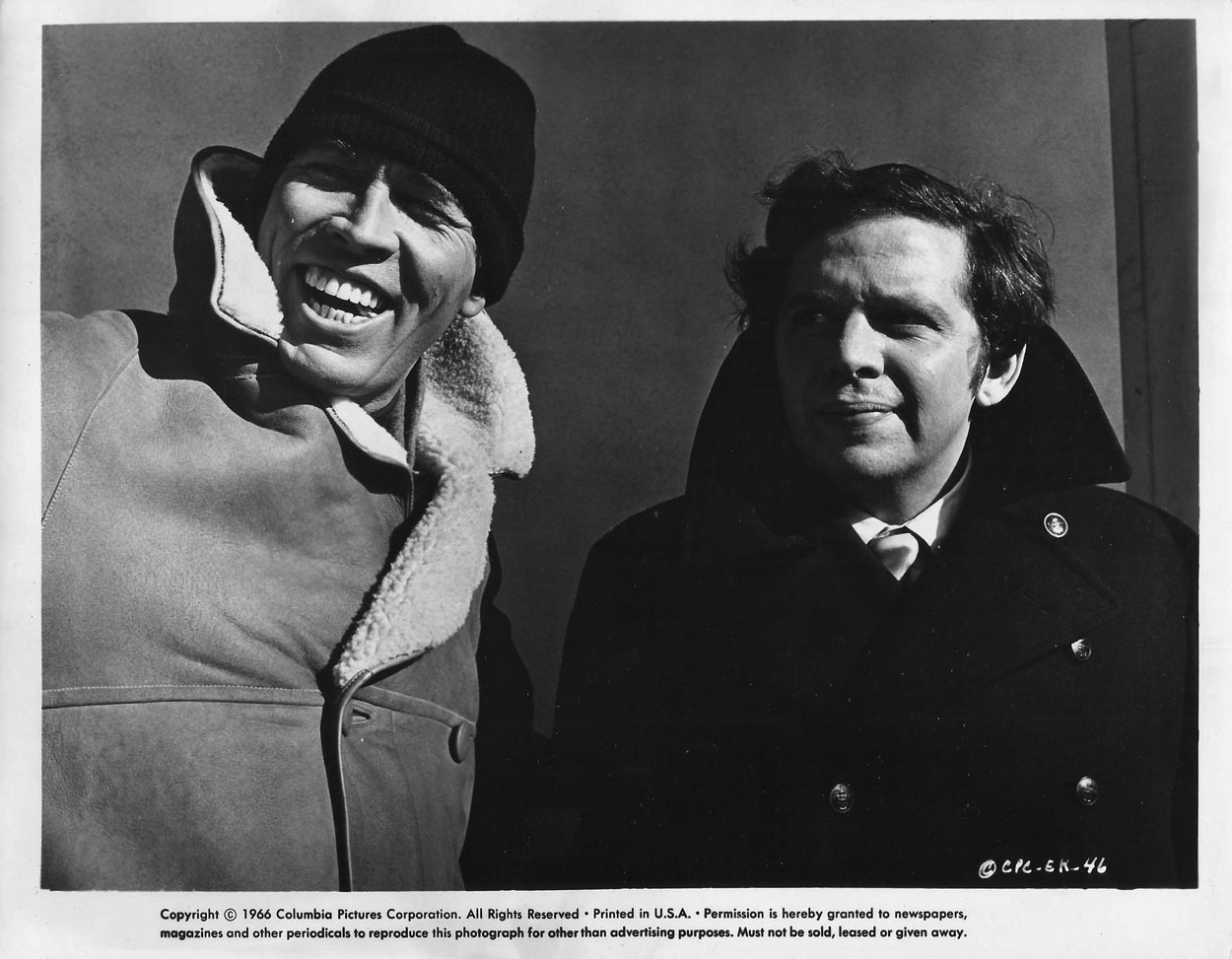 While it is certainly a heist film, the way the camera maintains a wistful longing for the Theme Building and Encounter Restaurant is quite fascinating. While those structures were recent additions to LAX at the time (they were built in 1961, the film was released in 1966), it seems like they serve as a centerpiece for the film. Even more, the building almost works to reorient the viewer: "Oh! We're back here now! OK!" Since Coburn slips in/out of accents, characters and women so much and the plot gets more twisted and convoluted the further along the film goes (mostly on the Airport Security's end), it is nice to have one clear picture on the horizon. Thank you, Encounter Restaurant! At least you're not totally crazy!
The film is absolutely charming and so is everything in it. I would think that one would love it even if you were not from Los Angeles. But since you will be seeing it at the New Beverly, you have at least a modicum of familiarity with the area. So it will be dear to you as well.
For extra funsies, I'm including some killer architecture links on Los Angeles in the 1960s/70s. I highly recommend looking into this post and this post on Los Angeles modernist work. But my very FAVORITE post is on Dingbat apartment buildings, which are super cool and are the kind that James Coburn moves into during Dead Heat on a Merry-Go-Round! Enjoy!