SiriusXM announced today that filmmakers & longtime friends Quentin Tarantino and Roger Avary will launch The Video Archives Podcast this summer through SiriusXM subsidiary Stitcher.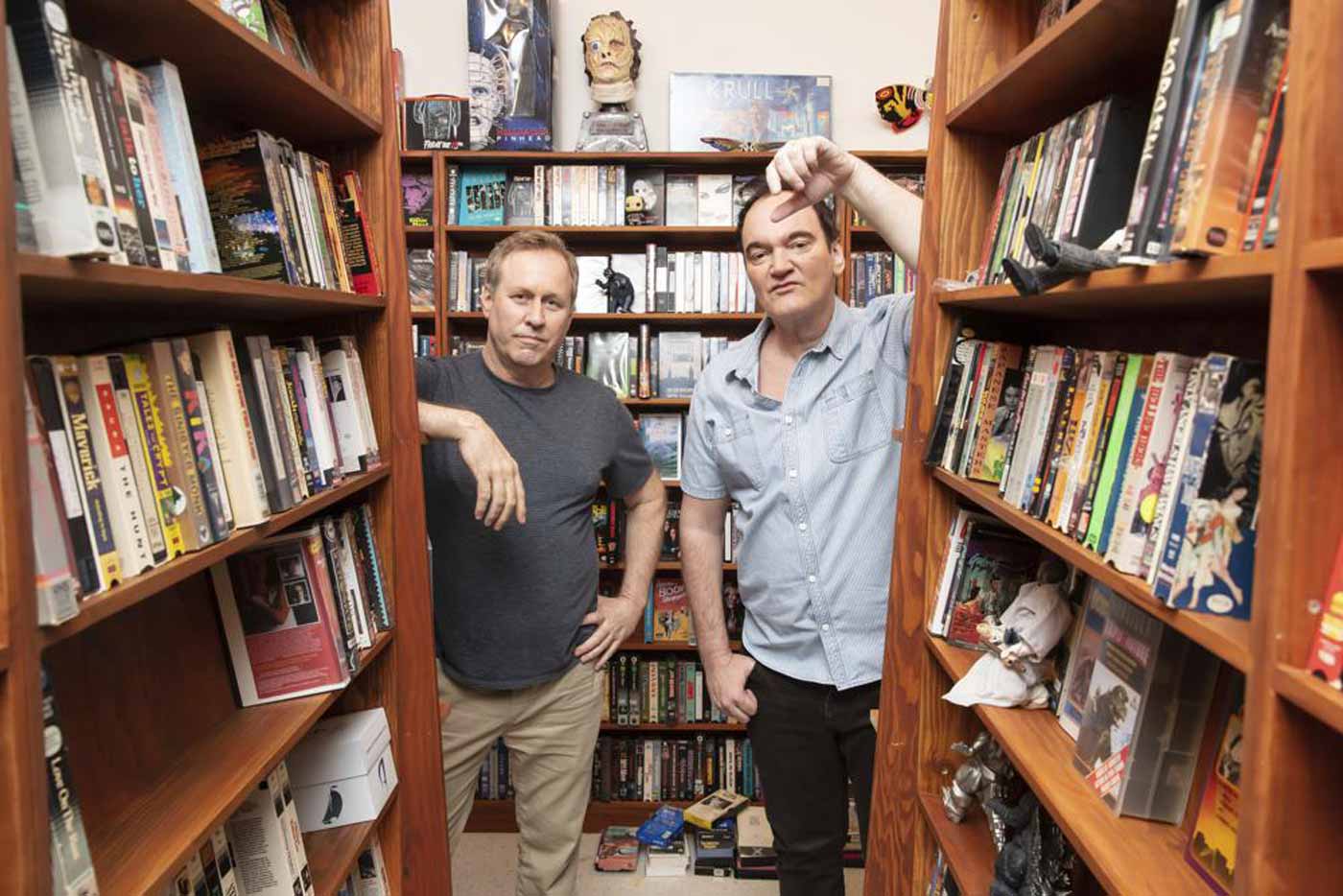 From the press release:
Starting this summer, listeners of The Video Archives Podcast will have a front row seat as two of Hollywood's most acclaimed filmmakers revisit film classics and discover new favorites. A trailer is available by clicking here.
In 1983, Quentin and Roger started working together at the original location of the iconic Video Archives movie rental store in Manhattan Beach, California. It's there that the pair, who went on to collaborate on the Oscar-winning screenplay for Pulp Fiction, began to share their love of lesser-known films, with each other and with the store's customers. Their knowledge of cinema and classic movies became so revered that it turned them into local celebrities, bringing new audiences to the selections they recommended, and setting the trajectory for their careers in filmmaking.
Now, more than 30 years later, Quentin and Roger will revisit those classics on The Video Archives Podcast. On each episode, they'll rewatch and discuss movies pulled from the actual collection of VHS tapes that they used to recommend to customers, which Quentin acquired in 1995 and used to rebuild the Video Archives store in his home. From controversial James Bond films to surprising exploitation flicks, the duo, joined by their announcer Gala Avary, will expose listeners to movies they didn't know they'd love, give awards to their favorites, and of course, rate the quality of the video transfer.
The Video Archives Podcast will be available via Stitcher, the Triton-ranked #1 podcast company, with production support from Earwolf, Stitcher's comedy podcast network. The show is produced by Josh Richmond and Gala Avary, and engineered by Devon Bryant, with executive producers Colin Anderson and Natalie Mooallem.
In a joint statement, Quentin and Roger said: "We never imagined that 30 years after we worked together behind the counter at Video Archives, we would be together again doing the exact same thing we did back then: talking passionately about movies on VHS. Watching movies was what originally brought us together and made us friends, and it's our love of movies that still brings us together today. So we surrounded ourselves with the original Video Archives collection, where we both worked before we became celebrated filmmakers, and time-traveled ourselves back to the golden age of VHS. We LOVE to discuss movies, and we want to welcome you into the Video Archives Podcast to hang with us and Archives' new employee Gala, and discover the hidden VHS gems on our shelves."
"Quentin and Roger have made such enduring marks on filmmaking," said Scott Greenstein, Chief Content Officer at SiriusXM, "and it's remarkable to think that it all goes back to a video rental store in Manhattan Beach. We're so excited to be able to help them revisit this formative moment in their careers, and to bring their recommendations to new and larger audiences."
SXM Media, the combined advertising revenue organization of Sirius XM Holdings Inc., has exclusive global ad sales rights for The Video Archives Podcast. SXM Media is the gateway for marketers to the #1 U.S. podcast advertising network in reaching weekly podcast listeners, per Edison Research.
The Video Archives Podcast joins the home of other acclaimed podcasts at SiriusXM, Stitcher and Pandora, including How Did This Get Made?, Office Ladies, Comedy Gold Minds with Kevin Hart, Conan O'Brien Needs a Friend, Storytime with Seth Rogen, Hidden Brain, LeVar Burton Reads, series from Marvel Entertainment, and prestigious documentary and narrative projects such as Toxic: The Britney Spears Story, Heaven's Gate, and Unfinished.
The Video Archives Podcast will be available on Stitcher, the SXM App, and all major podcast listening platforms.
The Video Archives Podcast is represented by WME and Goodman, Genow, Schenkman.