Bit by bit, putting it together
Piece by piece, only way to make a work of art
Every moment makes a contribution
Every little detail plays a part
Having just a vision's no solution
Everything depends on execution
Putting it together, that's what counts
Almost as soon as the movies were invented, the double-feature concept shortly followed. Getting a full evening of two entertaining films for one price has been a consistent draw for decades. The very concept of the "B" movie originated from the concept of having a smaller-scale film without marquee-level sales elements be the supporting dessert following a star-driven "A" movie. It was a practice embraced by theater operators, who could hold audiences over to sell them more concessions; by producers, who could often breathe new life into struggling films by resoliciting them into the marketplace; and by viewers, who could catch up on something they missed or enjoy discovering a film they would have ignored otherwise.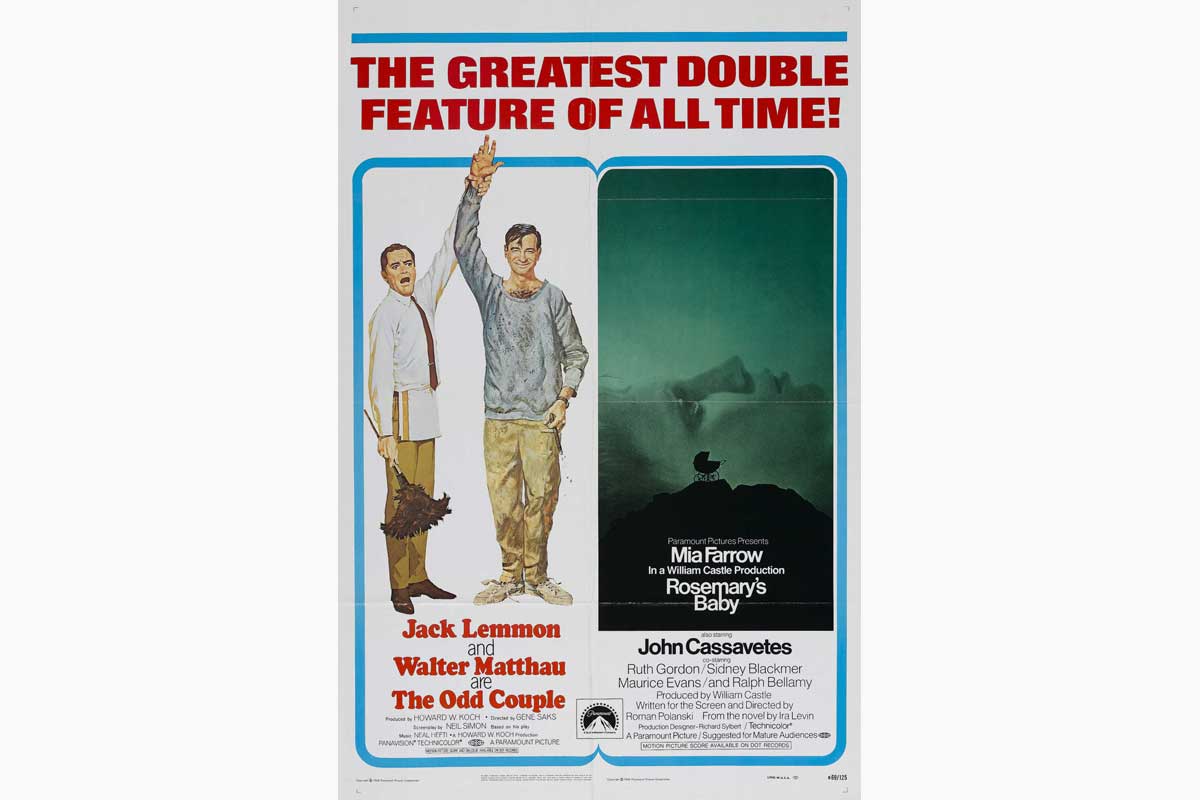 Most of the prominent double features were created by the major studios, picking from their vast libraries and packaging two or more titles together, even creating new trailers and posters to promote the pairings. Sometimes they were logical, like two James Bond adventures, or two Disney animated classics, or three AIP Edgar Allan Poe adaptations. Sometimes they were tangential, as when United Artists linked up two low-budget horror films, Superbeast and Daughters of Satan with Tom Selleck, both shot in the Phillipines but otherwise having nothing in common. And some, such as Paramount's infamous "The Greatest Double Feature of All Time" release of The Odd Couple with Rosemary's Baby, just seemed outright bizarre, though still entertaining.
However, as small-budget distributors began to emerge in the '70s, having the ambition but not the infrastructure of the majors to do nationwide releases, they used a practice called "subdistribution" to gradually work their films across the country. Chris Poggiali, film programmer and crack genre historian for the Temple of Schlock website, explains it here:
Independent film companies such as New World Pictures, Dimension Pictures, and Film Ventures International used a system of sub-distributors around the country to save themselves the money, time and hassle of operating their own national distribution departments. These sub-distributors, also known as states' rights companies or exchange offices, would handle the distribution for the independents in specific territories.
Consequently, by having access to the libraries of multiple movie companies, these sub-distributors frequently created their own officially sanctioned two-for-ones, often with large newspaper campaigns. It was a unique situation where, instead of a studio or a theater assembling a program, it was a midpoint individual whose sense of curation may have been no larger than the blood squibs in a money shot, but whose instincts made for a solid night at the movies. Some were rolled out across the country, but many of these were exclusive to select regions of the country, including Los Angeles. And they are frequently spoken of and fondly remembered by the filmmakers of today who were young and hungry for wild action back in that glory time.
Thus for all our Grindhouse Tuesday shows this March, the New Beverly is recreating some of the best of these bills for a new generation, to remember those unsung heroes that were at work before the Bev itself became such a similarly beloved double-feature destination.
One by one, threading in projection
Gore, brawn, guns, always give the audience a thrill
Keeping the emotional connection
During every scare and every kill
Breaking down a viewer's inhibition
Trying to establish recognition
Offer cinematic execution
That'll help destroy the competition
March 3: Squirm + Tender Flesh
Our series opens with this delicious pairing of Jeff Lieberman's 1976 carnivorous invertebrate horror with a reissue of Lawrence Harvey's 1974 cannibalistic yuppie thriller, originally titled Welcome to Arrow Beach, each of them making their feature directing debuts. Lieberman would go on to make Blue Sunshine and Just Before Dawn soon after, while Harvey, already battling cancer during the production of his film, died shortly after completion. After a disappointing initial release from Warner Bros., Tender Flesh was Brut Productions' attempt to capitalize on the success of Michael Findlay's Snuff, which purported to depict a "real" murder onscreen; the trailer promised, "It makes Snuff look like amateur night!" The programmer responsible for booking these works together effectively proposed the argument that worms don't eat people, people eat people!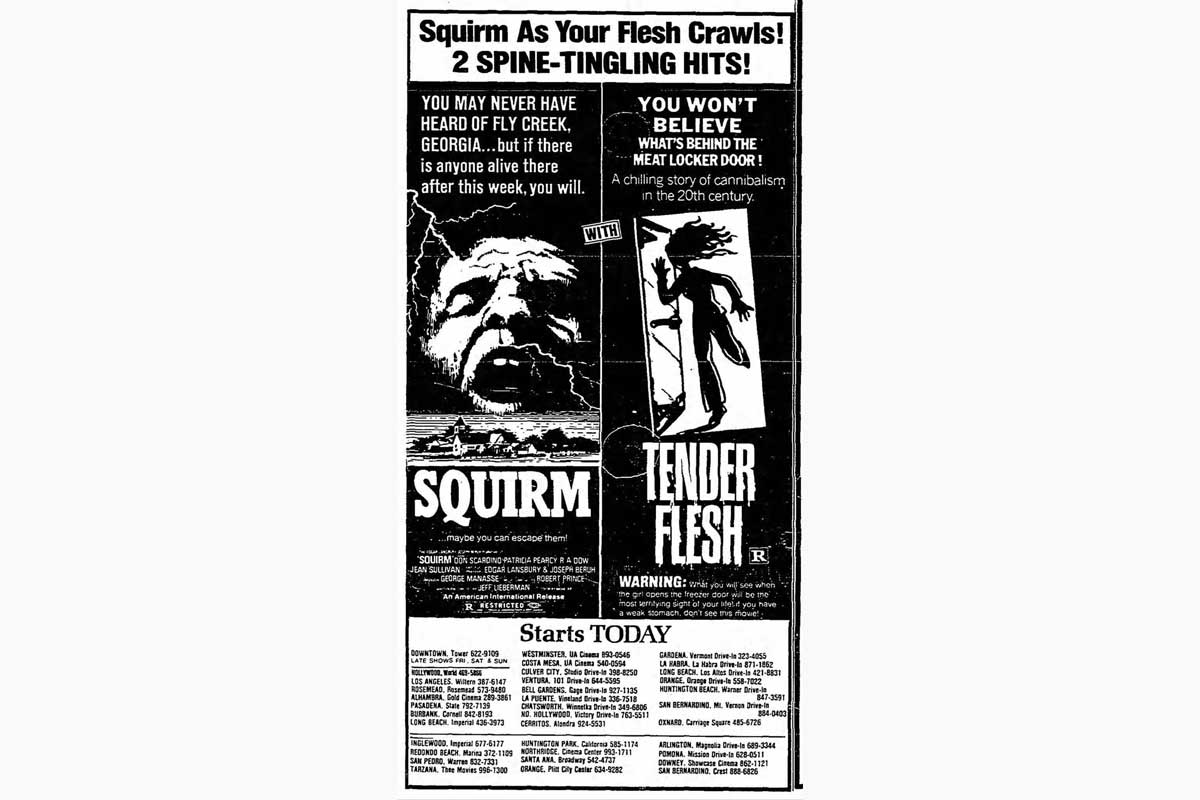 Another serendipitous marriage takes place with this coupling of David Cronenberg's 1979 Canadian drama of venereal horror with John Grissmer's 1976 Georgia-lensed venal mystery, as they are both narratives about very troubled parenting made worse through misapplied science. The Brood presents a divorced mother who, inadvertently abetted by a radical doctor, has given a literal body to her post-breakup rage. Scalpel presents a widowed plastic surgeon who, in order to collect an inheritance, gives the face of his long-missing estranged daughter to a battered stripper. Like Tender Flesh, Scalpel was enjoying a second wind in cinemas: initially given a small regional release under the title False Face, Avco Embassy acquired the film and gave it a larger platform under their new name. And for several years in the '80s, thanks to a licensing deal with New World Pictures, Embassy offered both movies on home video.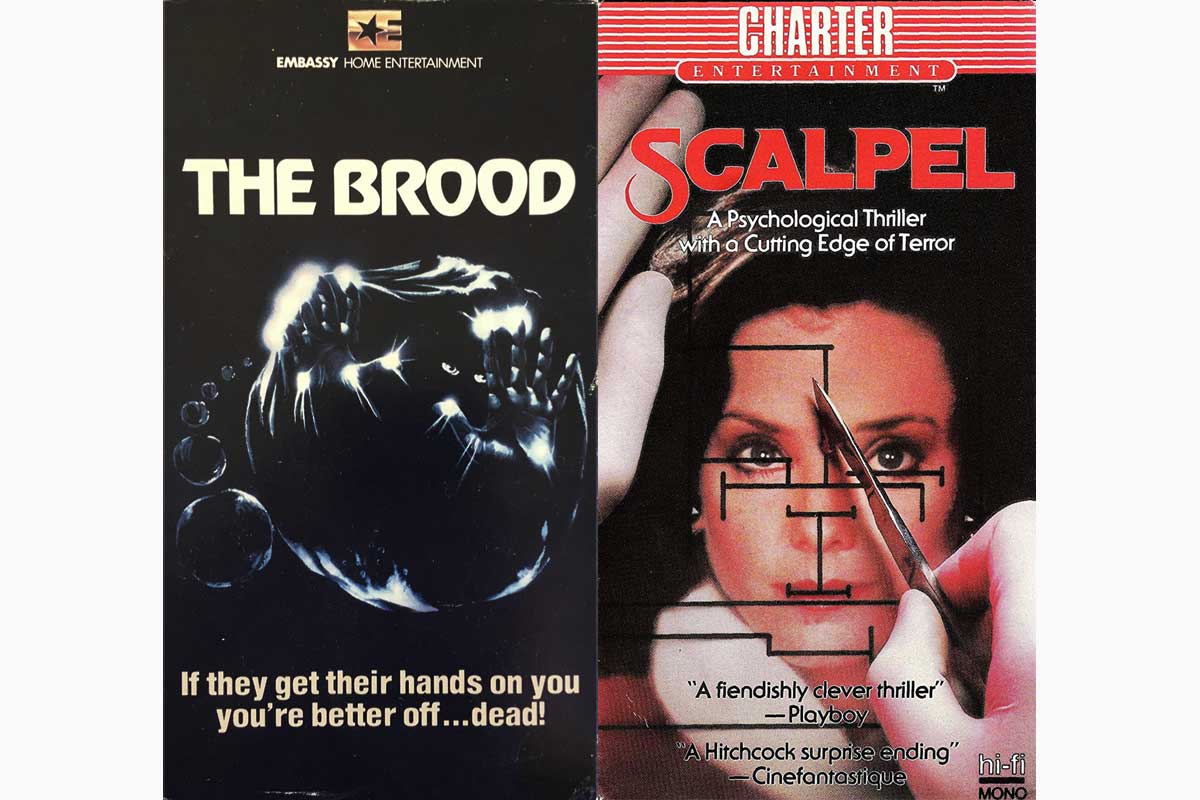 March 17: Zebra Force + Bare Knuckles
On the surface, matching Joe Tornatore's urban commando adventure with Don Edmunds' two-fisted avengement pursuit seems like an obvious, reasonable action blend. However, they're also stories where public justice is actually secondary to private fortune, each shot around the less glamorous sections of Los Angeles. Plus, being made in the mid-'70s, there's also a healthy dose of white/black tension stirred in the pot. While the Zebra Force team have the mob and the police convinced they're socially conscious thieves, they're actually disgruntled Vietnam vets out to secure the kind of retirement money Social Security can't deliver. And though Bare Knuckles' bounty hunter Zachary Kane is a generally principled dude who wants to stop a masked slasher leaving a trail of dead women behind, the $15,000 reward is what's kicking him and his friend Black into gear. But once the punches are being thrown and the furniture is flipping over, what does altruism matter?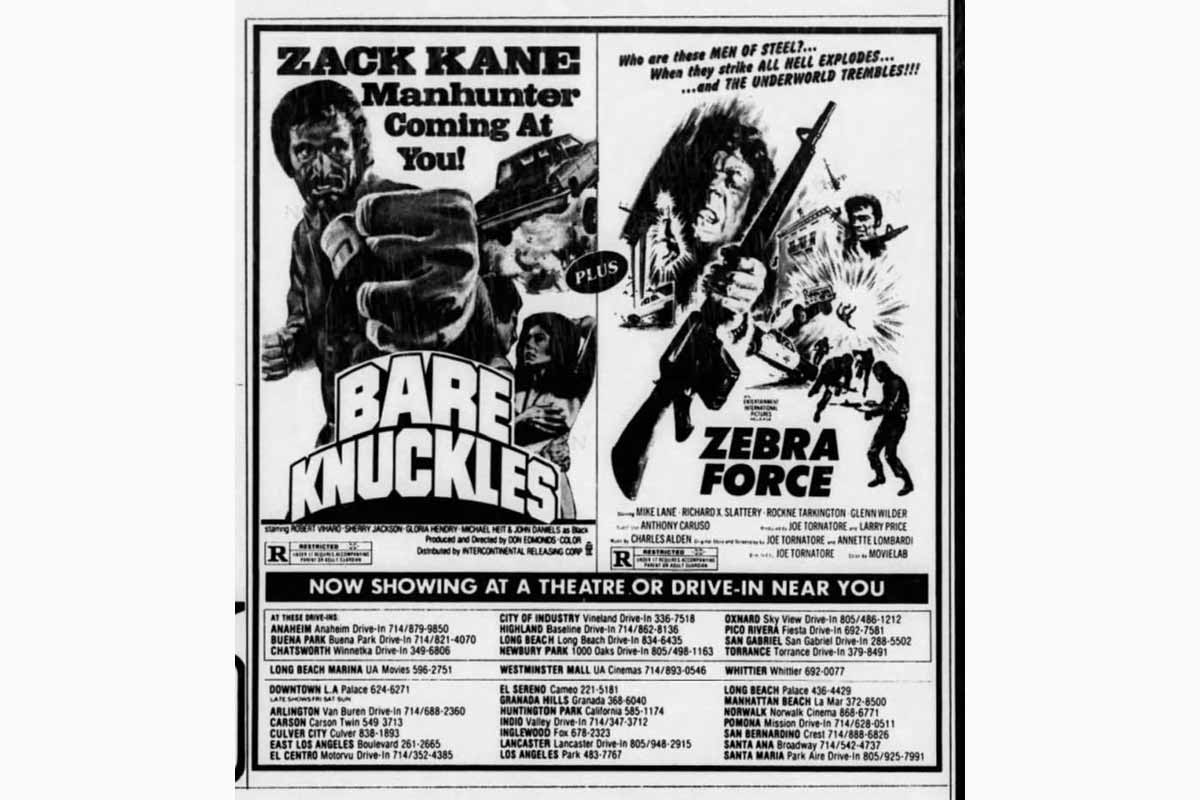 March 24: Death Promise + Velvet Smooth
Hand-to-hand vigilante action is served in a double-dose from the East Coast. Howard Mahler Films was the NYC sub-distributor for Dimension, Independent-International, and other companies, but they also did their own acquisitions, most famously Dario Argento's Deep Red. These two Mahler releases were separate projects with different producers, but shared resources in the Tri-State martial arts community, both traceable to "The George Washington of American Karate," Peter Urban. Robert Warmflash's rage-against-the-realtors polemic Death Promise features acting and choreography from Bill Louie, an Urban student who founded the offshoot Chinese-American Goju Ryu fight style. And Michael Fink's female crimefighter Velvet Smooth has acting and choreography from the late Owen Watson, another Urban student, and co-stars Watson's later instructor Frank Ruiz, who founded the Nisei Goju Ryu system, and Wilfredo Roldan, who now heads the Nisei movement. There's even a Billy Joel connection linking these films: Velvet cinematographer Jay Dubin directed "Uptown Girl" and two other videos from Joel's An Innocent Man album, and Promise producer Serafilm Karalexis was the project manager for Joel's Iron Curtain concerts captured in the HBO special A Matter of Trust: the Bridge to Russia.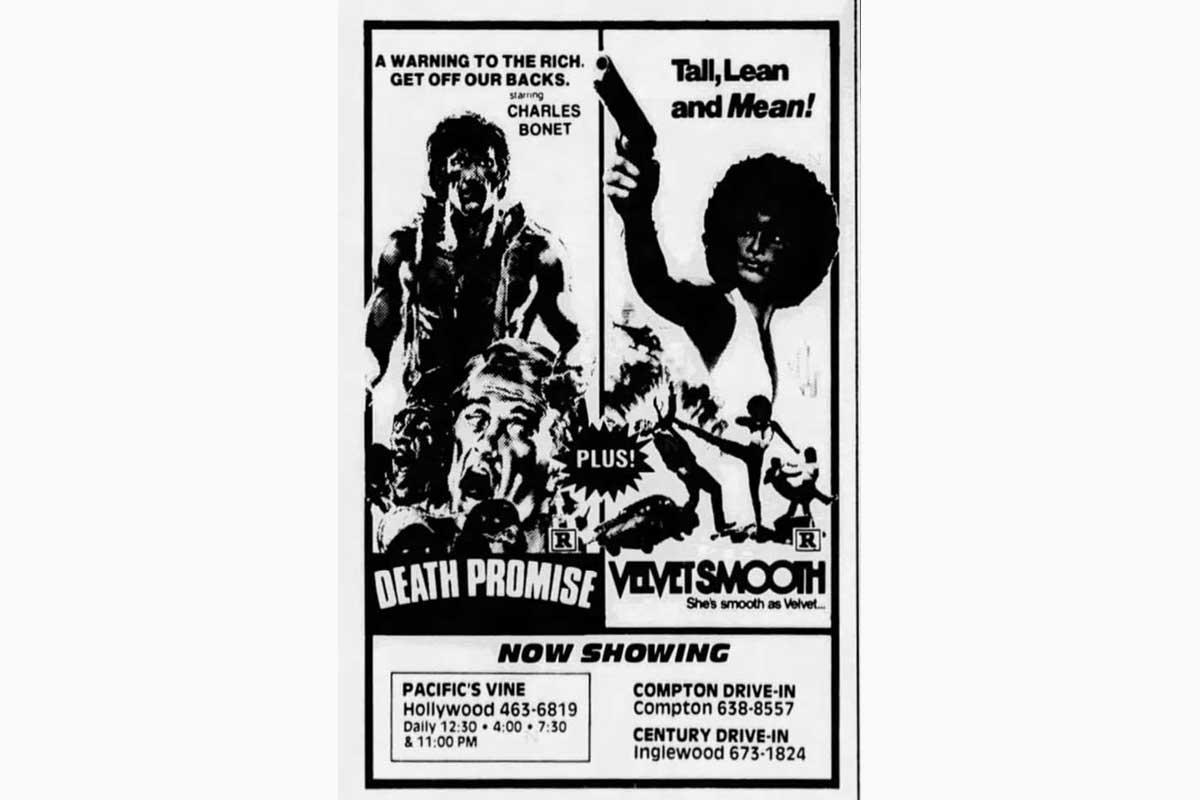 March 31: Blast + Get Down and Boogie
And what salute to grindhouse double features and creative marketing would be complete without a contribution involving Roger Corman and New World Pictures? This combination from 1977 puts new titles (and in one case, new footage) into older releases that didn't quite click on their first theatrical outings. Blast takes Oscar Williams' 1972 drama The Final Comedown, starring Billy Dee Williams as a Black Panther-esque radical, and reworks it with new scenes directed by Allan Arkush featuring Sam Laws, who also appears in Get Down and Boogie, a shortened version of William Witney's 1975 surreal conspiracy comedy Darktown Strutters, written by future Grosse Pointe Blank director George Armitage and produced by Roger's brother Gene. Since both films depict extreme bigoted white pushback against black activism, albeit with wildly divergent tones, this pairing reinforces the old maxim of history playing out first as tragedy and then as farce. Each film also offers terrific music, with jazz/funk pioneer Grant Green providing score for Blast/Comedown, and The Dramatics performing their hit "What You See is What You Get" in Boogie/Darktown.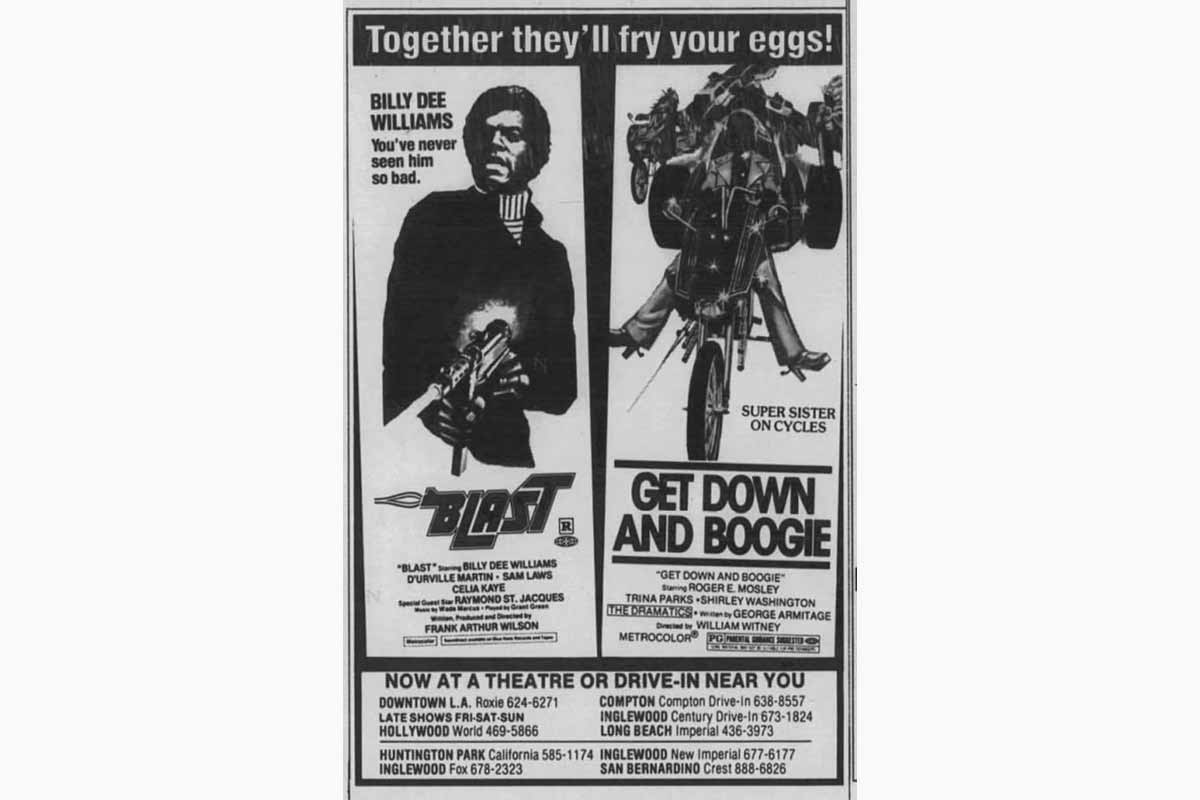 Spend your Tuesdays this March with us at the Bev, going in back in time to when unheralded minds played movie matchmaker, crafting a bevy of date nights that hundreds of cinephiles still cherish with all the warm memories akin to an old flame.
Mapping out the films but in addition
Harmonizing each negotiation
Balancing the part that's exhibition
With the part that's strictly exploitation
Balancing the money with the mission
Till you have the perfect orchestration
Even if you do have the suspicion
That it's taking all your concentration
The art of making art
Is putting it together, flick by flick
Thanks to Louis Letizia and Larry Karaszewski for helping track down these original ads!