In October 1981, a not-yet-published memoir by a 24 year-old first-time author was optioned by a major studio, its film adaptation assigned to a 27 year-old female director, by a production executive who himself had risen to the position before his 30th birthday. This intersection between three prodigious figures yielded one of the most enduring chronicles about youth in transition, and established its respective director and writer as trusted, humane dramatists of the human comedy.
"A teenager has to decide what they're going to do with their life, and that's one of the most important decisions that you'll make." – Amy Heckerling
Amy Heckerling and Cameron Crowe each came to their love of performing arts early in life. Heckerling rabidly consumed films on television, and with prodding from her father, sought out and watched so many foreign films from a reference book that when she enrolled in NYU's film school, she had effectively already seen much of the curriculum assigned in her classes. Crowe, who had skipped two grades in elementary school, begun writing music reviews for alternative newspapers at age 13, and after finishing high school at 15, joined Rolling Stone magazine, where he landed several interviews with artists that were normally disinclined to talk to the publication.
"I always loved movies, but I never thought I would presume to be a screenwriter, and definitely not a director." – Cameron Crowe
By the late '70s, they both found themselves based in Los Angeles: Heckerling enrolled at AFI, Crowe dialing back his Rolling Stone contributions to focus on longer-form writing. Heckerling completed a short film, Getting It Over With, starring Glynnis O'Connor as a girl focused on losing her virginity before her twentieth birthday, which drew the attention of Thom Mount, the "Baby Mogul" of Universal who had shepherded many of their moderately-budgeted and youth-appealing hits as Animal House. Mount was keen to bring her to the studio, but could not at the time due to her lack of agency representation. Meanwhile, Crowe, prompted by an editor's observation of his still-boyish looks, spent a year undercover posing as a student at a Southern California high school, and documented all manner of moments and behaviors among the classmates he befriended, with an agreement with the school's principal to never disclose the actual location or identities of anyone else he interacted with.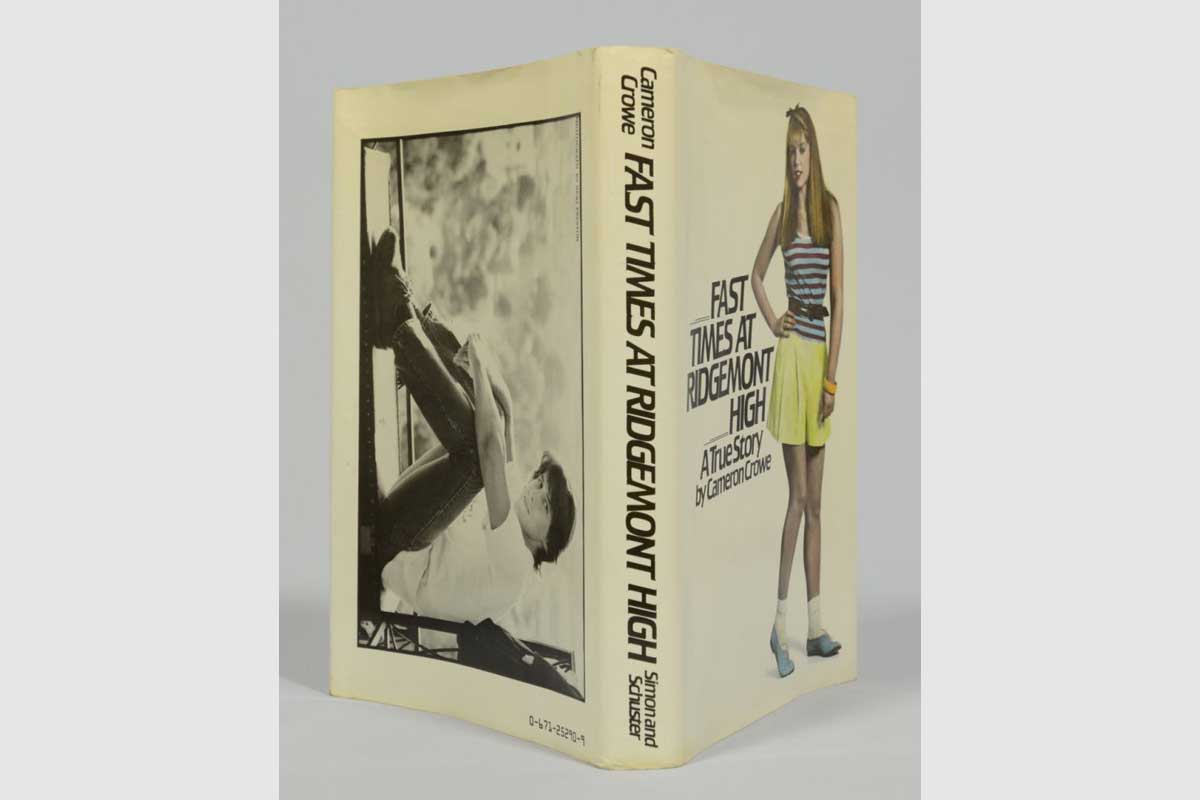 "There were no stupid people working here [back then]." – Thom Mount
Before Simon & Schuster brought Fast Times at Ridgemont High to press, it became a hot studio prospect. Ned Tanen, Mount's boss at Universal, purchased the rights, and as Crowe described it to the L.A. Times in December 1981, "[I] paid my own way to New York to meet with the producers. 'Write your own screenplay,' they urged, then backed me up. Six months later we had a script." In turn, Mount and producer Art Linson remembered Heckerling's short, and sought her out, urging her to meet with Crowe. Recalling her enlistment for Variety in August 2017, Heckerling said, "I love him to death. He's a genius. We started playing with different ideas. The book, I thought, it had just such an amazing wealth of material. I thought a lot more of it could be incorporated into the script."
"When I did Fast Times, I felt very close emotionally to the characters. I liked those characters because they all had to work, so they were dealing with adult problems even though they were very immature, and I could relate to that." – Amy Heckerling
While previous films about teens such as American Graffiti had depicted them on the verge of taking on responsibilities of adulthood, Fast Times stood out by having its characters already in the thick of them. Linda Barrett and Stacy Hamilton are first introduced as co-workers rather than classmates, Mark Ratner works at the mall multiplex, Mike Damone hustles as a ticket scalper, and of course, Brad Hamilton initially presents himself as a veritable Big Manager On Campus because of his All-American Burger connection. While Stacy leaps into her first intimate encounters, Linda frequently mentions already being engaged to an out-of-town fiancée. And as relationships and personal crises come into play, not only does homework still have to be completed but shifts have to be filled as well. While most have observed that the sexual frankness of the story was groundbreaking, it was certainly just as new to address that demoralizing jobs were no longer just a side affectation for many teens, but a new normal. In a scene cut from the theatrical release but reinstated for television, when an apparatchik-like guidance counselor upbraids Brad over what she perceives is an indolent attitude towards college, he counters that any opportunities for lassitude vanished long ago.
"The battered idealist. It's just my favorite character… To me, a hero is somebody who is able to accept the environment of the world, deal with the stuff that's thrown in their path…and somehow keep their heart." – Cameron Crowe
The strongest takeaway from Fast Times, which has continued to permeate the separate cinematic paths of Heckerling and Crowe, is its characters' resilience and capacity to believe in better things to come. Ridgemont High is neither idealized utopia nor tribal dystopia; there certainly may be cliques and rivalries happening, but everyone who walks through it will leave it in good shape, and maybe a little wiser. Bad fortune will rebound, torn fences will be mended. Sean Penn can personally vouch that the "real" Jeff Spicoli he modeled his performance on has had a tasty life since. Even Mr. Hand, the "Hawaii 5-0"-obsessed hardtack whose onscreen postscript suggests he's thrown up his hands, would probably confide that his years of seeing students survive his intimidation have proven to him that whether or not they remember the Platt Amendment, these kids are going to be fine, even if some of them only squeak by. Crowe has gone on to literally declare, "Optimism is a revolutionary act," in his directorial debut Say Anything, and in his films since, presented characters that are often more venal than virtuous, but ultimately all striving for a laudable legacy. And Heckerling, whose early student films often borrowed from classic musicals like South Pacific, has continued to immortalize a parade of cockeyed optimists in her CV: Johnny Dangerously, Clark Griswold, Cher Horowitz, and hopefully more to follow.
"The biggest single problem with the movie business is that the older men who own the studios aren't willing to let their executives fail long enough to succeed. As a result, there's a perpetual executive shuffle that weakens the creative fiber and the profit structure of the business. It's absolutely true." – Thom Mount
Though Fast Times had been hot in galleys when Tanen and Mount greenlit the film, by the time it was ready for release in the summer of 1982, enthusiasm had significantly cooled. In a decision that still draws aggravated memories from its creators, Universal initially opened the film in only 700 theaters on Friday, August 13, with little promotion, and most shockingly, no bookings in New York. Co-producer Irving Azoff, owner of Full Moon Records, which was releasing the soundtrack album, claimed credit for the decision; in an interview with Billboard shortly before the release on August 7th, he stated, "For the same amount of money it costs to advertise a film in New York, you can grab six other major markets. I didn't feel this picture would do as well in New York as it would in a lot of Midwestern and Southern cities. Besides, I've never had a soundtrack sell in the New York-Boston area." The Billboard article noted that earlier, Azoff had recently switched Full Moon's distribution from CBS Records to the Warner/Elektra/Atlantic group, an acrimonious split that spurred CBS to deny him songs by Nick Lowe, J.D. Souther, and Heart (whose co-founder Nancy Wilson was then married to Crowe) for the soundtrack, and that CBS' headquarters were in New York City. Despite the lack of support from the studio, and initially harsh reviews from the press, the film found its prime teenage audience, and delivered strong enough grosses that Universal eventually expanded the release weeks afterward, and ultimately realized a small profit. Still, it was soon clear a mistake was made; as Crowe described in 2017, "The studio never caught up to the demand to see it. They were always scrambling to try and get into more theaters, but it never worked out until the movie came out on VHS and was a big hit [on video]."
Ned Tanen would leave his position as president of Universal later that year, citing burnout, and in turn made an independent production deal with the studio, which included three projects by another chronicler of high school lives, John Hughes. Thom Mount would leave Universal in 1984, also to become an independent producer; one of his first projects was Can't Buy Me Love with Patrick Dempsey. And following the Hughes films, Universal would produce other well-received additions to the canon of teenagers and their life discoveries, particularly Dazed and Confused, American Pie, and Bring it On.
"I love the book. It's one of my favorite things that I've ever written. The book opens the door where all the stuff I learned as a journalist can be applied to a non-celebrity and it's just as interesting. You can interview a kid sitting in his room, and it's more interesting than Rod Stewart. It very much opened a door to being a screenwriter because it let you know that it was a level playing field, story-wise." – Cameron Crowe
"I just wanted to do something about the teenage experience; it's such a wonderful and horrible time of life." – Amy Heckerling
"When I came around a corner in Venice, two weeks after we released Car Wash, and saw two car-wash attendants jiving with the machinery in tempo to the music playing on their radio and doing the Car Wash walk, that was satisfaction. We had affected culture. Originally, it was a big thrill to get Car Wash made. Then it was a giant thrill to have a hit like Animal House. In the long run, you're looking for cultural impact, as opposed to the size of a hit. Because hits are, finally, a random phenomenon." – Thom Mount