Tab Hunter. Fabian. Troy Donahue. Each of them, with their good looks and charm, the subject of many a teenager's fandom during their youthful prime. And, after the screams subsided and the pin-up posters were taken down from bedroom walls, all of them ready and willing to twist and subvert their engaging, parent-friendly personas and go beyond their previous acting parameters by portraying deviate, diabolical, and dirty protagonists in small independent films of the early '70s. And in the ongoing build to Once Upon a Time…in Hollywood, on Wednesday, July 17th & Thursday, July 18th, New Beverly gathers them together in one big "Heartthrobs Turned Heel" triple feature!
The evening begins with a Sweet Kill from 1972. Several, to be exact, all at the hands of outwardly handsome high school gym coach Eddie Collins (Tab Hunter). Blocked from enjoying conventional sexual congress as a result of lingering maternal trauma, it's only after an inadvertent death of one of his failed hook-ups that he finally feels a biological and emotional rush and release. And like any addict, he chases after that high again, but it will take more stalking and killing to get there.
Curtis Hanson had helped adapt H.P. Lovecraft's The Dunwich Horror for American International and producer Roger Corman in 1970, as Corman was exiting the company to start New World Pictures. Corman offered Hanson an opportunity to direct a feature as long as it was within a marketable genre, and Hanson created a Psycho-style screenplay, originally with a female killer until Corman asked for a male one. Hanson and Corman clashed several times during production, particularly over securing outside financing, and the mogul's request for additional murder and nude scenes after Hanson turned in his rough cut. Tab Hunter, remembering the production in 2015, said, "It was very low-budget and it was a really interesting script. But, of course, Roger Corman had to put his own little tweaks into it." After a poorly-received release in 1972, Corman would reissue Sweet Kill in 1976 under the title The Arousers, with an ad campaign that almost completely left Hunter out, to a better performing run. Hanson spent much of the '70s directing more low-budget genre outings as the horror film God Bless Grandma and Grandpa, which was taken away and recut with footage commissioned by Mardi Rustam into the 1987 release Evil Town, and The Little Dragons, while writing better received screenplays for The Silent Partner, White Dog, and Never Cry Wolf, before evolving into the respected filmmaker he became by the late '80s.
Next, Soul Hustler from 1973, presents wandering musician Matthew Crowe (Fabian Forte), who spends his many idle hours engaged in one-night-stands and drug-induced-trips, befriending fellow vagabond Brian (Larry Bishop) along the way. When he bluffs his way on stage during a tent revival held by the Reverend Evin Calder (Tony Russel), the canny and corrupt evangelist sees his appeal to young audiences, and invites him to apprentice in his operation for a share of the tithings. Matthew's rogue charisma and rock'n'roll instincts make him a star attraction, gaining him a record contract and a promotions director (Casey Kasem) to take him to the next level. All the while, though, Matthew's dosing and whoring has gotten worse, and this false prophet is going to do real damage to everyone in his path.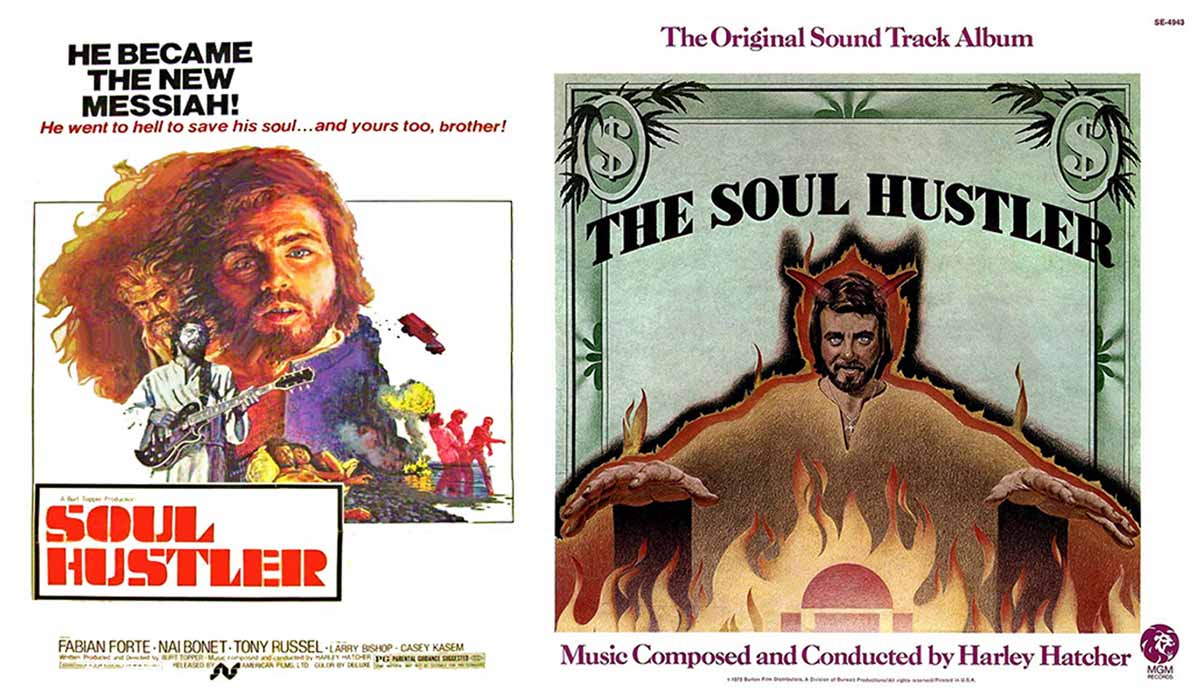 Producer/director Burt Topper once told the L.A. Times in 1998 that when making a film, he was always too busy to ever sit in his director's chair. Topper had a long association with American International Pictures, beginning in 1958 when he sold his low-budget war drama Hell Squad to the studio. While Hustler was made independently, almost all the prime cast had done an AIP film that he produced – Fabian in Thunder Alley (which screens at the Bev on July 21st & 22nd), Tony Russel in War is Hell and The Hard Ride, Larry Bishop in Wild in the Streets, Nai Bonet in Devils Angels – and Casey Kasem, while not previously starring in a Topper project, had coached him in recording trailer voiceovers, and acted in AIP fare as The Cycle Savages, which played the Bev this past April. In addition, composer Harley Hatcher, who provided the score and original songs performed by Fabian, was a regular AIP contributor as well, writing music for The Glory Stompers and Wild in the Streets. In an interview he did with historian Tom Weaver before his death in 2007, Topper reflected, "I can't believe some of the pictures we actually put out, that went to the big screen, the drive-ins and all that…Nobody knew what the hell they were doing anyway, so whatever we did was okay, and we did it for ten cents!…AIP was like a family. Sam Arkoff…I loved him dearly. Jim Nicholson was a sweet man, too…Those days were really interesting."
Fabian, who at this time had restored his last name Forte to his screen credits, was already actively taking on grittier roles in films like A Bullet for Pretty Boy (featured earlier on the July calendar), and had been one of the first celebrities to be photographed naked (albeit not full-frontal) for Playgirl magazine, when he signed on for this project, initially titled Matthew. The movie marked the first time he had sung in public for a decade. One such performance was filmed at the L.A. Forum preceding an Osmonds concert, and when promoting the project to Cashbox magazine, he brought up the irony of him as a former youth idol sharing a stage with the then-new teen sensations. Fabian and Casey Kasem would again respectively play a singer and a dodgy manager in Lamar Card's 1978 comedy Disco Fever. Between projects for Burt Topper, Tony Russel starred in Antonio Margheriti's first two installments of MGM's Italian-backed "Gamma One" sci-fi films, Wild Wild Planet and War of the Planets; Kinji Fukasaku's The Green Slime, which played the Bev in June, is considered an offshoot of this series. Vietnamese-born Nai Bonet would ultimately earn her largest notoriety producing and starring as disco-loving vampire Nocturna in 1979.
The night crescendos in cataclysm with the arrival of Sweet Saviour from 1971. Bearded hedonist Moon (Troy Donahue) has just added a new malleable recruit, Faith (Francine Middleton) to his retinue of adoring acolytes who listen to his pseudo-Biblical ramblings, engage in group sex, and ingest large quantities of drugs. Wealthy actress Sandra Barlow (Renay Granville) invites Moon and some of his entourage to come to an upscale party she is throwing for affluent friends, hoping that such an antithetical group of people, along with the sex and drugs she anticipates they'll provide, will add some "kicks" to the evening. Moon and his brood, however, have much different and terrifying kicks in mind for their hosts…
Robert L. Roberts, born Robert Levitt in the Bronx in 1928, had established himself in multiple fields by the mid-'50s: in radio, on Broadway, and in early television at the DuMont network. At one time he started a production company with "Toastmaster" comedian (and inspiration for "Futurama" alien Zoidberg) George Jessel; Jessel would later be the "presenter" of the 1972 cult film An American Hippie in Israel. Roberts became an early experimental entrepreneur in closed-circuit and pay TV, at one point patenting a prototypical pay-per-view device where subscribers would use corresponding keys to unlock selected cable channels to watch at home. Roberts' concept for Sweet Saviour was written into a screenplay by Willie Gilbert, previously a writer for the DuMont adventure shows "Captain Video" and "Tom Corbett: Space Cadet," and winner of a 1962 Pulitzer prize and eight Tonys with Jack Weinstock for adapting How to Succeed in Business Without Really Trying to the stage; Gilbert took the pseudonym "Matt Cavanaugh" for screen credit. In 1976, Roberts would write and direct Patty, another sex-and-violence-filled roman a clef ripped from the headlines, speculating on the events behind the Patty Hearst kidnapping and crime spree. In less incendiary activity, Roberts ran a small chain of New Jersey theatres, including the lauded  Lost Picture Show arthouse in Union, and the still-operating Chatham Cinema; these were the only business ventures of his long life mentioned in his New York Times obituary when he died in November 2002.
When Troy Donahue accepted the part of Moon, he was in the midst of personal turbulence. Despite his relative fame making projects for Warner Bros., he had been paid far less than the lifestyle he'd cultivated, and he had developed substance abuse problems that bankrupted him. Going full bore into a counterculture look and mindset, and frustrated at his stasis in Los Angeles, he moved to New York, getting some occasional work, but at one point so destitute he spent the summer homeless in Central Park. In a series of colorful interviews to promote Sweet Saviour, he claimed to have had direct interactions with both Charles Manson and Sharon Tate, recounting to the Associated Press, "I was at Sharon Tate's house once at a party… I was too square for them. There was something in the atmosphere that scared me," while telling the Village Voice he had played volleyball with the cult leader and insisting Manson kept women in his thrall through sexual prowess. After Francis Ford Coppola cast him for a brief role in The Godfather, Part II (where he played a character named from his actual birth name Merle Johnson), Donahue moved back to L.A., was able to work steadier again, and become sober in 1982. In a 1998 interview, he reflected, "I've never revised my opinion of myself as an actor. I've always thought I was as good as my material."
Prepare yourself for the foreboding surprises of Once Upon a Time…in Hollywood by spending a summer night taking in the hot, sweaty performances of Heelish Heartthrobs within the air-conditioned comfort of the New Beverly. You'll never look at handsome boys the same way again!