Many of the directors from the influential '70s wave of martial arts films have passed on or retired, but Lee Tso Nam has continued to make new projects as recently as Goddesses in the Flames of War with Bing Bai and He Sai-fe, released last year. In an interview for Michael Worth's upcoming book The Bruceploitation Bible, he recalled, "I attended the [Taiwan College of Arts], I learned editing and directing. I started shooting right after graduating, first [as] an assistant set director, then to executive director, that's all I ever did, directing. Actually I didn't want to direct in the beginning, I wanted to be a movie star! But I'm not very good looking." Well, he made some very good-looking action films, particularly during the aforementioned "Bruceploitation" period where everyone wanted to find the next Great Whoopass Hope, and for Grindhouse Tuesday, March 26th, we salute Lee Tso Nam with two of his adventures that are a great reminder that there's more than one Lee that made martial arts exciting.
The Tattoo Connection from 1978 starts with the brazen theft of the North Pole Star Diamond, masterminded by Hong Kong crime boss Boss Lok (Chan Sing), who plans to carve it up and sell the fragments. The insurance company covering the diamond sends ex-CIA agent Lucas (Jim Kelly), the self-professed "Black Six Million Dollar Man," to the colony to retrieve it and prevent the company's potential bankruptcy from paying out the loss. Brought into Lu's orbit by tracking the skin art his men share in common, Lucas manages to stave off attacks from everyone but Lu's trusted enforcer Dong Ho (Dorian Tan Tao-liang) and his friend with benefits Nana (Nami Misaki aka Lee Hoi-gei). However, when Dong contemplates how much blood has been spilled for this diamond, he may be ready to switch allegiances.
Jim Kelly became an instant action star after appearing with Bruce Lee and John Saxon as the heroic trio of Enter the Dragon in 1973, and many of the films he headlined afterward were sold on the strength of his fighting skills; thus, in some territories, Tattoo was deceptively titled Black Belt Jones 2. Here, he has two pivotal battles with Bolo Yeung, whom he would have previously fought when they co-starred in Dragon until Saxon was given the higher profile in that film. Co-star Dorian Tan had such kicking agility he was nicknamed "Flash Legs Tan;" he previously acted for Tso-nam in The Hot, the Cool, and the Vicious, and would work for him again in The Invincible Kung Fu Legs and Challenge of Death. The action choreography was staged by Leung Siu-lung, who would also be groomed for Bruceploitation stardom as Bruce Liang; his brother Tony Leung Siu-hung, who recently choreographed stunts for two films about influential Wing Chun teacher Ip Man, appears here as well. Nami Misaki would later star with Bruce Li in Bruce and the Iron Finger, and make several unique and controversial erotic films for Japan's Nikkatsu studio. While a sequel was contemplated, reportedly Kelly did not get along with Tan and Leung and declined to return; in later years, Kelly would say Tattoo gave him the best opportunity to show off his prowess.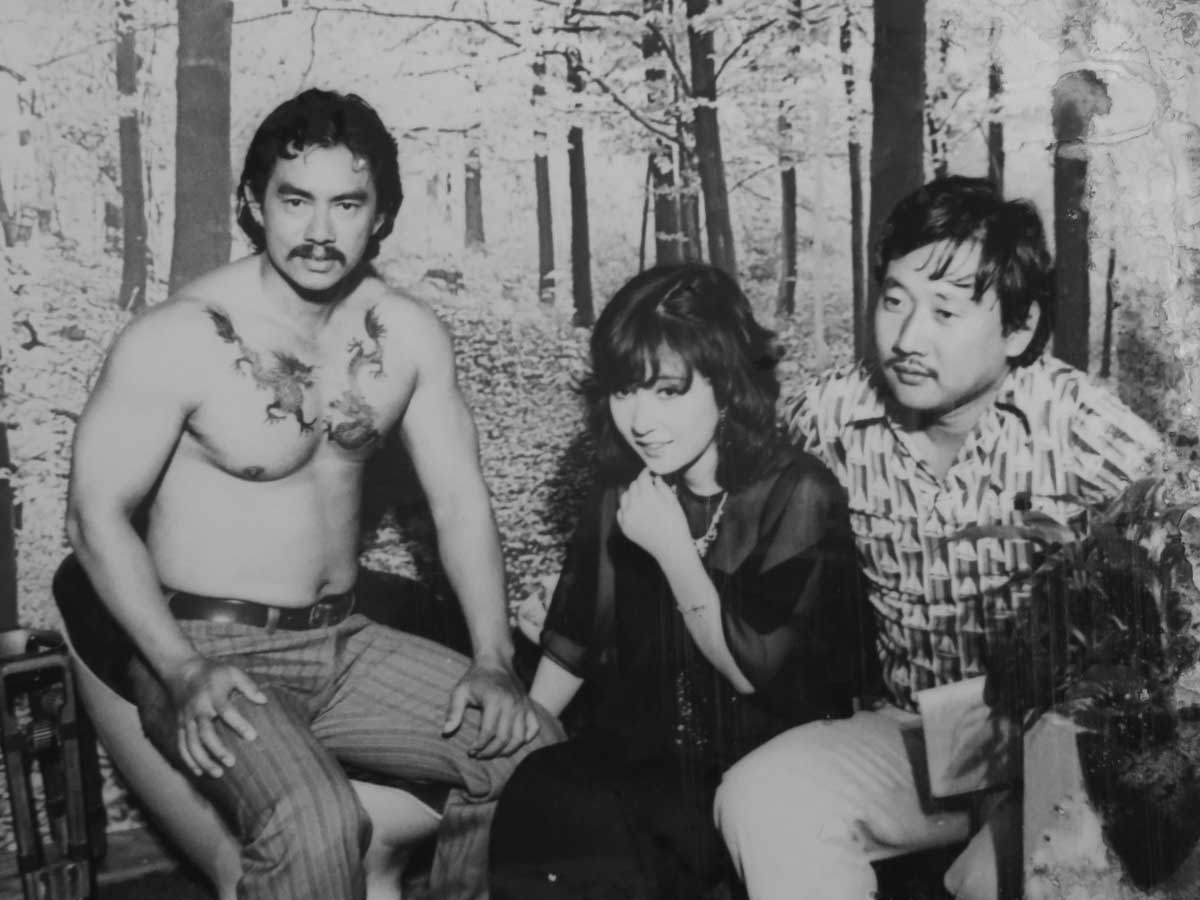 Left to right: Chan Sing, Nami Misake, and Lee Tso-nam
(photo courtesy of Michael Worth)
Bruce Li played some permutation of Bruce Lee in various roman-a-clef films for a few years after Lee's death, but it was in our second feature, 1976's Exit the Dragon Enter the Tiger, a/k/a Bruce Lee – the Star of All Stars, where producers made an effort to market him as himself, albeit also as Lee's successor. In a somewhat shameless prologue, Li plays both himself (renamed David in the English dub) and "real" Bruce, who summons him to the set of Enter the Dragon, to warn him that he fears for his life, and should he be murdered, that Li must carry on his mantle and avenge him. Quickly after, Lee is dead, and Li keeps his word, discovering the actor has been murdered as part of larger drug cartel activity, and kicking and punching his way towards finding the main man responsible for his death.
After presenting actual news footage of Lee's death, the movie proceeds on its own brand of meta-reality, with frequent villain actor Lung Fei playing himself as a villain, and Kong Sam-yi playing Suzie Yung, a thinly-fictionalized version of actress Betty Ting Pei, in whose home Lee had been found dead, and who, after years of rumors, later admitted in 2006 she had been involved in an extramarital affair with him. If this sounds already tense, consider that before making Tiger, Tso-Nam had directed both Pei and Kong in the 1975 drama A Chilled Spring. In turn, while never directly addressing the unflattering speculations made about her in this film, it is poetic coincidence that a decade later, Pei had a prominent role in a drama titled My Name Ain't Suzie. Thus, while American audiences were merely enjoying the fights and intrigue, Chinese audiences were very well witnessing a prototypical shade war. As Tso Nam reflected on the fraught situation, "[It's quite] a tragic life story. He was such a huge star, and he died in his mistress' home. We didn't show how he died, we didn't show that he died because of drugs or doing a fight or anything else. Because so far no one know what the real secret is. So we could only guess. We were hoping to portray the real Bruce Lee. Not particularly trying to make it more tragic or darker."
As March gives way to April and the promise of spring, give the cold weather one last kick away by spending a Tuesday night championing the ongoing career of Lee Tso Nam, and revisiting two of his standout action hits that offer tangential Bruce and are 100% boss!