Almost every significant movement in music has enjoyed some sort of revival in recent history. Witnesse the "Paisley Underground" wave of '80s bands recapturing psychedelic pop, or the resurgence of big band music and swing dancing popularized by Swingers. But you may be surprised to learn that the longest sustained resurgence in terms of cultural presence and popularity was the '50s renaissance (which, technically, extends to the early '60s pre-Beatles)! While most would be inclined to believe that the spark was initiated by American Graffiti in 1974, and "Happy Days" keeping doo-wop and saddle shoes on TV, musically speaking, the interest was already underway before The Beatles had even officially broken up! An essay for Scram magazine by Gene Sculatti documents how Frank Zappa was already putting his spin on the era on his 1968 album with The Mothers of Invention, Cruising with Ruben and the Jets, and The Monkees' infamous 1969 TV special 33 1/3 Revolutions per Monkee featured the band doing a medley of '50s hits with Fats Domino, Jerry Lee Lewis, and Little Richard joining in. And even as punk, new wave, and disco were knocking on the backstage door by the end of the '70s, the Sex Pistols charted in the UK with Eddie Cochran's "Something Else" in 1979, Queen cited their 1980 hit "Crazy Little Thing Called Love" as their Elvis tribute, and Stray Cats dropped their first album in 1981.
Our double feature on Friday, March 1st & Saturday, March 2nd is a full-on celebration of the great music that made blue-nose parents blush the first time around, and made blue-haired punkers thrash on the second go. We've paired up one documentary and one docudrama, both packed with performances by many of the original artists that made those enduring songs. These films are rarely screened, and neither have been licensed for DVD due to their expensive music rights, so this combo is one to circle on the calendar with a big red magic marker heart!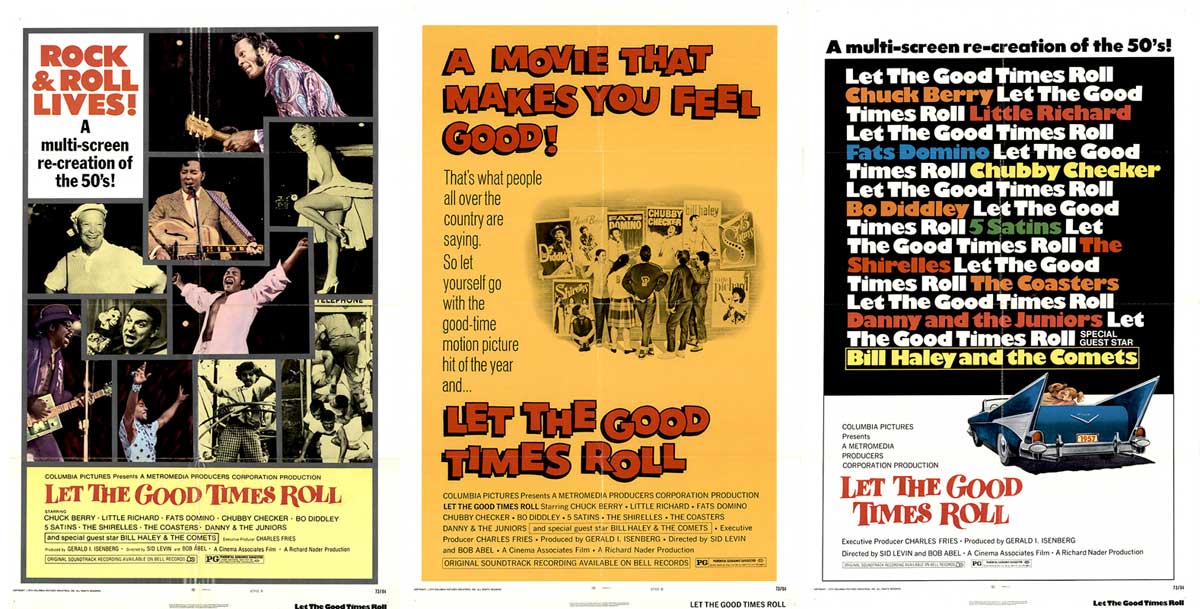 Promoter Richard Nader did his first "Rock'n'Roll Revival" show featuring Bill Haley, Chuck Berry, and the Shirelles in 1969, and the package was such an enormous success it grew into a yearly touring event playing to audiences in the thousands. Sidney Levin and Robert Abel's Let the Good Times Roll from 1973 gathers performances from events in Long Island, Detroit, and Las Vegas, with a lineup including Chubby Checker, Fats Domino, the Coasters, the Five Satins, and a one-two-three knockout of Little Richard, Bo Diddley, and Chuck Berry, with the latter two sharing stage at the finale. Concert scenes are intercut and juxtaposed with backstage glimpses of the artists and archival footage from the '50s, offering counterpoint, contradiction, and ironic hindsight. Standout moments include Rob Reiner impersonating rock DJ Murray the K, Little Richard climbing the speakers and stripping off his outfit years before Prince engaged in similar antics, Bo explaining why he does his own cooking before a show, and Chuck musing fondly over his worn, battered tour bus, observing, "This thing could tell stories. If it could talk, I imagine it would convict every band member I had."
Co-directors Abel and Levin, along with their production manager Pierre Adidge, previously collaborated on other music documentaries, including Elvis On Tour and Mad Dogs and Englishmen with Joe Cocker. Abel distinguished himself as a pioneer in graphics and animation; his firm Robert Abel and Associates would create the "candy apple neon" look in award-winning commercials for Levi's and 7-UP, and participate in creating the computer world for Tron. Levin on his own edited Nashville, Mean Streets, and Sounder and its sequel; his most recent feature editing credit was Mark Medoff's 2002 Truman Capote adaptation Children on Their Birthdays.
Roger Ebert, in his original review of Good Times, smartly summed up the appeal of the film and of Nader's ongoing concerts when he wrote, "That [music] has not lost any force with the passage of time. One doesn't feel nostalgic on hearing Buddy Holly sing 'Peggy Sue,' because the music doesn't seem to belong to some summer 13 years old; it exists in the moment, as it did then, and only we have grown older. Let the Good Times Roll is a movie [that] doesn't condescend. It isn't a movie that finds anything camp about Chuck Berry singing 'Johnny B. Goode.' It understands that if the song and the singer were good then, they are both still good." While Richard Nader passed away in 2009, his company, now branded Nader-Mara Entertainment, continues to package pop and rock shows, drawing from three decades worth of artists.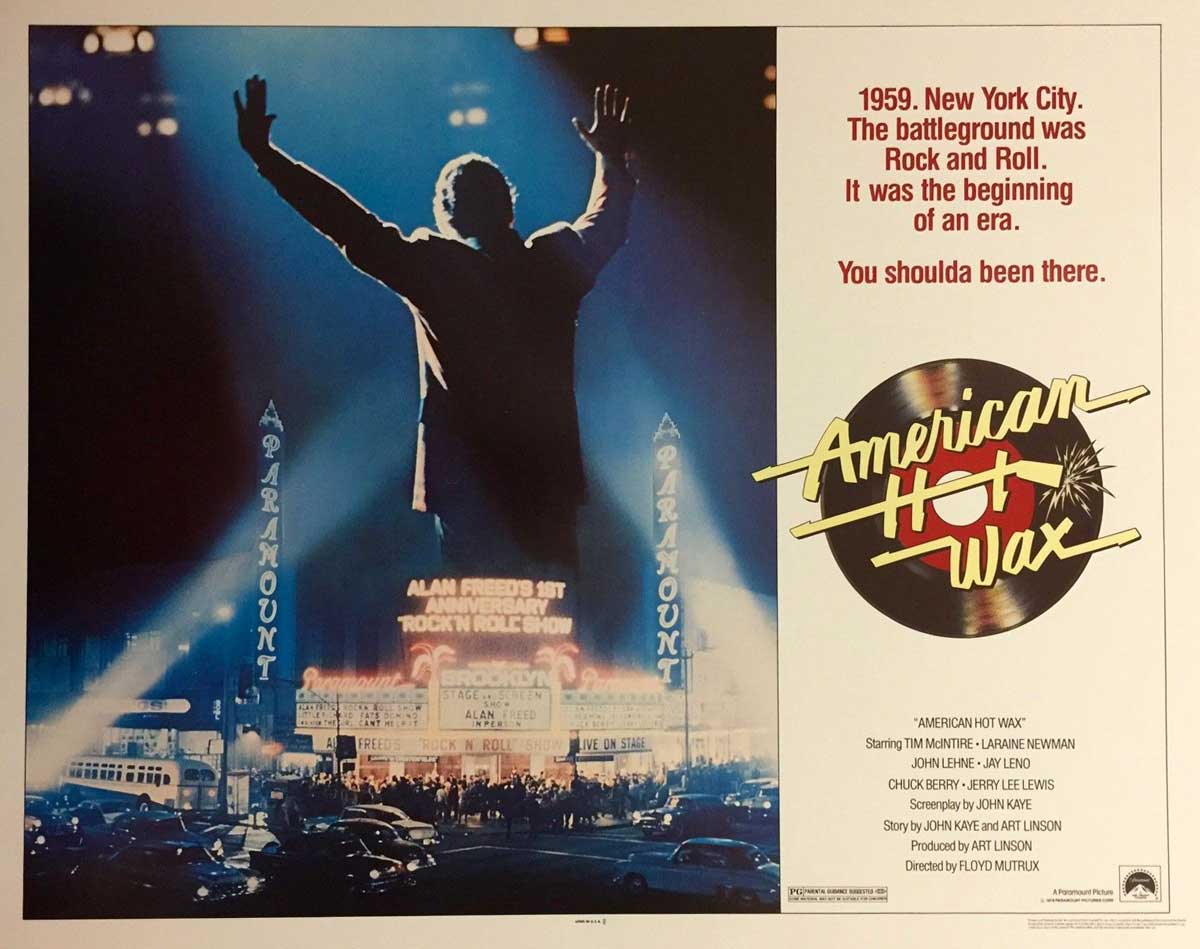 Let the Good Times Roll opens with film footage of influential DJ Alan Freed, credited for being among the first to play rhythm & blues singles by black artists on mainstream radio, and for popularizing the term "rock'n'roll." Appropriately, our second feature focuses on Freed and his legend. American Hot Wax from 1978 presents a semi-fictionalized account of a week in the life of Freed (Tim McIntire), as he constantly fends off threats from local authorities and his own bosses, crosses paths with a budding young songwriter (Laraine Newman) and an even younger Buddy Holly fan club proprietor (Moosie Drier), and privately deals with societal disapproval from even his own family. The events culminate in a career apex and a tragic fall, all occurring during an energetic all-star extravaganza, featuring Chuck Berry, Jerry Lee Lewis, and Screamin' Jay Hawkins as themselves.
In his career memoir What Just Happened, producer Art Linson wrote, "Years ago at Universal, I wanted to make a rock-and-roll biopic of the famed disc jockey Alan Freed. I had just produced the hit movie Car Wash [and] once you've sold 'a day in the life of a car wash put to music' and it dumbfoundedly worked, you figured that Hollywood was a cakewalk." Universal passed on the pitch, but Paramount, after seeing a screenplay crafted by Rafferty and the Gold Dust Twins writer John Kaye, eagerly acquired the project. Director Floyd Mutrux had previously made the documentary-styled drama Dusty and Sweets McGee and the fugitive romance Aloha Bobby and Rose, both notable for their pop song scores. The Wiltern Theatre in L.A.'s Koreatown neighborhood was redressed to resemble Brooklyn's Paramount Theatre, as the NYC original was long ago demolished. D.P. William Fraker used up to eight cameras to film the concert footage. To get a jump on many music-themed films awaiting release in 1978, including Thank God It's Friday, FM, and Grease, Mutrux finished the film five days ahead of schedule and was able to complete post-production in two months, allowing Paramount to release it in March, ahead of the competition. While the film was not the hit the studio hoped for, then-studio president Michael Eisner held it as a personal favorite, watching it 12 times.
Star Tim McIntire was the son of veteran acting couple John McIntire and Jeannette Nolan, and in addition to acting, had fronted the band Funzone and composed music for Jeremiah Johnson and A Boy and His Dog, where he also voiced the titular canine. Among the bevy of "before they were famous" supporting players are Jay Leno and Fran Drescher as Freed's respective driver and secretary, comic Jeff Altman as a corrupt artist rep, "Fridays" performer Melanie Chartoff and Repo Man co-star Olivia Barash as aspiring singers, and a fleeting glimpse of future writer/director Cameron Crowe, who detailed his experience for Rolling Stone before the movie's release. John Lehne, playing the D.A. intent on bringing down Freed, would later appear in another rock'n'roll drama released by Paramount, playing slimy news anchor Stu McGrath in Ladies and Gentlemen the Fabulous Stains. And the young man drumming on garbage cans at the film's conclusion is Maurice Starr, who would grow up to produce the boy bands New Edition and New Kids on the Block.
Kenny Vance, who previously sang with Jay & The Americans, served as musical consultant, and besides recruiting rock icons Berry, Lewis, and Hawkins, brought in many young musicians with bright futures. Portraying "The Planotones" to Vance's "Professor LaPlano" is the band Brooklyn Dreams, who recorded "Heaven Knows" with Donna Summer, and whose lead singer Joe "Bean" Esposito later sang "You're the Best" for The Karate Kid soundtrack. "The Delights," modeled on early girl groups The Bobbettes and The Chantels, had in their ranks Brenda Russell, who later sang the Top 10 pop and soul hit "Piano in the Dark" and wrote the Top 10 Oleta Adams hit "Get Here." Also, real-life record producers Richard Perry and Robert Ezrin have minor acting roles, and conductor Ira Newborn, who would later compose scores for several John Hughes projects and The Naked Gun films, appears uncredited as a band leader. The tie-in soundtrack album sold 375,000 copies over five weeks, reaching #31 on Billboard's album chart. The film's striking title logo was paid homage in Quentin Tarantino's Death Proof as "Austin Hot Wax," the radio station home of DJ Jungle Julia.
The aforementioned Frank Zappa once wrote, "Rock music is a necessary element of contemporary society. It is functional. It is healthy and valid artistically. It is also Educational (how to ask a girl for a date, what love is like). It has all the answers to what your mother and father won't tell you." So even if you don't enjoy when L.A. temperatures are in the '50s, you'll definitely enjoy a night at the New Beverly taking in these cinematic throwbacks to the '50s!