Last December, a news story about San Francisco real estate got the attention of classic rock fans, who shared it over social media with varying degrees of sadness and indignation. An Environmental Impact Report was submitted to the San Francisco Planning Commission, and posted on the front of a two-story, 91,000 square foot building at 10 South Van Ness, built in 1927, detailing planned construction of a mixed-use residential development for the site, which would involve "demolition of an historical resource." What the document did not specify was that the historical resource in question was the legendary Fillmore West concert venue.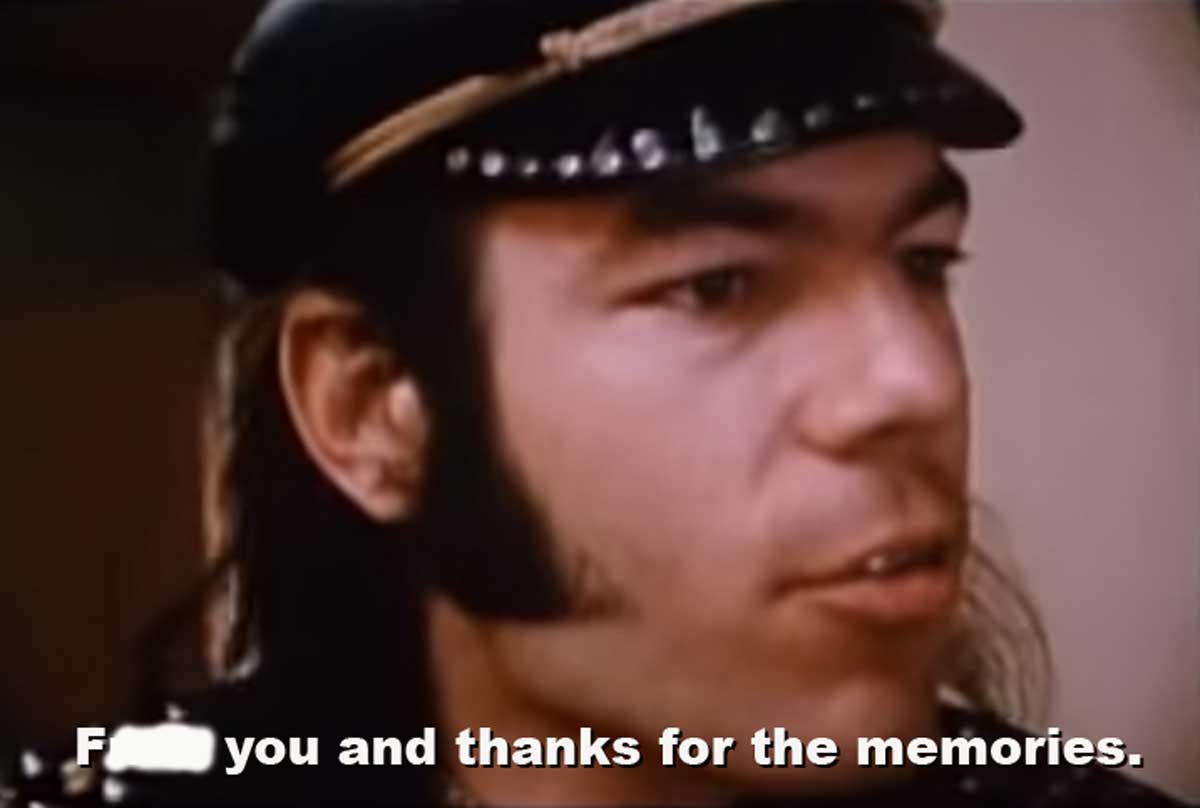 Promoter and artist manager Bill Graham had been mounting shows at the Fillmore Auditorium on 1805 Geary Boulevard since December 1965, but in July 1968, after dissatisfaction with the turn of the neighborhood and the building's capacity, he relocated a mile away to what had been the Carousel Ballroom at South Van Ness, rechristening it Fillmore West.  The former big-band venue offered twice the capacity of the original Fillmore, and had already earned counterculture cachet as an experimental performance space. And for three years, it was a crucial destination for musicians on the rise and established stars on the road. Then in the summer of 1971, Graham abruptly closed Fillmore West, as well as its New York counterpart Fillmore East, eventually refocusing on promoting arena-sized concert events, until his untimely death in a helicopter crash on October 25, 1991.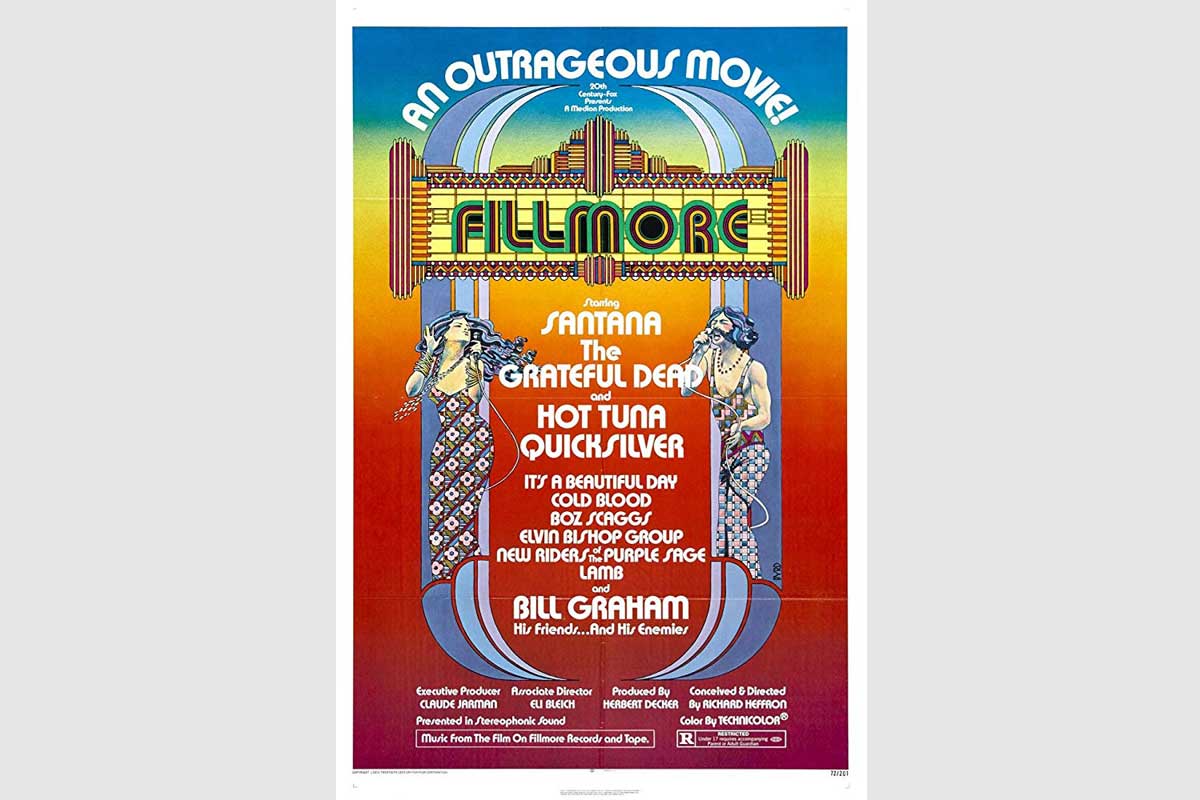 Fillmore was put into production almost as soon as Graham announced his June 1971 exit and the week of concerts he would mount there to close it, and sought to capture as many observations about him and his sudden closure of the otherwise popular facility. The idea came from a San Francisco-based media organization called Medion, founded by former child actor turned director of the San Francisco International Film Festival Claude Jarman, and two alumni of the Washington D.C.-based documentary company Guggenheim Productions: Herbert F. Decker, who had filmed several promotional spots for Robert Kennedy's presidential campaign, and Richard T. Heffron, who, in addition to filming documentaries, wrote the 1959 docudrama The St. Louis Bank Robbery starring Steve McQueen, directed by the company's founder Charles Guggenheim. According to a July 1972 Saturday Review article, director Heffron and his Medion partners approached Graham about documenting his closure on Thursday, June 24, and Graham consented on Monday June 28, the first day of the final week, forcing them to start shooting immediately, and trying to secure releases from the musicians on the bill as they shot, and during editing afterward. Heffron's then-wife Terry Catrambone Heffron described the experience in a comment posted to a 2009 blog review as, "I was there from start to finish…It was a great experience…authentic, exhilarating, hard won. Dick [used] his considerable intelligence & charisma to inspire talented but indulged and sometimes recalcitrant rockers into outstanding performances, gain their respect, and make a few friends."
The movie is a blend of concert footage from that week of farewell shows interspersed with Graham's efforts to put the superstar event together. There are also some personal moments away from the hustle of his booking office as he muses on his past as a Holocaust survivor, his young son, his discovery of the San Francisco Mime Troupe that brought him into mounting rock shows, and the changes he's observed in the music scene from wide-eyed community idealism to almost mercernarial self-protection. A crew of over 40 was dispatched with 16mm cameras to grab these moments as they occurred, and the footage is arranged in several split screen compositions, a device compared to Woodstock's famous juxtapositions, but which Heffron had previously employed in earlier documentary projects. The independently-made production drew the attention of Twentieth Century-Fox, who released it in a slow rollout beginning in June 1972. The film was originally given an R rating by the MPAA for Graham's frequent cursing; an appeal for a PG was denied, but many theatres ignored the rating and allowed general audiences to attend the screenings.
One of the reasons Graham cited for ending his Fillmore operations was, as he put it, "The flowers wilted and the scene changed." And the film captures many direct instances of this downturn of spirit. After the movie's opening sequence presenting a split screen of the gospel-rock band Lamb performing "Hello, Friends" as Graham walks and surveys a line of concertgoers that seems to go for blocks, the next scene depicts a phone call to Graham's office by Lamb's representative pleading for a thousand dollars to help them travel to their next show; Graham, who had previously seen the band leave his label to sign with WB Records, downplays the urgency saying, "They'll get out of Boston. Let Warner Brothers get 'em out of Boston." Not long after, local artist Mike Wilhelm, whose previous band The Charlatans had been Fillmore regulars, repeatedly pesters Graham to book his new and unseen band Loose Gravel on his farewell bill; after he politely, repeatedly, and firmly says no, Wilhelm cusses him out with the infamous quote screencapped earlier, spurring the furious promoter to chase the singer out of his office. And most notably, Graham is stretched to his breaking point by Santana, whose excessive demands may well keep them off the bill; after one trying exchange, he mutters, "If we had Suzy Creamcheese and Phil Spatoni's All-Girl Orchestra, we could fill the place, but they'd like it so much more if we could get Santana!" He sums up his frustrations well in this statement:
What have I said for months and months what's wrong with this business? That these groups have gotten to be too authoritarian, and they have a right to be 'cause money talks, success controls. Why do you think I want out?
While Heffron and company would not have been privy to Graham's specific behind the scenes squabbles, they may well have sensed that there were issues inherent to the music business he represented that paralleled what they had already documented as a major issue in politics. In an interview with Frank Farrara for the San Rafael Daily Independent Journal on November 8, 1969, Heffron's experience making a 1968 profile film for Ohio Senate candidate John J. Gilligan, which had helped him beat the sitting U.S. Senator Frank Lausche to win the Democratic primary nomination (though Gilligan would lose the election to Republican William B. Saxbe) was discussed, with the director saying that a significant problem in the nation was the high cost of carrying out any campaign for public office, who's providing the money, and the what the candidate may promise donors in return. "The cost of television is a crime." he said. In related happenstance, Medion co-founder Bert Decker gave a lecture on "Political Film Making in the Real World" at U.C. Davis. on Tuesday, May 18, where a prime topic involved clips from a 1970 Wilson Riles campaign film that helped him get elected, a month before Fillmore was shot. Transitioning from filming politicians attempting to stage-manage their public image to literal stage managing in the Graham organization must have felt like a natural progression. And as predicted by Peter Watkins' still-searing 1968 mockumentary Privilege, the intersection of pop music, corporate interests, and the state was only going to keep getting bigger and more troubling.
It is that warts-and-all view of the musical sausage factory that has divided critical opinion on Fillmore since it was first released. In her review for New York magazing, Judith Crist called it, "beautifully made" and "expertly edited," and suggested, "A triple bill, say, of Woodstock, to show where it once was at, of Gimme Shelter, to show where it began to sicken, and of Fillmore, complete with Bill Graham's diagnosis of its end, provides a history of a segment of our time that few academicians could possibly compile." By contrast, John Weisman of the Detroit Free Press bemoaned, "[It] never achieves what it sets out to become: A fitting eulogy to the West Coast rock and roll emporium that Bill Graham closed in June, 1971. Almost never does it capture the excitement, the aura or the exquisitely tactile qualities that made the Fillmore different from any other rock and roll hall…the film in no way garners the essence of San Francisco and its music, nor of Graham and his endeavors." Author, film historian, and Video Watchdog magazine founder Tim Lucas offered a recent and succinct appreciation:
When I first saw this film back in 1972 or whenever, I had been reading about Graham for years and felt immensely rewarded by how it presented him – larger than life, indomitable, that guy who could deal with the straights and make the scene happen. I loved how it boldly exposed how big Santana had grown under his wing that they were actually bitching about not being able to close the Fillmore, that they were actually considering screwing over the man who discovered them and got them to play at Woodstock with a no-show. So, for me, this film delivers Graham in spades…The film captures Graham but also the withering of the scene that was underway. The communal sense was gone, the jamming was generally over, and many of the bands that made the Fillmore great had begun to splinter into factions or were overripe.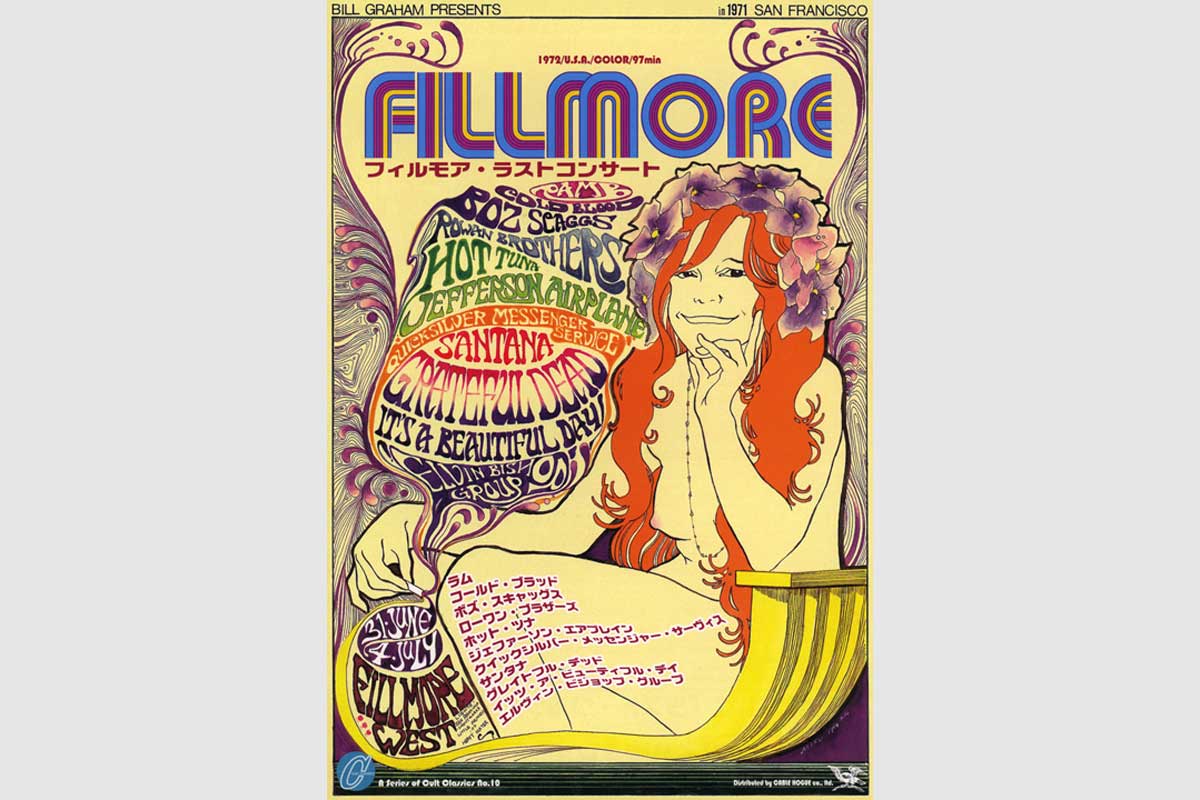 Chirashi poster courtesy of Shock Cinema magazine
The choice of bands showcased in Fillmore has also been hotly debated. As stated previously, Heffron had no time to solicit artist or record company cooperation in advance, instead having to ask on the fly, with many headliner artists such as Creedence Clearwater Revival and Flamin' Groovies refusing to consent to be filmed. Even recently, when Rhino Records released the movie for the first time on DVD, an unspecified matter with Boz Scaggs necessitated the removal of his performance of "I'll Be Long Gone" from that edition. (The song is intact in the 35mm theatrical prints). Furthermore, hope for exhuming bonus footage was quashed when assistant director Eli Bleich admitted to Grateful Dead historian John Platt that after years of retaining elements containing unused performance footage, and failing to attract interest or backing for its preservation, he reluctantly junked them while relocating. Any filmmakers' similarities with the travails experienced by Graham are purely but artistically coincidental. The lesser-known artists as Lamb, Cold Blood, and It's a Beautiful Day, who by default receive equal screen time to the Grateful Dead, Hot Tuna, and Santana, may have been previously derided by some music critics as "second-rate Joplin impersonators," but more recent reviews have offered greater appreciation for their contributions. Of particular note is the aforementioned Lamb and its late lead singer Barbara Mauritz performing their standout song "Isn't It Just a Beautiful Day," which would be renamed "River Boulevard" for their 1971 album Bring Out the Sun, and would later be covered by The Pointer Sisters on their self-titled debut in 1973.
Heffron, who in his earlier San Rafael interview had alluded to his interest in making narrative features, would transition into a solid career in film and television, directing the pilot episode for "The Rockford Files," Trackdown with Robert Mitchum's son James, two Peter Fonda vehicles – Futureworld  and Outlaw Blues, the miniseries "North and South" starring Patrick Swayze, and taking over direction of the troubled 1982 Mike Hammer adaptation I, The Jury from Larry Cohen. While he mostly left the documentary world behind, many of his TV movies were rooted in real-life events, such as Death Scream, which was inspired by the murder of "Kitty" Genovese, and Samaritan, a biopic of homeless advocate Mitch Snyder. Heffron retired from active directing after 1995, and passed away in Seattle on August 27, 2007.
As of this writing, the building that once housed Fillmore West still stands. Shortly after its closing by Graham, it spent years as a Honda dealership. Its current owners agreed in the spring of 2018 to allow a local event planning organization to stage all manner of large-scale spectacles there, including concerts, as they attempt to get approval for their demolition / redevelopment plans. Under the name SVN West, the venue has hosted a few public shows, and likely many private functions for those who need its 3000 person capacity and have the money to pay for it. Rentals are still available. However, the developers have publicly stated that attempting to integrate the existing space into their planned residential towers is "not a viable option," effectively telling music lovers, preservationists, historians, and Bill Graham's spirit, "F*** you and thanks for the memories."