For one night during New Beverly's January salute to Modern Day Private Eyes, we've got a pair of gentlemen that will strike you as familiar, engaging in the mannerisms of larger-than-life heroes you've known and loved. But they're not. While other nights are devoted to Legendary Detectives, Grindhouse Tuesday, January 15th, is devoted to Legendary Deceptives, as we offer two subversive and rarely-screened mysteries that not only involve twists in their stories, but tweaks to their source formulas.
Only his plastic surgeon knows why a former L.A. cop became The Man with Bogart's Face, but once the job is done, the newly-self-christened private investigator Sam Marlow (Robert Sacchi) wastes little time in finding himself amidst the kind of labyrinthine intrigue his cinematic hero navigated in '40s black-and-white movies, albeit now in the wild colors of '70s-era Hollywood. A myth-ridden artifact and a rogues gallery of shifty millionaires (Franco Nero, Herbert Lom, Victor Buono) and gorgeous ladies (Michelle Phillips, Olivia Hussey, Sybill Danning) all come under the shadow of Sam's fedora, along with a few faces (Mike Mazurki, Yvonne de Carlo, Victor Sen Yung, Henry Wilcoxon, George Raft) that starred opposite the real Bogart. He may have the looks, the voice, and the outfit, but this glamour-sculpted gumshoe doesn't get the luxury of a stunt double or a director yelling "cut" when his case goes into its dark passage.
While Humphrey Bogart remained a respected movie star after his death in 1957, his fandom substantially increased in the late '60s, as counterculture figures like Jean-Luc Godard championed his persona and his films began to appear in TV syndication, culminating with the smash Broadway play Play it Again, Sam and its 1972 film incarnation, where actor Jerry Lacy played the legend giving romantic advice to a luckless fan. Robert Sacchi had been told of his resemblance to Bogart in high school, and as the '60s Bogart popularity rose, he made a career playing him or variations thereof in movies, advertisements, and in touring productions of Play it Again, Sam and his own one-man show Bogey's Back, where he mused in character about current events. He would also play non-Bogart characters in Across 110th Street and Die Hard 2. After making Face, Sacchi would participate in a similar but darker storyline for a 1995 Robert Zemeckis-directed "Tales from the Crypt" episode, "You, Murderer," about a criminal who gets remade to look like Bogart; Zemeckis married Sacchi's voice to CGI-enhanced footage of the real Bogart to create the "performance."
Writer/producer Andrew J. Fenady had created several TV series and the 1970 John Wayne western Chisum when he first wrote (in longhand) The Man with Bogart's Face as a novel in 1976. After the book was published and talk of a film began to mount, Sacchi contacted Fenady and said, "You can't make a movie from your book without first seeing me…" After a meeting and a screen test where Sacchi recreated a courtroom moment from Knock on Any Door, Sacchi locked up the lead. British director Robert Day previously made The Haunted Strangler with Boris Karloff, Two-Way Stretch with Peter Sellers, and four Tarzan adventures, then moved to America to work in television. Real estate mogul turned independent movie producer Melvin Simon bankrolled the project, with 20th Century-Fox picking up the distribution in a package that would also include Richard Rush's The Stunt Man and Bob Clark's Porky's. After changing release dates multiple times, Fox called off a planned national opening, and quietly released the film in New York under the title Sam Marlow, Private Eye on October 3, 1980, then in Los Angeles under the Bogart's Face title on December 19 that year.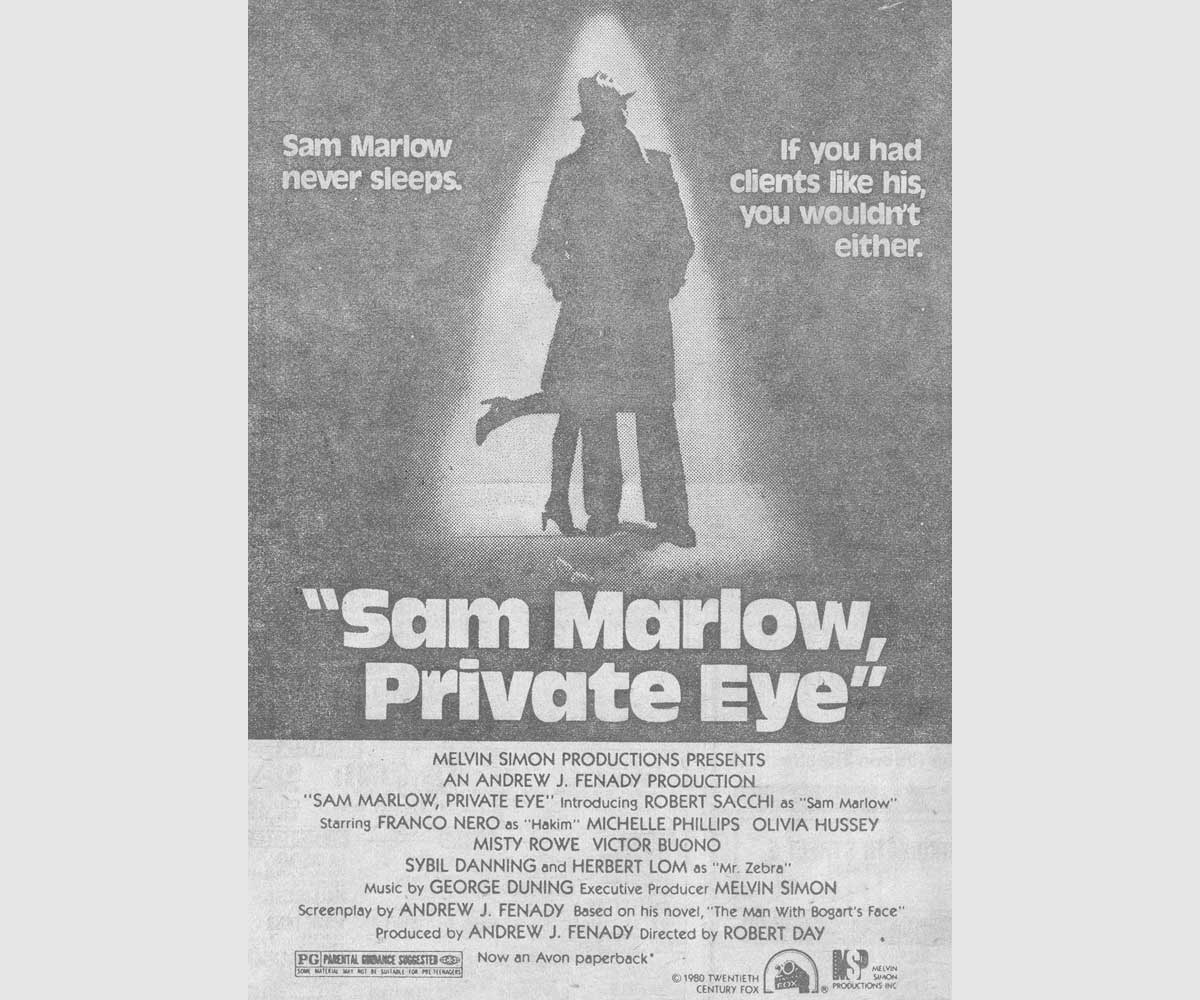 Meanwhile, in late '80s New York City, there's a rogue private detective with an alluring secretary and a testy relationship with the police, who pounds down killers with the blunt force of a common household tool. His name is Hamberger (Billy Dee Williams), hold the jokes, please. After being denied reinstatement of his firearm license, a wealthy Mr. Burton offers him $25,000 to murder his wife. Hamberger tries to turn the tables by visiting the missus (Morgan Fairchild) and giving her fair warning, so she gives him a sweeter reward. Upon going home, Hamberger's longtime acquaintance Detective Lefferts (Joe Cortese) arrests him for murdering Mrs. Burton, and the cops have his fingerprints and a body to prove it. He was in that beautiful house, but the corpse is not that beautiful wife. And the man identifying her body (John Beck) is not the Mr. Burton who hired him. As a favor to his old pal, Lefferts will give him 24 hours to clear his name. Hamberger's got a long shot chance to prove that the truth, like that beautiful woman, is not just another Deadly Illusion.
In 1981, writer/director Larry Cohen had written and intended to direct an adaptation of Mickey Spillane's first novel about two-fisted detective Mike Hammer, I the Jury, but was fired by producers after six days of shooting and replaced with Richard T. Heffron; his 1976 abduction/revenge thriller Trackdown played the Bev in May 2017. In 1987, Cohen decided to try again, blending story elements from the third Mike Hammer novel Vengeance is Mine, as well as material cut from his previous Jury screenplay, and creating the alternate character Hamberger to subvert the tropes established by Spillane. "I wrote it because I knew I could fill it up with fun things, New York gags I've always wanted to do…The picture didn't have a serious bone in its body," Cohen told writer Maitland McDonagh in a 1991 interview for Psychotronic Video magazine. He initially titled it I Love You to Death but the film's producers failed to register it before Lawrence Kasdan claimed it for his dark comedy with Tracey Ullman. "So we needed a new title and came up with Deadly Illusion, which I think they thought was a fifth cousin to Fatal Attraction." After three weeks of shooting, Cohen was fired ("[I] couldn't stand the producers anymore."), and replaced by William Tannen, who had previously directed the 1984 Kris Kristofferson thriller Flashpoint.
As Billy Dee Williams' Hamberger is a surrogate for Mike Hammer, Vanity, as his secretary/girlfriend Rina, is effectively the surrogate for Velda, previously portrayed in I, the Jury by frequent Cohen collaborator Laurene Landon. Joe Cortese, recently seen in December on the Bev screen and in person for Family Enforcer, plays the reluctant ally Lefferts. Co-stars Morgan Fairchild and John Beck both appeared on the early '80s prime time soap "Flamingo Road," and on mid-'80s Friday nights, Beck could be seen on "Dallas" followed by Fairchild on "Falcon Crest." Fairchild also appeared in the 1978 Carrie-inspired MOW The Initiation of Sarah with Kay Lenz, directed by Bogart's Face director Robert Day. Joe Spinell has an extended cameo in the opening minutes, and briefly playing a coroner is Michael Emil, brother of and frequent co-star for indie film pioneer Henry Jaglom, most prominently featured in Jaglom's 1980 comedy Sitting Ducks opposite Zack Norman, forever to be known as "Sammy" in Chief Zabu.
No, that's not Bogart and Mike Hammer on screen for this evening, but a pair of remarkable simulacra therein. Hey, they say imitation is the sincerest form of flattery. So flatter us by joining us on
Grindhouse Tuesday in watching these fake flatfoots' fateful adventures.