Magic is a conundrum: an art form that purports to invoke supernatural powers while simultaneously reminding its audience no such powers exist. Film itself is a magic trick, a rapid movement of stationary images with sound to make the viewer believe they are watching live activity, and preserving the likenesses of people who, in the 100+ years since its invention, no longer walk the earth. Be it on a screen or on a stage, we willingly suspend disbelief and indulge in the fantastic and commingle with spirits.
The Escape Artist is, at a fundamental core, a story about haunting. Of a young boy who worships the legend of a long-gone father, while an otherwise older man furrows about in his still-living father's dark shadow. Mounted and performed by artists with equally looming elements in their own history. And it seems over the decades, it has continued to accumulate more ghosts to hover over and within it.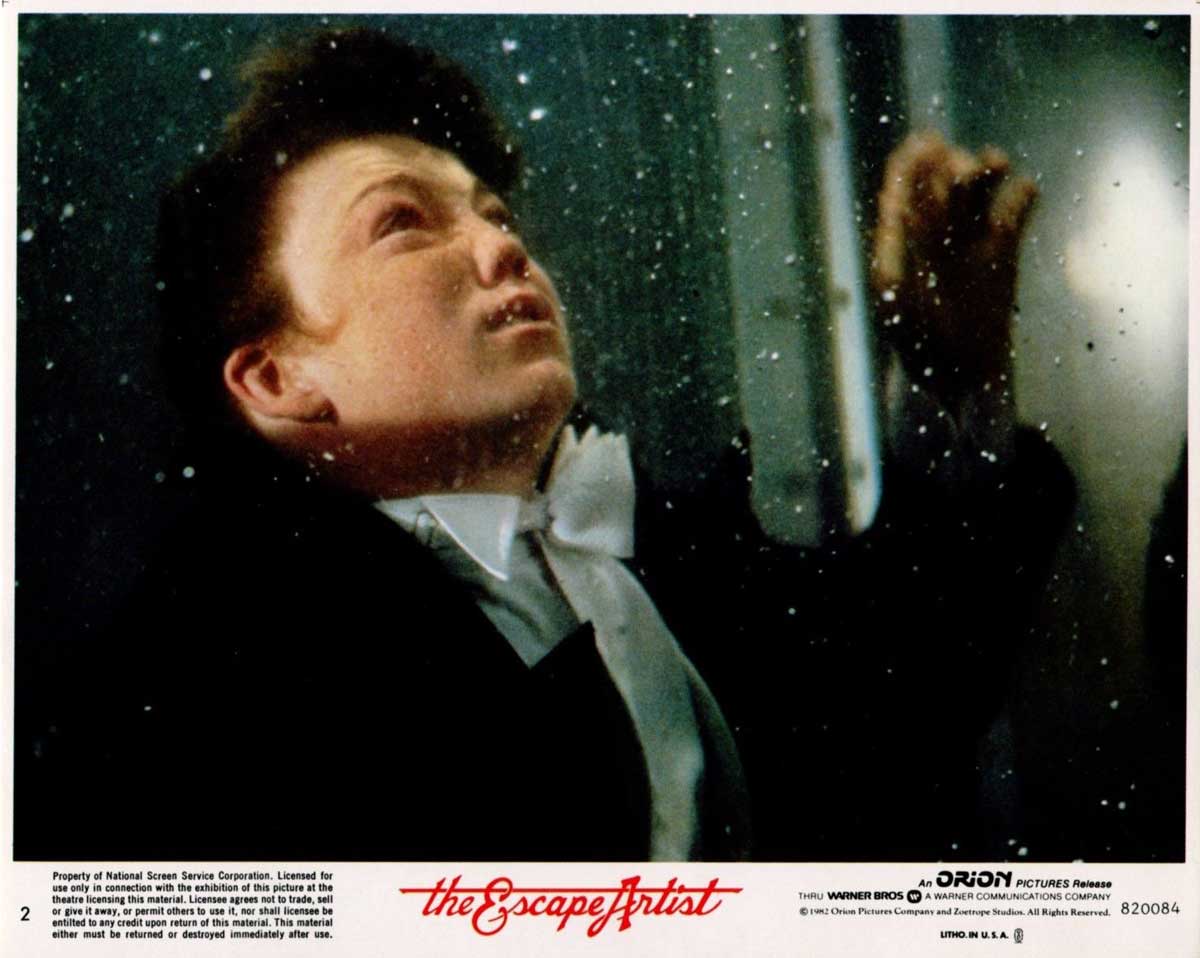 Danny Masters (Griffin O'Neal) has believed for years that his late father Harry Masters was second only to Houdini in making daring escapes. And as his mother has abandoned him as well, he makes his first escape, from his custodial grandparent, to join his Aunt Sibyl (Joan Hackett) and Uncle Burke (Gabriel Dell), Harry's former partners, in their own small-town illusion show. Shortly after transplanting himself, Danny becomes enmeshed in an ongoing drama involving Stu Quiñones (Raul Julia), the adult but arrested adolescent son of corrupt city Mayor Leon Quiñones (Desi Arnaz). The Mayor is not a magician by trade, but for years he has purloined city funds without anyone seeing how he did it, and as many townspeople frequently refer to Stu's previous stays in a mental hospital, he has had the power to make his own son disappear. United by their fascination with trickery, the two young men form an uneasy alliance, with Danny plotting a daring escape of his own to help his new friend while establishing his own bonafides in his father's trade. However, the budding magician may well have misdirected himself in the process.
Director Caleb Deschanel recently opined on Trailers From Hell's The Movies that Made Me podcast that he was drawn to the story because, "I just loved the idea of a boy who so wanted to be an adult, and so wanted to use magic as his entry into the adult world, and yet was still a little kid." And in keeping with its main character, prodigious youths thoroughly permeate The Escape Artist. The 1965 novel was penned by poet/environmentalist David Wagoner, who began writing at the age of 10. The film rights were acquired by Francis Ford Coppola, who before the age of 30, had already directed three films for Warner Bros., and sold several screenplays. Coppola would enlist not-yet-30 screenwriter Melissa Mathison, who had already adapted young adult novel The Black Stallion for him, to help fashion the screenplay. Teenage star Griffin O'Neal was the highly-touted son of Academy Award nominated actor Ryan O'Neal and younger brother of Academy Award winner Tatum O'Neal. Griffin was taught to perform all his magic (filmed without camera tricks) by Ricky Jay, who at age seven, was the youngest magician to appear on television. The non-speaking role of Harry Masters was played by Harry Anderson, who had been performing street magic and card cons before the age of 16. And the supporting cast featured Jackie Coogan, whose role with Charlie Chaplin in The Kid in 1921 made him the first significant child movie star, as well as Gabriel Dell and Huntz Hall, who, as teenagers, appeared in the '30s stage and feature film productions of Dead End, and went on to make several films playing variations of their street kid characters (most famously as the Bowery Boys) as well as a nightclub act. These latter casting decisions were the work of longtime Coppola collaborator Fred Roos, whom Deschanel described as having a particular knack for casting people who in some fashion have lived the story being told.
It's not accidental that, being in a netherzone of adolescence, the character of Danny is not only devoted to the art of illusion, but carries a very childlike obsession for adult truth. To a lesser degree, so does his older rival Stu; in a magic shop, he grills the owner about the true fate of disappeared canaries, a query later reprised (and bluntly answered) in Christopher Nolan's The Prestige. These themes were of paramount interest to author Wagoner, who had delved in magic and theater during his childhood in Whiting, Indiana, a town dependent on steel manufacturing; the corruption and pollution he lived with so horrified him it became a frequent topic of his stories. And such concepts have inspired the off-stage activities of many magicians, who have used their gift for trickery to call out others who use the same skills not for entertainment, but for fraud: Harry Houdini regularly outed mediums preying upon grieving families, James Randi exposed televangelist Peter Popoff's faked psychic powers, and Penn & Teller documented multiple scams on their TV series "Bullshit." Thus, as part of his precocious nature, Danny thinks himself to be the noble faker, the kidder other kidders dare not kid. But in instances where he learns the actual circumstances of his father's death, or the depths of treachery adults in authority may unflinchingly inflict upon a child, including his frenemy Stu, it's clear that he is not quite ready for grown-up fact when it's delivered.
Fraught fatherhood is another dominant story ingredient. There is the overt depiction of Danny's hero worship of his lost parent, to the point that he attempts Harry's water-tank escape; the image of being shackled to a weight in the glass cage sums up his willing imprisonment to the past, and became the prime advertising image for the film's theatrical release. There is the frequent contrast with Stu's frequent humiliation at the hands of his father and his cronies, who treat the grown man as if he were still a bothersome juvenile. These situations converge with the blurry line of fraternal/paternal bonding Danny and Stu experience with each other as a result. Even the nomenclature bears this out. It is appropriate that Mayor Leon is the loud roaring lion of the Quiñones family while Stu's name suggests both "Stuart," as in the long-embattled pretender family to the thrones of Britain and Scotland, and "Steward," as in perpetual servant. Similarly, Danny Masters would think his name to be a finished thought when it is really a phrase in progress, and while his father's name is obviously meant to summon memories of Harry Houdini, it also can be heard as "hairy," as in risky and dangerous, adjectives that Danny will learn are relevant to his ongoing saga.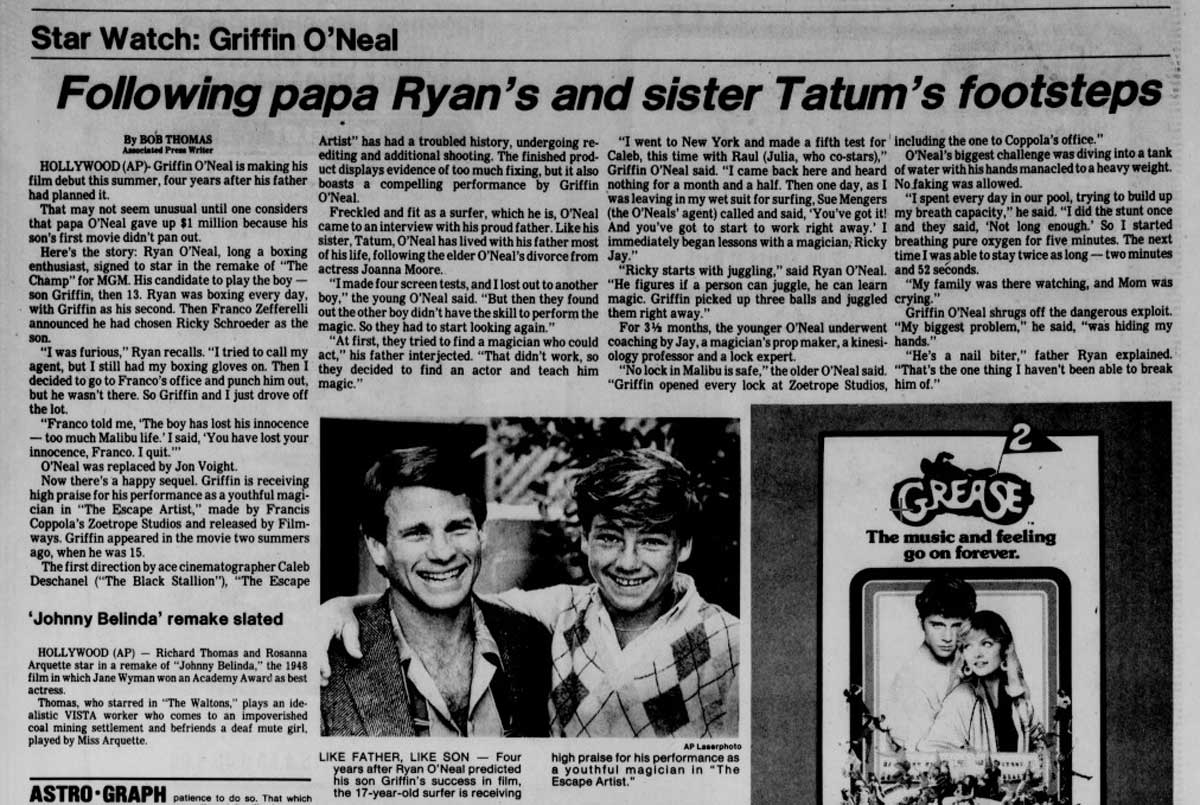 The bitter irony is that fraught fatherhood is also all over real-life elements of The Escape Artist. The volatile relationship and ultimate estrangement between Griffin and Ryan O'Neal has been tabloid fodder for decades; even in an otherwise cheery publicity piece tied to the film's release, Ryan O'Neal revealed that when Franco Zeffirelli had chosen to drop Griffin from his remake of The Champ, which Ryan was initially cast in, "I tried to call my agent, but I still had my boxing gloves on. Then I decided to go to Franco's office and punch him out, but he wasn't there." Years later, Griffin, mired in substance abuse he claimed his father initiated, was responsible for causing the death of his friend Gian-Carlo Coppola, the son of Escape's producer Francis, in a boating accident; the tragedy both depriving Francis of his son, and ending a more positive paternal relationship in Griffin's life. Supporting player Jackie Coogan would survive a 1935 car crash that killed his father and his best friend, only to discover soon after his stepfather and mother had spent all the money he'd earned as a child actor, leading to a courtroom fight that restored little of his lost earnings but resulted in what's now called the Coogan Law protecting child actors' money from irresponsible parents. And consultant Ricky Jay, on the few occasions he discussed his formative years, indicated he did not enjoy a pleasant home life with his father. For one small bit of uplifting parenting, it's worth noting that Desi Arnaz, in his final acting appearance, billed himself under his proper birth name Desiderio, out of deference to his son Desi Arnaz Jr., who was enjoying a more visible and prolific career at the time.
Escape was one of a unique slate of films Francis Ford Coppola had planned for his ambitious Zoetrope Studios, which he initially set up at United Artists. Much like the short-lived Directors' Company shingle he'd founded at Paramount with Peter Bogdanovich and William Friedkin, Zoetrope was intended for mid-budgeted passion projects and directors he wanted to elevate. After the release of his own Apocalypse Now and Carroll Ballard's The Black Stallion (which Deschanel shot), the original board of UA decamped to form Orion Pictures, then headquartered at Warner Bros., and the remaining Zoetrope projects, Escape and Wim Wenders' Hammett with Frederic Forrest, were taken there. Escape was shot in Cleveland, Ohio, not far from author Wagoner's birth city of Massilon, and in a nod to the story's focus on corruption and a wink to the state's checkered political legacy, the fictional town was named Harding, as in compromised president Warren G. Escape and Hammett would spend many months in post-production and reedits/reshoots, as Coppola, whose innovative but poorly-received musical One From the Heart had nearly bankrupted him, sought to make the two films commercially pleasing to WB and keep Zoetrope a viable company. Both were ultimately given short contractual-obligation releases in 1982 to lackluster reviews and rushed home video releases. In a sense, Coppola's "parenting" as producer lingers over this film in the same manner of the other real-world experiences of its participants, for better and for worse.
Finally, for as much as the film reflects youthful discovery and hope, it is sobering to consider that for a movie of only 35 years distance from the present day, so much of the talent from it are gone. Some were already in their twilight, such as Desi Arnaz and Huntz Hall. Others died much too soon: Joan Hackett at age 49, Raul Julia at age 54, writer Melissa Mathison at age 65. In 2018 alone, both Harry Anderson and Ricky Jay passed away. And while thankfully Elizabeth Daily and M. Emmett Walsh are healthy and continue to work, Teri Garr has retired due to MS, and Griffin O'Neal's personal struggles seem to remain constant.
It is understandably bittersweet then to watch The Escape Artist in this time, to reconcile an ostensibly family-friendly story that already does not spare its young protagonist from harsh realities with the heaviness of what happened to so many involved with its creation. Maybe, like the answer to where the canaries in the disappearing cage go, it's a detail most would sooner not know. Yet ultimately, knowing the secrets behind the tricks rarely ever diminishes the gut reaction of seeing them done well. And one person's ghosts of the past are another's muses of inspiration for the future.
All the more reason to spend an interval indulging in the fantasy that the talented Danny Masters can and will transition from a wise child to a wiser man.