By the time Richard Perry agreed to play himself in a 1972 feature film about the pivotal moments in his family history, he had already amassed several honors: he had started professional racing mere days after turning 21, won the Grand National Series twice, the Daytona 500 three times (the first driver to reach each milestone), and NASCAR's Most Popular Driver three times. The resultant movie, 43: The Petty Story, certainly did not appear to be anything more than a well-timed cash-in on his national popularity. But in the rear-view of history, it marks an interesting turning point in a burgeoning film trend that began as he was making his name in the racing world.
It's enormously fortuitous that the commercial availability of the automobile roughly coincided with the commercial availability of watching motion pictures, because once those two innovations reached the wide public, among the first things people loved to watch at the movies were stories about auto racing. And all the way into the present, we cannot get enough of growling engines, gleaming chrome, and the occasional battered fuselage or driver.
By the end of the '60s, a new subgenre of film was on the advance, making an impact in divergent sections of America that were often ignored, or heavily stereotyped, by conventional Hollywood. These films drew influence from the dependable draw of "hot rod"-themed programmers like Thunder Road, a spike in production of large budget racing dramas such as Grand Prix and Le Mans, and most importantly, the worldwide success of Bruce Brown's 1966 surfing documentary The Endless Summer. These forces demonstrated that a significant demographic craved watching action, preferably involving mechanized engines and/or potential bodily harm, and the people involved in said action didn't need to be stars, or even actors. They created an appetite for a run of movies that, while never given an official codification or moniker, can be called "Daredevil Docudramas." This umbrella heading covers plenty: amateur surfing films, star-driven documentaries such as Andy Sidaris' The Racing Scene which followed James Garner on the road with his racing team, and low-budget fictional narratives like John "Bud" Cardos' Drag Racer, where action was controlled for the camera but the actors had clear knowledge of how to actually operate and repair their vehicles. Viewed as a whole, these films had direct appeal to young working class moviegoers in coastal cities, southern markets, and midwestern farm or manufacturing towns, who themselves spent time either pursuing similar hobbies or admiring local heroes who excelled in them, and probably had little appetite otherwise for the last-gasp projects of pre-New-Hollywood. The L.A. beach rat going to the Fox Venice to watch three teens surf the world in Follow Me was getting the same aspirational high as the Marshall, Arkansas gearheads at the Kenda Drive-In watching Nick Adams burn up the track in Fever Heat.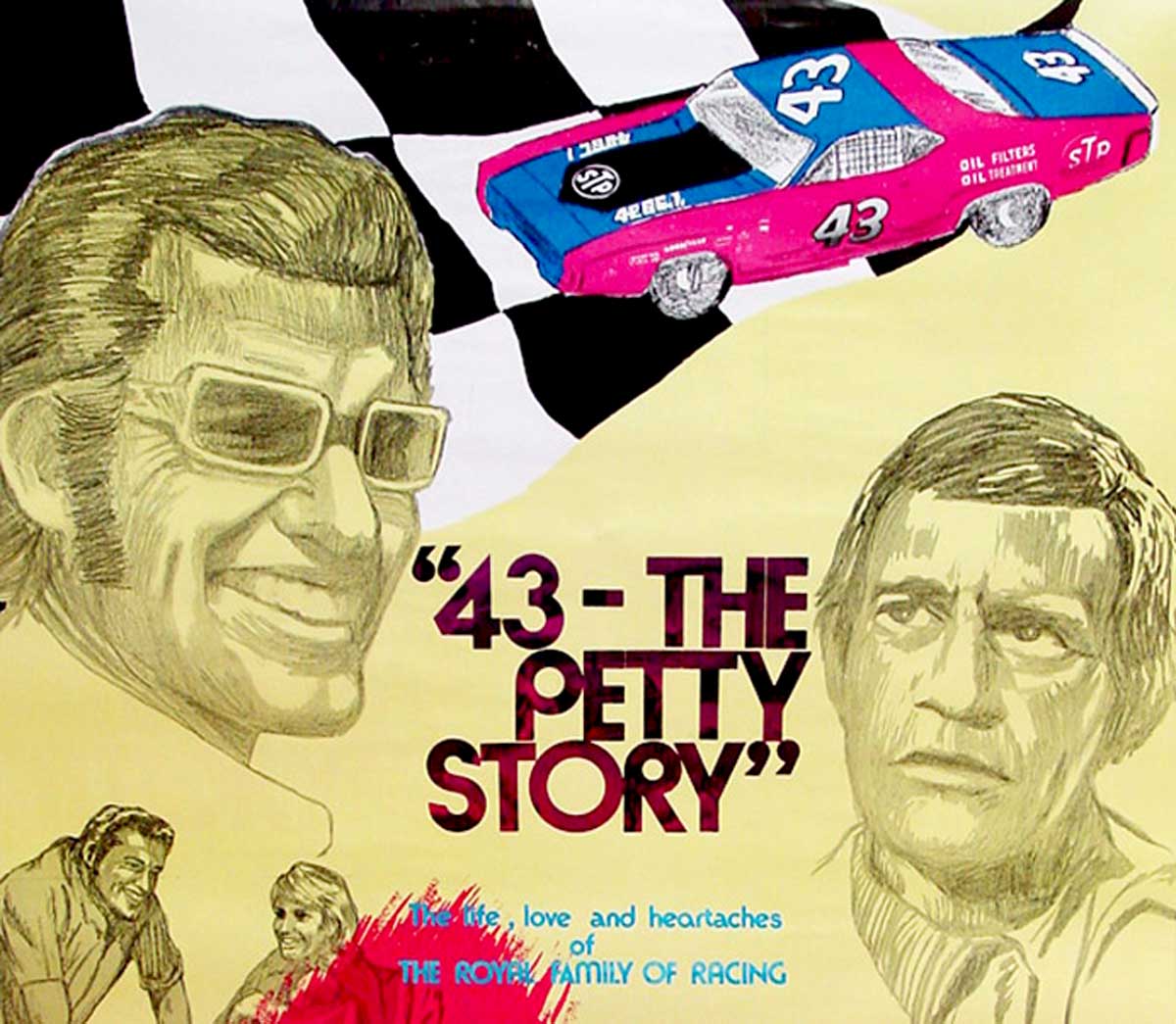 Richard Petty and his family were not quite breaking new ground by agreeing to participate in 43: The Petty Story. Richard had already made his film debut playing himself in William T. Naud's 1964 Atlanta-shot racing drama Thunder in Dixie, and had done similar cameos for Speedway with Elvis Presley and Corky with Robert Blake. Nor was 43 the first feature-length film devoted to a real-life southern racing hero; that honor went to Tiny Lund, depicted in the 1967 documentary Hard Charger!, which featured appearances by Petty, Cale Yarborough, and Junior Johnson, the inspiration behind the fictional racer "Junior Jackson" played by Jeff Bridges in Lamont Johnson's 1973 drama The Last American Hero. But where previously, the expected way of telling Petty's life story would be either to make a straight documentary like Hard Charger!, or to do a dramatized biopic with a name actor, as had been done by casting George Hamilton to play the title role of Evel Knievel in that 1971 film, Petty did cause a significant change in the genre by playing a dramatic version of himself, reenacting moments from his life in addition to driving for the cameras. In short, while recruiting famous people to play themselves had been a staple of biopics ranging from Jackie Robinson to Audie Murphy, the practice had fallen by the wayside for a long time, and this was the first time within the Daredevil Docudrama realm that "Hollywood" entrusted the Real McCoy, or Petty, to relive his life story for cinema audiences.
43's path from inception to release was, well, almost as fast as Petty's driving. The Hollywood Reporter announced on March 31st of 1972 that Edward J. Lakso was enlisted to write and direct the film. Lakso had written for dozens of television shows, most notably "And the Children Shall Lead" for Star Trek. Lakso in turn drew his cast almost completely from shows he'd written for, starting with Darren McGavin as Richard's father Lee Perry; McGavin, who had already played a racer in the 1970 made-for-TV Grand Prix knockoff The Challengers, had starred in the 1968 NBC detective series The Outsider, for which Lakso wrote three episodes. Adding curious versimilitude, both McGavin's real-life wife, Kathie Browne, playing mother Elizabeth Perry. and actress/singer Lynne Marta, playing Richard's wife Linda, had also guest-starred on "The Outsider." Meanwhile, Pierre Jalbert, co-star of Combat, where Lakso wrote over 25 episodes, was recruited to both act in the film and double as its editor. Production funds, by contrast, were raised locally, primarily by executive producer E.E. "Jack" Carter, a local manufacturer of stage curtains and patron of the arts through his Carter Building creative complex. By May 15th, Variety reported the film was already in production in Raleigh, North Carolina, with associate producer Bob Preddy promising, "The film will include racing scenes, wild spinouts, and wrecks." And before summer was over, wire services reported on the film's world premiere in Greensboro, North Carolina, on August 16th.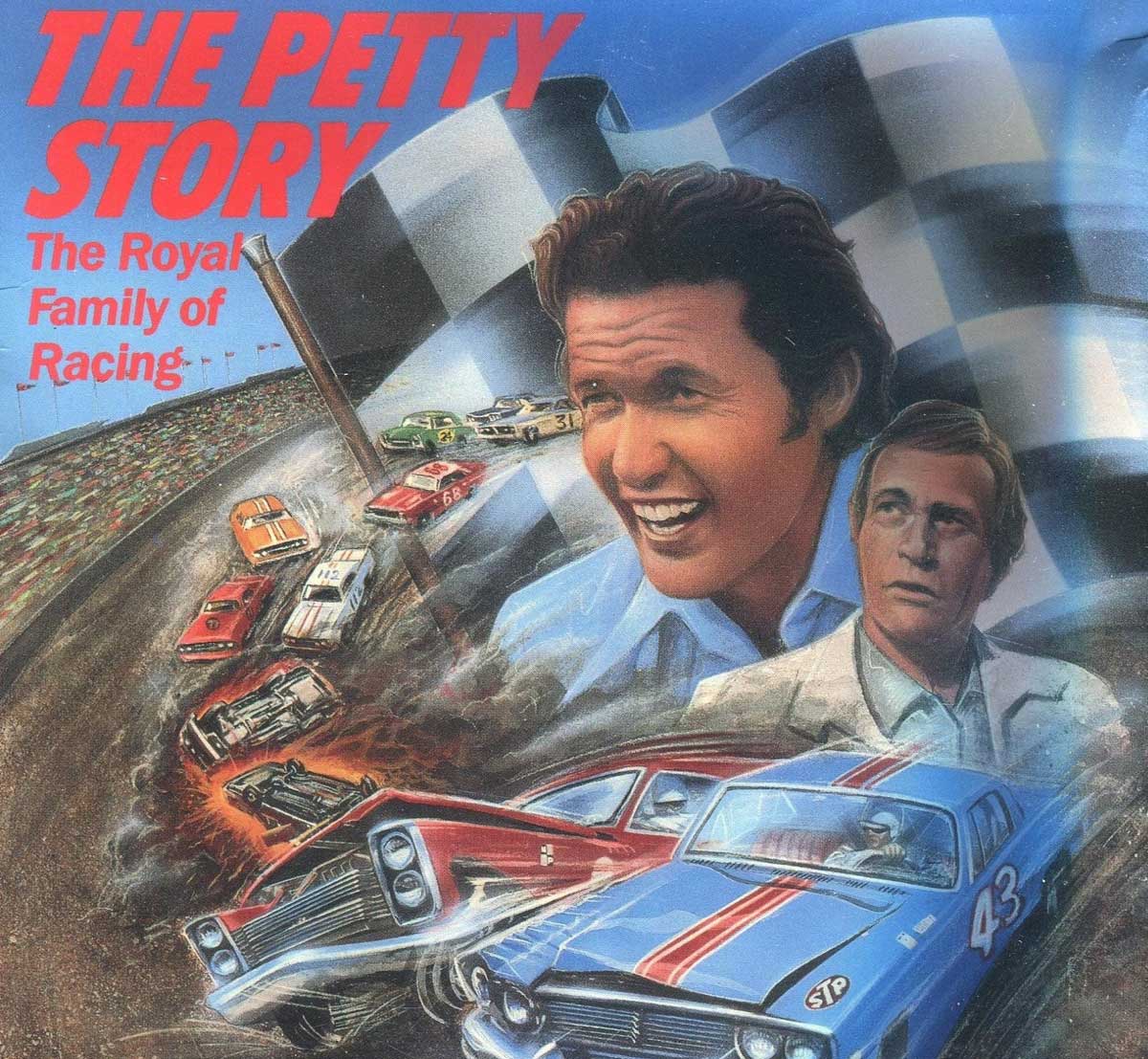 It's important to note the official title 43: The Petty Story, as opposed to many reference works which have labeled it The Richard Petty Story, because the film is more about the family as a whole, and Richard really does not emerge as a main character until almost 40 minutes in. "I was actually only involved in the making of the movie about three weeks," he told Boxoffice magazine in a September 11, 1972 interview. "They worked mostly around my schedule, sort of catching me between races. About 90 percent of it was shot in a five-mile radius of home. Then they added a little bit at Daytona, Charlotte, Riverside, and the likes." Starting with a recreation of his 1970 Rebel 400 crash at Darlington, the story is told mostly in flashback, and primarily explores the dynamic between Richard and his father Lee, from Lee's initial plunge into competitive racing, his friendly rivalry with fictional driver "Curtis Cross" (Pierre Jalbert, clearly modeled on the late Curtis Turner), the family's antagonistic relationship with fictional driver "Ed Koler" (L.Q. Jones, possibly modeled on various opponents like Johnny Beauchamp and Ronnie Kohler), and, ultimately, Richard surpassing Lee's reputation and the emotions they both felt over it. Overall, the family was pleased with how they were depicted, with Richard saying, "My parents, who you would expect to be the biggest critics, saw it and said the story isn't 100 percent correct, but it's close enough they can recognize it."
In its staggered-out release, with Lakso and producer Bill Rowland initially self-distributing the film, 43 was a smash. In early October, Boxoffice reported that it had earned nearly a million dollars just from its Southern state bookings, and by early December, the magazine reported the film had 90% holdovers in the 100 playdates it had opened with, and would be expanding to Philadelphia, Chicago, Detroit, and Los Angeles. In late 1973, New York-based playwright/filmmaker Albert T. Viola, who had written, directed, acted in, and self-distributed the Southern-set comedy Preacherman, acquired the rights to 43, retitled the film Smash-Up Alley, and expanded its release nationally through his Countrywide Distribution company. While retaining the film's G rating, Viola chose to de-emphasize Richard Petty as a selling point, and lured fresh patrons with a sexually amped-up campaign that probably made the polite, tee-totaling Pettys blanch. Where 43's ads promised "LAUGHTER, THRILLS, GREAT FAMILY ENTERTAINMENT FROM THE ROYAL FAMILY OF RACING," with the sobering followup, "THEIR CONSTANT COMPANION: DEATH!", Smash-Up Alley's ads featured a hot chick in a leather mini-skirt who never appeared in the film, with a tagline teasing, "RACING IS A MAN-SIZE GAME, MISTER!" Statistics about Petty's career from Time magazine, however, were still featured on the poster, and a small but wholesome photo of Petty was put in in the corner.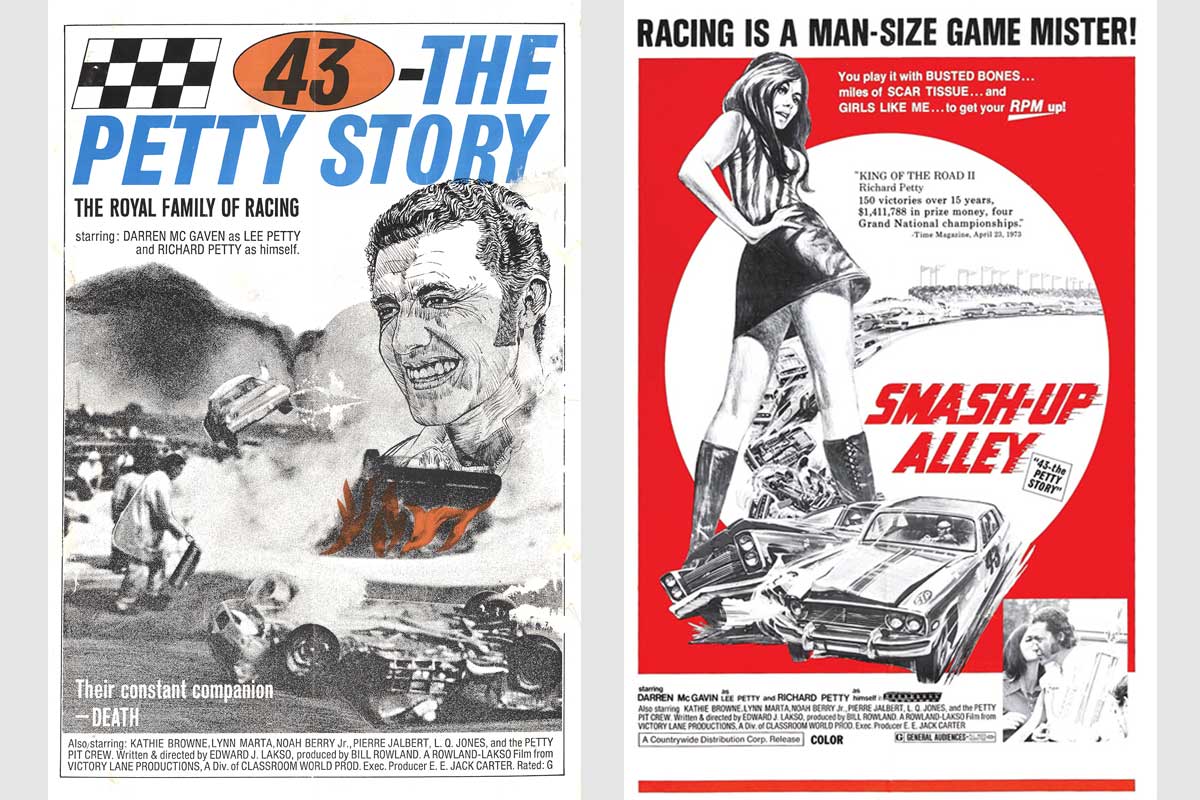 Notably, after the release of 43, there were plenty more Daredevil Docudramas released in its wake, but now, hiring stars to reenact such events was mostly supplanted by films that were specifically created around non-actors to show off their skill set. Former documentarian Mark Lester made Steel Arena, a part-scripted, part-improvised portrait of demolition derby driver Dusty Russell. Brian Trenchard-Smith's Dare Devils collected existing footage of stunts by Australian stuntman Grant Page and his friends, along with presenting original feats done just for the film. Paul Rapp's Go for It presented early extreme sports activity in surfing and skateboarding, showing off Tony Alva and the Z-Boys. Tricked-out-car documentaries like Funny Car Summer, Death Riders and Dirt were plentiful. And to flip the script, Evel Knievel himself starred in a major studio blockbuster action-adventure Viva Knievel!, thus creating a bizarre loop where previously, a fake Knievel depicted his biographical story, while the real Knievel depicted a completely fake story!
Richard Petty himself seriously contemplated a shift to acting after making 43. "When my racing career is over, I might just go into film work full-time," he told Boxoffice shortly after his film's premiere. "[In] racing, you never know what's gonna happen. I mean, I could wreck or something, and that would be it. In that event, Lord forbid, I just might turn to movies full time right off." Lakso and Rowland had discussed the possibility of a follow-up project that would be a pure acting job with no racing involved, but it never came to pass. To the great pleasure of his fans and to the benefit of sports history, Petty continued racing competitively for another 20 years, winning multiple awards and setting multiple records. He never attempted a full-on acting career, but would make more film appearances, either playing himself, as in Stroker Ace and Swing Vote, or in the case of Pixar's Cars and Cars 3, playing a character modeled on himself.
In the years since its release, 43 has held up as a favorite of racing fans. In a recent ranking, Bleacher Report listed it at #6, above Greased Lightning but below Stroker Ace (???), while ESPN rated it #2, above The Last American Hero, saying "What it lacked in script and acting, it made up for with real NASCAR action from throughout Petty's career. ESPN.com's rating: Five Plymouth Barracudas."
An Atlanta sportswriter in 1972 who took issue with the factual liberties of 43 wrote in his dismissive review, "One thing is for certain, 43: The Petty Story won't win an Oscar." But in hindsight, that writer missed an important point, probably because they covered the sports beat and not the entertainment trends. In its own simple way, 43 demonstrated that people were interested in watching incredible sights on screen, and that they were not concerned that the performer was not classically trained. And from a spurt in theatres, leading to the prestige heights of Hoop Dreams and the groundling joys of Jackass, followed by decades of television and viral internet videos, it opened up the entertainment field for a democratization of spectacle.