Christmas Day means a lot of things to people. Quality time with loved ones. Large, leisurely dinners. The sights of beautifully decorated homes and friendly strangers. But many families will definitely vouch that there are two things most folks enjoy more than anything else on this holiday: toys and football! And appropriately, this year's Christmas Day matinee double feature provides a healthy dose of each, delivered by two of the greatest comedy teams of all time!
Kids and grownups can't resist a good fantasy about toys: right now the internet excitedly received the initial teasers for the upcoming Toy Story 4 while television viewers recently welcomed back Tyra Banks as cheerful doll-made-human Eve in Life-Size 2. And one of the most enduring toy-themed adventures for generations remains the 1934 Hal Roach-produced adaptation of Victor Herbert's operetta Babes in Toyland. The film dispensed with some plot elements and songs from the stage version but made an enormous addition that has cemented its place in the canon: Stan Laurel and Oliver Hardy. The duo play the hapless craftsmen of Toyland's Toymaker and tenants of Widow Peep, The Old Woman Who Lived in a Shoe. When Silas Barnaby (Henry Brandon), The Crooked Man Who Walks a Crooked Mile, uses Widow Peep's mortgage to press marriage with her daughter Bo Peep (Charlotte Henry), the boys find an ingenious way to foil him. Then Barnaby's nastiness gets worse as he frames Bo's true love Tom-Tom the Piper's Son (Felix Knight) for kidnapping one of the Three Little Pigs, and unleashes the fearsome Bogeymen upon Toyland. But Stan & Ollie have a surprise package in store: 100 6-foot toy soldiers made by mistake when Santa Claus requested 600 1-foot toy soldiers. The climactic fight became so iconic that years later, the movie was retitled March of the Wooden Soldiers, which is the title we are presenting it under, as well.
It's curiously appropriate that the most famous film adaptations of Babes in Toyland were produced respectively by Hal Roach and Walt Disney. The two groundbreaking producers were friendly rivals who frequently sub-referenced each other. Laurel & Hardy were often portrayed in caricature in Disney cartoons. In March, Disney allowed Roach to use the composition "Who's Afraid of the Big Bad Wolf," and model the pig costumes on his animated depictions, while one of the residents of Widow Peep's shoe is a rodent (played by a monkey in costume) that greatly resembles Mickey Mouse. Consequently, when Disney produced his own live-action adaptation in 1961 with Annette Funicello and Ray Bolger, the performances of the con artists Gonzorgo and Roderigo were modeled on Laurel & Hardy.
While Henry Brandon played a convincing mean, wizened old man in March, he was in fact a tall, handsome 21-year-old that was younger than his ersatz young film rival Felix Knight; he would reprise the villainous Barnaby character for Hal Roach in Our Gang Follies of 1938, this time as the cruel stage manager forcing Alfalfa to sing "I'm the Barber of Seville" while panhandling in the cold. His other best-known performances are in The Searchers as Scar, the nemesis to John Wayne's Ethan Edwards, and in Auntie Mame as Acacius Page, the progressive schoolmaster Mame tries to send nephew Patrick to study with. Before playing Bo Peep, Charlotte Henry portrayed another storybook heroine, Alice in Wonderland, in Norman Z. McLeod's 1933 film adaptation with Gary Cooper, Cary Grant, and W.C. Fields. And while you may not recognize Billy Bletcher's face as he plays the Chief of Police, you'll recognize his growling voice from dozens of Disney, MGM, and WB cartoons, usually playing ill-tempered dogs, wolves, and bears. Screenwriter Frank Butler later scripted several Hope & Crosby Road movies and shared an Oscar win with Frank Cavett for adapting Going My Way, while co-screenwriter Nick Grinde would direct one of the best W.C. Fields comedies, Million Dollar Legs.
Much like It's a Wonderful Life, Roach's production was not initially a success on its first release, but received increased popularity later when it lapsed into public domain status and became frequently rerun on television during the holidays. New York station WPIX continues to broadcast the film on Thanksgiving and Christmas Day, a station tradition in tandem with Midnight Mass from St. Patrick's Cathedral and their immortal video "Yule Log." One Thanksgiving in 2009, WPIX made the mistake of cancelling their yearly March broadcast. For what purpose? Football! And thousands of angry New Yorkers screamed "Horse feathers!" for days.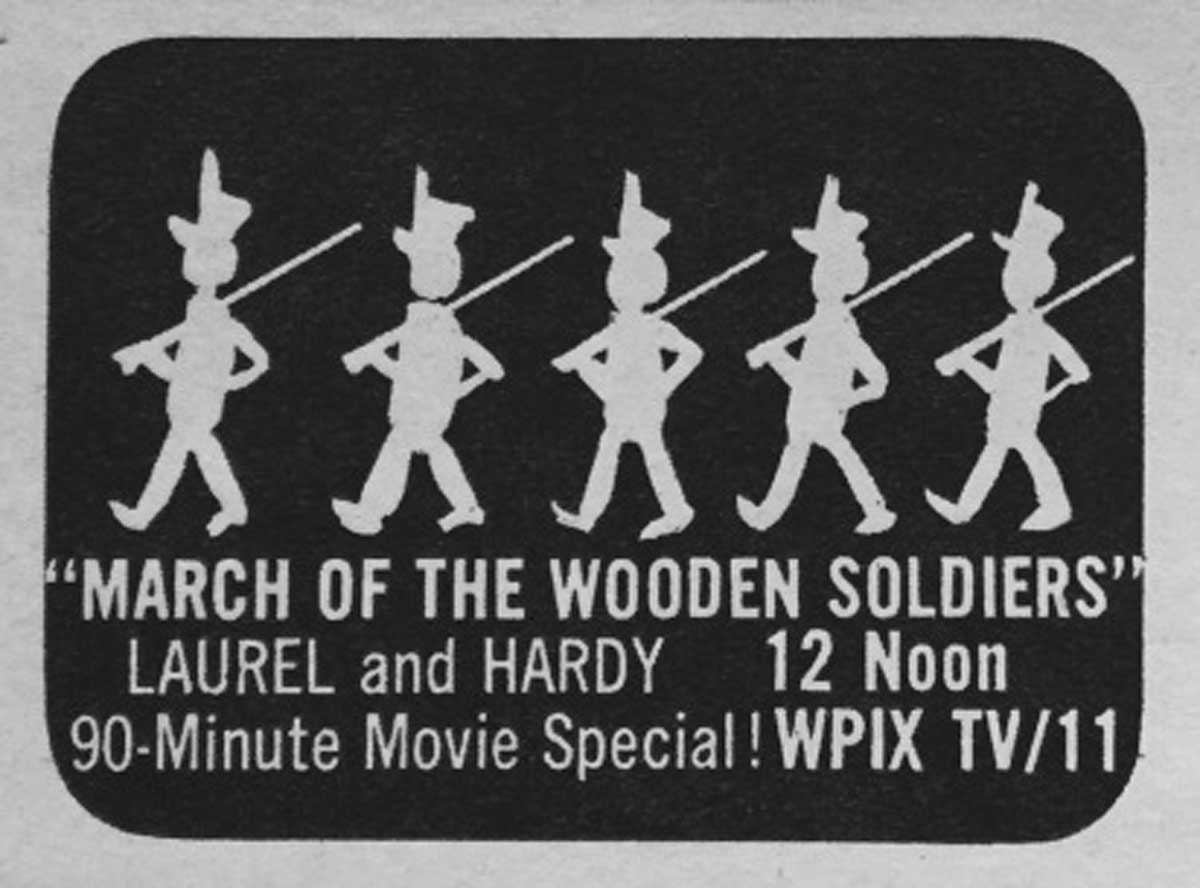 By contrast, millions of audiences have screamed with laughter at watching Horse Feathers for decades. The Marx Brothers' 1932 comedy, directed by Norman Z. McLeod, continues to be a relevant attack ("A relevant attack? What's-a dis, a Tarzan movie?") on sports, corruption, and intelligentsia. Huxley College has lost so many football games that they let a merry merry quite contrarian like Professor Quincy Adams Wagstaff take over and try to improve the program. But as local bootlegger Baravelli would say, him prove the program's a lost cause. Besides, Wagstaff has a bigger issue that's nothing to sneeze at: he and his son both have eyes for "college widow" Connie Bailey (Thelma Todd). Baravelli and his partner Pinky have ice for her too, but we'll get to that later. Double-crosses and double-entendres will abound leading up to a chaotic gridiron clash full of wild plays and foreign objects you'll think the XFL is back in session!
Horse Feathers was the second film the Marxes made in Hollywood from an original screenplay after making their first two films in New York based on their hit stage musicals. While some of the material originated from their early sketch Fun in Hi Skule (where, in that incarnation, Harpo spoke), several writers contributed as well. Harry Ruby & Bert Kalmar had written the songs for Animal Crackers, and would continue to create music for the brothers and for Groucho on his own; they also wrote the standards "I Wanna Be Loved by You," "Who's Sorry Now," and "A Kiss to Build a Dream On." Will B. Johnstone had collaborated with them on their stage show I'll Say She Is, and partnered with New Yorker contributor S.J. Perelman and an uncredited Arthur Sheekman, all of whom had also written on their previous film Monkey Business. Sheekman, who created jokes specifically for Groucho, would soon after write for Groucho and Chico's NBC radio series Flywheel, Shyster, & Flywheel.
In a spiritual link-up to our first feature, both director McLeod and co-star Thelma Todd had multiple collaborations with March producer Hal Roach. McLeod would direct Topper, Topper Returns, and Merrily We Live for the producer, while Todd not only worked with Roach company stars Laurel & Hardy and Harry Langdon, but soon headlined her own series of comedy shorts for the studio, partnered first with ZaSu Pitts and then Patsy Kelly. Todd also operated a popular sidewalk cafe on the Pacific Coast Highway; the architecturally praised building later became the headquarters of pioneering faith-based studio Paulist Productions, creators of the TV anthology drama "Insight."
Lots of popular culture has been influenced by Horse Feathers. The song "Everyone Says I Love You," which all the brothers take turns singing, became a popular cabaret standard. "Swordfish" became such a frequent password for secret-keepers and programmers for years to come, it became the title of Dominic Sena's 2001 hacking thriller with John Travolta, Hugh Jackman, and Halle Berry. And ESPN rated the climactic football game as #1 in their "Top 11 Scenes in Football Movie History."
So Christmas afternoon, after the kids have broken the toys and your relatives have broken the "no politics" truce, get them away from that mess and bring them to enjoy "another fine mess" at the New Beverly. We won't even ask you for a password! We will however, ask you to enjoy a most happy holiday at the movies!