Full disclosure: there are just some directors I can't help but gush over. Martin Ritt is one of them. A long time Lefty, Ritt was blacklisted in the 1950s for having "Communist ties." From theater work to every film he made, Ritt produced socially conscious media centering on the strength of human beings, real relationships, and (often) racial and economic disparity in society. Ritt's stubborn bravery produced wildly unique films like Edge of the City (1957), Hombre (1967) and The Front (1976). On several of his films he opted to work for far less than his normal salary, selecting a percentage of the profit instead. He knew the films would be successful, and they were. During the latter part of his career, Martin Ritt dug deep into his soul and his heart to create what is one of the most romantic, captivating and vibrant movies of the 1980s: Murphy's Romance (1985).
The 80s were not the best time for women in film. Hollywood may have produced some killer feminist flicks like 9 to 5 (Colin Higgins, 1980), Desperately Seeking Susan (Susan Seidelman, 1985) and Something Wild (Jonathan Demme, 1986), but a lot of female roles in 80s films were dreadful. Murphy's Romance (1985) was different. The 1-2 punch of the Ritt-Frank-Ravetch team alongside Sally Fields' Fogwood production company made sure of that. If that partnership had not existed, this film would not be as magical as it is, and it is magical.
Harriet Frank Jr. and Irving Ravetch were a married writing team that had worked regularly with Martin Ritt for many years. The three teamed up on multiple films – Long Hot Summer (1958), Hud (1963), Norma Rae (1979) and more. Frank and Ravetch had, alone or together, been writing for the movies since the 1940s, contributing screenplays to films by directors like Raoul Walsh, Nicholas Ray and Gregory LaCava. Aside from the Old School Hollywood Pedigree, the Ravetchs were insanely great at their job. Although Irving Ravetch passed away in 2010 at age 89, Harriet Frank is still alive today. She turned 100 years old this past March!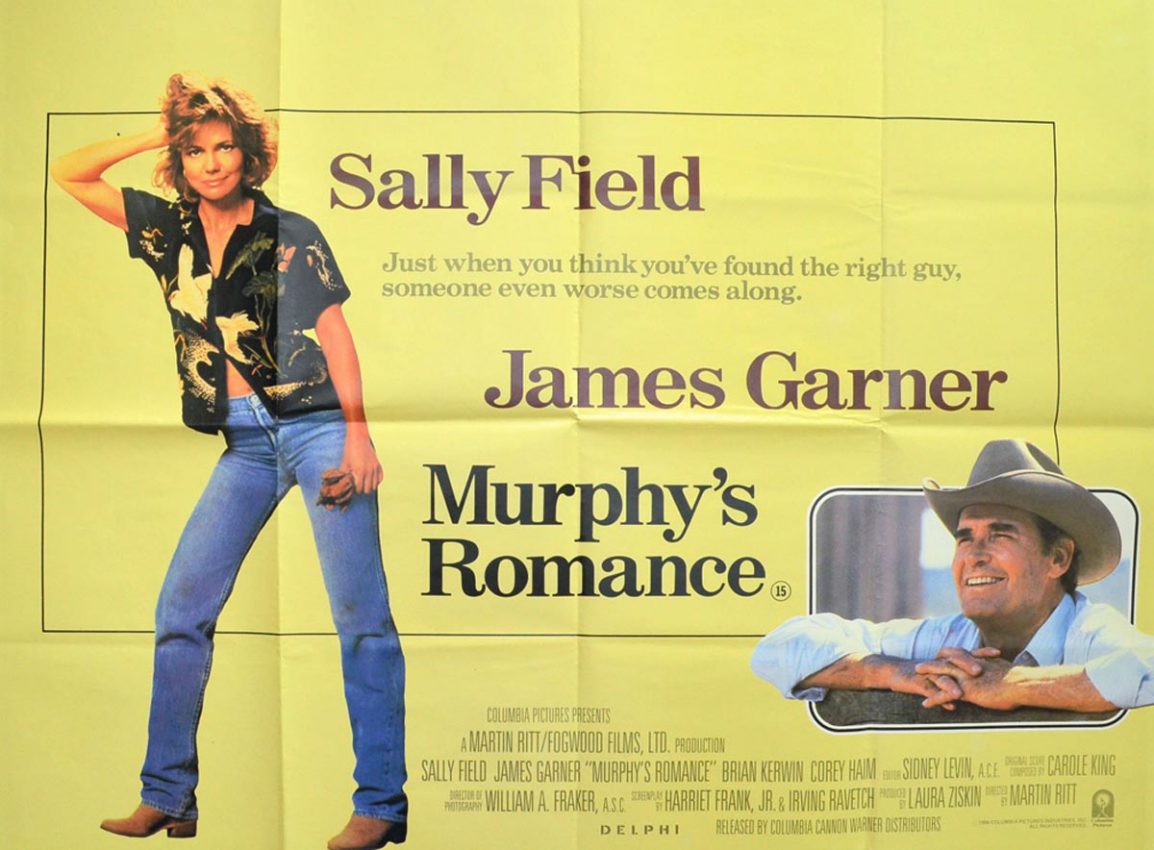 The writing of Murphy's Romance is impeccable. Sharply witty, charming and smart, the Frank and Ravetch script takes the audience to places we would never expect. Characters do not simply do the opposite of what you would imagine them to; they shatter the archetypes they are based on and run the other direction! The end of the dancehall scene where Murphy Jones (James Garner) and Bobby Jack Moriarty (Brian Kerwin) are fighting over who will dance with Emma Moriarty (Sally Fields) is a perfect example of this. That scene is a jawdropper. Be careful you don't spit out your drink from laughing too hard!
Murphy's Romance doesn't seem like it was made in 1985. Aside from the fact that it has no sex, violence or nudity, the film feels as if it was released sometime in the 40s or 50s and could have been anything from a romantic comedy to a western drama. Murphy's Romance brings all of the style, enchantment and humor of classic cinema to what is a smart and modern feminist romance. The timelessness of the characters and the narrative has everything to do with Frank and Ravetch's carefully sculpted writing and Martin Ritt's strict adherence to the storytelling goals that he and Sally Fields set up.
In 1985, the year Murphy's Romance was released, three of my favorite films – Return of the Living Dead (Dan O'Bannon), Commando (Mark L. Lester), and My Beautiful Launderette (Stephen Frears) – were also put into theaters. All three were rated R, all three contained a significant amount of sex, violence and/or nudity. Bizarrely, Martin Ritt's romance starring Sally Fields and James Garner was also given an R-rating. The objection? The use of foul language. Twice. Apparently the writers had given two too many fucks for the MPAA.
Martin Ritt went ballistic. He appealed, stating "In close to thirty years of filmmaking, I have never made an 'R' rated film. I have never made an exploitation film. I am quite sure that Murphy's Romance is one of the more moral films you will see this year. To saddle the film with an 'R' rating is, in my opinion, a miscarriage of justice." The end result was that he cut one of the "fucks" and they rewarded him with a nice PG-13.
Murphy's Romance was the first film Fields produced for Fogwood Films, a company she set-up with business partner Laura Ziskin. Fields had previously worked with Martin Ritt, Harriet Frank and Irving Ravetch on Norma Rae, but this time was different. She was in a position of power; one she had worked hard for. Like many women in Hollywood, Fields had struggled with her feminist identity, carving it out in an industry that wasn't welcoming to women. Her previous independent production company at Fox in 1981 was mostly unsuccessful and frustrated Sally. When she moved to Columbia Studios, Fields established Fogwood with Ziskin in 1983, with the thought that she might try the producing role again. After a successful advice-seeking lunch with Jane Fonda, Sally confidently pursued Fogwood, making Murphy's Romance their first project.
Without Sally Fields' tenacity and Martin Ritt's vision, this film would've gone an entirely different direction. Columbia took one look at the script and said: Whaaaaat? No sex, no violence? No fights? No bigtime action sequences? A romance without boobs flying everywhere? WE DON'T KNOW ABOUT THIS, Y'ALL. We're gonna need a big name. How about Marlon Brando? Fields and Ritt liked Brando as an actor but they were not there for it. Team Fields/Ritt were single-minded in their demands to cast James Garner in the lead role of Murphy Jones. Columbia was really displeased. "Garner isn't enough of a box office draw," they said, "he's just a TV Actor!" They offered George C. Scott, Walter Matthau and others. Team Fields/Ritt refused. According to Garner's autobiography, Sally Fields even said, "If Garner doesn't do the picture, I don't do the picture."
Eventually Columbia caved, and Garner got the role. Martin Ritt said of James Garner, "I think he's been underrated for a long, long time. An actor needs a vehicle, the right material, the right script, and the right director in order to achieve what he is capable of achieving." James Garner achieved a helluva lot playing Murphy Jones, including the only Academy Award nomination he ever got. Thankfully, the Archive of American Television asked Garner about this experience and his responses are in this clip:
James Garner brought a great deal of himself to Murphy Jones. This beautifully idiosyncratic character was not terribly far from the man Garner was in real life. The anti-nuclear and environment stickers on the windshield of Murphy's car and the conversation that Murphy has with Emma where he wryly jokes about the small town's lack of ERA-awareness are both very James Garner. Aside from being a lifelong democrat (he met his wife at an Adlai Stevenson rally) Garner was staunchly liberal and progressive (while being stubbornly old-fashioned). By most reports a very private man, James Garner and friend Steve McQueen once got into a glorious public fist fight with LA City Councilman Kurt Rundberg in 1964. Building developments were edging into the Santa Monica Mountains, threatening to destroy the wildlife and natural environs. Garner's activism here resulted in the creation of the Friends of the Santa Monica Mountains conservancy group alongside McQueen and Burt Lancaster.
Garner's take on acting was simple. He wrote, "If you bring your personality to roles, people get to know you. When you play someone you don't understand, it doesn't work…I could certainly identify with my character Murphy Jones, a kindly but eccentric small town druggist who befriends Sally [Fields]' character, Emma Moriarty, a confused divorcee come to town with her young son to start a horse ranch. Murphy is the kind of liberal who puts a "No Nukes" sticker on his antique Studebaker and battles City Hall to replace the parking meter outside his store with a tree."
Martin Ritt hired William Fraker to do the cinematography on this picture because he wanted a very specific look. The two men had worked together previously, so he knew Fraker could produce the romantic visual style Ritt had in mind for Murphy's. Ritt said of the film, "It's a love story and it's an optimistic film…I wanted the picture to look good and rich." Between the western one-horse-town aesthetic and the breathtaking cinematography done in the Arizona evenings on a lonely ranch, the romance certainly shines through. Ritt related, "We did a lot of magic hour shooting, with a series of scenes set in the late afternoon where characters are invited for dinner or go for rides…"
Murphy's Romance is a film that destroys toxic masculinity, platforms adult relationships and celebrates women's strength. As a Murphy's Romance Super Fan, I'll just say: look out for the trashcan scene and the hat shop scene. Those two sections are written so masterfully they inspire tears, goosebumps perhaps even applause! It's mind-boggling that this film has been mostly forgotten or swept into some lame-o "80s nostalgia" pile. Few films since 1985 have done what Martin Ritt's Murphy's Romance did. A one-of-a-kind film that is timeless and relentlessly rewatchable, join me at the New Beverly to watch this amazing work and understand its evergreen spark!