Grand Prix (John Frankenheimer, 1966) is a BIG SCREEN MOVIE. Being a proper racecar film, the recipe calls for pure adrenaline and high-energy dynamics. But it adds a few more ingredients. Grand Prix features documentary-like realism, a super sexy cast, and dramatic intersecting plotlines that come together in fabulous split-screen visuals. This is a FUN FILM. Gathering many of the world's top performers and placing them in a rich and technically advanced film about Formula One car racing may sound kinda crazy, but it's well worth watching. So come down to the New Beverly, grab a soda and some popcorn and strap yourself in: this movie is fast and furious.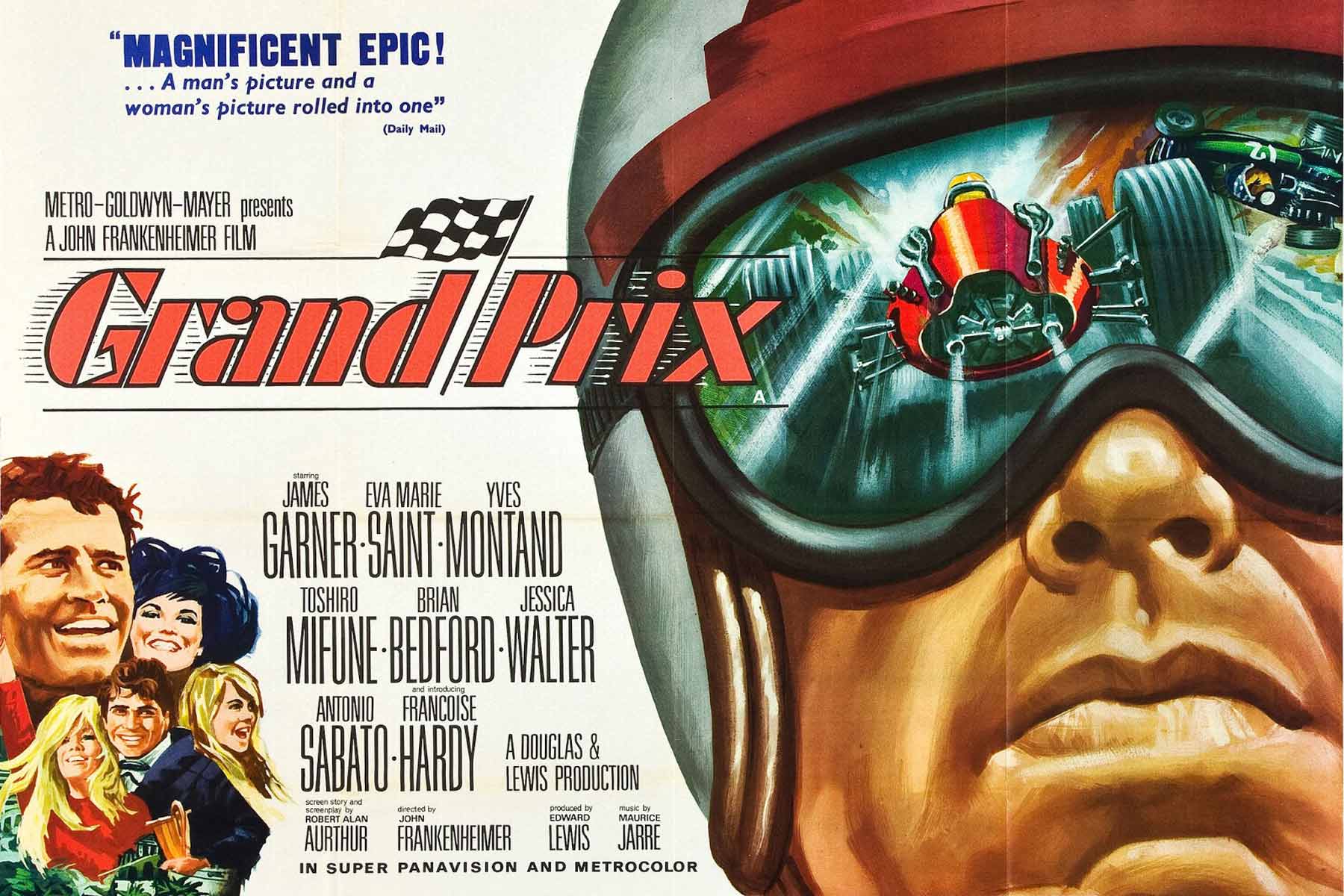 Plenty of film snobs have thumbed their noses at me when I told them how much I love this film. When I first encountered Grand Prix, it was during a 70mm Festival that the Academy of Motion Picture Arts & Sciences was holding here in LA. By the time the film hit its entr'acte, my fingernails were digging into the armrests and I was pressing my foot down into the carpet of the theater as though it was the gas pedal. Any film that can push me into that kind of physical reaction or imitation is pretty powerful. Grand Prix rocks, y'all.
"It was a film I wasn't meant to do," said James Garner, "They asked Steve McQueen but when they saw the abuse he was giving his body and mind, they asked me. I spent over two months with Bob Bondurant being taught how to drive race cars because I was damned if I was going to just sit there and let doubles have all the fun." Much like Paul Newman in his later years, James Garner had a love for car racing. At home in LA (much to the dismay of Brentwood), he and neighbor/pal Steve McQueen used to take to the streets, racing their mini-coopers. Unfortunately, Garner's acceptance of the role in Grand Prix caused a slight rift between the two friends. McQueen told Garner that he wasn't bothered over losing the part, but apparently it did irritate him. Garner talks about it here in this interview from the Archive of American Television.
Unlike many other actors in Grand Prix, Garner was very keen on not letting stuntmen "play his part." Bob Bondurant was one of many professional racecar drivers hired to help the actors train. Drivers like Graham Hill, Richie Ginther, Bruce McLaren, Jo Bonnier and Jochen Rindt assisted actors like Brian Bedford, Antonio Sabàto, Jr. and Yves Montand become more comfortable in their vehicles. These drivers also ended up with speaking parts and being featured in the extraordinary Saul Bass opening credits sequence. John Frankenheimer was adamant about imbuing this picture with as much racism profession realism as possible so the inclusion of these drivers as cast and crew was critical.
This film does not shy away from the down and dirty aspects of racing. In fact, it centers on them. Many scenes from Grand Prix are constructed like documentaries in their portrayal of Formula One racing. The pit crews, the presence of the over-zealous press, conversations about pre-race rituals, all of these things bring a formalism to the film that helps the audience feel like they are really inhabiting the racing world that Frankenheimer has developed. The repeated use of voice-over narration enhances Grand Prix's documentary-style approach. Hearing James Garner and others discuss racing traditions or methodologies breaks that 4th wall, intentionally making it difficult to decipher whether these testimonials are coming from the actor or from the characters they are playing.
Seen most clearly in the final race in Italy, the careful use of split screen balances the audience's attention between each driver's personal life experience and internal psyche with their current racetrack position. This section builds upon the terrific traumas we have already witnessed throughout the narrative. Frankenheimer does not cut away from the gore. He brutally depicts horrific and bloody crashes on the racetrack and makes them a direct corollary to the images of success that the drivers are having through skilled editing. Images of destruction and immense pain cut right to representations of accomplishment. The complexities and politics of Formula One racecar driving are all present.
Many characters and stories in Grand Prix are based on real-life racers and events. According to Frankenheimer, out of the 33 professional racecar drivers who participated in the shooting of Grand Prix, 18 of them were killed on the racing circuit within just a few years of the film's release. Frankenheimer said in one interview, "Every incident in the film is based on something that really happened in racing. I don't particularly want to say who the actual people were, but I think it's no secret that the American driver played by James Garner was certainly based on Phil Hill. The English driver was certainly based on Stirling Moss. The Yves Montand character was based on three drivers, really: [Juan Manuel] Fangio, Wolfgang von Trips and Jean Behra, the French driver. It was a composite of the three men… I can go through each character on that film and tell you who they really were in real life." Frankenheimer wanted the film to be centered on truth and verisimilitude. He struggled for that realism in the film's content through the use of genuine locations, professional drivers, and as much "real deal" material as possible.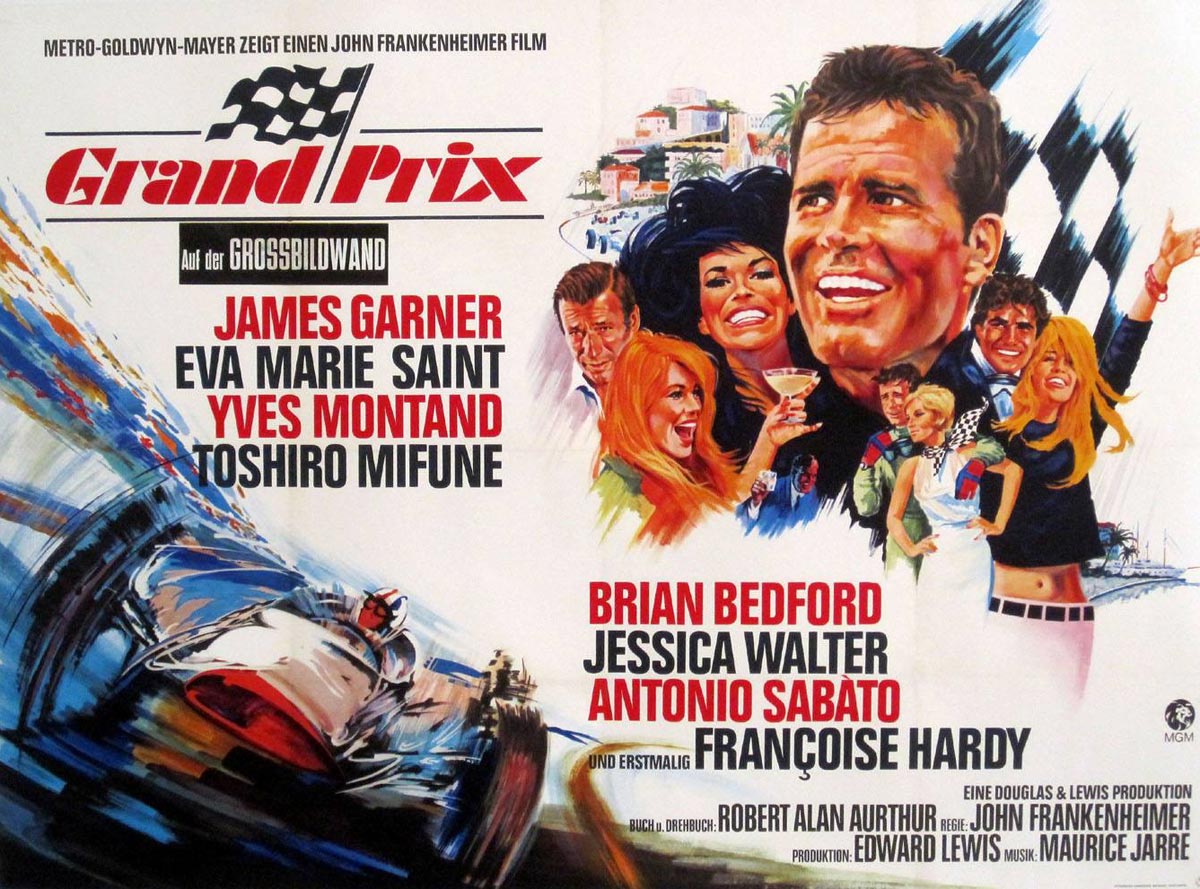 Grand Prix retains the verity that Frankenheimer intended but it is its revolutionary technology that lifted it from "just a movie" to a full-blown theatrical experience. Rather than rely on traditional narrative, Frankenheimer created a technically advanced and highly stylized cinematic landscape. Shot in Super Panavision 70mm, Grand Prix spins physical sensations (visual and aural), psychological dramas and emotional responses together, allowing the story to reflect beautiful complexities and high-octane action concurrently.
"The logistics were horrendous," declared Frankenheimer in one interview, "We had a crew of 205 people, we had 65 racecars and we shot in nine countries. And besides that we were tied into specific race dates 'cause we shot a lot of stuff at the real events. If we were behind, we missed a country. If I hadn't loved automobile racing as much as I did…I guess my Walter Mitty dream was always to be a Formula One driver. I was a race driver but never nearly good enough to be a Formula One driver." Regardless of Frankenheimer's racing skills, he produced an exciting feature that won three Academy Awards for Best Film Editing, Best Sound and Best Sound Effects. With its radical shooting techniques and innovative ideas, Frankenheimer's "Walter Mitty Dream" was a groundbreaking piece of cinema.
Grand Prix premiered on December 21, 1966 at the Warner Cinerama Theater in New York City and December 22, 1966 at the Hollywood Pacific Cinerama Dome in Los Angeles a rapid seven months after it began shooting. Originally released as a reserved-seat Cinerama road-show attraction, the film blew audiences out of the water and became one of MGM's highest grossing films of the year. This pleased the studio, especially since MGM had spent an insane amount of time and money over the last few years creating a high-speed 70mm color film processor that Frankenheimer's team had made liberal use of in order to create release prints of Grand Prix. Mind you, this machine was HUGE. According to Kim R. Halston, it was "almost two stories high, and almost 30 feet long with 16 12-foot chemical tanks, ten centrifugal pumps and 650 rollers." Thanks to this machine, the speed at which Grand Prix was made, printed and released was comparable to the races in Monaco up on the screen!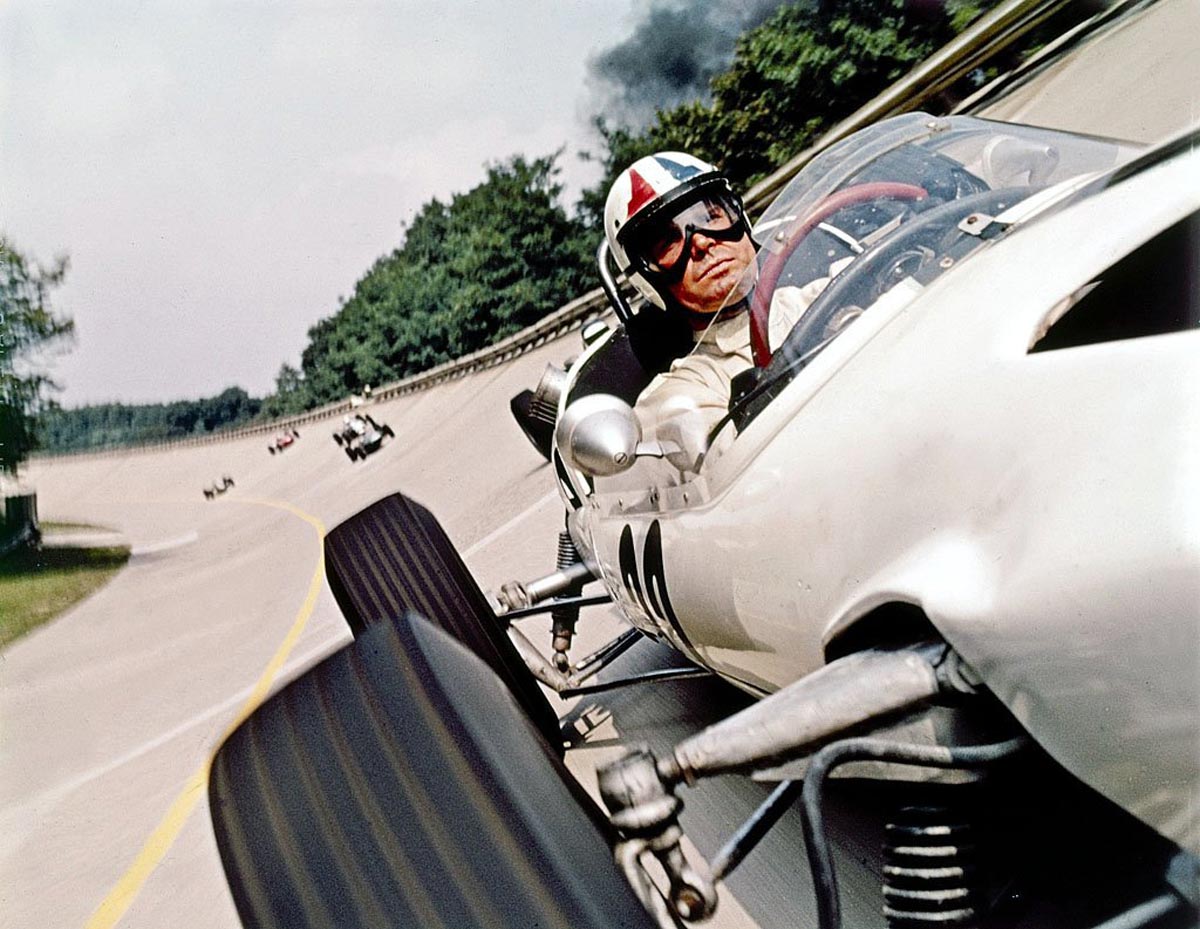 Blessed with a nice healthy budget, this was the first time that Frankenheimer shot a film in color. 18 Cinerama cameras were used during the shoot and Bill Frick, a former racecar driver and builder, created a specialized camera rig for the cars. Frick's design allowed for the camera to sit on the car without its weight tipping the auto over. The car could keep driving at incredible speeds while still filming thanks to Frick. Frankenheimer also called upon Lionel Linden, the cinematographer he had used for The Manchurian Candidate (1962). Linden ended up doing quite a bit of camera work while hanging out of a helicopter! Aside from Linden and Frick's contributions, there were numerous other technical developments that moved filmmaking (and the racing film genre) forward. According to John Heitman, Frankenheimer's technical contributions were substantial. "[Frankenheimer's] use of NASA-developed cameras and microwave systems, monster camera-cars that were capable of 150 mph and helicopters was imitated in other films, and set a benchmark in terms of realism."
The ensemble cast for Grand Prix is stunning. Jessica Walters and Francoise Hardy are spectacular and Antonio Sabàto, Jr. is a charming jerk. Watching Yves Montand and Toshiro Mifune, a cinematic reality sets in: these men became more charismatic and beatific as they got older. THAT seemed impossible, but it happened! The pathos and passion that Montand evokes within the film is exquisite and while Francoise Hardy's nonchalance might be mistaken for a stilted performance, her strongly feminist responses and sensually languid androgyny say a great deal about her character. Hardy's complexity is present and powerful.
In the end, it is the close-ups of James Garner in his car, driving a million miles an hour, that best capture the passion and enthusiasm for the sport. Accompanying the tales of agony, fortune and loss are epic thrills riding passenger to driving fast. Competition and determination is constantly etched in Garner's strong jawline and fixed vision, allowing for suspense and edge-of-the-seat reactions. James Garner wrote, "Making Grand Prix was the most fun I've ever had on a movie. Hell, it was the most fun I've ever had period! Six months with the best cars and the best drivers on the best circuits in the world…for a guy who'd always loved cars and racing it was a fantasy come true…I've never regretted losing or passing on a role because I always figured something as good or better was right around the corner. The only two pictures I ever went after were Sayonara and Grand Prix. Otherwise I just waited for the right part to come along and it usually did."