In the Lester Bangs short story "John Coltrane Lives," the iconoclastic writer recounts an episode when in the throes of artistic experimentation and chemical enhancement, he so terrified his landlady with some free jazz saxophone playing that the police were summoned and he was incarcerated. When an older, grizzled cellmate demanded to know what he was in for, he replied, "Being ahead of my time." Writer/producer/director Richard L. Bare, who created the Joe McDoakes short film comedies for WB, directed the "To Serve Man" episode of "The Twilight Zone" and almost every installment of "Green Acres," and lived to the age of 101, saw his feature filmmaking career end in 1973 with his cheeky dueling-visuals thriller Wicked, Wicked. Upon his arrival in Movie Director Jail back then, he very easily could have given the same response.
Wicked, Wicked was not the first feature-length narrative film presented almost entirely in split-screen for its duration. That honor went to the 1966 Andy Warhol/Paul Morrissey collaboration Chelsea Girls, which used two projectors to play two thematically linked (but not completely synchronized) segments at once. Nor was it the first to be released by a major studio. In 1970, Filmways, producers of "Green Acres" and partners on several MGM projects including The Americanization of Emily, released Brian De Palma's Dionysus in '69 through Sigma III Corporation, their arthouse subsidiary; the film documented experimental theater collective The Performance Group's final public stagings of their radical rewrite of Euripides' The Bacchae, with two screens presenting both the actors and the audience, and their eventual convergence, for the entirety of the show. Wicked, Wicked did have the honor of being the first attempt at taking this process into the mainstream, with advertising hyping the excitement of "Duo-Vision" and how urgent it was to experience in theatres. And it had a double-edged Sword of Damocles hanging over it as being the last of a kind… at least until the turn of the century.
Reportedly, Bare found his inspiration for writing and directing Wicked, Wicked not so much from these counterculture antecedents as he did from just taking a drive. "As I glanced from one side of the freeway to the other, I noticed how my mind was taking a picture over here, then another over there…Why not tell a film story with two simultaneous images?" Consequently, his resulting film derives a great deal of its effectiveness from its presentation of two often divergent points of view, and its trust in the viewer to process both of them while on the story's journey. On a primary level, there is the dominant narrative of disturbed Grandview Hotel electrician Jason Gant and his murder spree of unsuspecting blonde patrons of the resort; the posters promised, "See the hunter, see the hunted, both at the same time!" Even deeper, there is a frequent omniscient counterpoint to characters with something to hide, like a cop who claims to have interrogated a suspect by-the-book on the right is shown on the left to have taken extreme liberties. And every so often, the fourth wall is occasionally broken to reveal an organist performing the original score to the 1925 silent version of The Phantom of the Opera, adding a meta layer to the experience, as if Bare himself turned around briefly from his position in the driver's seat to see how you're enjoying the ride.
For as much as the film was a challenge to conventional storytelling, it was definitely a challenge to conventional filmmaking. In pre-production, Bare insisted on composing the parallel action right on the page, typing the two storylines onto 11×17 papers fed lengthwise into a special typewriter, then printing and binding them similarly. While the production stayed under its $1.5 million budget, it still had the cost and labor of shooting two average-budgeted features. Editing took a then-unusual 32 weeks, cutting on a two-headed Moviola, in order to properly synchronize all the footage and how the paired scenes would mesh with each other on the final print. And initial 35mm prints were mastered in magnetic stereo, so that audio from the left or right side of the screen would emerge from the matching speaker, to help the audience focus on what to listen to while they navigated the two images on screen.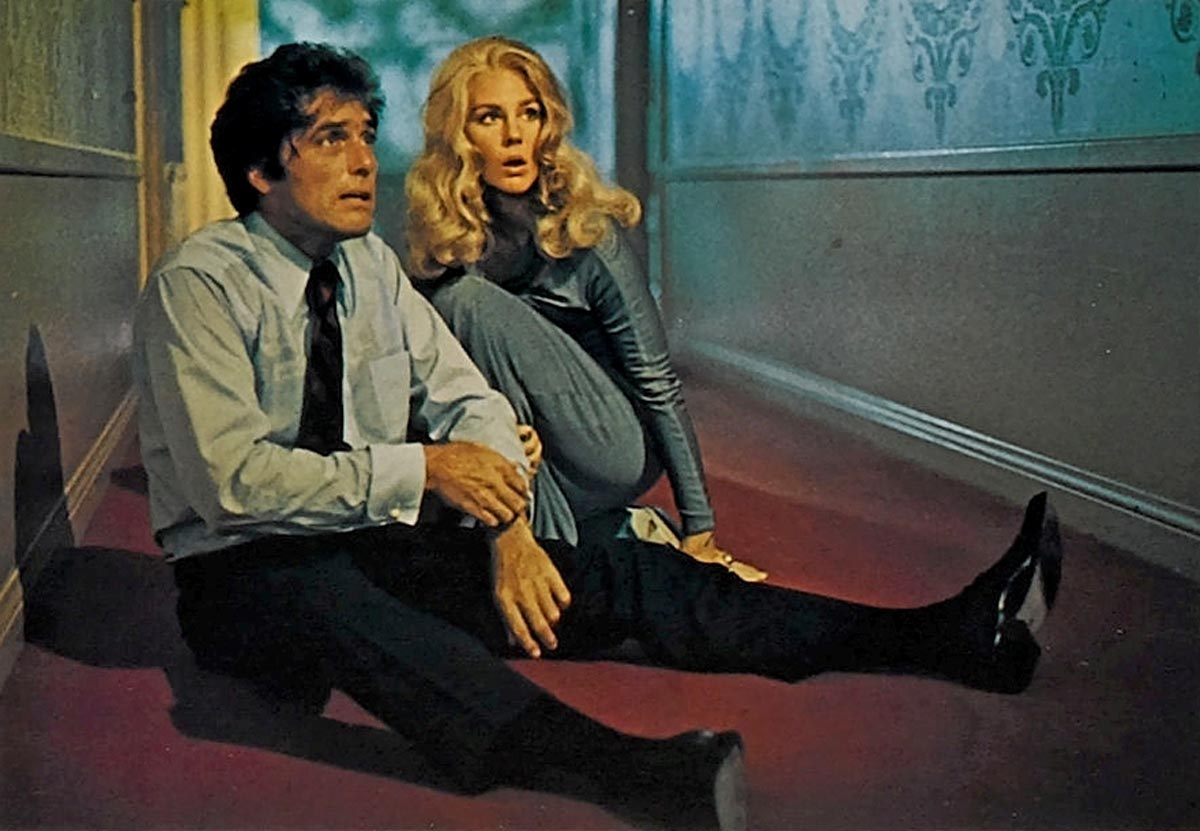 Besides its split screen storytelling, the other most memorable element of Wicked, Wicked is its female lead, Tiffany Bolling. The lovely multi-hyphenate had already garnered praise as part of the ensemble cast of the ABC fantasy series "The New People," and from an unforgettable scene with Richard Benjamin in the 1971 dramedy The Marriage of a Young Stockbroker. She had also previously released a self-titled album in 1970, produced by her then-husband, Ennio Morricone collaborator Peter Tevis, and since Bare had wanted a lead actress who could sing, it clinched her the job; Bolling performs two songs in the film. Before making Wicked, Bolling had filmed her first headlining role in Arthur Marks' Bonnie's Kids, with western star Scott Brady playing her uncle; Brady would reappear in Wicked, playing a police sergeant. Bolling continued her legacy of standout performances in genre classics like The Candy Snatchers and Kingdom of the Spiders, and in guest appearances on "Charlie's Angels" and "Vega$" all through the '70s.
Despite the complexity of the production, Bare was clearly interested in further exploring the possibilities of making films in this fashion. He had announced to Variety columnist Army Archerd that he had planned a followup called Evil, Evil, and in related press coverage he had promised another film, a political thriller called October Incident, both to be done with the Duo-Vision process. He was also very enthused about the performance of Wicked's leading man, former Mitchum deodorant pitchman David Bailey, and told reporters he was developing a TV series spinoff for his rakish detective character Rick Stewart. However, due to less-than-robust support by MGM and a disappointing initial theatrical run, none of these projects came to fruition. Bare would have only one more credit, directing an episode of the short-lived 1973 NBC "Mystery Movie" series "Faraday and Company" with Dan Dailey, and never produced or directed another film or TV program again for the remainder of his long life. And while plenty of later movies would feature split screen sequences, including several by its early champion Brian De Palma, no other director attempted to use the process for the entirety of a narrative feature for decades afterward.
Then, in 2000, Sony Pictures' newly-revived Screen Gems imprint released Timecode, a film written and directed by English filmmaker Mike Figgis, with a large cast of name actors. Timecode took the template established by Bare with Wicked, and literally increased it exponentially by presenting four simultaneous onscreen quadrants to tell different character stories that would ultimately converge. In addition, all four storylines were shot at the same time with consumer-grade digital cameras in one continuous 93 minute take, with dialogue that had been mostly improvised and finessed over the course of 15 days of fully-dressed-and-filmed rehearsals. A fixed soundtrack was created for the 35mm and home video release, to guide viewers as to which people to direct attention to at any given time; however, at the film's Los Angeles premiere, Figgis worked directly from the raw digital masters and mixed the audio live for a one-time-only alternate experience. The film drew generally good reviews, but failed to recoup its $4 million production cost for the studio. Though some critics brought up their kinship in reviews of the film, neither Figgis nor Sony made any significant acknowledgement of Bare's previous project in their press materials.
More recently, Russian director Levan Gabriadze's 2014 horror film Unfriended carried the concept of multi-image storytelling into the internet age. While technically telling only one story, the cyberbullying and suicide of a vulnerable girl and her supernatural vengeance upon the friends who betrayed her, it staged the proceedings entirely on a computer screen that is almost always displaying multiple sources of input – Skype chats, social media accounts, YouTube links, personal webcams, etc – that cleverly alerted and/or diverted viewers' attention to the actions and fates of the characters. Gabriadze initially shot in segments to reassemble into a facsimile of a live event, but also shot a full, feature-length take with all the characters conversing online at once in separate rooms to get the full-effect of all these horrors happening in sequence. After good receptions at Fantasia and other festivals, the film became an enormous hit for Blumhouse and Universal, opening wide in April 2015 to a $64 million worldwide gross against an extremely modest $1 million budget, demonstrating audiences were now ready to embrace multiple stimuli at once while watching a movie.
It is not known if Richard L. Bare ever got to see Timecode or Unfriended before his death on March 28, 2015. His 2001 book Confessions of a Hollywood Director contains no mention of Figgis' film, and it's unlikely that anyone would have brought the then-unknown Gabriadze's project to his attention or even considered the correlation. But considering his generally sanguine nature, it is easy to believe that he would have been pleased with the more welcoming receptions their films met compared to his during that more challenging time… and that he would have enjoyed the modern vindication of his early effort quite wickedly.