Mary Tyler Moore, after five seasons playing America's most accessibly saucy housewife Laura Petrie on "The Dick Van Dyke Show," made four feature films and a TV movie exclusively for Universal Studios, which further demonstrated her versatile talent. Two of those performances, however, have been extremely difficult to see, never having received any home video release and long being absent from any significant TV exposure.  On November 26th & 27th, the New Beverly is pulling these long-absent comedies out of the vault, in beautiful I.B. Technicolor and Techniscope prints, to give you a look at the lesser-known side of "our Mary."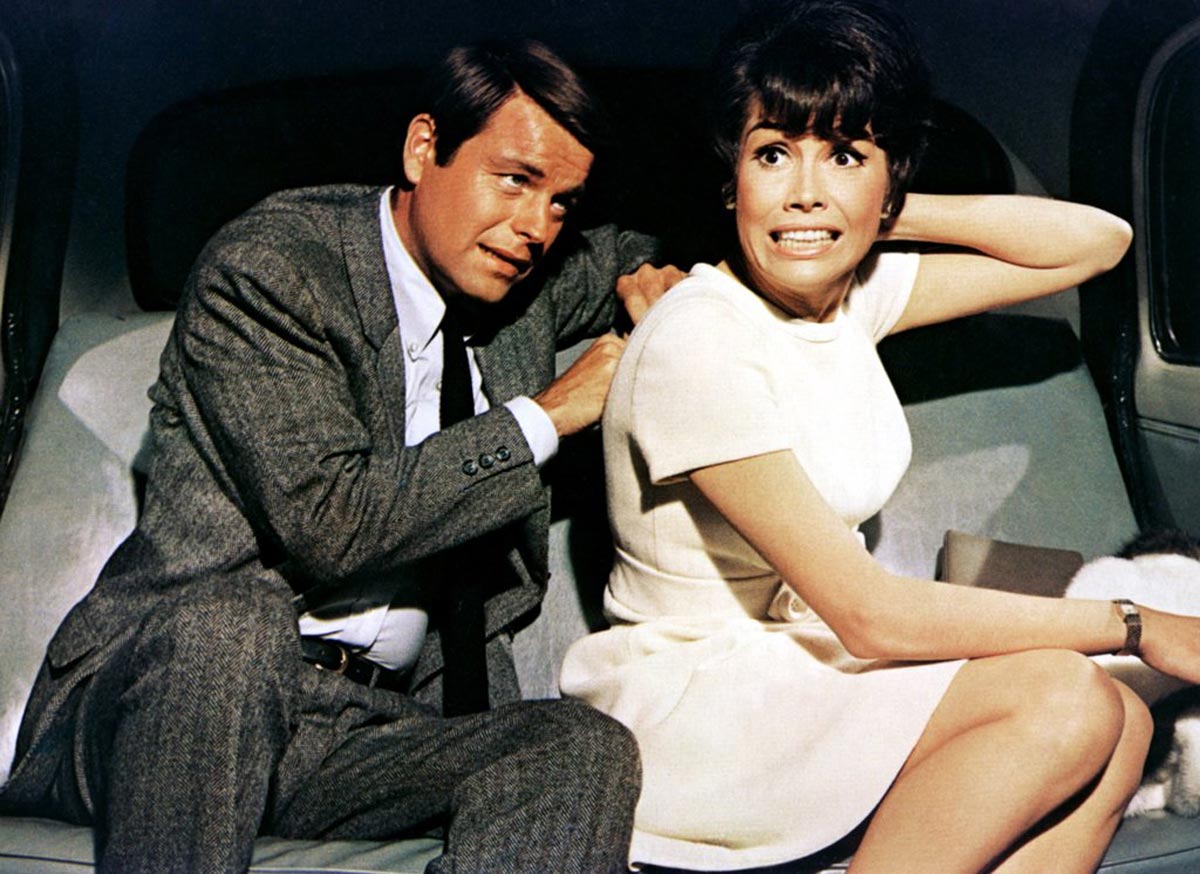 When Martine Randall (Mary Tyler Moore) meets struggling globetrotter Lawrence Colby (Robert Wagner), they're both dealing with precarious circumstance. Randall's author friend Sabine Manning (Glynis Johns) is incommunicado with her latest erotic novel unfinished and her agent (Harvey Korman) sweating the deadline, while Manning's ghostwriter Kendall Flanagan (Barbara Rhoades) has been mistakenly kidnapped in her stead, with Flanagan's own chequered past lying in wait for reckoning. Colby, by comparison, is just moonlighting as a mule for illicit watchmakers. In a climate full of mistaken identity, mysterious motives, and misbegotten principles, this 1968 caper has a direct message for its protagonists: Don't Just Stand There!
Charles Williams had been a respected writer of crime novels, with several paperback originals from Gold Medal press and six hardcover books published during his lifetime. His work was praised by Cape Fear author John D. MacDonald, and spawned 12 film adaptations, most notably Dead Calm, filmed by both Orson Welles (in his unfinished project The Deep) and Philip Noyce, and Dennis Hopper's penultimate directorial outing The Hot Spot. Williams wrote the screenplay for Stand from his 1966 book The Wrong Venus. In the same year as Stand's release, Williams would have another screenplay credit for Universal, adapting Alan Williams' (no relation) comic adventure The Pink Jungle with James Garner. Director Ron Winston helmed one of the earliest and most acclaimed episodes of "The Twilight Zone," "The Monsters Are Due on Maple Street," and had previously worked both with Robert Wagner and Universal on the golf-hustling drama Banning, which received an Oscar nomination for its Quincy Jones-co-written theme song.
Moore made Stand after co-starring with Julie Andrews in Thoroughly Modern Millie, who, three years earlier, had made history by appearing opposite Moore's longtime TV companion Dick Van Dyke in Mary Poppins. For extra convergent fun, portraying the disillusioned sex chronicler Sabine is Poppins co-star Glynis Johns, who had played Mrs. Banks. (Unfortunately, Moore never worked with Mr. Banks actor David Tomlinson, so there goes the trifecta) Barbara Rhoades, whose performance as the resourceful redhead Kendall earned her a larger presence on the film's ad campaign than the higher-billed Moore, would go on to years of scene-stealing work in TV shows and films, particularly opposite Art Carney in Harry & Tonto and among Martin Mull and Tuesday Weld in the Marin County satire Serial. The title theme is written by "the other Ray Charles," longtime musical consultant for "The Muppet Show" and writer/perfomer of the theme song to "Three's Company."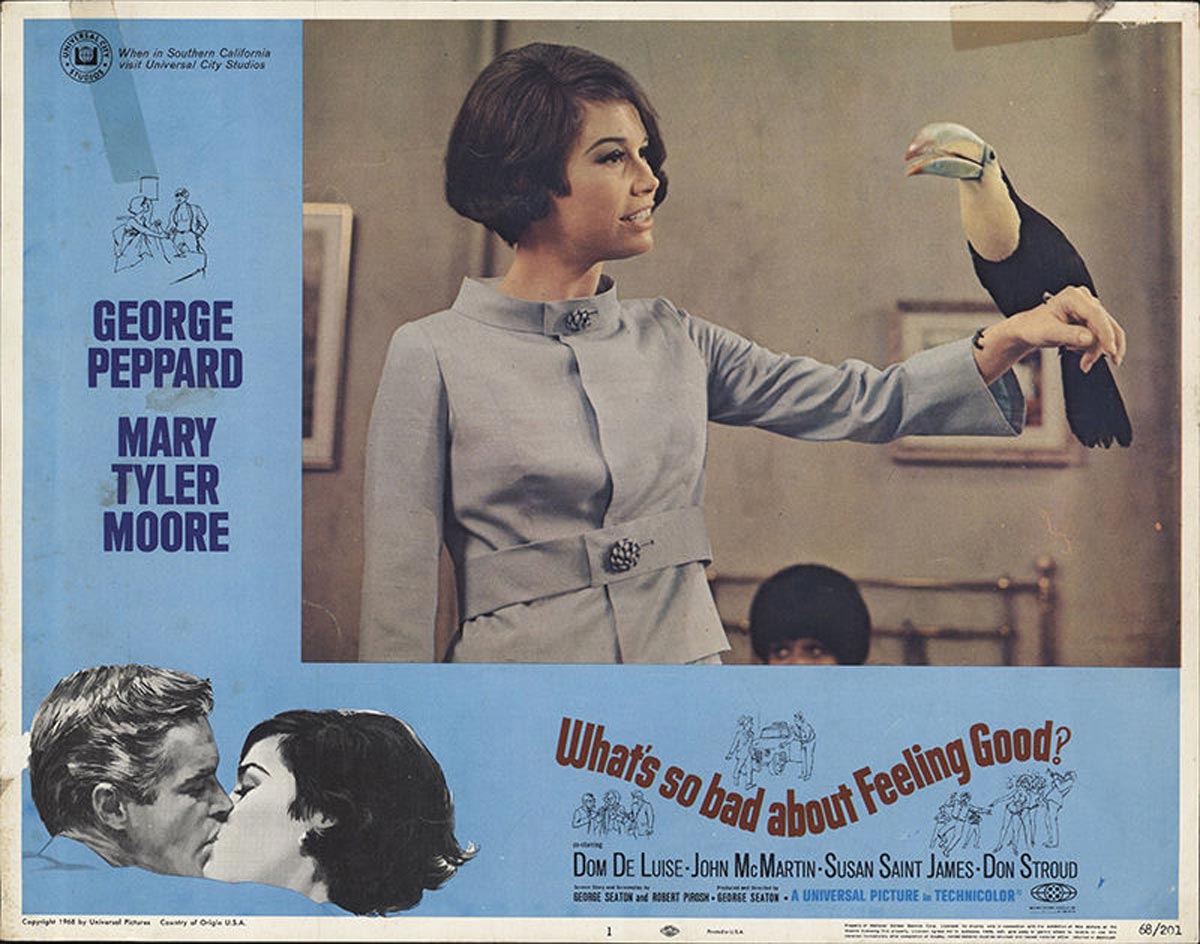 Disgruntled advertising executive Pete (George Peppard) has been living in a New York City commune among other societal drop-outs, trying to find solace in art but mostly just reveling in fashionable gloom. A wayward toucan flies into the loft, bringing with it a virus that makes almost all the beatniks start feeling beatific, or in the case of Pete's girlfriend Liz (Mary Tyler Moore), faking it to make it. Soon, they've all shed their hippie duds to blend back in among the normals and spread the virus around, until the whole of New York has almost completely lost their surly reputation. And as the giddy populace leave unpleasant jobs behind and stop buying the normal placebos of cigarettes and psych drugs, the government must send a scientist (Dom DeLuise) to "cure" this collegial contagion. It's going to be an awkward collision of "Mad Men" lives and "flower power" wishes in the 1968 comedy What's So Bad About Feeling Good?
What's So Bad originated from the 1943 novel I Am Thinking of My Darling by Victor McHugh, recently cited by New York Daily News' book blog as "the best New York novel you've probably never read." The original novel was set during World War II, when citizens everywhere dealt with item shortages, service outages, and fearing for loved ones in battle. Director George Seaton and his writing partner Robert Pirosh, who had previously helped write the Marx Brothers' A Night at the Opera and A Day at the Races, transposed the primary themes of McHugh's book into the then-new climate of counterculture rebellion and LSD experimentation. (Oddly enough, McHugh by then had decamped New York for San Francisco, where he kept company with Beat writers) If the events depicted on screen have an extremely cartoonish vibe, it's probably from the additional script contributions by two of the best cartoon writers of the era – Tedd Pierce, who co-wrote dozens of classic Warner Bros. shorts like The Dover Boys and Broomstick Bunny, and Bill Danch, who wrote on the original "Spider-Man" series and several Filmation shows including "Sabrina and the Groovie Ghoulies" and "Fat Albert". Seaton would follow this light comedy with one of the first influential hits of the '70s, his adaptation of Arthur Hailey's Airport.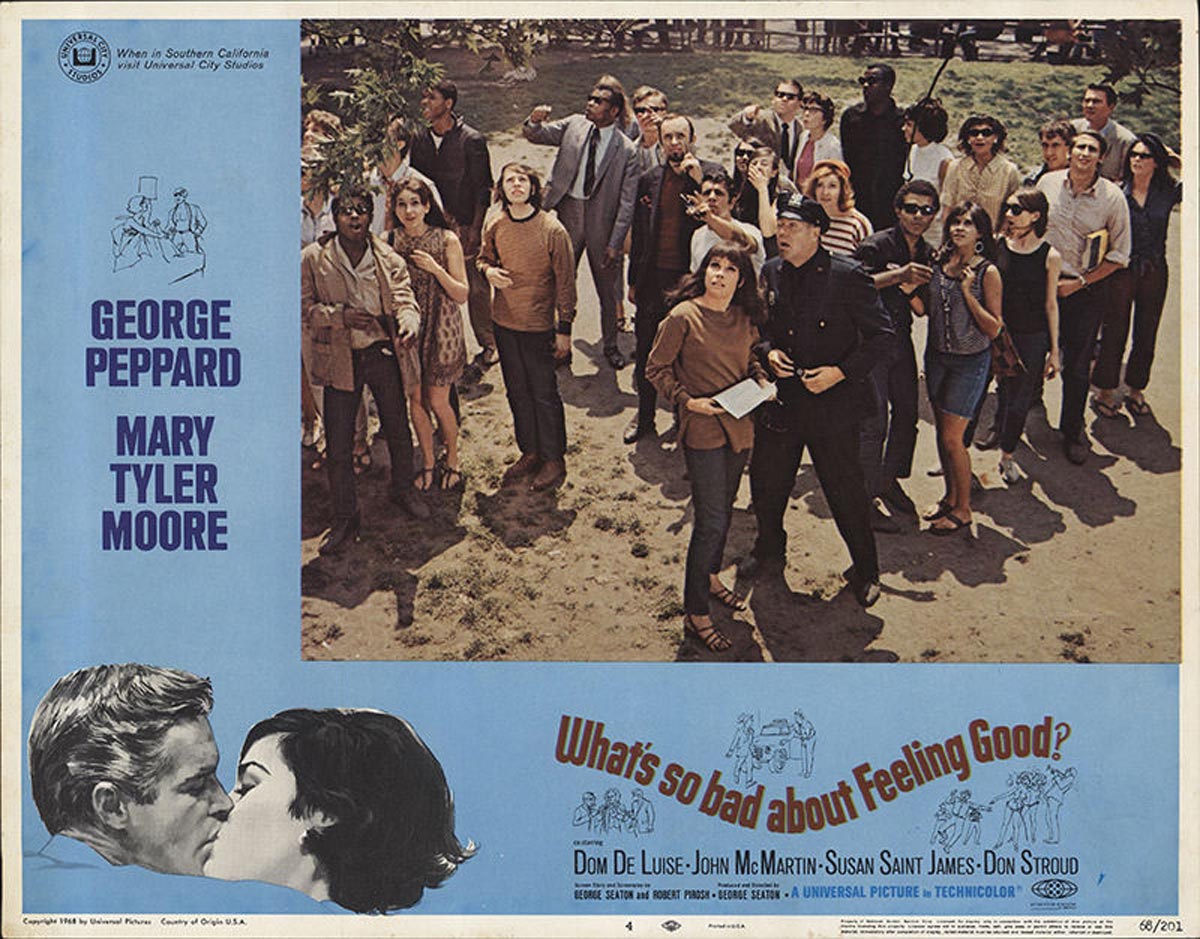 Co-starring with Peppard, Moore, and DeLuise are a wide array of stars in their earliest stages of popularity, such as Don Stroud, Susan St. James, George Furth, and in unbilled appearances, Moses Gunn, Cleavon Little, John P. Ryan, and Titos Vandis. Gillian Spancer, who plays "Sack" – the girl  seen only in a burlap bag and bare feet, would go on to both write for and star on several daytime soaps, including "One Life to Live," "All My Children," and "As the World Turns." Thelma Ritter, who made her screen debut in Miracle on 34th Street, also directed by George Seaton, had her final performance here. New York's then-mayor, John Lindsay, granted the filmmakers a first-time-ever access to City Hall for a pivotal scene, as a gesture to lure other filmmakers to shoot on location.
Traverse the bridge from one major holiday to the next with this double feature of underappreciated Mary Tyler Moore films. You'll definitely be thankful for having seen them, they're a great way to relax after the stress of visiting relatives and Black Friday sales, and make a great early Christmas gift to yourself. But remember, these are difficult to see in any other fashion, so if you miss this show, don't try crying to Mr. Grant about it!