When "Twin Peaks: The Return" began airing this past summer, millions of fans were happy to see Russ Tamblyn return as dodgy Dr. Jacoby, and delighted in his conspiratorial podcast alter ego Dr. Amp and his inspirational message of "Shovel your way out of the shit!" That maxim is quite applicable to our Grindhouse Tuesday event on November 14th, where we will be presenting two collaborations between Tamblyn and director Al Adamson, because in real life, director Adamson provided direct assistance to Tamblyn during a difficult period, and on screen, Tamblyn's characters find themselves in some pretty deep shit indeed!
The women of 1971's The Female Bunch effectively view men the same way that their leaders Grace (Jennifer Bishop) and Sharon (Sharyn Wynters) regard the heroin they alternately sell and consume: as a means to temporary kicks and no more than that. After would-be members are put through terrifying rituals, they go forth raising hell and turning tables on would-be horndogs on both sides of a border town. One particular mark, Bill (Russ Tamblyn), is slipped a map to their ranch, and gets equal doses of pleasure and pain at their hands. Meanwhile, hard-luck former stuntman Monti (Lon Chaney Jr.), the only male allowed on site, allows himself to be manipulated by Grace in the hope of having intimacy with her. The violence proves too much for recent recruit Sandy (Nesa Renet), who looks for a chance to escape, but after surviving being put in a fake coffin to join the band, she may just end up in a real one now.
Tamblyn told Psychotronic magazine in 1990, "I gave up my career to get into fine arts. I turned down parts. I was offered the role of Gilligan in that TV show 'Gilligan's Island.' They offered me incredible contracts. I could have been a millionaire. And I turned it down. I was living in a big house in the Palisades, and I met some artists and decided I wanted to be an artist. I gave up my career. It wasn't that my career was going down hill, I just went in a different direction… I ended up doing a lot of art work and having my work at [LACMA]…When I was doing art, I just didn't care about show business anymore…But when my money started to run out. I'd be offered these things and I'd think, gee, I could go pick up a fast thousand. I don't have a lot of memories of them, I just went in and did them."
Producer/director Al Adamson became a prime employer of Tamblyn during this time, previously directing him in the biker drama Satan's Sadists and then in an abandoned project from which he cannibalized footage for Dracula vs. Frankenstein, before making Bunch. Originally titled The Beautiful Butchers, most of the film was shot in Utah in 1969, then producer Mardi Rustam (Eaten Alive, Pets) hired production manager/stuntman John "Bud" Cardos to shoot additional scenes at the infamous Spahn ranch, a frequent location for Adamson's projects since owner George Spahn had been friends with Adamson's father, silent cowboy star Denver Dixon. Adamson told writer Brian Albright, "[Russ] was great, as long as I gave him a little freedom. He liked to have freedom to ad-lib and improvise…He wanted to be able to create, and I gave him the opportunity to create."
The irresistible women who comprise this deadly collective were frequent colorful presences in offbeat projects. Regina Carroll, dubbed "the Freak-Out Girl" in Satan's Sadists, later married Adamson, and the couple worked and lived together until her death from cancer in 1992. Jennifer Bishop, playing the conniving Grace, was a featured cornfield girl on "Hee-Haw," had been in two Adamson films, Blood of Dracula's Castle and Horror of the Blood Monsters, and returned to make Jessi's Girls with him in 1975. Leslie McRay, the honey trap Dennise, was a billboard model that had been in Adamson's Hell's Bloody Devils and later played Cleopatra to Martin Kove's Nero the Hero in Paul Bartel's Death Race 2000. Aleshia Brevard (billed as A'lesha Lee), the sadistic redhead Sadie, was one of the first transgender performers to have a long mainstream career, though she did not publicly acknowledge her transition until 2001 in her first autobiography, The Woman I Was Not Born to Be. As a performer at San Francisco club Finocchio's, her mimickry of Marilyn Monroe led to a visit from Monroe herself to see it. The pioneering performer, professor, and author passed away earlier this year on July 1st.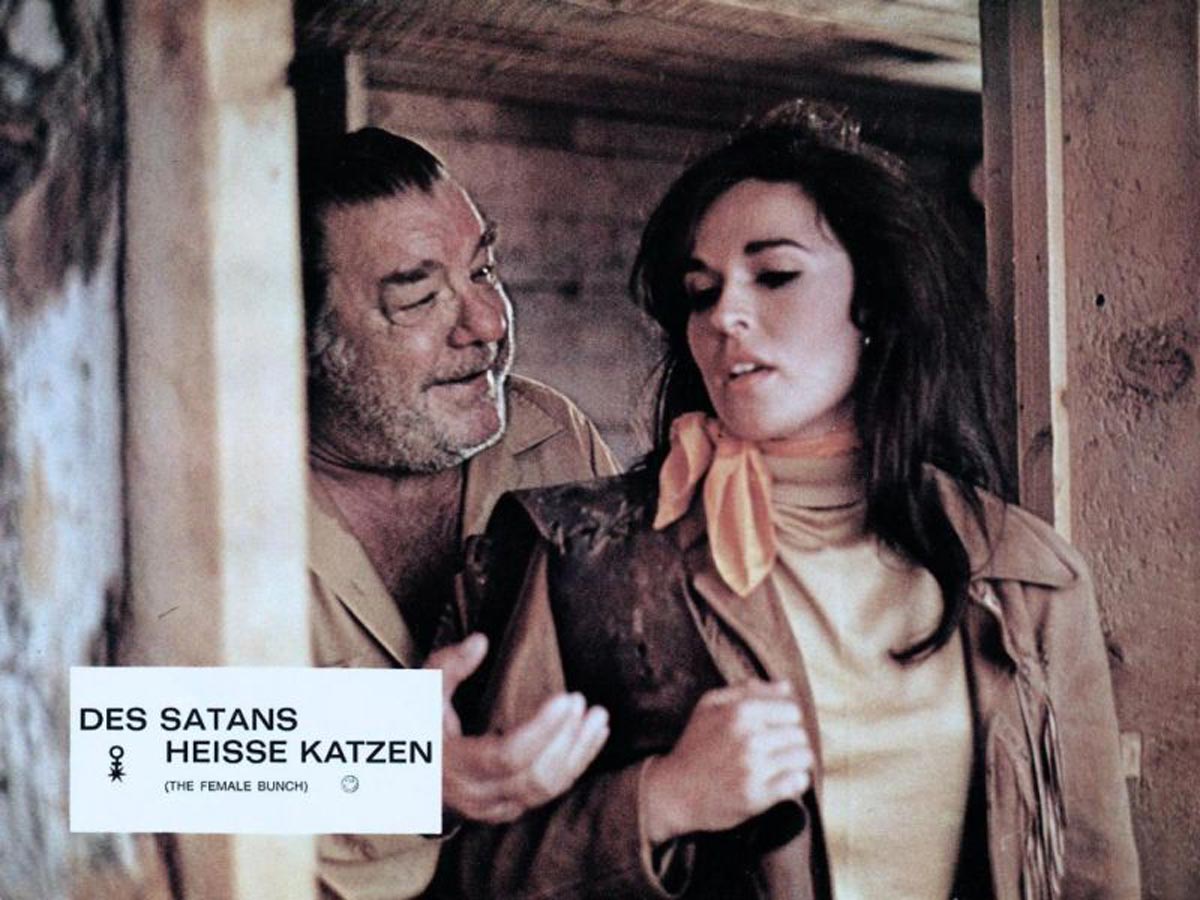 The Female Bunch also marked a swan song for legendary horror star Lon Chaney Jr. Adamson remembered that Chaney was still able to memorize and deliver lines, but his raspy delivery made it clear he was very sick. "That's when he was dying, and he knew it. When we finished [production], we did a little commercial and it never got out. It's a shame it didn't get out. He was telling the world, 'Don't smoke. Look what it's done to me. It's killed me.'…[He] died just shortly after that. That was his last picture."
Detective Kicks Carter (Timothy Brown) and his partner Tony (Geoffrey Land) have been attempting to garner solid evidence on criminal activity being sanctioned by the operators of the Queen's Castle Hotel – its house madam Fay (Darlene Anders), its resident enforcer Ziggy (Russ Tamblyn), and its financial liason, drug dealer Guido (J.C. Wells). When Tony dies under suspicious circumstances, and his compulsive gambler girlfriend Terry (Jana Bellan) suffers multiple degradations from Fay & Ziggy, Kicks' reporter girlfriend Stephanie (Tanya Boyd) puts herself in harm's way to gather evidence. It's going to take an unusual coalition to help Kicks bring down The Murder Gang, from 1976.
In a deeply detailed article by Chris Poggiali for Temple of Schlock, producer and Independent-International Pictures co-founder Sam Sherman described the unusual manner he and Adamson conceived this project. They were both fond of former Philadelphia Eagles running back Timothy Brown, who had worked with Robert Altman in M*A*S*H and Nashville, and had already done a film for them, Dynamite Brothers. But they had observed films for black audiences had generally great first week attendances but dropped sharply after, and did not always play well in certain markets, so they wanted to figure out how to extend and expand the theatrical run of another star vehicle for Brown. Their ingenious solution was to edit different opening reels for each demographic, and create separate names and ads for each version. The primary urban audience got a suspenseful opening under the moniker Black Heat, while drive-in patrons got a sexy-girls-at-play opening under the title Girls' Hotel. In addition, the Black Heat edit was retitled The Murder Gang for overseas release, and performed so well that in the early '80s, the film was reissued in New York and other cities with that title. "[Even] after it had played [a city] first-run as Black Heat, we went back into the same market as The Murder Gang, like it had never played at all!" recalled Sherman.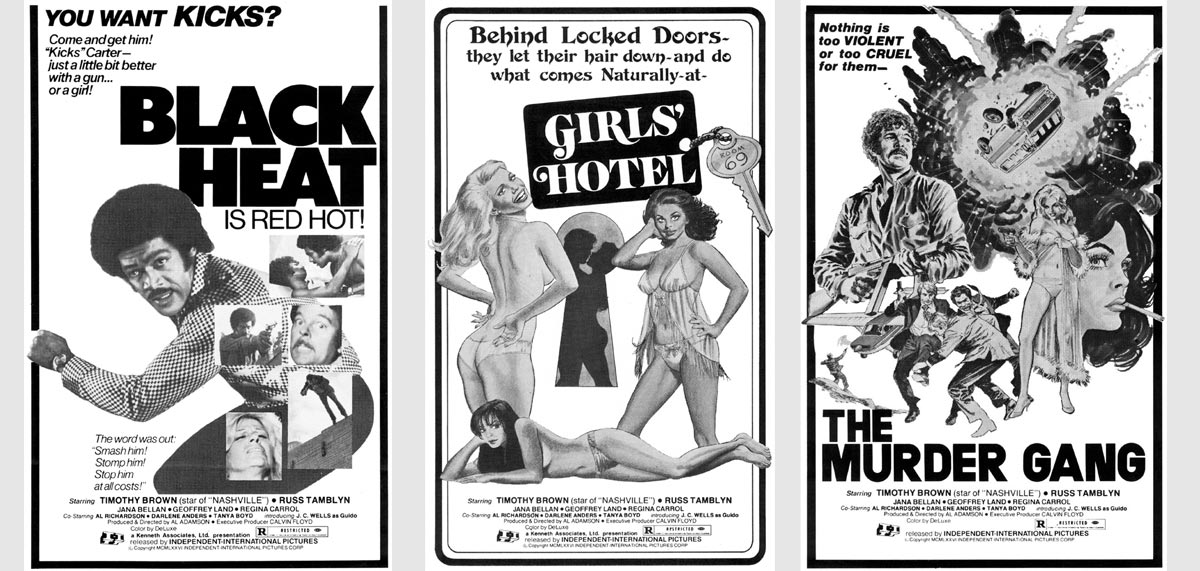 Gang would be the last film Tamblyn would make with Adamson. Before the time of production, the actor and his then-wife Sheila Kempton had lost their home to a fire, and had lived in a tent for a year afterward, with tabloids exaggerating the details of his legitimately difficult situation. Sherman stated, "Al liked him a lot and wanted to work with him more. We always discussed that. 'Al, we've gotta do a picture around Russ Tamblyn. He was so great in Satan's Sadists, he could be so good – can't we do something with him?' And I don't know if we didn't have such a picture, or if the films were going in a different direction, or if Russ just didn't want to do those films anymore." After some time spent living with lifelong friend Dean Stockwell, Tamblyn would meet and marry singer Bonnie Tamblyn, and father their daughter Amber. He would star in several low-budget features for director Fred Olen Ray before a chance encounter with David Lynch through Stockwell led to his career-reviving role on "Twin Peaks."
The supporting players will have particular recognizability for New Bev regulars. Geoffrey Land, playing Kicks' partner Tony, also appears in The Female Bunch, but is probably best known as the star of John Clayton's southern-fried curiosity Redneck Miller, where he utters the unforgettable line, "Baby, you can take a lot of lovin', but I can only get killed once." J.C. Wells, playing the ambitious Guido, appeared as muscular enforcer Ox in Don Edmunds' Bare Knuckles, which screened just this past September. And Jana Bellan, as luckless gambling addict Terry, played Budda, the carhop who almost steals Ron Howard away from Cindy Williams in American Graffiti. And naturally, Regina Carroll returns, portraying torch singer Valerie, and sings "No More Mail Until Tomorrow," co-written by composer Steve Dorff, writer of "Growing Pains" theme song "As Long As We've Got Each Other" and father of actor Stephen Dorff.
Al Adamson once remarked about his career, "We always had fun on our sets. We never had fights. We didn't have time for it. We used a lot of the same people over again because they were dependable. They were reasonable pricewise. We had to watch those sort of things…I think we tried to make an entertaining picture within our limits. In other words, if the script calls for 50 Indians and we can only afford five, we do it with five. But at least we did the pictures and got them out" And as part of our month-long tribute to Russ Tamblyn, we're excited to present these two crowd-pleasing staples directed by one of the actor's fiercest champions.