If Susan Slept Here (Frank Tashlin, 1954) is a Frank Tashlin film you haven't seen, an I.B. Technicolor print is playing the New Beverly on November 16 and it would be a shame for you to miss it. It may not be the most comfortable film that Tashlin ever directed, but it is subversive as hell. A satire based on the play by Steve Fisher and Alex Gottlieb, the film deconstructs Hollywood, the industry "image," and playfully reveals the male inclination towards sexism, ignorance and poor communication, especially when it comes to romantic partnership. Made in 1954, it is still shockingly relevant, worth revisiting and befitting of discussion.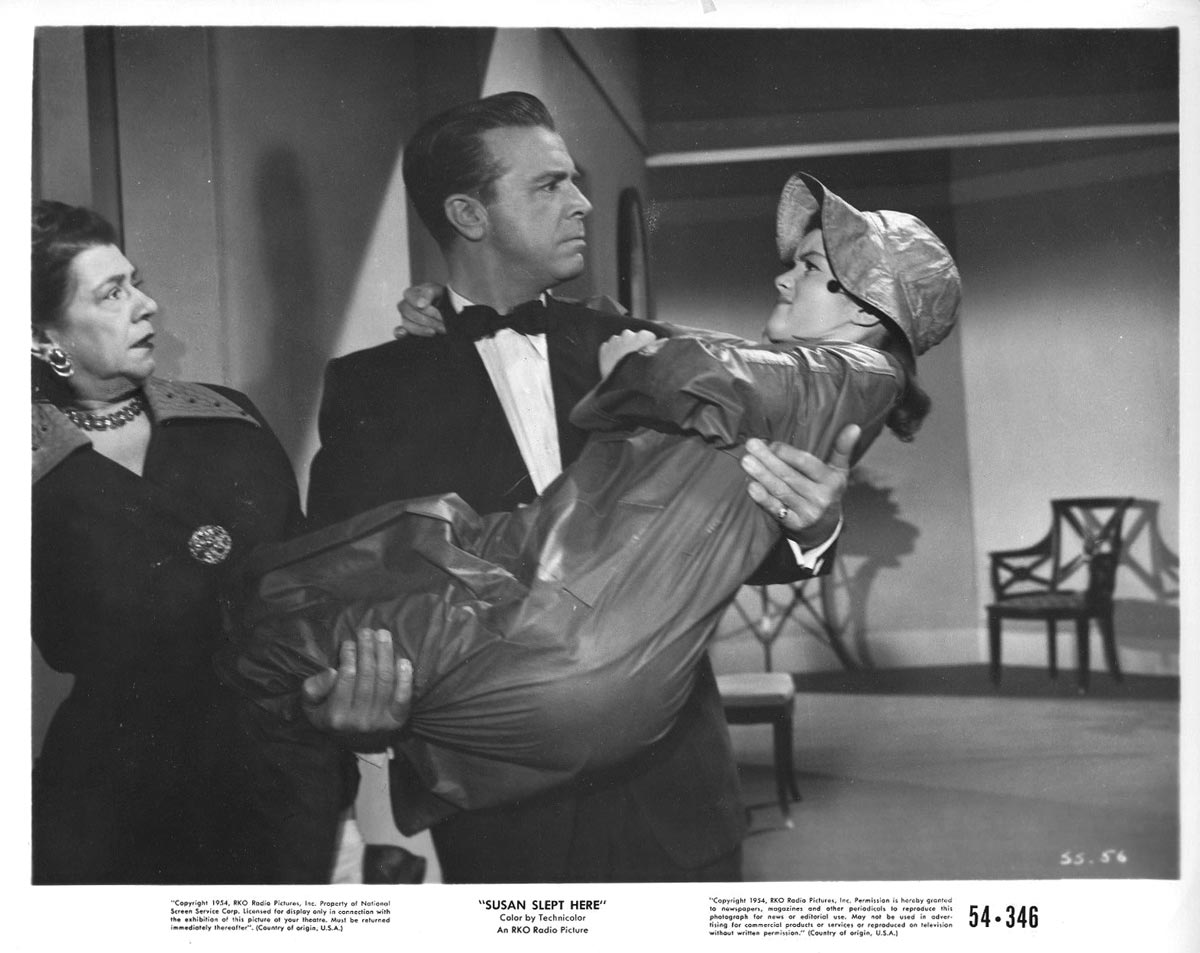 The sexual politics that Susan Slept Here engages in and its gender dynamics are intentionally difficult. Everything in this film is meticulously chosen and painstakingly done, from dialogue and costume changes to Hollywood location references and character meal choices. One of Tashlin's common themes is how clunky men are and how they should really "get it together." This can be seen in every male character from the cops to the main character's best friend Virgil (Alvy Moore). Much of Tashlin's comedy comes from his mockery of men. However, this film ventures into much darker territories than Tashlin is commonly known for. Themes this film works with: the kidnapping of an under-age female juvenile delinquent by law enforcement officials, overt discussions of statutory rape, and a highly suspicious act of marriage (the term "child bride" is mentioned on more than one occasion).
Many of Tashlin's early live action films (he worked in animation previously) do not get screened as often as his later work. This is not because the films are not well-loved, it's just because they're just not as cotton candy-esque or caricatural as Girl Can't Help It (1956) or Will Success Spoil Rock Hunter? (1957). While those films are certainly heavy on social commentary and media criticism, they maintain a much lighter tone than Tashlin's earlier movies. 1952's The First Time is narrated entirely by the unborn child of Robert Cummings and Barbara Hale who, as parents-to-be, spend the film exploring the "joys" of economic stress and more. Marry Me Again (1953), a domestic comedy, begins with the male lead getting drafted for the Korean war then coming home and almost losing his wife-to-be due to his inflated sense of masculinity.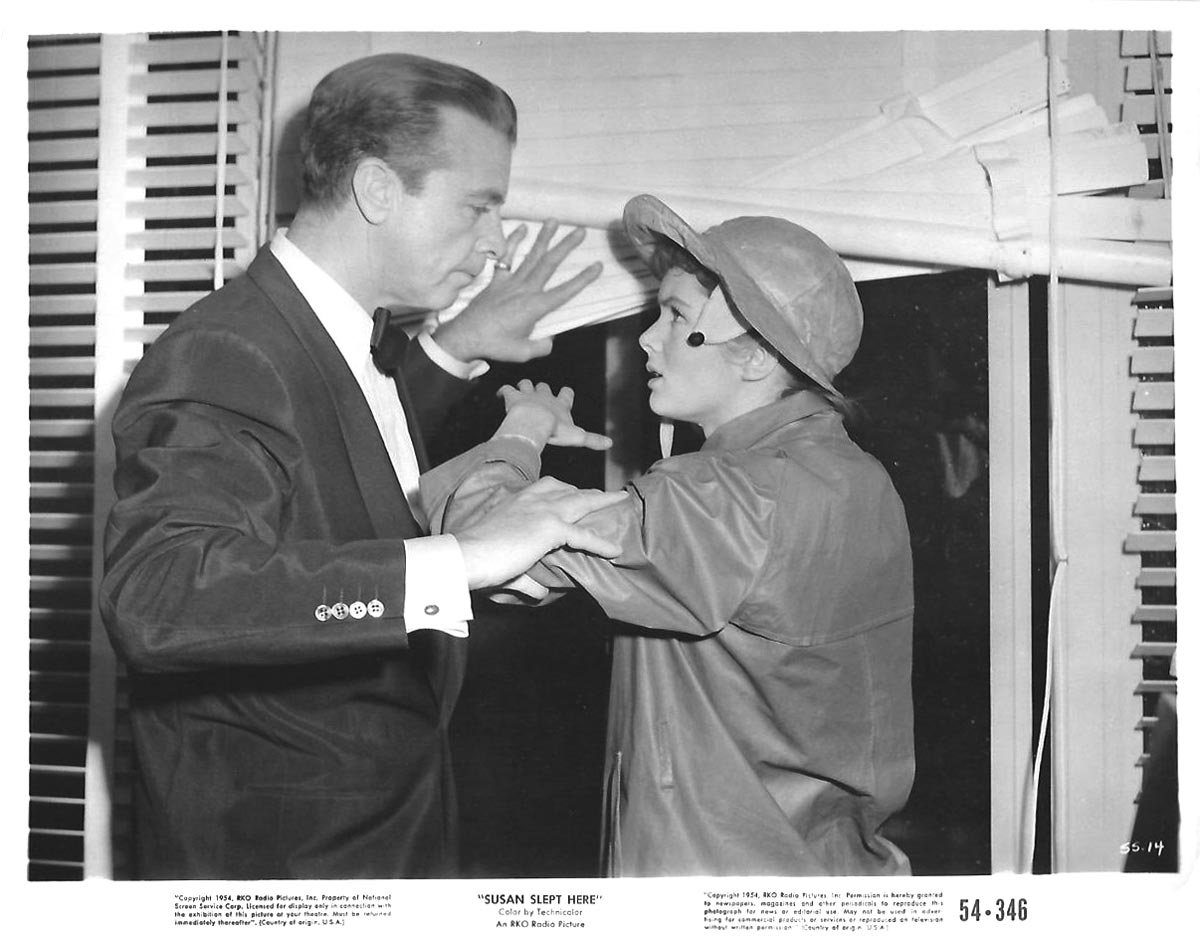 Frank Tashlin didn't fuck around. But that doesn't mean he didn't care. A Union Activist and leftie, when the writers of the short story for The First Time were blacklisted, Tashlin decided to scale it back a bit. So he did and the films after 1954 got considerably lighter in tone.
Filmmaking is a community effort. So as much as Susan strongly reflects Frank Tashlin's style, it could not have existed without others involved. Susan Landis, played by Debbie Reynolds, is excellent, exploding off the screen. Susan was Reynolds' first real major success. Playing Mark Christopher, Hollywood writer and Susan's complicated love interest, Dick Powell displays a uniquely evolving masculinity that none of the other male characters show. Not always perfect and certainly not always the good guy, he's definitely not the bad guy. He struggles and that's refreshing. This was the last film that Dick Powell did before he moved on to directing and creating the television production company, Four Star Productions. The consistently brilliant actress Glenda Ferrell plays Maude. Her transition from Mark's bored and boozy secretary to Susan's BFF is magnificent. Anne Francis and Alvy Moore keep the film's rhythm going perfectly and add the heat and comedy from scene to scene. This film is hilarious and this top shelf cast pushes it from good to great.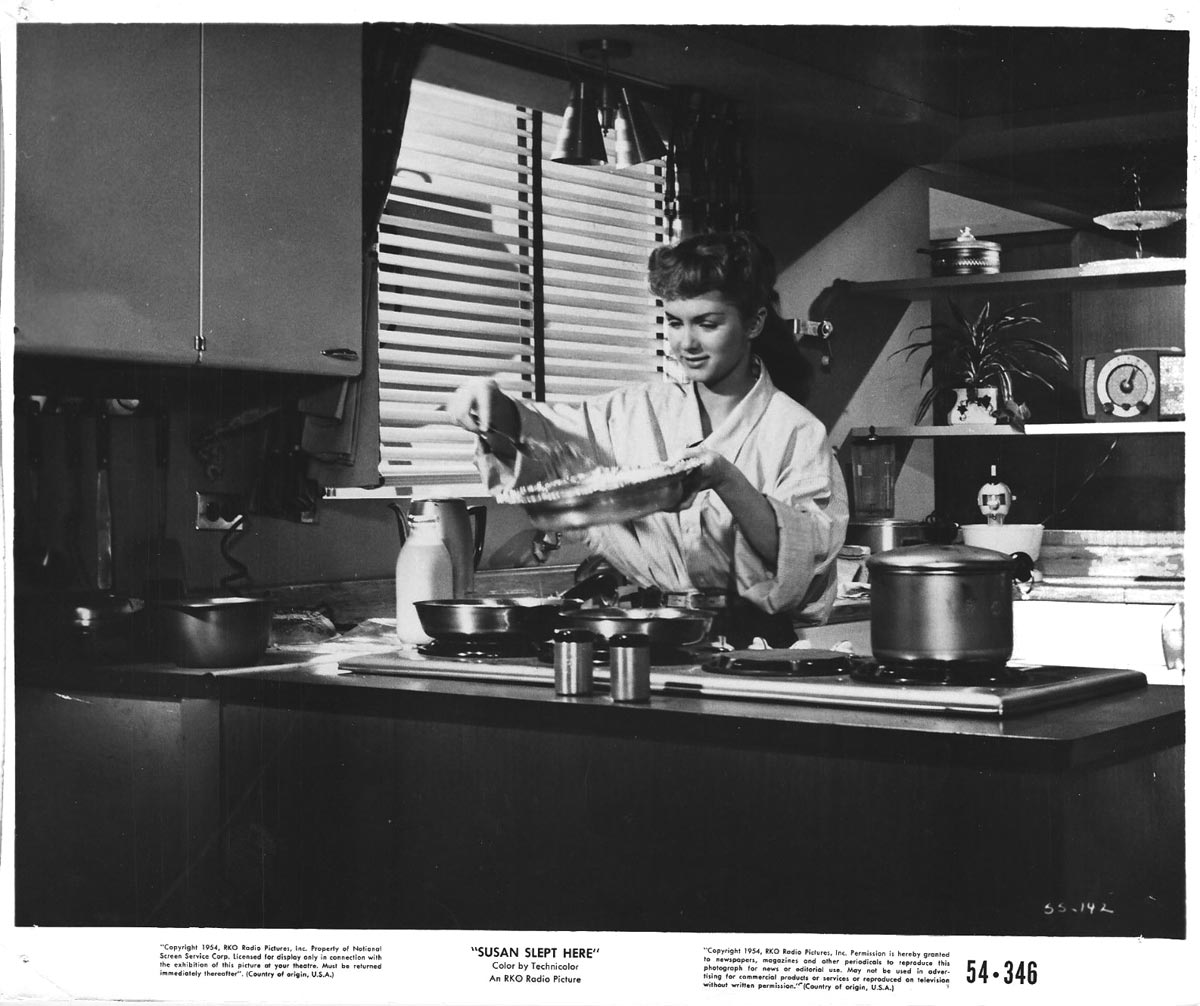 Billy Wilder's Sunset Blvd (1950) may have been the first film to be narrated by a corpse but Frank Tashlin's Susan Slept Here was the first (and only, as far as this writer is aware of) to be narrated by an Oscar Statuette. The talking Academy Award narrative is a concept that is exclusive to the film. It does not exist in the play. Although Alex Gottlieb adapted his own play to the screen, I was unable to verify authorial responsibility for the Oscar Statuette. He seems to have had his own "life."
Why question the genesis of this? While the film is singular, the Oscar narration (done by radio announcer Ken Carpenter) is even more unique. Tashlin had successfully used this style of narrative in his previous film with the unborn child. His background in comics and animation would certainly have promoted this kind of quirky, offbeat and anthropomorphized character creation. I posit that Tashlin advised heavily with the writing of the Oscar character. From beginning to conclusion, Oscar serves as a fun narrator, either reminding the viewer where the story and characters are going or giving us a comedic respite from a tense moment. Oscar is more useful in Susan Slept Here than he probably is in most people's houses.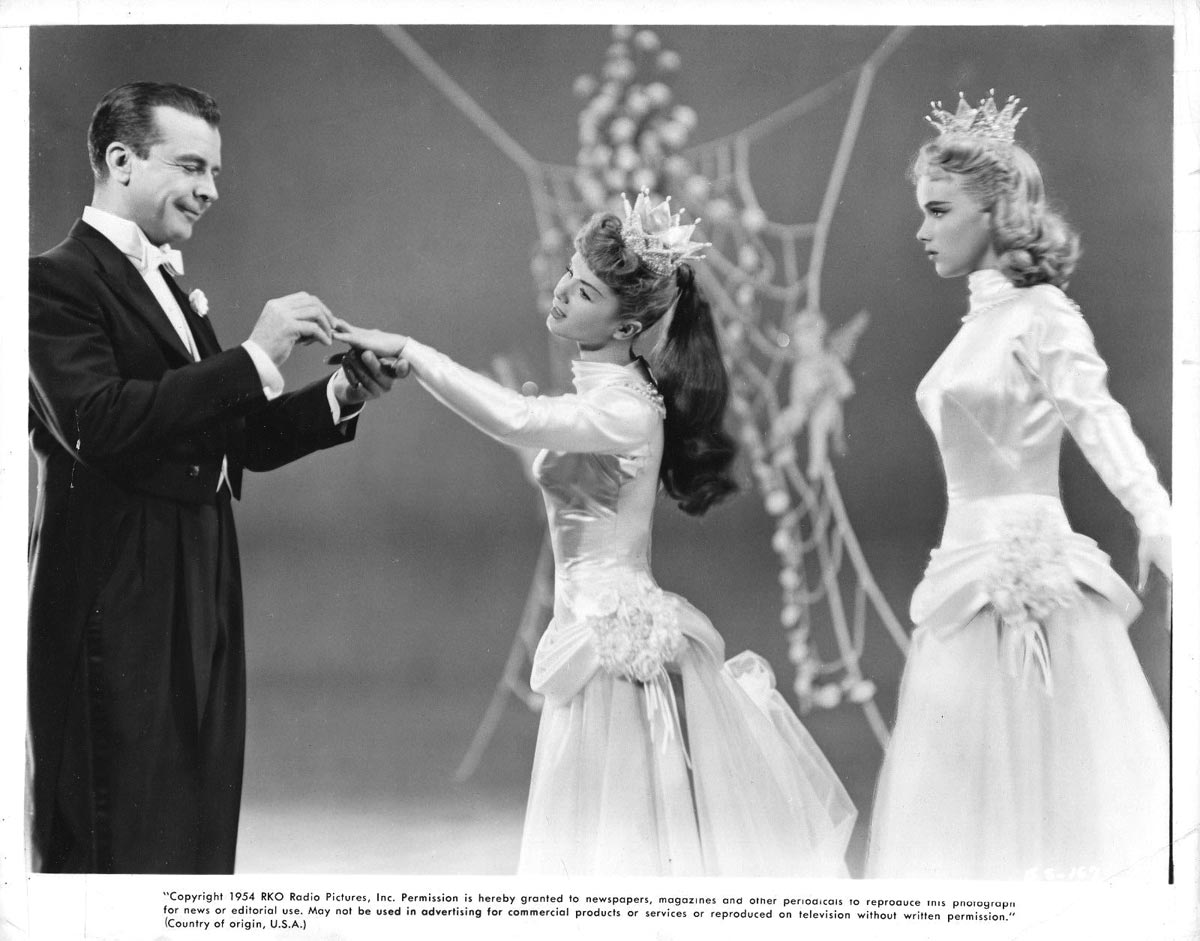 In Oscar's intro, he drops a Famous Person's Name and it's really obvious. While talking about his history in LA, "the business," and whom he was eventually awarded to (Mark Christopher/Dick Powell), he mentions Louella Parsons. In Gottlieb and Fisher's play, Hollywood gossip columnists Louella Parsons and Hedda Hopper are given equal time since they were both Bigtime Public Figures. But not anymore, baby. Hedda lost the tussle in the film version. Why? Louella's daughter, the dynamite and groundbreaking Hollywood producer, Harriet Parsons, produced Susan Slept Here.
Harriet Parsons was a hellova woman. But she worked for Howard Hughes at RKO and that was pretty much the worst. Hughes' opinion on Harriet had been made crystal clear in one of his memos. The topic was a publicity event for Clash by Night (Fritz Lang, 1952), another film she produced, and Hughes was not in favor of said event or, really, any public knowledge of Parsons as an RKO producer. Apparently women really were "box office poison" in his eyes.
"I don't think that we want to accentuate and publicize Harriet Parson's connection with any picture. I don't think it helps sell the picture. I don't think we want to publicize that any picture is made by a woman producer or director because this immediately places the film in some kind of freak classification and leads the audience to believe that it is probably not as good or as strong as a picture made by a man." (File Memorandum, RKO Publicity, May 2, 1953)
Hughes may have thought that people would run from a lady's name attached to a movie but people didn't and they hadn't. Harriet had been in the business for over 20 years and she knew what she was doing. Susan Slept Here was one of the things that helped RKO from going under. It was made for a very moderate budget, and was the studio's most financially successful picture in 1954.
Harriet was significant both on and off set. She got Mom a small part in Susan and she was most likely responsible for the name drop in the opening Oscar statuette bit. Whether or not she was the one who called for the line in Susan that subtly knocks The Outlaw (Howard Hughes, 1943) is anyone's guess. If you had been in a theater in 1954 you would most certainly have gotten that joke. To this day The Outlaw remains linked with Howard Hughes' name as one of his biggest and most sexually charged publicity ventures due to the bra he designed for Jane Russell. But it also remains linked to his ungodly misogyny.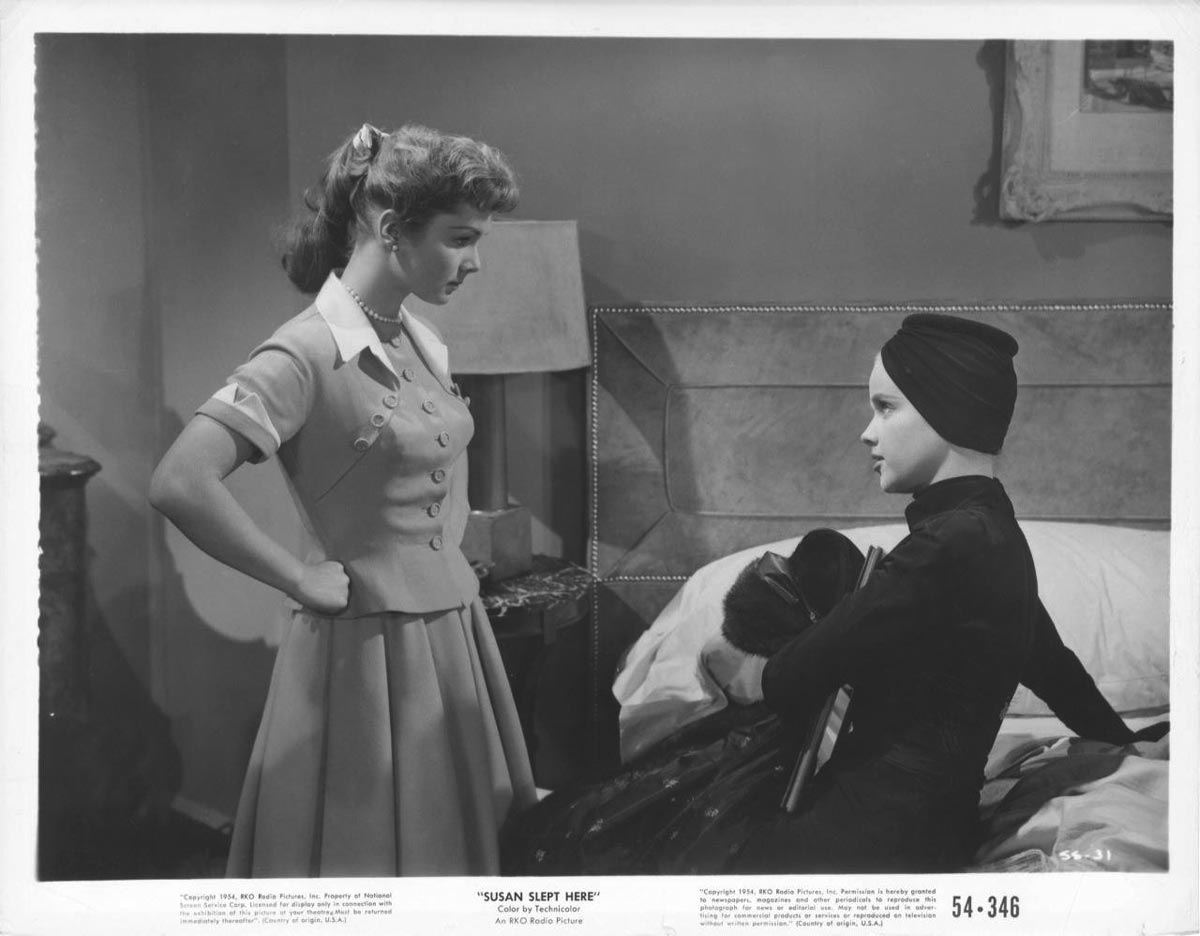 There is a lot of material in this film that could be considered questionable, especially for 1954. The Catholic Legion of Decency gave it a B, meaning that it was "morally objectionable in part for all" but it still passed. Their issues were with the film's "light treatment of marriage" and "suggestive dialogue and situations." Then the film hit Chicago. Chicago considered banning the film altogether. Instead, they decided that Susan Slept Here would just be Adults Only. When Harriet Parsons heard about this, she blew a gasket and flew directly to the Windy City.
In the August 10, 1954 issue of Variety she was quoted as saying, "This is tremendously unfair. I've never made a dirty picture in all my life and if there had been anything indecent or offensive in this one, I would have taken it out myself!" Upon being told that having the "Adults Only" tag might actually help the film and not harm it, Harriet said, "I don't care to profit by a picture's notoriety. This one can make out on its own. Besides, I'm thinking also of the neighborhood theatres where the adults-only label won't make such a good impression."
Harriet Parsons was tough as nails and smart as a whip. When she made Susan Slept Here she was the only woman member of the Screen Producer's Guild. Aside from Joan Harrison and the occasionally uncredited Virginia Van Upp, she was one of three women in the Studio System producing films, which was a rough place to be. But it was her last film. When she finished Susan she left to produce theater on Broadway. While there was probably sexism there, it had to have been easier than putting up with Howard Hughes' bullshit.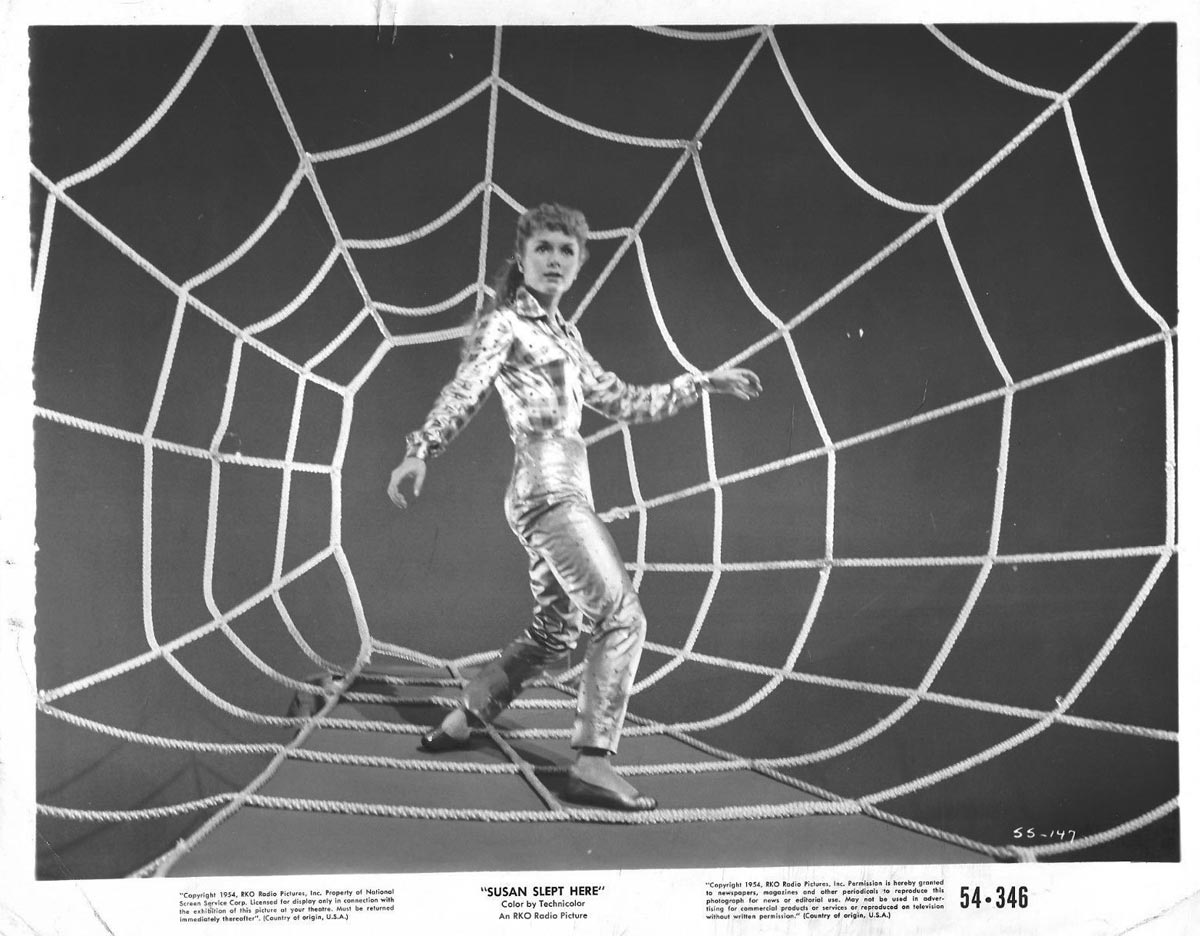 Susan Slept Here is a remarkable film for many reasons. While the film presents many challenging situations, it is the opening scene and its introduction to Susan Landis that is most telling. Her "juvenile delinquency" is the result of hitting a sailor on the head with a beer bottle because he was being untoward. The cops interpret this as criminal behavior. She is a criminal because she was trying to defend herself. Yet not every man in the room interprets it this way. Mark was in the navy. He doesn't see her as having committed a crime. He knows what those men are like. She's not a criminal. Mark Christopher is still on a learning curve but he listens to what Susan says even if those things upset him because he knows that he is not "one of those guys."
The entire rest of that scene, everything Susan says in Mark's apartment about what men say or think or what they might do…should make you more uncomfortable than anything else in the entire film. Because it means that all of those things,everything she mentions may have happened to that 17-year-old girl. She knows all your tricks, men. She knows what you mean when you want to "put her in a movie." She's streetwise. So engage in this film. Look at it critically. Watch Susan and how she deconstructs the men in the film versus how the men try to understand her (or any of the women for that matter).  Susan Slept Here is not a film to be ignored.
It's unique, relevant and particularly timely. Here's to Susan Landis and her brutal honesty!