In 1966, two French directors released films in America that became bonafide cult favorites and expanded the palates of U.S. cineastes. Claude Lelouch shook up how to document romance with A Man and a Woman, and Philippe de Broca's King of Hearts directly appealed to a counterculture distrustful of entrenched convention. These directors continued to create an abundance of films that found devoted stateside audiences, but in recent years have become harder to obtain on home video and other viewing platforms. On November 29th & 30th, we're eager to reintroduce you to (or reunite you with) these influential artists, by presenting unusual portraits of people with loose morals and irresistible attractions from each filmmaker.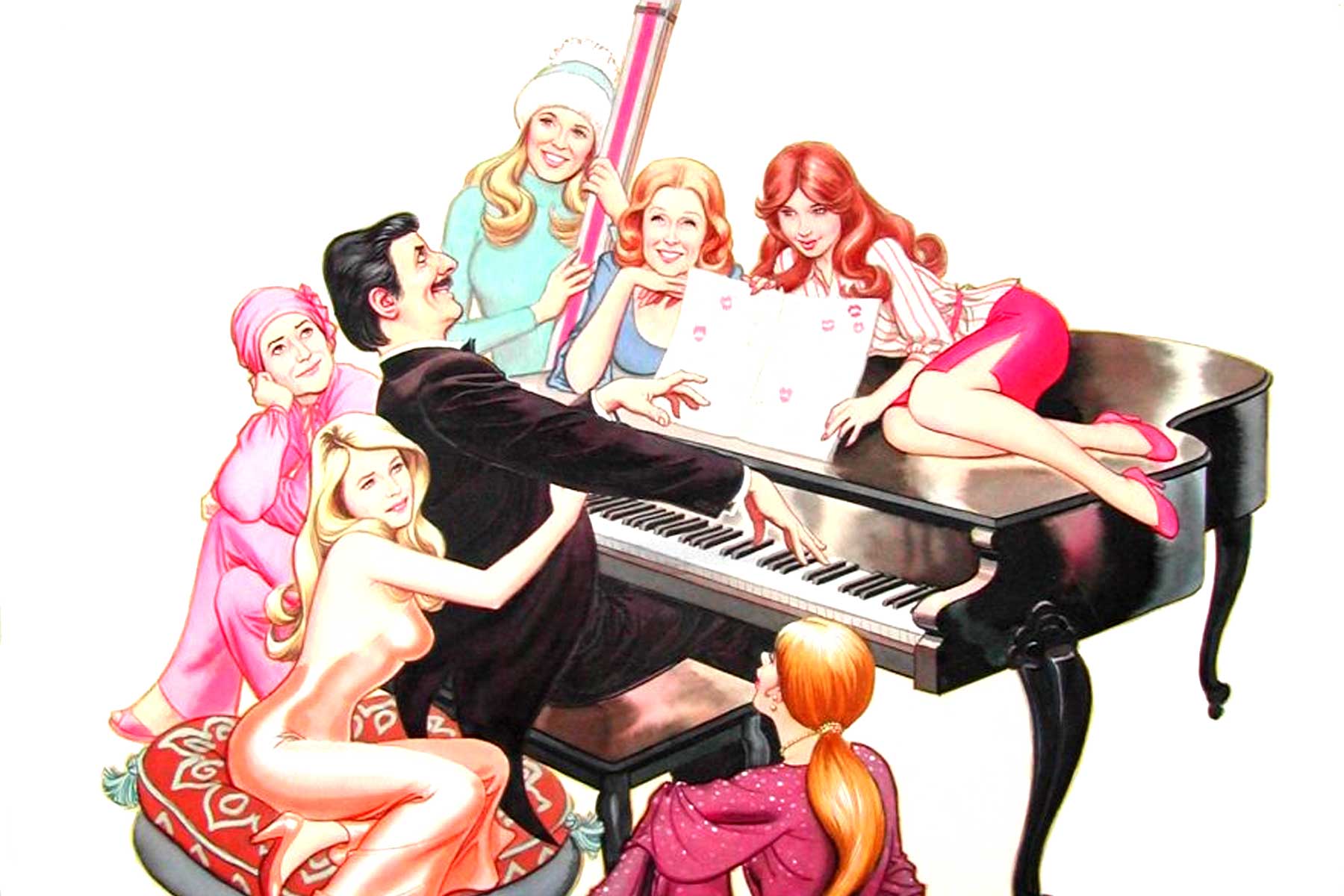 de Broca's Practice Makes Perfect (Le Cavaleur) depicts the absurd whirlwind that concert pianist Edouard Choiseul (Jean Rochefort) creates for himself, overbooking and neglecting both musical commitments and especially amorous pursuits. Already juggling a wife (Nicole Garcia) and a mistress (Chaterine Alric), and maintaining a presence with his ex-wife (Annie Girardot), a reconnection with a past flame (Danielle Darrieux) sends his easily distracted spirit in a path he soon realizes is no longer viable. After years of blithely feeding his voracious appetite for stimulation, Edouard will have to take a time-out to assess the things and people that mean the most to him.
Practice was conceived by de Broca with writer Michel Audiard, father of A Prophet and Dheepan writer/director Jacques Audiard. The elder Audiard previously co-wrote Henri Verneuil's Any Number Can Win with Jean Gabin, which the Bev screened in June 2016, and would script three other de Broca films. Their most popular collaboration was the lighthearted mystery Dear Inspector with Annie Giradot and Philippe Noiret, which spawned a sequel, Jupiter's Thigh, and an American TV series remake, Dear Detective with Brenda Vaccaro.
Two of the tremendous stars of Practice regrettably passed away in October. Star Jean Rochefort was a distinguished presence in French and English-language films like The Tall Blond Man with One Black Shoe, The Hairdresser's Husband, Ready to Wear, and Mr. Bean's Holiday. He may also be especially famous for a movie he didn't complete – as the original star of Terry Gilliam's cursed The Man Who Killed Don Quixote. He had filmed three days in the role of the legendary delusional knight until a herniated disc caused him to leave and the project to shut down. Co-star Danielle Darrieux, who died 8 days after Rochefort at the age of 100, starred in works as diverse as Max Ophuls' adaptation of La Ronde and The Earrings of Madame de…, Jacques Demy's The Young Girls of Rochefort, and Francis Ozon's 8 Women; one of her last credits was providing the voice of Grandma in the French-language dub of Marjane Satrapi's animated adaptation of her graphic novel Persepolis.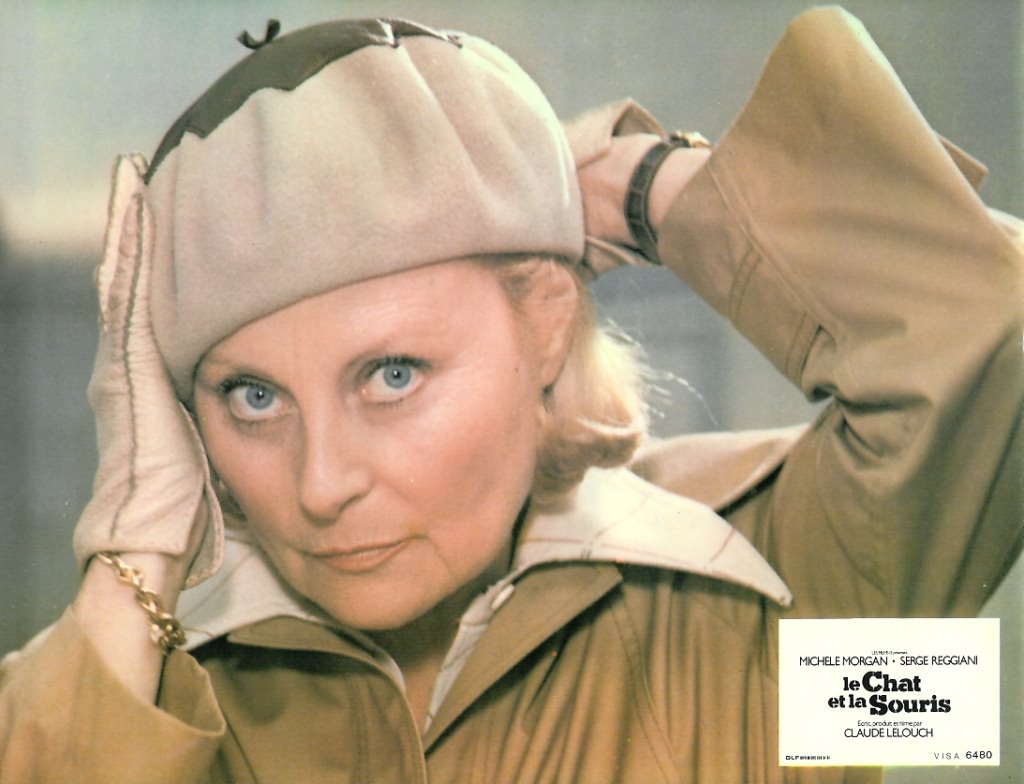 Romance becomes a more dangerous and fragmented affair in Lelouch's 1975 mystery Cat and Mouse. Millionaire Monsieur Richard (Jean-Pierre Aumont) has died mysteriously – did his two-timed wife (Michèle Morgan) murder him? Slippery detective Lechat (Serge Reggiani), his partner Pierre (Philippe Léotard), and their trusty "Belgian shepherd" dog are certainly ready to believe so, but Lechat can't resist his attraction to her. In a story that unfolds in a non-linear manner, we'll learn the answer to this question, but also about these characters' other peculiar activities, as their ethical lines keep getting blurrier.
Ersatz femme fatale Michèle Morgan briefly emigrated from France to work in America, and was almost cast in Casablanca, Suspicion, and Johnny Belinda, but returned to Europe for the remainder of her career. A notable English-language performance of hers was as the mistress in Carol Reed's The Fallen Idol. In a haunting footnote, Morgan's Hollywood home, which she claimed was haunted, later was where Sharon Tate lived and was murdered at during her short-lived career. Serge Reggiani, a French Resistance fighter, poet, singer, and painter, starred in Jacques Becker's Casque d'Or, Visconti's The Leopard, and Jean-Pierre Melville's Le Doulos and Army of Shadows.
Co-star Jean-Pierre Aumont made films in multiple languages for decades, including Lili with Leslie Caron and Mahogany with Diana Ross, and even guest-starred on American TV favorites like "The Love Boat"! He was also married to "Queen of Technicolor" Maria Montez; they had one daughter, Torso star Tina Aumont. Decades before the making of Cat, Aumont, Morgan, and Reggiani all appeared in Sacha Guitry's 1955 biopic Napoleon, which also starred the aforementioned Danielle Darrieux and featured cameos by Orson Welles and Erich von Stroheim.
Close out the month of November with a post-Thanksgiving French feast at the New Beverly, and reacquaint yourself with the lush, lusty filmmaking of Philippe de Broca and Claude Lelouch.