Stories about well-off characters searching for that indeterminate something they can't obtain from their privilege have been a film staple dating back to Sullivan's Travels and The Razor's Edge, but they definitely became a prolific subject in the wake of The Graduate's release in 1968. And on Wednesday & Thursday, November 15th & 16th, the New Beverly presents two very-rarely-screened and not-on-DVD ruminations on this theme, featuring handsome leads, great supporting players, and unique locales.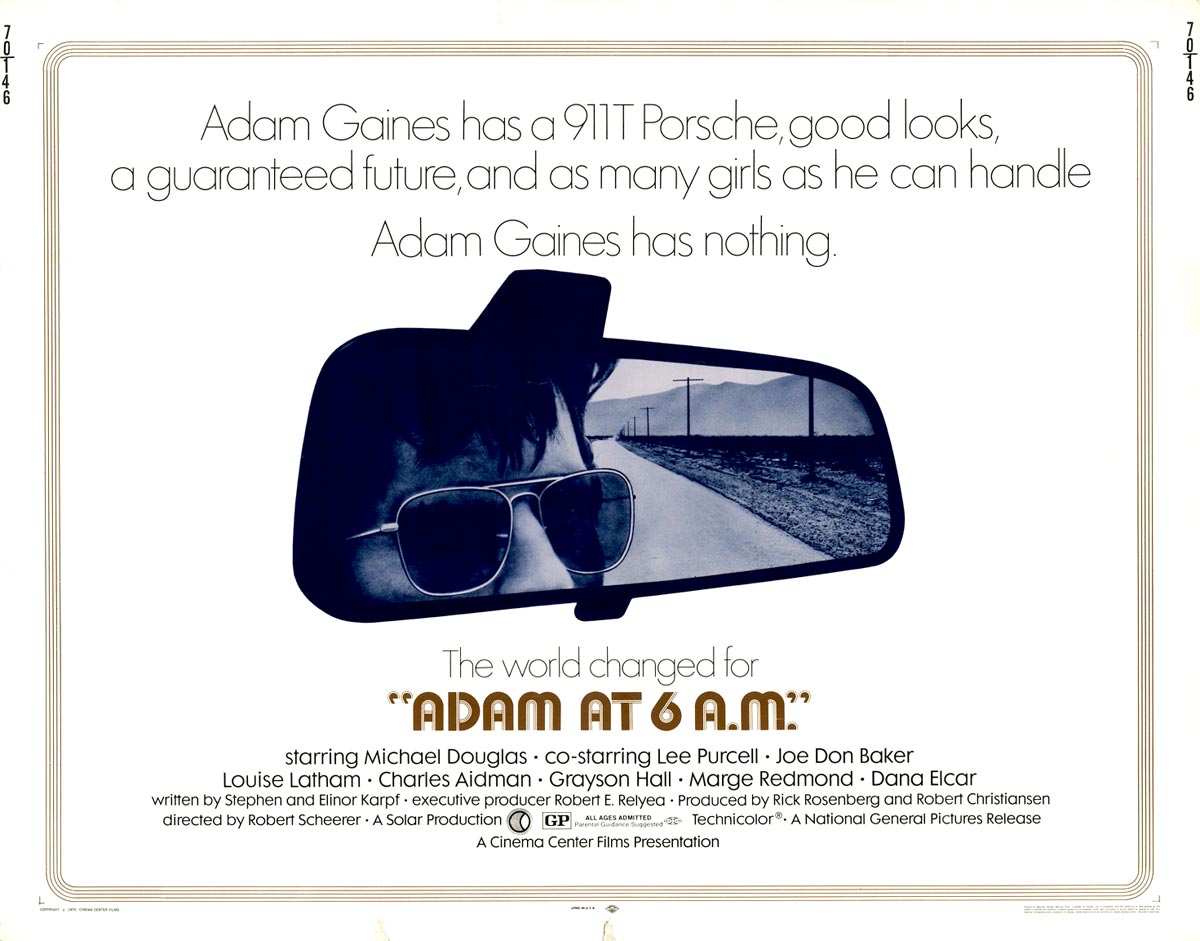 Adam at 6 A.M. from 1970 presents semantics professor Adam Gaines (Michael Douglas), turning 30 and on the verge of lucrative opportunities in his West Coast situation, but not certain as to whether this is what he wants. The death of a distant relative in Missouri spurs him to drive there for the funeral, and after meeting a gregarious local (Joe Don Baker) and a fetching student (Lee Purcell), he stays for the summer, working manual labor and reveling in simplicity. But will this kind of life provide the answers he's seeking, or will it become another climate of complacency with different elements involved?
Adam was the first-produced feature screenplay for then husband-and-wife writing team Elinor and Steven Karpf. Elinor, the daughter of a schoolteacher, was born and raised in Excelsior Springs, Missouri, the town where the events take place, and where most of the film was shot. She met Steven during what she called "a summer something-or-other" at Harvard, and after marrying and having a son, moved to Hollywood when Jack Warner, impressed with his writings on WB's gangster movies, offered him a job. Their early script submissions drew attention from Mike Nichols, who loaned them money during lean times. After the production of Adam, they became prolific TV writers, penning several movies-of-the-week, including Gargoyles and Devil Dog: Hound of Hell, along with episodes of "Kung Fu" and "Dynasty." They would also create the mid-'80s daytime soap opera "Capitol" starring Constance Towers and Carolyn Jones. The team divorced in the '90s, with Elinor marrying college professor Robert Hager Jr. She passed away November 4th, 2013, at age 73.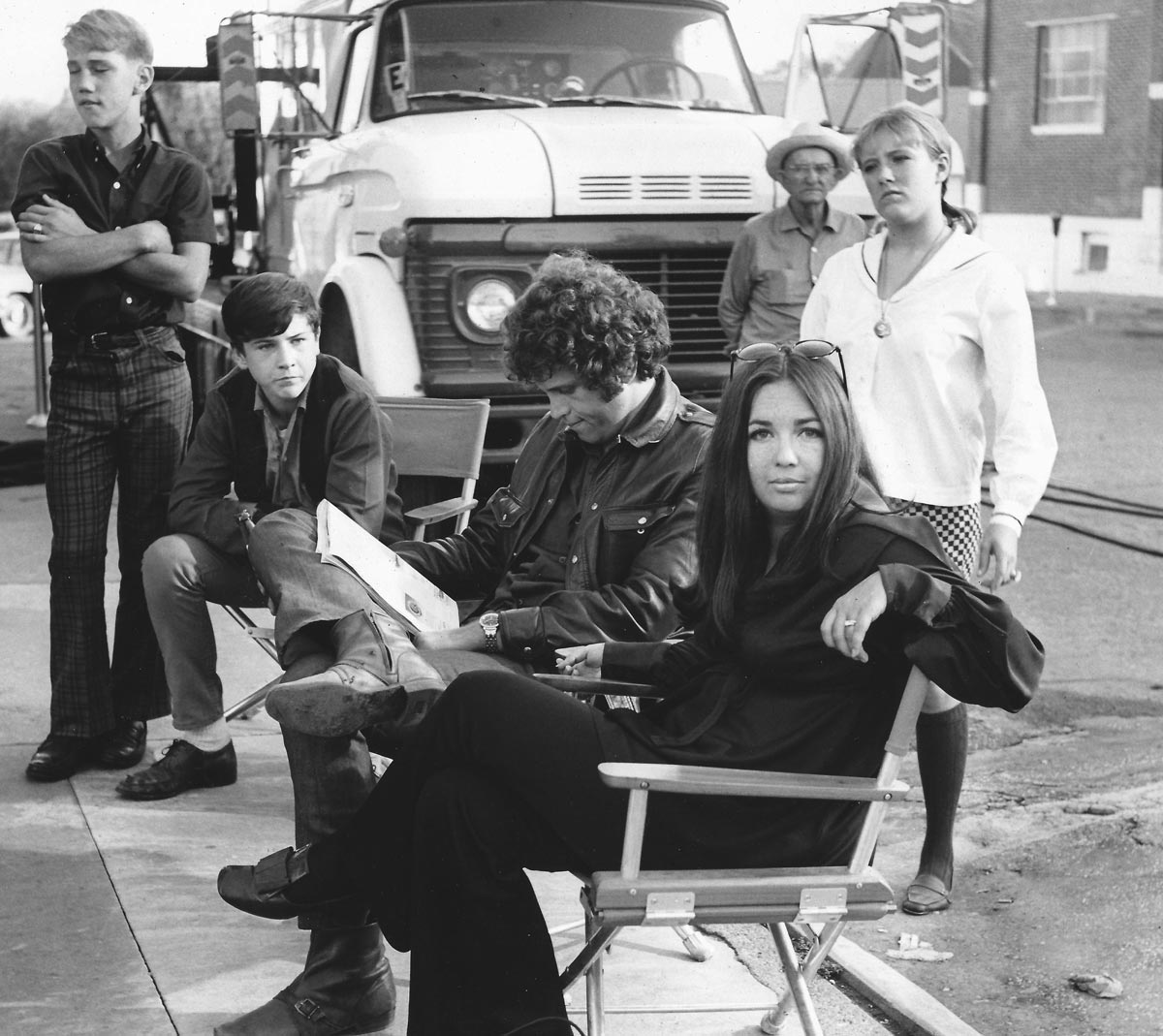 Elinor & Stephen Karpf on the set of Adam at 6 A.M.; photo courtesy of Jason Karpf
Steve McQueen's production company Solar Productions acquired the Karpf's screenplay, setting it up as their first project which would not feature the actor in the cast. However, he took an extremely active role in hiring personnel for the film. Before choosing Michael Douglas, who had previously made his film debut in Hail Hero, McQueen's friend Elmer Valentine had lobbied for The Doors' frontman Jim Morrison to get the lead, coaxing the singer to cut his hair and shave his beard, but Douglas eventually won out. Douglas later mused, "I got paid $3,800 and in the movie I drove an orange Porsche…When I finished the picture Steve McQueen gave me the car, which was worth more than my paycheck for the movie." McQueen was especially involved in choosing Lee Purcell for Douglas' love interest. In a press conference before filming began, he proclaimed, "My partners and I interviewed close to 500 girls…It wasn't easy. We kept narrowing down the field over a period of a few weeks until it came time to give screen tests to six of them. All of them were good, but Lee seemed to jump out of the screen. There's no way to explain it, but Lee has soul, and it comes through loud and clear." Purcell told historian Jeremy Roberts she had impressed McQueen when, on a callback, she had drastically altered her California-glam hairdo to a more midwestern schoolgirl style to suit the look of the character. Co-star Joe Don Baker, whose performance had so impressed legendary casting director Marion Dougherty she described him as "a cross between Ralph Meeker and Marlon Brando," would go on to play McQueen's brother two years later in Sam Peckinpah's Junior Bonner. To direct, former teen tap dancer and choreographer Robert Scheerer was chosen to make his feature debut; he had previously directed the Barbra Streisand special A Happening in Central Park.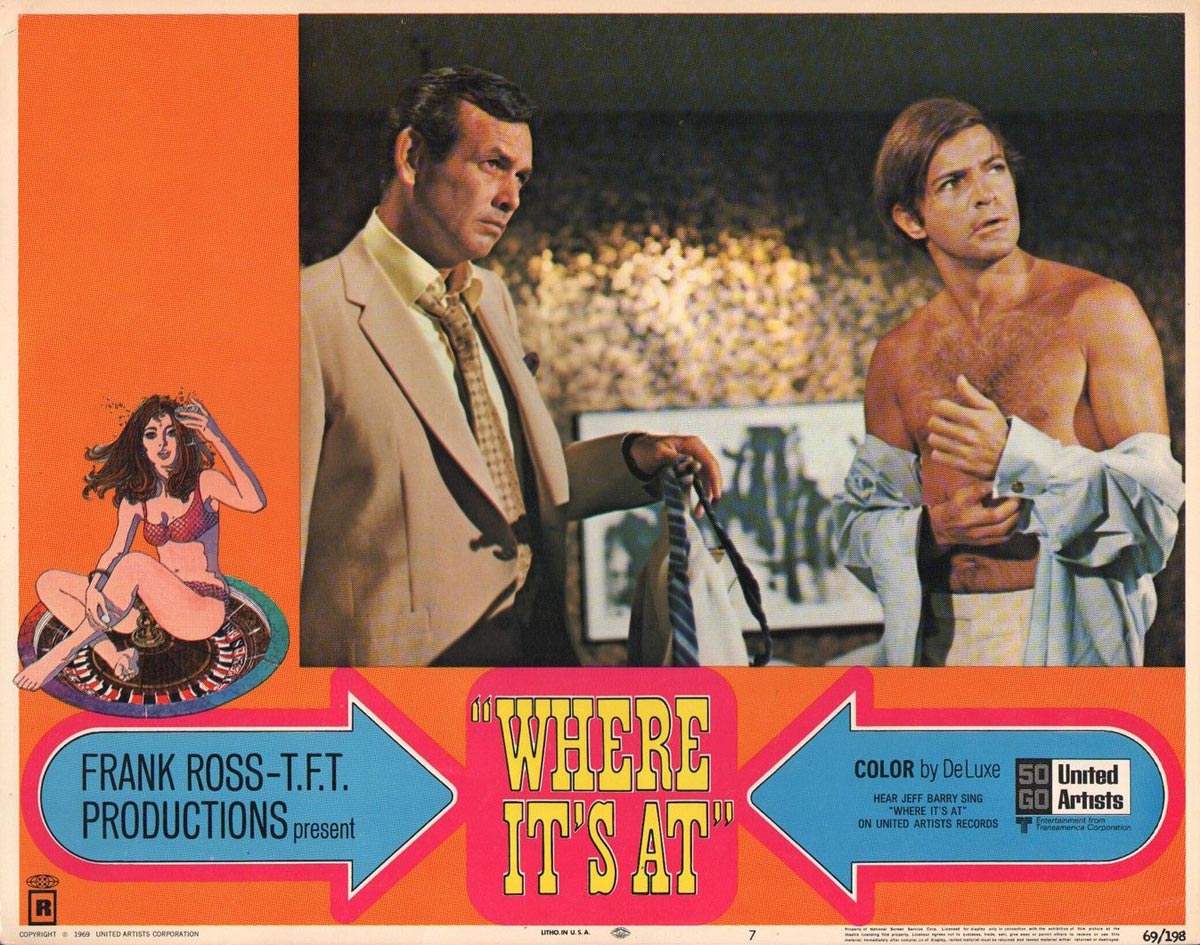 Las Vegas may be the setting for 1969's Where It's At, but for its protagonist Andy Smith (Robert Drivas), he may not know what "it" is, and he's definitely sure Vegas is not the "at" point. Recently graduated from Princeton, Andy makes an obligatory visit to his father, Caesars Palace operator A.C. (David Janssen), and the patriarch with each eye always on the business and the ladies is dismayed at Andy's apparent disinterest in both. After losing a bet to his dad, Andy reluctantly agrees to stick around and learn about how to work the players and the women, particularly A.C.'s new girlfriend Diana (Rosemary Forsyth) and his attentive secretary Molly (Brenda Vaccaro). The gamesmanship between father and son will soon escalate into heavier stakes.
Playwright Garson Kanin was responsible for writing two of the greatest comedies of stage and screen, Adam's Rib and Born Yesterday, as well as directing the initial Broadway production of Funny Girl. He was also the lifelong husband of actress Ruth Gordon, who co-wrote Adam's Rib with him. Where It's At was his first original produced screenplay since The Rat Race in 1960, and following a string of documentaries and TV projects, it was his first feature film as a director since Tom, Dick, and Harry in 1941. He would have another writing/directing outing, the Dick Van Dyke comedy Some Kind of a Nut, released in 1969 a few months after At. The film's primary setting, the real-life Caesars Palace resort, had opened in 1966 – this production was the first film to use the luxury hotel as a shooting location.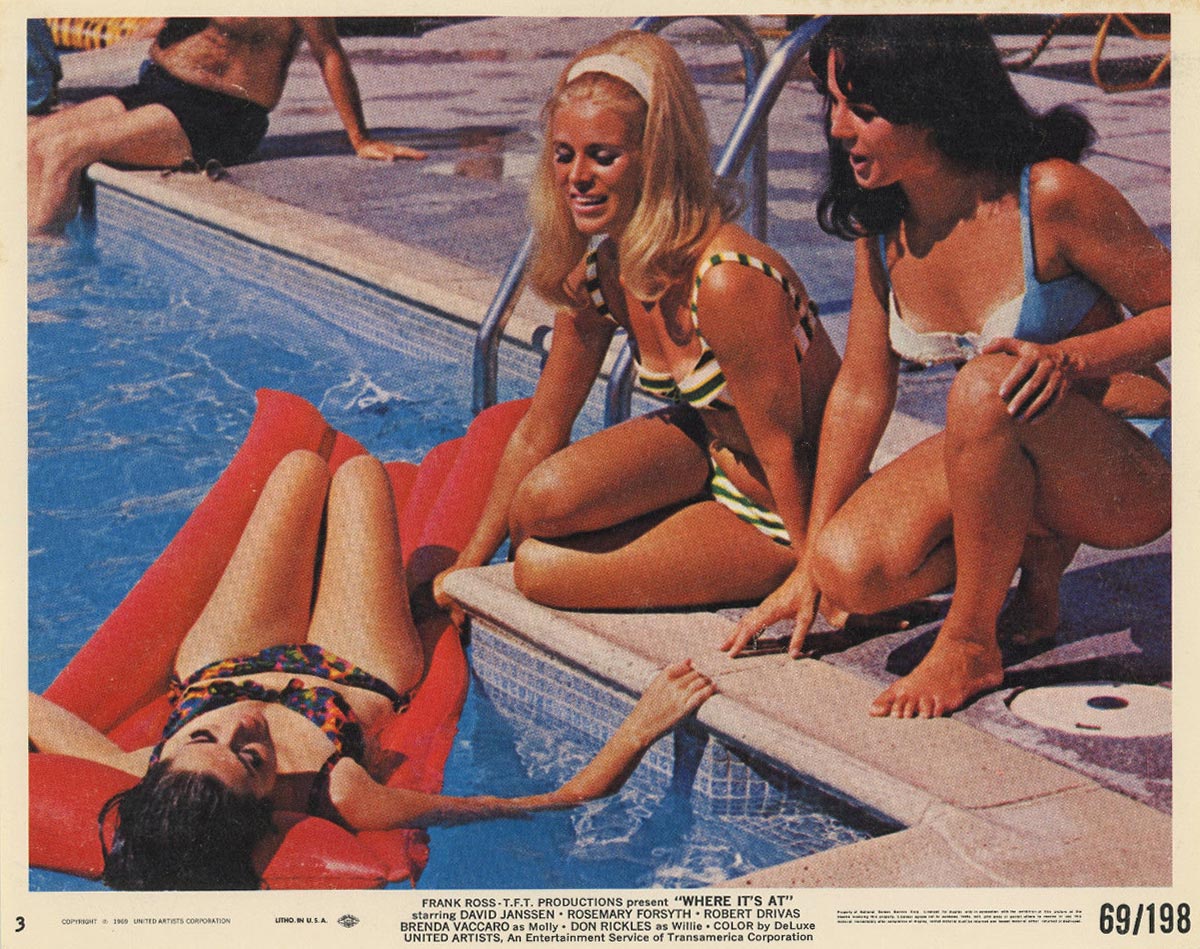 The movie provided a rare starring role for longtime stage actor Robert Drivas, who had distinguished himself in productions of Tea and Sympathy and Sweet Bird of Youth, and after a string of guest roles on television, began to get parts in Cool Hand Luke and The Illustrated Man. Drivas would concentrate on theatre work, directing plays like Terrence McNally's The Ritz, until his death from AIDS at age 50 in 1986. Action TV mainstay David Janssen ("The Fugitive," "Harry O") and Canadian actress Rosemary Forsyth received top billing, and despite both being married, their onscreen coupling led to a real-life romance that lasted until 1971. Forsyth would reappear in Kanin's followup Nut, and star with his wife Gordon in the Robert Aldrich-produced thriller Whatever Happened to Aunt Alice. Brenda Vaccaro made her screen debut here after several Broadway shows, and would go on to co-star with Adam star Michael Douglas in the 1972 drama Summertree and two episodes of "The Streets of San Francisco." Comedian Don Rickles, playing a put-upon dealer here, would of course return to Vegas to portray right-hand man to Robert DeNiro in Martin Scorsese's Casino. Buxom Edy Williams, playing an ersatz temptress, starred in Russ Meyer's Beyond the Valley of the Dolls and was married to the bust-focused director for many years. Providing scattered comedic audio bits throughout the film is the San Francisco-based Second City offshoot The Committee; while the actual participants from the group aren't identified, voices you may hear are "WKRP in Cincinnati"'s Howard Hesseman, "The Bob Newhart Show"'s Peter Bonerz, and Jaws screenwriter Carl Gottlieb.
These may be stories of people who don't know where they need to be, but the Bev is definitely where you should be to take advantage of this very rare opportunity to watch them on a big screen. You can always look to us for a sense of cinematic direction!