The only thing more delightful than Charles Addams' animated credit sequence in The Old Dark House (William Castle, 1963) is the next 84 minutes. Unfairly maligned by the director himself (Castle doesn't even mention the film in his deliciously readable autobiography "Step Right Up!: I'm Going to Scare the Pants Off America"), this film has an undeservedly poor reputation. It is a true gem. Energetic and engaging, the film is delightful to watch. In their review, the Silver Screenings blog summed up this horror comedy perfectly stating, "[t]he only trouble with this film, in our opinion, is that you're supposed to figure out which character is a murderer but you end up having too much fun to even try."  Castle invests the same joy and dark glee in 1963's Old Dark House as James Whale did in 1932, but clearly each director had a different goal. Castle goes for a more slapstick approach while Whale's is savage and biting (although certainly humorous).

1963's The Old Dark House was the first (and last) collaboration William Castle had with Hammer studios. Castle had a history with Old Dark House-style films going back to House on Haunted Hill (1959) and 13 Ghosts (1960). One might even argue that the movie theater itself served as William Castle's own Old Dark House, allowing him to haunt every square inch of it with each new gimmick or invention he came up with, from Emergo! to Punishment Polls.
If you're wondering about the gimmick for The Old Dark House; it didn't have one (likely to Castle's dismay).  The films he made before and after Dark House were marketed to the hilt, as per Castle custom, so it stands to reason that there were other forces that disallowed him his usual "zest for promotion." His film in 1962, Zotz!, distributed Zotz coins to patrons while Castle's follow up to Dark House, 13 Frightened Girls aka The Candy Web (1963) held a contest for "teenage diplomats": international contest winners, each one starring in their own country's version of the film, speaking her lines in her own language. William Castle was the Prince of Publicity.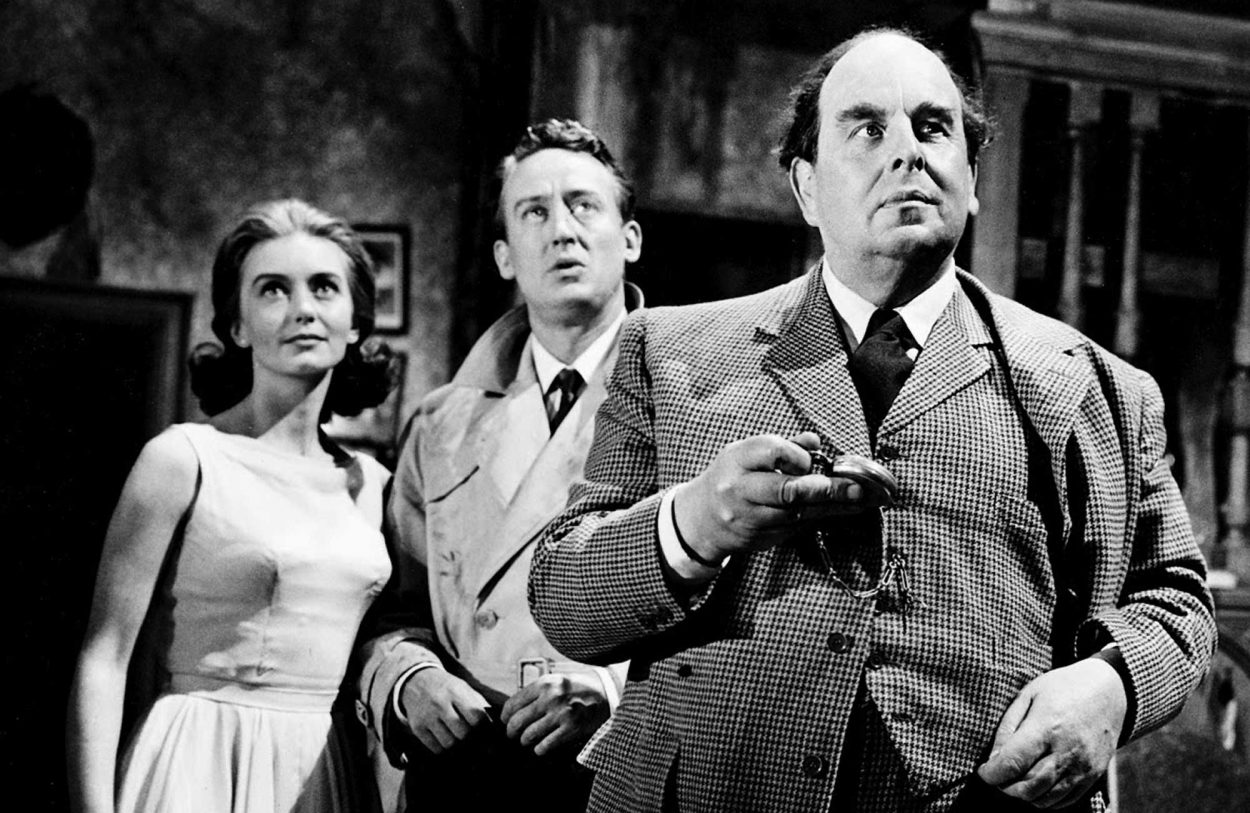 Dark House's straightforward campaign was more than likely due to the presence of co-producer Anthony Hinds, son of William Hinds, founder of Hammer Films. Anthony took his work quite seriously. Having made a name for himself ten years earlier by purchasing the screen rights to Nigel Kneale's Sci-Fi serial Quatermass & the Pit from the BBC, he had turned that into a hot Hammer property. As popular as William Castle was, having hit after hit in the states, he was not allowed to stand alone with this project. Since this was a combined effort between Castle (and Columbia Pictures) and Hammer, his High Functioning promotional machine was likely suspended for the duration of the picture.
The suspension of the Castle Gimmick engine may be a reason why Castle neglects to discuss the film in his personal materials. It is startling that a man who loved himself and his work as much as he did never mentions this film. He certainly felt involved enough to credit himself twice in the opening sequence and give Anthony Hinds no credit whatsoever. Whether that was part of their contract or not, is something that I was not able to verify.
Here we meet the classic old argument of remakes, which one is better/worse, compare/contrast, competition and listing: one more binary discussion that defeats the enjoyment of cinema. Folks. Friends. Film lovers. Let us have a moment here. Of course William Castle's version doesn't hold up to James Whale's! Why would it? No. Seriously. Think about it. These are two totally different directors, from different countries, different sexualities, different pasts, different film training. The films themselves, while based on the same source material (the J.B. Priestley novel) are at odds too! The casts are different, the external time periods and social landscapes diverge- how can these films be held up against one another? I'm always disappointed by those who would hold up a director like William Castle to one such as James Whale and say: OMGZ, not the same, therefore his work sucks! I think if we were to examine the oeuvres of Whale and Castle, we actually might find more similarities than differences. Also, can I vote for John Waters to host that investigation?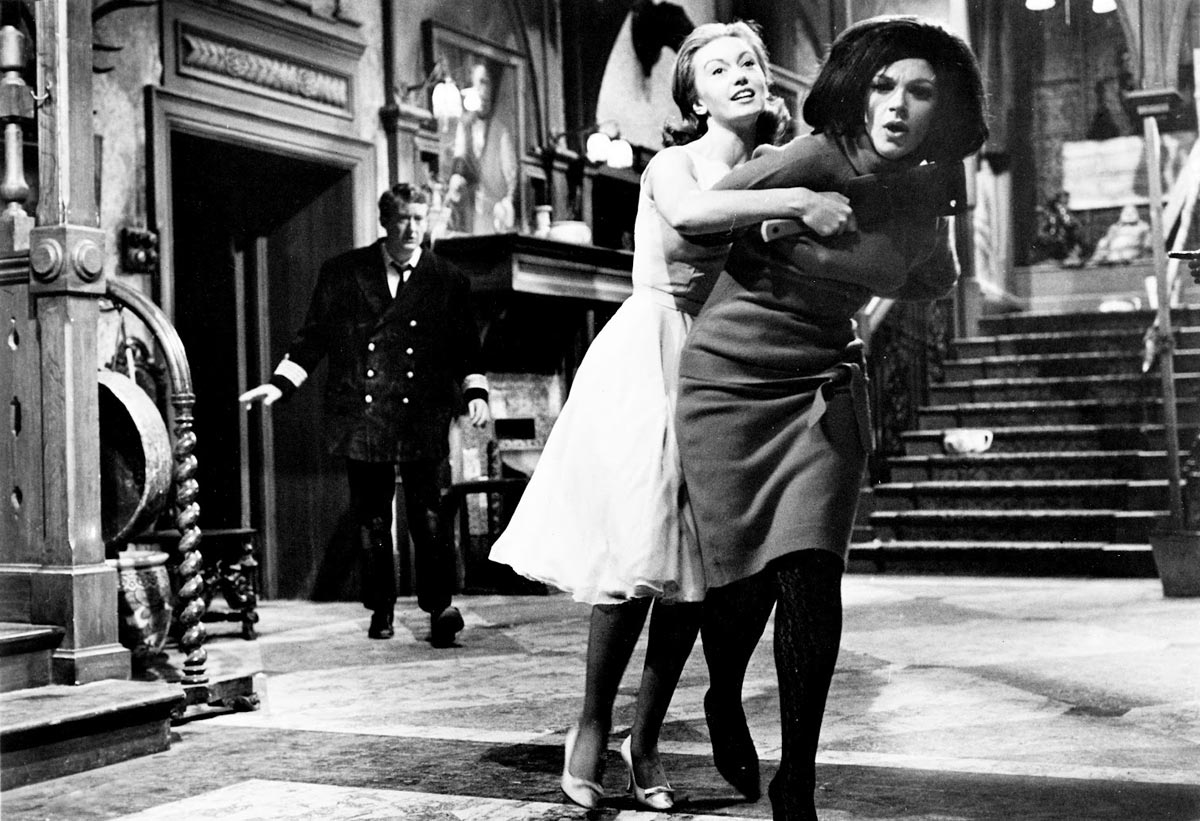 This film originally came about due to the fact that both Hammer and Castle were in pre-production on their own separate versions of The Old Dark House, and thought it would be silly to release them at the same time. Why not produce one together? So Hammer convinced William Castle to venture out to England and work on their film as a co-production, and Castle agreed.
The film itself had some censorship problems in the UK. The BBFC (British Board of Film Certification) did not release it in England until 1966 and it was significantly cut down. While the US got the film at 86 minutes in 1963, the UK had to remove all close-ups of corpses in order to achieve an "A" rating, leaving the film at a total running time of 77 minutes. Additionally, while the film was shot in Eastman Color, due to financial restraints, the original US distribution of the film was all black and white prints. It was much cheaper to print black and white 35mm prints from a color negative than to release the film in color.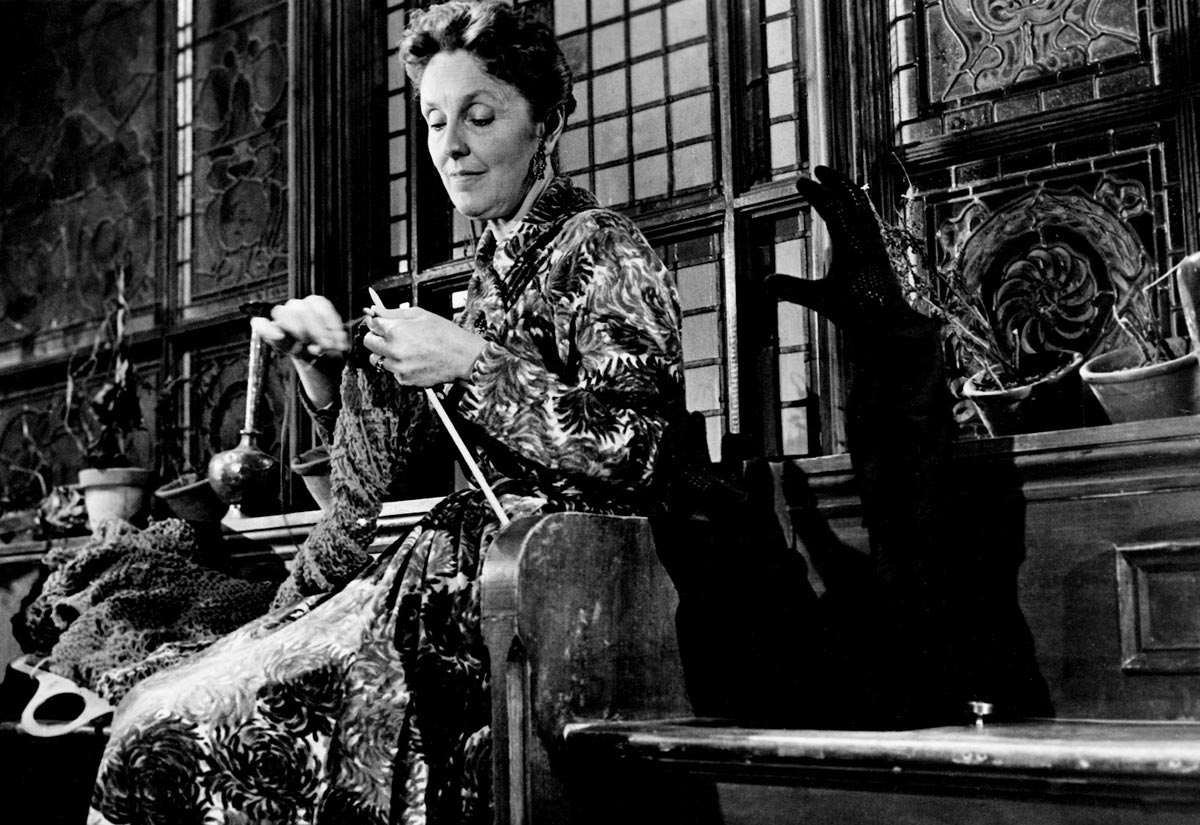 This has created a very interesting dilemma for those who originally saw the film upon release here in the US: some prefer the black and white version, stating that it's truer to Charles Addams-drawings (in the opening credits sequence) or that the color simply "doesn't work" for the film itself. Many fans reject Castle's Old Dark House simply based upon their original theatrical experience and the fact that revisiting it in color has "ruined" it for them. The film, shown in recent years on TCM, Fearnet and other sources, has allowed old fans to question their Old Dark House fandom. Color or b/w? Is one version better than the other? There is no right answer here, of course. This was an economic choice that Castle made. But it forever altered the audience's interpretation of the film.
Here are two trailers. One is the traditional "William Castle Special" trailer- it's in black and white, how The Old Dark House was released in the US. The other is Color, and while similar in certain aspects it lacks Castle. It is likely the one released by Hammer. What do you think?
The "Old Dark House" trope is a tradition in horror film and literature, generally just working as a palate upon which the rest of the story is laid. Works as versatile as Twin Peaks, Wuthering Heights and the Abbott and Costello horror comedies utilize it as a jumping off point or as a main character within the narrative (really, what is the Black Lodge after all?). So it is with William Castle's film The Old Dark House. The glory of this motion picture is that the plot is there as an appetizer to attract you to the main course: an escape from reality into a macabre universe where appearances and actions are as hilarious as they are lurid and dark. This is a landscape where sex and death may be interchangeable, madness and sanity are questionable, and physical comedy and wordplay are the norm not the exception.
American Tom Penderal (Tom Poston) arrives at the Femm estate one rainy day to deliver a luxury car to Caspar Femm (Peter Bull), the man whose flat he has been sharing in London. In very short succession, he discovers a trap door, his dead flatmate, a very strange Femm family legacy and a beautiful "Femm fatale" in the personage of Cecily (Janette Scott). Cecily tries to get him to leave quickly but he cannot do so because of inclement weather and members of the Femm family like Roderick (Robert Morley) and Morgana (Fenella Fielding) who insist he stay. Like any good Old Dark House film, this is when Everything Goes to Hell, Bodies Start to Fall and Chaos Breaks Loose. Because it's Castle and Hammer, the death scenes are not only exaggerated and outrageous they are gruesome, and peppered with witty phrases.
If you like Clue (Jonathan Lynn, 1985), you'll love this. There is a distinct possibility that 1963 audiences were entirely unprepared for the kind of dark comedy that this film stabs into the audience and shoots out into the crowd. Today's movie fans are certainly ready. Having had a steady diet of work like Army of Darkness (Sam Raimi, 1993) and Shaun of the Dead (Edgar Wright, 2004) for the last 50 years, the language of horror-comedies is spoken more fluently now than it was in 1963. The kind of horror comedy enjoyed in this film was just revving up at that time with films like Bucket of Blood (Roger Corman, 1959) and Hershell Gordon Lewis' work. Reading people's reactions to the 1963 Old Dark House it seems that they wanted it to be either a serious horror film or a respectful revisitation of James Whale's work. This romp is a mastery of a new genre that was just coming to fruition and it's a shame that William Castle didn't see fit to be more proud of the work. The cast is top-notch, the performances are laugh-out-loud funny, and it is going to be smashing on the big screen at the New Beverly!