McQ (John Sturges, 1974) and Brannigan (Douglas Hickox, 1975) work perfectly as a double feature. The characters of Lon McQ and Lt James Brannigan (both played by John Wayne) are men with different pasts but their identities and professional worlds are practically identical. McQ and Brannigan have notable tonal shifts as well as locational transitions. McQ is a heavy-duty neo-noir about corruption and loss, centered in Seattle. There are multiple dead bodies before the credit sequence even finishes. This movie is rough. Brannigan, while also an action/detective picture, is littered with humor (British and otherwise) and takes place in Old Blighty.
Much has been written about the fact that John Wayne pursued crime film roles because he missed out on his chance to play Dirty Harry (Don Siegel, 1971). He did in fact turn the part of Harry Callahan down and he regretted it forever. On the other hand, who's to say if he would have been a good Dirty Harry? Clint was ideal for the role and his performance altered the way masculinity and violence was depicted from that point forward. Eastwood's recent work in the Italian Westerns had introduced something (and someone, character-wise) new to the American cinema. Instead of John Wayne's sympathetic Hero and Cowboy, Eastwood gave the American audience a nameless, roaming stranger whose only loyalty was to Justice As a Concept. Times were changing.
Wayne hated change. His friend, fellow actor Ben Johnson, said about the Duke, "He felt out of place in modern society. He'd not changed his ideas on life, and he didn't like the way films were growing up….I said, 'Duke, you won't stop living in the past. Life isn't a John Ford picture' He said, 'You're right but I can't help feeling lost.'" That loss that Wayne felt was conveyed well in McQ. During the shooting of the film, John Wayne's personal life was messy. It probably didn't help that bits of the script for McQ resembled his deteriorating home life, but he seemed to manage it ok. Julie Adams (who played Lon McQ's divorced wife Elaine) reported that all her exchanges with Wayne were memorably pleasant and allowed for good scene preparation.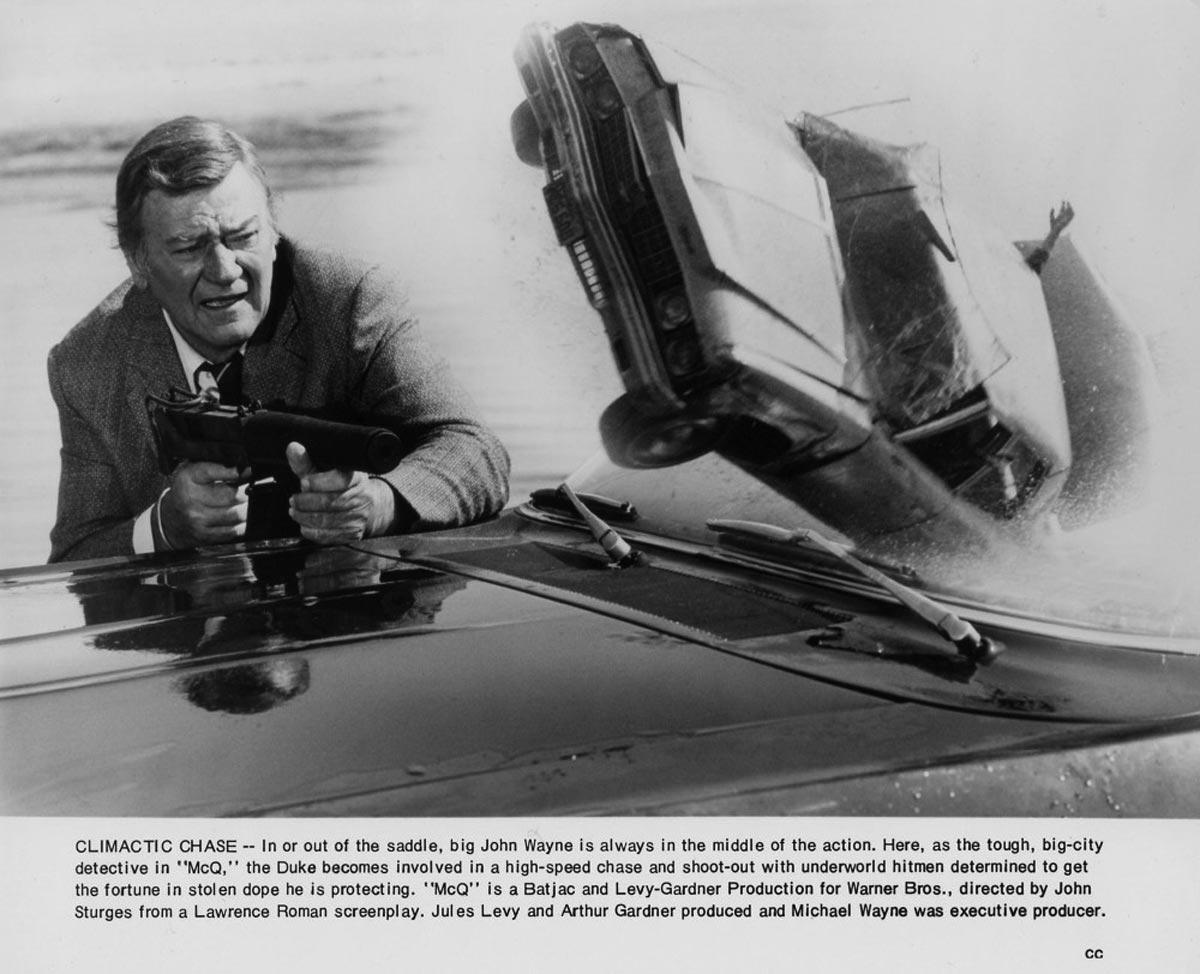 Wayne had always been recognized for his on-set professionalism and that did not change on this film. The only thing noted by various crewmembers and from director John Sturges, in particular, was Wayne's sadness. At first, he had been rather thrilled to be able to bring his own yacht, The Wild Goose, to Seattle to live on during the shoot, but as McQ came closer and his relationship with his wife Pilar disintegrated (they separated during filming), he wasn't as excited. Sturges commented, "It was one of the few films he made later in life where he didn't have his usual cronies around him, and I think he was kind of lonely and lost."
McQ reflects a dark anger and deep solitude in John Wayne that he never worked with before. He showed fragments of it in The Man Who Shot Liberty Valance (John Ford, 1962), but never to this degree. Wayne plays Lon McQ, a policeman in Seattle who investigates the death of his best friend, a murdered cop. As the story progresses, he becomes more isolated in his attempts at justice as it becomes clear that this case is not simply a murder or even revenge, but involves corruption of the highest degree.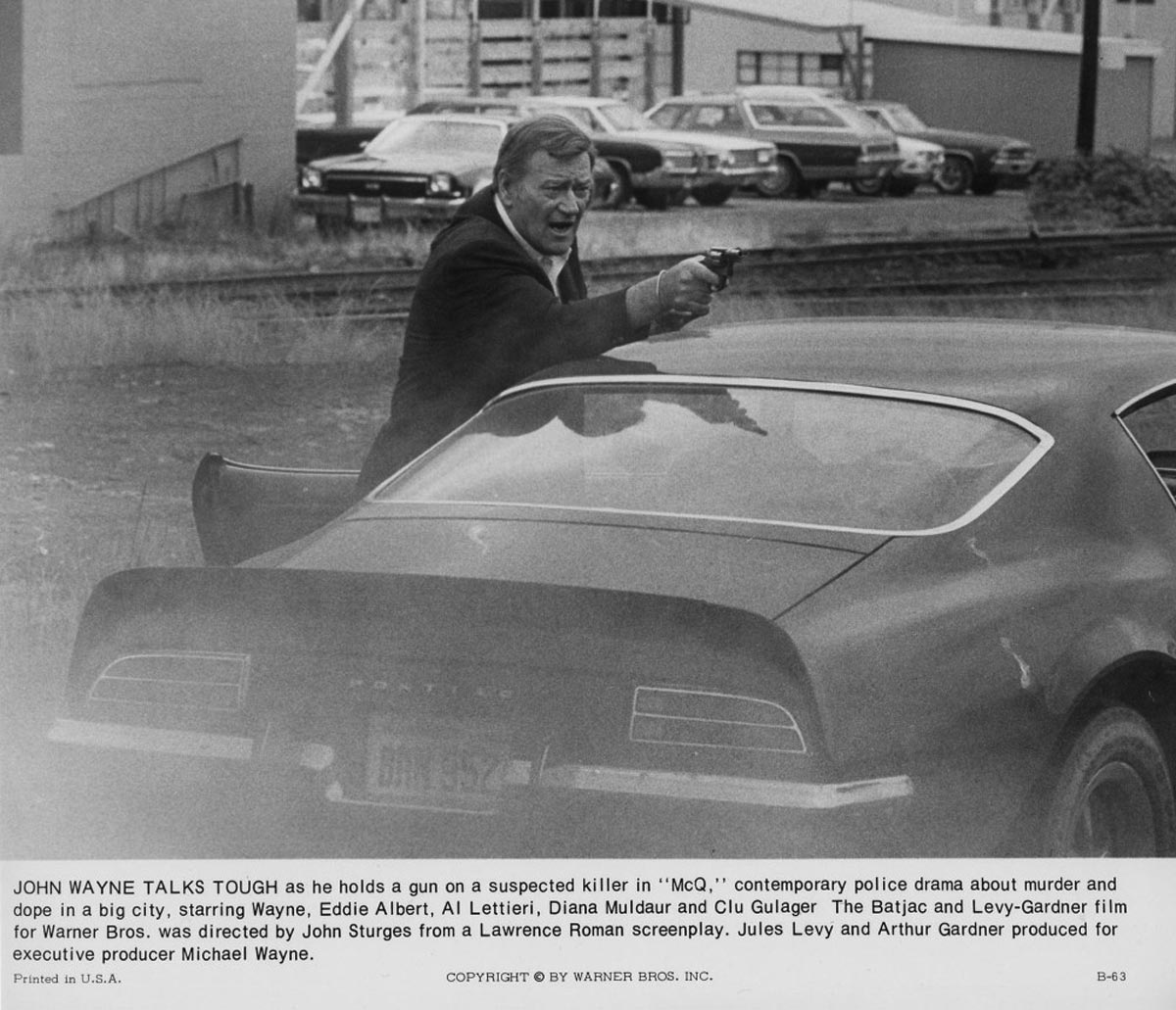 McQ is a curious film because it emphasizes John Wayne's physical presence in a way the Westerns and War films did not. The composure of this film shows him to be a large and imposing male figure in, at times, too small landscapes. In McQ, Wayne dominates the space, physically controlling it. He may not be the fastest cop on the block (as others on the force are expected to be), but he is the most substantial and intimidating. McQ is exacting. He doesn't have to run fast, he shoots to kill. But this identity becomes slightly fragmented when it's clear that he has an attachment to "being cool" and it's defined by a car that is clearly too small for his sizable form.
Wayne's character is paired with a GORGEOUS car in the film – a 1973 Pontiac Trans Am "Green Hornet." His buddies comment on how nice it is, people try to steal it, it's obviously a car that elevates McQ's status from cop to "cool dude." There is also an inferred analogous relationship between this car and McQ to that of Steve McQueen and his mean machine in Bullitt (Peter Yates, 1968). Unfortunately, it just misses the mark. While McQ participates in several heart-pounding car chases in the Trans Am, he never quite gets to McQueen heights.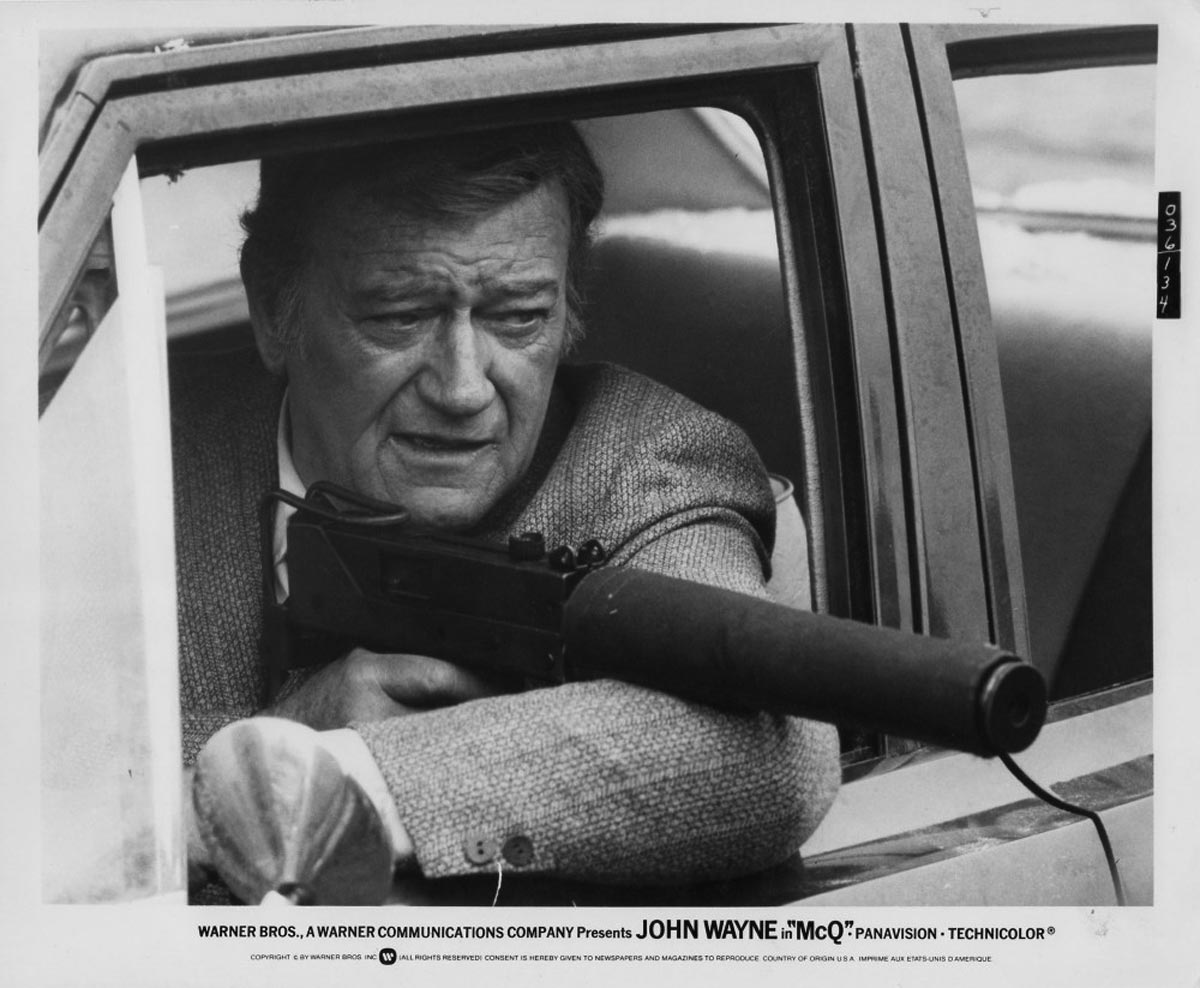 Some argue this "lack" was due to Wayne's age or inability to connect with the crime genre. I disagree. McQ portrays a fascinatingly claustrophobic environment for the Duke to act in; it is physically limiting and the narrative matches in its restrictions for Wayne's character. Seeing McQ get in that Trans Am every time he needs to go anywhere is almost painful to the viewer versus the freedom of watching the glory of his majestic form on a horse in Monument Valley or even marching with strength, barking orders to men in wartime. It may seem simple to say that his car was too small for his body and that the plot was full of restrictions for his character, but this is the power of the film. It increases the tension so that when all hell breaks loose (and OH DOES IT break loose) it's like a dam breaking.
McQ is wonderful because John Wayne was able to express the isolation he was experiencing at the time, the depression, the raw sadness. But I would be remiss if I were not to mention the magnificent performance of film and television legend Clu Gulager. Wayne's heart-breaking performance with Colleen Dewhurst requires at least a few tissues and, if you're a fan of Eddie Albert (and who in their right mind isn't?), his role is really a gas.
Originally titled Joe Battle, John Wayne's second attempt at a crime film, Brannigan (Douglas Hickox, 1975) featured other top actors like Mel Ferrer (Fields), Richard Attenborough (Commander Swann) and Ralph Meeker (Captain Moretti). The wildness and anarchic humor of this movie contrasted greatly to the doomed feel of McQ. While both films function as mysteries and high-paced action films, the goal of Brannigan was to collapse the John Wayne of war stories, Westerns and detective fiction into a singular narrative, allowing the creation of a more dynamic and multi-layered genre.
In Brannigan, Wayne plays Lt. Jim Brannigan, a Chicago Cop sent to London to pick up criminal syndicate leader Ben Larkin (John Vernon) for repatriation and to face charges. As fate would have it, Larkin gets kidnapped before Scotland Yard can hand him over and thus the hunt for the missing racketeer begins.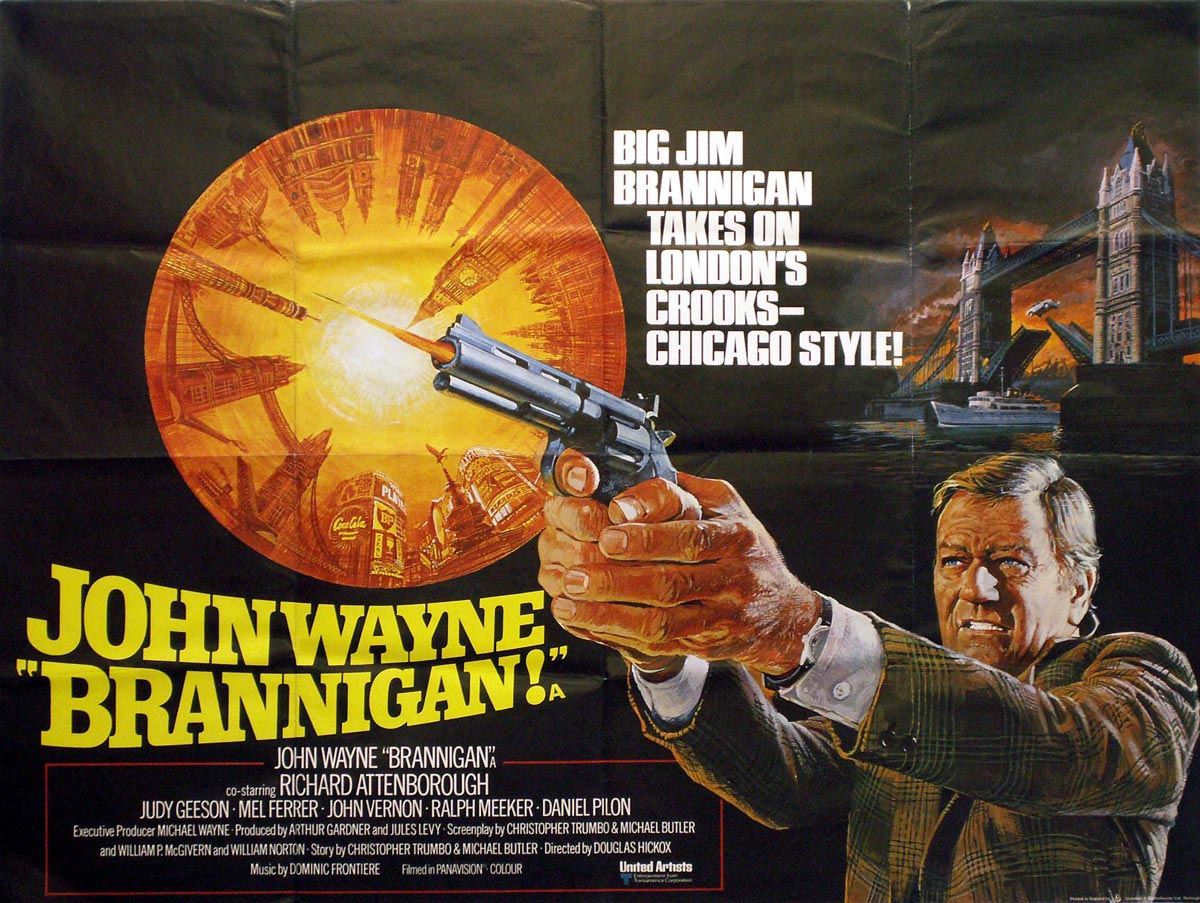 This is where the development of Brannigan's character begins. He is not just a high-ranking police officer. As a film, Brannigan strongly emphasizes the protagonist's inter-genre identity and tie-in to the larger image of John Wayne and cultural notion of "John Wayne." When Detective Sergeant Jennifer Thatcher (Judy Geeson) picks Brannigan up from the airport, he tells her he was in the military and that this is his second time in London, mentioning his previous WWII "visit."  Not only is this not his first rodeo, but also it's clear he's come prepared for whatever should come next.
Brannigan sits down for his first meal in London with Scotland Yard Commander Swann (Richard Attenborough). Swann proceeds to comment on Brannigan's weapon, emphatically stating that that the gun and all gun usage would not be welcome in the UK. Wayne's face in this scene is classic. Looking directly at the (much smaller) Scotland Yard officer, he tells him that he's an American and a cop. He's licensed to use the weapon and he is not about to stop wearing it. The way this scene is shot and the tension between the two men reads more like a Western Showdown. It positions Brannigan as the American Cowboy Hero and Swann as the British antagonist.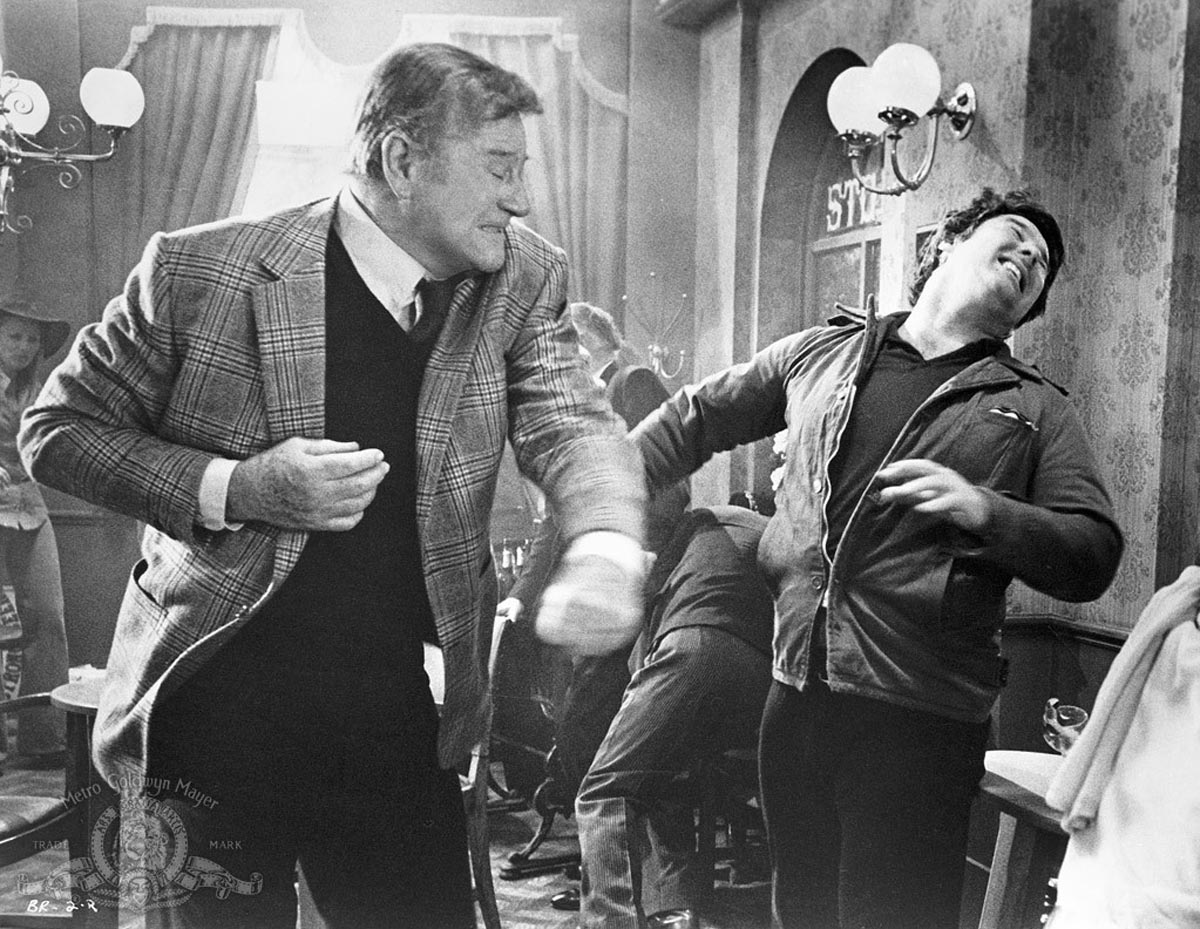 Dissecting the anatomy of Brannigan's character we can easily locate the militaristic know-how and determination of roles John Wayne played in films like The Flying Leathernecks (Nicholas Ray, 1951) and The Green Berets (Ray Kellogg/John Wayne, 1968). It's even easier to find the cowboy justice that John Wayne made so famous in works like Rio Bravo (Howard Hawks, 1959) or Hondo (John Farrow, 1953). All of this is folded into a 70s detective/pulp fiction-husk, and you have Brannigan.
Penned by Christopher Trumbo (Dalton's son), Michael Butler (later known for Eastwood's Pale Rider), William P. McGivern (famed crime fiction writer) and Bill Norton (responsible for many legendary scripts, among them Burt Reynolds' vehicles White Lightning & Gator, as well as grindhouse fave Night of the Juggler), this is a helluva picture. Above all else, this film looks exquisite. From the opening shot until the final credit sequence, this motion picture is a work of art. Photographed by Gerry Fisher, he really made this action film pop. From explosions, to car chases, to close-up-in-your-face-fights, this is a really exciting movie that also looks beautiful.
Gerry Fisher was a real treasure. While many may simply appreciate his work on The Highlander (Russell Mulcahy, 1986) or The Exorcist III (William Peter Blatty, 1990) Fisher was far more. He was not only Joseph Losey's cinematographer of choice but he also shot films for John Huston, Otto Preminger, Richard Lester and many others. Brannigan is a striking film that entertains the whole way through and Fisher's cinematography is maddeningly good. With an absolutely killer Dominic Frontiere score behind it, it's hard to deny this John Wayne feature.
If you think you've seen it all, trust that you haven't. Come to the New Beverly and check out our double bill of McQ and Brannigan November 8 & 9. Get your super-charged action and John Wayne on all in one sitting!