The 1967 Rankin/Bass Mad Monster Party?, playing at the New Beverly on October 14 & 15, is the direct result of fandom. Indeed, how we, as a modern audience, think about classic Universal monsters has less to do with the actual cinematic originals, and more to do with the way fandom conflated with legacy.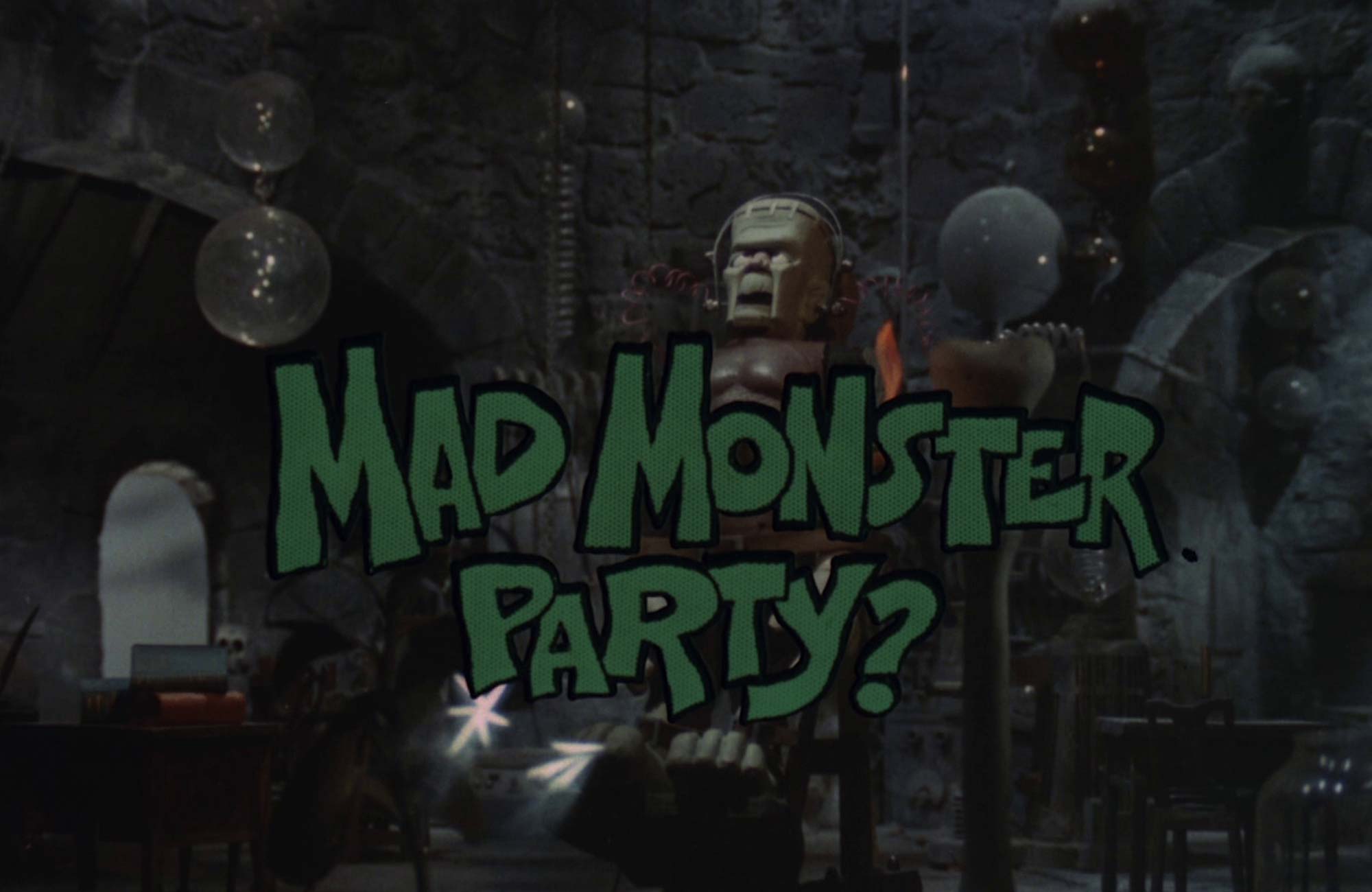 In the 1930s and 1940s, as we are all familiar, Universal found great success in their numerous high-profile monster films, most notably Dracula, Frankenstein, Bride of Frankenstein, The Mummy, The Wolf Man, The Invisible Man, and the new kid on the block, The Creature from the Black Lagoon, which wasn't released until 1954. The Phantom of the Opera is usually considered a secondary member of the canon. Throughout the 1930s and 1940s each of these films (Creature notwithstanding) enjoyed numerous sequels and comedy spinoffs, eventually culminating in 1944 with House of Frankenstein and its 1945 sequel House of Dracula. In those films, all the famous monsters were gathered together on the screen for the first time. These crossover events were the Destroy All Monsters or the Marvel's The Avengers of their day.
Universal began to skew away from their canon of old-world monsters in the 1950s (again, Creature notwithstanding), and horror from the decade began to lilt gently toward fantastical paranoid thrillers about post-war cultural anxieties (nuclear animals, radiation, body snatchers, Godzillas, etc.). The Golden Age of the Universal monster was essentially dead, at least in the public eye.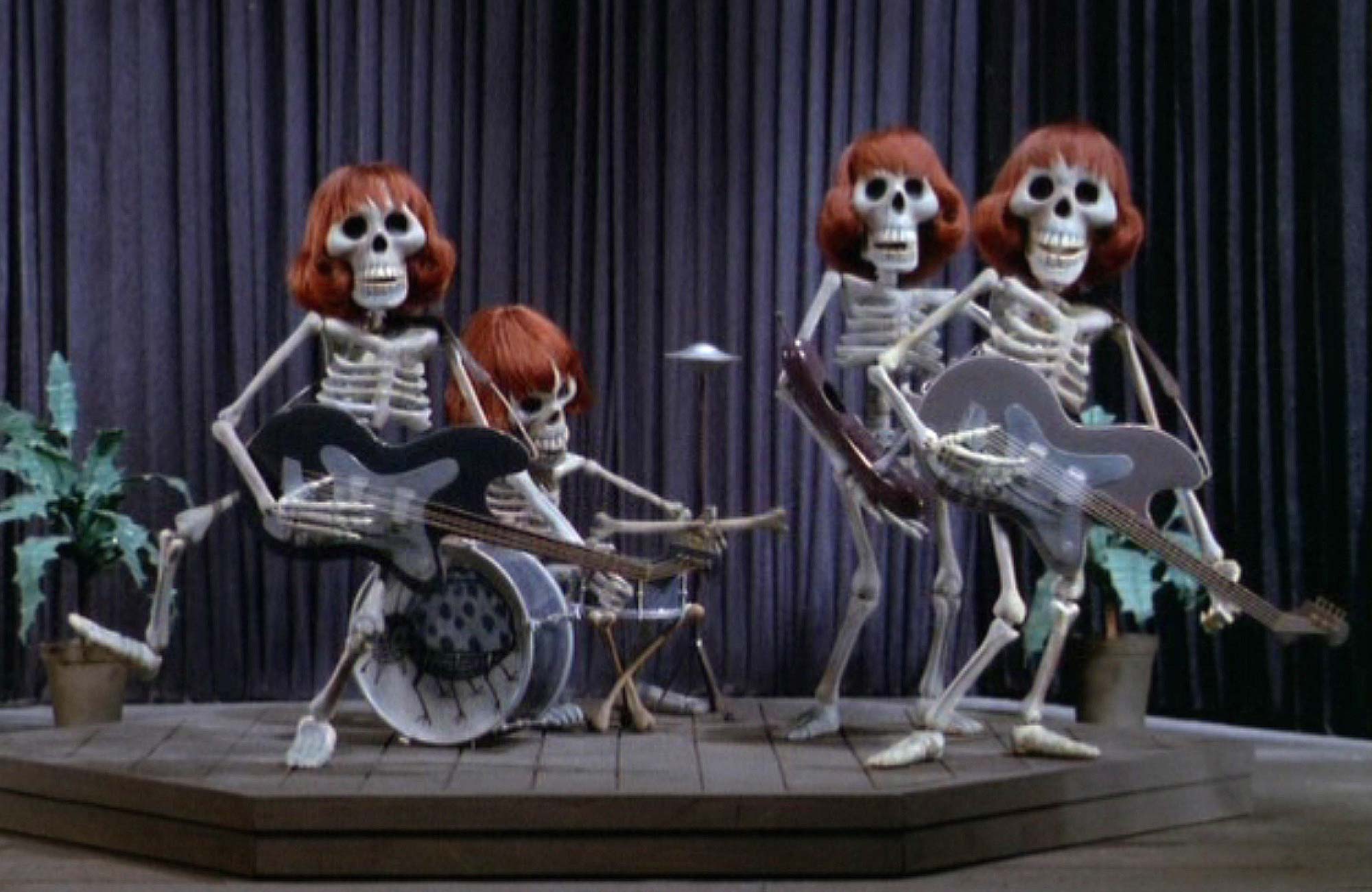 But the specific canon of Universal monster characters listed above, had, over the course of 20 years and dozens of films, created a subset of cineastes who felt those dark, tragic figures to be the central fulcrum of cinema. In 1958, enterprising genre fan and proper cinematic legend Forrest J Ackerman founded Famous Monsters of Filmland, the first magazine of its type, that presented cheapo monster movies as being worthy of legitimate scrutiny just as much as their less sensational, "mainstream" Hollywood counterparts. A fandom was born. Loving monster movies – ironically or non – became the favorite pastime of a generation of American teens.
Into this milieu came Bobby "Boris" Pickett's 1962 hit song "The Monster Mash," which cemented the Universal monster characters into the collective unconsciousness as a group of constantly-interacting best friends who would regularly get together for parties and dances. It's difficult to measure just how powerful an influence "The Monster Mash" was on the culture of horror movies. One could say that any and all horror fandom owes its very existence to Forrest J Ackerman and Bobby Pickett. It's easy, then, to see the direct linage from Pickett's hot single to Rankin/Bass' Mad Monster Party?.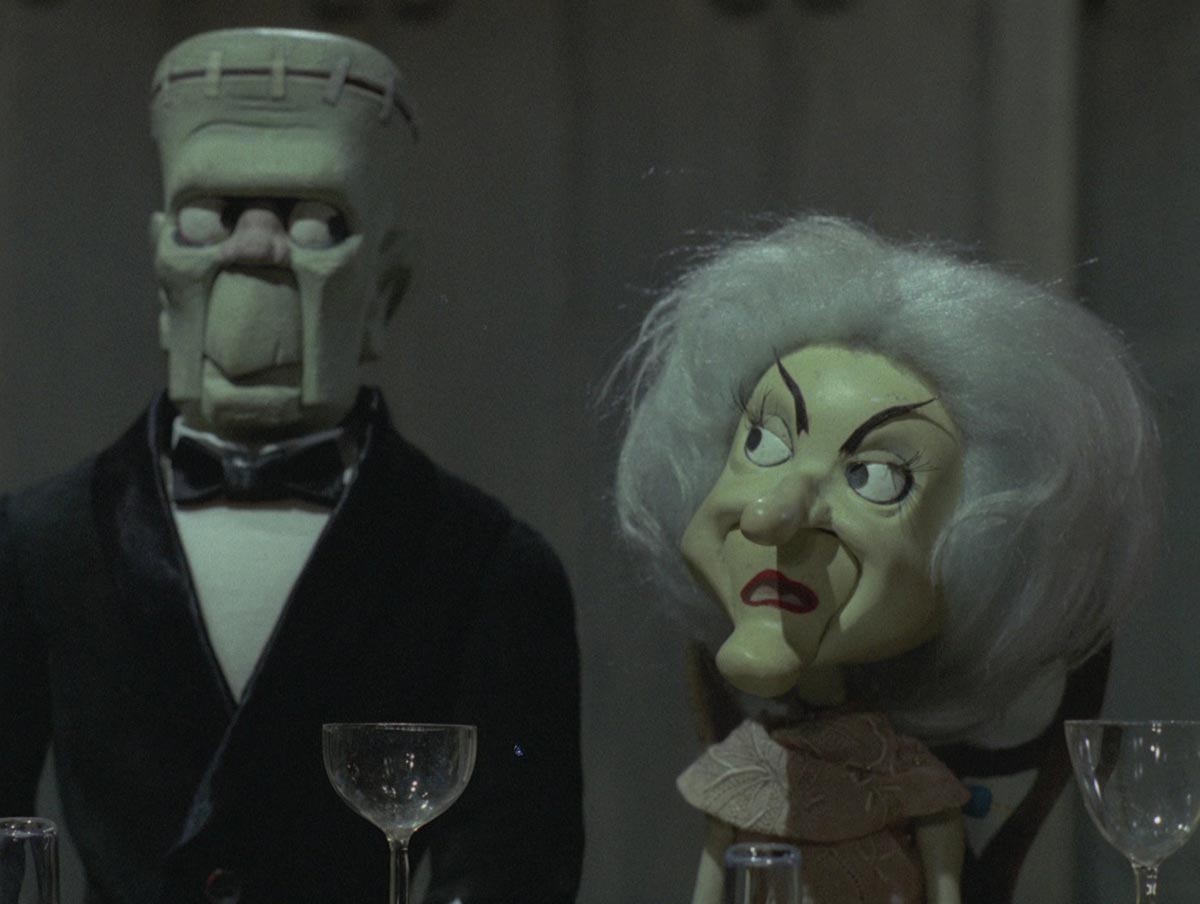 Mad Monster Party?, as the title would lead you to believe, is about a party of classic monsters who gather to dance, party, and declare who gets to be their legitimate leader after Dr. Frankenstein (the voice of Boris Karloff) retires. That the classic Universal monsters all know one another has now, by 1967, become an easy and relatable truth that we naturally accept. As such, we already kind of know the relationships of the people involved. Of course Dracula is the expected front-runner. Of course Frankenstein's monster is now a somewhat-happy married man (the Bride is played indelibly by the sparklingly wonderful Phyllis Diller). And, to round things out, there's also a busty femme fatale, Francesca (Gale Garnett), who just may have jump-started a few nascent libidos; she looks eerily similar to Joan Harris, Christina Hendricks' character from Mad Men.
Since the late 1950s, these characters had all lived together in our minds, and since the mid-1940s, we had known they could interact, but Mad Monster Party? took those conceits and codified them for a new generation of monster-loving kids. "The Monster Mash" may have posited that monsters regularly get together for dances, but Mad Monster Party? let us attend the ball for the first time. And it let us love monsters in a warm, approachable sort of way. These creatures weren't awful murderous demons any longer. They were simply a dark mirror to our own concerns. They still wanted camaraderie, love, and party punch as much as any of us, they just also were intensely interested in the macabre. What slightly morbid kid can't relate to that?
To ensure further poetic  monster synergy, all of the other monsters in the film – the Wolf Man, Mr. Hyde, Quasimodo, the skeleton, the Invisible Man, several others – are all played by the same voice actor, one Allen Swift (1924 – 2010). Swift was a veteran TV voice performer who played Howdy Doody when  Buffalo Bob was out for health reasons, voiced a few villains on Underdog, and played the voice of the Frito Bandito. Like Bill Scott, Paul Frees, June Foray, Mel Blanc, Don Messick, Frank Welker, Maurice LaMarche, Billy West, and Tress MacNeille, Allen Swift's voice is simply an indelible part of most of our childhoods.
Presented in glorious stop-motion animation, Mad Monster Party? is nothing but enjoyable to behold. Stop motion animation has a certain magic to it that lacks even in classical hand-drawn animation. The wonder of seeing miniature figurines spring to life, and move in their own eerie, mimetic fashion, is an on-screen childhood pleasure that can only be matched by Godzilla fights.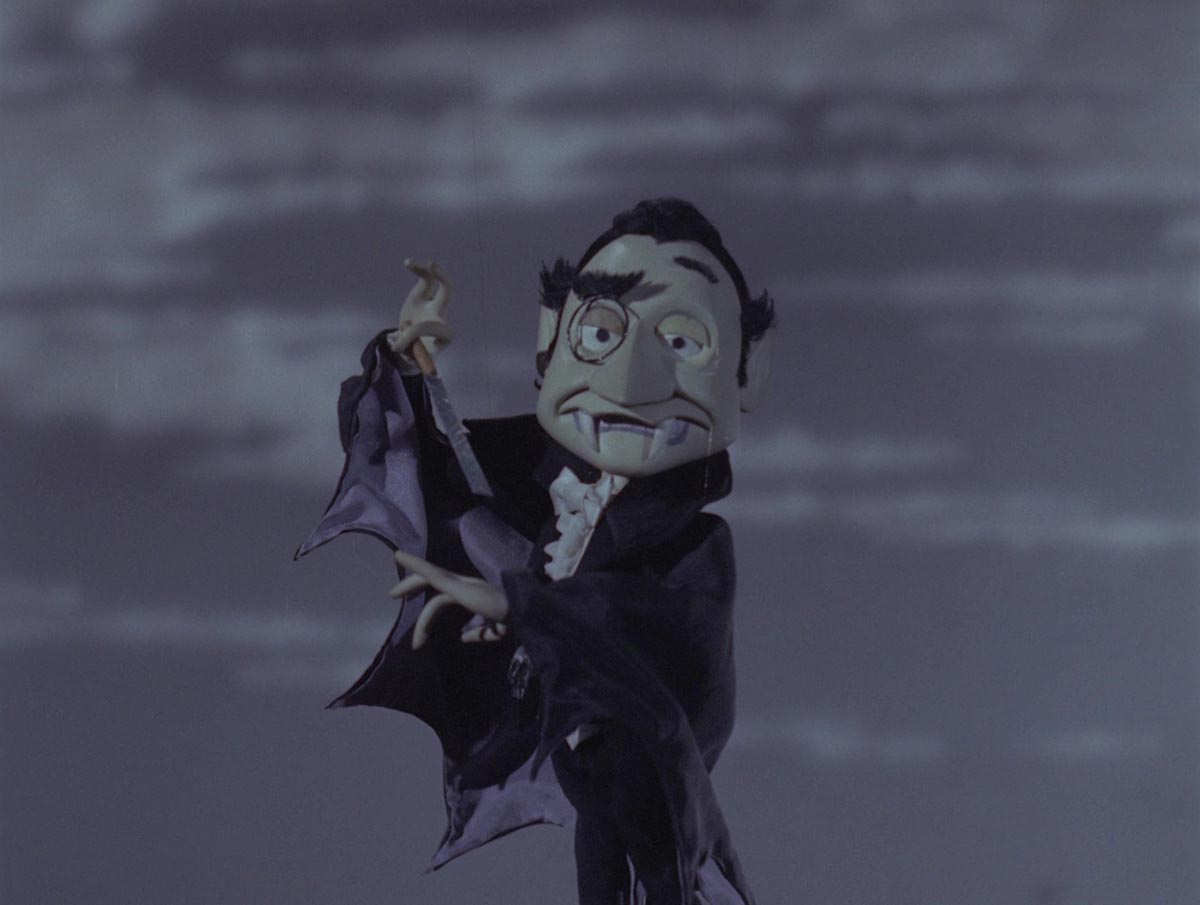 To be perfectly fair, Mad Monster Party? can be a little stodgy at times. The pacing is slow, even for a 95 minute flick, and the story meanders; there isn't much that's frenetic or propulsive when the monsters aren't singing or dancing. But any young child in the audience will understand. The weirder ones may, as I once did, find a delightful kinship with the film. Yes, we both agree, Mad Monster Party? – monsters are fun and great and they're all good friends.
The legacy of Mad Monster Party? has only continued. Only a few years later, we would experience The Groovy Ghoulies on TV, and The Monster Squad (1976) a few years thereafter. That second title would be resurrected for a well-loved cult film in 1987, all about – you guessed it – a group of monster-loving kids who face off against all the Universal monsters, once again gathered in one place. 1990 saw the Rick Moranis-led Saturday morning cartoon show Gravedale High, about said monsters attending high school together. Universal attempted to resurrect the characters in the supremely silly 2004 actioner Van Helsing. Genndy Tartakovsky recently had a big hit in 2012 with the spirited animated film Hotel Transylvania, which owes an enormous debt to Mad Monster Party?. Most recently, Universal has attempted to play their original 1944 all-in-one conceit as a Marvel-sized series of pre-planned interconnected cinematic blockbusters, starting with the 2017 bomb The Mummy. This future of this new Dark Universe, as it is called, is already in question.
Mad Monster Party?, meanwhile, sits happily and innocently at the apex of Universal monster interconnectivity. Come on down. Few things can better put you in the Halloween spirit.