So many of our favorite fantasy thrillers involve characters and creatures that inherently rattle us because of their unpredictable nature. But on October 10th, we're dedicating our Grindhouse Tuesday screening to one of the wildest and most unpredictable characters that walked among us in real life, the late Klaus Kinski. From his early appearances in "krimis" and spaghetti westerns to his legendary collaborations with director Werner Herzog to his colorful villains in major Hollywood projects, Kinski actively cultivated a reputation as a loose cannon, with plenty of witnesses to verify that this was not an act. We've put together two very underrated science fiction outings which placed Kinski with budding genre specialists, to give you out-of-this-world adventure with the out-of-this-world personality.
Android from 1982 presents Kinski as Dr. Daniel, a mad scientist on an isolated space station, accompanied only by his childlike android assistant Max 404 (Don Keith Opper). Max has been fascinated by all the mundane aspects of being human, particularly the notion of male/female interaction, to the consternation of Daniel, who has been quietly working on what he feels will be Max's superior replacement, Cassandra One (Kendra Kirchner). When Max communicates with a damaged ship, he allows them to dock at the station, and is taken with its attractive pilot Maggie (Brie Howard). But Max doesn't know Maggie and her two male friends are escaped convicts. Between the diabolical doctor and these fugitives, the naive Max is about to get a crash course in the unseemlier aspects of human behavior.
All of the creative personnel behind the creation of Android can cite Roger Corman as giving them their initial training. Director Aaron Lipstadt, now a frequent producer/director for TV shows like "Medium," "Grimm," and "Elementary" and writer/star Don Keith Opper worked on Battle Beyond the Stars, while co-writer James Reigle worked on Forbidden World, as well as three '70s MGM blaxploitationers produced by Roger's brother Gene, including Hit Man starring the just-departed Bernie Casey. Corman initially agreed to release their debut film, but after disappointing returns in test markets, the producers agreed to buy out Corman's interest and release it themselves. The strategy worked, as Android played festivals and midnight shows and became a minor cult favorite by 1984. Opper would go on to write the comic sci-fi hit Critters, and play "Charlie McFadden" in it and its three sequels.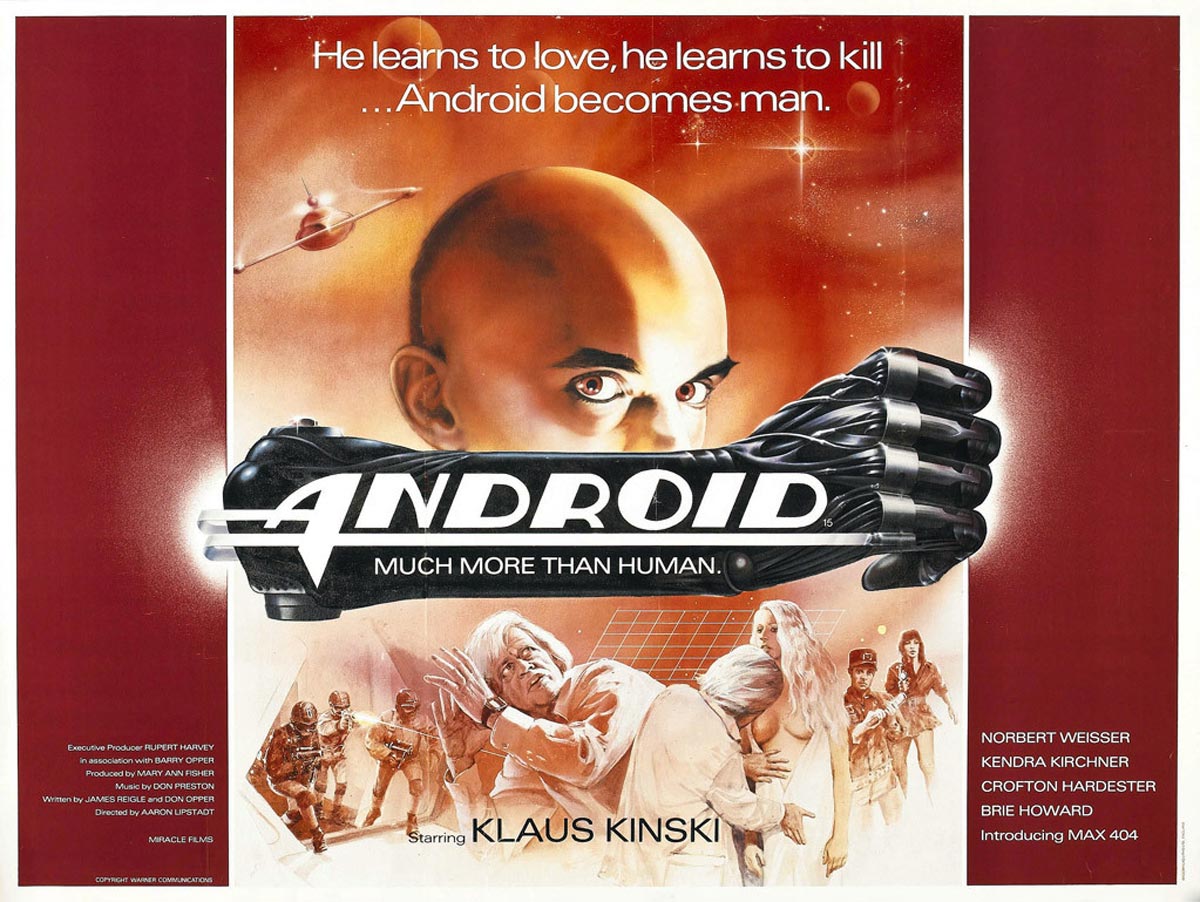 To play the lovably awkward Max 404, Opper modeled his robot gait on C-3PO from Star Wars, and on Charlie Chaplin and Buster Keaton. Reportedly George Lucas was very fond of the film and his performance. Opper chose not to take onscreen credit, instead perpetuating the myth that Max the robot appeared as "himself." Co-star Brie Howard was a drummer for the all-girl rock band Fanny, and performed on tracks from ELO's A New World Record and The Pointer Sisters' Break Out albums; she also appeared with Tyra Ferrell as one of the "Fry Girls" in Bill Fishman's Tapeheads with John Cusack and the New Beverly's friend Clu Gulager. Future John Waters producer and Tank Girl director Rachel Talalay makes a brief acting appearance. The notoriously crotchety Kinski felt unusually positive of his participation in Android, saying, "I thought it was a clever little movie. It is the first movie I've done that children might like. The greatest thing in the world is to do something for children."
Creature from 1985 features Kinski as Hofner, the lone survivor of a German research team on Saturn's moon Titan. When a well-funded American crew crash-lands on the rock to investigate the explosion of a nearby space station, Hofner informs them of the existence of a 200,000 year old alien menace that can kill and then reanimate its victims via parasites. And as soon as you can say, "Corporate Science Sucks," the malevolent monster starts ripping faces and taking names. Will anyone get off this moon alive? Or will the creature find its way to another planet to feast upon?
Writer/director and historian William Malone grew up a bonafide "monster kid," making Super 8 horror films and costumes with his friends. His first major achievement was sculpting the iconic Michael Myers mask for Halloween using a template previously intended for William Shatner. He directed his first film, Scared to Death, for $74,000; Creature, his follow-up, had a more generous $750,000 budget. Many of the props came from other sci-fi classics, including The Andromeda Strain and Forbidden Planet – Malone in fact owns the original Robby the Robot from the latter film, and stepped inside the suit to animate him in Allan Arkush & Joe Dante's Hollywood Boulevard. Future Academy Award winners worked on Creature with Malone: visual effects artists Robert Skotak and Dennis Skotak created miniatures before getting individual wins for Aliens and The Abyss, while pseudonymous screenplay co-writer "Alan Reed" is in fact Robert Short, who also co-wrote Malone's Scared to Death and won a Best Makeup Oscar for Beetlejuice. Malone would later direct the 1999 remake of House on Haunted Hill with Geoffrey Rush and FeardotCom with Stephen Dorff.
Among the endangered crew members fighting off the alien attacks are Lyman Ward, best known as the clueless suburban dad in Ferris Bueller's Day Off, comedienne Wendy Schaal, currently the voice of Francine Smith on Seth MacFarlane's animated sitcom "American Dad," and Diane Salinger, who after making her acting debut here, followed up with playing Francophilic diner waitress Simone in Pee-wee's Big Adventure. As for star Kinski, Malone definitely found the mercurial actor difficult during the five days he spent on the set, feeling so burned by the experience that upon publication of the actor's passing, he was quoted as saying, "Klaus Kinski is dead now, and the world is a better place for it." However, in later interviews, he admitted to having a reluctant fondness for him.
So in a month devoted to excessive costuming and jolting people's senses, it's only fitting to spend an evening with a star who definitely excelled in both of those fronts. See Klaus Kinski go deep in the heart of space, and still loom larger than the planets, in this science-fiction double feature at the New Beverly.