In the grand tradition of films like Hardcore (Paul Schrader, 1979), Vice Squad (Gary Sherman, 1982) and Savage Streets (Danny Steinmann, 1984), John Frankenheimer's 1986 crime thriller 52 Pick-Up is grimy, glorious and great! It may make you want a shower after watching it, but it's worth it. You may never look at certain Los Angeles neighborhoods the same way again (especially the corner of Vine and Santa Monica). But that's not all bad. The fact is that 52 Pick-Up is a Cannon film expertly steered by the hand of filmmaking legend John Frankenheimer from a novel (and screenplay) penned by crime-fiction luminary Elmore Leonard. Any of these names alone would be enough to give a motion picture promise but all three together? It's a cinematic experience that will ignite the screen like a truckload of C4. I hope the New Beverly is ready for the fallout!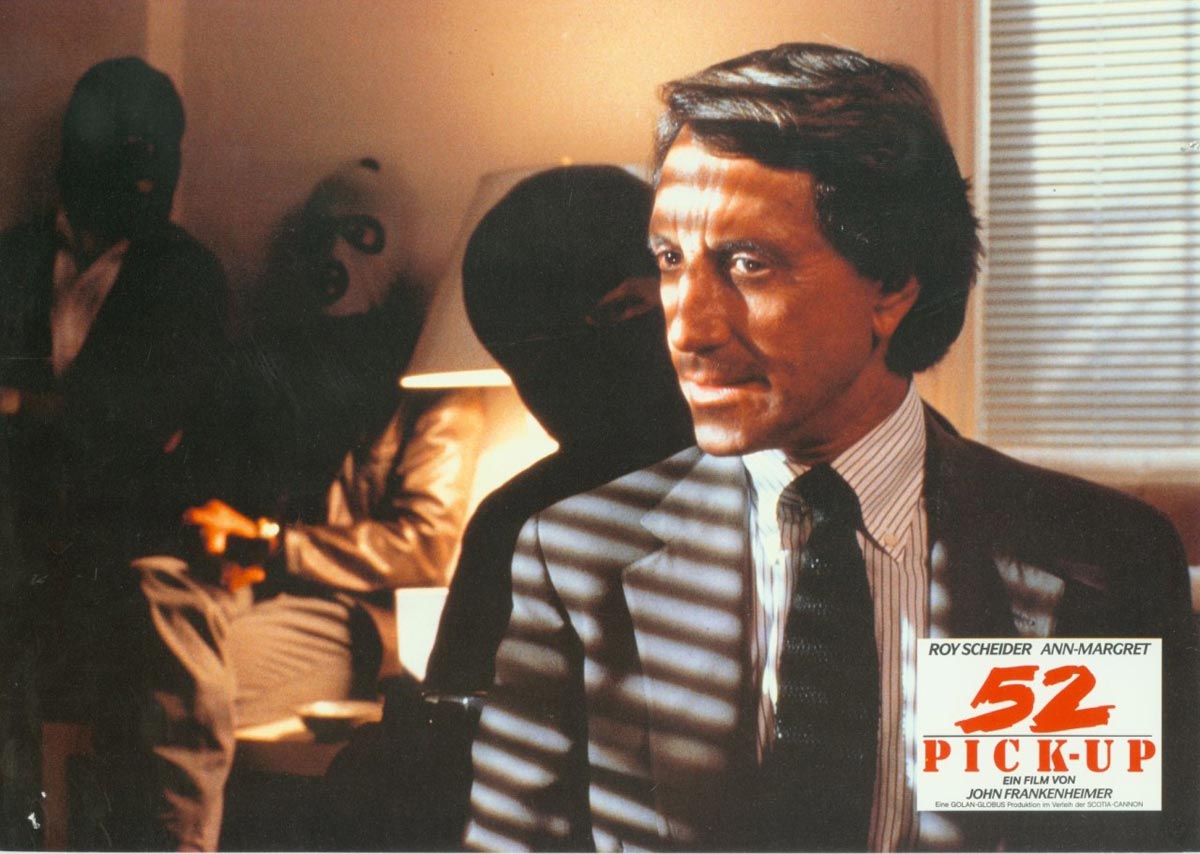 The media history of 52 Pick-Up began when Elmore Leonard published his novel in 1974. The guys at Cannon Films looked at the property and saw its potential. Menachem Golan and Yoram Globus looked at the basic elements of Leonard's Detroit, Michigan-based story: crime, extortion, revenge, and violence. This would be a perfect addition to their catalog! So in 1974, they optioned it but had Leonard change some key details. No longer a Midwestern tale, this story was to take place in Tel Aviv. They also changed the title from 52 Pick-Up to The Ambassador. During the New Beverly's J. Lee Thompson retrospective, my colleague Marc Edward Heuck did a skillful write-up of The Ambassador on the New Bev blog so instead of detailing that film more; I will simply guide you to his piece here.
Some years later, John Frankenheimer approached Cannon about directing the picture. He had read the novel and really gotten into it. If you know Cannon, double dipping wasn't a problem, especially with a work that had been so drastically altered for the "original release." The plan for this version was not to change it much at all. In fact, Elmore Leonard would even co-write the screenplay.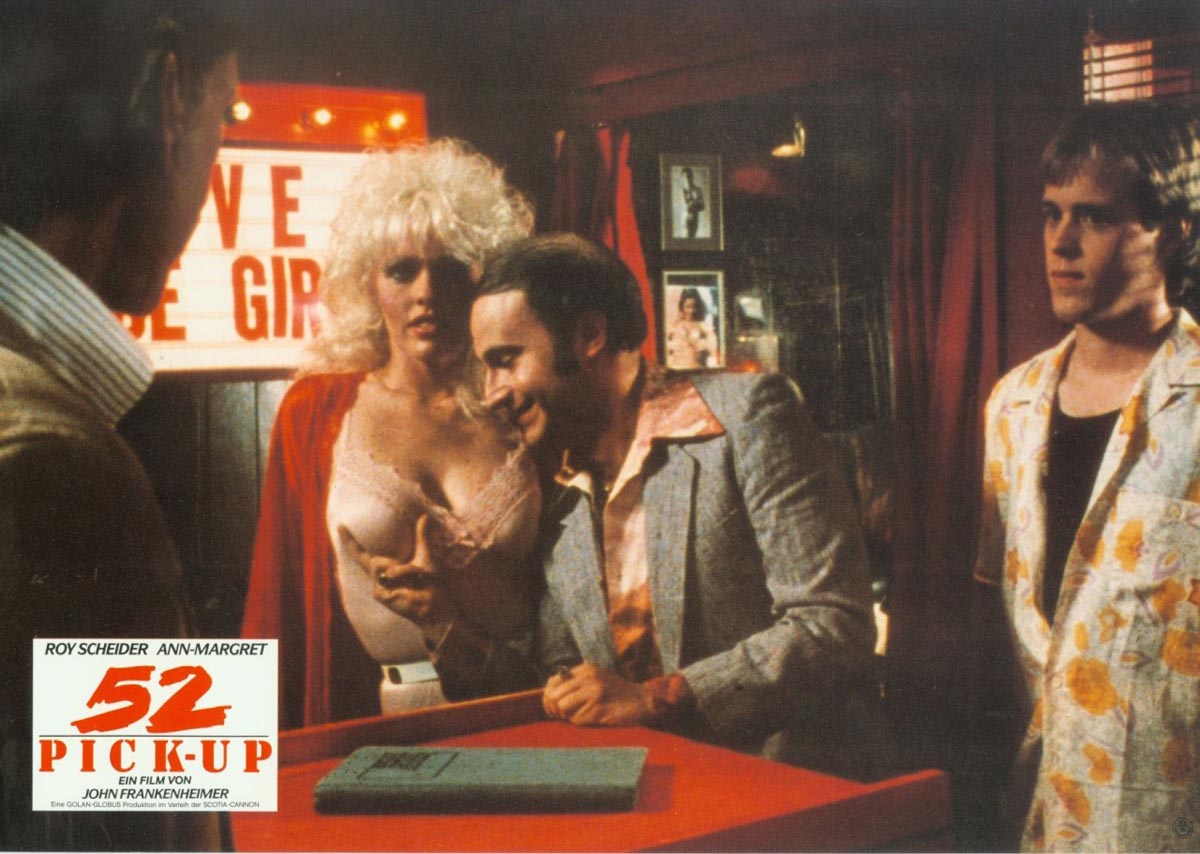 Due to weather and budget, they had to change the location from Detroit to Los Angeles, but in 1986 that only made this sleazy neo-noir infinitely grimier. Centering on the indelicate world of strip clubs, pornography, drugs and other fun vices, Hollywood had exactly what they needed. If it didn't provide on demand, the production could construct it and it would look absolutely natural to the environment – it was '80s Hollywood, after all. Case in point: the "Live Nude Girls" dirty picture studio that Harry Mitchell (Roy Scheider) frequents throughout the film. Today it is Meoded Paint store (next to the Yoshinoya on Santa Monica Blvd.). This location has never been a photo studio or anything obscene. The production company slapped up some signage and used the internal space (as you do) and *poof* smut central!
The filmmaking team in Los Angeles had far more access to the adult film world than they would have had in Philadelphia (where they originally started filming). If you watch some of the party scenes, you can see adult film stars Ron Jeremy, Sharon Mitchell and Amber Lynn living it up! It's pretty wild. Additionally, the now-defunct adult theater that Mitchell enters in order to interrogate Alan Naimy (John Glover), was once part of a thriving Western Ave adult media community. The sex shop across from the theater (visibly recognizable as "Stan's" when Mitchell enters the movie theater) still exists, a relic to older sleazier days. Take a 52 Pick-Up tour! There's a taco stand really near there. Have lunch and talk about how awesome Cannon and Elmore Leonard are!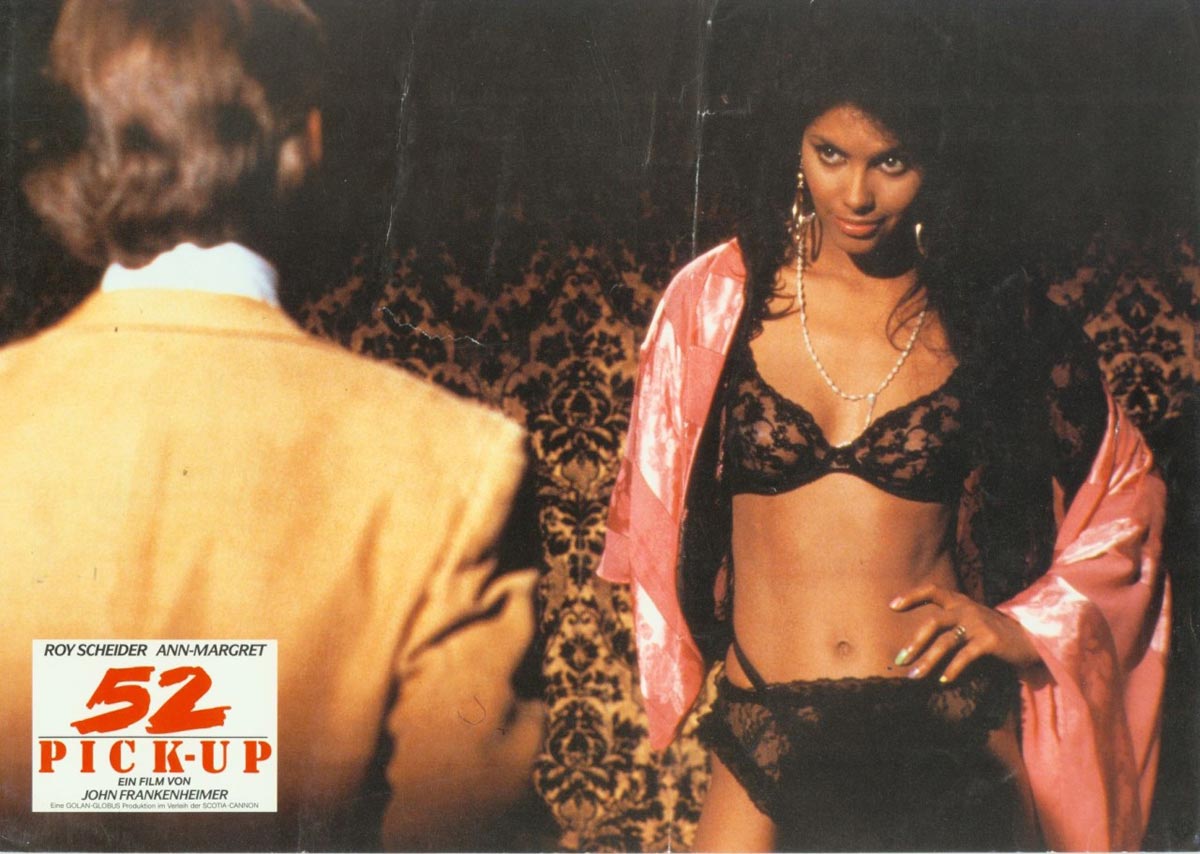 52 Pick-Up's primary narrative focuses on infidelity, blackmail, and revenge. But plenty of stories that do that. What makes this one unique is that the invocation of vice, debauchery and obscenity become catalysts for a wild revenge story that is unexpected and oh-so-satisfying. Elmore Leonard is an exquisite writer and this story, both on and off screen, proves that point. Fact: Elmore Leonard did a great job of adapting Elmore Leonard. The novel, while quite different in certain respects, was faithfully put on screen. The very best dialogue from the pages of that novel walked right into the script. Leonard's interest was in portraying the protagonists and their "everyday"ness. This was successful as can be seen in the characters of Harry Mitchell (Roy Scheider) and his wife of many years, Barbara (Ann-Margret). Set against all of the other…uh, less savory folks we meet, they look fantastic! This is entirely intentional.
What couldn't have been intentional and something that Leonard had to roll with in the novel-to-script adaptation was the discussion of the home movie element and film formats. In Leonard's novel, the "blackmail reveal" scene is based on what would be either have been a 8mm or 16mm film projector. Most likely, it would have been 16mm. In 1974, those were the primary home entertainment systems and most people had them. Only a few pages into Leonard's novel, Harry Mitchell walks into his girlfriend's apartment (yes, spoiler alert, he's been cheating on his wife), and hears something from upstairs:
"He identified the sound as he opened the door and there it was, the movie projector going, lamp on, illuminating a hot white square across the room; the screen, set up, waiting. There was the sound and the shaft of light…Even with the stocking over his face the man's words were clear. He said quietly, 'Take a seat, motherfucker. It's Home Movie Time.'" (Fifty-Two Pickup, Elmore Leonard, 1974)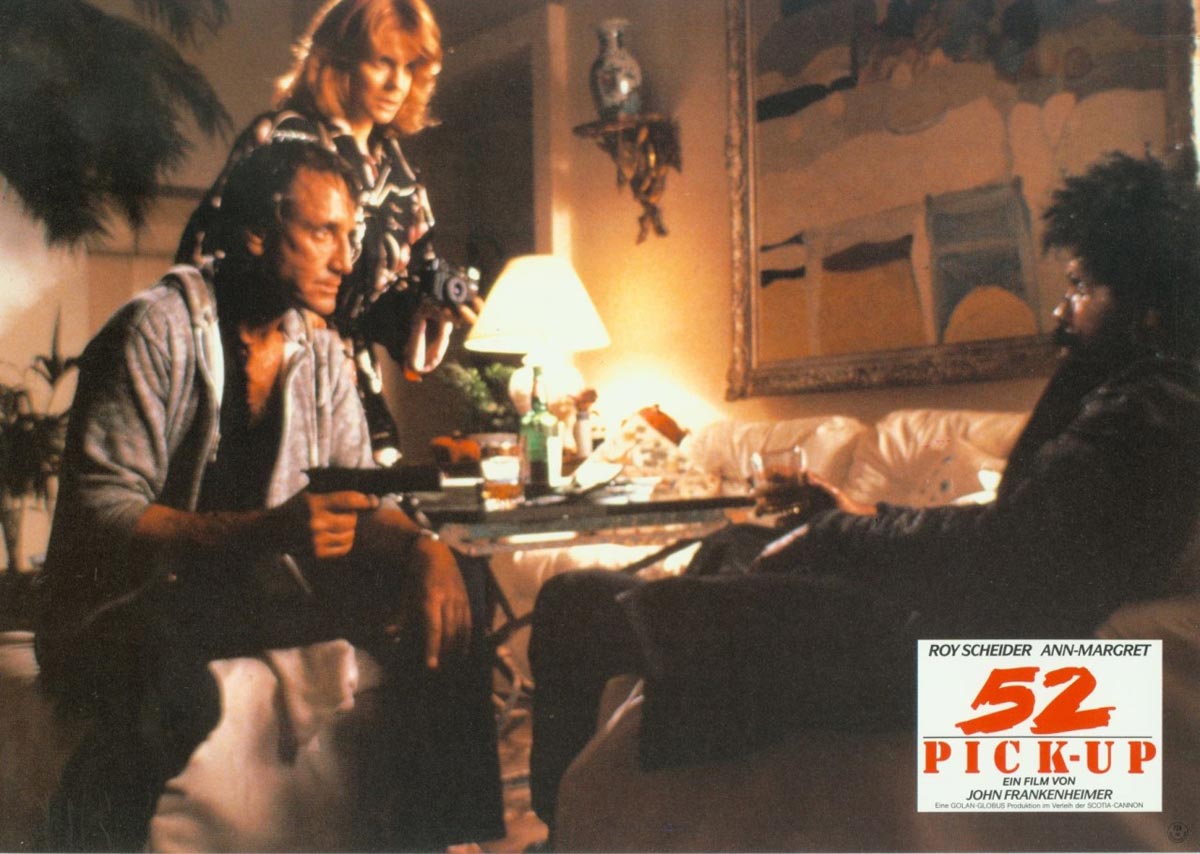 This scene repeats itself in Frankenheimer's film, but on a wholly different level. Mitchell is commanded to sit down and watch a home movie. Same thing. Same images as described in the book. Same shoving around by hooligans with masks and guns. But it's not the same technology. Since it's the 1980s, projectors had since been put away in favor of the ultra fresh, rad and rockin' VCRs! All films and film tech in 1986's 52 Pick-Up is VHS-related and Elmore Leonard chose to exploit this moving image format change to make one of his characters even more dynamic, filthy and fun.
In Leonard's novel, the Alan Naimy character works at an adult movie theater and likes making porno films. But he's also got some other credits like a bit of business administration education, running illegal abortions, embezzlement and…lewd conduct with minors. He's a real charmer. Definitely a "take home to the folks" kinda guy. However, most of those things aren't revealed in the film. What is present is how much he looooooooves making dirty movies. His somewhat over-close attachment to his video camera and obsessive need to film women fucking all the time reiterates his lack of class (at the very least).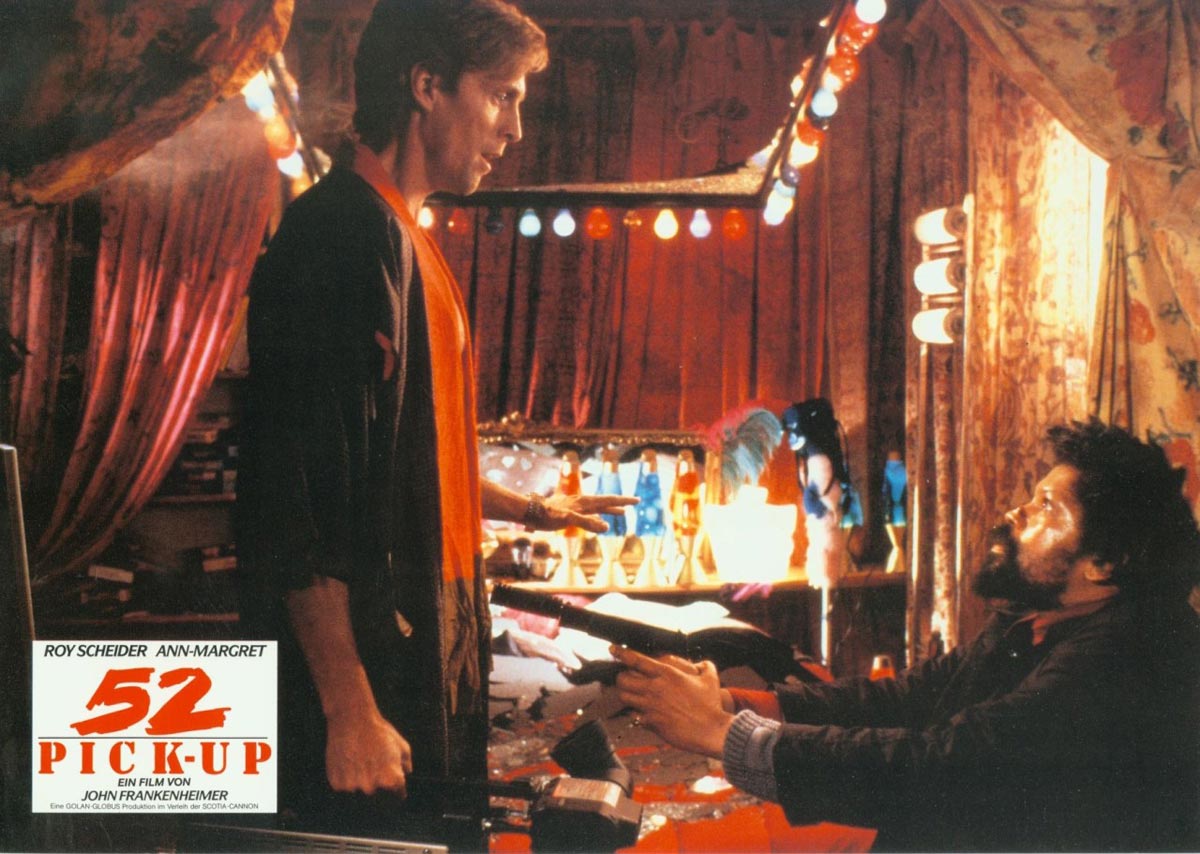 With Alan, Elmore Leonard took his own complex literary character description and rendered it into a wholly different kind of fascinating character due to the voyeurism and obscenity relationships, let alone the translation of Alan's connections from film to digital formats. But Leonard doesn't make Alan a video guy completely: when Mitchell goes into Alan's porn theater job to confront him, not only is Alan projecting the film on 35mm (another format to add to the ones we have already seen or read about) but Alan does a reel changeover while the two men are arguing!
Alan is not only intimately tied to 35mm film and theatrically projected smut (working in the porno house) but he's highly dedicated to his own "artistic vision" on his VHS films. This can be seen most clearly in the scenes where Alan is forcing Mitchell to watch this work against his will. Alan, performing a perverse commentary meant to impress and intimidate Mitchell, is telling him all about the lighting he used in a certain shot and his camera angles while not allowing Mitch to look away. There is something amazing and unusual about the way in which Elmore Leonard updated his novel and explored the character of Alan Naimy, making him deeper and more reflective of a certain 1980s media explosion and (perhaps) terror.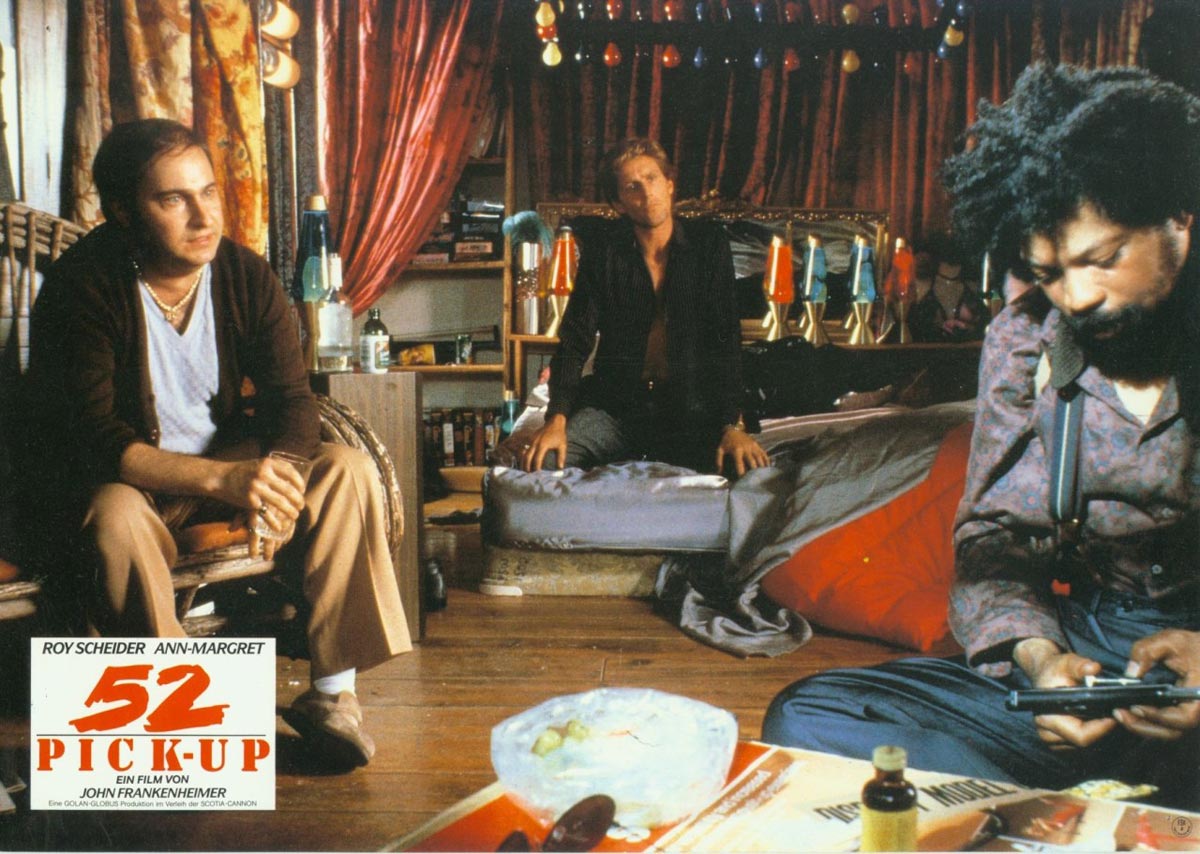 It's pretty awesome that there is an examination of dirty movie making on VHS and a subtextual exploration/critique of media/media formats in a Cannon film that's up to its sprocket holes in tits and guns. And don't worry – as with every Golan/Globus production; there is that absolutely beautiful point where everything goes batshit insane!! Get ready to clap and cheer, y'all!
Elmore Leonard's source material may be one of the grittiest, grimiest and HFS crime novels I own, and the cinematic rendering of 52 Pick-Up follows suit. Vanity is (of course) a dream on screen, but for my money it's Clarence Williams III as Bobby Shy who steals every scene he is in. Add Ann-Margret (I really feel for her in this) and my main man Roy Scheider, and you have a winner. Don't miss this on the big screen. It's bigtime sleazy fun!