For the August 15th installment of both our Michael Parks tribute and Grindhouse Tuesday, we've gone to a meta-level, because this double feature literally involves Parks getting involved with very fraught houses, where either your mental state or your hot body is going to be subject to a lot of grinding!
In 1928, a bank attempted to foreclose on a Louisiana family's home, only to launch a tragic firefight. For years afterward, every subsequent tenant attempting to live there has met with a violent demise. It's now 1942, and Ben & Ruth Watkins (Michael Parks, Jessica Harper) have moved in. And while Ben spends his days at work, Ruth, not welcomed by most of the other women in town, is left to putter about the grounds alone. And all too soon, finds there is a mysterious presence puttering around the grounds as well. Ruth knows there's something or someone haunting this place, but will she and her husband be able to evade the bloody legacy of The Evictors?
Although he was born in Indiana, producer/director Charles B. Pierce became synonymous with Arkansas film production in the '70s. He had been dividing his time doing advertising and television shows in the state while working as a set decorator on out-of-state studio projects when he assembled independent financing to make his 1972 breakout hit The Legend of Boggy Creek, a fake docudrama capitalizing on a local "Bigfoot" style legend; the film grossed upwards of $25 million and led to both knock-offs and influencing similar films like The Blair Witch Project. Local legend also provided the grist for his other best-known film, the 1977 slasher The Town that Dreaded Sundown, starring Ben Johnson and Andrew Prine. He based the idea for The Evictors from an article in a true-crime magazine, adding his own embellishments. He would continue to alternate between smaller jobs on studio fare with locally-shot projects of his own until the late '90s. He passed away in 2010.
Co-star Jessica Harper has demonstrated her luminous presence and multiple talents for decades, but she is likely best-loved for an unofficial trilogy of "manipulated ingenue" roles in the cult classics Phantom of the Paradise, Suspiria, and Shock Treatment. Her role here in The Evictors is a fair cousin to those roles, as again she is mostly left to herself to determine the truth and the solution to the dark forces at play. She and Parks would be reunited in "Nocturne," a 1986 episode of "The Equalizer," one of the best-received episodes of the series. Harper stepped away from acting in the noughts to create literature and music for children, and wrote a recipe book, The Crabby Cook, activities inspired from raising two daughters with her husband, studio executive Tom Rothman. Thankfully, she has occasionally returned for guest roles in Minority Report and TV procedurals, and will make a cameo in Luca Guadagnino's upcoming reinterpretation of Suspiria.
In the town of Santura, Vietnam vet turned car thief maven Duke (Parks) has enjoyed a comfortable living stripping and flipping auto parts from well-heeled marks, then spending the proceeds on his girlfriend Annie (Linda Cristal) and her Friendship Farm brothel. Meanwhile, entrenched mayor Randolph (Bert Freed) is challenged for his office by corporatist Tony Santore (John Ireland), both of whom are avid customers of Friendship Farm, and have long disrespected local farm workers and their union organizer Joseph Vasquez (Rodolfo Hoyes Jr.). Santore's son Peter (George McCallister) and his activist pal Justin (Scott Jacoby), upset at the ongoing political hypocrisy, convince Duke to start funneling revenue from his car thefts towards funding Vasquez's crusade. These wily thieves and wilier women are no longer content to just snatch the gear, now they want to take down The Machine. And maybe create some romantic combustion along the way. Few things are as constant as a man's love of girls and cars, so it's time to learn about Love and the Midnight Auto Supply.
Writer/director James Polakof opened an ad agency when he was 21, and from this business propelled himself into film production. His work varied from family oriented projects, two of them featuring "The Waltons" star Will Geer and his daughter Ellen, to more exploitation-leaning films such as Midnight Auto and The Vals with Sonny Bono and Tiffany Bolling. In recent years, he earned a doctorate and dramatically repositioned himself as an aesthetic medical marketing consultant, and in January published his first novel, Rebirth of Erin O'Brien. Here is a Variety display ad promoting the filming of Dark Eyes, his horror film with Lana Wood and Britt Ekland later released under the title Satan's Mistress; a small blurb for Midnight Auto can be seen in the bottom right.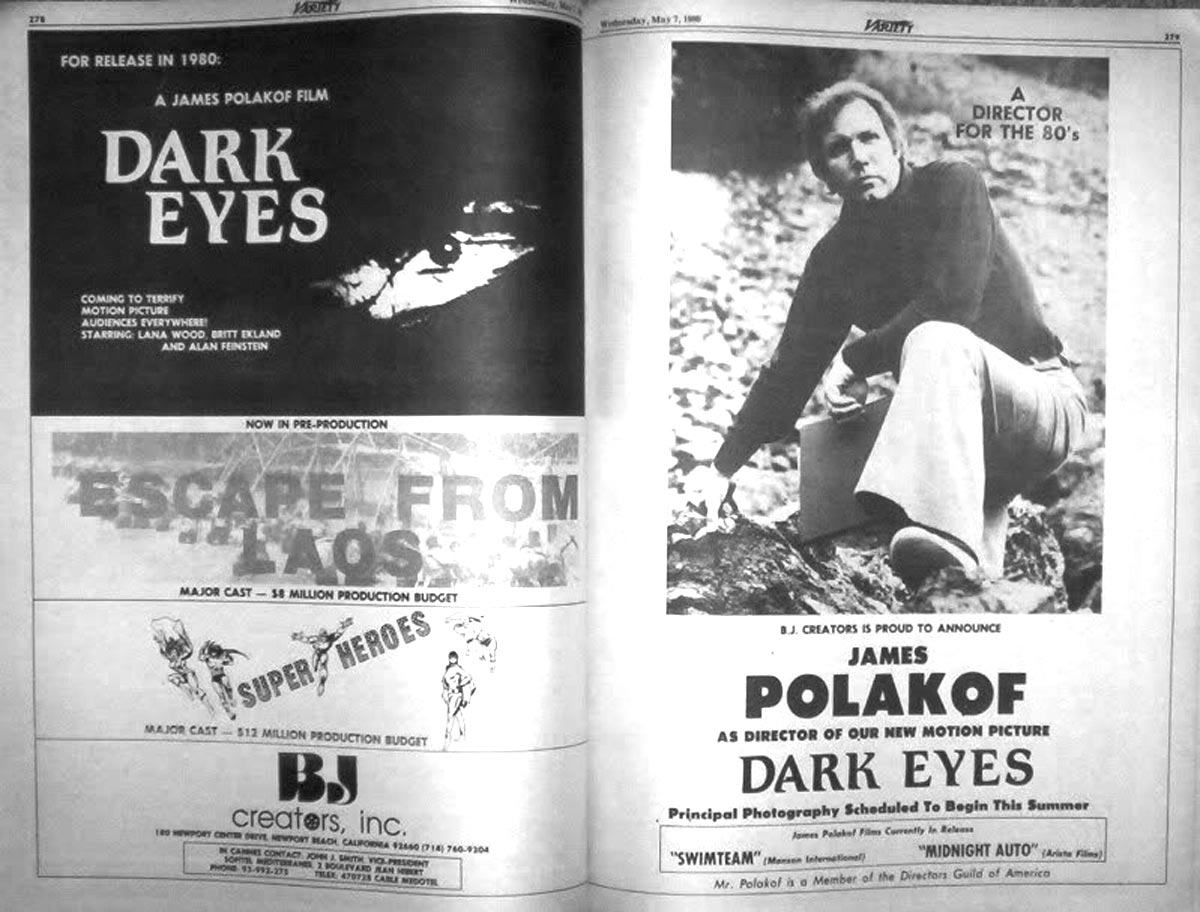 The music for Midnight Auto involves two solid figures in the history of '70s rock. Tom Fogerty, who with his brother John founded Creedence Clearwater Revival, sings two songs on the soundtrack. The score is written by Ed Bogas, a member of the psychedelic band The United States of America, and whose credits include the scores for Ralph Bakshi's Fritz the Cat and Heavy Traffic, music for several Charlie Brown and Garfield TV projects, the Pointer Sisters' pinball counting songs on "Sesame Street," and video game music for Tetris and Law of the West. An extra rock-spirited bonus: many of Parks' lines were provided without credit by satirist Terry Southern.
Three of the loveliest and action-savvy women of the '70s fill out the supporting cast. Linda Cristal, who plays Duke's partner in crime Annie, headlined the western drama series "The High Chaparral," one of the underappreciated TV credits of Stuntman Mike in Death Proof. Rookie rent girl Billie Jean is played by Colleen Camp, whose acting resume spans The Swinging Cheerleaders to Apocalypse Now to Election and just keeps on going, with producing credits as well for An American Rhapsody with Scarlett Johansson and the upcoming Philip Noyce thriller Above Suspicion. And Monica Gayle, immortalized as the manipulative gang lieutenant Patch in Jack Hill's Switchblade Sisters, plays Kathy, the increasingly conflicted girlfriend of young hero Peter.
Whether it's a house of violent retribution or a house of ill repute, we think you'll agree Michael Parks' presence makes them a home where you'll enjoy spending an evening. And movie lovers always have a home at the New Beverly!