Musician. Iconoclast. Alarmingly sexy. Ragingly authentic. When Michael Parks comes on the screen, no matter if he's playing soft-spoken and chilled-out or strong and angry, you absolutely can't take your eyes off of him. His work is often exasperatingly difficult to find, and I say this as a film archivist. I have been lucky enough to enjoy many of the modern films that Parks was featured in but it's extremely difficult to locate the majority of the work that caused men like Quentin Tarantino, Robert Rodriguez and Kevin Smith to rightly claim him to be one of the best character actors to have ever lived.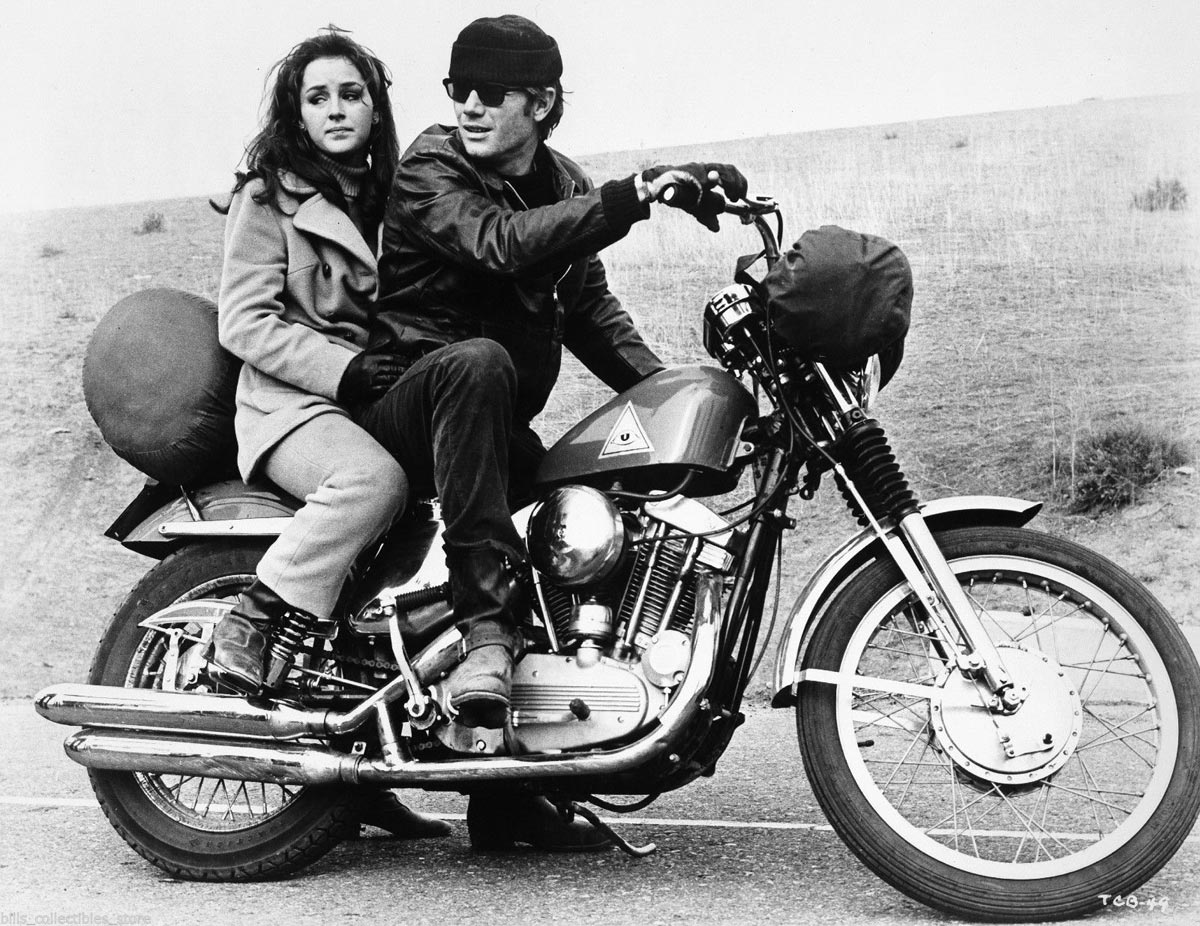 I first became aware of Michael Parks when he appeared as Jean Renault on Twin Peaks. His smoldering sexuality, controlled malevolence and arsenic-laced charm made every one of my newly acquired pre-teen hormones scream and shout like a three-alarm fire. I then later discovered he was in an old favorite my parents had rented for me when I was a kid, Savannah Smiles (Pierre De Moro, 1982). As I have gone on to explore his body of work, the one characteristic that I have found to be "standard issue Michael Parks" is his innate ability to give the ultimate performance while surrounded by the ultimate performers. Throughout Parks' career he was cast in a variety of film and television appearances where he was not always the most famous name. Regardless of that, the characters he created were usually the most colorful, deep, and unique, often outshining even bigger stars. But he was never showy about it.
Michael Parks makes name performances out of character acting. The smallest "snack size" roles or bit parts become full steak-and-potato meals in Parks' capable hands. It's 100% worth watching his frequent guest spot TV work just to see how Parks can handle and develop what he is given. Just a few years after working together on the Charles B. Pierce film The Evictors (playing August 15 at the New Bev), Jessica Harper and Michael Parks made guest appearances on a highly underappreciated TV show called The Equalizer. The episode, entitled "Nocturne," is impressive. One would think that live performances by Ashford & Simpson would be the highlight but that only becomes a (highly) pleasant part of the narrative. Parks' work here really shows him to be the vibrant thespian that he was. Playing opposite acclaimed British actor Edward Woodward (aka Sergeant Howie from Robin Hardy's 1973 film, The Wicker Man), the two men bring out the best in each other. Directed by Richard Compton of Macon County Line fame, this hour of TV may not be the most exquisite piece of art but there are passages where the lines between art and substance are significantly blurred due to tremendous performance. Is it a gritty grimy narrative about catching a rapist or is it genuine theater that we are watching, brought to us via network television circa 1986? The Woodward/Parks dynamic is that powerful.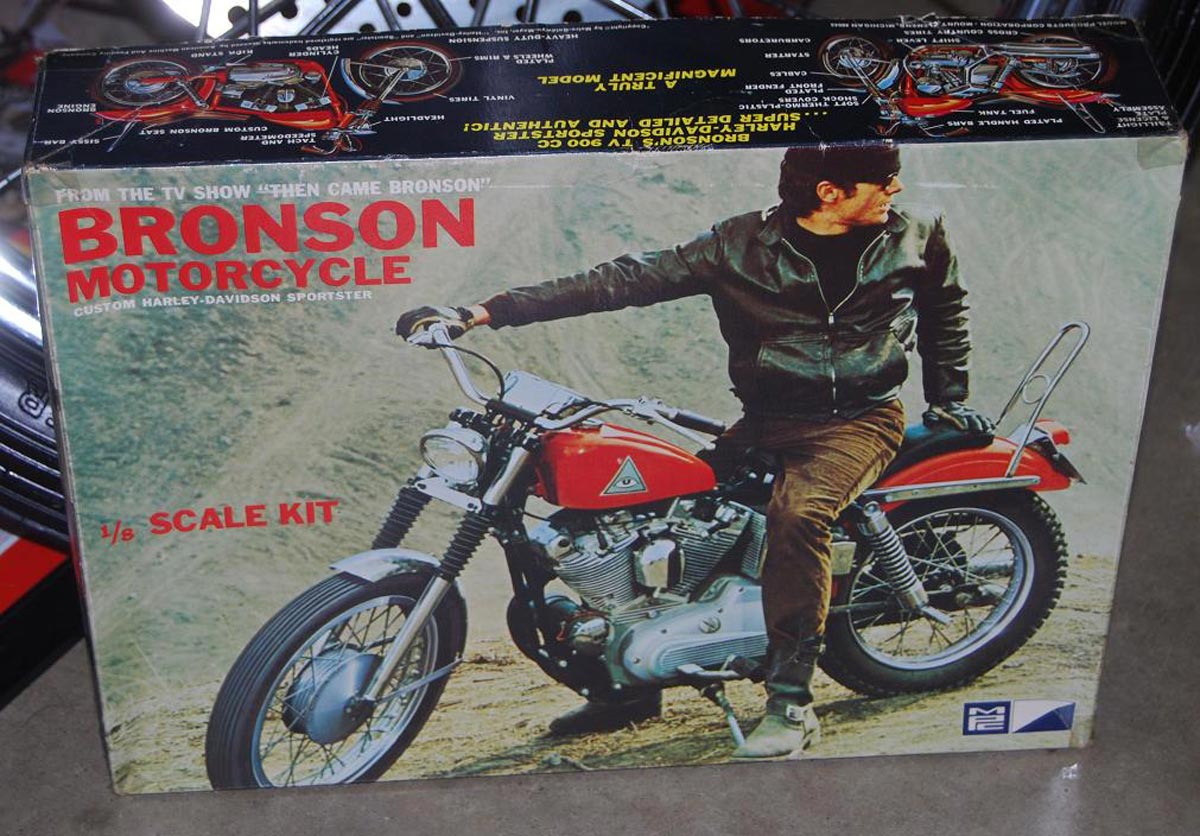 The most standout example of that Parksian Magic exists in one of his earliest TV films. There was a time when TV movies grabbed loads of Big Stars On Their Way Out and some Big Stars Who Were Still Stars and slapped them all together. Lots of glorious westerns. Lots of insane horror. Lots of really fucking good films. Michael Parks is in one of the best things that I have ever seen from this time period: a 1967 work directed by the great Don Siegel, Stranger on the Run. An entire thesis could be written about how Vince McCay (Michael Parks) is revealed and unleashed on the narrative and audience. Featuring top tier talent like Dan Duryea, Anne Baxter and Henry Fonda, Parks effortlessly slaughters their performances with his brutal and terrifyingly great build-up. It's almost surreal. Not to say that his co-stars were not good – everyone in the film is great! In playing McCay, Parks makes the most skilled transition from straight-up lawman to pure physical manifestation of rage and disorder. It begins as a slow burn, Parks' face and eyes slowly registering change, his body and gait (even the way he shoots his gun!) reflecting character shifts, until – BLAM – the crescendo of the film! One could certainly attribute some of that to Siegel's direction and Dean Reisner's teleplay but…not entirely. And this before Parks even had his "break out" role in Then Came Bronson (1969-1970). Stranger had him up against big guns and yet he brought a nuclear explosion: himself.
The staple story on Parks seems to be that he did everything from pick fruit to drive trucks before becoming an actor. This Southern California journeyman life makes sense for a boy born in Corona, CA in 1940. The more interesting highlights are what seem to have happened between the gaps and not repeated everywhere in the tired "before he was an actor he did odd jobs" sentence. While several sources discuss the fact that Parks tried out for minor league baseball, they all say that he turned down the opportunity because it paid less than the current employment he held: upholstering coffins. Print the legend, I suppose. Interviewed on a radio show for motorcycle enthusiasts, Parks was asked about this larger-than-life factoid and he laughed. "No! I wasn't making any money at all as a casket upholsterer! My mind was in literature and theater. I went down [to the tryouts], ran bases, and I was just laying there in those big long rows where they have the bunks, and I took about 4 or 5 days and I thought: it's not this, it's Dylan Thomas. So I took my crap and walked out to the bus station and waited until about 5 in the morning and they thought I was crazy but you never know. For Christ's sake, it took a sprinkler to take Mantle out of top form." In this same interview, Parks offhandedly quotes French philosopher Voltaire as well as queer playwright and literary figure Quentin Crisp in response to various questions about motorcycles, autograph shows, recent film work and career memories. These poor interviewers had no clue how to respond. He out Parks-ed them! But that was easy for him to do. He was that smart.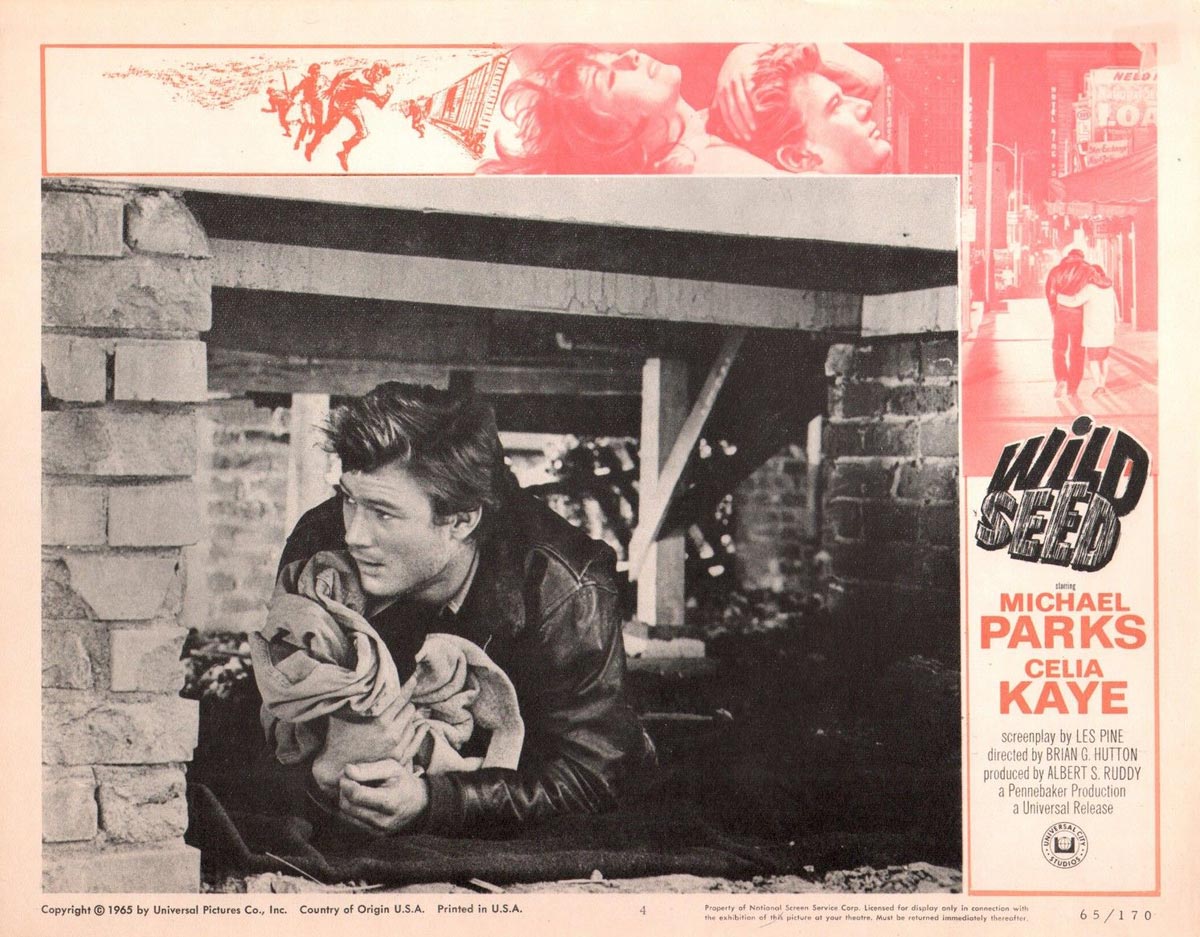 Some sources note that distinguished theater/film/television actor Frank Silvera discovered Michael Parks during a 1958 theater run in Hermosa Beach. Parks later worked with Silvera in Perilous Voyage (William Graham, 1976) and both men starred in the groundbreaking play about drug addiction Hatful of Rain by Michael V. Gazzo (Silvera on Broadway, Parks in a 1967 TV movie) so the two clearly had a bond. Additionally, in a 1965 article in Jet magazine  promoting The Wild Seed (Brian G. Hutton, 1965), Michael Parks mentions his friendship with Silvera in a discussion about believing strongly in the Civil Rights struggle, something that Silvera was immensely dedicated to.
Let's not bullshit. Michael Parks had a rocky career. William Shatner was not the first or the last to call him arrogant. But what Shatner (of all people) saw as arrogance, was in fact a complicated and intellectual approach to performance and the world of drama. As a burgeoning film star, Parks rejected a role in a remake of Beau Geste, which led to Universal cancelling his contract. He was seen as intransigent and difficult to work with. His artistic temperament "relegated" him to TV, TV movies and the occasional feature film. While he was able to wrangle recurring roles on a few TV series like Then Came Bronson (which led to Big Time Fame and Notoriety) and The Colbys, he was an actor whose manner, methods and style was the very definition of non-conformity. Michael Parks truly expected the best from himself and others. It's heartbreaking how often he was rebuffed by the system for expecting it to simply write better, shoot better, and be better.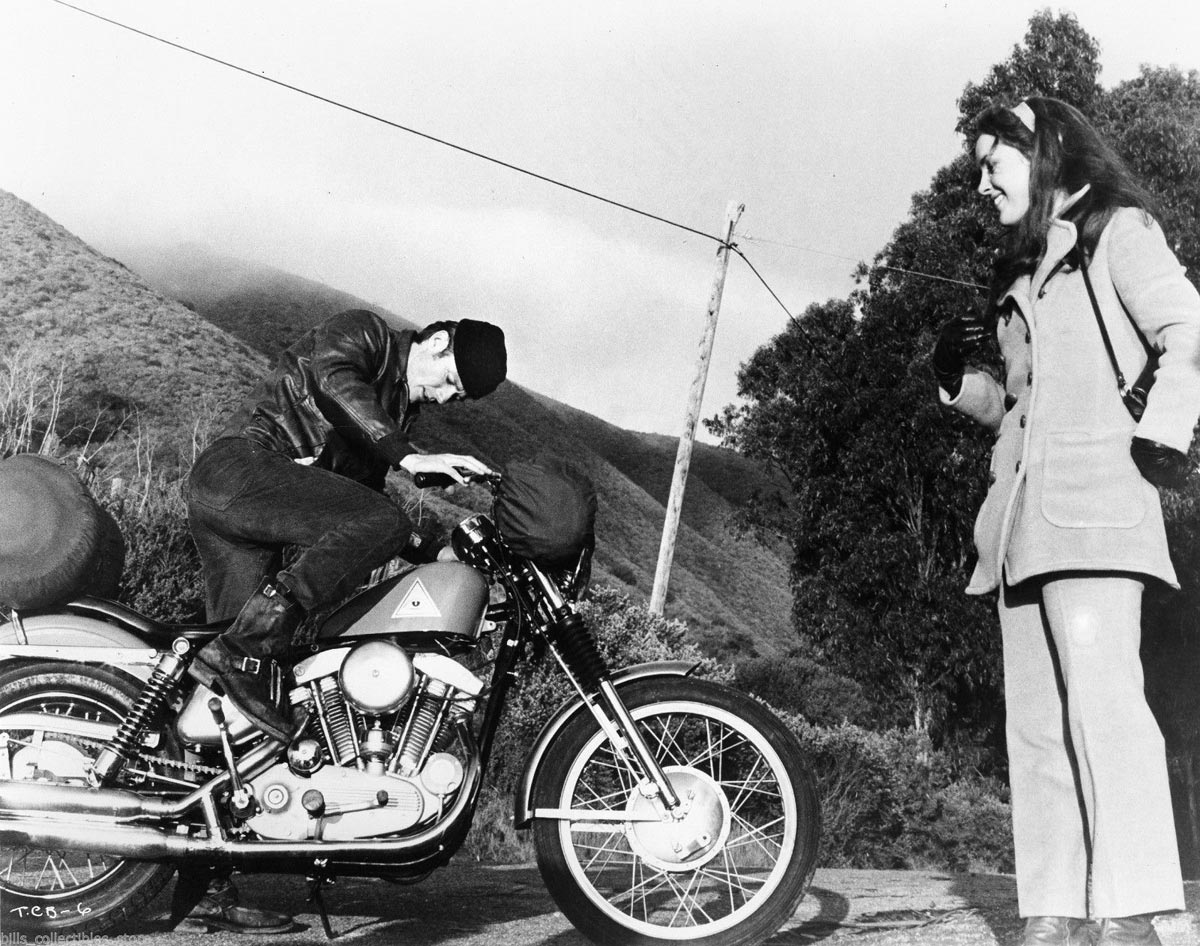 A string of terrible luck and life issues followed him through the 1970s – his wife died of a drug overdose, his brother died in a tragic diving accident, and his daughter was hit by a car – all within the span of a few years. Yet his work and its caliber did not suffer. A lesser man would have been broken. Michael Parks most certainly had many personal demons throughout his life but the miracles that are his performances – whether they are on soap operas or some way-out horror TV movie – survive as testament to his professionalism and skill.
Michael Parks was one of the most earth-shattering actors you could ever experience. Hyperbole be damned, these aspects are true because much of the power of his work was due to its calm and quiet intensity. His dramatic strength was based in true theatre and a concrete set of personal ethics. These ethical stances occasionally harmed him professionally but he stuck to his guns and was able to make a career, using his favorite phrase, "one day it's chicken, the next day it's feathers" as a motto to get him through the bad times. In retrospect, looking at all the ways in which his ethics and artistic/creative differences "hurt" his career, it's really fucked up. He hated an episode of Then Came Bronson and gave the higher-ups hell about it because he thought it was a vulgar episode and inappropriate. AND HE WAS RIGHT. The episode, "Famine Where Abundance Lies," features a storyline where both a mother and a daughter are attracted to his character, Jim Bronson, and that's the center of the plot. The actual script had him sleep with them both but Parks absolutely rejected that outright. So it was changed. It's still an uncomfortable episode.
Then Came Bronson is probably where Michael Parks is most well known. The television show only ran for a year and it features his beautiful music; it's like comfort food TV – it's my macaroni and cheese, man. It's delicious, makes you happy, and nothing can be evil in that hour when you watch that slice of television. I still don't know how this show exists. When you experience Michael Parks as Jim Bronson on this show, all's right with the world. It was nicknamed "Easy Rider Lite" but…it came out before Easy Rider and lacks its cynicism and dark tone. Certainly a counterculture work, this TV show centered more on ideas of wonder and beauty, depicting the people that Bronson came across with respect, humor and authenticity. There's a truth to this show (even in weird episodes about hippie cults with black cats named Crowley) that is so refreshing that it remains watchable today.
Guest stars like Jack Klugman, Penny Marshall, Keenan Wynn, Kurt Russell, and Elsa Lanchester (oh! The Elsa Lanchester ep will make you CRY!!) rock the Then Came Bronson house. And those are just a few of the many names. But it's Michael Parks who is the head of the household. Soft spoken, funny, almost a Tabula Rasa, Jim Bronson (Michael Parks) rides around the US on a 1969 XLH 900cc Harley-Davidson Sportster, fixing people's lives, VW buses, motorcycles or hearts and in return we enjoy the process, including the fact that he's insanely gorgeous (hey, I've got eyes! I can't help it!). The wealth of music by Parks can also not be overstated. TCB was a platform for Michael for a plethora of reasons: his acting talents, his abilities to make creative choices (he made certain that he did have script input periodically, as much as he could), hiring more cameramen he liked, and the use of his songs. Once you hear "Long Lonesome Highway," you want to hear it again.  Parks has one of the sweetest voices ever recorded.
Everything was shot on location. After accepting the role, Parks made it one of his demands (after turning the initial script for TCB down twice), that they would do four shows per location. Places like Colorado, Wyoming and Northern California were all utilized. The show was also popular enough to have been spoofed by MAD Magazine in a bit called "Then Came Bombsome" and had a whole line of TV-tie-in books and toys dedicated to it. Parks was devoted to his cameramen and stuntmen on that show, remarking in several interviews that without cinematographer Lamar Boren or famed motorcycle stuntman Bud Ekins, the show would simply not have looked as good or been as good as it was. Then Came Bronson only existed from 1969-1970 but it produced 26 episodes of unequivocal lyricism so enjoyable you want to wrap yourself up in them like you would a warm blanket fresh out of the dryer.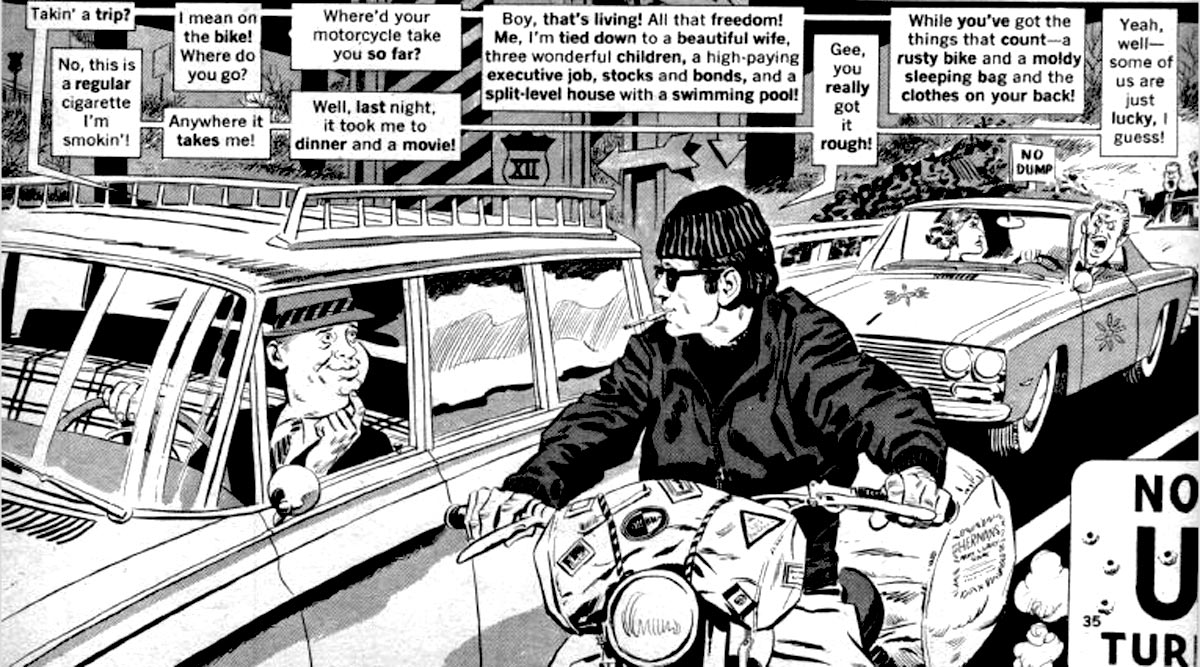 Much of what might be Parks' best work is practically impossible to find. I would give my right arm, sell other people's children and likely do unspeakable things if asked just to have a shot at seeing most of the TV movies that he was in. As I am a woman of the 16mm collector-variety, I will keep dreaming of the day I find prints of Can Ellen Be Saved? (Harvey Hart, 1974), The Story of Pretty Boy Floyd (Clyde Ware, 1974), or Escape from Bogen County (Steven Hillard Stern, 1979). I doubt that I will ever find my Holy Grail of Michael Parks TV Movies, A Hatful of Rain (John Llewellyn Moxey, 1968). John Llewellen Moxey is a fucking badass anyway but him taking a Michael V. Gazzo play and casting Michael Parks, Sandy Dennis and Peter Falk? Yeah. That's holy grail shit, my friends. But like it or lump it, as a lover of character actors, a film preservationist and 16mm collector, sometimes I have to face the music: I may never get that print. Realistically, all I want is a chance to see it. And who knows? That may happen. After all – look what we are getting this August!!
Some people say Christmas in July. To hell with that. Christmas in August, fools. The New Beverly is giving us copious helpings of Michael Parks this month and that is something for which we should all be ecstatic. If you don't know who he is, well, here's your chance. If you only know him from Quentin Tarantino, Kevin Smith or Robert Rodriguez, GET SOME PARKS IN YOU, STAT. I could talk all day about his excellent work with Quentin. How he lit the screen on fire in films like Kill Bill Vol. 1 & 2 (2003 & 2004), or how his slow, calculated style makes his presence in work like From Dusk Til Dawn (1996), Death Proof (2007) or Django Unchained (2012) dominate. But I want you to see that work for yourselves on the big screen at the New Beverly. I want you to experience Michael Parks' dynamism alive and well when each of these plays at our wonderful theater. Michael Parks will never die so long as Quentin keeps playing the films that he cast him in. And we are all better for it.