In 1964, Alfred Hitchcock appeared on the CBC (Canadian Broadcasting Channel) documentary series Telescope. Interviewed by Fletcher Markle, the Master of Suspense revealed one of his primary approaches to filmmaking. "Please don't think me presumptuous if I give you the analogy of, say, a painter who paints a tree, a landscape, or even a bowl of fruit," said the legendary director, "I'm sure that the painter is not a bit interested in the apples for themselves alone, but in the technique of his work which stimulates the emotion of the viewer of his picture. After all, all art is experience. People look at an abstract and say, 'I hate it!' but the mere fact that they use the word 'hate' means that they are going through an experience…therefore if you apply these principles to film, as I see it, it is not the pure manner of the content, in other words it is not just the story but what you do with it."
Alfred Joseph Hitchcock was a summer baby, born on August 13, 1899. His father was a grocer and his mother had other children to raise so Hitchcock's description of himself as a well behaved but lonely child is reasonable. Hitchcock's nondescript yet religiously strict upbringing played a large role in many of his films later. Raised Catholic but sent to a Jesuit School, Hitchcock said to Francois Truffaut, "It was probably during this period with the Jesuits that a strong sense of fear developed – moral fear – the fear of being involved in anything evil. I always tried to avoid it." Works such as I Confess (1952) and The Wrong Man (1952) are explicit examples of how Hitchcock utilized religious themes and visuals to provoke and examine ideas of terror in works of suspense. This skilled director was even able to centralize the benevolent precept of "love thy neighbor as thyself" and quilt it into a tale of ultimate anxiety in the Technicolor tale, Rear Window (1954) screening at the New Beverly on September 13.
After studying art, Hitchcock became an advertising man. Many years later, career in full bloom, his past in the ad industry makes sense. No other director in film history is as commercially recognizable as Hitch. The famous 9-stroke-line-drawing of his silhouette (designed by Hitchcock himself), the portly shadow on any screen (film or TV) are enough for almost anyone to make the connection, let alone the highly publicized series of posed photographs promoting his later films like The Birds (1963) or Psycho (1960). These shoots feature him with his conspicuously expressionless face and a prop item signifying his latest production. Advertising indeed!
Truth be told, Paramount certainly had some weight behind the Psycho (1960) campaign, but its promotional work changed film exhibition and directorial sway for good and was truly incredible. Take a look:
Hitchcock's gift for commercial work and talent was balanced entirely by his partner/wife, Alma Reveille. He met Alma, herself a film editor and a script girl,  just after moving on from designing the art for intertitles (the dialogue or narrative cards that accompany or assist in the continuity of silent pictures). For the rest of his/their careers, there would never be one single film that she would not advise him on. According to their daughter, Patricia, if Alma wasn't keen on a script, Alfred wouldn't even give it a second glance. Their team efforts provided them a happy life and a happy career. Whatever you may have heard, you have only to go to the Academy of Motion Picture Arts and Sciences and see the AMAZING home movies in the Alfred Hitchcock Collection to see the loveliness of Hitchcock family life. I particularly recommend the home movie where Hitch is pretending to "uneat" a banana.
After meeting Alma, Hitch made a few more silent films. He directed the Jack the Ripper-inspired work, The Lodger (1926), the first of his many films to look at issues of wrongly accused individuals. It began his style of recurring visual motifs and, most importantly, is a great example of Hitchcock's tremendous capacity for thinking outside the box. His ability to translate what was inside his head to what made it to the camera's lens was legendary. In the production of The Lodger, a plate-glass floor was specially manufactured in order to show the lodger pacing back and forth (this was shot from below). The "ceiling" also allowed for a chandelier to swing with the lodger's stride. Later on, this would have been unnecessary – the pacing, the chandelier – could have been done with sound. But not in 1926.
The director carried this method over into other films. It was, in fact, part of what he felt was the language of cinema. Being able to tell a story with a greater concentration on image and less on dialogue is critical to understanding Hitchcock's work. He created all kinds of props and manipulated a variety of visual cues in order to underscore the more emotive factors of a given scene. For 1938's train thriller, The Lady Vanishes, Hitchcock had extra large glasses fabricated and shot through them in order to intensify the drama but not detract from the actors. For the highly Freudian and Salvador Dali-dream-sequenced Spellbound (1945), a gigantic hand and gun were created for a finale sequence. The infamous coffee cup in Notorious (1946) is far bigger than any caffeinated beverage container I have ever held (although I have never had the glory of being served by Cary Grant so perhaps I do not know from whence I speak).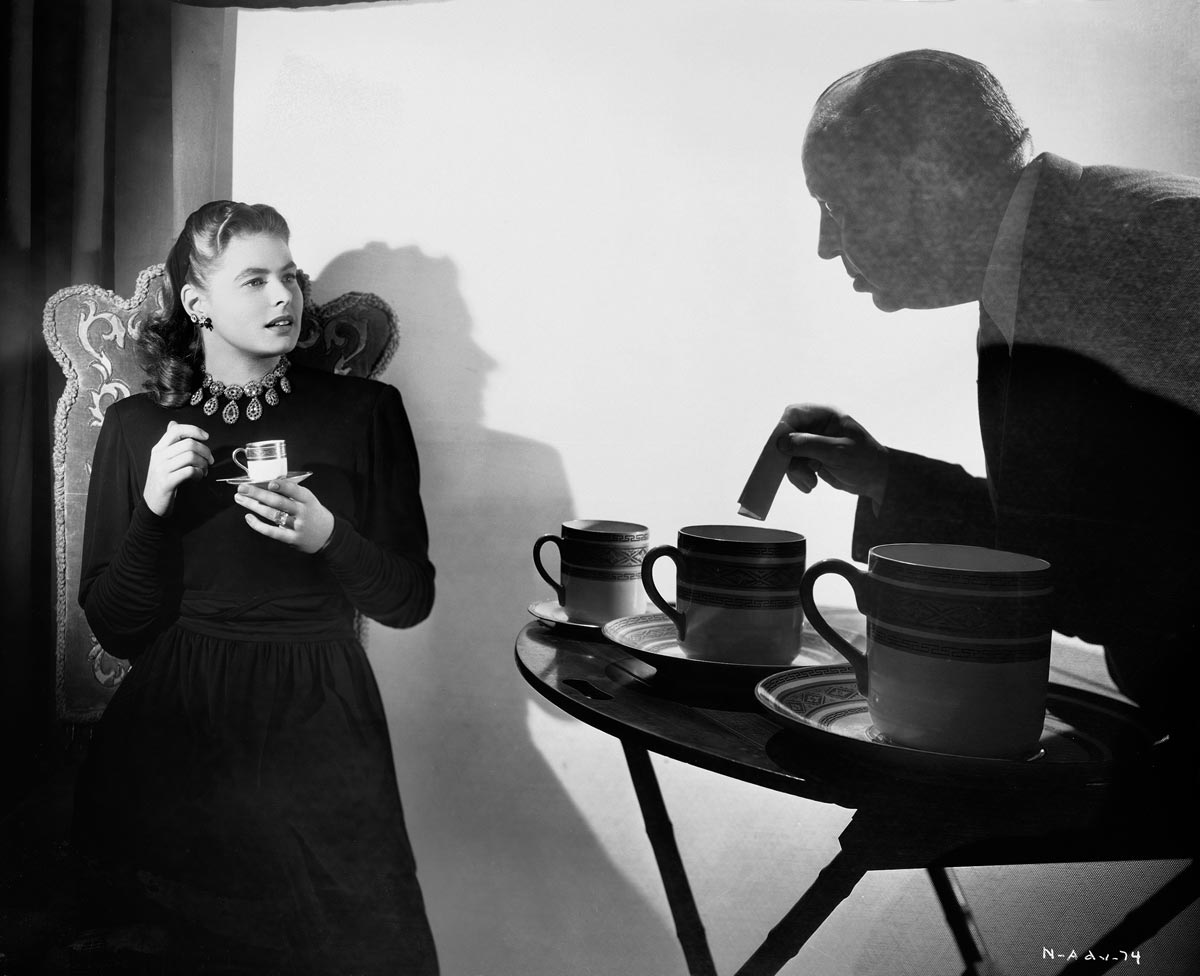 Hitchcock's careful attention to his visual topography was not to be outdone by those motifs that ran through his films. The aforementioned "wrong man" scenario is huge in his cinema as is the idea of guilt or a guilty conscience (he was raised Catholic, even if he did go to a Jesuit school). Explorations of male desire and sexuality can be found in every film he ever made. Many Hitchcock films examine sexual fetishes, psychoanalytic ideologies and address what is deemed as "deviant behavior" or some level of deviancy in terms of the homoerotic. While films like Rebecca (1940), Rope (1948), and Strangers on a Train (1951), are famous examples of Hitchcock's involvement of intense queerness, other films such as Rear Window (1954) and Vertigo (1958) reveal the perversity of those men who might seem to be the "average Joe." While Hitch's queers are murderous, his normal dudes are voyeurs and perverts. Which is worse? The landscape that this British gentleman painted may not be comfortable, but boy howdy is it fun to dig into! As Hitchcock said about his masterful Shadow of a Doubt (1943), "What it boils down to is that villains are not all black and heroes are not all white; there are greys everywhere."
Alfred Hitchcock may work mostly in the suspense and thriller genres but his comic ability is top-notch. It is true that the majority of his films do carry an overall serious tone and the topics that are covered are somber (murder, mystery, horror). But please note: you are allowed to laugh. And not nervous laughter either. Hitchcock is funny. INCREDIBLY FUNNY. While it would be wildly inappropriate to laugh at his films for being outdated (that's never cool when dealing with classic cinema, folks, get with the program), what many fail to realize is there is a level of comedy included in Hitch's darkness that allows you (as an audience member) to enjoy the film more. Whether it is the inclusion of a wacky side character or sewn into the skillful dialogue, laughing is ok. The Trouble With Harry (1956) is unapologetically a murder-comedy while To Catch a Thief (1955) and North by Northwest (1959) are truly some of the more hilarious suspense thrillers made. Every Hitchcock film includes his humor. And if you doubt his comedic intent, simply look at a few of the introductions to his television show that ran from 1955-1965 on CBS and NBC, respectively.
This month the New Beverly is debuting a brand new matinee series, opening the gates with a month of Alfred Hitchcock's work. Starting on September 6th we will be screening the adaptation of the Patricia Highsmith novel, Strangers on a Train (1951), starring the defiantly handsome Farley Granger and Robert Walker. Then, on September 13th, we'll be looking through someone else's POV with the masterful Rear Window (1954), featuring the fabulous Grace Kelly, Jimmy Stewart and (my personal favorite) Thelma Ritter. The next week (September 20th) it's off to the theater with Doris Day and Jimmy Stewart in Hitchcock's remake of his very own film, The Man Who Knew Too Much (1956). The Hitch matinees month will conclude on September 27th with the Daphne Du Maurier-adaptation, Rebecca (1940). Whether you're looking for action, adventure, mystery or murder, Hitch has a little something for everyone. Come and find what you need at the New Beverly's Hitchcock Matinee Month.