"Every question of life and death remains a probability until the outcome." – Mr. Jordan
When the male actors that dominated the silver screen in the 1970's are mentioned – Clint Eastwood, Jack Nicholson, Al Pacino, Dustin Hoffman, Robert Redford, Robert De Niro, Paul Newman and Warren Beatty – it might surprise you that of the names in that elite company, Warren Beatty only made seven films in that decade (Eastwood tops the list in terms of sheer film volume with 16 and Nicholson was right behind with 15). Beatty culminated that maverick era with the 1978 box office hit that garnered nine Academy Award nominations – Heaven Can Wait – producing, directing, co-writing the script with Elaine May and starring in the romantic-comedy-fantasy that aspired to deeper themes than what the genre normally presented. In Charles Grodin's superb book It Would Be So Nice If You Weren't Here, he writes that he sat in on a recording session with Beatty during the post production of Heaven Can Wait, and after some musical technicians seemed "annoyed" at Beatty's reticence to commit to the placement of the music cues, Beatty spoke up – "You know, we're not making hamburgers here." Grodin went on to write, "He brought an enormous amount of patience and care to the movie."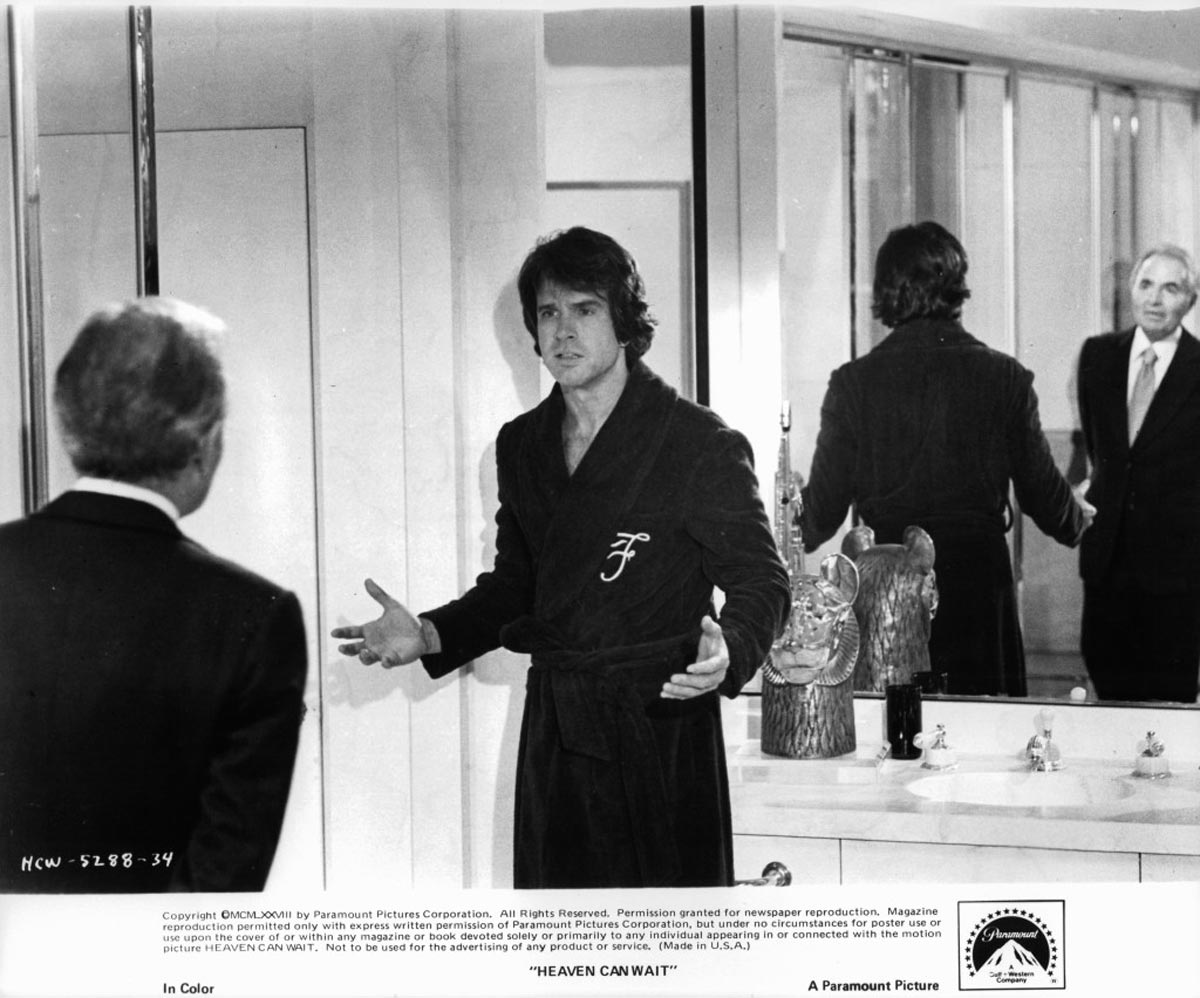 To say that Beatty's career path has been discerning would be something of an understatement given some of the movies he has famously passed on: Butch Cassidy and the Sundance Kid, The Sting, The Great Gatsby, Michael Corleone in the Godfather, Oliver Stone's Wall Street (1987), Boogie Nights (1997) and he dropped out of Tarantino's Kill Bill project in the 11th hour among others. John F. Kennedy had suggested to Jack Warner that Beatty should play him in PT 109 (1963), and Elia Kazan who directed Beatty in Splendor in the Grass (1961) agreed, "Warren had everything Jack had – looks, intelligence, cunning and a commanding eye for the girls. Warren also suffered from lower back trouble." As the story goes, Jack L. Warner asked Beatty to fly out and meet JFK to discuss the possibility of doing the picture. Beatty passed on the meeting and the picture, citing issues with the script. JFK and Beatty would eventually meet, with the two becoming friends up until the President's tragic death. Perhaps only Warren Beatty could say "No," to John F. Kennedy and wind up being friends.
In Pete Hammond's interview with Beatty while the mercurial star was promoting Rules Don't Apply (2016), Hammond wrote for Deadline, "By his own admission there are very few luminaries in his lifetime that Warren Beatty has never met." It would be easy to write off Beatty's large circle of famous friends or the queue of gorgeous women he has been linked with (it's worth a Google) before marrying Annette Bening, as being part and parcel of being a movie star, however, Beatty carried himself with an air of mystique that contributed to him being just as famous for being Warren Beatty, as he was for being a handsome leading man in pictures. But there was an undeniable depth and charisma to him that garnered the attention of such powerbrokers as Sam Goldwyn, David Selznik, Darryl Zanuck, and of course Jack Warner. His opinion and counsel was sought after outside the realm of the studio gates, with George McGovern making him an advisor on his 1972 Presidential campaign.
His film choices, like his answers to the rare interviews that he gives, have been measured and well thought out. After signing on to act in What's New Pussycat? (1965), he departed after a falling out over casting choices and script issues – something that led to him becoming a producer on Bonnie and Clyde (1967) – a film that would help shape the future of American cinema and solidify his need to control a film's destiny. All of his considerable talents would coalesce in Heaven Can Wait – making audiences look at love, death and destiny in a way few rom-coms have achieved with such skill. The film, not unlike Warren Beatty the man, has a charming quality that becomes something much deeper as the comedy scenes give way to something that reaches us deep in the cellar of our hearts by the picture's end. Great films are often hard to intellectualize, and our efforts to do so can quickly fall apart. It's like describing what your first kiss felt like.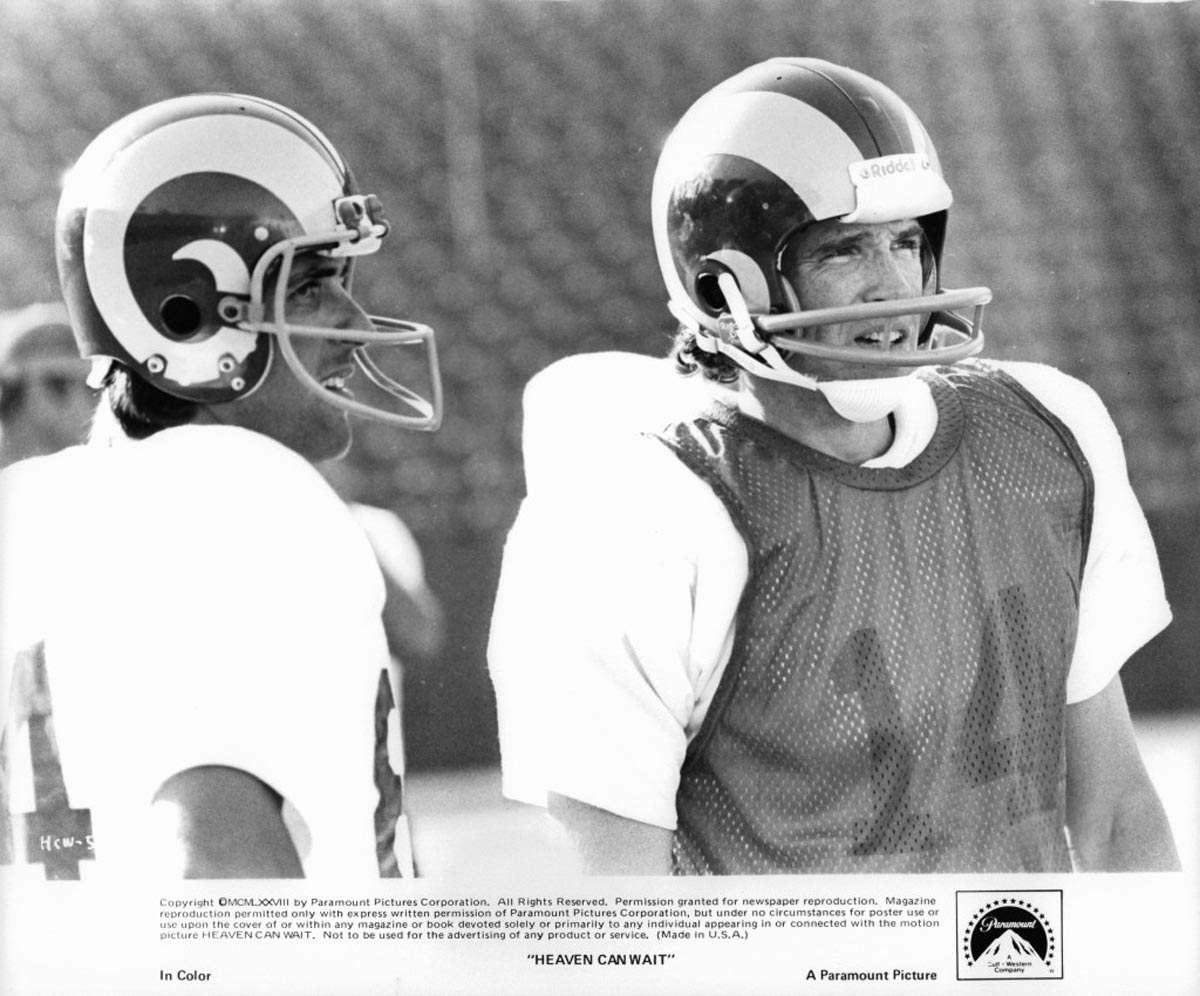 When the plot for Heaven is laid bare, it resembles a Disney film that would've starred Bob Crane circa 1973, but in Beatty's hands the film takes flight: Joe Pendleton is the quarterback for the Los Angeles Rams (Beatty), and after an inexperienced heavenly escort (Buck Henry) pulls Pendleton out of his body and into a celestial way station in order to avoid a horrific car crash that Pendleton would've avoided, the escort's boss Mr. Jordan (James Mason) puts Pendleton into the body of business titan Leo Farnsworth in a "temporary" arrangement until a more suitable body is found. Pendleton sets out to get Farnsworth's body into good enough shape to play quarterback for the Rams by hiring his friend and Rams trainer Max Corkle (Jack Warden), but is smitten by a passionate and beautiful woman from Pagglesham (Julie Christie) who shows up at Leo Farnsworth's corporate headquarters to protest the destruction his company is doing to her small village.
I was 10 years old when I saw Heaven Can Wait and it was a seminal film for me in that I realized for the first time how far a film could move outside the conventions of a genre, while still using the rules that comprise it. I discovered this was a film that was different from the boy meets girl, girl hates boy, boy and girl end up together after going through some difficulties that bonds them together. There's nothing wrong with those movies. I mean, that's most rom-coms. I get it, and I got it as a 10-year-old kid, Heaven just did the romantic comedy plot tropes better – raising the bar as to what the genre should aspire to. There are three rom-com rules (among others) that consistently appear in the genre and are employed in Heaven, but were liberally borrowed from the film throughout the 1980's – a romantic comedy gold rush.
Subterfuge – one of the lead characters has a secret they are protecting that could fracture the love affair if found out. "She loves me, Mr. Jordan!" – Joe Pendleton (as Leo Farnsworth).
Divine Intervention – a spell is cast, a magic potion is consumed, a wish is granted, etc., that causes people to switch bodies, talk to the dead, or re-live the same day over and over again. "Inwardly, you haven't changed. You're still Joe Pendleton. That's what you and I see. But outwardly, you're Leo Farnsworth, and that's what everyone else will see." – Mr. Jordan
The Impersonator or Swindler – one of the lead characters is not who they claim to be, and are building a relationship on a masquerade. "Max! I'm not Farnsworth. I'm Joe Pendleton. This is just a body they found for me." – Joe Pendleton (as Leo Farnsworth).
One of Beatty's great gifts as a producer was his ability to bring the right people together, and in Heaven, he was leaving nothing to chance – getting the brilliant comedy mind of Elaine May to co-write his re-make, and in an ego setting aside move, asking Buck Henry to co-direct the film. Beatty initially wanted Muhammad Ali to play the Joe Pendleton role, switching the sport from boxing to football when Ali was not available and opting to play the lead himself. Beatty had several college-football-scholarship offers coming out of high school and true to form, he passed on them all.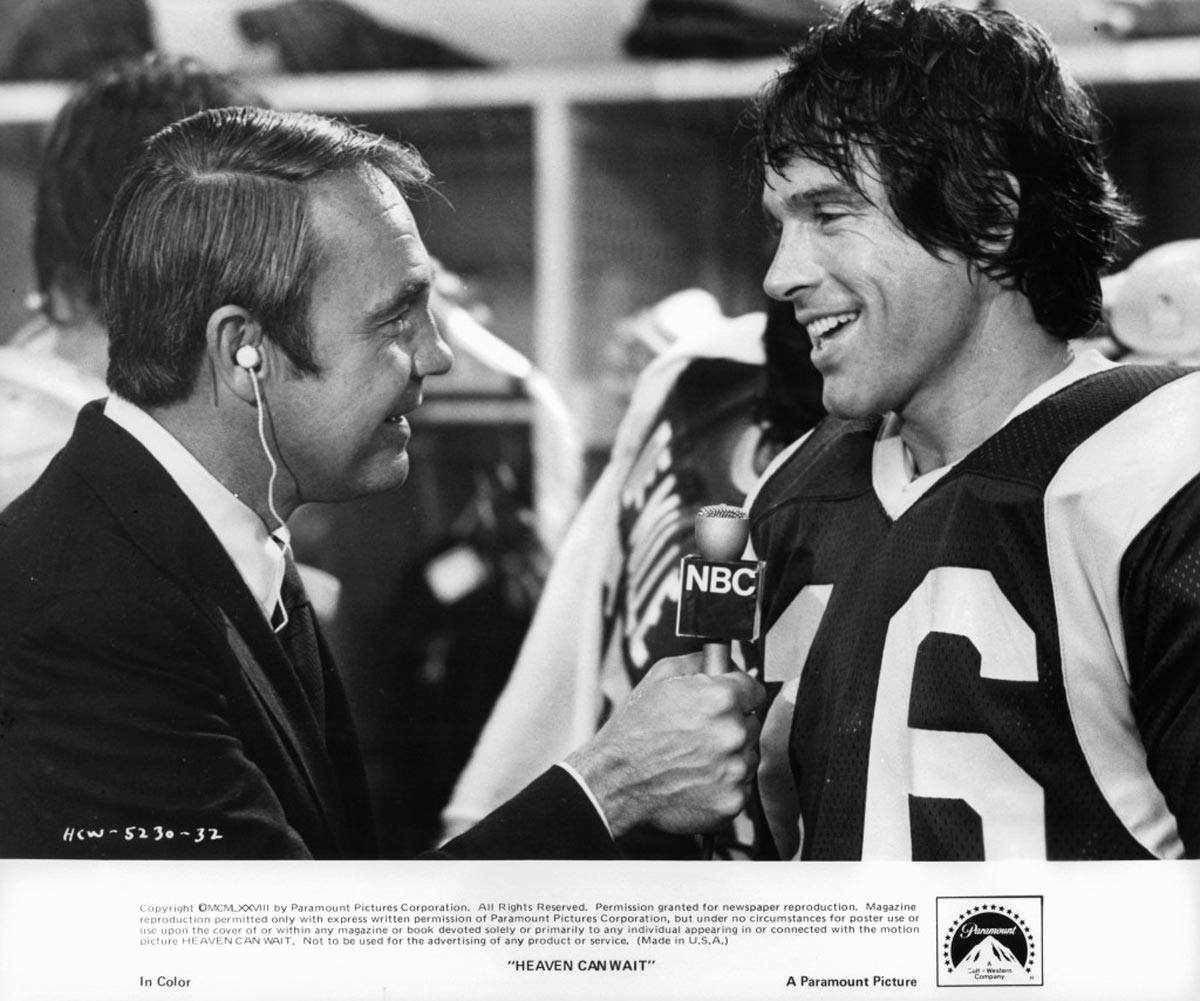 The Heaven cast is flawless with Beatty, Jack Warden and Dyan Cannon each garnering Academy Award nominations. Julie Christie is wonderful as Betty Logan, with a dignity and grace that is only surpassed by her onscreen beauty, and Heaven provides a fitting end to their film trilogy together with a chemistry that's every bit as strong as what they shared in McCabe and Mrs. Miller and Shampoo. Charles Grodin is a comic genius as Leo Farnsworth's murderous personal assistant Tony Abbott, Buck Henry shines as the celestial escort that is responsible for Pendleton's predicament, and James Mason lifts the role of the stoic and honorable Mr. Jordan. Beatty initially lobbied hard for Carry Grant to play Mr. Jordan, but Mason is sublime. The rest of the cast, including actual Los Angeles Rams players (Deacon Jones, Jack Snow, Jim Boeke, Les Josephson, and Charlie Cowan), along with sportscaster of the era Dick Enberg – add to the authenticity of the football sequences.
The film immediately establishes that the Los Angeles Rams' backup quarterback Joe Pendleton is coming back from a knee injury, and has been working tirelessly to compete for the starting quarterback position. Pendleton, after having a stellar practice – "He's looking awful good," – is asked by a reporter, "What do you think of the Rams chances?" and without breaking stride Pendleton responds, "I think we're going to the Super Bowl and I think we're going to win." It's resolute. Not a rah-rah answer from an athlete trying to look good in the fish wrap. The reporter presses him, "Off the record. You think you got a chance?" Unfazed, Pendleton seems to know something as he matter-of-factly answers, "Off the record? I think we're going to the Super Bowl and I think we're going to win." The reporter trying to keep up with Pendleton's quick gate angle shoots for a story, "What do you think of your competition?" but the aging back-up quarterback won't have any of it – "My competition? Jarrett's not my competition. My competition is 25 other teams. Jarrett's our starting quarterback."
Joe Pendleton is a team player, a stand-up guy who believes his destiny is to go to the Super Bowl – whether he's the starting quarterback or not – and that is an important through line for the film: what is our role in not just our destiny, but the part we play in the lives of the people we interact with? The other question the film successfully builds towards, the bigger picture, can you lose true love and find it again in somebody who might look at you a certain way, or say something that might invoke or embody the love that was lost? These are metaphysical questions the movie asks you to consider more than any kind of religious dogma one might expect from the film's title, and it's precisely these questions that elevate it within the rom-com genre. The kind of filmmaking that even a 10-year-old-kid thinks, "What a minute. This is different."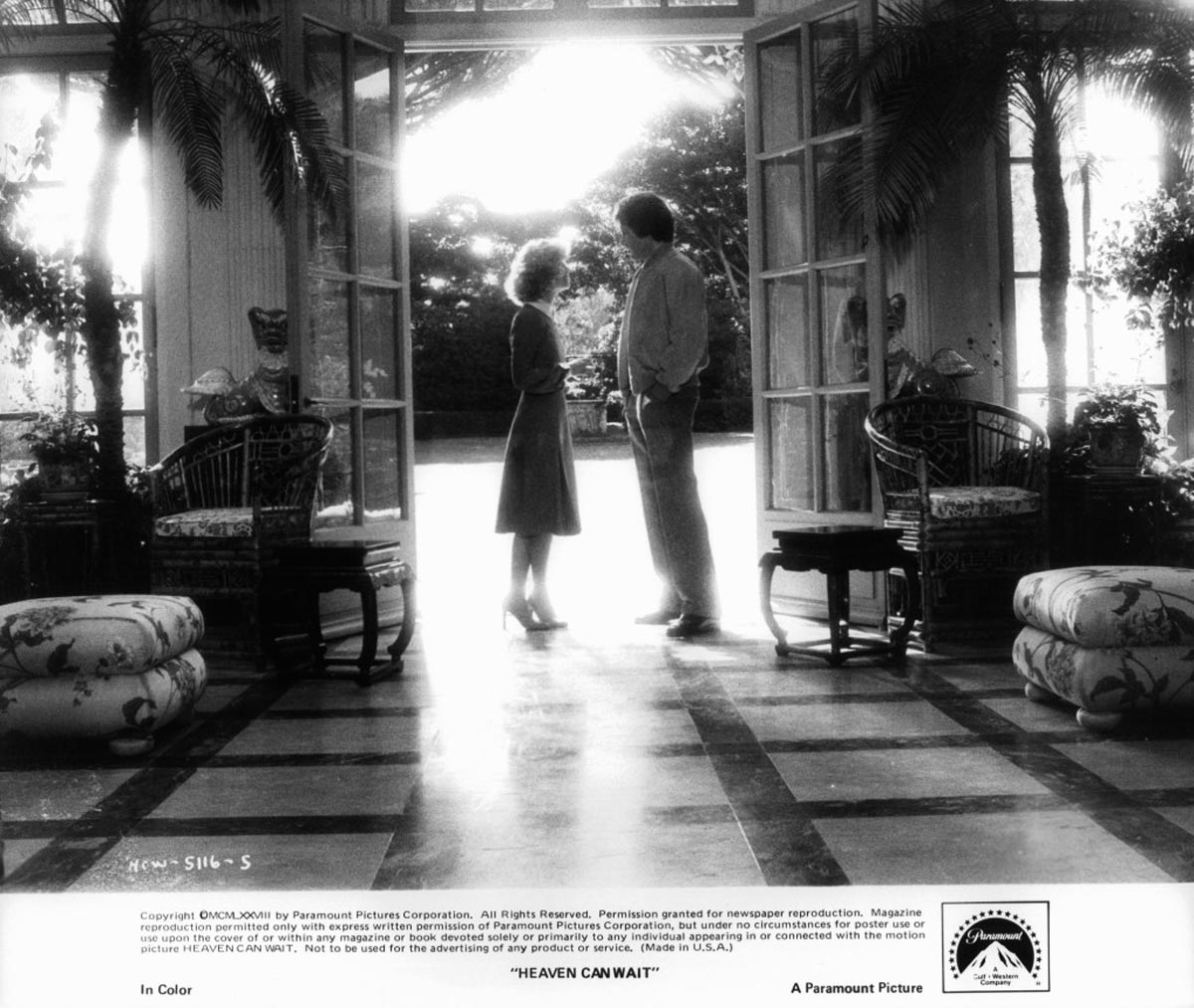 May and Beatty wrote an ingenious plot point early in the film that helps ground the outlandish plot in reality when the team trainer Max Corkle (Warden) shows up at Joe Pendleton's Malibu trailer with a surprise birthday cake, while nursing a sore neck. Beatty as Pendleton (looking every bit a pro athlete in his blue t-shirt) adjusts Corkle's head with a deft manipulation, telling him "Since I'm the only guy that knows how to fix that thing, you ought to start listening to me." It's Joe Pendleton's ability to adjust Corkle's neck problem that will be the key to convincing him later on that Leo Farnsworth is indeed Joe Pendleton. The moment is cleverly buried when Corkle tells Pendleton, "Maybe you ought to trade places. You be the trainer and I'll start on Sunday."
When an elated Pendleton rides his ten-speed bike into the blackness of the old west side Kanan-Dume tunnel in Malibu, the melancholy saprano saxophone transitions us into an incredibly compelling and empathetic set-up for the rest of the film and the movie is only eight minutes old. It's like the old songwriting adage, "Don't bore us, get to the chorus," and May and Beatty are making beautiful music. The saxophone not only paces the film in much the same way the zither is used in The Third Man (1949), albeit slower, it is also an identifying characteristic of Joe Pendleton that he carries over as Farnsworth. It's such a small, clever device.
I've never seen Heaven Can Wait in the theater with a date, but I can't think of a better film to take one to. Heaven was one of the first films I showed my wife when we first met, and as stunning as she is, if she didn't like the film – she would've been out on her ass. For the mystery that is Warren Beatty, I think Heaven Can Wait provides some clues as to why his film canon isn't larger, and that's due to his knit one, pearl two aspect of making sure a project is done to his standards. It's one of the reasons Beatty is the only person to be nominated for four Academy Awards within the same year for two separate films – Heaven Can Wait & Reds (Best Picture, Director, Writer, and Actor). Upon seeing Heaven is similar to how Warren Beatty looks at Julie Christie when he sees her for the first time in Leo Farnsworth's library. It conjures up a feeling you can't fully articulate, and like your first kiss, there's a wonderful buildup, an intoxicating rush of chemicals in your blood and the effect it has on you when it's over.