August is the month where New Beverly salutes our departed friend, actor Michael Parks, with a thorough and diverse lineup of films to recognize all the different incarnations of his colorful career. And we open this festival on August 13th & 14th with two of his earliest and rarest movies!
Wild Seed from 1965 depicts the chance intersection between Daphne (Celia Kaye), a 17 year old New York runaway, and Fargo (Parks), a 20-ish wanderer with a haunted spirit. After a distrustful first encounter, the more worldly Fargo agrees to help Daphne find a way to Los Angeles to reconnect with her birth father, and he proves valuable in keeping her safe from dangerous forces on the long trip west. However, the most dangerous element they may be challenged with is their attraction to each other.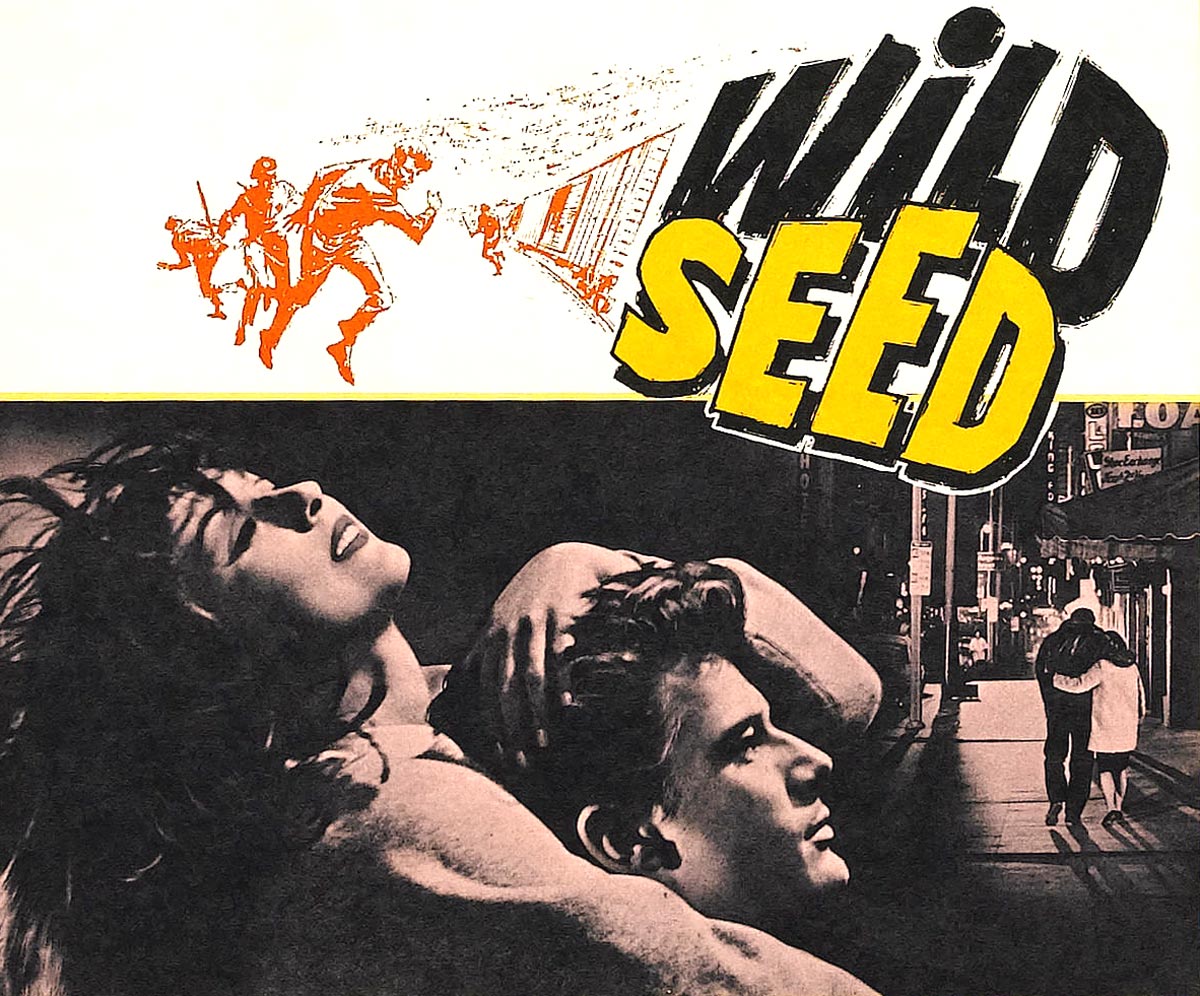 Wild Seed launched several careers in addition to Parks'. UCLA alumnus Brian G. Hutton, who would follow this with Where Eagles Dare and Kelly's Heroes, not only made his directorial debut here, he made history as the first graduate of a college film program to helm a major-studio project. This was also the first feature shot by Conrad Hall, and the first producing credit for Albert S. Ruddy. The story, under the title Daffy, was written by Ike Jones, the first black graduate of the UCLA film school, and revised by TV writer Lester Pine, who once adapted Dalton Trumbo's Johnny Got His Gun for radio; their collaboration continued on the 1966 Sammy Davis Jr. drama A Man Called Adam, where Jones became the first black producer of a studio film. Pine and his wife Tina would later write Popi with Alan Arkin and Claudine with Diahann Carroll and our recent screening guest Lawrence Hilton Jacobs.  The script was acquired by Marlon Brando's production company Pennebaker, with Brando's father credited as executive producer, and filmed in 24 days. Their paths would converge soon after, as Conrad Hall would follow this film with shooting Morituri starring Brando, where he received his first Oscar nomination for cinematography, and Albert Ruddy would later produce The Godfather, where Brando won (and rejected) his own Oscar.
Parks so deeply impressed Universal executives that shortly after completing Wild Seed, he was given the lead in Bus Riley's Back in Town with Ann-Margret, which would end up being released in April 1965, a month before the release of Seed. Celia Kaye had previously made her first film for Universal, Island of the Blue Dolphins, and followed Seed with another project for them, the family comedy Fluffy with Tony Randall. Kaye would later marry and divorce filmmaker John Milius, making appearances in his films Big Wednesday and Conan the Barbarian. Playing Daphne's parents are former silent film actress Eva Novak and "Gunsmoke" regular Woody Chambliss. Rupert Crosse, who plays a fellow drifter, previously appeared with Parks in "Diagnosis: Danger," an episode of "The Alfred Hitchcock Hour" directed by Sydney Pollack. Al Lettieri, appearing here as a bartender, later was associate producer on Brando's last Universal film, The Night of the Following Day, and played Don Corleone's nemesis Sollozo "The Turk" in The Godfather.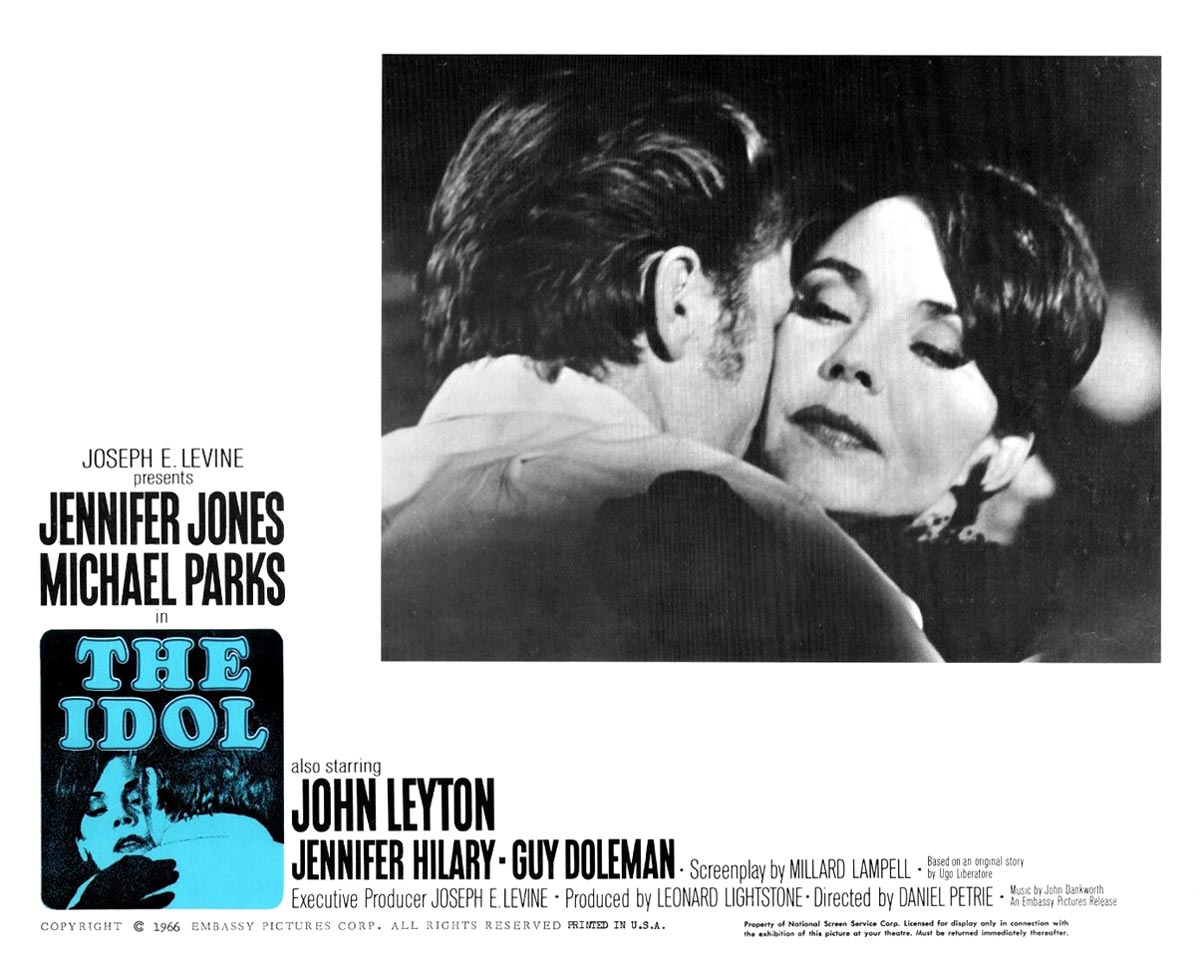 The Idol from 1966 offers Parks as Marco, an acerbic American art student in London, estranged from his parents. Timothy (John Layton), a wealthy classmate on track for medical school, grows enamored of him, to the objections of his controlling mother Carol (Jennifer Jones), who prevents the two from sharing an apartment. As he wields influence over the hectored Timothy, Marco's combination of charisma and chaos lead him to charged encounters with Timothy's intended girlfriend Sarah (Jennifer Hillary) and his mother, and a particularly grim resolution for all of them.
The Idol originated as a story by prolific Italian writer Ugo Liberatore. Though adept at traditional crowd-pleasing fare like westerns and giallos – he was one of the collaborators on Grindhouse Tuesday favorite Hellbenders with Joseph Cotton – his particular strength was dramatizing lurid tales of sexual chemistry, domineering elders, and class conflict, from his adaptation of Alberto Moravia's book Boredom into The Empty Canvas with Bette Davis and Catherine Spaak for director Damiano Damiani, to his own films The Sex of Angels and May Morning with Jane Birkin, who also makes an unbilled cameo in Idol. Liberatore's source material was adapted by Millard Lampell, who previously founded the Almanac Singers with Pete Seeger and Woody Guthrie, and was among the dozens of artists, including Zero Mostel, Ruth Gordon, and Lionel Stander, who refused to testify to HUAC and were placed on the "Red Channels" blacklist. A Raisin in the Sun director Daniel Petrie directed this four years after the release of The Main Attraction, which played the Bev last November as part of our Nancy Kwan tribute.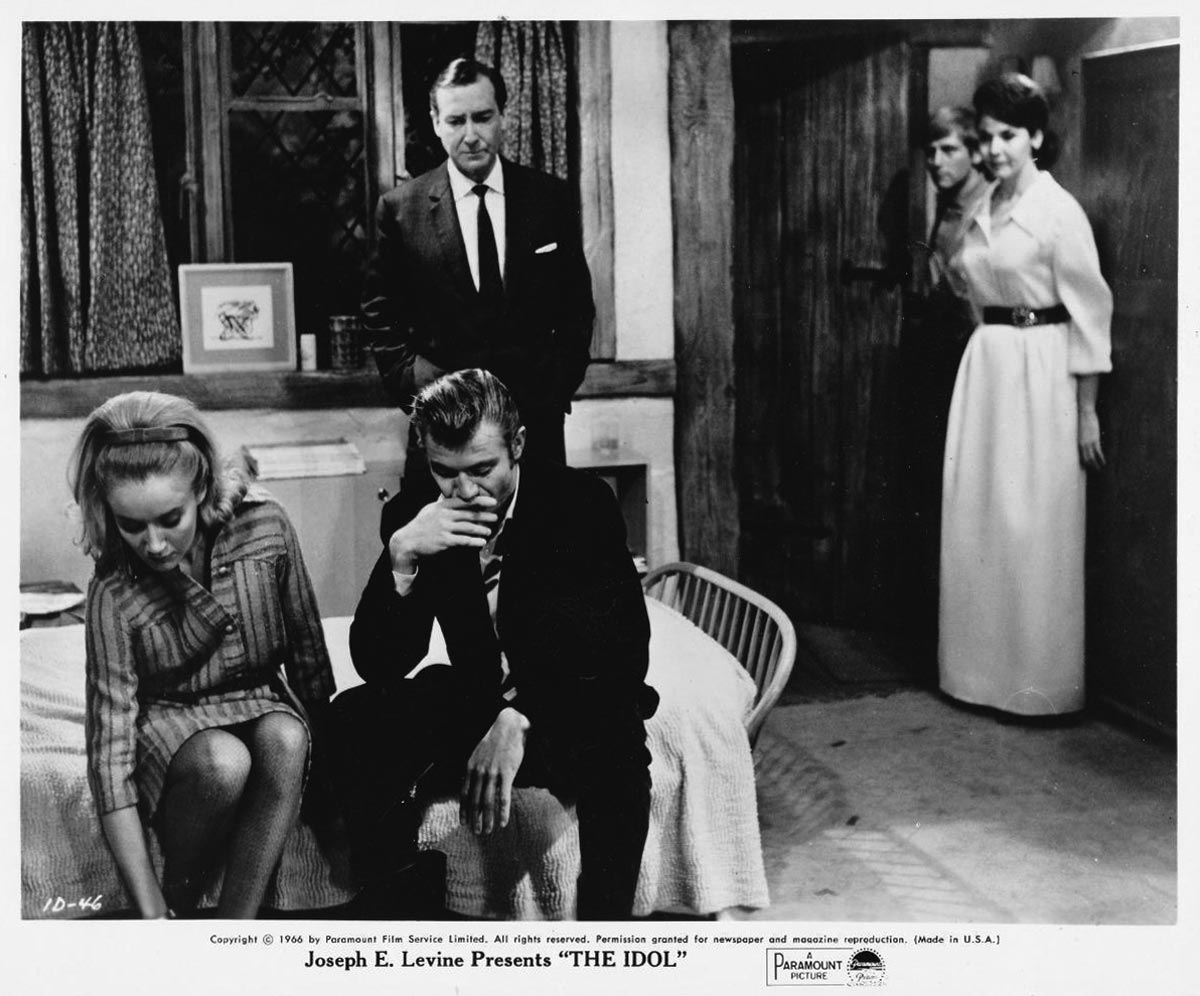 When the story was first optioned, Joan Crawford was originally slated for the lead, and then Shelley Winters and Kim Stanley were successively cast and departed from the project. With a short window left before shooting was supposed to start, Jennifer Jones accepted the role, not long after the death of her husband, producer David O. Selznick. She would follow this with another story involving an older woman repulsed and enamored by a destructive young man, Robert Thom's Angel Angel Down We Go. Supporting actor John Leyton had been a pop star with singles produced by electronic music iconoclast Joe Meek, and played one of the few survivors in John Sturges' The Great Escape; you may have spotted him in last May's screening of Krakatoa: East of Java during our Sal Mineo tribute. And the late Jennifer Hilary just appeared on the New Bev screen as of the few females in the "no wimmen allowed" Roger Moore action film ffolkes.
Michael Parks, in the early days of his career, did not particularly like the press calling him the next James Dean, but there is no denying that he had the talent and magnetism the previous star possessed, and which set him on a decades-long course of great performances. Be sure to start your rediscovery of Parks with these dramas of disaffection.