When assessing some of the great comedy minds that emerged from the 1970s, Robert Klane may not be one of the first names that comes into the discussion. But a closer look at his credits reveal that he has been steadily present for three decades injecting his specialized brand of gasp-inducing humor in multiple settings. He first drew attention as a novelist in 1968 with The Horse is Dead, a furious evisceration of children's summer camp memoirs that made Goosebumps author R.L. Stine declare, "[It] made me laugh harder than any other novel." He later wrote episodes of "M*A*S*H," and "Tracey Takes On…", and achieved pop culture immortality by scripting Ted Kotcheff's 1989 corpse-abusing comedy Weekend at Bernie's, along with writing and directing its more outlandish 1993 sequel. Even a project as outwardly conventional as helming the TV movie The Odd Couple: Together Again tapped into his macabre sensibility by using Jack Klugman's cancer-ravaged voice for frequent gags, an idea suggested by Klugman himself.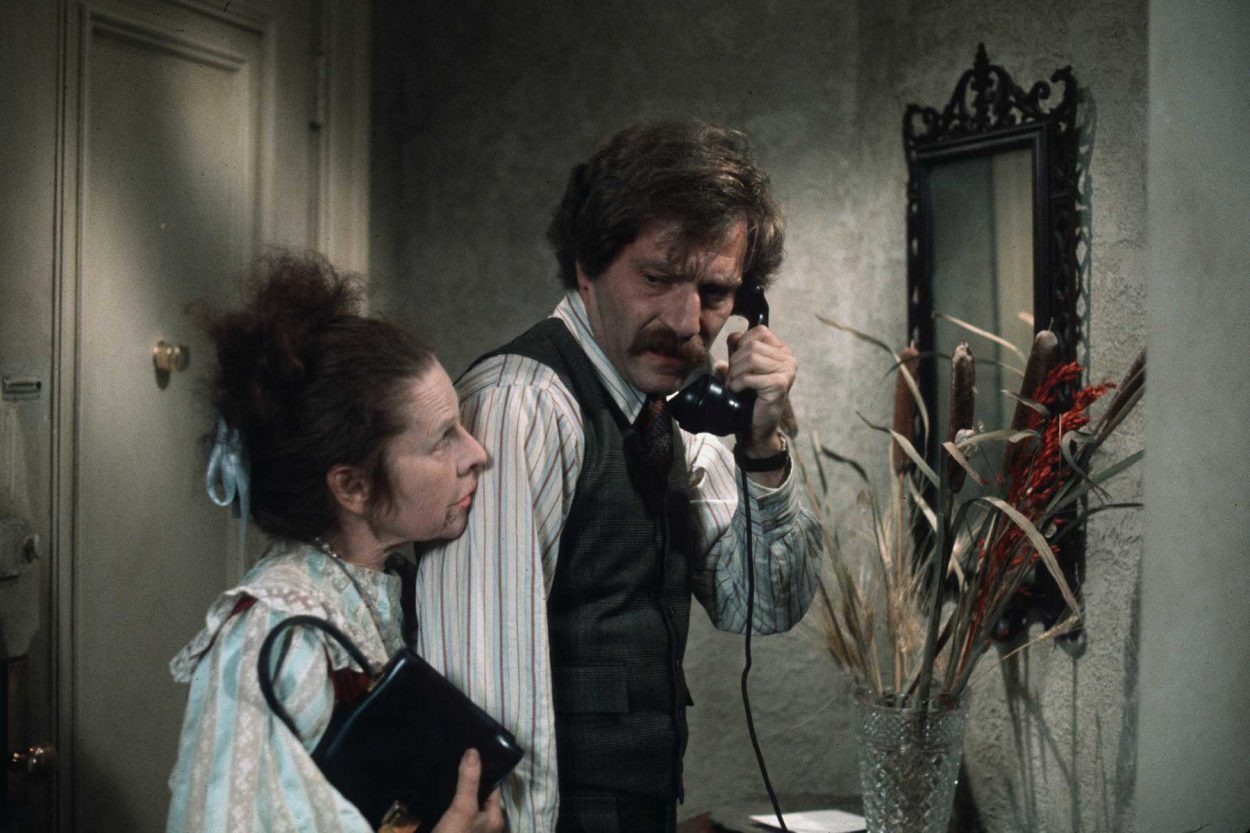 But the best and most accurate representations of Klane's gifts are found in his own screenplay adaptations of his second and third books, and on Sunday & Monday, July 30th & 31st, you can get that full-strength experience as we present these films, featuring many great and better-known comedy legends of the '70s both in front of and behind the camera.
Where's Poppa? from 1970 presents the enervating crisis of Gordon Hocheiser (George Segal) and his willfully chaotic elderly mother (Ruth Gordon). Bound by a promise to his departed father not to abandon her to an outside facility, but unable to retain caregivers or get help from his brother Sidney (Ron Leibman) due to her erratic behavior, Gordon repeatedly and desperately attempts to scare her to death to be rid of her. When a comely nurse (Trish Van Devere) with a history of losing patients enters his life, Gordon thinks she may finally help solve all his problems. However, this goal may prove as fruitless as trying to cross Central Park without getting mugged.
After the autobiographical tone of his directing debut Enter Laughing and the seriousness of his followup The Comic, Where's Poppa? was effectively the first full-blown farce directed by comedy pioneer Carl Reiner. In his 2003 memoir An Anecdotal Life, he wrote, "Of all the films I have directed, only Where's Poppa? is universally acknowledged as a cult classic…a film that was seen by a small minority of the world's filmgoers, who insist that it is one of the greatest, most daring, and innovative moving pictures ever made. Whenever two or more cult members meet, they will quote dialogue from the classic and agree that 'the film was ahead of its time.' To be designated a genuine cult classic, it is of primary importance that the film fail to earn back the cost of making, marketing, and distributing it." Reiner's joking aside, while it may not have been a smash, the film did find a devoted audience. In the 15 years that Landmark Theatres operated the legendary Nuart in Los Angeles as a New Beverly-style double-feature repertory house, Where's Poppa? ranked in the top 150 most-played films in that period. Its distributor United Artists gave it two nationwide reissues, in 1975, under the title Going Ape, and in 1979, after the formation of their arthouse unit UA Classics. Around the time of that latter rerelease, Klane attempted to launch a sitcom adaptation of the film for ABC, with Bride of Frankenstein star Elsa Lanchester as Momma; the sole pilot episode was the first directorial credit for actor-turned-filmmaker Richard Benjamin.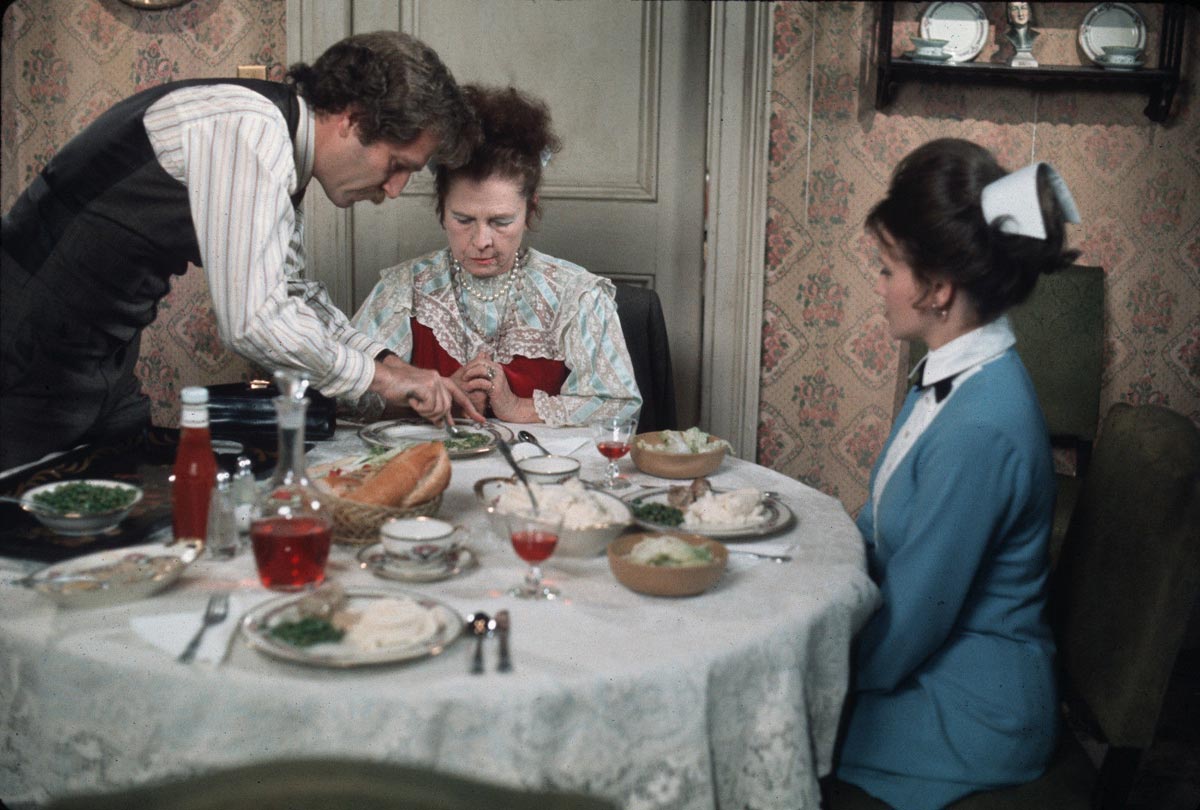 Ruth Gordon, playing the ridiculously uncompliant parent, had just come from her Academy Award nominated performance in Rosemary's Baby and a second-billed role in the Robert Aldrich-produced Whatever Happened to Aunt Alice when she took the role, and would next go on to her most immortal performance as Maude Chardin in Hal Ashby's Harold and Maude. Trish Van Devere, playing luckless nurse Louise, had previously debuted earlier that year in Ashby's The Landlord with Beau Bridges. Co-stars Ron Leibman, Paul Sorvino, and Garrett Morris all got their first feature film credits here. Pay attention and you'll spot a young Tom Atkins, Ghostbusters' panicked librarian Alice Drummond, and "Good Times" and "227" regular Helen Martin in key comic moments.
Family continues to provide both the fun and the dysfunction in 1977's Fire Sale. Bellicose department store owner Benny Fikus (Vincent Gardenia) suffers a heart attack during a Miami sojourn. Belittled son Russell (Rob Reiner) sees an opportunity to turn the floundering store around while estranged son Ezra (Alan Arkin) needs money to facilitate a turnaround in his marriage and high-school basketball coaching job. They agree to cash in the store's fire insurance policy for quick revenue, unaware that Benny has contracted with his brother-in-law Sherman (Sid Caesar), a mental patient convinced WWII is still an active concern, to burn the store down for the insurance money. This family saga is going to unfold both like an O. Henry story, full of ironic coincidence, and like an Oh Henry candy bar, because it's full of nuts.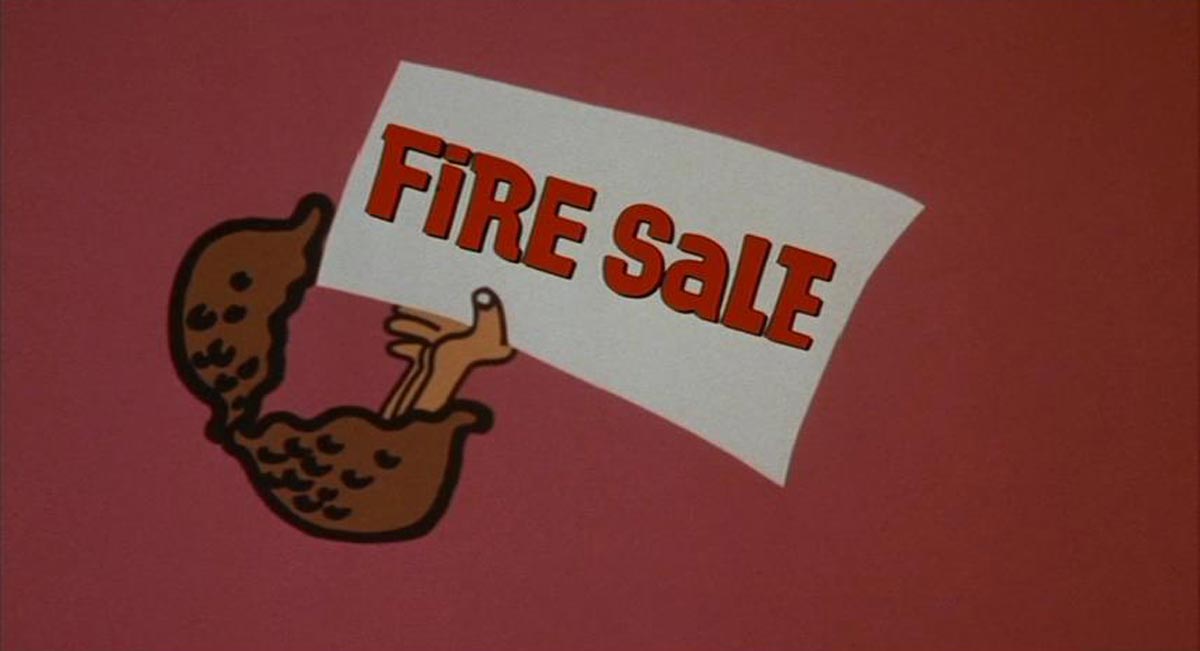 Alan Arkin directed Fire Sale as his second feature, following his 1971 debut, adapting the avant-garde Jules Feiffer play Little Murders, which featured co-star Vincent Gardenia in its cast. Gardenia and Rob Reiner previously had small roles in Where's Poppa? Playing Arkin's demanding spouse is Anjanette Comer, whose credits span from Tony Richardson's The Loved One to Ted Post's The Baby to Steven Soderbergh's The Underneath, and who was married to Klane from 1976 to 1983. First-time actor Byron Stewart, playing a hot basketball prospect for Arkin's coach, was later cast on the TV series "The White Shadow" at the request of star Ken Howard, who saw him in this film and loved the idea of being dominated on screen by the 6'8" performer. Stewart would play that same character, reimagined as a doctor, on "St. Elsewhere.''
Fire Sale was released in June 1977 and did not have a very long theatrical run. It's quite possible that its studio, 20th Century Fox, was so overwhelmed by the surprise blockbuster performance of their earlier summer release, Star Wars, they diverted all their promotion energy towards it at the expense of  other previously scheduled releases. In an amusing convergence, during production of the latter film, Mark Hamill was photographed wearing a Fire Sale T-shirt! Hamill would later be directed by Alan Arkin in an off-Broadway staging of the Allen Boretz & John Murray farce Room Service.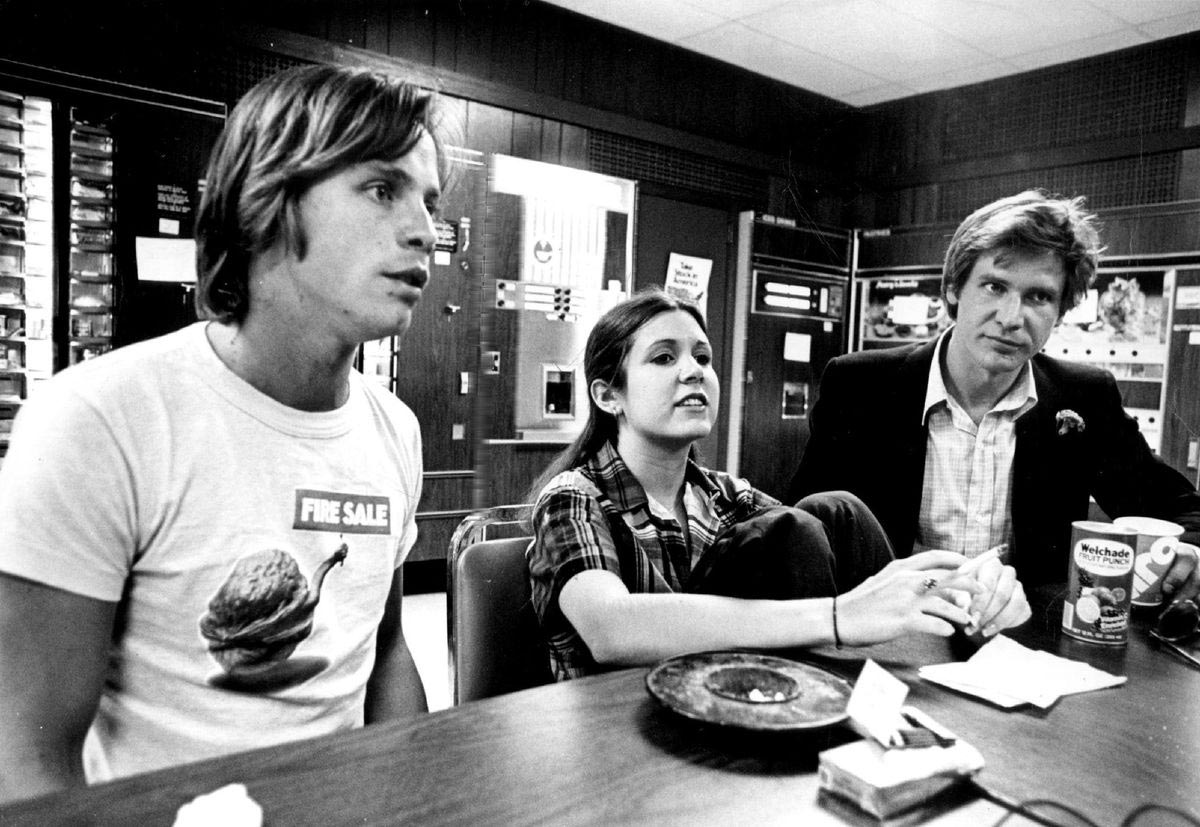 Prolific British thriller writer Christopher Fowler recently praised Robert Klane's stories in a column for The Independent spotlighting once-popular but now lesser-read authors, stating, "they capture the sheer unfairness of life, particularly as it was lived in the early 1970s. Like great farceurs before him, Klane tackled sex, family, madness and death, roughly in that order." Here is your chance to rediscover two of his fiercest farces with a fresh audience!