This month's tribute to director Jerry Schatzberg has already demonstrated his skill in telling tales of lives on the fringe and the temptations of success. And our final double feature on June 21st & 22nd showcases a pair of stories of young obsession with possibly the two most frequent objects of desire – girls and cars. They're also both the first screenplay credits for two writers with a uniquely personal perspective on their subjects!
16 year-old Cummings (Jon Cryer) is passionate about photography, but all the adults in his life dismiss his pursuits. When during an outdoor shoot he inadvertently captures a beautiful older woman's image, he is smitten. He discovers she's a 22 year-old frustrated singer named Laura (Demi Moore), and after some platonic company with her, takes a great personal gamble to help her achieve her dream in the one way he can. As his emotions and life experience evolves, he will learn the intersection of talent, infatuation, and maturity is No Small Affair.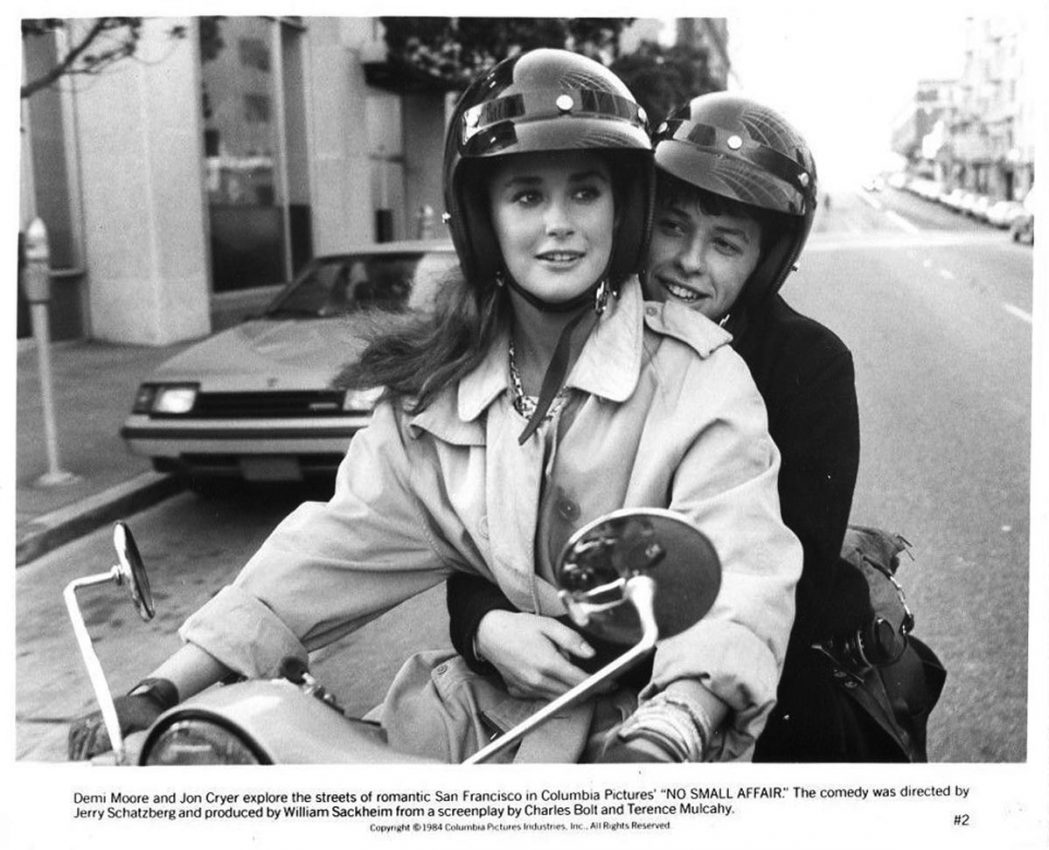 Writer Craig Bolotin, much like Schatzberg, had been a prolific photographer and teacher of photography before becoming a screenwriter, and his plot conceit in this film – wild plastering of a photo with name and contact info without context – has been subsequently used by actual artists to promote themselves and others, a prescient form of viral marketing. He had contributed several uncredited rewrites to films like Desperately Seeking Susan before selling his first original screenplay. "[Julie Kirkham] read my first script, No Small Affair, which she took to producer Ray Stark at Columbia, and throughout my career, she was my first reader," he recalled when she passed away in June 2015. Bolotin would go on to direct the youth dramas That Night with Juliette Lewis and Light it Up with Rosario Dawson, and most recently adapted Nicholas Sparks' romance The Longest Ride for director George Tillman Jr.
Music is also an important component of the story, and helping bring heft to the song score is award-winning songwriter/playwright Rupert Holmes. Besides composing that damned ode to infidelity and foo-foo bar drinks you can't seem to escape, Holmes' diverse repertoire includes writing the score for the revisionist western The Animals with Henry Silva (which played the Bev in July 2015), "You Got it All" for The Jets, and producing Sparks' album Big Beat. Frequent Holmes collaborator and regular Madonna back-up singer Chrissy Faith provides Demi Moore's singing voice. The most recognizable song from this movie soundtrack though is probably "Eiffel Tower" by Malcolm McLaren with Pebblee Poo, which was used in the trailers and TV spots and was a minor college radio hit.
When Jon Cryer published his memoir So That Happened in 2015, much talk show fodder was made over his on-set romance with co-star Demi Moore, and how that impacted his initial chemistry with "Two and a Half Men" replacement co-star Ashton Kutcher, who joined the show just as his own marriage to Moore was on the wane. Since Cryer's resemblance to Matthew Broderick has been a frequent source of jokes, it may be no surprise to learn Broderick was originally planned for this project when it was set up with director Martin Ritt in 1981; what might be surprising is that his planned co-star was Sally Field, which would have made the May/December element even more stark. The supporting cast features a plethora of stars-not-yet-large – Jeffrey Tambor, Tim Robbins, Jennifer Tilly, E.G. Daily, and 20 Dates writer/director Myles Berkowitz – and some reliable "That Guy" faces like Hamilton Camp, Kene Holiday, Judith Baldwin, and Scarecrow co-star Ann Wedgeworth.
Dandy, the All-American Girl is really named Vurrla Kowsky (Stockard Channing), but using christian names, along with conventional morality, is not a priority for her.  What is a priority is amassing the $20,000 she needs to purchase a Dino Ferrari, and how quickly she can steal, flip, and resteal enough cars to pay it off. When one of her jackings gets her arrested, an earnest pubic defender (Sam Waterston) tries to intervene and steer her away from more crime. But Dandy remains focused on the process of acquiring her prize, and the promise of elevation above her hardscrabble life it offers. "You know the way people treat you when you got the best? They treat you different," she observes. But much like any chase, Dandy may not know what to do if and when she catches her quarry.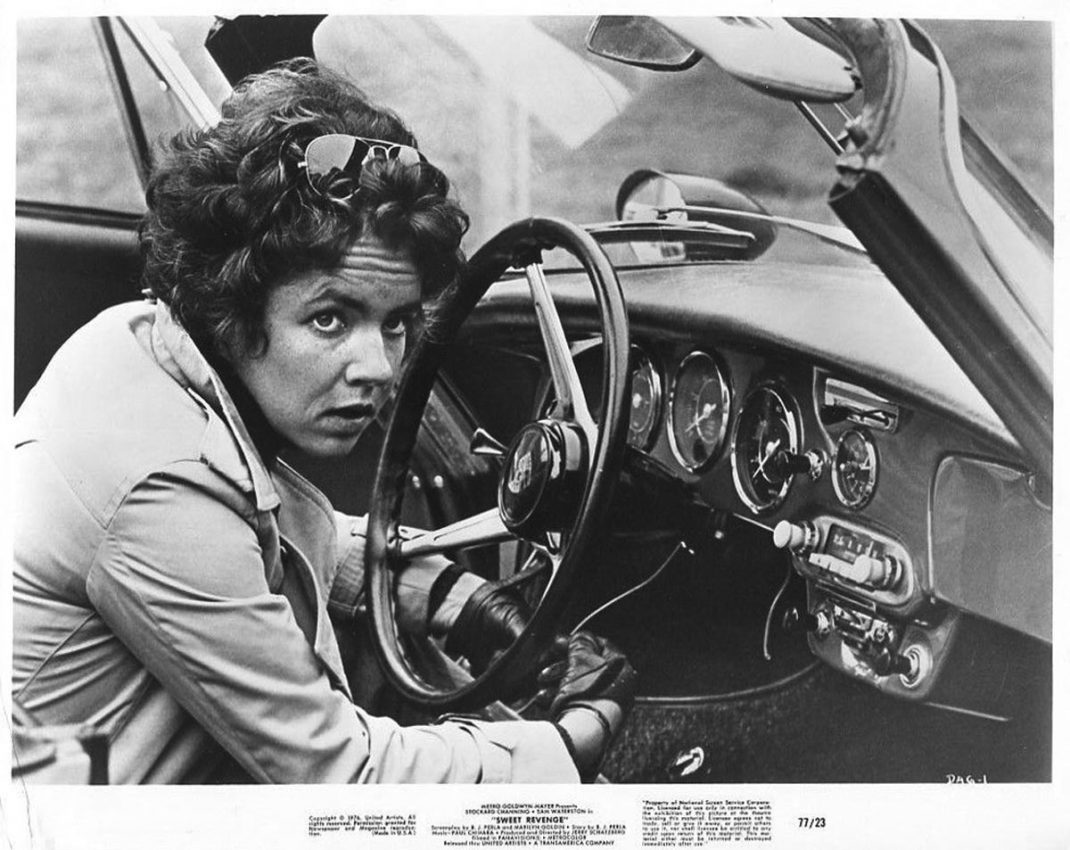 Brenda J. Perla brought a fierce amount of hard-earned experience to her screenplay about a car thief: she had served two years in L.A.'s infamous Sybil Brand Institute for that crime.  During her sentence and after her release, she taught herself writing. "I had read a lot. It was all I had to do in jail." She found an agent who boasted that he could sell her loosely autobiographical script in two weeks' time for $200,000, and delivered on the promise. Schatzberg eagerly pursued the rights to film it soon after. She also provided uncredited rewrite work on Alan J. Pakula's classic Klute. The good fortune did not soften Perla's no-nonsense attitude however; at a 1975 MGM press conference, when production head Daniel Melnick made a predictable joke about the writer boosting his Mercedes, she fired back, "If I wanted to do something to get at you, it would be much worse than steal your car." Footage from that press conference can be seen in this MGM promotional short – you won't see that exchange, but you will see her, as well as David Hasselhoff modeling a "Sandman" uniform to promote Logan's Run.
The film took a long and troubling path to theatrical release. Upon learning that adult filmmakers Mark Haggard and Bob Chinn had already released a high-profile sex film called The All-American Girl, MGM chose Sweet Revenge as a replacement title. It was entered in competition at the 1976 Cannes Film Festival, where Schatzberg had previously won the Grand Prix in 1973 for Scarecrow. It was also featured at that year's USA Film Festival in Dallas, where it was enthusiastically championed by Texas Monthly film critic Marie Brenner. MGM, feeling advance buzz was not strong enough, intended to have new scenes shot to "help clarify the characters' motivations." They finally gave it a limited and barely publicized release in July 1977. Reportedly, it did not have a New York City playdate until 1981, when it screened at the Thalia as a double feature premiere with another long-shelved film, Claude Chabrol's High Heels with Jean-Paul Belmondo and Mia Farrow.
Besides the crackling performance of Stockard Channing in the lead, and the young Sam Waterston and Franklin Ajaye in supporting roles, there are other colorful individuals to pay attention to. Richard Daughty, as Dandy's dim boyfriend Andy, previously appeared with Lee Marvin in Emperor of the North, and later became a controversial witness in Marvin's "palimony" trial against longtime companion Michelle Triola Marvin, each claiming the other had kept him around for their own benefits.  Norman Matlock, playing Dandy's criminal facilitator John, appeared in Taxi Driver, Across 110th Street, and Schatzberg's last completed film, The Day the Ponies Came Back. Jan D'Arcy, who has a short but memorable scene with Waterston, would go on to play Mrs. Sylvia Horne on "Twin Peaks" and its prequel Fire Walk With Me.
Join us in closing this month's salute to Jerry Schatzberg with these two rarely-revived chronicles of impulsive youth and idealized goals.