"The combination of Dino's childlike quality and my seriousness – he kept me on track in terms of the enjoyment for children, and I was at the other end of the track, I was putting in all sorts of sexual innuendo. There was a sexuality partly because when I spoke to my American friends, they said a lot of their sexual fantasies were based on the strip cartoon. So I think this two-track element to the making of the film turned out a kind of soufflé. It's sort of totally unique in its own kind of way." – Mike Hodges on Flash Gordon
I am awed by Princess Aura – particularly in red. And that's Ornella Muti as Princess Aura in Flash Gordon, need I remind those who have never heard of the picture (how could that be?) or have forgotten the exquisiteness and scheming, intelligent charm of Muti's Aura, a character with unique beauty, privilege (that also comes with fear) and an eventual sensitivity that's quite moving. And in red, even when she's introduced in gold with sprinkles of silver (complete with Helmut Newton-esque leg adornment) and sauntering through her father's red Ming the Merciless world (she'll change to crimson), she represents what artist Keith Haring said of the color: "it's blood, it has a power with the eye." There's some Powell and Pressburger there as well – The Red Shoes specifically – where red represents passion and sex and madness …  so when Aura is later whipped, while wearing red, we see the scarlet welts on her back in all of its fetishistic, biblical staining. Red is pain and retribution and anger, so many things, and filmmakers from Scorsese to Kubrick famously love the color. Many filmmakers do, but I don't often hear of Flash Gordon sharing discussion with Krzysztof Kieślowski.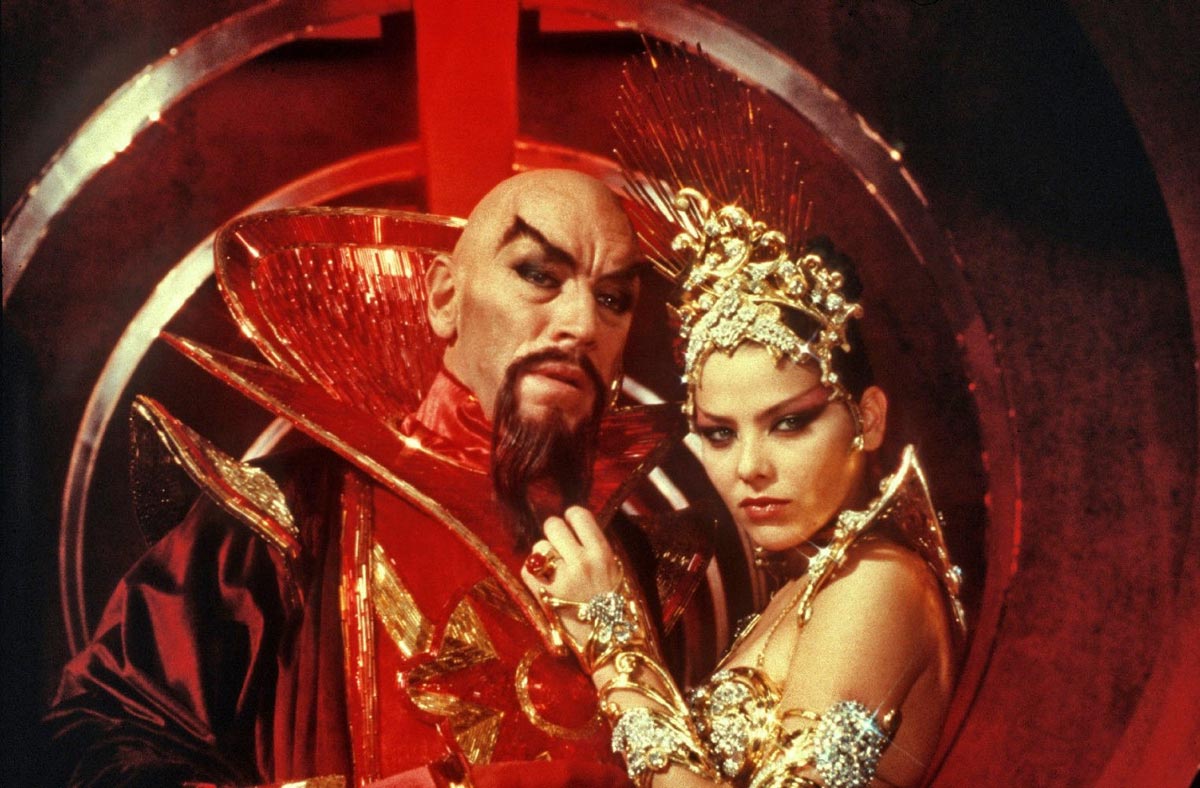 Princess Aura's red-sexuality within the aesthetic of the picture reads kinky at times, but also artfully intriguing and beautiful, and going further, life saving. The blood of life. After all, it is Aura who rescues our fair-haired hero from permanent death, even if for selfish reasons (she desired a new plaything). But if not for the slinking princess eyeing the all-American football star, his red "Flash" emblazoned on his tee-shirt, with such yearning (she asks for him, stroking her father's beard in a perverse little moment), the story would be about Dale Arden (Melody Anderson) and Dr. Hans Zarkov (Topol).
Of course someone else could have saved the savior of the universe after he was killed – maybe – but I prefer to give all credit to Aura, who defies her father and puts on a tight red suit and red jeweled headband, and takes off in a red rocket ship with the well-built blonde, also now clad in red. She's heading him towards Cythera: "lt's my secret pleasure moon. l have a little palace there – just for two." A "pleasure moon?" Even the way Muti says this: "my secret pleasure moon," something that could come off as ludicrously vampy stated by another actress, rolls off her tongue with the delicious, erotic ease of a woman whose independence is important to her. The very idea that a woman has her own sex moon – just like a man might have his own sex moon – even for 1980 – feels wonderfully progressive. Her lipstick and nails help drive this power home. Red.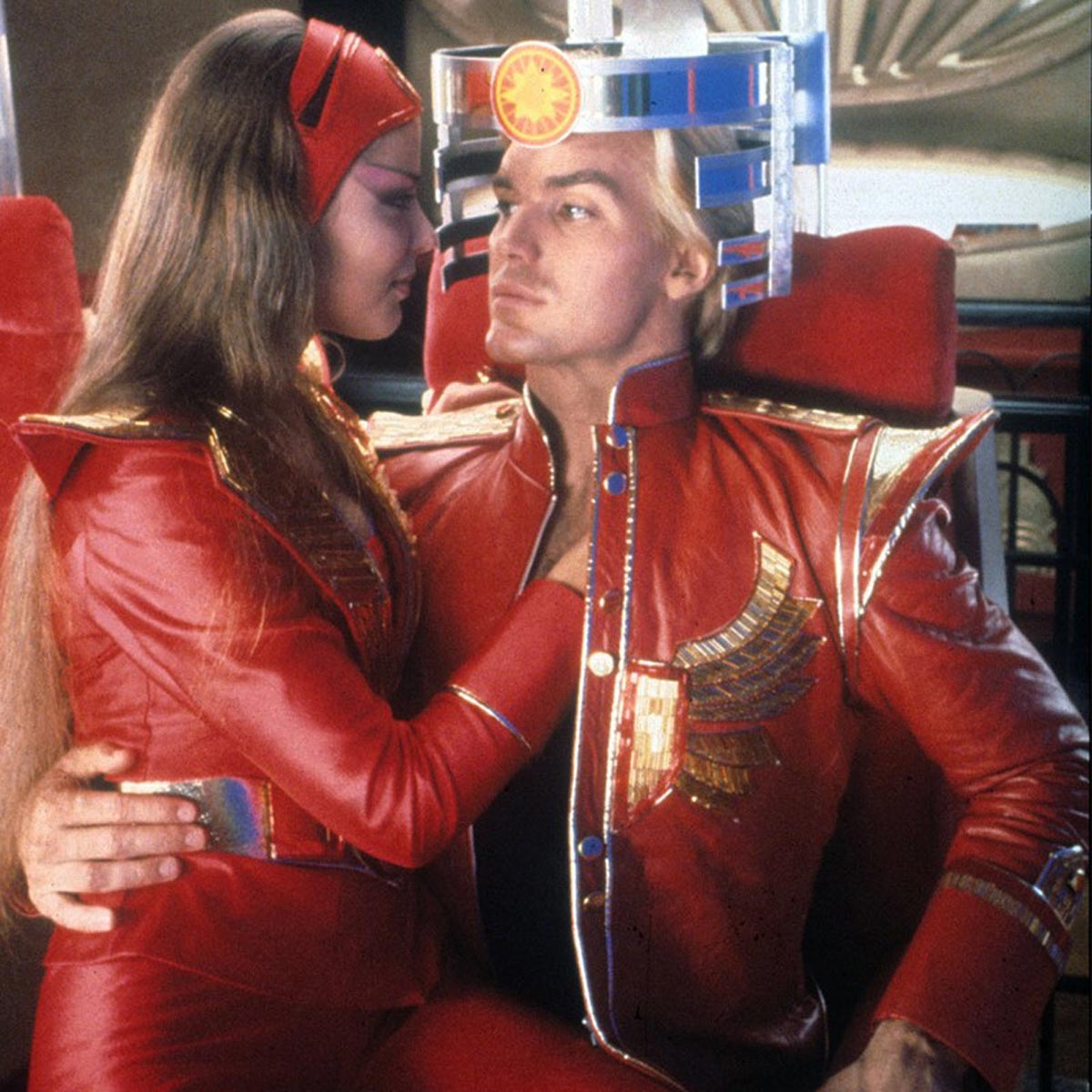 And it's those things, like pleasure moons and bore worms, and the color red (and more colors!) and the score by the greatness of Queen (with additional music by Howard Blake) that makes the movie so enchanting. Directed by Mike Hodges, produced by Dino De Laurentiis, written by Lorenzo Semple, Jr. (from Alex Raymond's famous, influential comic first published in 1934, which the picture stuck close to – Flash Gordon was also famously a film serial starring Buster Crabbe), the picture also featured the production design and costumes by the virtuoso Danilo Donati (who worked with Franco Zeffirelli, Pier Paolo Pasolini and Federico Fellini). All of these exceptional elements make the movie entertaining and silly, but trippy and artistic, erotic and dreamlike, even strangely touching. It's often referred to lovingly as camp, or in a less adoring way, cheesy (a word I don't often like) or so bad it's good (it's not bad), and then there are those who are simply baffled by the thing. The humor, the tonal shifts from kid's movie to kink-fest, the special effects, the acting veering from the relatively untested (and dubbed) Americanism of Sam Jones (as Flash) to a living legend, often-genius, Max Von Sydow (as Emperor Ming the Merciless) dripping with an understated exotic menace and sex (his performance, look, affect, is superb), to strange games like shoving hands into holes with a ferocious, disgusting Wood Beast ready to bite to a delightfully absurd disco football match ("Go, Flash, go!") – these all blend into a space-age Wizard of Oz-like fantasia (a film more than one critic has compared Flash to), and as vibrantly colored and as crazy as that film. It's no surprise Dale Arden asks: "Are we dreaming?" It's a perfectly valid question as they enter Ming's palace. Dale is wearing a red blouse and red skirt.
The world Dale, Dr. Zarkov and Flash will soon enter is nicely offset by Flash's introduction in one of the most basic things possible: a yellow station wagon. Jumping on a charter plane, the handsome New York Jets quarterback and travel agent are caught up in the vortex of Ming's tedium ("Klytus, I'm bored. What plaything can you offer me today?" he asks his evil right-hand-man). Surviving Ming's toying, he's just tossing disasters out onto earth ("Uuurrrth," Klytus says with gorgeous disdain by actor Peter Wyngarde), they crash land into crazy Zarkov's greenhouse (who foresaw all of this happening), and wind up (by gunpoint) in his rocket, hurtling toward Ming's dominion – the planet Mongo. Of course. The scene is subtly erotic – Flash and Dale who are attracted to each other so much that they seemed to have already started a relationship, fall asleep and squirm around, tinted by the color … red.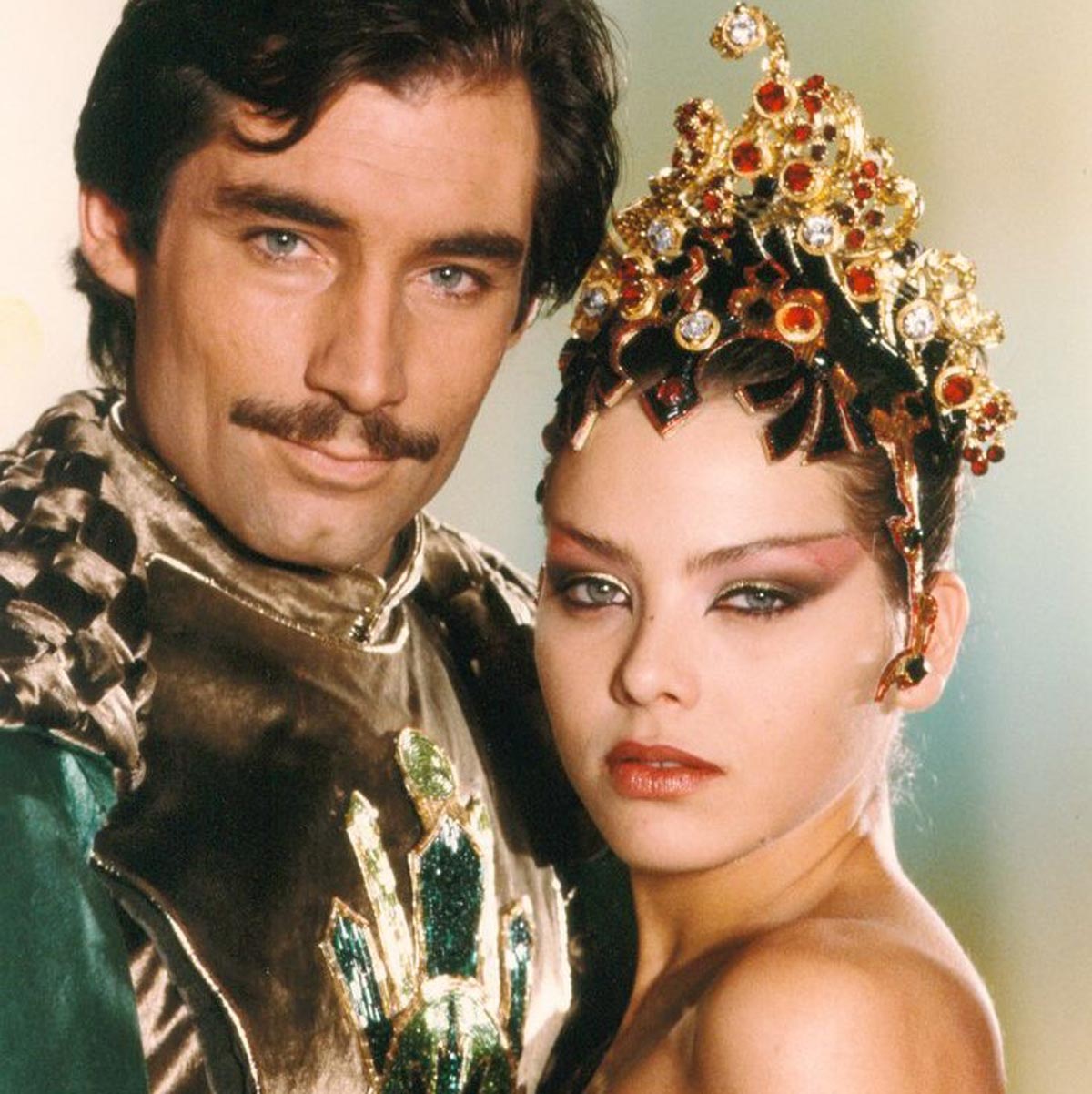 Ming's dominion is a police state and there are factions underneath him who don't get along – chiefly the Errol Flynn-looking Prince Barin (a charming, aggravated Timothy Dalton), leader of Arboria and boyfriend to Aura, and Prince Vultan (the writ large, laughing with exultance Brian Blessed), head of the winged Hawkmen who reside in Sky City and fill up the screen with a kind of jovial terror that's a bit Barbarella angel Pygar and a little like Oz's Flying Monkeys (which Pauline Kael noticed as well). They don't seem too keen on Ming either and Zarkov makes note of the benefit of arriving in this totalitarian regime – there's bound to be a rebellion. But first things first – Ming wants Dale for his pleasure and with a red zinging ring, he zaps her into a sexually scarlet, smoky trance during which she touches herself sensually, head thrown back, in some kind of subconscious trance that makes her feel understandably violated after Ming's done checking her erotic potential. Ming asks Klytus with sleazy glee: "Did you ever see such response?"  Klytus answers with a "no," adding the pervy, "She even rivals your daughter." Oh, Princess Aura. At least she's not ashamed of her appetites, though we do question what is going on with her and her father.
The newly arrived earthlings are all thrown into extremely perilous situations – Dale is dragged off and dressed up for Ming (quite fetchingly – the costumes are works of art), Zarkov's memory is erased to become a tool of the state (he secretly fights it with Shakespeare, the Talmud, Einstein and the Beatles – some have cited this as silly, I find it quite inspiring) and Flash is executed, only to be, as previously mentioned, saved by Aura. She sleeps with her father's surgeon to give Flash the antidote, touching his face and more as he lies in his Snow White-like casket – she's the Prince. The prince who has had to sleep with the doctor to get the princess – these types of situations likely would be more of a sacrifice for a woman – but she knows how to manipulate, to exploit men's weaknesses. Flash (in black short shorts) wonders how she revived him back from the dead: "By magic, of course," she says. Adding, "With a kiss. Because l like you." Sigh. Princess Aura is something else. And she'll get tortured for this – by Klytus and General Kala (Mariangela Melato) in a scene that looks a little like what one might imagine is happening in a further back room during the orgy scene of Kubrick's Eyes Wide Shut.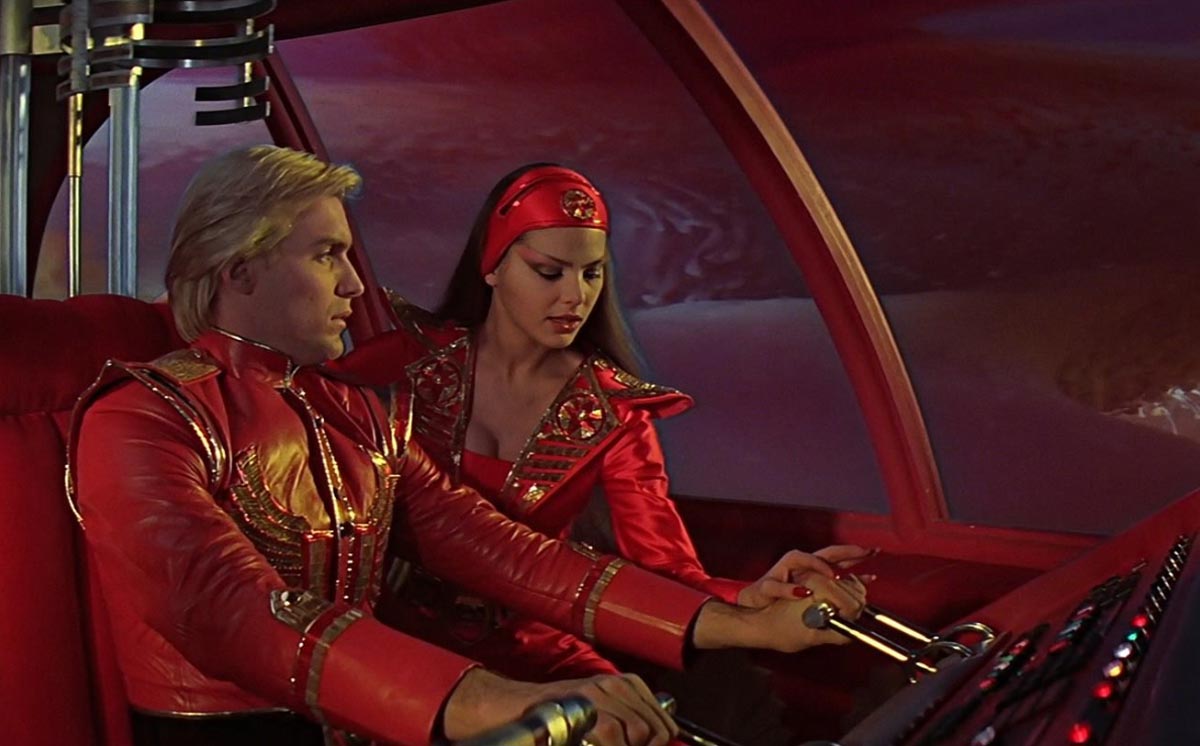 After Flash and Aura's red rocket ship ride during which a telepathic call to Dale, drugged out on green liquid and reclined on silk pillows in Ming's palace, turns into something of a telekinetic threesome, the two land in Arboria. Barin is there, he's mad (he says to Aura: "I knew you were up to something, though I'll confess I hadn't thought of necrophilia."), but he agrees to stash Flash (they play that strange, can I say it? Sexual Wood Beast game … what a strange place), and then are both captured by the Hawkmen. Soon they'll be fighting on a large, moving disc with spikes, Flash will save Barin's life, Vultan will come around after Flash denies Ming's chance to reign over earth and to destroy Sky City, Flash flies on a very cool rocket cycle, hair flying, all acid trip backdrops, and then the rocket Ajax, which will kill Ming by penetration – Ming is impaled. That's a swift way of running down one gorgeously crafted scene after the other (director of photography Gilbert Taylor), a red-soaked psychedelic trip featuring (and this is said with all respect because how intimidating would this be?) an actor who was previously spotted on "The Dating Game" (and Playgirl, and appeared in Blake Edwards' 10, briefly) acting opposite the star of The Seventh Seal.
The acting is all over the place in Flash Gordon, but that, truly, seems perfectly appropriate given the atmosphere these characters find themselves in, and delivering some of the arch, some of the serious, some of the very sexual Semple, Jr. words (of course he was famous for the "Batman" series, Three Days of the Condor, the 1976 King Kong, but watch the strange mix of sex and pitch black humor in one of his greatest scripts, Pretty Poison). Future Bond Dalton is the old school, swashbuckling movie star (you wonder if he'd have had a better career in a different era), Blessed never turns down the volume, wonderfully so, at times he seems to even be acting with his thighs, understanding the humor and largeness this role requires, Anderson is so obnoxiously square that we're almost irritated until she drugs the slave girl and gamely throws out some of the picture's most impossible lines ("Flash! Flash! I love you! But we only have 14 hours to save earth!" God bless her. How else is she supposed to deliver that line?), Topol offers a nice balance of nuttiness and warmth and both Wyngarde and Melato are perfectly evil, debauched monsters with elegantly wicked intonations – part Shakespeare, part giallo.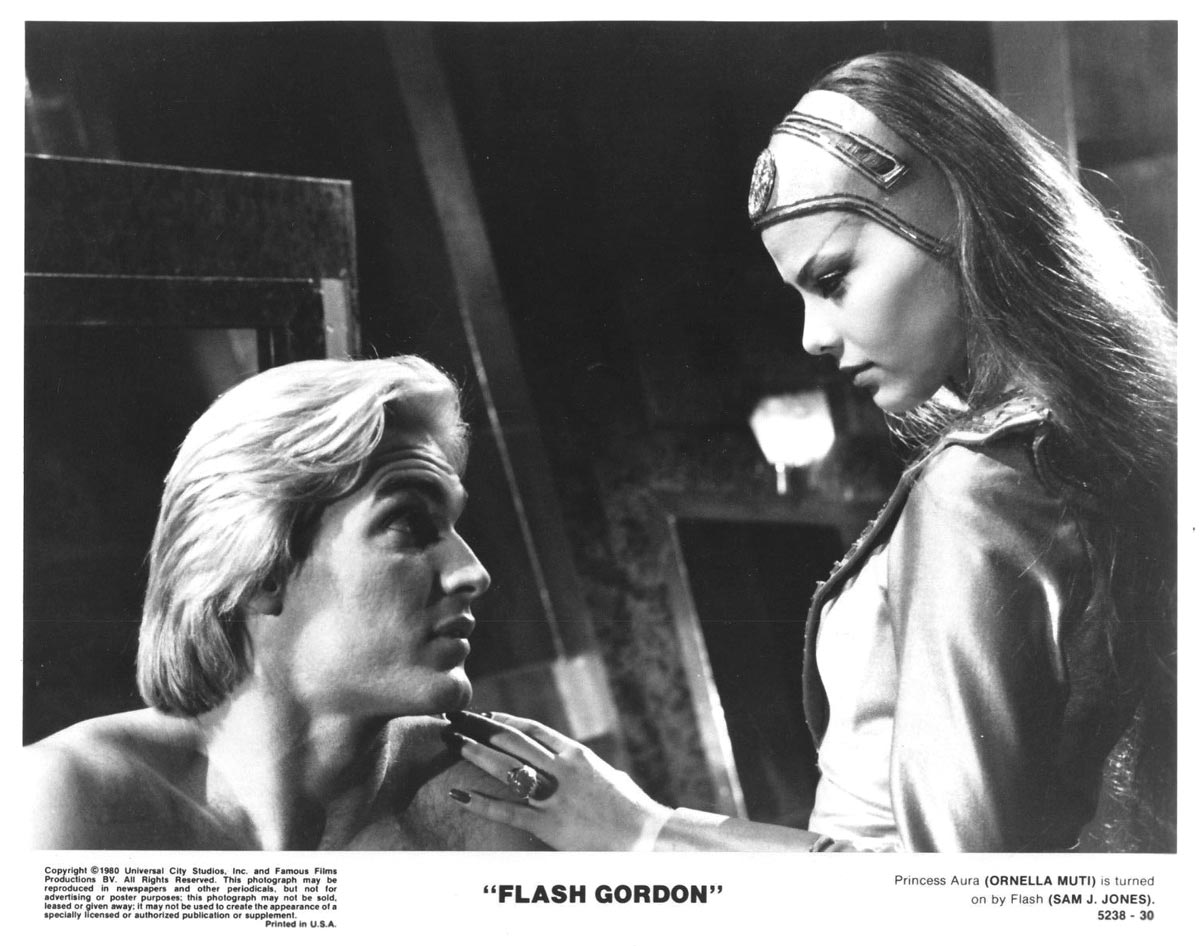 Many critics fault Jones, calling the good looking fella a "himbo," and woefully stilted, but his off speech and strangely wooden delivery don't seem so unnatural given all that is around him … how the hell is he supposed to act when thrown into this situation? I love how off he is, his "normalcy" feeling strange and even more alien among these other beings. Freddie Mercury's soaring, heavenly vocals in the brilliant theme song: "Just a man/With a man's courage/He knows nothing but a man/But he can never fail/No one but the pure in heart/May find the golden grail…" They seem quite apt. Especially when the "man" show glints of carnality, especially when next to Muti who …Well she makes everyone better in the film. To me, she's the most fascinating character with the greatest arch as a character. And she's never truly shamed for being so sexual – that's who she is. Big deal. She had her adventures. Now she can continue her tempestuous relationship with Barin, or they can become swingers. I just hope she can keep her pleasure moon.
Semple, Jr. complained a bit about the writing practices via Dino De Laurentiis, and talked to screenwriter, director and producer Larry Karaszewski about this in 2010: Of De Laurentiis he said: "He reads English better than many people realize, but translates all of his scripts into Italian. We were living in Nantucket at the time, and his translator was a woman whose name I forget. She could barely translate the scripts; if it said, 'The tall, beautiful woman walked into the room,' she'd say, 'Oh, what a beautiful cat … "I told him the translator was horrible, her translations aren't any good; he said, 'I do not want to be fooled by the words; I do not want to be fooled by written words. I want to know the story.'" (Read more background in this piece here.) In an interview with BAM a few years ago, Hodges (who also directed Pulp, Get Carter and Croupier – after Fellini turned the movie down and Nicolas Roeg was let go) said De Laurentiis (whom he ended up quite fond of) hired him because De Laurentiis said he liked his face. And that was it. His face. I don't know … given how unique and visually exciting the picture turned out to be, I don't think De Laurentiis seems entirely wrong about either approach – fooled by words, using instinct for faces. And he hired Danilo Donati. And Ornella Muti in Donati. And she got her own pleasure moon. I just wish by the end of the picture there was a little more … red.