Your social media feed has likely been inundated with that yearly meme of perpetually-grinning Justin Timberlake proclaiming, "IT'S GONNA BE MAY!" For us at the New Beverly, we would have to amend that statement to, "IT'S GONNA BE MWAHAHAHAHAAAAA!" Because the month of May means a continuation of our spring salute to outstanding comedies and their directors! And in the closing week of this month, we have picked three more diverse stylists to host on our screen and to put laughs in your belly.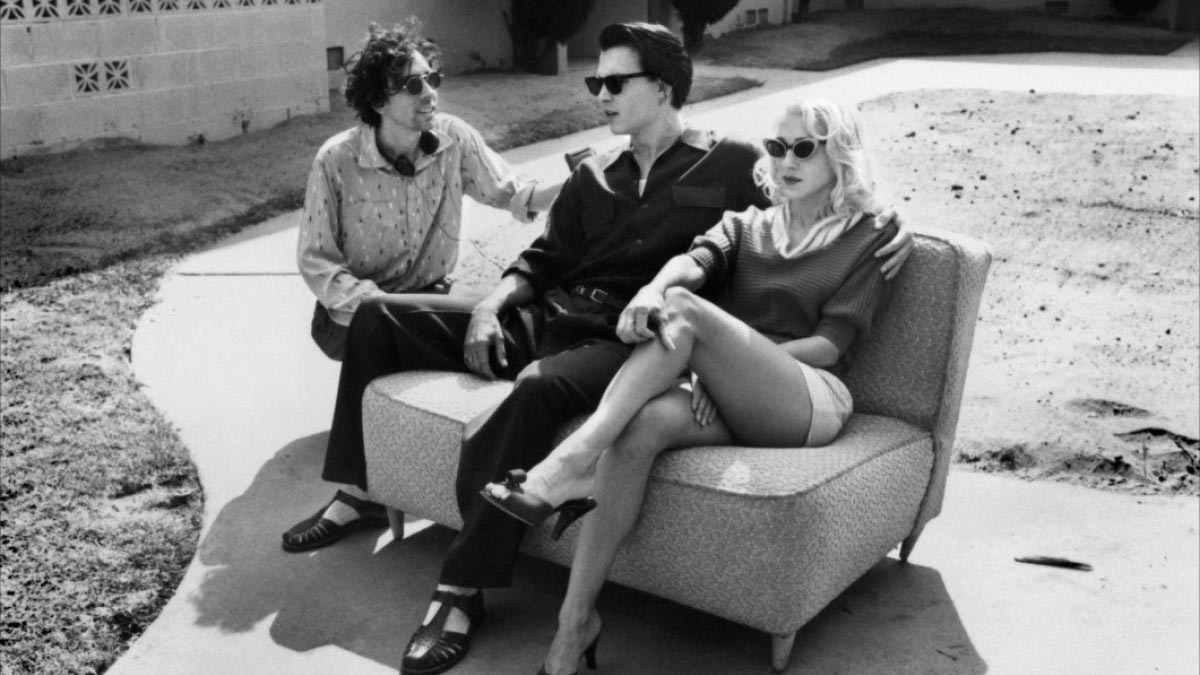 Leading off this parade of cheer is the patron saint of square pegs, Tim Burton, whose name has become synonymous with tales of odd ducks making their way through their own rarefied environment and our ostensibly conventional one, infused with equal doses of the merry and the macabre. And you can't find much odder than the two protagonists brought together in our double feature of Pee-wee's Big Adventure and Ed Wood, each of them cheery idealists driven to pursue a goal against increasingly preposterous adversities. Pee-wee Herman, the arrested adolescent willing to go to Hell, or at least the Alamo's basement, in the hope of retrieving his stolen souped-up bicycle, could just as easily have grown up into Ed Wood, the womenswear-loving iconoclast constantly finding any means to make movies, his ingenuity almost making up for his lack of talent. The boy who faceplants into the grass and says, "I meant to do that" has no problem looking at a falling cardboard headstone and saying, "Filmmaking is not about the tiny details. It's about the big picture."
And luckily for these heroes, they spend most of their time among equally awkward people who accept them as they are.  Pee-wee befriends a rebellious mattress vandal and a Francophone waitress, wins over some mean bikers, and gets to go home and hang out with sweet Dottie, even if she doesn't quite understand he's a loner. And whenever Ed sees opportunity, he can always count on Bela Lugosi, Tor Johnson, Bunny Breckinridge, and Criswell to lend a hand. In these wild tales, one based in even wilder truth, Burton showed generations that no matter how weird you are, you will find a place where you can belong and do what you were meant for, regardless of how it completely baffles the normals.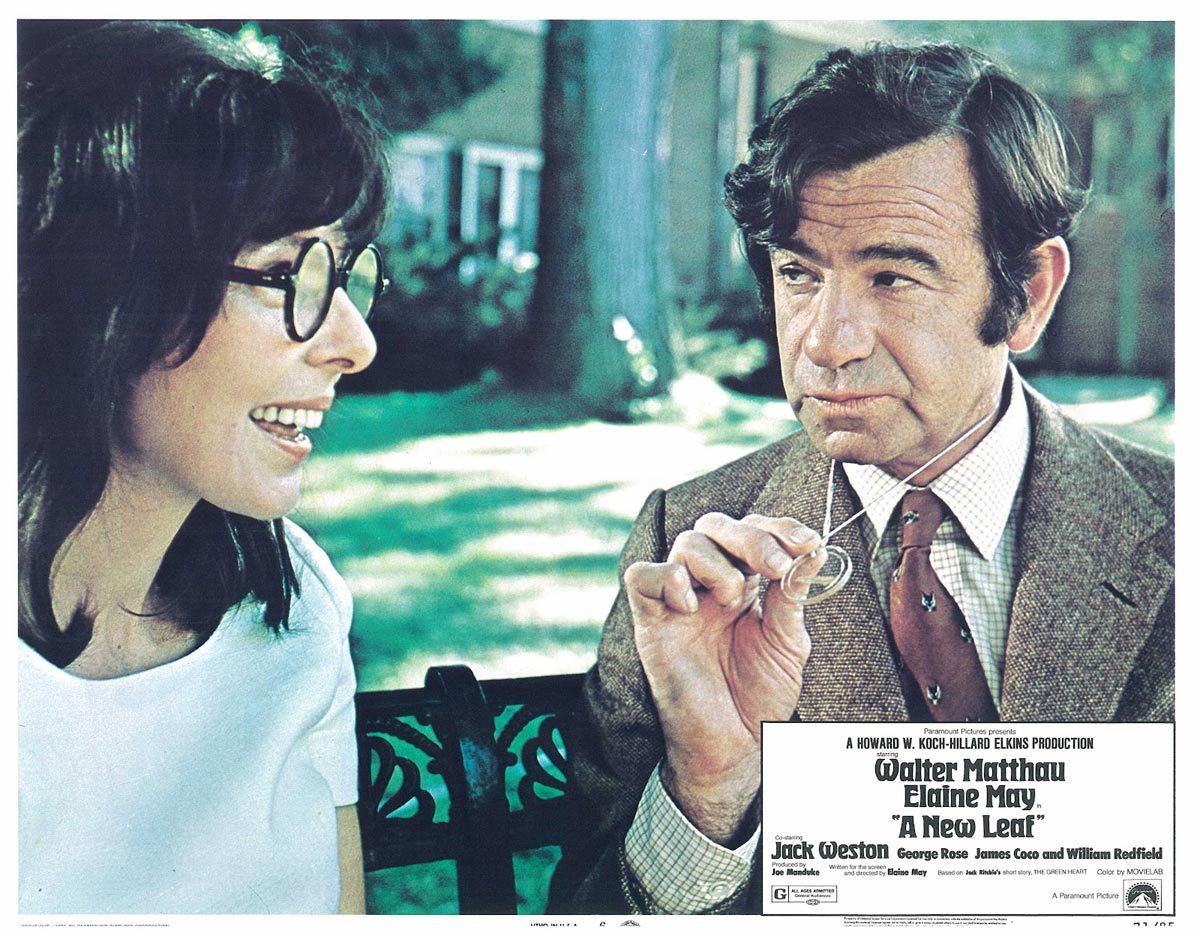 There would not initially seem to be much kinship between suburban monster kid Tim Burton and our next saluted director, the urbane and worldly-wise Elaine May. But much like the subjects of our Burton combo, in the four films May has directed, and particularly the two we have chosen, she starts out with characters already motivated by a ludicrous wish, and presents the chaos their actions cause further on. From being a founding member of Chicago's Compass Players, the predecessor to Second City, to her partnership with Mike Nichols and beyond, she has taken the simple improvisational maxim "Explore and Heighten," and applied it with maximum effect in her films. Just how rich and lazy an environment does Walter Matthau inhabit in A New Leaf? He takes his sports car to the shop every single time he drives it and his uncle uses an electric pepper grinder! How desperate is he to begin wooing a rich woman he's never met to marry him? He turns her social maladeptness into a political statement! How determined are Dustin Hoffman and Warren Beatty to write the next great song standard in Ishtar? They're in the desert, near death, voices croaking from dehydration, and yet one of them whispers out a random verse and the other riffs with it!
However, May definitely stands in a class by herself in finding the comedy within the otherwise completely dark territory of betrayal. Again, it is a theme in all her films, played to different degrees in our combo. For as much as Henry Graham finds amusement in his cockeyed relationship with Henrietta Lowell in A New Leaf, his primary thoughts always tend to how to get her out of the picture and get at her fortune to resume his profligate lifestyle. And Chuck and Lyle may be bonded by their love of song, but both agent provocateur Shirra and CIA worm Jim Harrison know just how to play to their respective egos in such a way that at crucial moments, one may well decide to just go solo. May herself summed up her aesthetic in this concise quote: "It's nothing more than quickly creating a situation between two people and throwing up some kind of problem for one of them." And while plenty of older comedies certainly had a "screw your partner" theme going on before her emergence, it's May's willingness to go for the most jugular possibilities that paved the way for Larry David's "Nobody learns, nobody hugs," maxim for "Seinfeld" and "Curb Your Enthusiasm", and other unsettling premises explored in modern TV shows like "The League" and "It's Always Sunny in Philadelphia.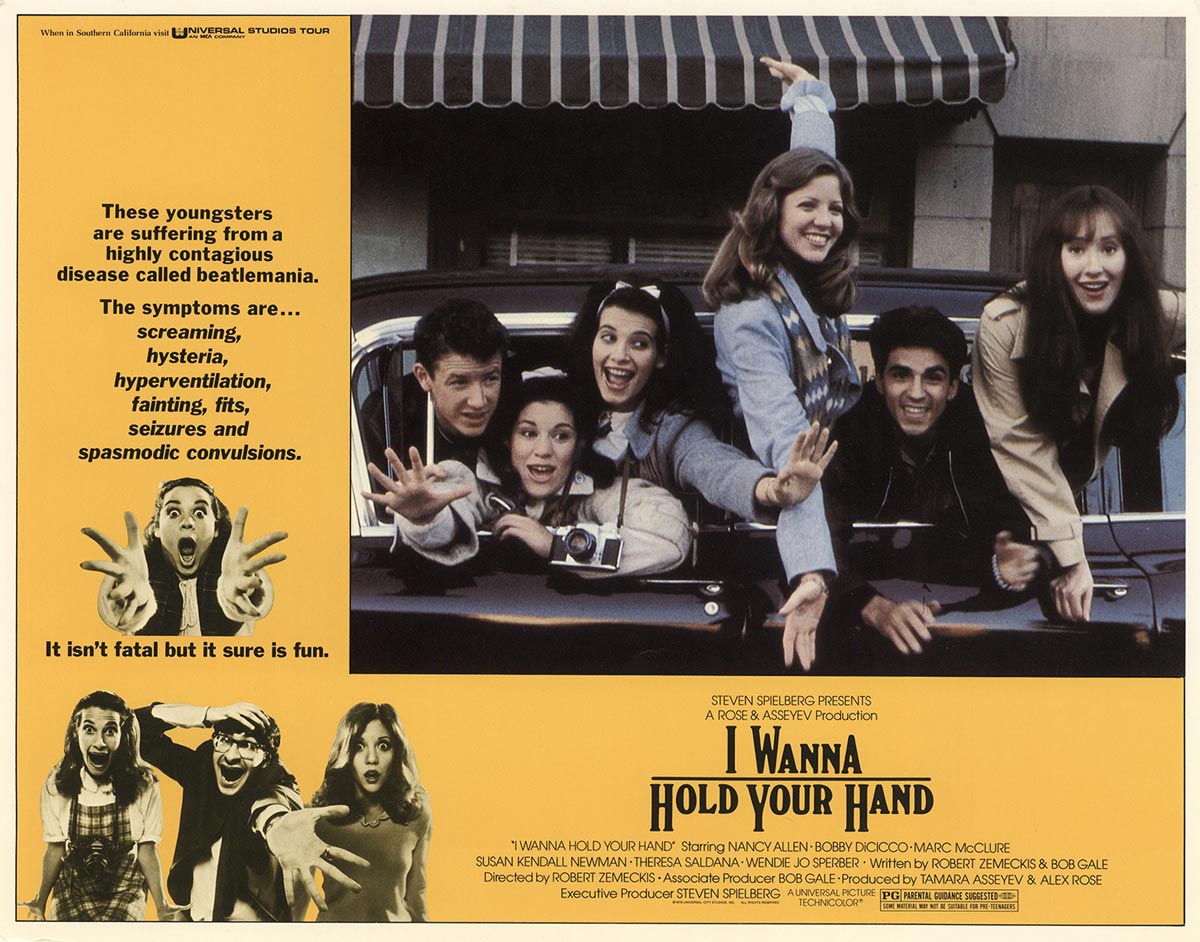 To conclude the month's offerings, we turn our focus to Robert Zemeckis, who in the last couple decades has certainly shown his versatility with multiple genres and his innovative use of performance-capture animation, but first and foremost earns his place in the canon through his large madcap romps written with his longtime friend Bob Gale, from which we've chosen our double feature. It can be said that almost every Zemeckis film tells a story involving overconfident characters met with overwhelming circumstances that humble them, and they don't get much more brash than the protagonists of I Wanna Hold Your Hand, a pack of teenage girls obsessed with meeting The Beatles, and Used Cars, the most likeably corrupt car salesmen that ever squeezed suckers into buying lemons. Despite getting in over their heads, these quixotic fools never give up, and their lengths of escalation are constantly creative and ingenious, as young women not even finished with high school manage to breach posh hotels and TV studios, and even a president's TV address is not safe from a local advertising break. Within the modest madness in these comedies lie the seeds of imagination that made the logistical feats of intersecting timelines or putting humans and cartoons together in one physical space, or integrating fictional people in real historic footage in his later blockbusters possible.
It is also worth noting that in contrast to many of his later films, these initial Zemeckis outings deal with working-class types that are very much akin to his own background. The director once observed that he frequented the movies because, "the truth was that in my family there was no art. I mean, there was no music, there were no books, there was no theater… The only thing I had that was inspirational, was television… it was like my window on the world… for my family and my friends and the world that I grew up in, [being a filmmaker] was the kind of dream that really was impossible." And in these early movie characters, you can see similar desires of escape and elevation, what it means to an ordinary kid to make physical contact with great musicians, or whip-smart Rudy Russo to move out of breaking even selling lousy cars and find a greater calling. And much as Zemeckis himself advanced into the highest ranks of trusted directors over time, these scrappy idealists may not get what they initially desired, but they will find a reward they deserve.
Tim Burton's Pee-wee's Big Adventure and Ed Wood play Friday and Saturday, May 26th & 27th. Elaine May's A New Leaf and Ishtar play Sunday and Monday, May 28th & 29th. And Robert Zemeckis' I Wanna Hold Your Hand and Used Cars play Wednesday and Thursday, May 31st & June 1st.
Don't let yourself go into another long hot summer feeling hot-tempered – cool your mind with some of the coolest comedies from the last three decades at the New Beverly!