Are you scared yet?
You should be.
You should be utterly terrified.
The Abominable Dr. Phibes (1971) is playing the New Beverly Cinema and it's going to tear your eyes right out of their sockets.
Say goodbye to the fleshy parts around your face that you used to call "cheeks." You won't need them anymore after seeing this film. You'll have spent too much time digging into them with your fingernails with each progressive death sequence. Is it really that good? No. It's really that GREAT.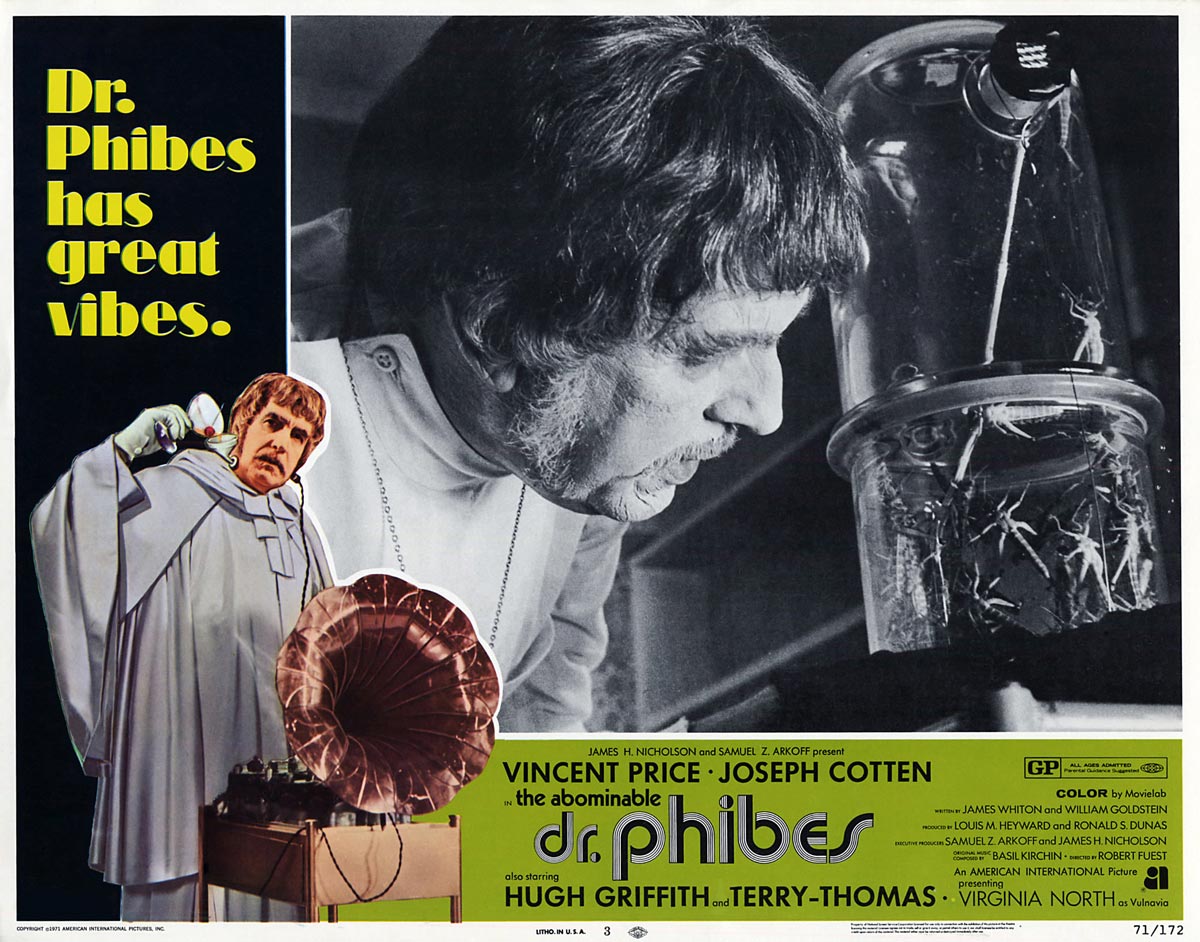 Upon first glance, the names "Samuel Z. Arkoff" or "American International Pictures" rushing across the screen may not inspire thoughts of brilliant filmmaking. While we always cheer heartily at those credits and worship AIP products, it's not necessarily for their cinematic reputation or filmic excellence in the traditionally accepted definitions of those terms. That said, Dr. Phibes is a wholly different situation. From the sets to the costumes to the casting, this is most assuredly the kind of AIP-fare that makes you do a double take. While it carries with it a certain amount of camp and comedy, this film is a groundbreaking tale of horror, revenge and anger that has clearly influenced everything from slasher films to the modern indie horror work being released today.
This is a film that has a simple plot: it's about getting revenge upon the people who Dr. Phibes believes are responsible for killing his wife. The meticulous care taken to photograph each murder and the intense time spent solely on Phibes and his "projects" are central to the film. They are also beautiful and in no way overbearing to the viewer except in that they are completely horrifying, each one building on the one before it. But it is methodical and premeditated. And this is what makes the film even more thrilling… and chilling.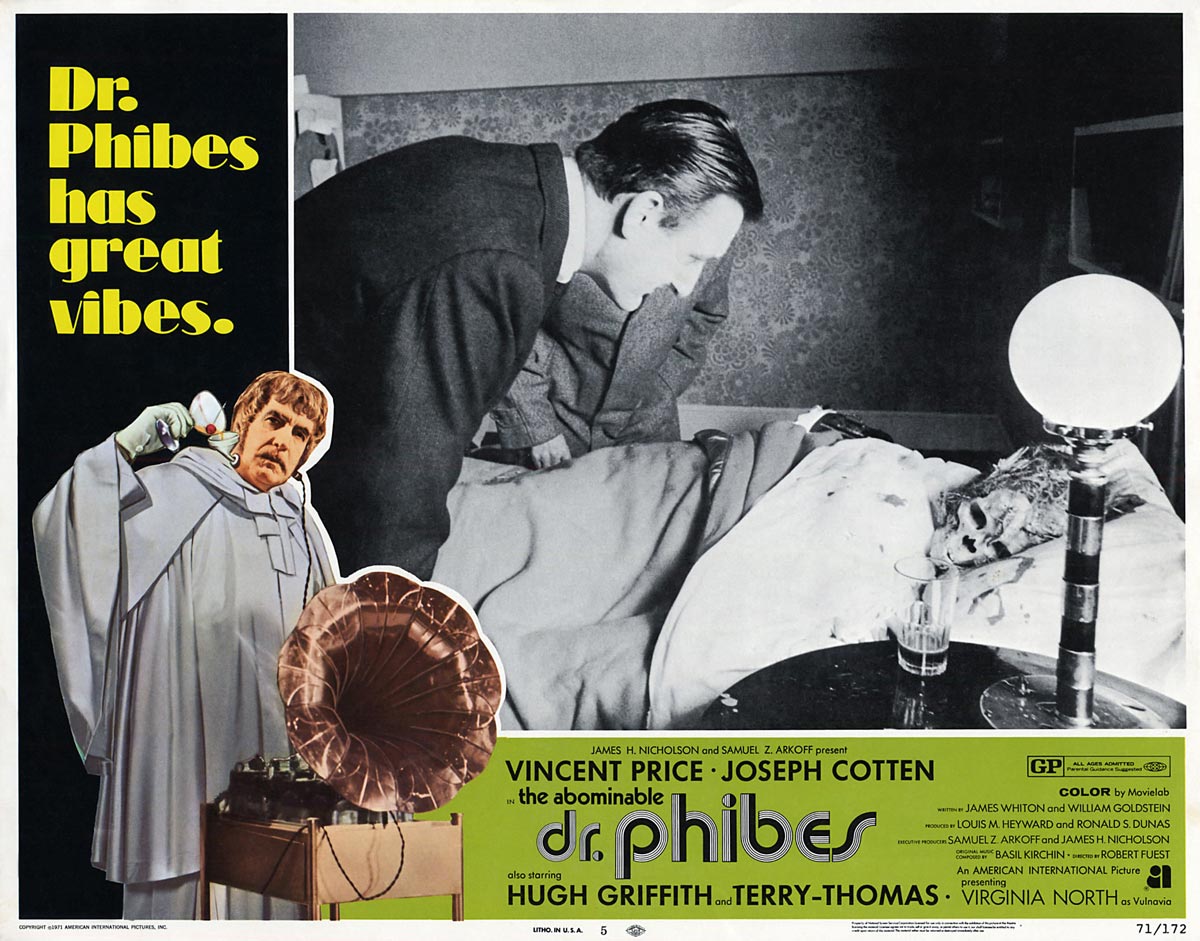 Perspective is everything. We are, for the majority of the film, placed alongside Phibes. However, there is one critical moment at the beginning when we are not: we are given access to see through the eyes of one of the victims as Phibes has sentenced him to death. The camera continually shifts perspectives, moving from the first-person terror of the murder victim to a wider angle that includes Phibes' voyeuristic glee. It photographs the people around the dying man, who seem not to notice that he is, quite literally, drawing his last breaths. The camera perspective moves around like this, giving the audience a taste of what we can expect for the rest of the film and, perhaps, how we should be viewing the picture on a larger level. How do we view death and intimate relationships? Phibes lost the most important person in the world to him and did anyone care? How do we cope with that? How does that work out? Is Phibes so evil after all? Ok, so the answer to the last question is that yes, he's probably not the greatest dude for going around and offing a bunch of folks just because they couldn't save his dying wife. But don't we feel for him? Phibes may be unstable but he is also a complicated villain, a heartbroken man still in mourning, lashing out. Sure, murder may be a little extreme, but hey – nobody's perfect, right?
The Abominable Dr. Phibes was not the easiest film to get made. Vincent Price's recent AIP films before Phibes hadn't quite been "up to snuff" for Sam Arkoff and company and while they wanted another hit they didn't want to take another hit. Price was also having contractual squabbles with AIP. Price's contract had run out after he made Cry of the Banshee (Gordon Hessler, 1970), and AIP owners Arkoff and James H. Nicholson were not too thrilled with the idea of renewing his contract, especially for a larger sum of money. It's a good thing that AIP decided to put their "economics" aside in this situation, as Dr. Phibes would have been nothing without the presence of Price. While surrounded by appetizing heavy hitters like Joseph Cotten, Terry Thomas and other major British actors, Vincent Price was still the main course. Vincent Price WAS The Abominable Dr. Phibes.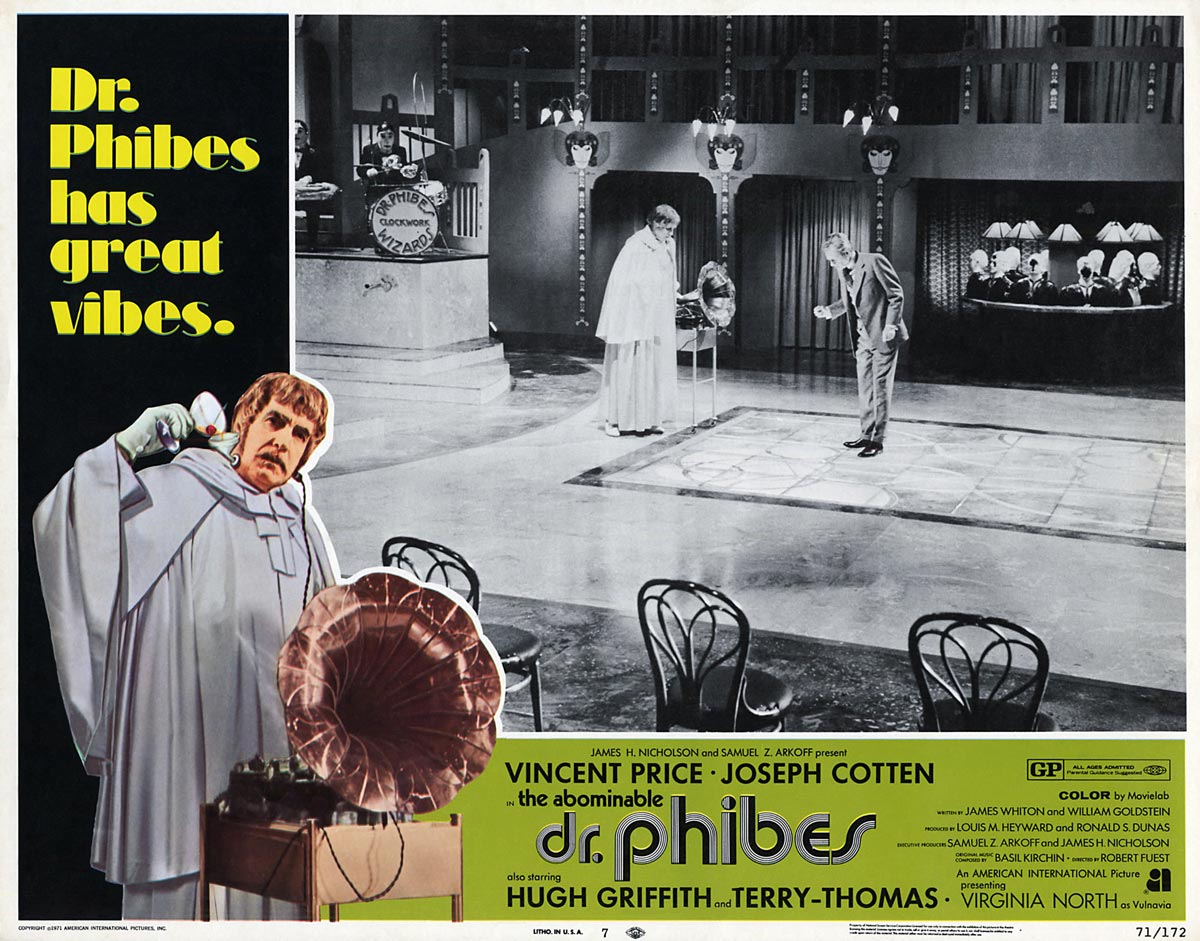 The casting for this film is truly marvelous. When looking at it in retrospect, one can see the history of British filmmaking laid out all in one glorious, lavishly decorated horror film. Terry Thomas (Dr. Longstreet), perhaps best known in the US for It's A Mad, Mad, Mad, Mad World (Stanley Kramer, 1963) and being the voice of Sir Hiss in Disney's animated Robin Hood (Wolfgang Reitherman, 1973) was a well-known UK actor, having starred in multiple films by the Boulting Brothers, a highly-respected filmmaking team in England. Peter Jeffrey (Inspector Trout), perhaps best known for his later career (which included extended stints in Doctor Who and the brilliant Our Friends in the North), was a regular on two of the most ground-breaking television programs that the UK ever produced: The Wednesday Play and Play of the Week. Hugh Griffith (Rabbi), may not have had a very large role in Phibes, but his face should be quite familiar to some – he played the inspector in Joseph Losey's The Sleeping Tiger (1954) but went on to more recognized roles in works like Sheik Ilderim in Ben-Hur (William Wyler, 1959), Mandria in Exodus (Otto Preminger, 1960) and the Magistrate in Oliver! (Carol Reed, 1968). These are just a few of the many in a very stacked roster. Almost every single person cast in Phibes has a resume that reads the same.
The Abominable Dr. Phibes was not immediately popular upon release but gained popularity, and when it did – hot damn! It couldn't be stopped. Vincent Price himself said that he loved Phibes; he thought it was "witty and brilliantly thought out." The wide regard for the film ended up spawning a sequel, Dr. Phibes Rises Again! (Robert Fuest, 1972), but unfortunately that one did not do as well. Robert Fuest, the man who directed both films, was widely recognized as the driving force behind Phibes' sumptuous and luxurious production design. Before his success with this film, Fuest had been production designer then director on the acclaimed British Spy program, The Avengers. Those efforts led directly to more work, most notably AIP's adaptation of Wuthering Heights (Robert Fuest, 1970). This was the first adaptation in color and some have even stated that it tops the 1939 Merle Oberon/Laurence Olivier classic! Fuest's work on Heights, as well as his quirky pop culture sensibility from The Avengers, was invariably at work when it came to The Abominable Dr. Phibes. As a production designer, he was clearly able to design large visual landscapes and include the minutest details, no matter how grotesque or skin-crawlingly bizarre. The color schema and detailed visual style evidenced throughout the film could only come from a man whose sense of set construction was influenced by 1960s Britain and high class arts training. As Fuest was a trained artist and deeply ensconced in Swingin' London at the time, it only seems fair that this is what he brought to the Phibes "table."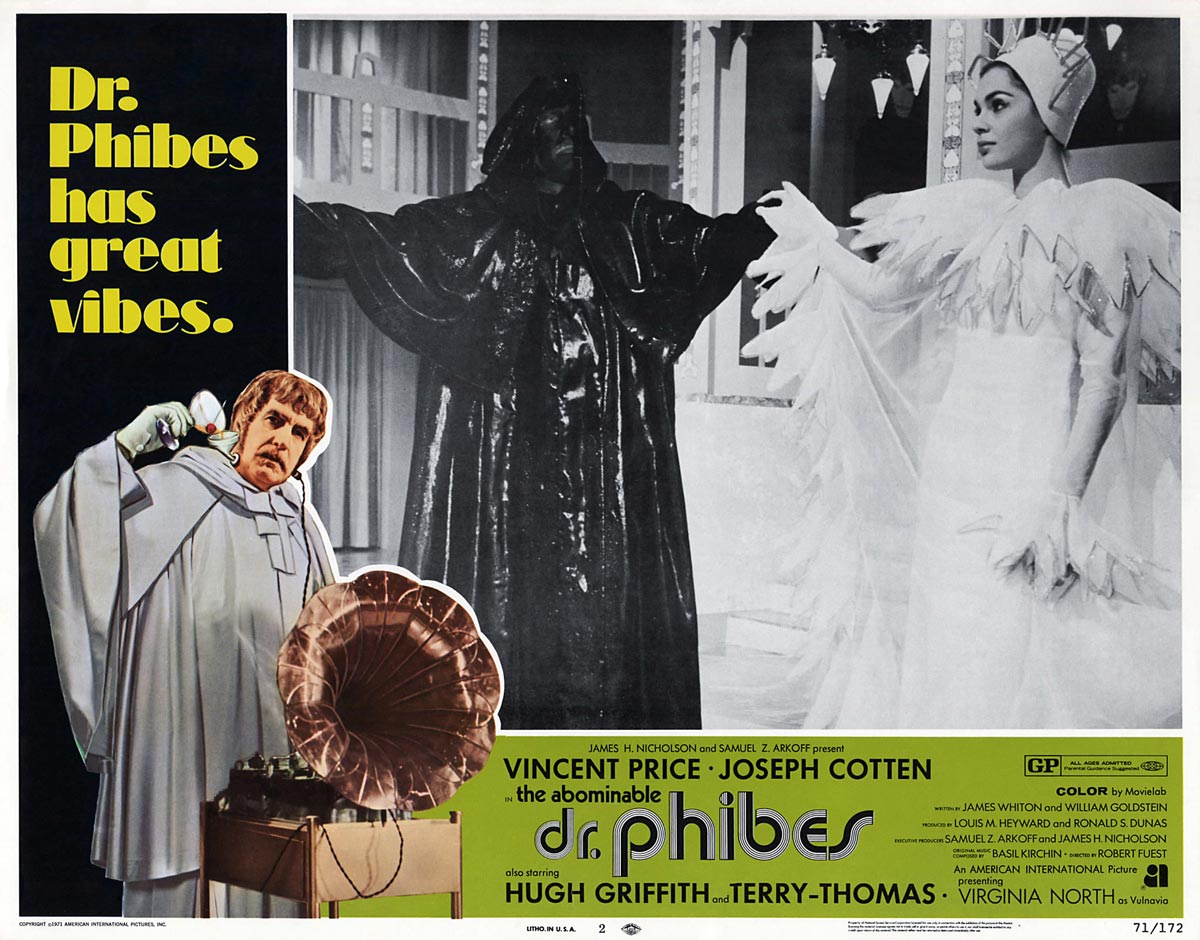 Many contemporary horror movies have tried to work on the same principles that Phibes created: horror, gore, terror, black comedy, humor, and beauty in death, tragedy and sensitivity. Not one has achieved the same perfect balance that the original has. There is no arguing that you will wait for EVERY death scene to see how GREAT it's going to be – it's like today's slasher films – how's he gonna do it? How are they gonna die? I CAN'T WAIT TO SEE THIS ONE! Holy shit. That last death was fucking intense!! This one has GOTTA top the others, right?? Let's do this, Phibes!! But you will also laugh like hell at certain bits because it's got humor. But you might also feel uncomfortable in your laughter because… you should. It's a little creepy and a little funny and it's okay to laugh at things that are creepy and funny at the same time. At its heart, The Abominable Dr. Phibes is a gorgeous, funny, downright creepy film and goddamn proud of it.