One of the most horrifying periods of history, that many are still alive to remember, is the decades-long rule of Spain by Generalissimo Francisco Franco, which saw the persecution and killing of tens of thousands of dissidents, suppression of women and religious minorities, and tight censorship of all art generated in the country. There's a good reason why "Saturday Night Live" spent years making references to Franco being dead.
Some clever Spanish filmmakers found a means to tell the world about the ravages and effects of living under totalitarianism, while still working under the strict dictates of the state, and that was through making horror films. These films from the mid-'60s onward have been lauded for their striking visuals and subtextual commentary on religious superstition and gender roles. And our Grindhouse Tuesday screening on March 21st salutes two standout filmmakers of that era. Their movies also share a particular kinship that we'll leave you to discover for yourself.
Start by taking a trip to a 19th century French girls' boarding school in Narciso Ibáñez Serrador's 1969 La Residencia. New arrival Teresa (Cristina Galbó) is rattled by the air of distrust and authoritarianism fostered by the headmistress Señora Fourneau (Lilli Palmer) and her student assistant Irene (Mary Maude), though she finds some pleasant company with the headmistress' reticent son Luis (John Moulder Brown). When five girls go missing, and the only reaction from the teachers is to make the school even more restrictive, secrets will be revealed that will forever make this institution known as The House that Screamed!
Born of a theatre director father and an actress mother, Narciso Ibáñez Serrador, known to fans as "Chicho," built a reputation as a sort of Rod Serling of Spain, creating diverse television that ranged from a popular scary anthology series, "Historias para no dormir (Stories to Stay Awake)", to a long-running game show, "Un, dos, tres…responda otra vez (1,2,3…Reply Again)", where future Almodovar star Victoria Abril appeared as a model. House was his feature debut, the first wholly Spanish production to shoot in English for wide international release, and, financed at 50 million pesetas, one of the largest-budged Spanish films of the time. He has directed only one other theatrical feature, Who Can Kill a Child? a/k/a Island of the Damned from 1976, but both his films and his TV legacy have earned him worldwide respect. Guillermo del Toro calls him "Spain's answer to Terence Fisher," and has praised House as, "an Oedipal horror tale about the festering underbelly of decency and its institutions."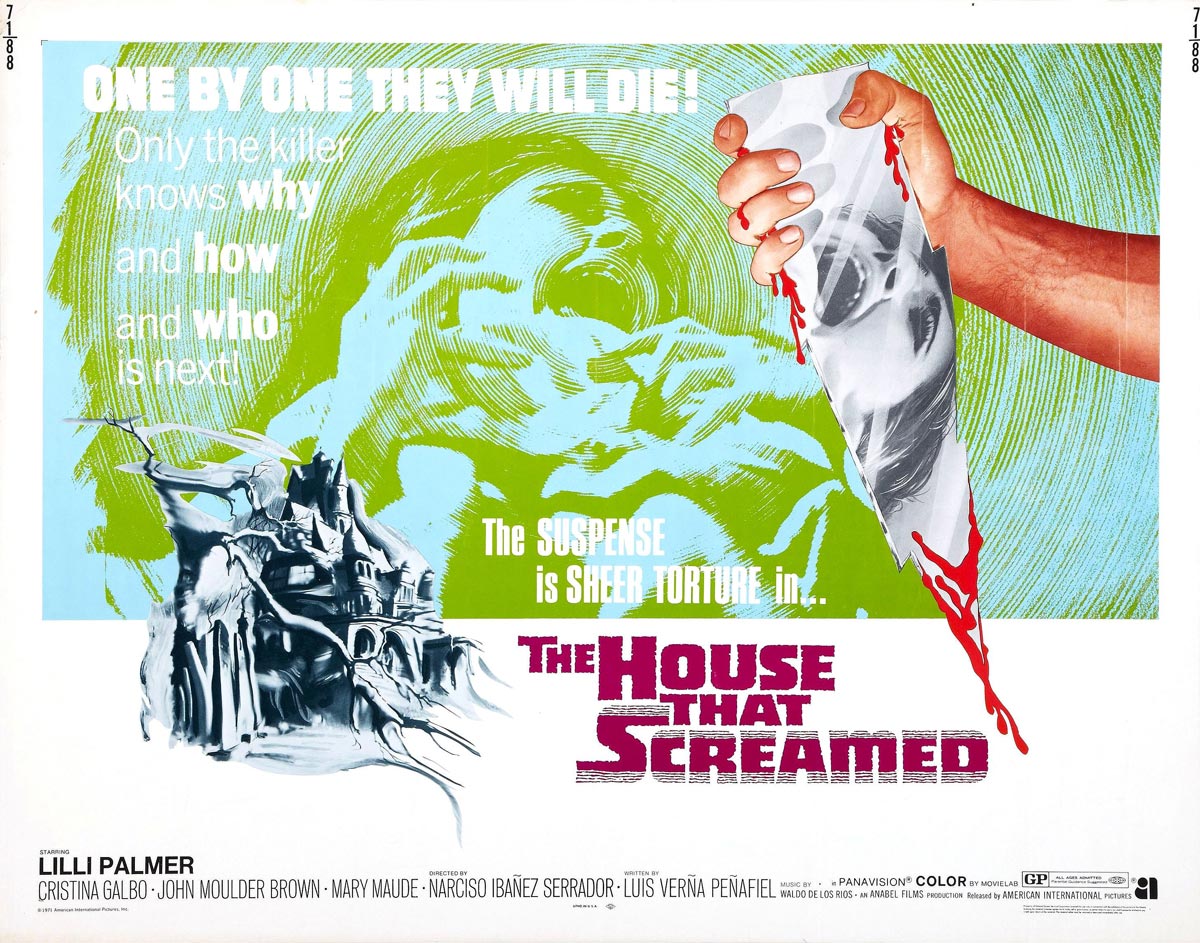 Top-billed Lilli Palmer starred in dozens of movies from the '30s to the '80s, Body and Soul being one of her standouts, and with her then-husband Rex Harrison, appeared in the first Broadway staging of Bell, Book and Candle. English actor John Moulder Brown, playing her son, began as a child star with credits like Room at the Top, and after this film played another memorable troubled teen opposite Jane Asher in Jerzy Skolimowski's Deep End. Grindhouse Tuesday regulars will recognize Christina Galbó from our previous screenings of Riot in a Women's Prison and What Have You Done to Solange? And Maribel Martin, who plays ill-fated student Isabelle, later starred in Vicente Aranda's The Blood-Spattered Bride, another frequent New Beverly favorite.
The House that Screamed also has the unique distinction of receiving a U.S. broadcast network premiere, rare for Spanish-made films, debuting on "The CBS Late Movie" on January 30th, 1973. It was also one of the first movies programmed on "Elvira's Movie Macabre," airing on October 10th, 1981.
1890s France gives way to 1980s Boston, where the morals are looser but the killings are bloodier, in Juan Piquer Simón's Mil gritos tiene la noche. An elusive chainsaw-wielding psychopath is leaving a trail of dead co-eds missing appendages at a college campus. Lt. Bracken (Christopher George) arranges to plant undercover detective Mary Riggs (Lynda Day George) at the college in the sports program, in the hopes of narrowing down the pool of suspects. But the killer always seems to be one step ahead of the cops. And Mary may very well be the next victim who ends up left in Pieces!
J.P. Simón spent his formative years infatuated with fantasy novels and American films. He established his own commercial, production and distribution companies in Spain through the early '70s, and got wide notice with his feature debut Where Time Began, a free adaptation of Jules Verne's Journey to the Center of the Earth. He adapted the script for Pieces from material created by British producer Dick Randall and Italian producer Roberto Loyola; his original Spanish title, translating as The Night Has a Thousand Screams, was inspired by the Cornell Woolrich novel Night Has a Thousand Eyes. The film was shot entirely in Spain on a $300,000 budget in five weeks, with America-set insert shots recycled from his earlier project, Supersonic Man; scenes involving stars Lynda and Christopher George were completed in seven days. Simón can be spotted in a cameo playing a crime scene photographer.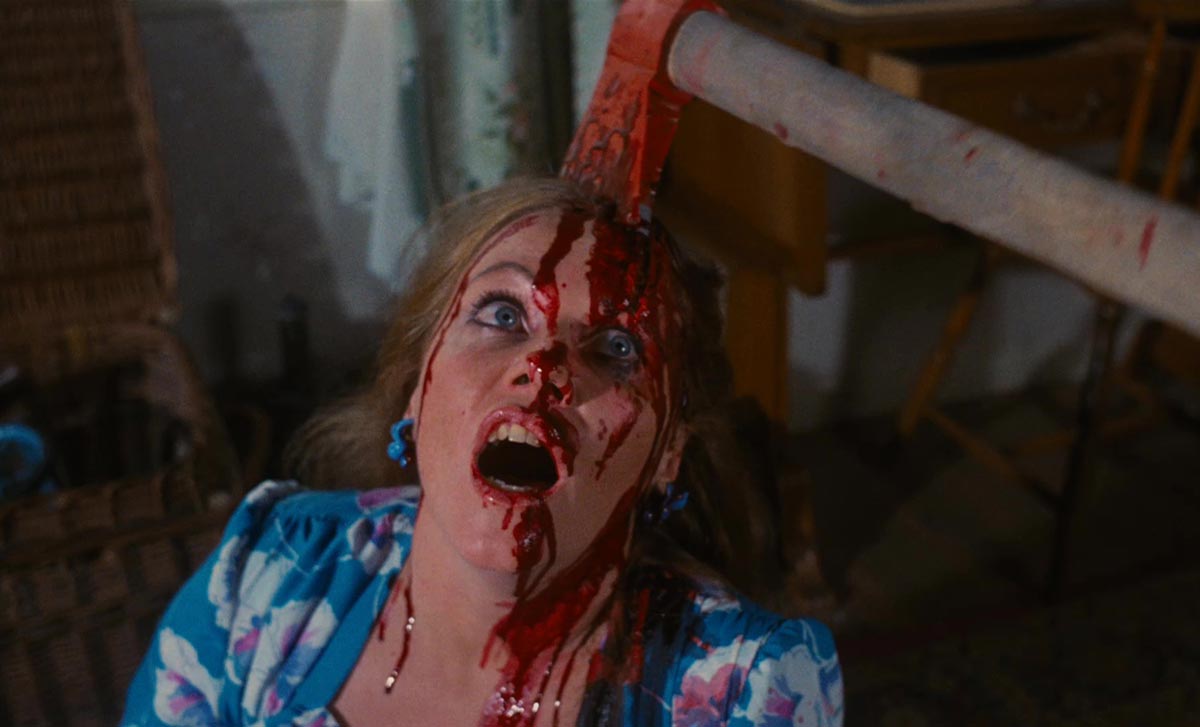 Leads Christopher and Lynda Day George were one of the most beloved actor couples of the '70s, appearing together in Chisum, Day of the Animals and several more TV movies, series episodes and game shows; when Christopher died after the completion of Mortuary, Lynda retired from acting soon after. Filling out the college's rogues gallery are Edmund Purdom, English actor and dubbing artist, as the Dean, Jack Taylor, veteran of dozens of Spanish genre films and frequent Jess Franco collaborator, as the anatomy professor, and Paul L. Smith, immortalized as Bluto in Robert Altman's musical version of Popeye, as a groundskeeper all too skilled with motorized cutting. Thrown in for a gratuitous cameo is martial arts pretender Bruce Le, who was working for producer Dick Randall on another film at the time.
Film Ventures International, the exploitation company responsible for bringing Beyond the Door, Day of the Animals and The House on Sorority Row to theaters, handled the initial U.S. release of Pieces. While trailers with full bloody content were prepared, most people saw their teaser which showed very little of the film but boldly promised "You don't have to go to Texas for a chainsaw massacre!" The lurid marketing, along with its unrated but NC-17 level age restrictions, aroused plenty of outrage from moral values organizations and pundits, including L.A.'s infamous firebrand Wally George.
It's going to be a night where scares fill the schools and terror has the reign in Spain! Spend a Grindhouse Tuesday at the New Beverly on March 21st with these blood-curdling classics!