You don't have to be a macho film-freak or a '70s cinema fanatic to have a deep love for Sam Peckinpah films. The truth is, all you have to do is love a good, well-told story. While many of his films certainly carry a brutal edge and commit themselves to being on the combustible end of the shotgun, the cinema of Sam Peckinpah has more depth of heart and clarity of soul than people generally give them credit for. The Wild Bunch (1969) too graphic for you? Try The Deadly Companions (1961). Not in the mood for a Western? Thrill yourself with The Getaway (1972). There's a little Sam for everyone. Beyond all the crazy stories, the booze, the guns, the chaos, Sam Peckinpah didn't just have his finger on the pulse of humanity, he had his finger inside humanity's vein, and with each pulsing heartbeat, the blood of what it is to be a person was what Peckinpah was interested in showing – the beauty, the ugliness, the pain and the pleasure of it all. He recognized something that most people don't: sometimes the best way to depict vulnerability is through high-voltage action and what has been often considered a cynical worldview.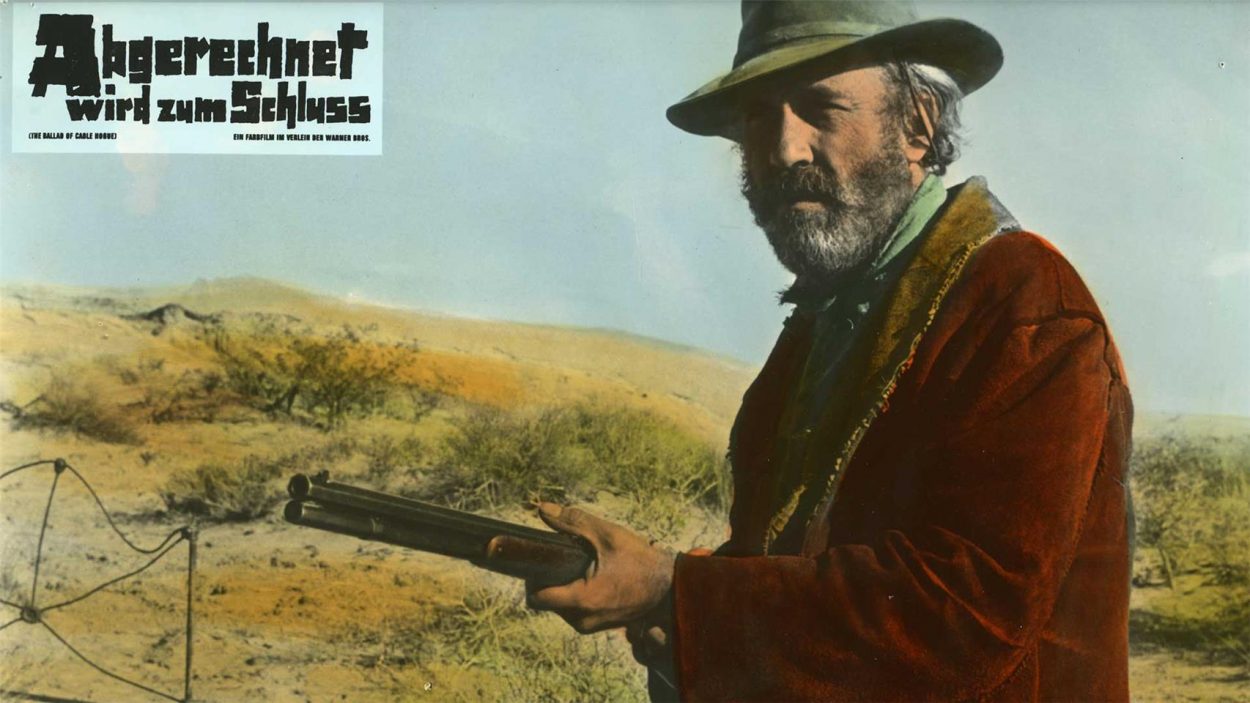 We've been very lucky here at the New Beverly. If you're a regular, you've gotten a plethora of opportunities to see Peckinpah's work on some of the most beautiful 35mm prints! In December of 2011, Edgar Wright selected Ride the High Country (1962) as one of his films for his "Wright Stuff III: Films Edgar Has Never Seen Before," while just one year previous to that, the Bev did one of the most brilliant double features ever with Junior Bonner (1972) and Quentin Tarantino's own masterwork, Jackie Brown (1997). If you were in the audience for any of these or the other numerous times that The Wild Bunch or Straw Dogs have played (including the beginning of this month) you would see the immense effect that these films have on an audience. They are such a major part of why the New Beverly is a great theater – when these films played – as different as all of them are – the viewers got it. As disparate as Bring Me the Head of Alfredo Garcia (1974) and Convoy (1978) are tonally, the way in which the New Beverly audiences seem to understand Peckinpah is a beautiful thing.
Thus we come to the film being shown this upcoming March 29th and 30th on a beautiful IB Tech print: The Ballad of Cable Hogue (1970). I've lovingly hassled a lot of friends (and readers) to attend the delicious smorgasbord of cinema that was programmed for us this March. This film is NO DIFFERENT. In fact, I will make a hand-to-16mm plea and promise: please come to see this film. You will absolutely love it in a way that you didn't know you could ever love a film before.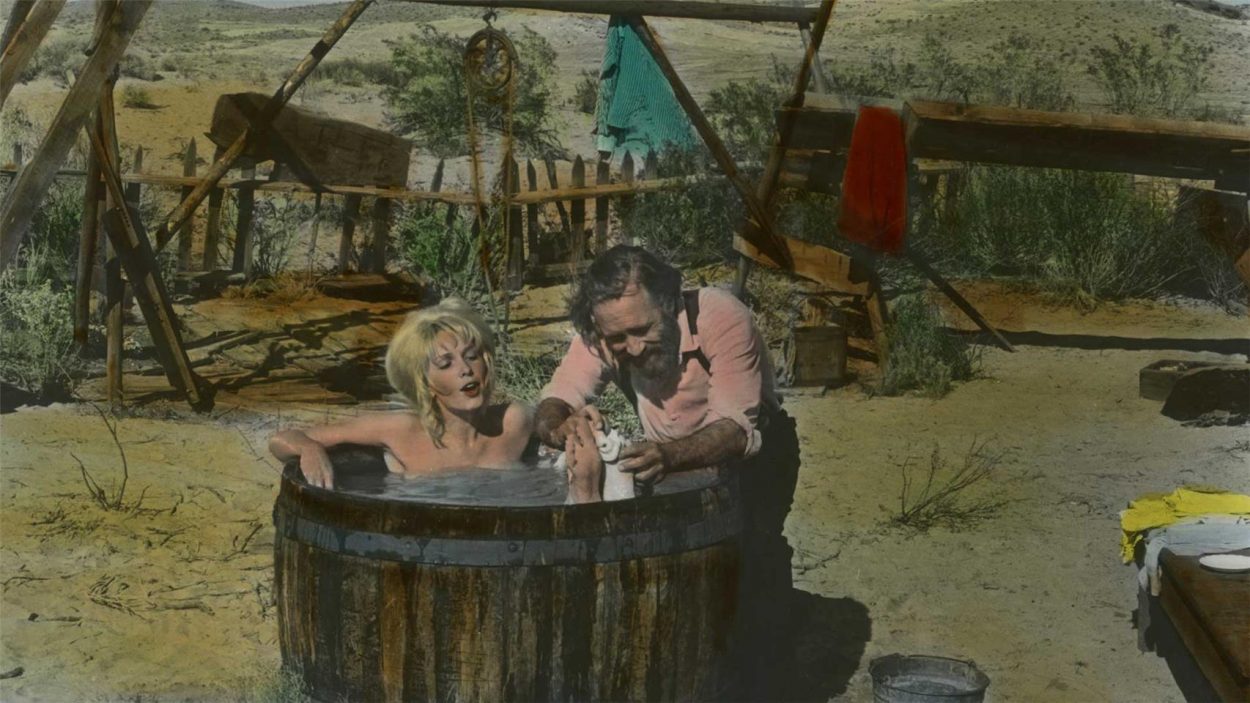 What if I were to tell you that Sam Peckinpah made a feel-good movie that was lewd as hell in all the right places? What if I were to tell you that it features David Warner as a Super Naughty Religious Dude? And that Stella Stevens has never looked better OR been more self-confident and wonderfully dynamic? Would you believe me? You should. The Ballad of Cable Hogue is a feel-good movie. But it's a Sam Peckinpah feel-good movie so that means that it feels-good with rough-hewn strings attached. You don't get anything for free with Peckinpah and it's best that way.
There are those who might raise an eyebrow at the very thought of Sam "If they move, kill 'em" Peckinpah doing a film that depicts any emotion other than anger or lust. To those people, I would strongly advise a viewing of Cable Hogue and a re-examination of such a reductive perspective on the director, his narratives and character arcs. Just as an example, one of the more feminist films shown this month at the New Beverly, Frank Perry's Play It as It Lays (1972), was almost a Sam Peckinpah film! Author of the novel on which Play It As It Lays was based, Joan Didion, wrote to Peckinpah saying, "I want you to [do the movie] – you are the only person … I can see taking it beyond where it is and bringing back a picture of the very edge." If Peckinpah was such a masculinist figure, making a cinematic effort to reject the humanity of women, would Didion have wanted or desired his participation in a work that was so gynocentric? Probably not.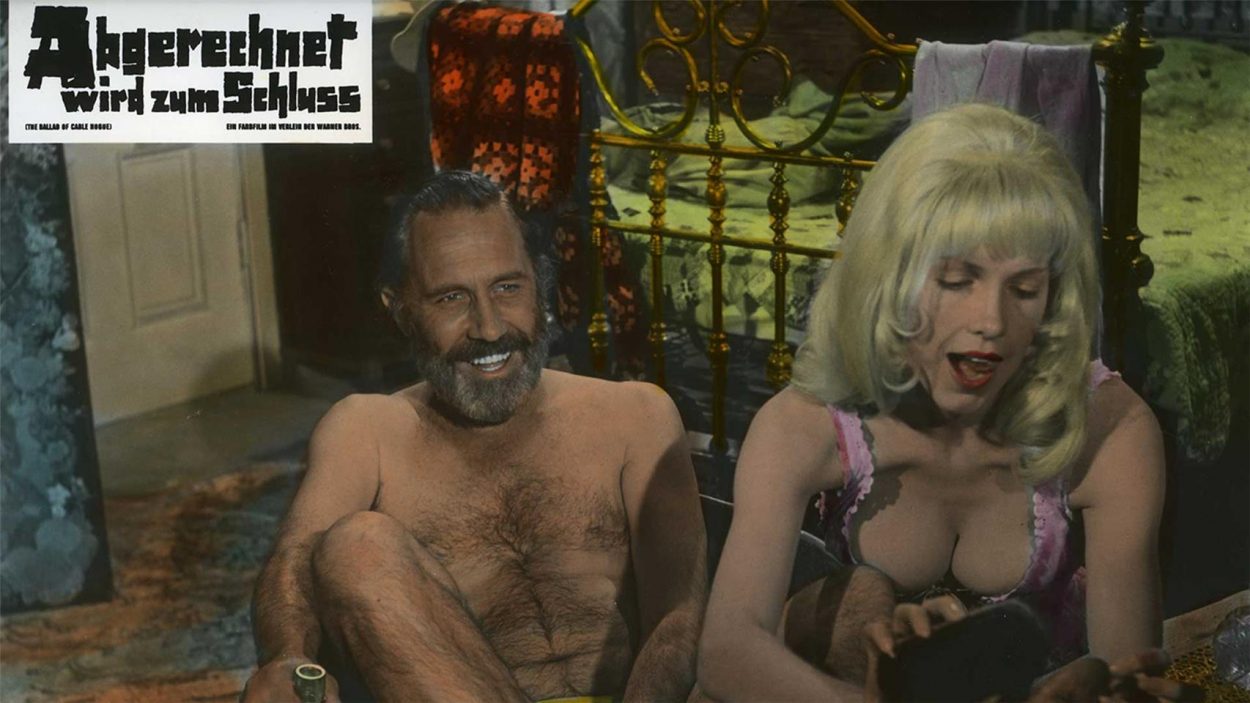 There are those that say the best directors inspire the greatest controversy. That's not always true. Sometimes a shitty director is just a shitty director who happens to be great at pushing people's OMGWTFBBQ impulse. But Sam Peckinpah does not fall into that camp. He was an incredible talent, intentional filmmaker and creative legend whose career defies standard classification. This is best shown in The Ballad of Cable Hogue, another March film on the New Beverly calendar that follows in the theme of How The West Was Lost.
We have seen rustlers destroying long-standing traditions and cowboy culture in works like Tom Horn (William Wierd, 1980) or Rancho Deluxe (Frank Perry, 1975). We have watched in horror as the men who viewed themselves as Heroes of The West became monsters and villains in Chato's Land (Michael Winner, 1972) and Navajo Joe (Sergio Corbucci, 1966). Where we find ourselves with Cable Hogue is the onset of modern technology. And boy howdy is it heartbreaking to watch. But the interplay between David Warner, Jason Robards and Stella Stevens is, without a doubt, some of the most entertaining on-screen chemistry you will ever bear witness to. The Ballad of Cable Hogue offers up brisk playful dialogue, mischievous and bawdy humor, and some of the most endearing characters ever put to film. These things makes are what make the bitter pill of the film's narrative easier to swallow, when push comes to shove.
This is not your average Peckinpah. Then again, there is no "average Peckinpah." Sam considered The Ballad of Cable Hogue to be his favorite of the films that he made, and said so on multiple occasions. But it's difficult for a director best recognized for his more explosive fare to be given praise or allowed to benefit from the genius that is works like The Ballad of Cable Hogue or Junior Bonner (1972). So let's give Sam a chance – go see Cable Hogue this week. You won't be sorry. And you'll be doing Sam a solid.