Italian superstars Sophia Loren and Claudia Cardinale were still young women on the release dates of two of their most impressive performances in Two Women and Bebo's Girl. Although both actresses had appeared in dramas before, the pair – particularly Loren – was much better known for sexy, lighthearted comedies.
Sophia Loren had been appearing in bit parts since 1950 but zoomed quickly into leading lady status by 1953 with The Country of the Campanelli, Two Nights with Cleopatra and Aida, the latter an adaptation of the Verdi opera. Playing the Ethiopian slave title character opposite Canadian actress Lois Maxwell (later Miss Moneypenny in the James Bond films) was her first role to win critical acclaim in Italy. 1954 saw her international exposure skyrocket with parts in three big hits that were dubbed into English: the anthology film Gold of Naples, directed by Vittorio De Sica, historical blockbuster Attila co-starring Anthony Quinn and Too Bad She's Bad, where she and Vittorio De Sica are con artists trying to fleece hapless taxi driver Marcello Mastroianni. She received more acclaim for Mario Soldati's Woman of the River (1955), a controversial movie at the time for depicting a strong, impoverished female character taking revenge on the lover who has deserted her after making her pregnant.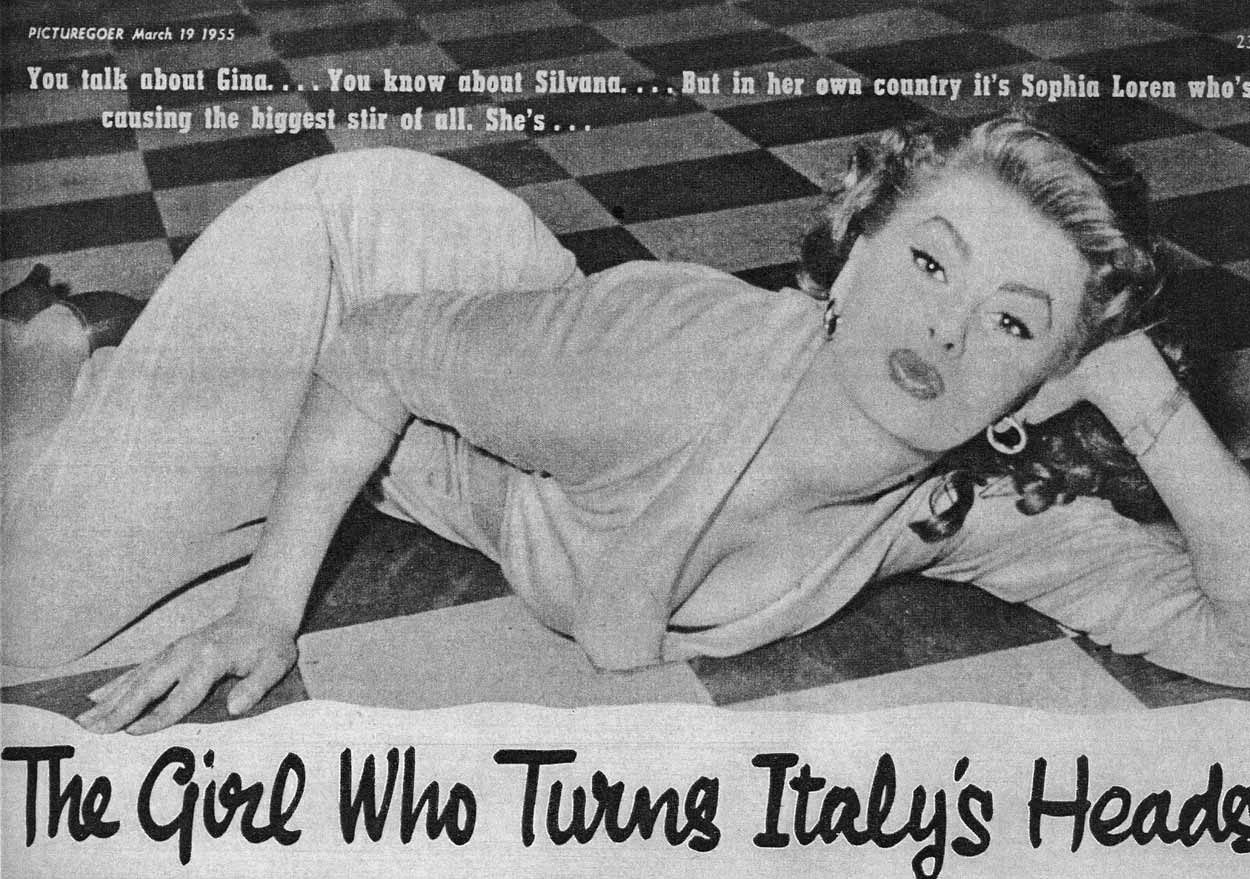 By 1957, Hollywood was at her feet, though the initial results were three comparatively lackluster adventures: Boy on a Dolphin co-starring Alan Ladd and Clifton Webb (featuring her infamous wet-dress-with-no-bra scene), Legend of the Lost with John Wayne and Rossano Brazzi and, perhaps, the best of the lot, Stanley Kramer's Napoleonic Wars epic The Pride and the Passion co-starring Cary Grant and Frank Sinatra. Except for the popular comedy Houseboat, again opposite Cary Grant, 1958 was the year Loren honed her dramatic chops with a vengeance, burning up the screen in the crazy Eugene O'Neil-penned rural melodrama Desire Under the Elms with Anthony Perkins and Burl Ives, director Carol Reed's nihilistic romance The Key with William Holden and Trevor Howard, and the set-in-NYC The Black Orchid, where she played a Mafia chieftain's widow courted by Anthony Quinn. She made five high profile pictures in 1960, among them Clark Gable's penultimate, It Started in Naples, and the Peter Sellers comedy The Millionairess. Yet it was the last of the bunch that proved to be the most rewarding and, many say, the most brilliant work of her entire career.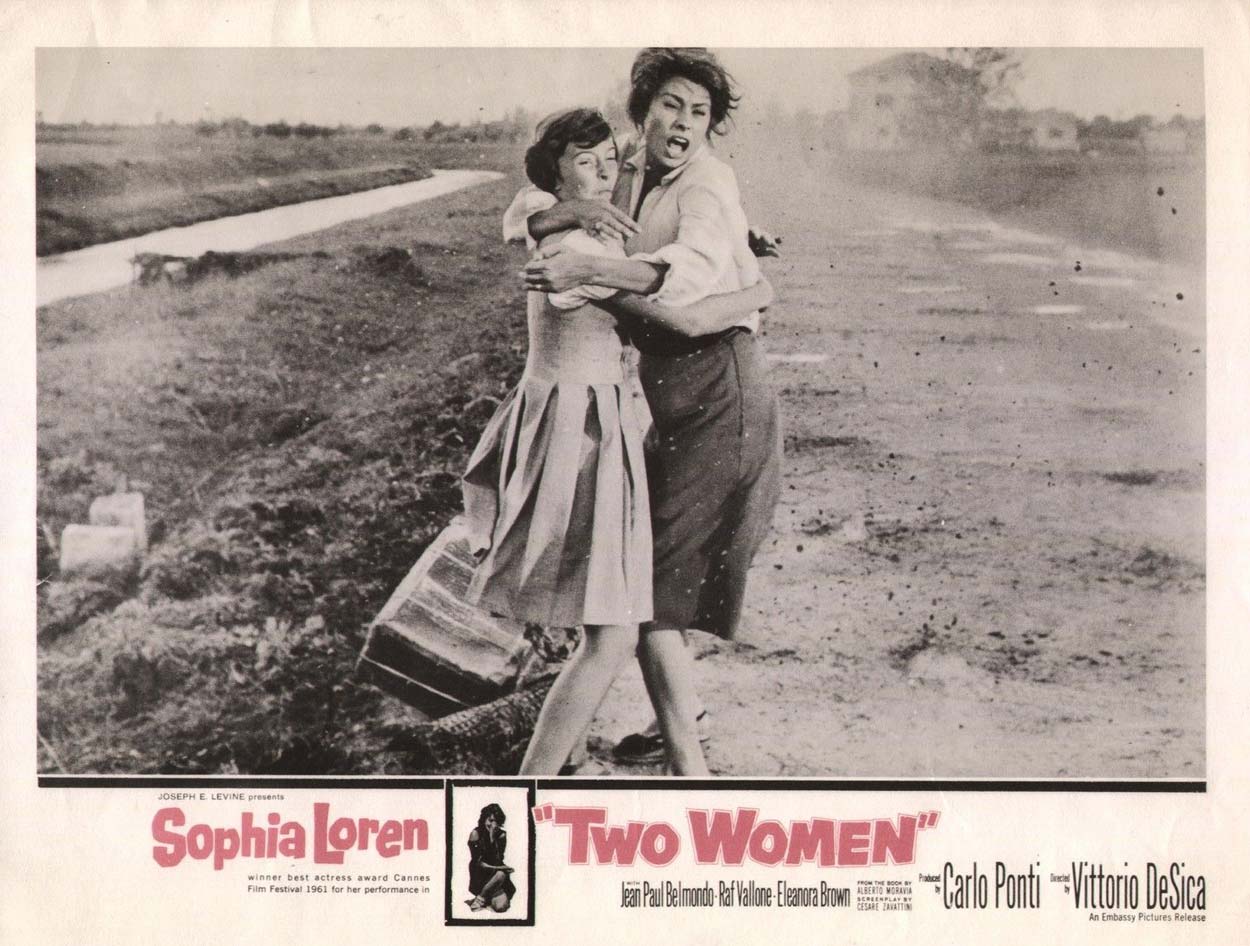 Two Women was originally slated to be part of a two picture deal with Paramount, both starring Loren, brokered by producer Carlo Ponti and directed by George Cukor. Loren had already shot the first one, Heller in Pink Tights, a color western helmed by Cukor with Anthony Quinn. But Cukor and Paramount pulled out before Two Women could ramp up for production. Ponti went to French company Cocinor to replace the departing finances and Cocinor mandated a French star to be part of the cast. Thus, second-billed Jean-Paul Belmondo, fresh off Breathless, joined the troupe. Anna Magnani, who was originally pegged to play the mother, Cesira, with Loren as her daughter, was replaced by Loren herself when Vittorio De Sica took over as director. Loren was only 26 at the time, but loved the original novel by Alberto Moravia so much, she relished the challenge from the ever-supportive De Sica of playing an older woman. De Sica and Ponti then cast a much younger actress, Eleonora Brown, as Rosetta, the daughter. Ponti had hired prestigious Italian screenwriter, Cesare Zavattini (The Bicycle Thief, Miracle in Milan, et. al.) to write the script, and De Sica reportedly collaborated with him, uncredited. The original novel "The Woman from Ciociara" by Moravia (Contempt, Time of Indifference, The Conformist) had been based on his own experiences during the war and he used the Marocchinate, the horrifying rampage of mass rape perpetrated by Moroccan colonial platoons of the French Army after the Battle of Monte Cassino, as the background for the tragic climax of the tale.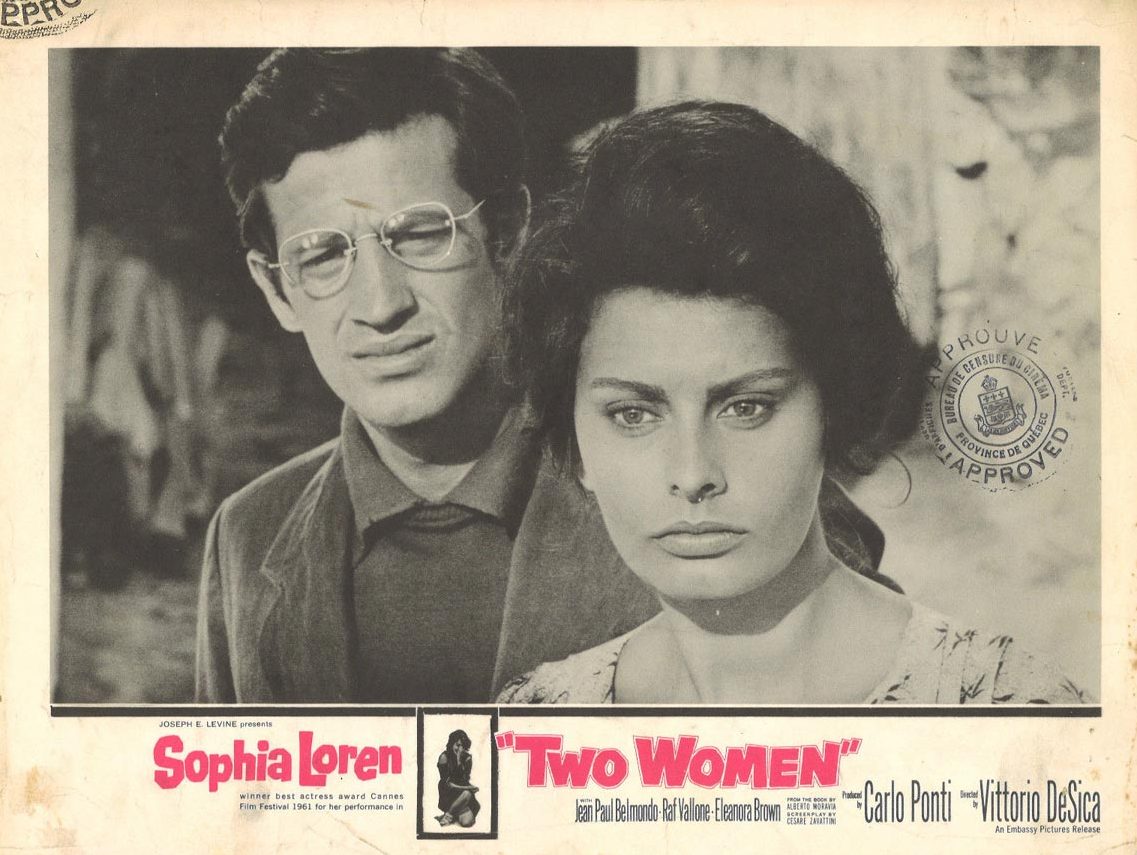 Loren embodies Cesira, the single mother storekeeper in the city who shuts up shop when the Allied bombing of the area becomes too dangerous. She takes her daughter on a pilgrimage to their rural home village to seek shelter, and they meet the bookish and bespectacled peasant, Michele (Belmondo), upon arrival, a leftist student with whom they immediately establish a whimsical rapport. Michele falls in love with Cesira, who cannot take him seriously, and in turn Rosetta has a secret crush on him. Despite the meager provisions in the village and the threat of German troops in the area after the fascist Italian Army has disintegrated, the village emerges as an idyllic haven, a stark refuge from the real world, but one that cannot last. Michele is forced to accompany a small squad of German soldiers to lead them through the mountains. Cesira, hearing the Allies have liberated the city, decides to return there on foot with Rosetta, a decision that will change their lives forever.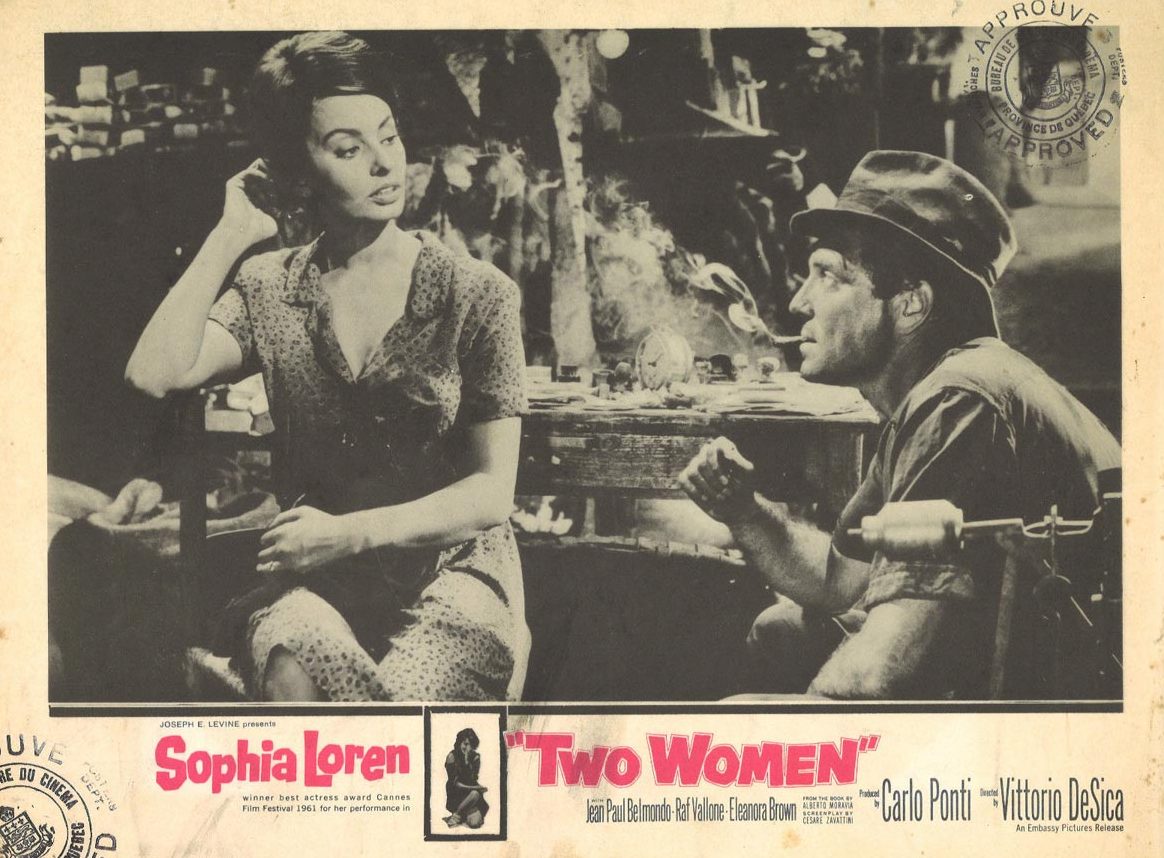 American producer/distributor Joseph Levine reputedly only watched 9 minutes of the film before he declared Loren would win an Oscar for her performance. He immediately picked the film up for American release. It received rave reviews and Levine promoted it relentlessly to Academy members during the lead-up to the awards show. Not only did Loren win the Academy Award for Best Actress but also top awards from Cannes, BAFTA and the New York Film Critics. This was the first time a performer in a non-English speaking role had won an Oscar.
Loren's career enjoyed a string of box office successes, including Anthony Mann's historical epics El Cid (1961) and Fall of the Roman Empire (1964), noirish dramas/thrillers like Condemned of Altona and Five Miles to Midnight (both 1962), the WW2 espionage spy thriller Operation Crossbow (1965), Stanley Donen's tongue-in-cheek spy romp Arabesque (1966) and the disaster thriller The Cassandra Crossing (1976). But Loren's comedies, especially Yesterday, Today and Tomorrow (1963) and Marriage Italian Style (1964), both co-starring Marcello Mastroianni, remain her most memorable and successful of the era. She continues to work, though her last dramas of note, Sunflower (1970) and Ettore Scola's A Perfect Day (1977), both with Mastroianni, remain her most critically acclaimed from the period. Her last major releases were the stellar but critically-panned Robert Altman picture Pret-a-Porter (1994) and the box-office blockbuster Grumpier Old Men (1995) co-starring Jack Lemmon, Walther Matthau and Ann-Margret.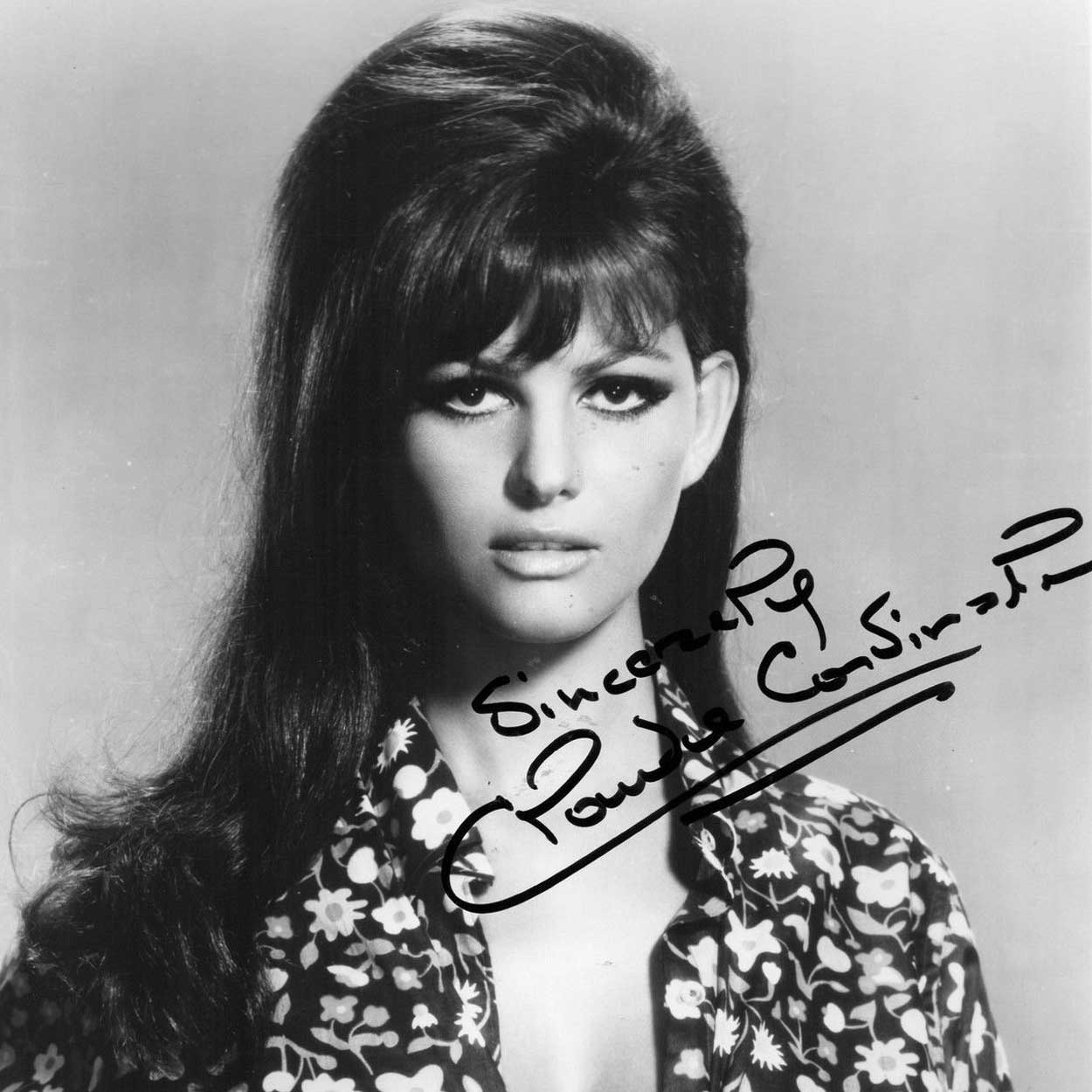 Claudia Cardinale is four years younger than Loren, thus her career began in the late-fifties rather than the start of the decade. Born in Tunis, the French protectorate of Tunisia, of Sicilian parents, Cardinale learned to speak French, Arabic and Sicilian before Italian. Winning a competition as the most beautiful Italian girl in Tunisia in 1957 began to put her on the radar of movie talent scouts. Her first role was in the French-Tunisian co-production Goha with the lead character played by an equally young Omar Sharif. Although Cardinale briefly decided to forego a movie career, after a whirlwind trip to the Venice Film Festival, she soon changed her mind. But she also found herself unexpectedly pregnant. Sympathetic producer Franco Cristaldi supported her decision to not have an abortion and ended up signing her to a contract. He would eventually become her first husband. Her original role of international note was in Mario Monicelli's classic crime comedy Big Deal on Madonna Street in 1958. Hers was a relatively small but important character and she played opposite such heavyweights as Marcello Mastroianni, Vittorio Gassman, Toto and Renato Salvatori. She made one more movie, a romantic comedy, before taking a nominal vacation in the UK, ostensibly to learn English, but in reality to give birth to her first child. The secret would remain under wraps for a reputed seven years, the child living with her mother as a baby sister, until her career was well-grounded and impervious to collapse. In 1959 Cardinale returned in three crime dramas, South Wind with Renato Salvatori, Luigi Zampa's Spanish-Italian co-production The Magistrate and, most significantly, Pietro Germi's The Facts of Murder, a film that firmly established Cardinale's dramatic talent with critics. 1959 also saw her first English language movie, the risqué UK-based comedy Upstairs and Downstairs, co-starring Michael Craig, Anne Heywood and Mylene Demongeot.
Cardinale's career took another enormous artistic leap in 1960–'61 with important and/or lead roles in Mauro Bolognini's Il Bell'Antonio with Marcello Mastroianni and Tomas Milian, Visconti's Rocco and His Brothers with Alain Delon, Valerio Zurlini's Girl With a Suitcase and Bolognini's The Lovemakers, with Jean-Paul Belmondo, all melancholy dramas with a gritty neo-realist style.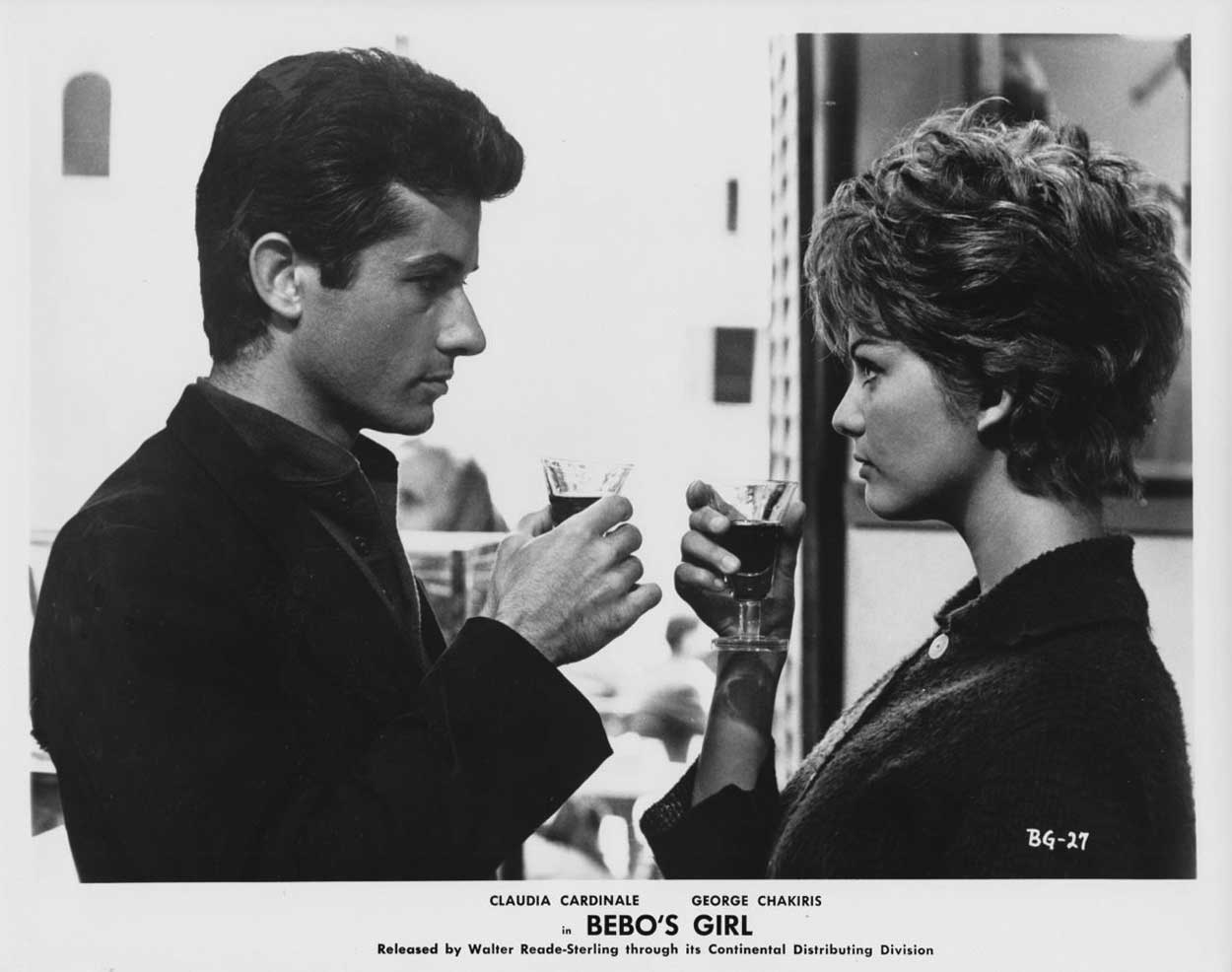 Cardinale's notoriety among filmmakers and the public alike was coming to a head and 1963 was the first of a six-year period where she shot to international stardom, playing significant parts in Fellini's classic 8 ½ with Marcello Mastroianni, Visconti's Sicilian historical epic The Leopard with Burt Lancaster and Alain Delon, Blake Edwards' screwball comedy The Pink Panther with Peter Sellers, Capucine and David Niven (all in 1963!), and Luigi Comencini's post-war neo-realist drama Bebo's Girl with George Chakiris (of West Side Story), the latter picture being easily the lowest-profile release of a very high-profile bunch.
Bebo's Girl was directed by Luigi Comencini, a filmmaker who, with few exceptions, was devoted almost exclusively to the comedy genre throughout his entire career. So his choice of subject matter here is a bit mysterious. Many neo-realist dramas had been made about the end of WW2 in Italy and its immediate traumatic aftermath in the following decade as the nation struggled to rebuild itself out of both structural and emotional ruins. There are many noteworthy examples, including Roberto Rosselini's Paisan (1946), Alberto Lattuada's Without Pity (1948), Vittorio De Sica's Bicycle Thief (1948), Pietro Germi's Four Ways Out (1951), De Sica's Terminal Station (aka Indiscretion of an American Wife, 1953) with Montgomery Clift and Jennifer Jones, and Two Women (1960).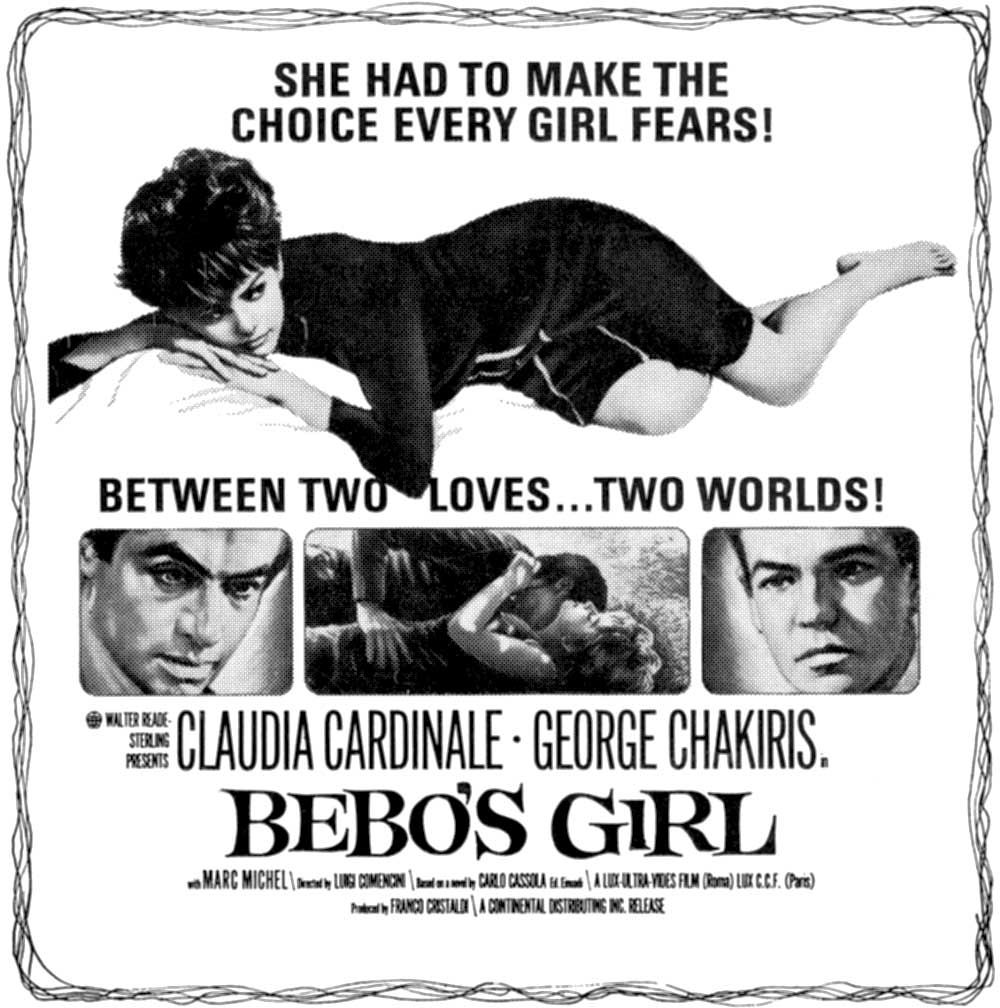 Comencini follows the plight of Mara, a young woman struggling to deal with forming a perspective on the world outside her provincial village. Thrown together in a makeshift relationship with a macho young partisan, Bebo (George Chakiris), by the association of the young man with her father, another ex-resistance fighter, fuels her romantic imagination. But she is also frustrated with her inability to connect emotionally with him.
Hardened by the war and his many acts of violence, Bebo goes on the run for killing a fascist policeman just as the war had ended. He expects Mara to wait for him. Cardinale ably exudes the childlike innocence of a girl just becoming a woman, still filled with ideals, frustrated with an adult society that seems all too ready to run roughshod over people's dreams. Her struggle to decipher signs in the people around her about what life really has in store arises naturally from Cardinale's own charming persona. When her character, Mara, meets a young man, Stefano (Marc Michel), who works at a printing press and espouses leftist causes, she is bewildered by her sudden attraction to him. He is everything she has dreamed about. An attentive, affectionate, gentle soul, refreshingly devoid of the macho arrogance of Bebo. He is intelligent, idealistic, handsome and romantic. But just as she weakens in her resolve, thinking of abandoning Bebo, he returns, put on trial and subsequently sentenced to several years in prison. Visiting him, she finds him a changed man, exhibiting little of the bravado of the past, chastened and humbled, and admitting his need for her. What will she decide?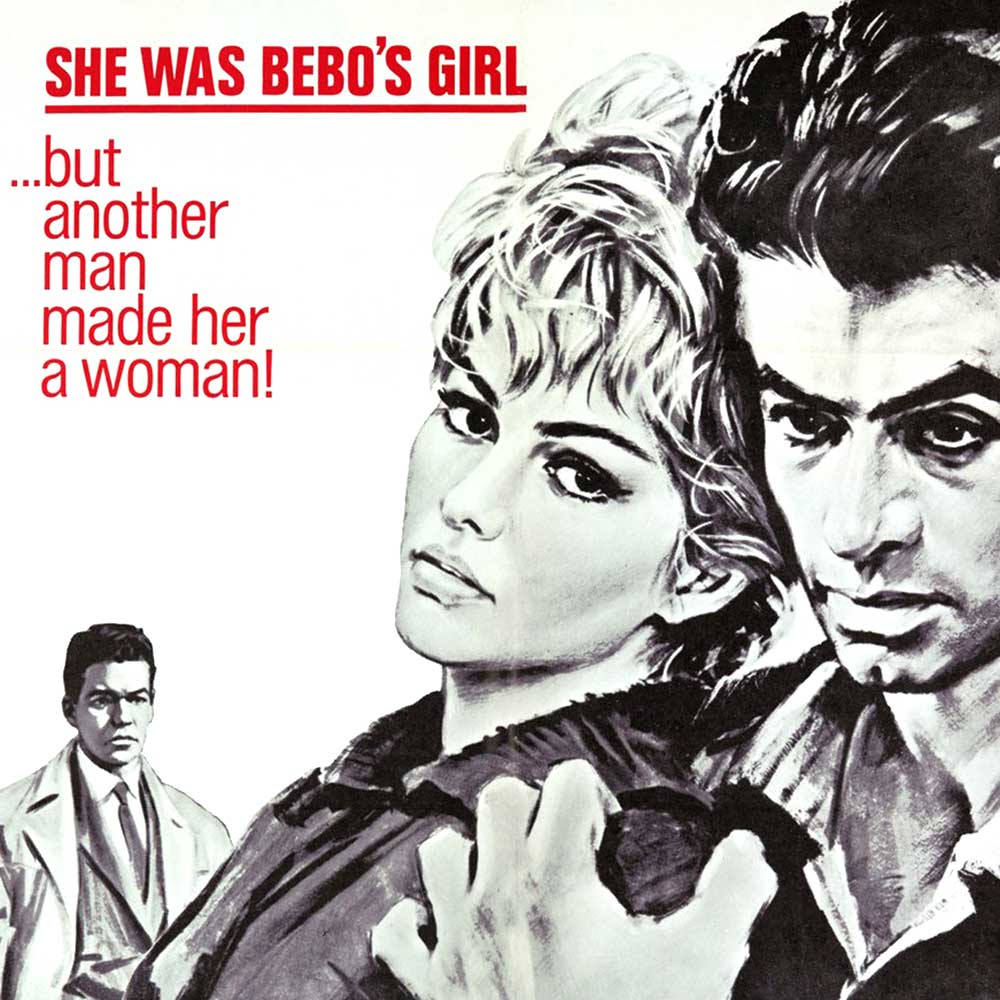 Several international co-productions followed in 1964, including Time of Indifference with Rod Steiger, Tomas Milian and Paulette Godard, Circus World with John Wayne, the unjustly forgotten Visconti masterpiece Sandra (1965), co-starring Jean Sorel and Michael Craig, the spy action thriller Blindfold (1965) with Rock Hudson, and Alexander Mackendrick's criminally underrated satire of southern California beach life, Don't Make Waves (1967), co-starring Tony Curtis, Sharon Tate and Robert Webber.
The two Cardinale box-office blockbusters from this period, though, were both westerns – Richard Brooks' The Professionals (1966), with Burt Lancaster, Lee Marvin, Robert Ryan and Jack Palance, and Sergio Leone's magnum opus, Once Upon a Time in the West (1968) with Charles Bronson, Henry Fonda and Jason Robards.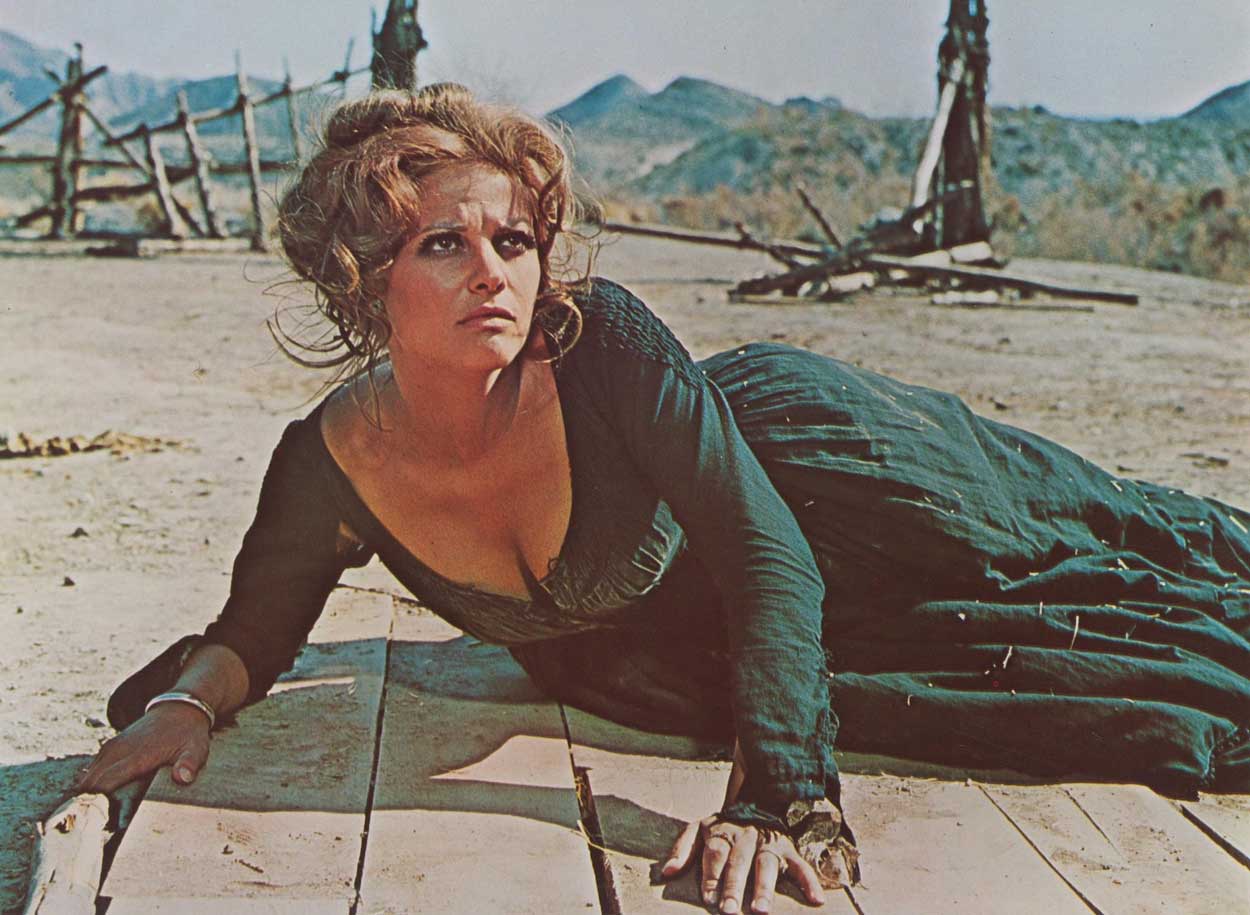 Cardinale continued to make quality pictures as well as a few forgettable time-wasters, but the memorable ones were often mafia thrillers, including Damiano Damiani's great Day of the Owl (aka Mafia, 1968) with Franco Nero, Blood Brothers (1974) with Franco Nero and Fabio Testi, I Am the Law (1977) with Giuliano Gemma and Corleone (1978), again with Gemma and Francesco Rabal, the last three gems all directed by her second husband, Pasquale Squitieri. She also appeared in Damiano Damiani's subversive political thriller Goodbye and Amen (aka The Man from the CIA, 1977) co-starring Tony Musante.
Although Cardinale seems far from retiring – she's made at least three dozen pictures between 1980 and 2016 – her last movie that was a critical and arthouse success was Werner Herzog's Herculean achievement, the filmed-on-hellish-location Fitzcarraldo (1982), a shaggy dog saga of a mad, early 20th century European rubber baron (Klaus Kinski) exporting opera up the Amazon on a riverboat, leaving chaos in his wake.
A double feature of Two Women and Bebo's Girl screens January 25 & 26.