Say what you will about The Searchers (John Ford, 1956), but as far as I'm concerned, Sergeant Rutledge (John Ford, 1960) is far more adept when it comes to directly challenging societal values, racial tensions and bigotry. While Searchers has had the luck of being named a top film by directors and film schools everywhere, this later work by Ford has gotten forgotten somehow, lost in the director's vibrant sea of Monument Valley-John Wayne stunners, war films and skilled literary adaptations. Not that this output was undeserving of praise, but the fact remains that many film school classes continue to show only The Searchers and The Man Who Shot Liberty Valance (1962) on their syllabus, with the occasional Grapes of Wrath (1940) appearance. It's a damn shame that the honest and socially aware Sergeant Rutledge has not also been required viewing.
Here at the New Beverly Cinema, you don't have to worry about making either/or choices. And yes – you can af-Ford to see both! Yeah, I said it. And you loved it. You can have your Searchers and Rutledge it too! On Sunday, January 29th and Monday, January 30th this intense and still-relevant double feature will be playing in glorious 35mm. Visually stunning, both of these films feature actor Jeffrey Hunter, Monument Valley, incredible casts and narratives that center on rape, bigotry and social (im)propriety. They are naked, raw and hard-hitting, even for films made in 1956 and 1960 respectively.  And now is the time they should be seen. Perhaps, they have even more significance today than ever before. As we stare daily at the virulent hatred being enacted against women, people of color, native tribes and other marginalized groups, perhaps we can view these films, listen to the dialogue, breathe (perhaps choke) on the narratives, and wonder how it is that film can sometimes be so prescient. For more on The Searchers, I recommend my colleague Kim Morgan's piece found here on the New Beverly Blog. For now, I wish to extol the values and continued worth of Sergeant Rutledge.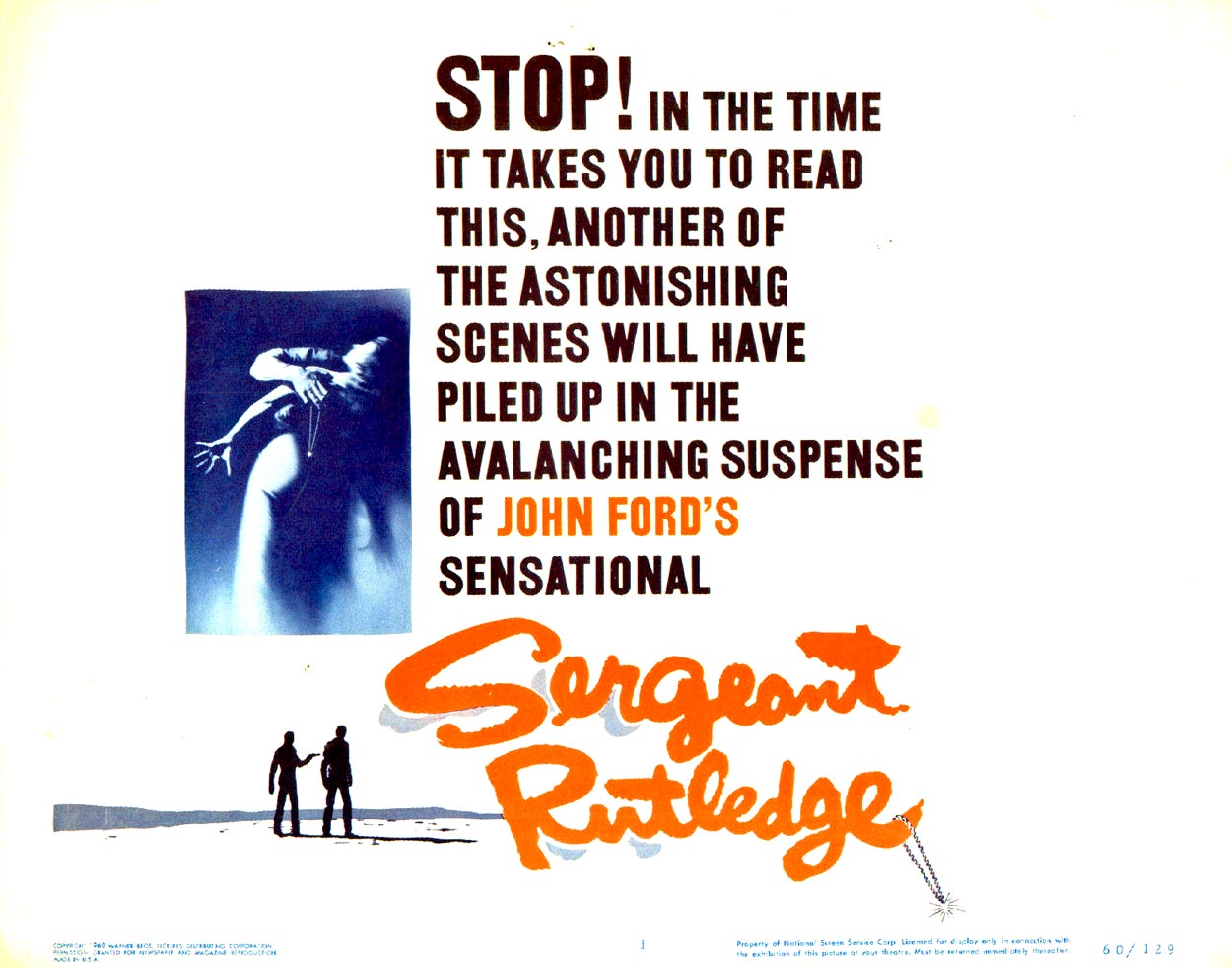 Sergeant Rutledge is not a typical movie. Not for Ford, not for 1960, not for anything. But atypical does not mean it doesn't have its own set of problems. While working on a high level discourse on the manner that black folks were (are) seen in white society, Sergeant Rutledge continues to demonize native peoples. While some may argue that recognizing this extended racism was part of Ford's intent, I cannot be that bold. Racism is racism and I am not one to assume filmmaker intent. While the film's narrative maintains black innocence in a strongly white supremacist society and boldly unravels bigotry within classic cinema archetypes (!!!), it does so at the cost of holding up another dangerous stereotype: the "savage" versus the "savage."
The question here then follows: can we rehabilitate this aspect of the film through reexamination? I think it is critical that the black soldiers of the film were shown shooting native people. Not necessarily in 1960, but NOW. It is important today. More to the point: a white director made a Western that has the ability to teach us valuable lessons about white supremacist structures, resistance and community unification… if we watch closely. If we consume wisely. And we REFLECT on this content in today's landscape. I genuinely believe that we can and that if we can, it will allow us to create better and more powerful communities.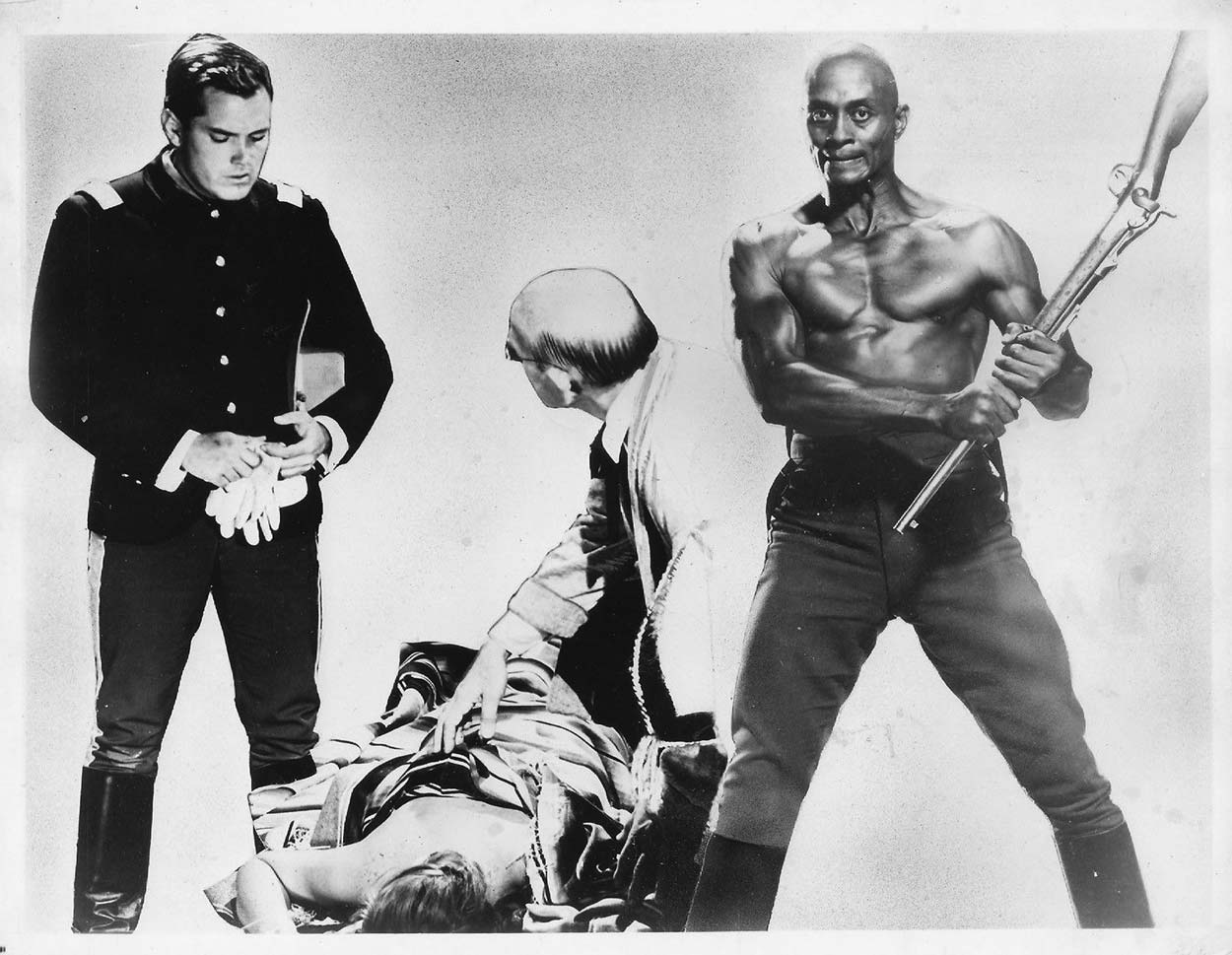 These black soldiers were part of the white man's army. How free were they really? These "Buffalo Soldiers" in the Black Cavalry may have found a kind of solidarity in seeing a battle through together, but it is an empty liberty when your assignment is to slaughter other marginalized groups. This can be easily applied to today's world landscape where white supremacist structures have been working to divide and conquer ever since the days of the "Civil" War and before. When native peoples and the Black Cavalry should have probably been rising up against a common enemy, White Bullshit was dividing them. And I think, unintentionally, John Ford shows this really well. Modern eyes, tragically updated by current politics, can see things that past audiences may have missed.
Notably, it should be stated that within these battles against native communities, black men in Sergeant Rutledge fight alongside the white man for… what? Their own freedom? The freedom of their wives and daughters? But they certainly were not treated as equals. This is where Sergeant Rutledge truly excels. The film depicts the subhuman manner in which black men are treated in white society, a thing that has (noticeably) not changed, making much of Ford's film feel like an echo of recent news; most noticeably the current police force where many officers of color have been influenced by white power structures. When we wonder why the Black Cavalry are shooting the tribal warriors in Rutledge, we can just as easily look at why officers of color are participating in police violence against other people of color. These white supremacist structures, as Ford shows us within the film, have been in place for a very long time.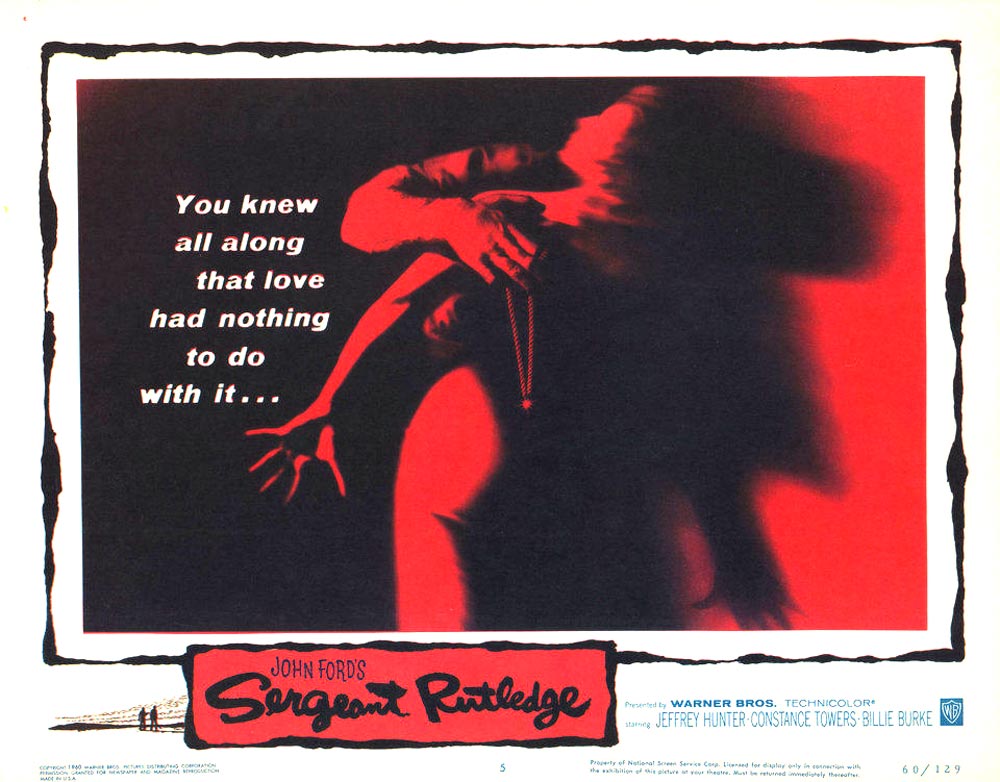 Sergeant Rutledge is associated with two women in this film. The first is Mary Beecher (played by the ridiculously underappreciated Constance Towers – seriously, have some love for this Sam Fuller favorite – she's a rock star). Ms. Beecher insists repeatedly that Brax is innocent. He saved her life! The film's narrative does support her testimony but Ford's impeccably used flashback sequences add to the creation of an unreliable narrator. It seems that even Ms. Beecher herself is not entirely sure of Rutledge's innocence. Bert Glennon, the genius cinematographer behind classic noir works like The Red House (Delmer Daves, 1947) and Crime Wave (Andre de Toth, 1953) establishes the tone for Beecher and Rutledge's relationship and then continues that throughout the court case. He manages to make this beautifully shot western feel like a crime film, a political work and a classic drama. Glennon's work on Ford's film is nothing if not genius.
Rutledge is charged with raping and killing a young white woman named Lucy Dabney (Toby Michaels). Like Brax, Lucy is a bit of an outsider in the town. She rejects traditional gender expectations and confidently works against social norms. In the short time she has on-screen, we learn a lot about her. She is tomboyish, rides her horse astride rather than sidesaddle (Good Heavens! Whatever will her poor dead mother say?), and has no qualms about the racist townspeople knowing that she thinks Sergeant Rutledge is a fine person and great friend.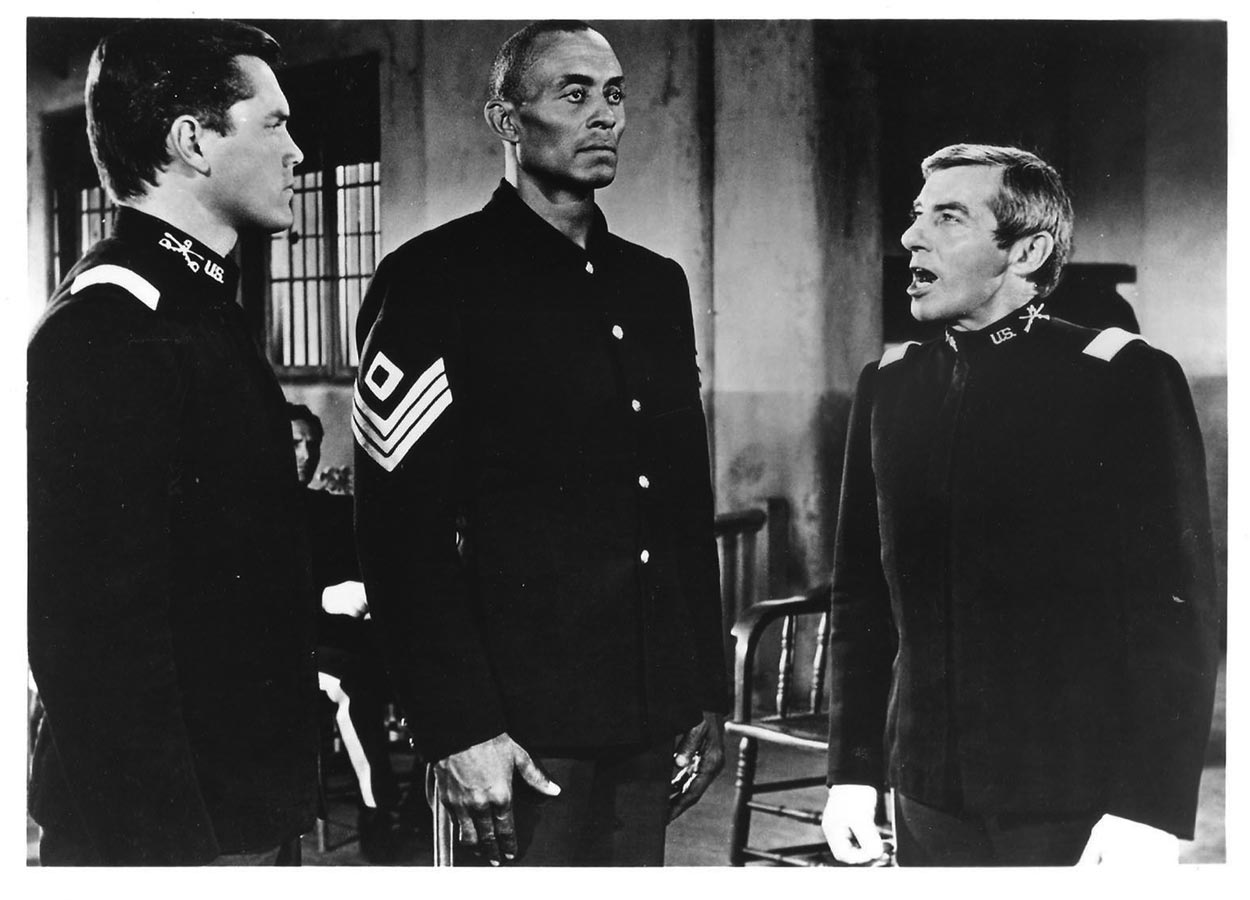 Not that truth matters when it comes to the courtroom. The prosecution calls a slew of witnesses to brazenly present "Alternative Facts" that could easily be utilized to convict a black man of raping and killing a young white girl. The hate-filled words that pour from the mouths of the townsfolk make Lucy and Brax out to be the complete opposite of who (and what) they are. Witness testimonies translate Rutledge's blackness into evil incarnate and Mary's dynamic gender non-conformity into the figure of stereotypically helpless femininity. The truth becomes a lie when told by those who witnessed the events. They told the story they way they saw it, not the way it really was.
Not an unfamiliar situation though, is it? John Ford may have used this Western to tackle issues of racism and bigotry in 1960 but we can see that the world has not changed all that much. The cases of Trayvon Martin, Dontre Hamilton, Rekia Boyd and countless others show us that white authoritarian structures of racism and injustice still have a stronghold over our legal system and the way that truth is manufactured. Sergeant Rutledge is alive and well all over the United States.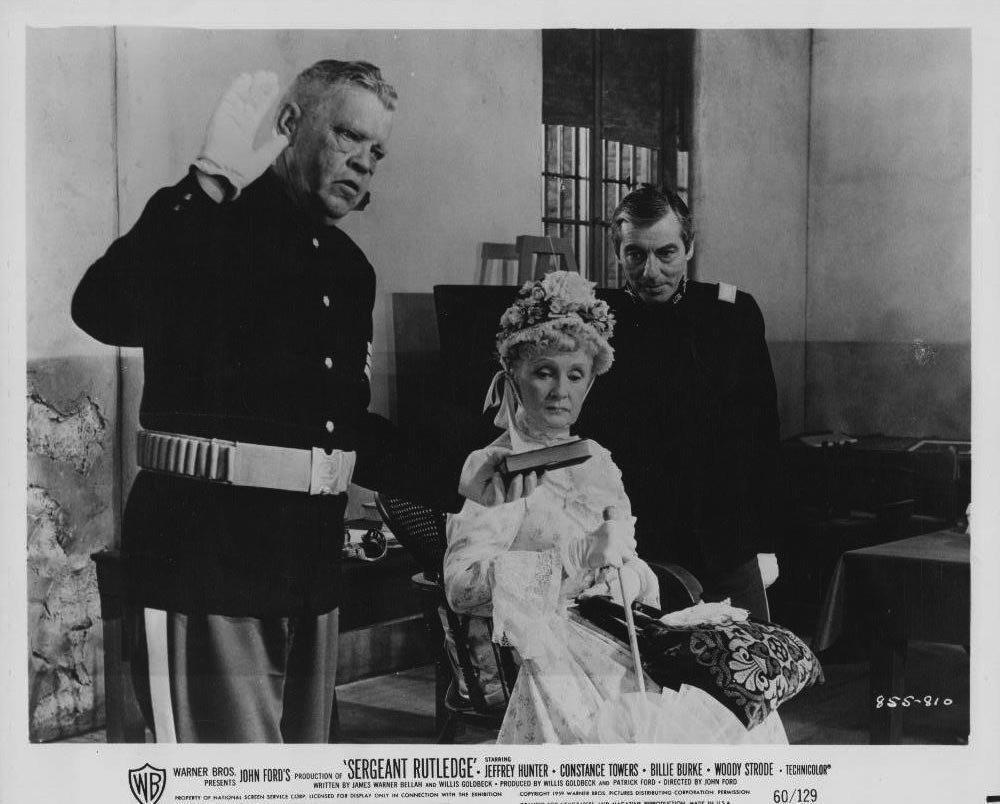 If you were not a fan of Woody Strode before, you will be after seeing this film. Strode is one of the most brilliant actors who has ever graced Hollywood with his handsome and powerful presence. Amazing to watch, hear and experience, Strode's body language and innate ability gives him a screen presence that is head and shoulders above every young actor working today. Advice: see everything he's in, especially The Professionals (Richard Brooks, 1966)! Woody Strode's interpretation of Brax Rutledge is complex, honest and fierce, precisely what makes Ford's film cut so deep.
Sergeant Rutledge may not end up being your favorite film by John Ford, and that's okay. But it is, without a doubt, a film that has maintained a catastrophic amount of contemporary value. Let us challenge ourselves to visit this work and see the problematics of treating the native peoples poorly and pitting one group against the other. Watch Sergeant Rutledge so you can appreciate the way in which it depicts a genuine attempt at destroying the ugly fabric of white supremacy against black bodies. Let us watch. Because it will give us power and strength to move forward and do what we have to do outside the movie theater.