Before we get into discussing Atom Age Vampire (aka Seddok – Heir of Satan), which will be screening at the New Beverly Cinema on January 31, let's make a distinction: the mad surgeon or medical science-fiction trend in the horror film is a much more narrowly defined subgenre than that of the mad scientist. There can be some overlap, as we shall see in some of the titles that both influenced Atom Age Vampire and in a plethora of movies that followed it. But mad surgeon films almost always have a more plausible premise than mad scientist sagas – sometimes just barely. Mad scientists invariably have all kinds of outlandish schemes up their sleeves, from reanimation of the dead – James Whale's 1931 Frankenstein to Stuart Gordon's 1985 Re-Animator – to world domination and/or destruction – from James Whale's The Invisible Man and Fritz Lang's Testament of Dr. Mabuse, both from 1933, to just about any 1960s spy action entry, starting with Terence Young's 1962 Bond picture, Dr. No, to the multitude of tongue-in-cheek American and Euro knockoffs that followed in its wake.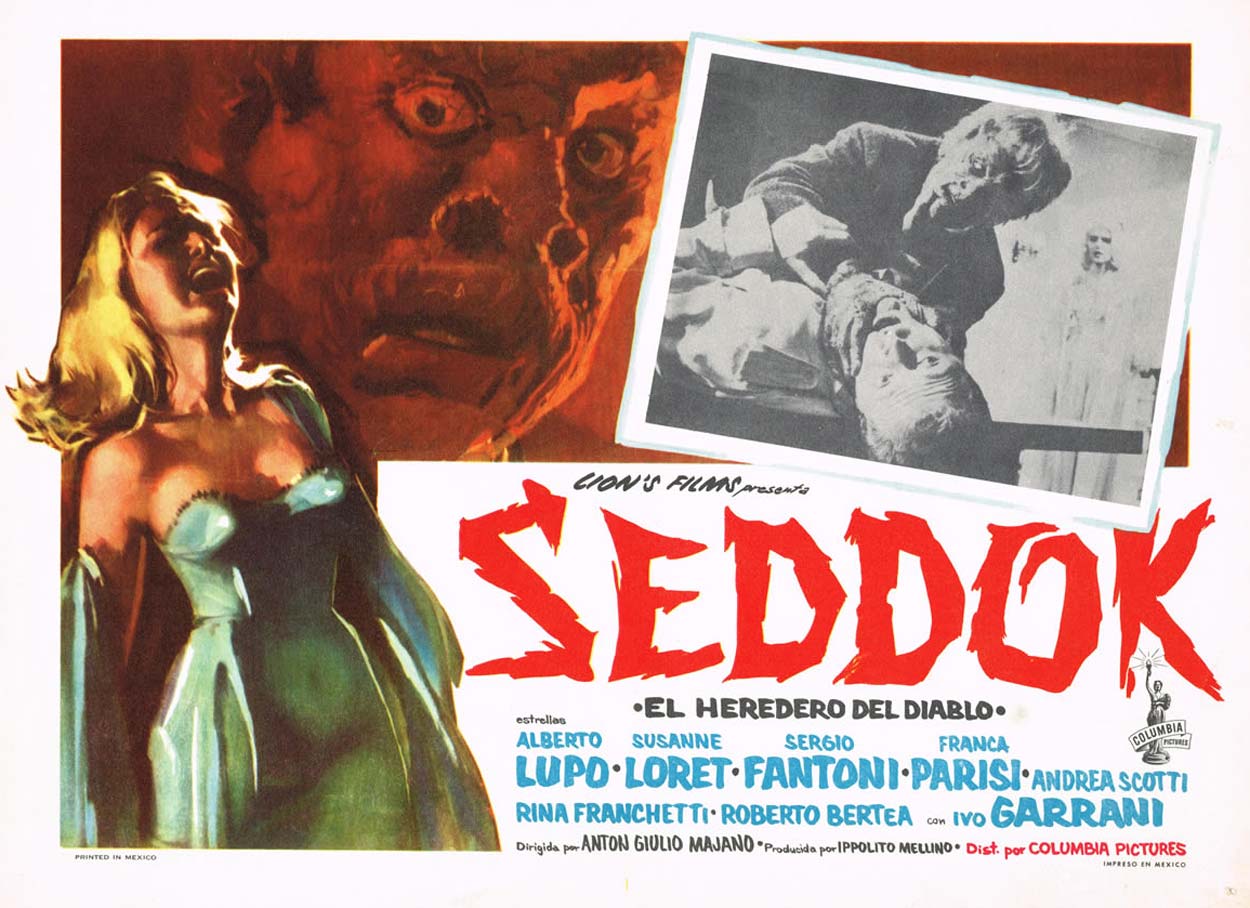 On the contrary – beginning with films like The Hands of Orlac (the 1925 silent Conrad Veidt version, the 1936 remake Mad Love with Peter Lorre and the 1960 version with Mel Ferrer and Christopher Lee), dealing with the transplant of a murderer's hands onto the mangled arms of a concert pianist, and the Island of Dr. Moreau (the 1932 masterpiece Island of Lost Souls with Charles Laughton, the decent Terror is a Man from 1959 to the comparatively inferior Moreau remakes in 1977 and 1996, respectively), where a narcissistic genius transforms different species of mammals into human beings through skin grafts and gene splicing – the mad surgeon movie hews closer to the realm of the possible, however improbable.
For some reason, mad surgeon themes of plastic surgery, youthful rejuvenation through blood or gland replacement, and the transplantation of faces, limbs, organs and even heads came into box office favor starting in the late 1950s and early 1960s. There are quite a few examples of the head transplant movie, with notable ones being the creepy, atmospheric German The Head (1959), the incomparable gore/sleaze exploitationer The Brain That Wouldn't Die (1962) and the gonzo combo of The Incredible Two-Headed Transplant (1971) with Bruce Dern (!) and The Thing With Two Heads (1972), directed by the infamous Lee Frost and co-starring Rosey Grier and Ray Milland (!).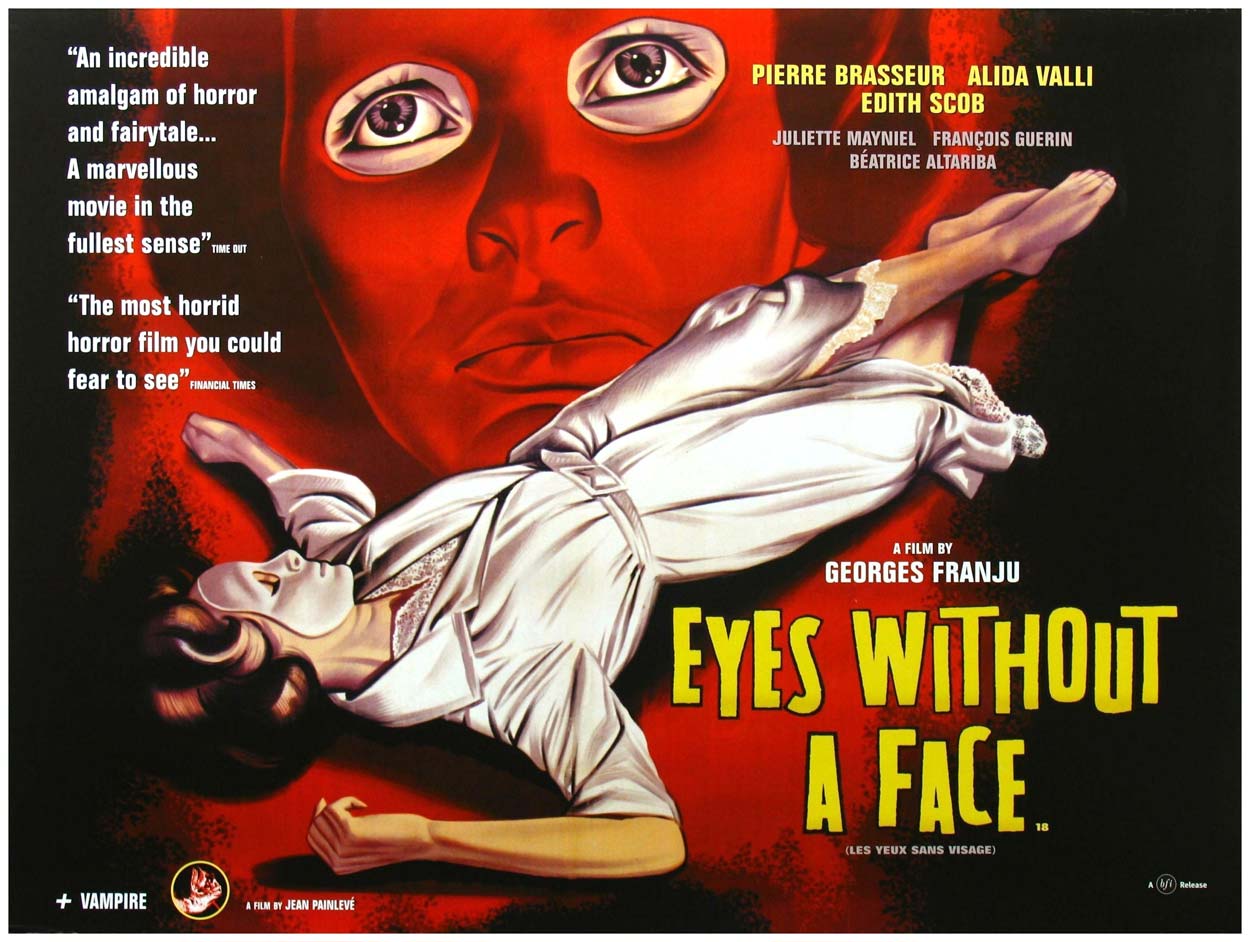 One film was, without question, the progenitor of the mad plastic surgeon craze – Georges Franju's Eyes Without a Face, shot in 1959 and released in France in the spring of 1960. Based on a novel by Jean Redon, producer Jules Borkon purchased the rights, convinced the European horror boom initiated by UK's Hammer Films was only just beginning. Although his director of choice, Georges Franju, had a long string of acclaimed documentaries under his belt since the late 1940s, he had only lensed one other fictional movie, Head Against the Wall (1958), about a teenage boy wrongly committed to an asylum. Warned by producer Borkon and conscious of the tightrope they would have to walk not only because of French censors, but those in lucrative export markets such as the UK and Germany as well, Franju instructed his assistant director Claude Sautet (director of such noir classics as Classe Tous Risque, 1960) to prepare a rough draft of the screenplay. He then brought in the writing team of Pierre Boileau and Thomas Narcejac, who had co-written novels made into films by Henri-Georges Clouzot, Les Diaboliques (1955), and Alfred Hitchcock, Vertigo (1958), to do a polish on the script. The pedigree of Franju's film collaborators was impeccable and also included cinematographer Eugene Schuftan, who had worked on Fritz Lang's Metropolis (1927). Schuftan would subsequently win the Best Cinematography Oscar for Robert Rossen's The Hustler (1961), as well as shoot Rossen's Lillith (1964) and Jack Garfiein's Something Wild (1961). Composer Maurice Jarre went on to compose music for Franju's story of upper class patriarchal spousal abuse, Therese Desqueyroux (1962) with Emmanuelle Riva, but most spectacularly became one of David Lean's favorite composers, scoring Lawrence of Arabia (1962), Dr. Zhivago (1965), Ryan's Daughter (1970) and Passsage to India (1984). Jarre also did the stirring score for Visconti's The Damned (1969) about the violent collapse of a wealthy, decadent German munitions family during WW2.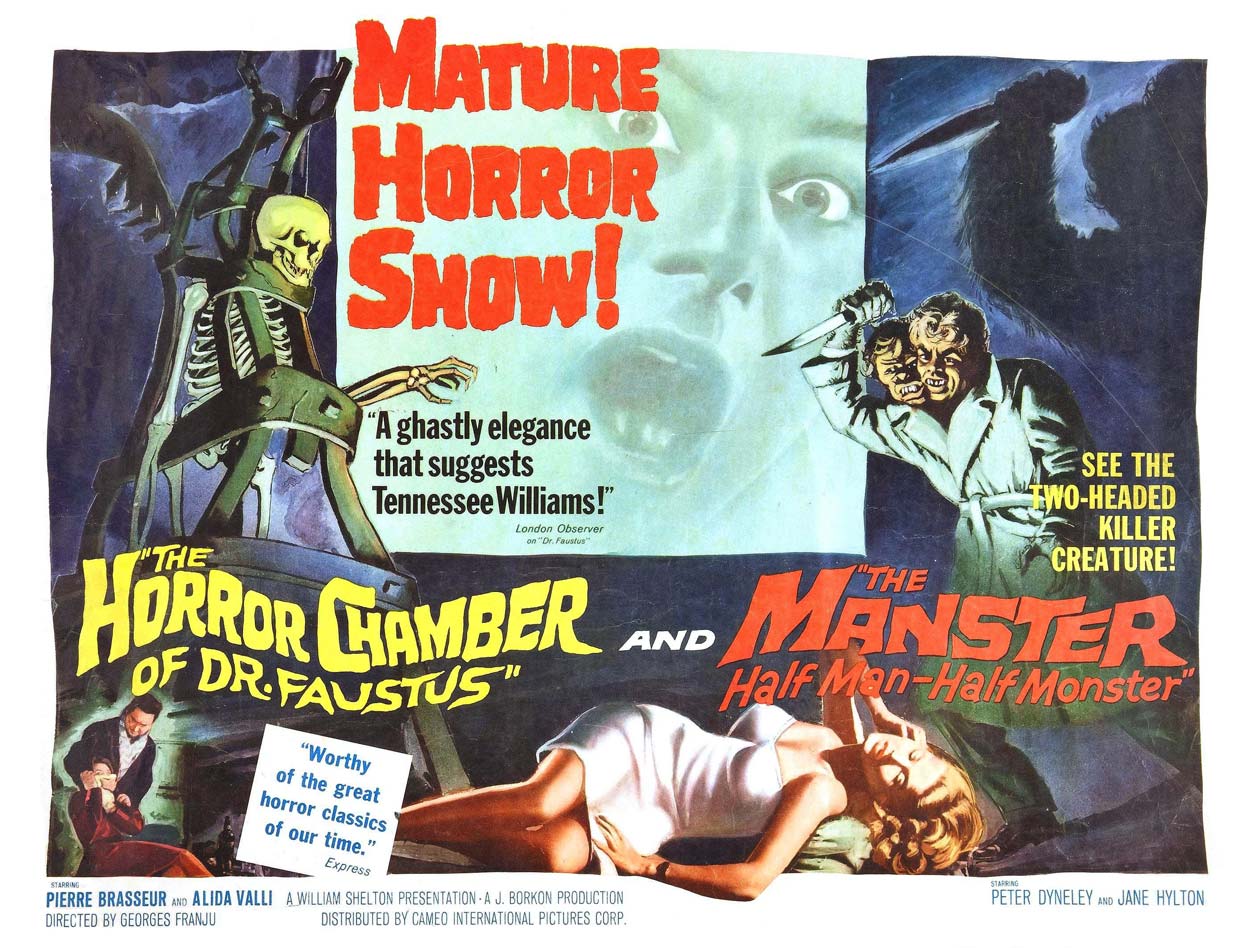 Pierre Brasseur stars in Eyes Without a Face as a rich doctor working at his special clinic adjacent to the grounds of his ancient chateau. His daughter (Edith Scob) has been disfigured in a horrible auto accident for which he was responsible. Along with his devoted assistant (Alida Valli) – on whom he had once performed successful plastic surgery – he fakes his daughter's suicide, then with Valli's help kidnaps young women, attempting to remove and graft their faces onto that of his daughter, hoping to restore her beauty. The film received middling praise in France, but because of its subject matter and the general prejudice at the time against horror films in the press of most countries, it did not fare well in the UK. Its American release in 1962, dubbed into English and edited of its more graphic content as Horror Chamber of Dr. Faustus, was generally panned, although there was the occasional mention of the poetic atmosphere and striking imagery. This cut English language version seems nearly impossible to track down today. The film was finally critically rehabilitated in the mid-1980s when re-released in its original uncut length and language, and has only grown in stature since then.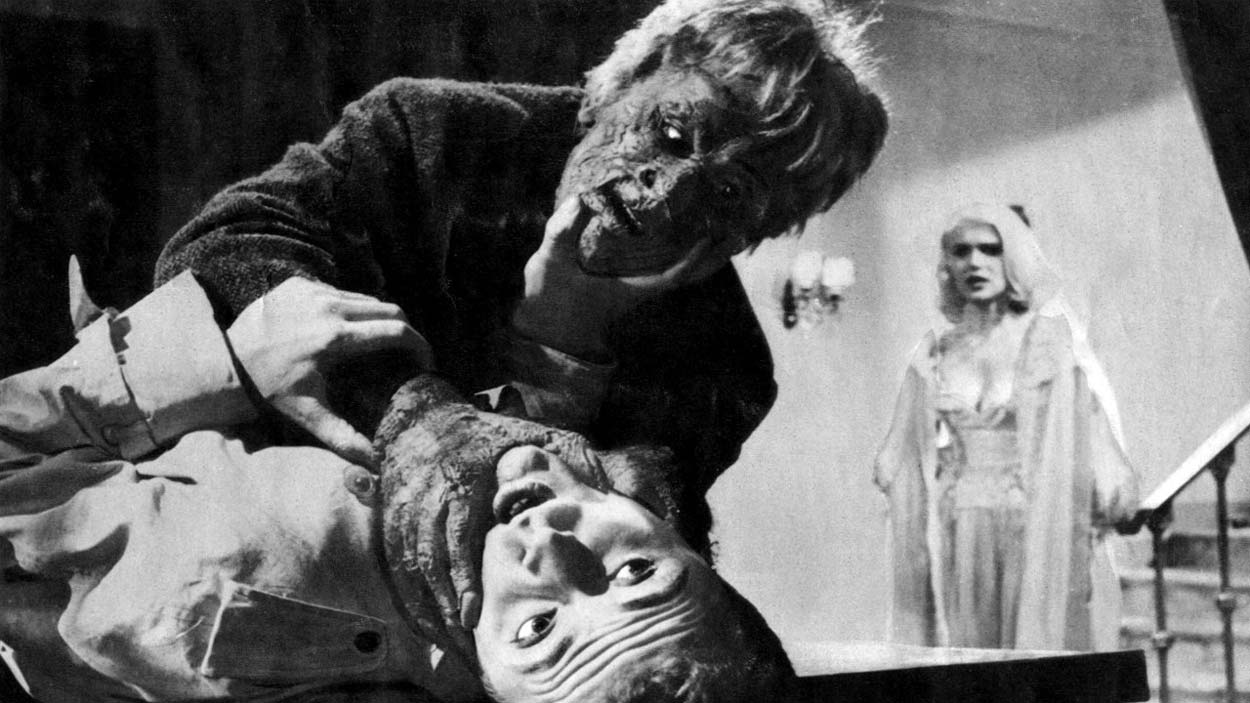 The first discernible knock-off of Eyes Without a Face, director Anton Giulio Majano's Atom Age Vampire (released originally in its native Italy as Seddok – Heir of Satan) was lensed, edited and in theatres in a breakneck span of four months after Eyes…' European release. There had been few Italian horror films preceding 1960, the same year Mario Bava's Black Sunday showed up, with the notable exceptions of Caltiki, The Immortal Monster (1959) and I Vampiri (1957), both more or less co-directed by Riccardo Freda and Bava.
Although a Mario Fava is listed on Atom Age as producer, it is not Bava but production manager Elio Ippolito Mellino credited under a pseudonym. Many aficionados of Italian genre cinema have speculated it was Bava or that at least the Atom Age investors used the misspelled pseudonym to capitalize on the confusion it might create with Bava fans. Realistically, as far as the general public and the relatively small number of genre enthusiasts knew at the time, horror auteur Bava was nowhere near a household name yet. In fact, even one of his Freda collaborations had listed Bava under his own pseudonym of John Foam. Most likely the use of the Fava name was a coincidence, or perhaps an in-joke with the Atom Age crew ­– the Italian film industry was much smaller and more insular compared to that of the United States, and there were undoubtedly crew members who knew of Bava's prodigious work as a cinematographer and his burgeoning directing career. Atom Age co-writer, Alberto Bevilacqua, even co-wrote two of Mario Bava's later pictures, Black Sabbath (1963) and Planet of the Vampires (1965).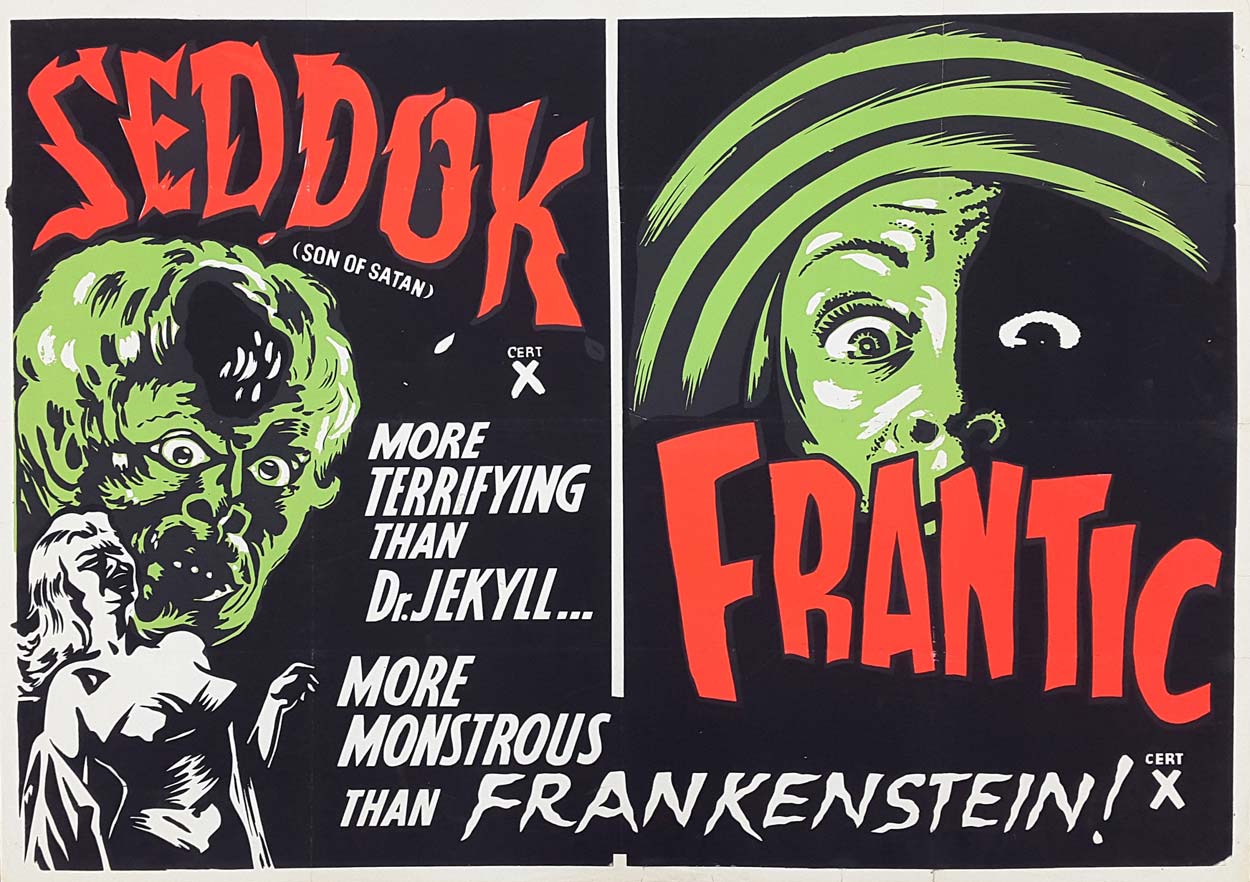 Susanne Loret plays a stripper at odds with her boyfriend, a sailor played by Sergio Fantoni (Von Ryan's Express), over her nightclub career. When Fantoni breaks their engagement and leaves, Loret soon follows, only to have a fiery car accident which leaves one side of her face permanently scarred – all unbeknownst to Fantoni. While in the hospital, Loret is approached by a strange woman wearing sunglasses (Franca Parisi) who happens to be the assistant of a reclusive surgeon and brilliant nuclear research expert (Alberto Lupo) who is eager to try out his new Derma 28 formula on rejuvenating hopelessly damaged skin tissue. Loret reluctantly agrees to secretly leave the hospital for Lupo's mansion to give his treatment a chance. The operation seems to be successful, but once Loret awakens, she finds herself the prisoner of the now-in-love, evermore obsessive Lupo. Assistant Parisi becomes jealous, but sticks it out when Loret's facial tissue begins to degenerate, returning her to her previously scarred state. Lupo, out of his hard-to-distill Derma 28 formula, injects himself with the unstable prototype Derma 25, something that he knows will temporarily turn him into a hideous mutation, a remorseless creature who can kill women for their pituitary glands, an essential ingredient to the Derma 28 drug.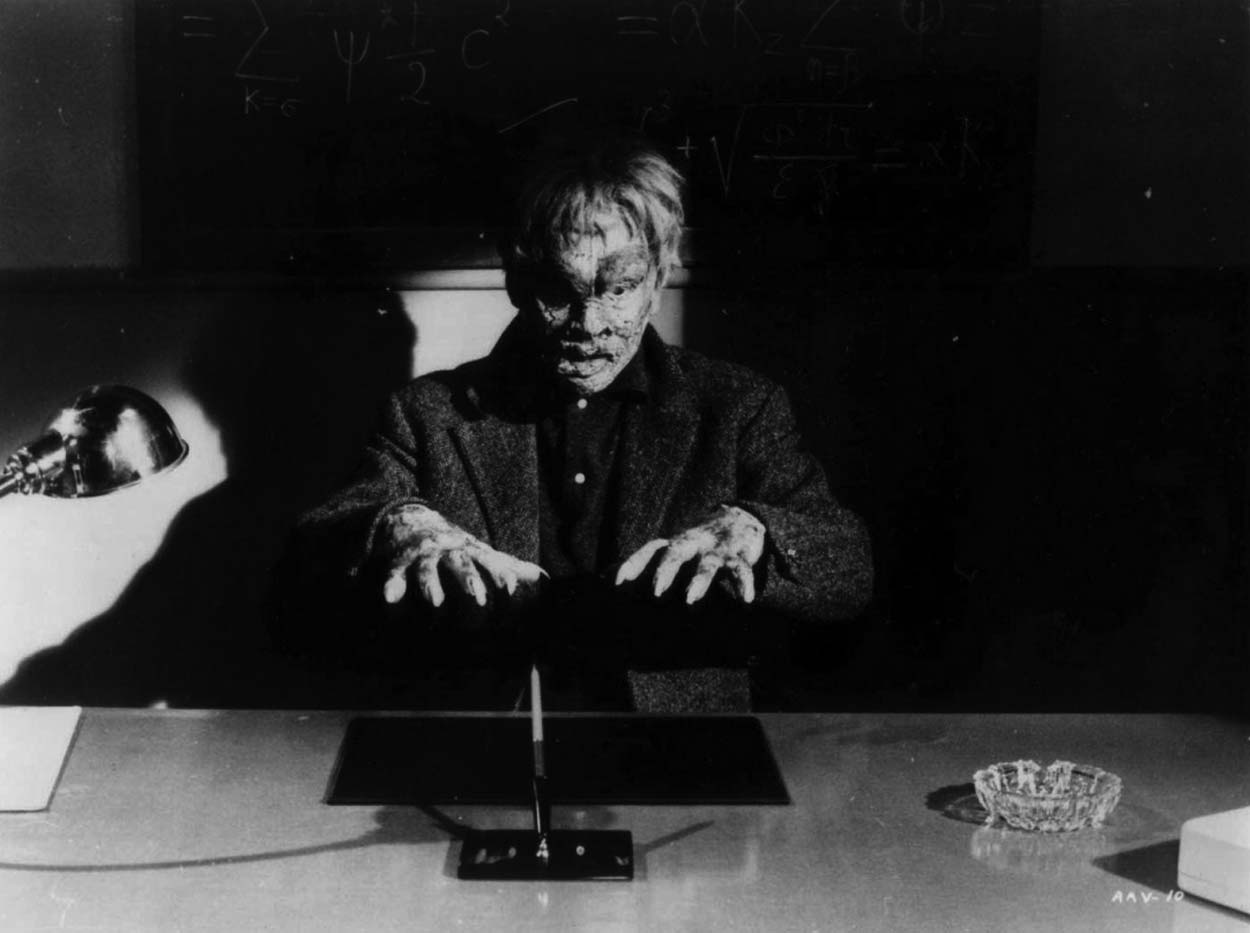 Borrowing elements from Eyes Without a Face as well as the oft-filmed Robert Louis Stevenson story "Dr. Jekyll and Mr. Hyde," Atom Age Vampire is directed and performed at a near-hysterical pitch throughout, often providing atmospheric imagery, bizarre ideas and an authentically sleazy tone, but never producing any of the eerie, romantic and haunting poetry of the original Franju movie. Nevertheless, it is supremely entertaining. The dialogue is already at such a hyperbolic level, one is carried along with the nightmarish momentum of its characters' actions. Edited down from its longer original Italian running time (some credits say 20 minutes more), the audience is jerked from one horrific crisis to the next at a frantic pace, introducing, lingering then discarding story twists and character details with abandon, lending the film a dream logic that forces the audience to use its own imagination to supply the sordid back story.
Except for music composerArmando Trovajoli, the rest of the Atom Age crew and cast had virtually no genre work to their credit. Trovajoli had provided scores for two of Sophia Loren's early efforts, Two Nights with Cleopatra and Woman of the River (both 1954), then a horror comedy vehicle for comic Renato Rascel, director Steno's Uncle Was a Vampire (1959) co-starring Christopher Lee (!). Trovajoli went on to an amazingly prolific career, providing music for numerous genre pictures, including Hercules and the Captive Women, Werewolf in a Girl's Dormitory, Bava's Hercules in the Haunted World (all three from 1961), Terence Young's The Valachi Papers and Fernando Di Leo's Manhunt (aka The Italian Connection) (both 1972), as well as more high profile 'prestige' work, including the Sophia Loren films Two Women (1960), Yesterday, Today and Tomorrow (1963) and Marriage Italian Style (1964), Dino Risi's original version of Scent of a Woman (1974), and Ettore Scola's We All Loved Each Other So Much (1974) and Scola's A Special Day (1977), this latter title again with Loren and Mastroianni.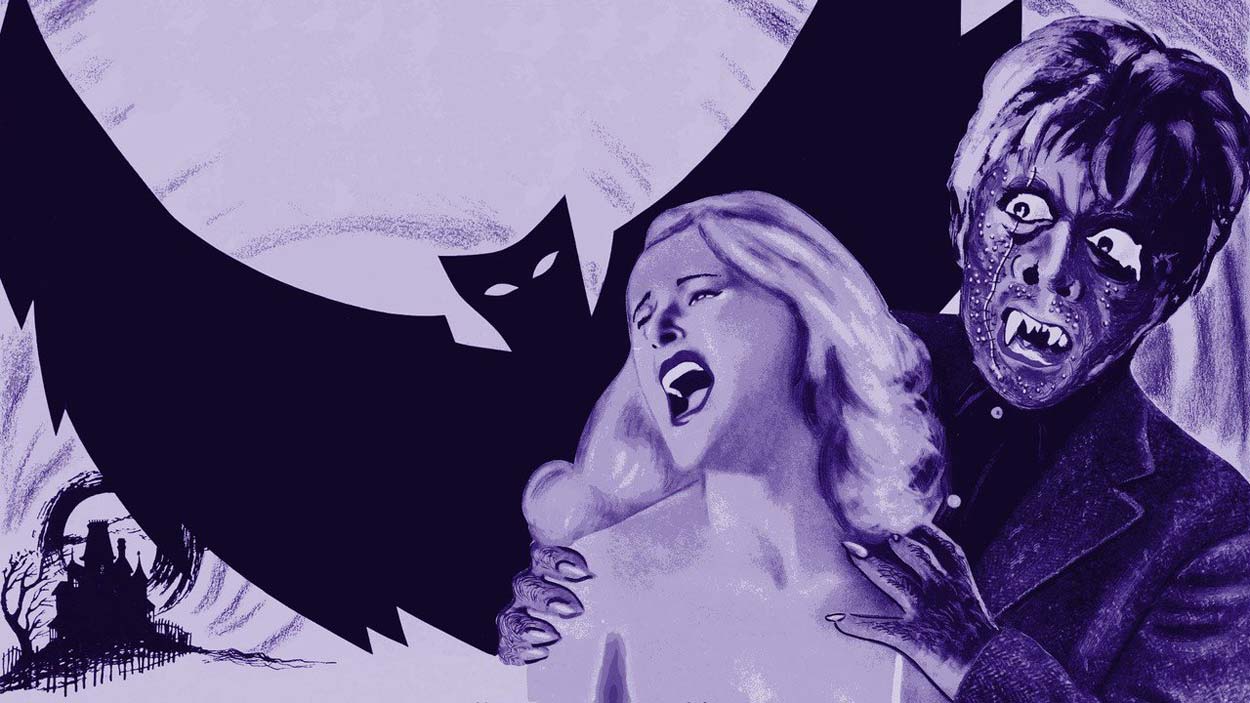 Director Majano had written and/or directed a number of relatively unknown movies and would go on to work almost exclusive in television from the mid-1960s through his retirement the 1980s. Cinematographer Aldo Giordano, responsible for the noirish, atmospheric black-and-white photography, had previously labored on many films, with the early Sophia Loren/Marcello Mastroianni crime comedy Too Bad She's Bad (1955) being the most visible in English-speaking territories. Giordano would go on to shoot The Minotaur (1960, which also featured Atom Age leads Alberto Lupo and Susanne Loret in prime supporting roles), then more notably the spaghetti westerns They Call Me Trinity (1970) and Trinity is Still My Name (1971), and the fondly-recalled sleaze giallo directed by Silvio Amadio, Amuck (1972), starring Farley Granger and Barbara Bouchet.
Italian director Giorgio Ferroni's shot-in-color Gothic masterpiece, a French-Belgian co-production called The Mill of the Stone Women, was released in 1960, simultaneously to Atom Age Vampire. It is the tale of a deranged sculptor living in a windmill who conspires with a mad doctor to cure his terminally-ill daughter (Scilla Gabel) by constantly replacing her blood supply with that of kidnapped women from town. Things fall apart when a young art student (Piere Brice) falls in love with her, not knowing her diseased state, and the father and mad doctor (who is also secretly in love with Gabel) try to gaslight Brice, dosing him with hallucinogenic drugs to confuse his sense of reality.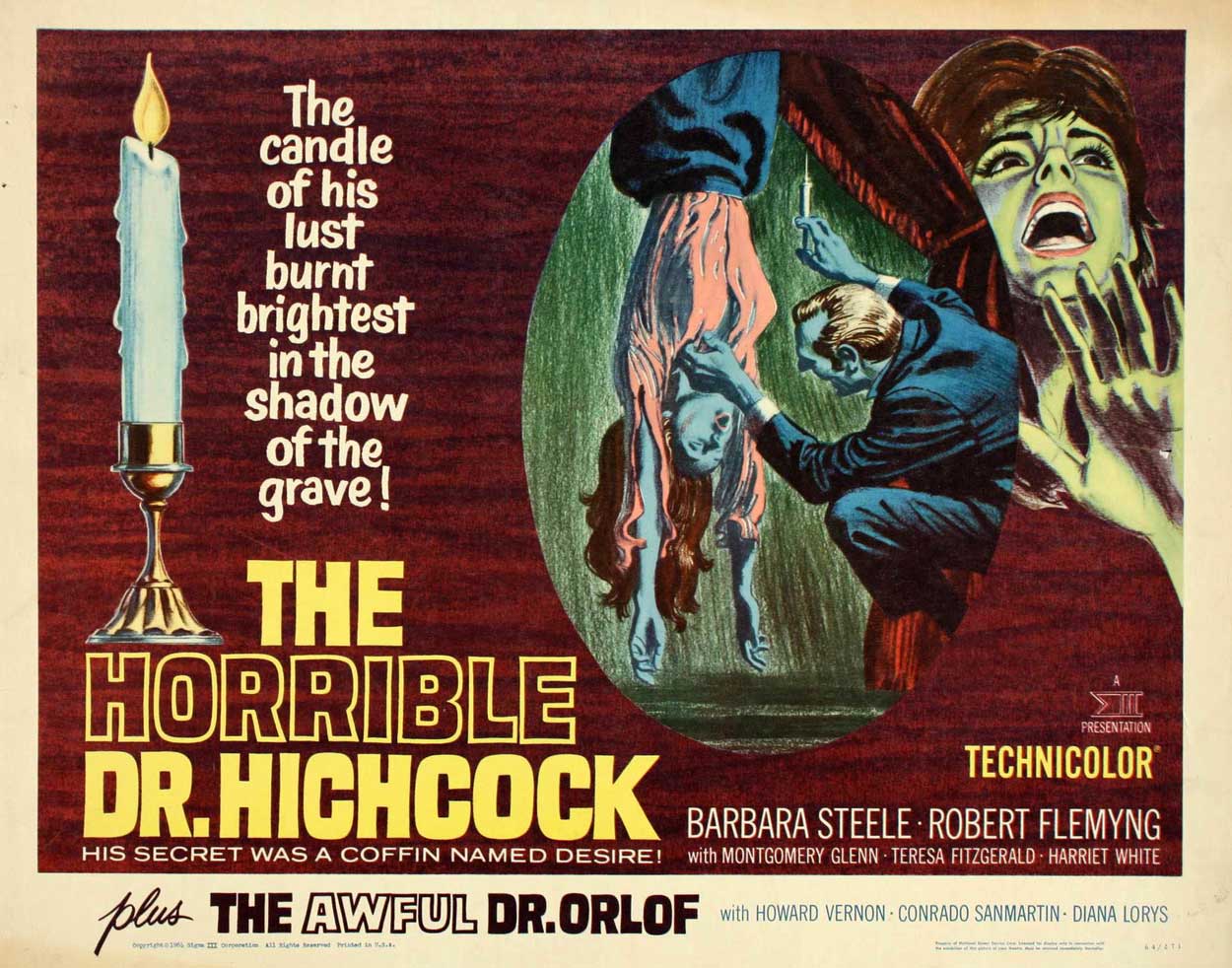 More mad surgeon pictures continued to pop up in world cinemas, most notably Jess Franco's French-Spanish co-production The Awful Dr. Orloff  (1962), released in the United States on a double bill with the Riccardo Freda-helmed Barbara Steele vehicle The Horrible Dr. Hichcock. Franco's atmospheric black-and-white effort follows the Franju Eyes Without a Face plot, though placing it in the late 19th century period. Dr. Orloff (Howard Vernon), hoping to restore his daughter's disfigured face, bids his blind zombie henchman spirit away women from town to his castle, then subjects them to skin grafts to repair his loved one's features. Franco revisited the Eyes Without a Face plot at least once more, most notably in Faceless (1988), with Helmut Berger filling in the mad plastic surgeon role when his sister's face is disfigured by an acid attack meant for him. He then sends out his female assistant (Jean Rollin favorite and French porn star, Brigitte Lahaie) to kidnap women for skin grafts. Things start to go wrong when he captures an addicted model (Caroline Munro), and her father (Telly Savalas!) sends out a private detective (Chris Mitchum) to find her. The gore factor was amped up considerably for Faceless and was perhaps director Franco's highest-budgeted feature ever. However, Franco's most memorable mad surgeon epic remains The Diabolical Dr. Z (aka Miss Muerte, 1965), one of the director's most visually arresting pictures, co-written by frequent Luis Bunuel collaborator, Jean-Claude Carriere. Although nominally a revenge saga about the remorseless daughter (Mabel Karr) of a scientist ridiculed-to-death by his colleagues, it contains a beautifully shot sequence where Karr performs plastic surgery on her own face to repair disfigurement caused by a car fire (accidentally incurred when she murdered an innocent hitchhiker to fake her own death).
There are many additional mad surgeon films to discuss, but we have gone on long enough. However, two more cry out to be mentioned: 1) Robert Hartford-Davis' mind-bogglingly mod 1968 horror outing Corruption with Peter Cushing as a respected surgeon so desperate to restore the disfigured face of his younger, narcissistic model fiancée (Sue Lloyd) he repeatedly decapitates prostitutes for their pituitary glands – the sleaze factor is so high here, one must prepare one's self lest one suffer brain damage. 2) Pedro Almodovar's The Skin I Live In (2011), a very good adaptation of the infamous Thierry Jonquet novel, "Mygale" – that is, until the last ten minutes, when Almodovar departs from the novel's nihilistic climax, ruining it by resorting to the kind of upbeat familial reconciliation denouement he has used way too often in many of his more recent movies, including the award-winning Volver. ­Antonio Banderas stars as a genius plastic surgeon who has created a new type of synthetic skin. Unhinged by the death of his daughter, he goes on a vengeance quest, kidnapping the young man he wrongly holds responsible, submitting him to repeated surgeries. To say more would constitute a spoiler to the shocking twist.