They Came to Rob Las Vegas is a glorious heist rarity if ever there was one. Featuring the delicious trailer tagline, "Nobody Touched Las Vegas Loot Until… They Came to Rob Las Vegas," this film contains all the necessary elements a good heist film needs: sex appeal (for the guys and gals), excitement, adrenaline and terrific locations. The cast is tops, the script doesn't disappoint and who could not go for a film that involves casinos, armored car robbery and the need for revenge?
First of all, if you're looking for a big budget feature, you will not find it here. It's quirky. When I mention the script, I say this due to the fact that there are absolute gems within this film's dialogue that would never find their way into most of the American films of this time, even though they were certainly becoming more adventuresome. Then again, this wasn't an American film. Released in 1969, the same year as this week's other New Bev treats, The Wild Bunch (Sam Peckinpah, 1969) and Machine Gun McCain (Giuliano Montaldo, 1969), They Came to Rob Las Vegas was referred to as a "caper" film. From the narrative and cast, it undoubtedly wished to hop on the tail-end of the previous year's list of successful action-crime films like Bullitt (Peter Yates) and Thomas Crown Affair (Norman Jewison) as well as the onslaught of 1968 Italian films that had begun to seep into larger US cinema culture like Once Upon a Time In The West (Sergio Leone) or even Danger: Diabolik (Mario Bava).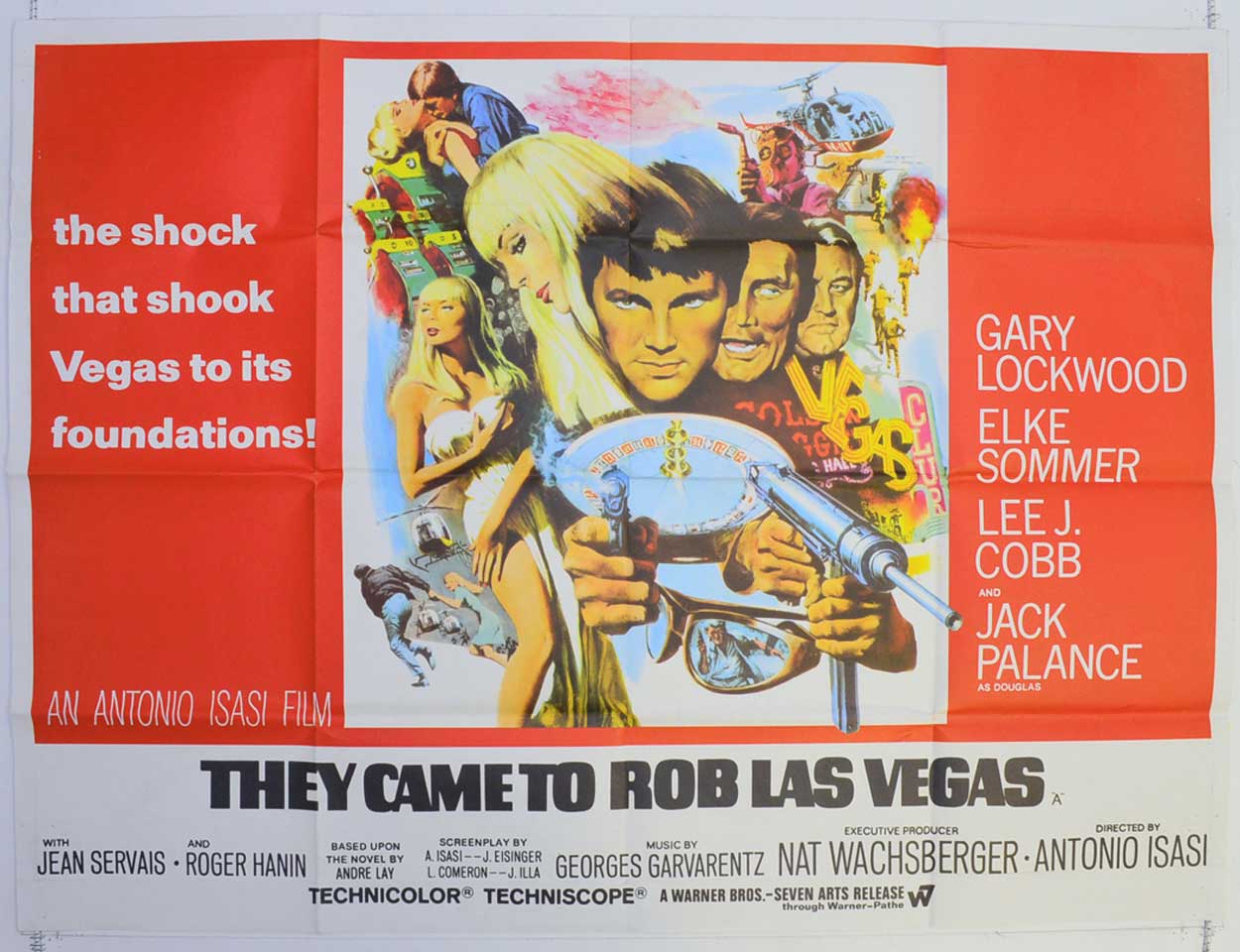 The presence of actors Jack Palance and Lee J. Cobb in Vegas can certainly be attributed to their substantial Hollywood careers. However, their most recent jobs at the time of They Came to Rob Las Vegas had been in Italian films like Mafia aka The Day of the Owl (Damiano Damiani) for Cobb and The Mercenary (Sergio Corbucci) for Palance. Director Antonio Isasi (aka Antonio Isasi Isasmendi) was well aware of this. He also knew that these acting powerhouses always brought their A-game. So into the film they went! It is a testament to their individual brilliance as well as the strength and capacity of character actors in general that Palance and Cobb make any scene that they are in blaze like a thousand burning suns. Count on that in Vegas.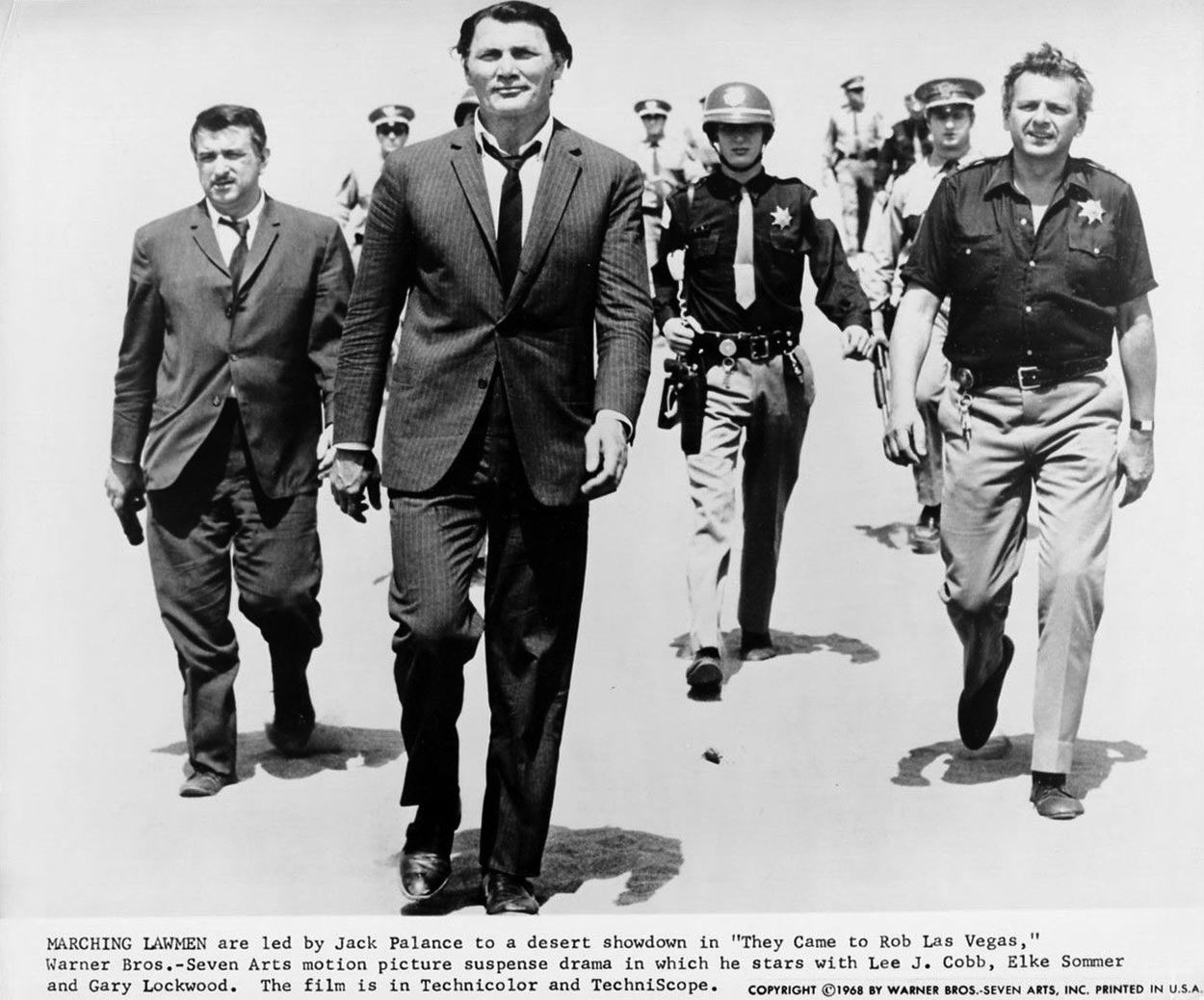 Our man of the hour, Gary Lockwood, is about as handsome as it gets. Not only was he in the Elvis Presley movie It Happened at the World's Fair (Norman Taurog, 1963) and the critical second pilot of Star Trek, "Where No Man Has Gone Before" (James Goldstone, 1965), but he played one of the famed astronauts in Stanley Kubrick's 2001: A Space Odyssey in 1968. Hint: if you're a fan of Stanley Kubrick you should take a look at the New Beverly Schedule for December. You'll be well chuffed. Lockwood was a major television regular as well as appearing in some quite incredible film work like Jacques Demy's Model Shop in 1969. If you don't stay for Project: Kill (William Girdler, 1976) the insanely rare second Gary Lockwood feature on the bill, you'll kick yourself later. This Lockwood double has One-of-a-Kind Grindhouse Night written all over it.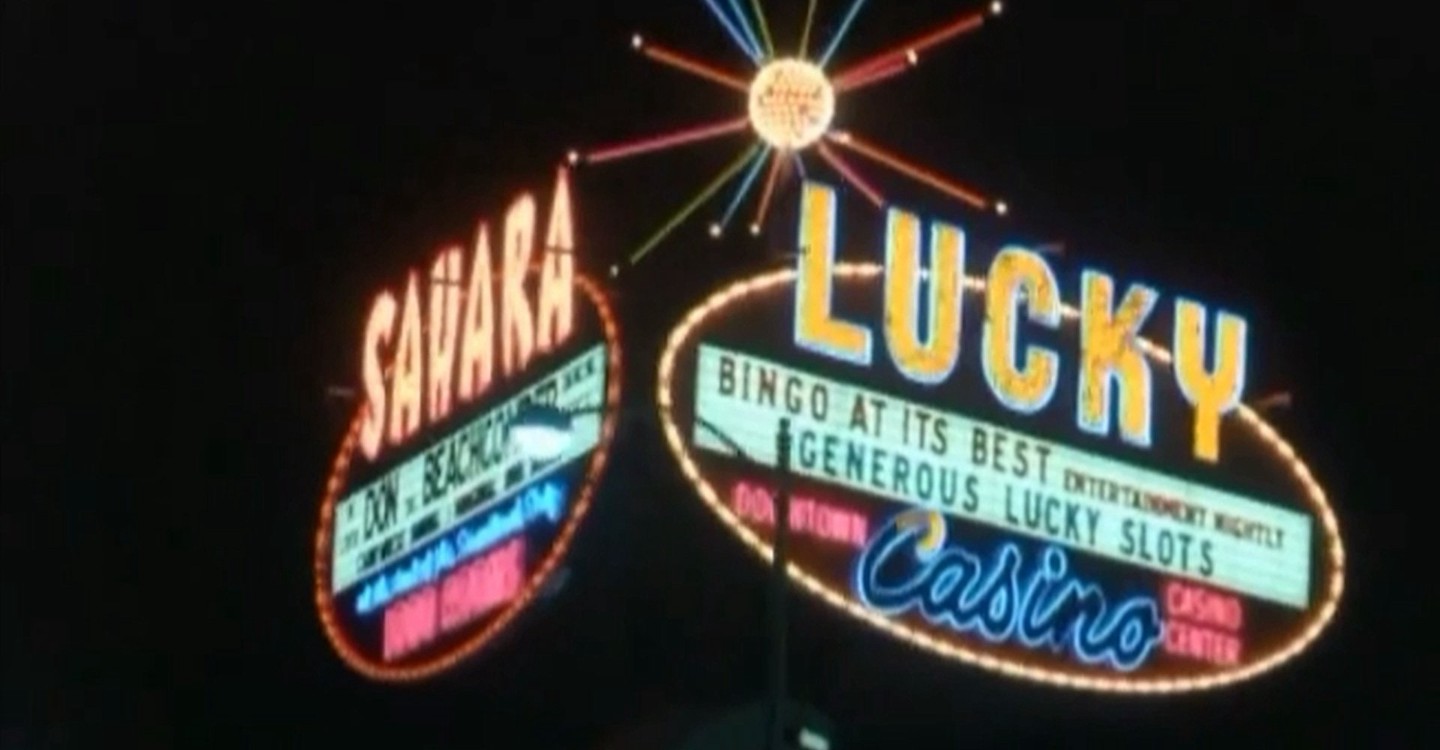 Let us discuss an issue that does not get mentioned a great deal – the use of stock photography/stock footage. How does that apply to They Came to Rob Las Vegas? Antonio Isasi has gotten raked over the coals for his use of stock footage of Las Vegas. As a European (Spanish) director, his decision was to shoot the lion's share of the film in Spain and bits and pieces in the US. The film was a co-production with Spain, so this plan made financial sense. As for the critique on the Las Vegas footage and the Casino shots – this seems to be another way in which Big Time Film Critics were able to undermine small weirdo films. Vegas was certainly not the first film to receive this kind of "tut tut" response for a film's use of stock footage.
Film libraries and archives have made their living providing filmmakers and researchers access to stock footage of places, events, historical footage, newsreels, and all kinds of fun moving image work. What the critics saw as problematic, lazy or poor filmmaking actually saves filmmakers money and allows them to concentrate on other aspects of the work. Additionally, in this case, They Came to Rob Las Vegas contains historical moving image clips of Las Vegas that no longer exist anymore, making it a historical document of sorts.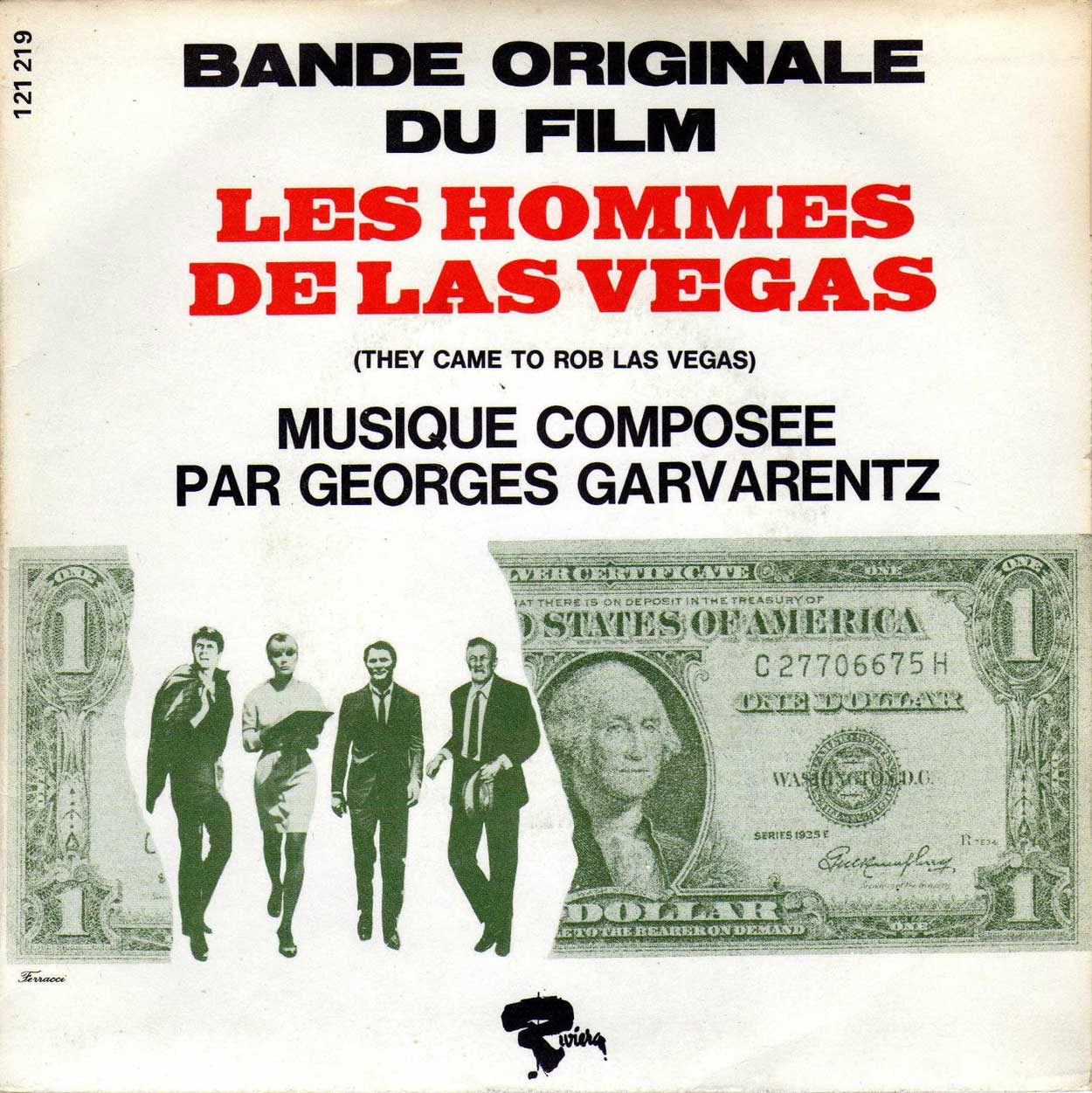 The appetizing soundtrack by Georges Garvarentz gets the film moving, gets your ears paying attention (Elke Sommer already got our eyeballs from the get-go, let's not kid ourselves). Garvarentz writes music that makes you want to wrap those sounds around your body while watching the narrative open up, all crime-y and grime-y.  A little sexy, a little exciting, a little groovy, Gavarentz's sweeping flow puts you right in the center of the character's world.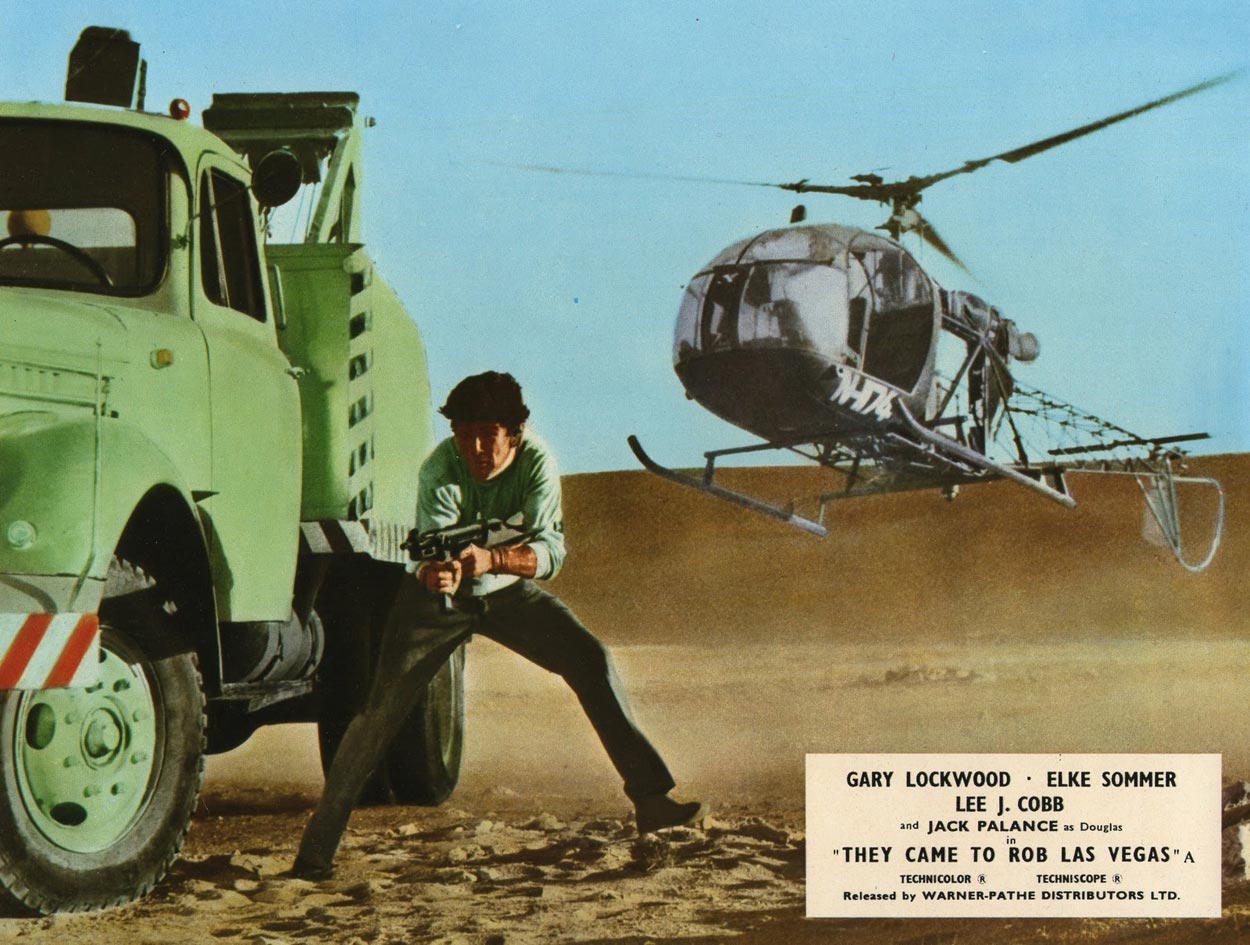 Armored car robberies. They never get old. From Armored Car Robbery (Richard Fleischer, 1950) to The Town (Ben Affleck, 2010) and everything in between, we always want to see authority (the bank) lose and us (underdog/robbers) win. That genre structure is precious and keeps us all coming back. They Came to Rob Vegas is no different. Of course we love these works because at the end, no matter what happens, we feel like there is a part of us that tried to fight the good fight (even if society at large says that we were technically routing for the "bad guys"). And that's important. We gotta keep fighting. Keep trying. We'll get that armored car someday!
Come take a chance on They Came to Rob Las Vegas and Project: Kill. They have great casts, fun performances and the on-screen chemistry translates to a joy for the films that can be contagious. We examine and appreciate many of these smaller films that Big Time Film Critics passed on because there is substantive material to be found there. Because of the budget discourse, stock footage selection, casting of specific character actors. Films like They Came to Rob Las Vegas may not be perfect, but the rewards of experiencing a double feature like the one on Tuesday in this rare theatrical context cannot be overstated.
They Came to Rob Las Vegas screens November 22 at the New Beverly.