For as much as we are living in an era where more people than ever have a large degree of film literacy, spanning all of its taxonomic ranks, it is probably safe to say that the expansive kingdom of Bollywood is the one that many ostensibly claim to know the contents of, but which few have actually experienced for themselves. Awareness has increased thanks to breakout directors like Gurinder Chadha and Mira Nair, allusions in English-language films like Moulin Rouge, and the general intertwinement of world arts through the internet. And according to distributors, Bollywood films make more money in the United States than other foreign-language films, upwards of $100 million in theatrical revenue and related transactions. Still, there are very few of these productions that have achieved the kind of direct, widespread presence in the global film canon that works of other nations have gained.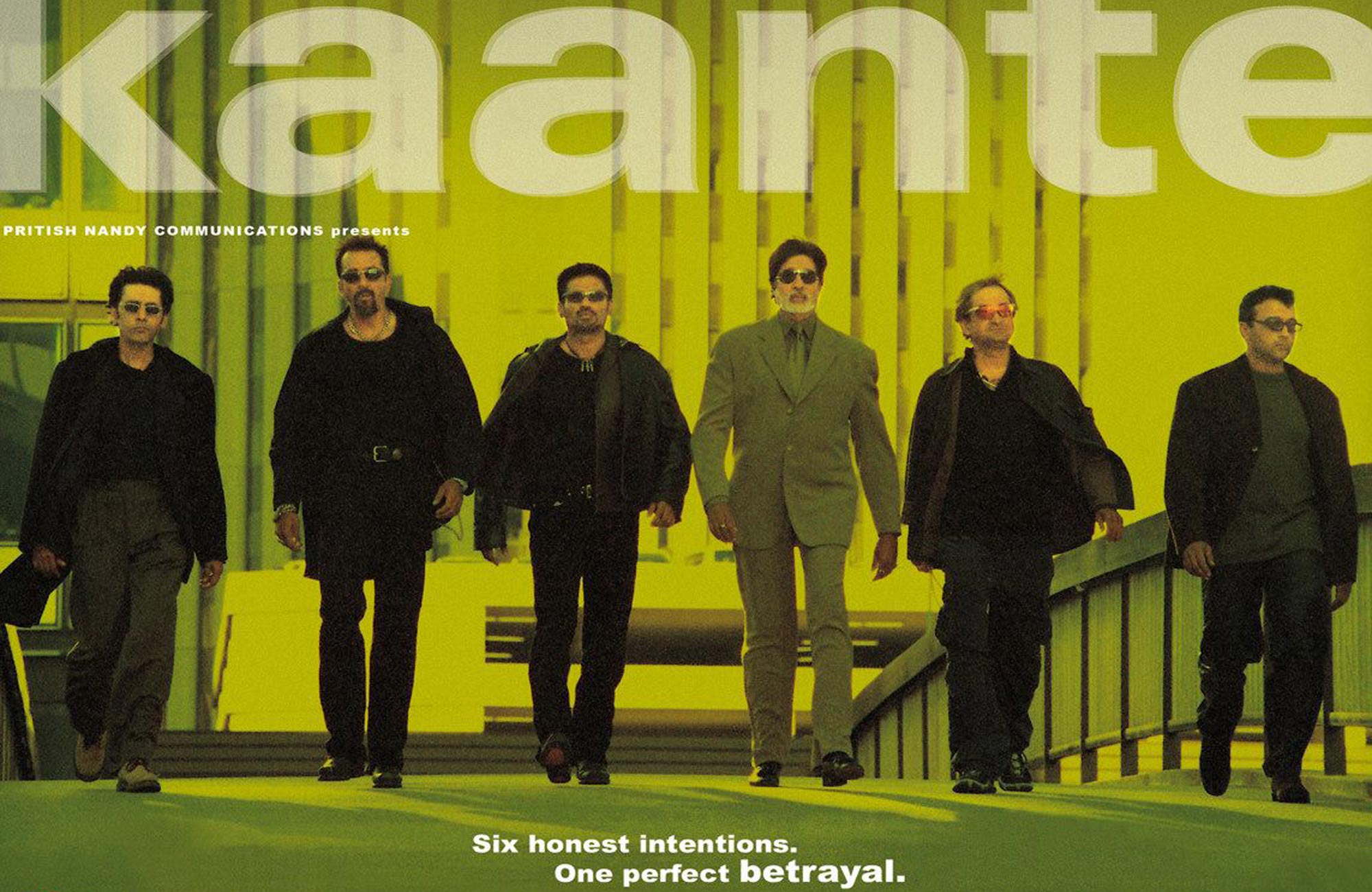 Thus, it's a particularly exciting circumstance for the New Beverly to be presenting one of the most popular Bollywood films of the 21st century: Sanjay Gupta's 2002 crime drama Kaante. We believe that for the first-time viewer unfamiliar with Hindi-language movies, this will serve as a most accessible and stimulating point of entry. As Suraj Das of the Planet Bollywood website describes it, "Kaante is everything a masala movie should be; it packs the whole smorgasbord of Bollywood conventions – romance, dances, glamour, comedy, drama – into one fun-filled, action-packed, polished joyride of a film."
In Los Angeles, six South Asians are rounded up and roughed up by the cops when a witness claims a truck robbery involved an Indian accomplice. While fuming in stir, they decide to retaliate for this racial profiling by hitting them where it hurts most: robbing the very bank where the LAPD's operating funds are stashed. Each of these strangers has a personal crisis that would be solved with this windfall. But they only meet with more problems when the police arrive too soon at their crime scene, and further learn there may be a traitor among them. Kaante translates as "thorns," and from the mutual hatred between the protagonists and the police, to the bloodletting they cause amongst each other and themselves, the thorny metaphors are apt and numerous.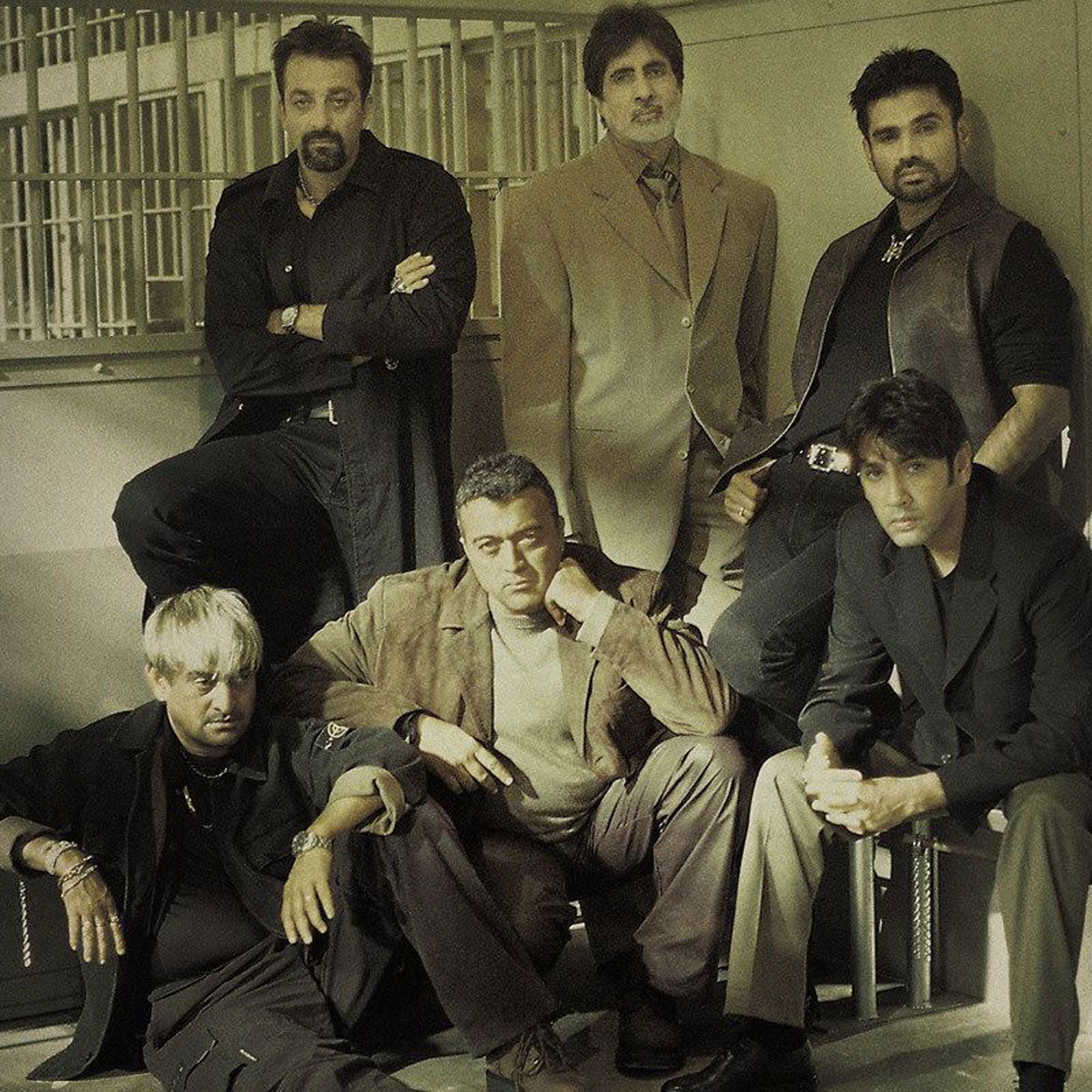 Obviously, there are a large number of tropes at play familiar from other American crime films: for example, the strangers' alliance is drawn from The Usual Suspects, with an unfortunate American detective character named after that film's screenwriter Christopher McQuarrie. Most strongly visible are multiple elements from Reservoir Dogs, including the sardonic banter among the thieves, the gang's agitated post-mortem search for the police rat among them, and their violent interrogation of a police hostage. In the video below, an intrepid fan illustrates the similarities, though we don't suggest watching the two followup videos, lest you have all the surprises revealed:
Wholesale lifting of plot elements from Western-made films has been a part of Hindi filmmaking for decades, since Indian citizens often did not get to see foreign productions due to political and economic factors. In the strongest Bollywood films, it's been the adaptation of these story ideas to local mores and sensibilities that has made them memorable, just as the French took the '30s American gangster sagas and created their own stylized subgenre of crime tales, or the Italians' invention of the "Spaghetti Western."
In multiple interviews, Reservoir Dogs' creator Quentin Tarantino has expounded on this kind of constant exploring and heightening of themes from existing films, and many times, expressed admiration for aspiring filmmakers who have done so with his own work. Thomas Jahn's 1997 road trip tearjerker Knockin' on Heaven's Door, for example, featured multiple references, and in turn, Tarantino has put support behind it, including repeated bookings at the New Beverly. Kaante has likewise met with his enthusiastic approval, with him particularly applauding the film's expansion of character motivations outside the primary plot, story material he's often wished to present in his own scripts but frequently removed for time and other constraints.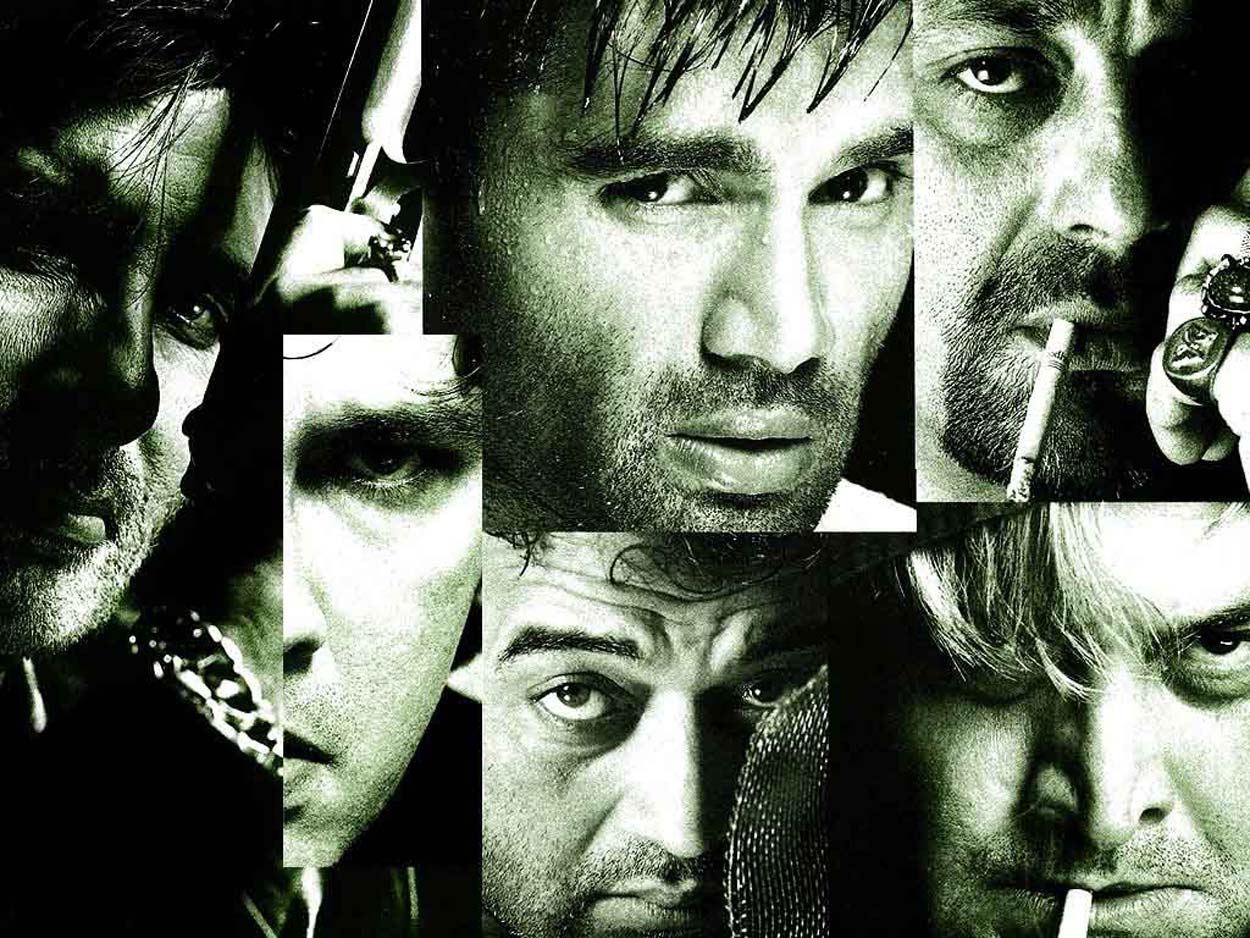 Kaante features some of the top names in Bollywood film, and viewers who otherwise aren't aware of Indian celebrities may be surprised to learn of their presence and influence in Western culture. Star Amitabh Bachchan, playing the Mr. White surrogate, has nearly 200 film credits, had a featured role in Baz Luhrman's radical 2013 adaptation of The Great Gatsby, and was the first answer to the dramatic set of "Who Wants to be a Millionaire" questions Dev Patel answered in Danny Boyle's Oscar-winning Slumdog Millionaire. Bachchan himself hosted the Indian edition of the game show for many years. Mahesh Manjrekar, effectively standing in as Mr. Blonde, also starred in Slumdog Millionaire, playing gangster Javed Khan, whom the hero must outsmart to win back his childhood love. Sanjay Dutt has acted in over 100 films, hosted TV programs, and was the direct inspiration for TNA pro wrestler Sonjay Dutt, who appeared in storylines managed by Kevin "Diesel" Nash.
The crew behind the camera have even more familiarity to American moviegoers. Co-producer Raju Patel made Bachelor Party with Tom Hanks and the 1994 live-action The Jungle Book with Jason Scott Lee. (His father Sharad Patel produced and directed the 1981 grindhouse biopic Amin: The Rise and Fall.) Cinematographer Kurt Brabbée later shot the 2003 comedy The Hebrew Hammer with Adam Goldberg. Art director Linda Spheeris' credits include work on the cult films Real Life, Death Game and The Virgin Suicides; she is the sister of director Penelope Spheeris. And choreographer Neisha Folkes-LeMelle created dance moves for Malcolm X and Glitter. Here is one of her production numbers in the film, for the song "Ishq Samundar," featuring Sanjay Dutt with Isha Koppikar:
The production of Kaante provided lots of contrast to traditional Bollywood movies. It was the first Hindi-language film done entirely in the US, including pre- and post-production, interior and exterior filming, with the primary cast flown to L.A. and working with a mostly American crew. It was budgeted at $6 million, a record high for an Indian project. While most shoots can take years to complete, due to actors appearing in multiple projects concurrently, this wrapped in under 40 days. Dialogue was recorded live rather than post-dubbed. In an L.A. Times article about the shoot, Bachchan observed, "There's a discipline here, an excellent story, and a larger experience of working in a great group of people. I've decided I'd like to do more movies in Los Angeles."
You are strongly urged to join us for this rare opportunity to see Kaante on the big screen, and take in the kind of story you have loved revisiting from the fresh perspective of a country and community you may not have experienced before. Consider it an early Christmas present that will spur you to explore more great Bollywood films and expand your cinema love even wider.