On October 11 the New Beverly proudly presents Paranoia (1969) and A Quiet Place to Kill (1970), two rare Italian giallos starring Carroll Baker directed by Umberto Lenzi.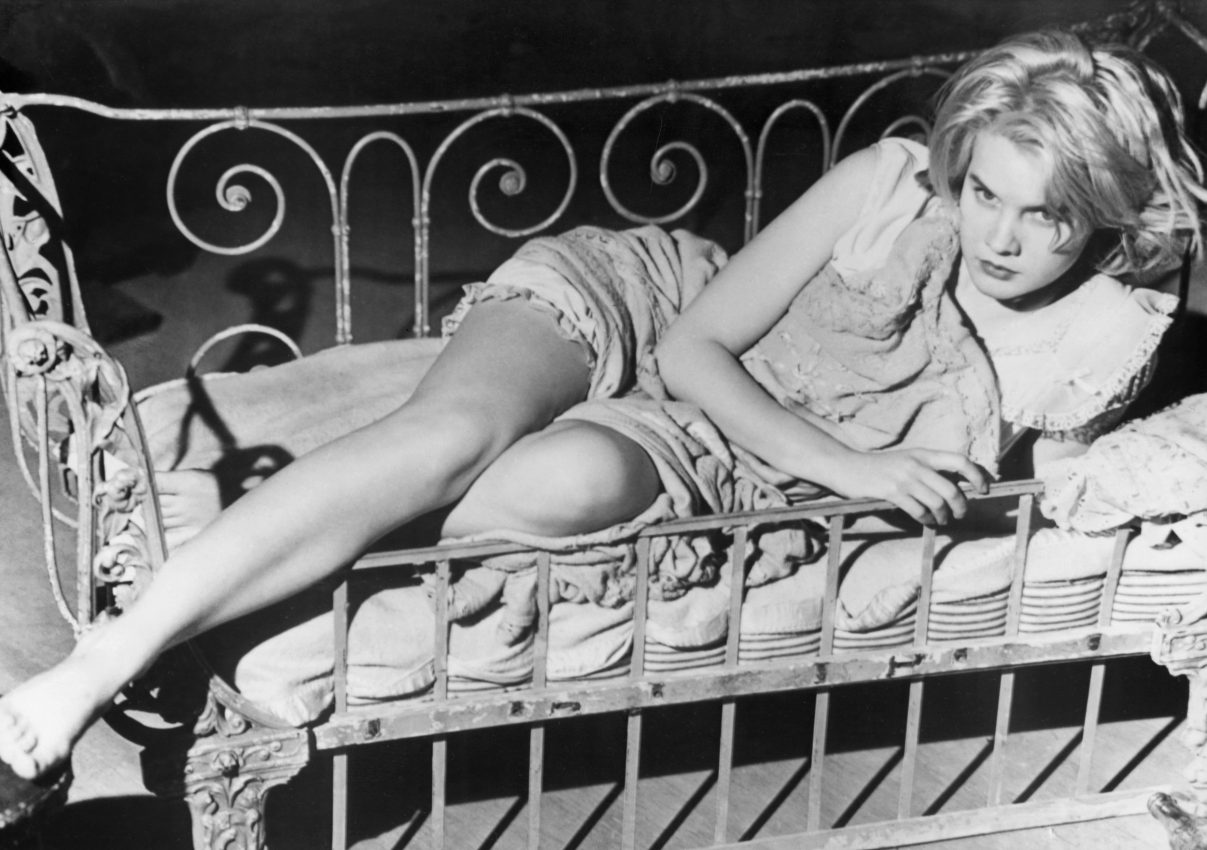 To fully understand actress Carroll Baker's evolution from Hollywood star to the briefly held position of American queen of Italian exploitation cinema, one must look back to her roots. Brought up in a relatively impoverished lifestyle in the 1930s –1940s to a Roman Catholic family of Polish descent, first in Johnstown Pennsylvania, then St. Petersburg, Florida, with her parents separating when she was eight, a sense of adventure and love of performing led her to escape to New York City in 1951. She found work in nightclubs and chorus lines before enrolling in the Actor's Studio in 1952, studying under Lee Strasberg along with such actors as Rod Steiger, Shelley Winters, Marilyn Monroe and James Dean. She began working in commercials as well as early episodic TV before landing her first large film role, a supporting part in George Steven's Giant (filmed in 1955 before co-star James Dean's death, but not released until 1956). The year 1956 also saw her breakout performance as the 'the child bride' in Elia Kazan's production of Tennessee Williams' Baby Doll, which remains not only her most critically acclaimed role (she was nominated for an Oscar for Best Supporting Actress) but also the iconic image that cemented her sex symbol status in the eyes of the general public. Her independent nature caused her to refuse the part of Diana Barrymore in Too Much, Too Soon, which led Warner Brothers, her contract studio, to put her under suspension. This reportedly cost her the female lead in The Brothers Karamazov (1958), which then went to German actress, Maria Schell. The suspension was finally lifted, and she co-starred later in the year with Gregory Peck in William Wyler's big budget western, The Big Country. More disputes with Warner Brothers followed, which led her to buy out her contract in 1959.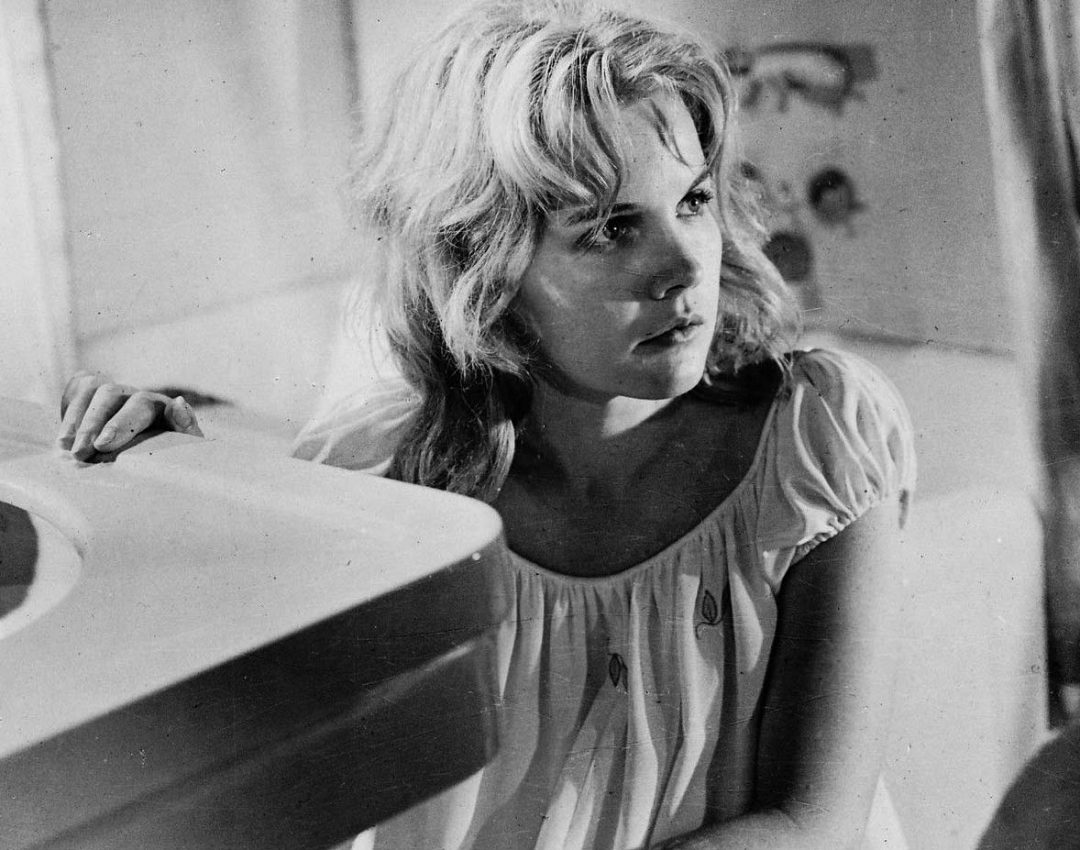 By 1961, she had married New York-based Jack Garfein (The Strange One, 1957), a promising director she had met through the Actor's Studio and starred in his low budget drama, Something Wild set in Manhattan. The story about a rape victim (Baker) rescued from a suicide attempt, then held captive in a squalid, tenement apartment by an inarticulate mechanic (Ralph Meeker) generated public controversy because of the subject matter and consequently most establishment reviewers derided the film. Something Wild has since been critically 'rehabilitated,' and is now looked on as one of the seminal independent pictures of the early 1960s, coinciding with the release of many similarly hard-hitting American films like Robert Rossen's The Hustler (1961), Frank Perry's David and Lisa (1962) and Hubert Cornfield's Pressure Point (1962) and gritty, slice-of-life UK pictures such as Saturday Night and Sunday Morning (1960) and A Taste of Honey (1961). Once again because of the unorthodox, daring subject matter, Baker's career nearly stalled in its tracks. However, she appeared in several more big budget Hollywood films, including How the West Was Won (1962), John Ford's Cheyenne Autumn (1964, as a Quaker schoolteacher) and George Steven's The Greatest Story Ever Told (1965, as Saint Veronica!).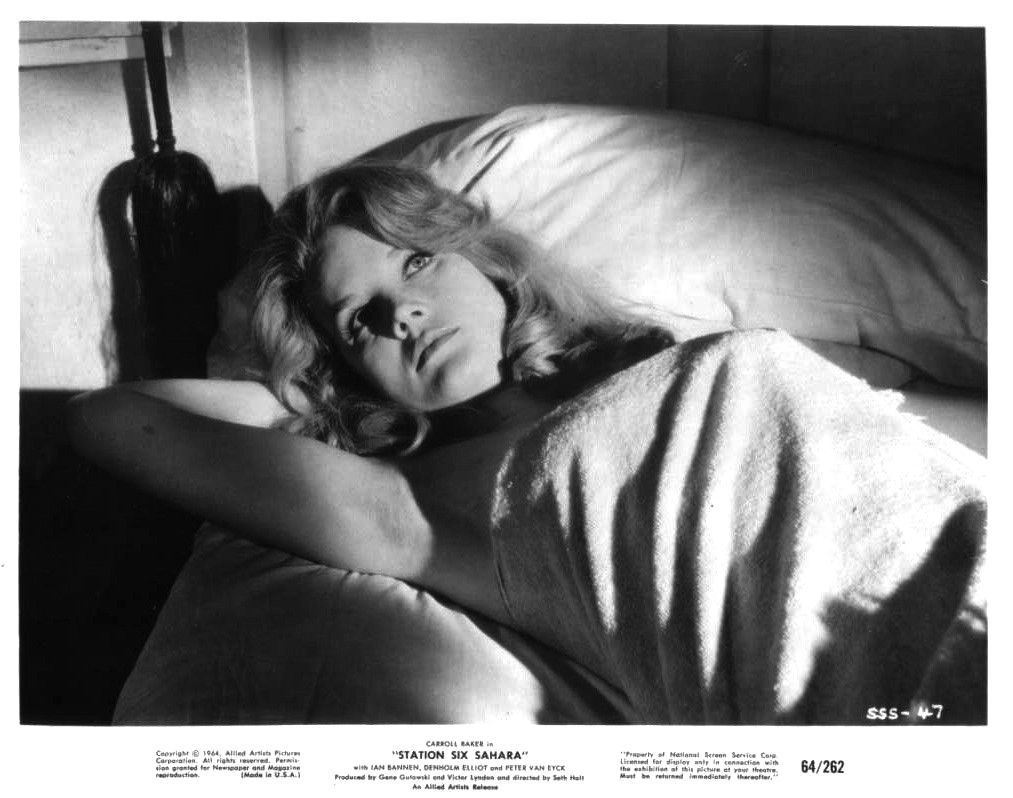 To gauge Baker's continued meteoric rise as a cinematic sex symbol, one must look to several of her other movies from the period. Kicking things off was Seth Holt's bizarre British-German co-production Station Six Sahara (1962) about an amoral blonde stranded at a desert oil pumping station, generating tension among five sex-starved male workers and her injured, jealous ex-husband, a saga that played up the deadly cost of unbridled promiscuity. Coming hot on Station's heels was the enormous box office smash, The Carpetbaggers (1964), based on Harold Robbins' sordid bestseller, with Baker as a jaded movie star, golddigging widow and lover of stepson millionaire, George Peppard. The lurid epic was produced by movie tycoon Joseph Levine and he promptly got Baker signed to Paramount, with two prurient programmers following in 1965, Sylvia (where she plays a wealthy grifter/ex-prostitute) and Harlow (a sexed-up bio of the 1930s bombshell). Neither were too popular with the critics, although they did decent business. By this time, Baker was starting to view her career as more akin to "being a beauty contest winner than an actress," and her relationship went steadily downhill with the dictatorial Levine. Things became so acrimonious, she sued to get out of her Paramount contract, and the studio subsequently fired her. Divorcing husband Garfein, she moved to Europe with her two children in 1967.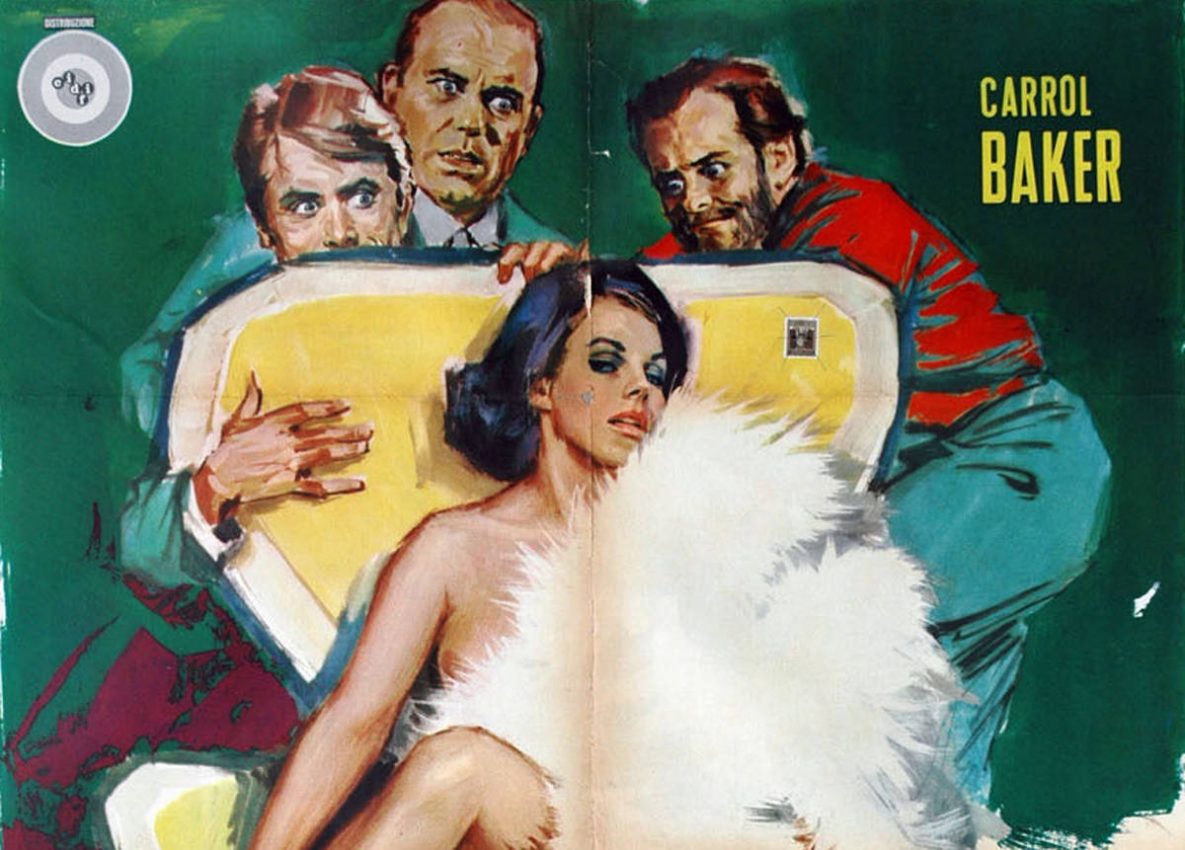 It was at the Venice Film Festival she met eccentric Italian director, Marco Ferreri. Ferreri had already helmed several critically acclaimed pictures, The Conjugal Bed (1963) and The Ape Woman (1964), both of which received limited stateside release. In the 1970s, Ferreri would hit his peak with outrageous absurdist satires and comedy dramas such as Dillinger is Dead (1969), Don't Touch the White Woman (1973), Le Grande Bouffe (1973), and Bye, Bye Monkey (1978). Ferreri wanted Baker for his next film, Her Harem (L'Harem, 1967), a comedy drama about a woman who can't decide among her several lovers (Gastone Moschin, Renato Salvatori, Michel LeRoyer), so goes on vacation in Dubrovnik, inviting all three to tag along, as well as a gay friend (William Berger). Baker plays the three off against each other, while selectively handing out her favors. Designed to skewer the double standard of males with a wife and mistresses, the dark ending reportedly shows the three banding together to throw Baker off a cliff – a bit of a retrograde climax. The film was a commercial and critical flop, but Baker loved working with Ferreri and only wishes he had not "lost his nerve and cut out most of the funny parts." Despite the lack of success, Her Harem put Baker on Euro cinema's radar. One could have imagined more 'serious' filmmakers such as Antonioni and Visconti seeking her out, especially when they were often striving to raise money for their arthouse projects. But it was from the populist exploitation ghetto that directors came calling.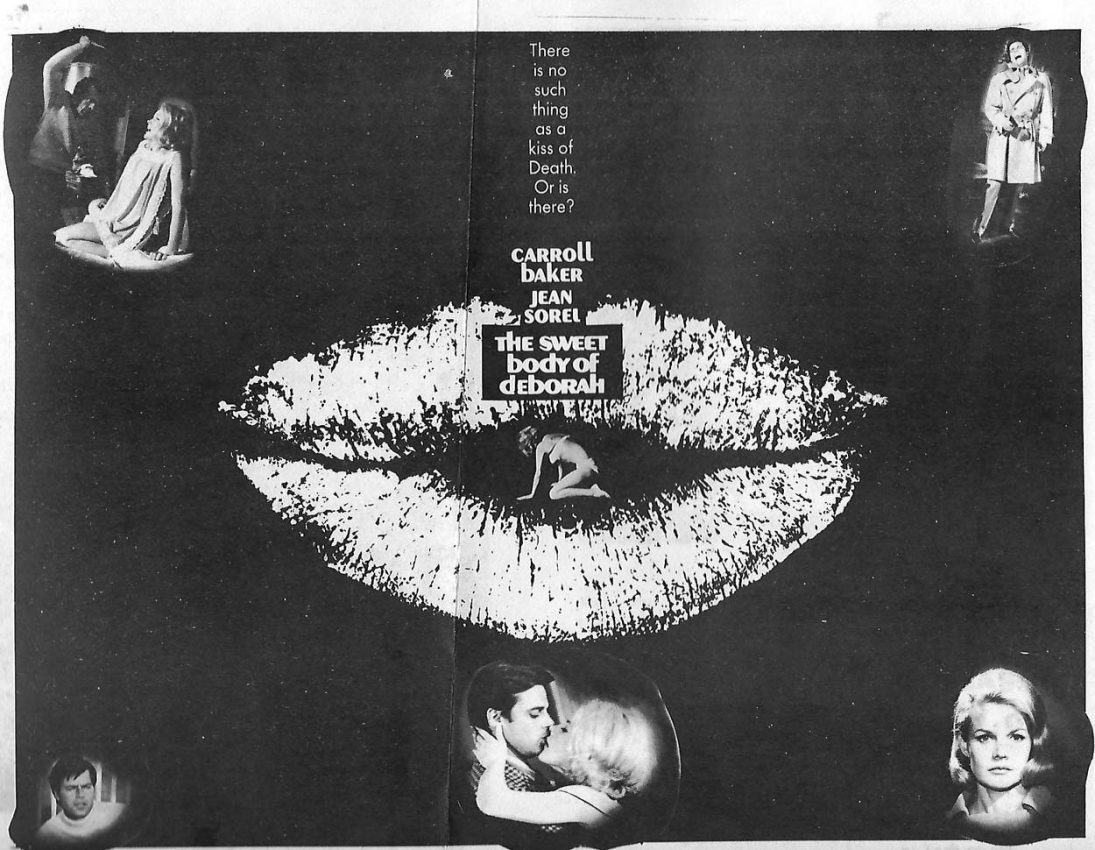 Although the giallo thriller genre had been slowly gaining steam since Mario Bava's efforts The Girl Who Knew Too Much (1963) and Blood and Black Lace (1964), it wasn't until Baker co-starred with French star Jean Sorel in Romolo Guerrieri's Sweet Body of Deborah (1968) that the floodgates opened. Sorel is on a honeymoon with his new bride (Baker) when he starts to be threatened by a figure from his past played by Luigi Pistilli, a man with a grudge against Sorel due to the suicide of Sorel's former flame (Evelyn Stewart). Not taking the danger seriously, Sorel soon changes his mind as attempts on both his and Baker's lives follow. When a handsome new neighbor (George Hilton) enters the picture, the threat level escalates. Expert giallo scripter Ernesto Gastaldi supplies plenty of his twists and perverse situations. Produced by the Martino brothers, Luciano and Sergio, Sweet Body… might have been better served if Sergio (director of The Strange Vice of Mrs. Wardh, et. al) had taken over the reins from the more workmanlike Guerrieri. Still, Sweet Body… is very entertaining, with opulent mod nightclub scenes and atmospheric suspense setpieces. It was a huge hit in Italy and most of Europe, but only did so-so box office in the USA.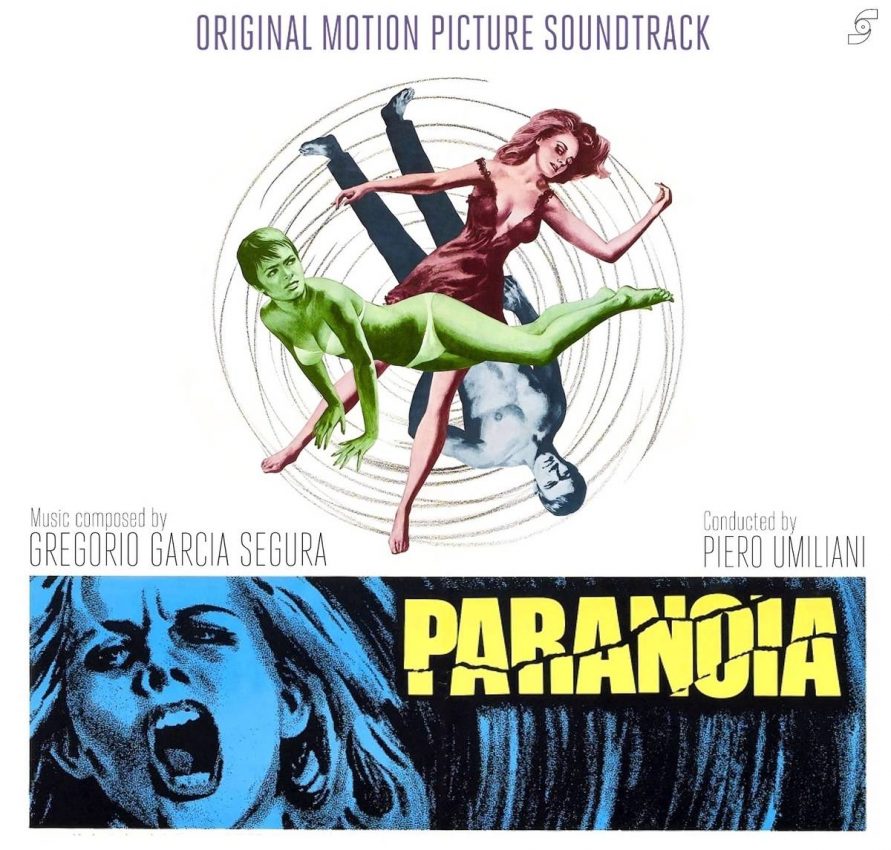 Baker's next outing, her first of four efforts with director Umberto Lenzi, Paranoia (aka Orgasmo, 1969) remains one of her best Italian pictures. An Italian-French co-production, Paranoia also emerges as the most professionally made and smoothly put-together of the Baker/Lenzi collaborations, managing to capture a startling feeling of delirium, authentic upscale depravity and unnerving suspense, punctuated by a great score by Piero Umiliani. Baker is a wealthy widow from America escaping to the solace of a secluded Italian villa after her husband's death. Accompanied by her lawyer, Brian (Tino Carraro), who is sorting out the estate's paperwork, she is soon left alone. But not for long. A penniless wastrel (Lou Castel) shows up at her door, asking if he can pull his failing sports car into her driveway to repair it. One thing leads to another and, before Baker knows it, she ends up nude in the shower with him. He is a bit of heel, to say the least, and they have their ups-and-downs, with Castel finally inviting his 'sister' (Colette Descombes) to stay with them, something which Baker at first finds a turn-on, then a source of uneasiness. The pair gang up on her with ever more insidious mind games, plying her with pills, liquor and bad pop music until she is reduced to a nervous wreck tied to her own bed. Two shock endings – both which accomplish nice jolts – wrap things up. To put it bluntly, Euro-trash cinema doesn't get much better.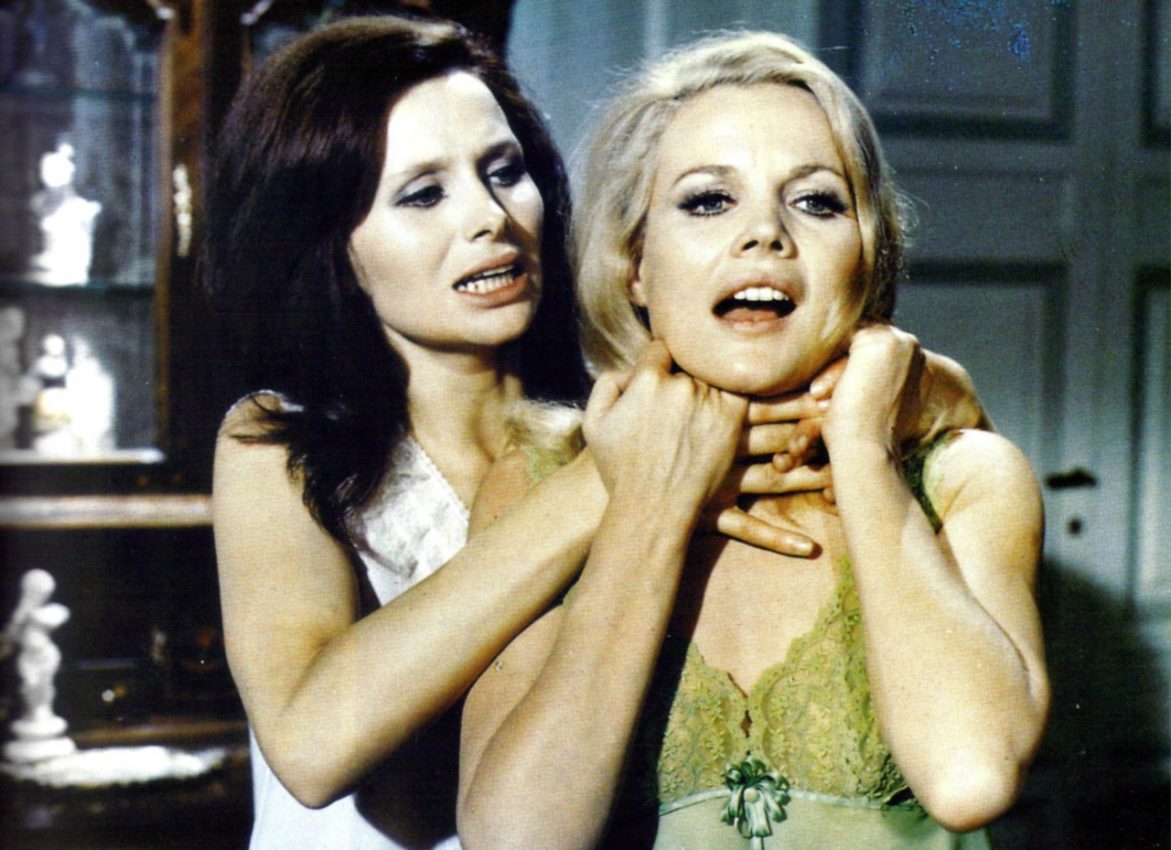 So Sweet, So Perverse (aka Cosi Dolce…Cosi Perversa, 1969), another Italian-French co-production directed by Lenzi, although not without merit, is a bit of a letdown after coming off the juicy jet set highs of Paranoia. Jean-Louis Trintignant is the philandering owner of a pharmaceutical company in financial trouble. Saddled with a frigid wife (Erika Blanc), Trintignant becomes intrigued when he believes his upstairs neighbor (Baker) is the victim of domestic abuse. Once he meets Baker, he becomes infatuated, protective and finally professes his love, all the while asserting his estranged wife is now a spouse in name only. Baker's ex-boyfriend, photographer Horst Frank, continues to dog her trail. Events escalate, Baker informing Trintignant that Frank has been hired to kill Trintignant, and Baker can no longer go through with it as she has fallen in love with him. Baker, Trintignant, Frank and Blanc – one of the four end up dead, and a strange relationship develops amongst the three left alive. Red herrings abound, as well as elements cribbed from various older European thrillers such as Clouzot's Diabolique and Chabrol's Les Biches. Considering screenwriter Ernesto Gastaldi's involvement in the screenplay and the Martino brothers producing, it is a shame that patches of rough transitions, choppy editing and unexplained loose ends are occasionally in evidence. Baker also seems to have been supplied with the most godawful wardrobe to be found in any of her European pictures (which is saying something!). Entertainment value remains high, though – to some degree for these very reasons.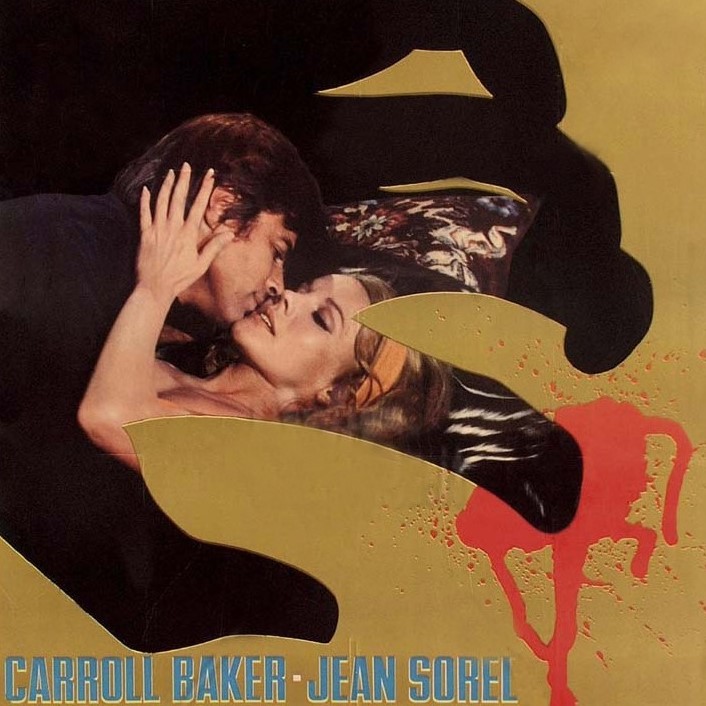 A Quiet Place to Kill (aka Paranoia aka A Drug Called Helen, 1970), this time an Italian-Spanish co-production, features Baker as Helen, a race car driver. She suffers a minor accident on the practice track when she thinks she sees her ex-lover, a no-good playboy (Jean Sorel) casually strolling across the tarmac. Needing rest, Helen is coincidentally invited down by Sorel and his wealthy new wife (Anna Proclemer) to their coastal, clifftop estate. Sorel's new wife has a hidden agenda, and she tries to recruit Helen in common cause to murder Sorel for his repeated affairs. Helen is reluctant, but finally acquiesces. However, when the time comes when the three go sailing, things go hideously awry, and a body must be tossed quickly overboard as a sailboat with their upscale friends approaches. Helen starts to gradually unravel as red herrings abound and false alarms from the police pile up. The arrival of wife Proclemer's hostile teenage daughter exacerbates Helen's fear factor, mind games escalate, and she starts to have trouble determining just what is real. Despite some stock situations and derivative giallo elements, Lenzi builds the tension much more convincingly than in So Sweet…So Perverse. There is also a continual madcap parade of oddball mod fashion choices that are frequently jawdropping. Add in a frantic, shock twist ending, and you have yet one more of Baker/Lenzi's better collaborations.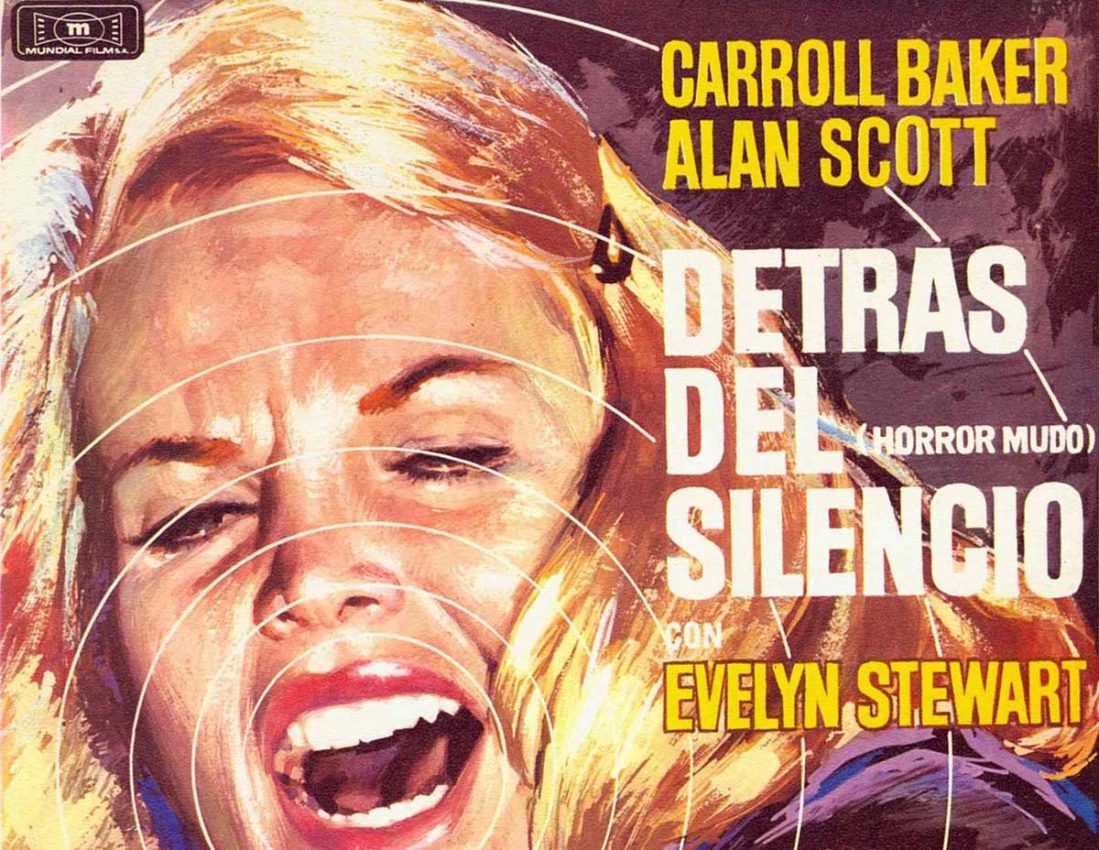 Knife of Ice (aka Il Coltello di Ghiaccio, 1972) was another Italian-Spanish co-production and marked Baker's final outing directed by Lenzi. Instead of the sunny atmosphere of the first three Baker/Lenzi films, Knife of Ice is set in a fogbound village at the foothills of the Pyrenees mountains. Baker is a woman made mute when, as a child, she survived a horrendous trainwreck which killed her parents. Arriving simultaneously to her successful pop singer cousin (Evelyn Stewart) at the house of her Uncle Ralph (George Riguad) seems to set in motion a string of murders, supposedly perpetrated by a Satan-worshiping, morphine-addicted hippie drifter (!). Lenzi supplies some surprisingly atmospheric nocturnal set pieces, particularly after the drifter robs a closed pharmacy for drugs, then leads the cops on a rain-drenched foot chase through the alleys and graveyard of the village. However, the film has its liabilities. Paranoia, So Sweet…So Perverse and A Quiet Place to Kill all had strong leading men (Lou Castel, Jean-Louis Trintignant and Jean Sorel respectively), but this time around we are saddled with the impossibly wooden Alan Scott as a local doctor who regularly pontificates on the motives of the killer and what the mute Baker must do to protect herself. There is also a completely out-of-left-field twist ending that is indeed unexpected, but because of a number of strained contrivances in earlier sequences does not make much sense.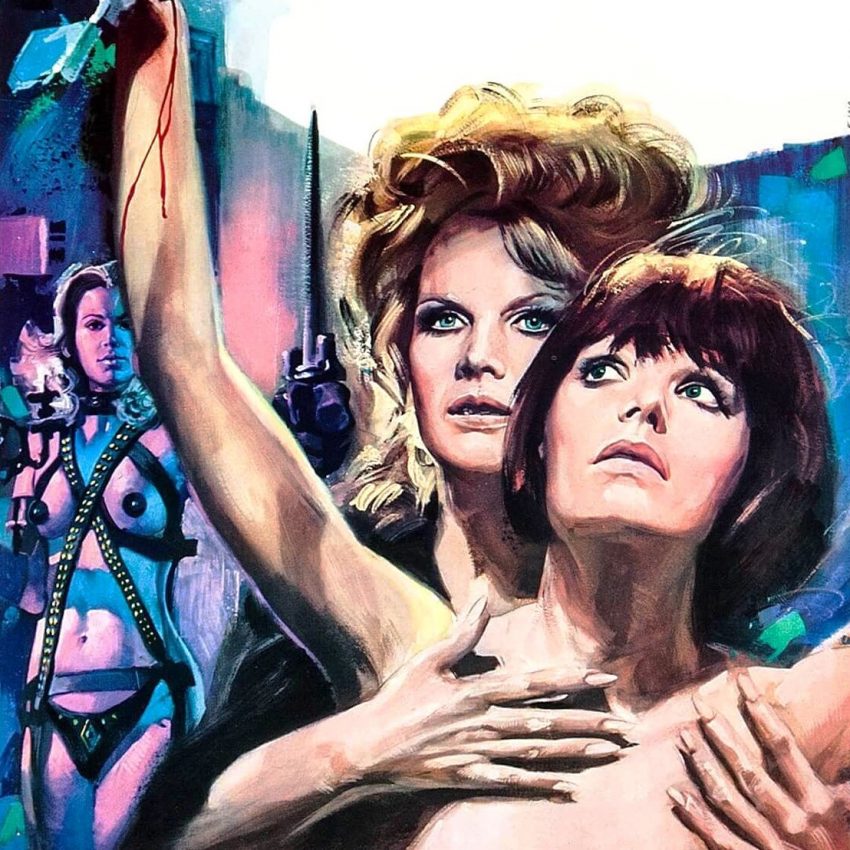 Baba Yaga (aka Kiss Me, Kill Me, 1973) was directed by Corrado Farina adapting a story from Guido Crepax's popular Valentina comic strip about a sexy, hip, decidedly independent female photographer (Isabel De Funes) who encounters a wealthy, seemingly ageless woman, Baba Yaga (Carroll Baker). We soon figure out the woman is a witch. Baker's character is sexually attracted to the charismatic Valentina, and gifts her with a strange doll in S&M fetish gear. Valentina slowly realizes a succubus is trapped in the doll, screwing with her sense of time and reality and capable of causing unexplained deaths. Aided by her hunky boyfriend (George Eastman), Valentina visits Baker's house, and the couple must do battle with the witch to keep from being sucked into a pit that leads to a hellish alternate dimension. Baba Yaga is constantly engaging, phantasmagorical and psychedelic. Along with Paranoia, it is one of Baker's best European pictures.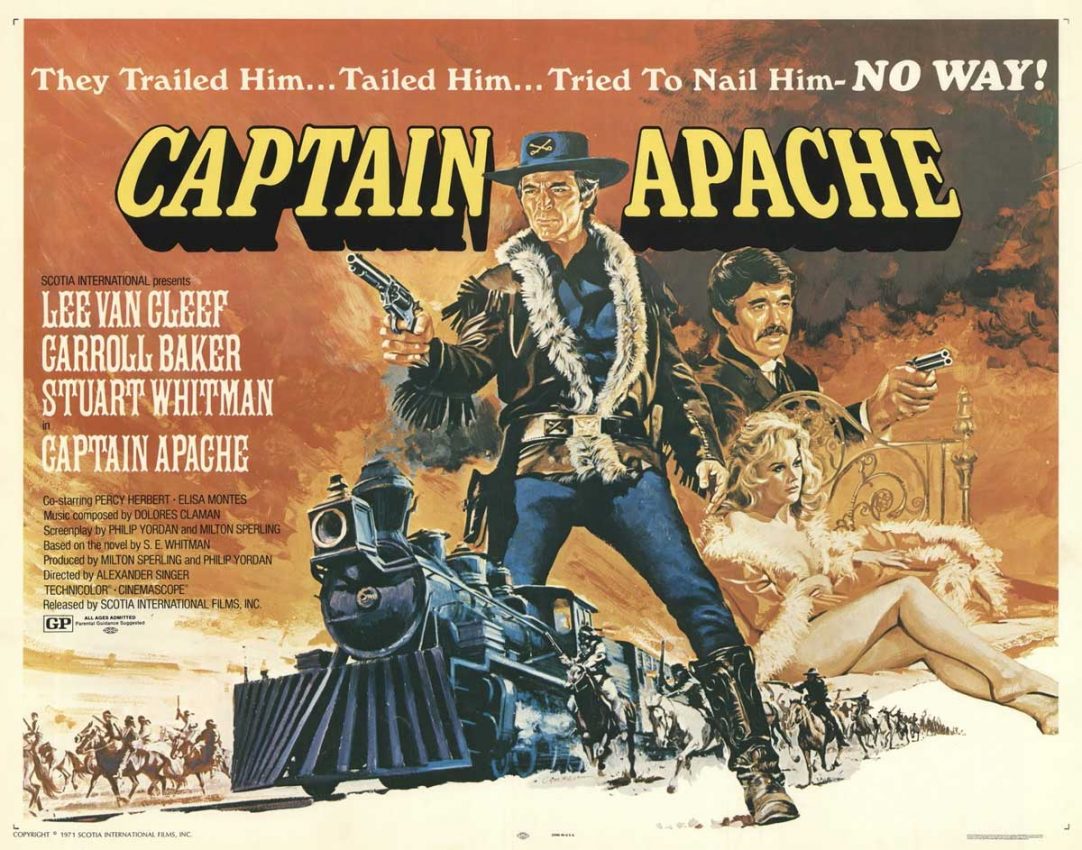 Although Baker made several other Italian potboilers (including Captain Apache with Lee Van Cleef and The Devil Has 7 Faces with Stephen Boyd), she was only to make one more certifiably gonzo Euro trash classic, Bloodbath (aka The Sky is Falling, 1979) appearing as Treasure, a washed up movie star in a remote Spanish village. She is thrown together with a heroin addict (Dennis Hopper) and a bitter war veteran (Richard Todd) when the expatriates are threatened by a hippie cult who may be collaborating with the superstitious townspeople to rid the village of these unwelcome hedonist foreigners.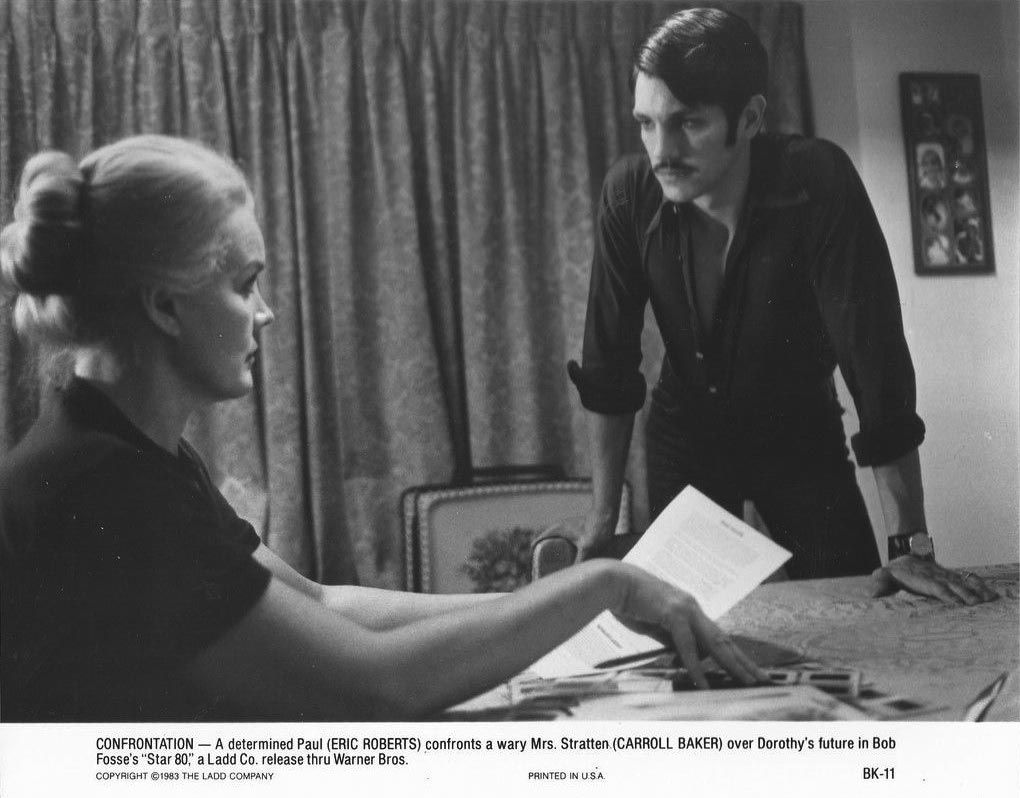 The late 1970s saw her briefly return to the USA to star in cult favorite Andy Warhol's Bad (1977, directed by Jeff Johnson). In the 1980s and early 1990s, she worked quite a bit in American television, as well as securing acclaimed supporting roles in Bob Fosse's Star '80 (1983), Jerrold Freeman's Native Son (1986) and especially Hector Babenco's masterful adaptation of William Kennedy's novel Ironweed (1987), co-starring with Jack Nicholson and Meryl Streep.
She is currently retired and living in New York City.